Windows 10 is always updating. This article will keep you informed about what's new and what's important. Check here for our latest Windows 10 review based on the two major updates scheduled per year, plus the highlights from notable builds in between. We'll tell you how to get Windows 10 for your PC. Finally, we'll discuss the major features of Windows 10—including a few you should watch out for. Keep reading for everything you need to know about Windows 10.
What's new in Windows 10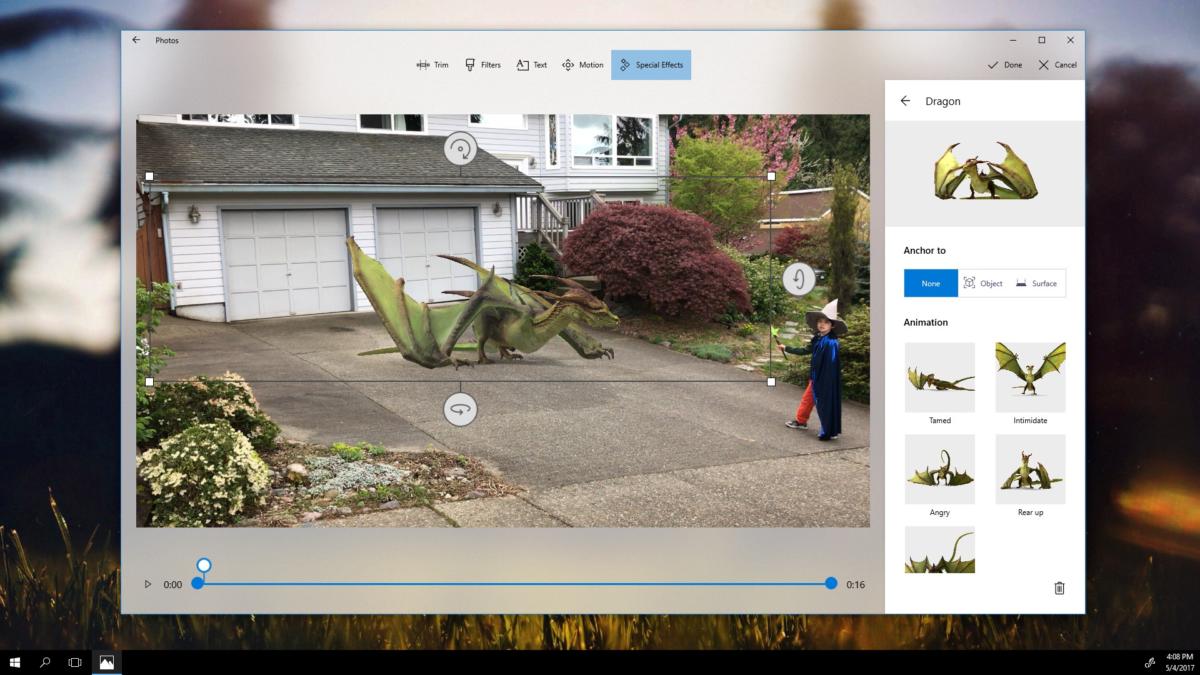 Sometime in April 2018, you'll receive what's known as Redstone 4, the spring 2018 version of Windows 10. (Microsoft has also internally referred to this as the Spring Creators Update, and it will roll out to members of the Windows Insider beta program most likely by the end of March.)
Unlike other Windows feature releases, Microsoft hasn't made a big splash with the Spring Creators Update at all, so don't expect this to be a major event. Instead, a couple of new features, including Timeline and Nearby Sharing, should lead an ensemble cast of more minor improvements. We'll update this post when our review goes live.
The Spring Creators Update added to the Fall Creators Update, which was released in October 2017. Unlike the Spring Creators Update, the FCU was a biggie—read our review for all the new features. Revealed May 11, 2017 at Microsoft's Build conference in Seattle, the Fall Creators Update's best new features are often about streamlining Windows and letting you use it wherever you are. Highlights include new mixed-reality and augmented-reality apps, plus more utilitarian features like OneDrive Files on Demand, which makes your OneDrive files visible and accessible via Windows 10's file system.
Mentioned in this article
Windows 10 Fall Creators Update
Story Remix is one of the Fall Creators Update's most intriguing innovations. Sure, other apps let you stitch together photos or video, but Microsoft makes it collaborative, letting you combine videos from multiple sources. It also lets you remix the video to focus on a specific person, and easily add 3D special effects.
The Fall Creators Update was accompanied by some hardware, too. Most notably, the Surface Book 2 debuted October 17, splitting Microsoft's flagship 2-in-1 laptop into both 13-inch and 15-inch versions. Mixed-reality headsets from HP, Dell, Lenovo, Asus, and Acer also launched on October 17. Prices for the headsets start at $299.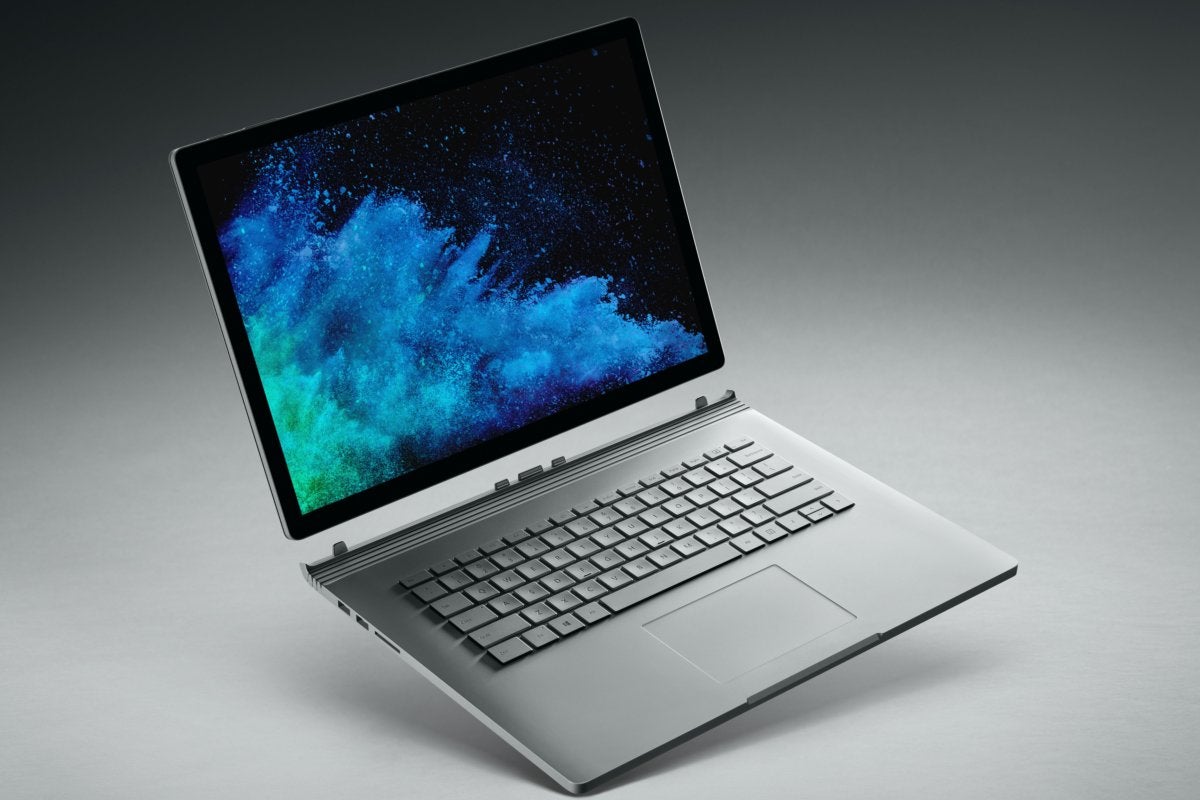 Unfortunately, a few features we thought would be in the Fall Creators Update, namely Timeline and the Cloud-powered clipboard, will be delayed to a subsequent build. Microsoft's Joe Belfiore confirmed this disappointing news in a July 3 Tweet (via Supersite Windows).
We're learning more about Windows 10 S, the education version of Windows introduced at a May 2 event in New York City. It's designed to fight back against Chromebook encroachment in the classroom, by offering a comparable level of manageability and security—including a single-minded, some might say limiting commitment to Windows Store apps. Insiders can even download and try it out yourself.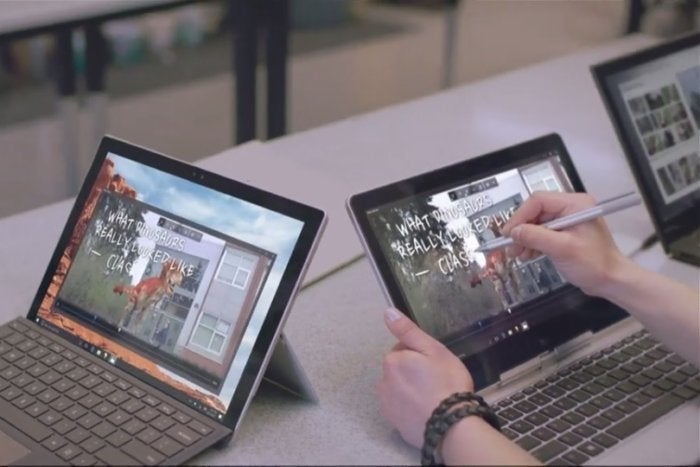 At least it has a flagship: the slender, Alcantara-fabric-clad Surface Laptop, aimed straight at college-age MacBook Air-heads. Read our Surface Laptop review to find out what it's like to use this walled-off operating system and this striking new machine, and find more Surface Laptop information in our comprehensive feature.
Windows 10 Fall Creators Update official review
We reviewed the Fall Creators Update when it debuted October 17. It's what every sequel shoots for: bigger, better, more ambitious than the original. As it rolls out in phases (see Microsoft's blog post for details), the highlights are Windows' big, risky bet on mixed reality, plus smarter investments in the pen, creative 3D apps, Edge, and even speech. A ton of practical, everyday additions won us over, including OneDrive placeholders and much longer battery life while watching movies.
Taking a page from Apple's playbook, Microsoft has also chosen to synchronize the Fall Creators Update with new hardware introductions. The upcoming Surface Book 2, mixed-reality devices from a handful of partners, the Harman/Kardon Invoke, and the Xbox One X populate a hardware/software ecosystem that's a cohesive whole.
If Microsoft wins its big bet on mixed reality, the Fall Creators Update could be a nearly five-star release. For now, we think there's enough here to merit our four-star review score. Many key features also merited deeper dives, so in addition to our Fall Creators Update review we've created separate stories, listed below.
For historical perspective, we've kept handy our reviews of the two prior versions: the Creators Update (which rolled out March 29) and the Anniversary Update from August, 2016.
Frequently asked questions
How do I get Windows 10?
First, the bad news: There is no more free Windows 10, at least not officially. The opportunity to upgrade from a prior version of Windows 10 for free ended July 29, 2016. To upgrade an older PC to Windows 10 now, you can buy Windows 10 Home for $120 or Windows 10 Pro for $200. Microsoft sells it directly, or you can find it at online and traditional PC retailers.
There is another, cheaper way that might work: buying a product key through Kinguin. Because the site is basically a clearinghouse for software, though, think of it like eBay—shady sellers and all. If you go this route, we recommend you get the Buyer Protection, just in case.
What are Windows 10's system requirements?
Windows 10's system requirements are liberal with the hardware, if not the software. You could run Windows 10 on a pretty old system (we tested this), though it wouldn't be pretty. But these are still the official hardware requirements for Windows 10:
CPU (or SoC): 1GHz or faster
RAM: 1GB for a 32-bit machine, 2GB for a 64-bit machine
Storage space: 16GB for 32-bit OS, 20GB for 64-bit OS
Graphics card: DirectX 9 or later with WDDM 1.0 driver
Display resolution: 800×600 pixels
As for the software, you need to be running either Windows 7 or Windows 8.1.
What's the current version of Windows 10?
The current version is the Fall Creators Update, which began rolling out October 17. (You can use the Windows Upgrade Assistant to download it now, if you already own Windows 10.)
It feels like the most significant release since the debut of Windows 10, in part because of the number of new Windows devices you'll be hearing about over the next few weeks, from the Surface Book 2 to the Invoke to the Xbox One X. All will involve Windows in some way. Meanwhile, new apps for iOS and Android spread the Windows experience to more platforms.
What's the next version of Windows 10?
The next version is unofficially known as Redstone 4, and if history holds, it's due in or around late March, 2018. Microsoft hasn't yet disclosed its product name, nor its specific focus.
What's the latest Windows 10 build?
Windows 10 Insiders get to try new features when they're still in beta, in exchange for giving Microsoft feedback—the more, the better. It helps to be an experienced Windows 10 user, most likely with a spare PC that you can sacrifice to buggy builds.
We check out the builds so you don't have to. The most recent significant one is Insider Build 17017, which has kicked off the Redstone 4 builds. The most interesting feature so far is Cortana Collections. (Cortana Collections sounds a lot like a bundle of Facebook Pages you've liked, but without Facebook!)
Note: Some of Microsoft's build releases are full of little tweaks and bug-bashes that don't necessarily add up to much, but we'll be sure to tell you about the ones that add or upgrade major features.
What's up with Windows 10 and privacy?
The flipside of Windows 10's greatest features are its privacy issues. Windows 10 users have to have a Microsoft account to take full advantage of the operating system. The account lets Microsoft track your activities from the keystroke level up to what you search for online. It even gives you an Advertising ID so it can target ads.
To be fair, Windows 10 isn't alone in wanting to keep tabs on you. Modern life is full of trackers, whether it's browser cookies or the location features on your smartphone. But take heart: You can minimize or disable many of the nosiest settings, and Microsoft actually made that easier to do with the Creators Update.
What if I don't want Windows 10?
Ah, so you're one of the holdouts. Well, you're not alone: As of this writing, Windows 7 remains the dominant OS, with about 49 percent market share, while Windows 10 takes about 27 percent and Windows XP hangs on with almost 6 percent.
What you need to know is how much longer Microsoft will support your Windows version, so you can prepare. As our article about Windows 7 support explains, Microsoft commits to 10 years of support, but only five years at the full "mainstream level" (getting new features), and then another five years of "extended support" with security updates and patches, before cutting loose the OS entirely. Check out Microsoft's Windows lifecycle fact sheet, which lays out exact dates for supporting older OSes.
Windows 10 videos
See for yourself how Windows 10 is evolving with our videos, which include news straight from major announcements, plus hands-on and review experiences from using the products.
First up, our favorite features from the Fall Creators Update, the current version that's available. See how Windows 10 is gaining great new features, from photo and video tools to Edge and OneDrive improvements, and even emoji!
It's interesting to compare what's in the final Fall Creators Update to what Mark saw during Microsoft's Build conference in May.
The Fall Creators Update feels like the most significant release since the debut of Windows 10. It's not just about the software, but also the number of new Windows devices debuting alongside it, from the Surface Book 2 to the Invoke to the Xbox One X. Windows is starting to feel more like a fully fledged ecosystem, catching up to what Apple offers—and what Google, too, is working hard to develop.
At Build Microsoft also introduced handheld mixed-reality controllers, which should help users navigate in their virtual spaces without cumbersome accessories. The first controllers are just coming out, and here's the first peek at them.
We'll keep updating this story as Windows 10 continues to evolve, so stay tuned for all the news.
Updated March 15, 2018 with preview of the Windows 10 Spring Creators Update, also known as Redstone 4.