The Asus ROG (Republic of Gamer) GX501 Zephyrus laptop is here to break a big rule. That rule says you can have a thin gaming laptop, you can have a quiet gaming laptop, and you can have a powerful laptop—but you can only have two of those things in one machine. If it's thin, it can't be powerful, or if it's powerful, it can't be quiet.
That's not true anymore—as I learned after spending some time with the ROG GX501 Zephyrus. As the first laptop to ship with Nvidia's Max-Q technology (other Max-Q models are coming), it's an impressively thin PC that can sometimes offer the performance of laptops three times thicker.
And I do mean impressively thin: In the picture below, you can see the new GX501 (center) is actually slightly thinner than Dell's latest XPS 15 (right). It's also faster than the new Alienware 15 R4 (left).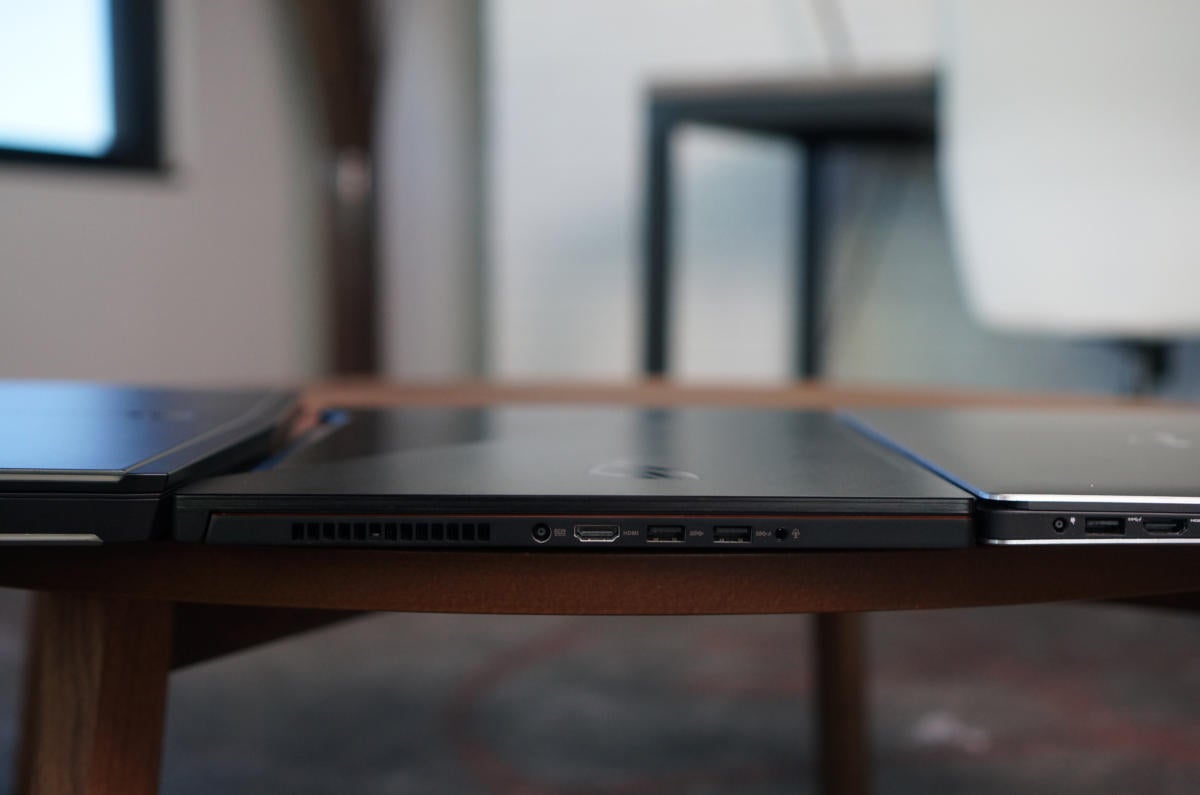 What's inside
The laptop itself is state-of-the-art in gaming. For $2,700, you get a 7th-gen (Kaby Lake) quad-core Core i7-7700HQ, 16GB of RAM DDR4/2400 RAM in dual-channel mode, a 120Hz G-Sync panel, and a 512GB Samsung SM961 NVMe PCIe M.2 SSD.
Asus will sell only a 16GB version of the laptop in the United States. That means it'll have 8GB soldered to the motherboard and a second DDR4 SO-DIMM slot with another 8GB module in it.
If there's one complaint we have, it's the storage configuration. Asus basically has room for only one M.2 SSD. There's simply no room for a 2.5-inch drive or a second M.2 slot.
The battery size is also fairly small at 50 watt-hours. Without the ability to run the laptop on the integrated graphics, we're going to guess that battery life will be pretty dismal.
Battery life takes a backseat to performance in a gaming laptop, however, and the ROG GX501 Zephyrus features the latest and greatest with Nvidia's "GeForce GTX 1080 with Max-Q technology."
What is Max-Q?
You know about the GeForce GTX 1080, but Nvidia's Max-Q is very new. It works by tuning software and hardware to achieve the most efficient performance possible. In the brass-tacks department, it means Nvidia has found a way to wring nigh-GeForce GTX 1080 performance while using a lot less power. A typical GeForce GTX 1080 laptop might budget up to 150 watts of cooling and power consumption to the GPU. A Max-Q version brings that down to the range of 90 watts to 110 watts. That's a huge drop in the thermal and power consumption for a laptop, allowing for a significantly thinner design.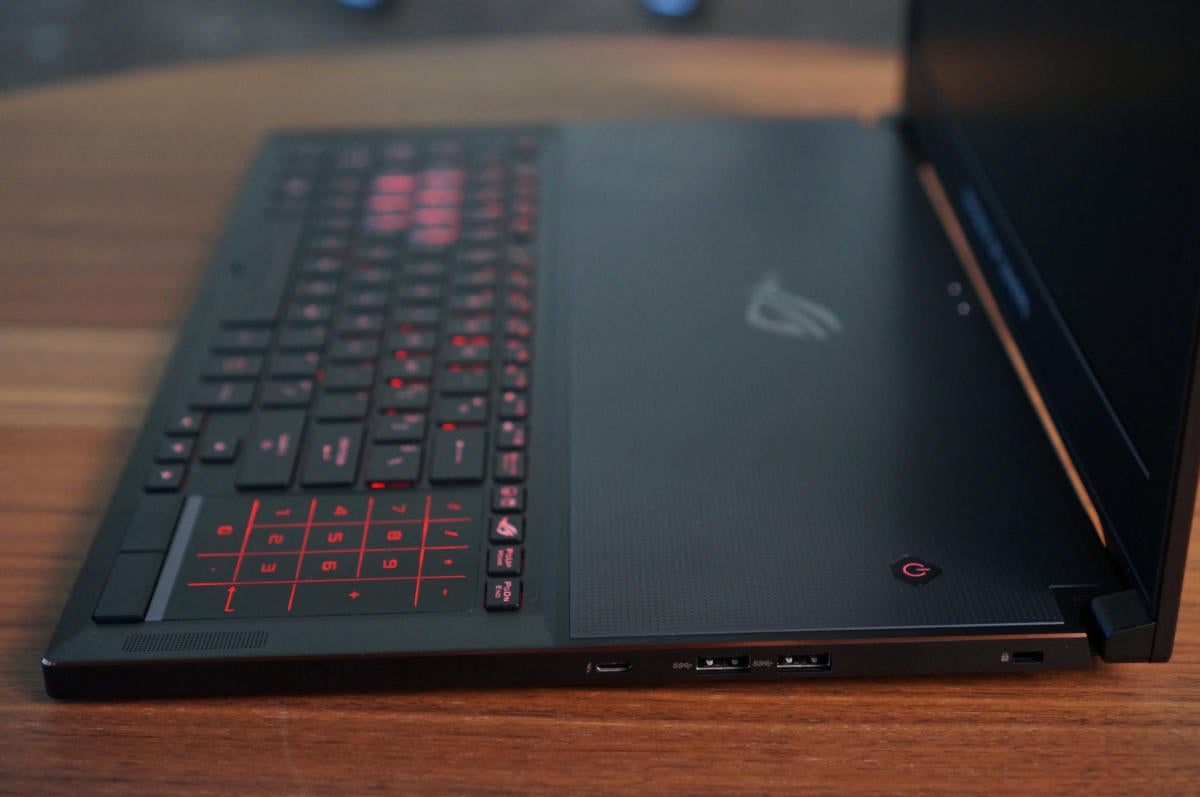 You can't magically lower power consumption without paying a price. A typical GeForce GeForce GTX 1080 laptop has a base clock speed of 1,556MHz with a boost clock of 1,733MHz. A GeForce GTX 1080 with Max-Q technology allows base clocks of 1,101MHz to 1,290MHz and boost clocks of 1,278MHz to 1,468MHz (the clocks vary due to laptop design.)
The rest is the same: A Max-Q GTX 1080 still has 2,560 CUDA Cores, 8GB of GDDR5X, and a 256-bit wide memory interface for 320GBps of memory bandwidth.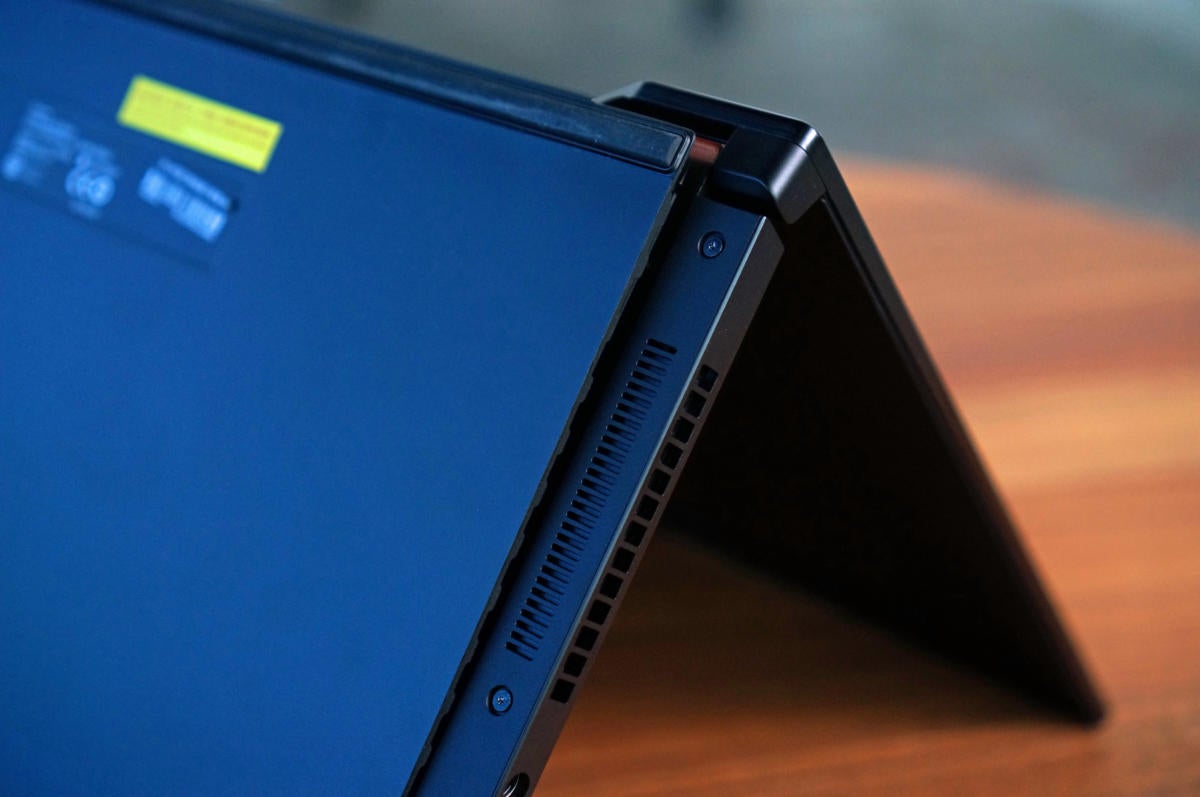 Here's what you give up
Still, you're probably thinking that lowering the clock speed is going to cost you frame rates, right? To find out just how much you might give up, we ran the GX501 through several games as well as the popular 3DMark FireStrike benchmark. The result you see here is likely to set off some alarm bells in gamers looking for the absolute in performance.
At the top, you can see MSI's GT73VR. It's a great laptop, but it's the type of heavy-duty, huge-and-thick laptop people usually associate with gaming. In second place we have a virtual tie between the ROG GX501 and latest Razer Blade Pro (2016), which also has a GTX 1080 inside.
The disturbing part to gamers is that the Alienware 15 R4, with its GeForce GTX 1070, comes uncomfortably close to the ROG GX501 Zephyrus. Why pay all the money for a GTX 1080 if a GTX 1070 is almost as fast?
Now, to be fair to the Asus ROG GX501 Zephyrus (and the Razer Blade Pro), the Alienware 15 R4 is much larger. Our review of it is forthcoming, but we'll say it sets a new bar by getting a GeForce GTX 1070 inside. We'll also say the Alienware 15 R4 readily pumps up the fans to a dull roar in order to maintain performance.
In fact, knowing how loud the Razer Blade Pro (2016) and the Alienware 15 R4 are while gaming, the Asus ROG GX501 Zephyrus actually comes off quite well in this one category.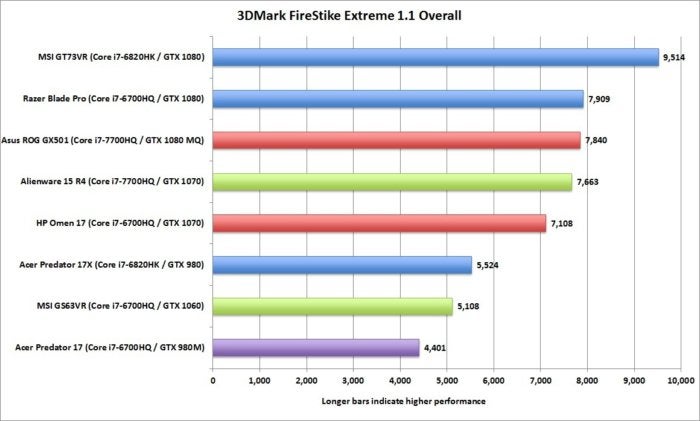 Rise of the Tomb Raider performance
Another question many will ask is whether it would have been better to call the GeForce GTX 1080 with Max-Q technology the "GeForce GTX 1075" or "GTX 1070+" instead. Rise of the Tomb Raider, for example, seems to put the GX501 Zephyrus and its Max-Q GTX 1080 right in a middling position.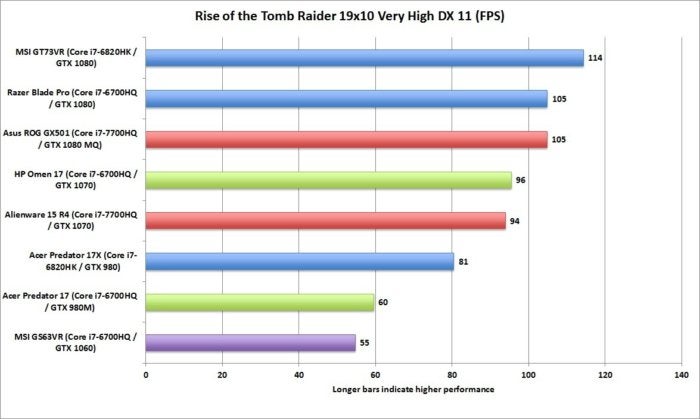 Middle-earth: Shadow of Mordor performance
The thing is, cynical gamers, there's actually plenty of evidence to justify the GeForce GTX 1080 name. The first is obviously the chip itself. Remember: A GeForce GTX 1080 with Max-Q technology has the exact same CUDA core count as a GeForce GTX 1080, as well as the same memory bandwidth and memory bus width.
In some games, the performance is just as expected. For example, in Middle-earth: Shadow of Mordor at 1920×1080 on the Ultra preset with the 4K texture pack loaded, there's no difference. The GX501 Zephyrus ties with the much larger and heavier MSI GT73VR.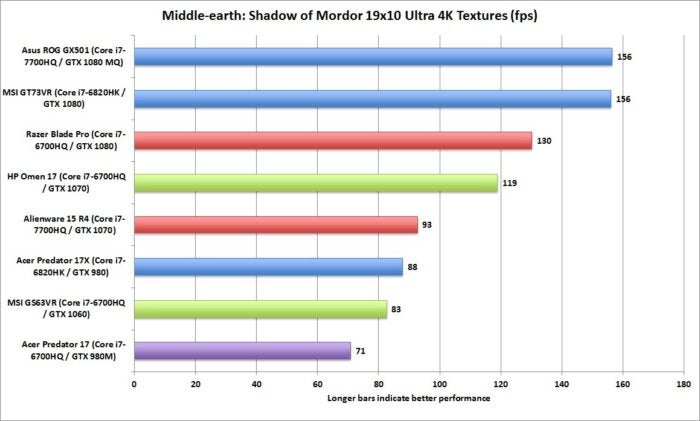 Performance continued to vary by game. The Alienware 15 R4 and its GTX 1070 pushed Hitman: Absolution along at 68fps, while the Asus ROG GX501 Zephyrus surged ahead at 85fps. On the other hand, we saw more GTX 1070-like performance from the ROG GX501 Zephyrus in Tom Clancy's The Division at 1920×1080, as well as Futuremark's Time Spy. The takeaway: You'll see GTX 1070-like frame rates in some games, but legit GTX 1080 performance in others.
The one thing left out in this is the acoustics. The Razer Blade Pro and the Alienware 15 R4 are both annoyingly loud at times, while the Asus GX501 Zephyrus is pleasantly quiet. Not silent, mind you, but it doesn't spool up fans up at the drop of a hat like others do.
Cinebench R15 performance
We've focused on the Max-Q technology in the ROG GX501 Zephyrus, but let's not forget there's also a CPU inside. Here's the obligatory Cinebench R15 result, which puts the ROG GX501 Zephyrus in rather good company.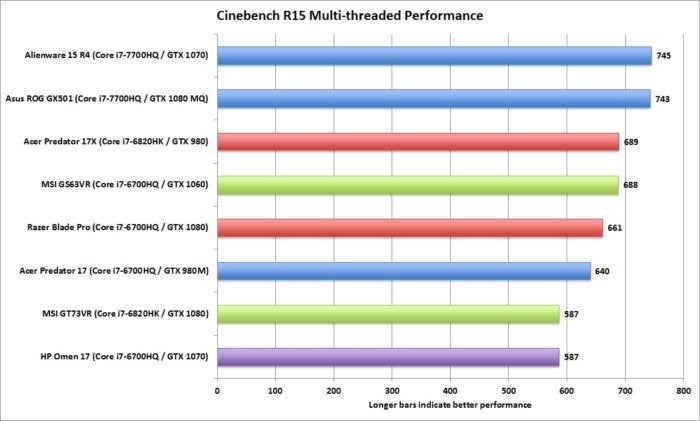 Conclusion
We'll post a full review of the Asus ROG GX501 Zephyrus soon. Having tried the Max-Q technology, we foresee some controversy around how it affects the GPU. Still, we think there's enough meat on the performance bones to put most minds at ease.