At a Glance
Expert's Rating
Pros
Value: Pen, keyboard, and USB-A dongle come bundled
Sturdy, elegant construction
Kickstand holds the tablet stable all the way down
Cons
Battery life is just so-so
Fan flips on frequently
Our Verdict
HP's Spectre x2 is a finely constructed Windows two-in-one tablet held back by an overenthusiastic fan and mediocre battery life.
Best Prices Today: Spectre x2 12-c012dx (2017)
Our review of HP's Spectre x2 12.3-inch 2-in-1 tablet begins with a simple question: Can HP continue its tradition of being an elegant, yet durable alternative to Microsoft's Surface Pro flagship?
The answer is Yes. HP took the best bits from its Elite x2 tablet and the first-generation Spectre x2 tablet (2015), then updated the new Spectre x2 with the latest Kaby Lake chips. The Spectre x2 gives you more features for the money than the Surface Pro: Our $1,300 review unit included both the keyboard and the stylus right in the box (hear that, Microsoft?). It's a shame this solid value is let down by middling battery life and a pesky fan.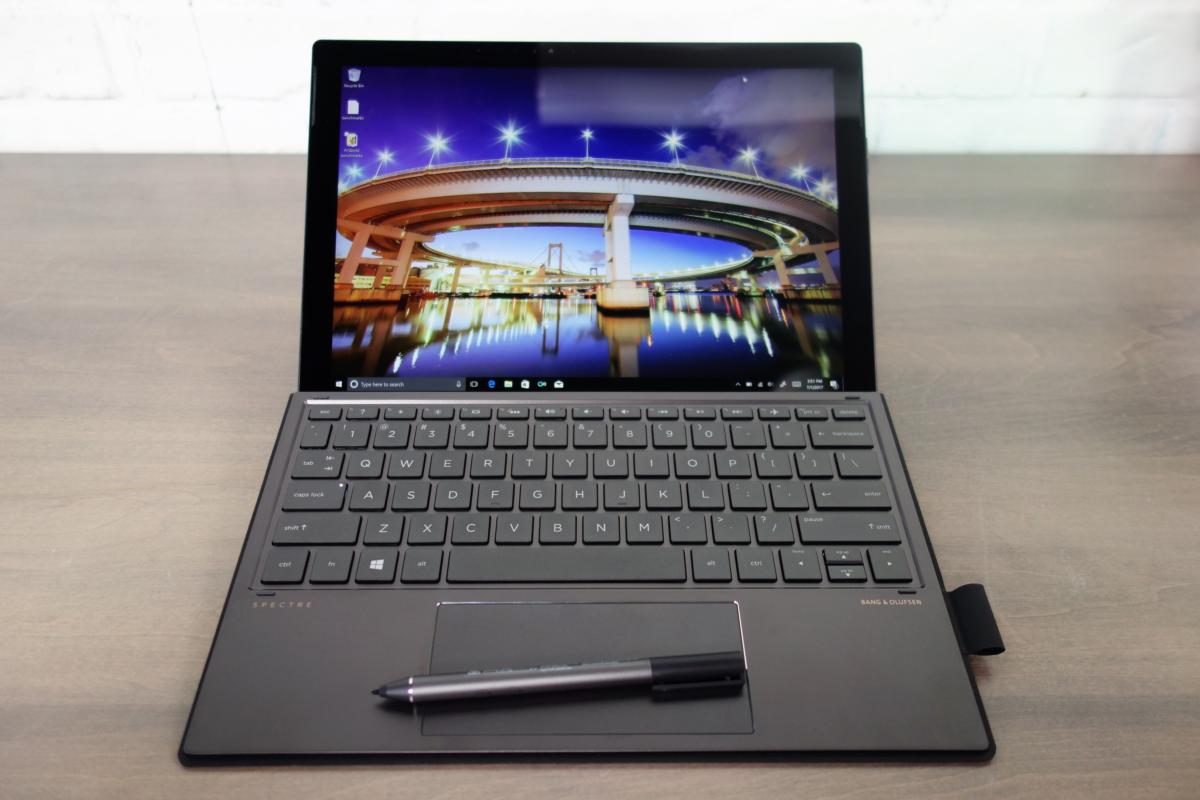 Specs: Kaby Lake and an outstanding display
HP will offer one $1,300 retail version of the Spectre x2 (the one we tested):
Model name: Spectre x2 12-c012dx
CPU: Core i7-7560U
RAM: 8GB LPDDR-1600
SSD: 360GB PCIe NVMe
Four more SKUs will be available via HP.com:
An entry-level Core i5 version for $1,150:
Model name: Spectre x2 12t
Mentioned in this article
Spectre x2 12t (2017)
Price When Reviewed:
$1149.99
CPU: Core i5-7260U
RAM: 8GB LPDDR-1600
SSD: 128GB PCIe NVMe
An entry-level Core i7 version for $1,230:
Model name: Spectre x2 12-c052nr
Mentioned in this article
HP Spectre x2 12-c052nr
Price When Reviewed:
$1229.99
CPU: Core i7-7560U
RAM: 8GB LPDDR-1600
SSD: 256GB PCIe NVMe
Two higher-end Core i7 versions have these starting configurations and can be upgraded. This one starts at $1,670:
CPU: Core i7-7560U
RAM: 16GB LPDDR-1600
SSD: 512GB PCIe NVMe
The highest-end one starts at $1,970:
CPU: Core i7-7560U
RAM: 16GB LPDDR-1600
SSD: 1TB PCIe NVMe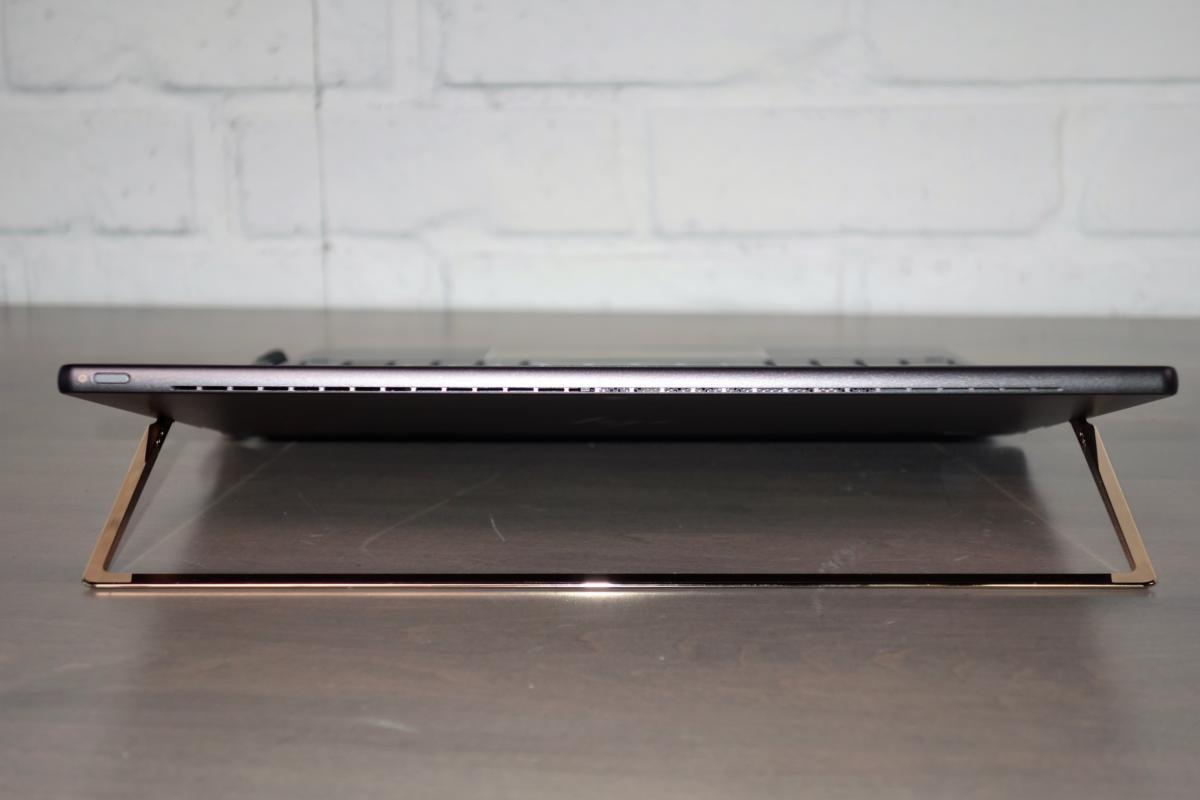 All the versions use Intel's Iris Plus 640 integrated graphics and a 12.3-inch touch display with 3,000×2,000-pixel resolution behind Corning's Gorilla Glass 4. This display is a big boost over the first-generation Spectre x2's 1920×1280 display and even the new Surface Pro's 2736×1824 display. According to our light meter, it pumps out up to 411 nits, a surprising amount of light for a tablet. You'd have to go back to the Surface Book or the MacBook Pro to surpass it.
A plus and a minus of the new Spectre x2 is the 2.4GHz Core i7-7560U in most of the SKUs. The prior-generation Spectre x2 used Core m chips, so Core i7 pushes it into the higher end of Windows tablets (more on that later). But I was surprised to find that the Spectre x2's fan kicks in frequently, even while installing an app or transferring a few gigabytes of files. It's not loud but definitely noticeable, with a steady hiss.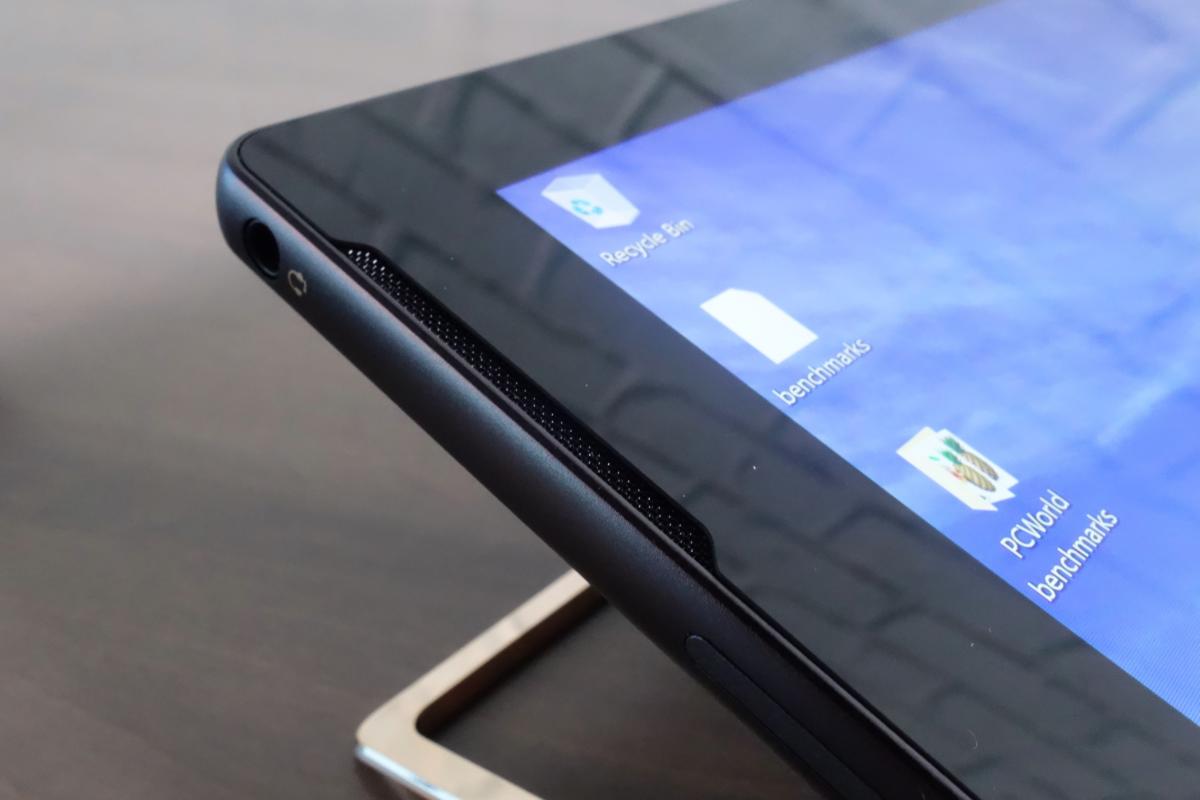 The Spectre x2 (2017) weighs 2.48 pounds, among the lighter tablets we've seen. Folded up, the tablet measures 11.57 x 8.15 x 0.52 inches. Although you probably won't be making hand-to-hand comparisons like I did, I gripped the older Elite x2, then the new Spectre x2. HP's latest tablet feels noticeably lighter, though the thickness remains about the same. I also liked how the underside of the keyboard uses a very grippable, ridged coating of rubbery material to protect it and make it easier to hold.
Along the sides of the tablet are a pair of USB-C ports, either of which may be used for charging as well as I/O (USB 3.1 Gen.1, at 5Gbps) as well as to drive a DisplayPort monitor. Even better, HP includes a USB-C to USB-A dongle inside the box. I'm still not wholly convinced that the time is now for USB-C, but HP has neatly bridged that gap, and without any additional cost to the user. Bravo. You'll also find a microSD card slot along the left side of the tablet.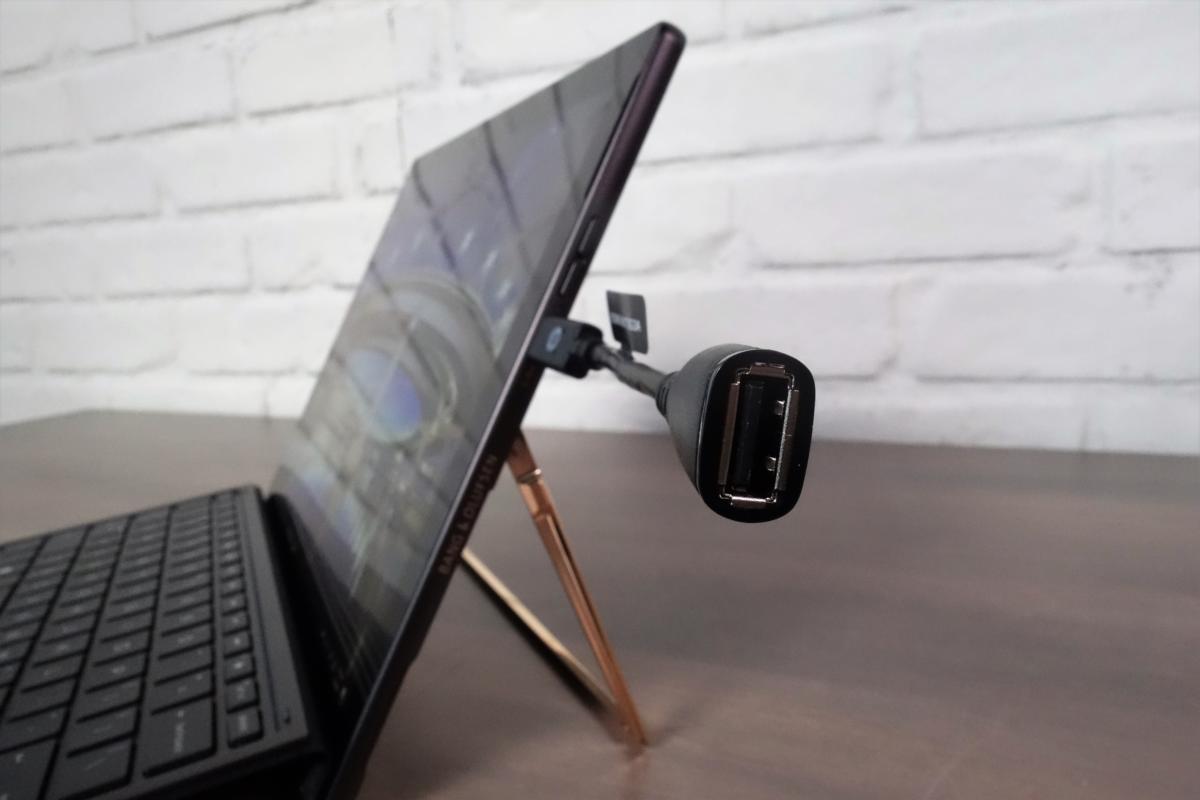 The two cameras include a 13MP rear one for those who like to take photos and videos with their tablets. A 5MP wide-view front-facing camera does a fine job for Skype, and there's an IR camera to supplement the optical camera for Windows Hello. (With Hello, I find that I need to improve the recognition every so often by re-scanning my face; the same goes for the Spectre x2.)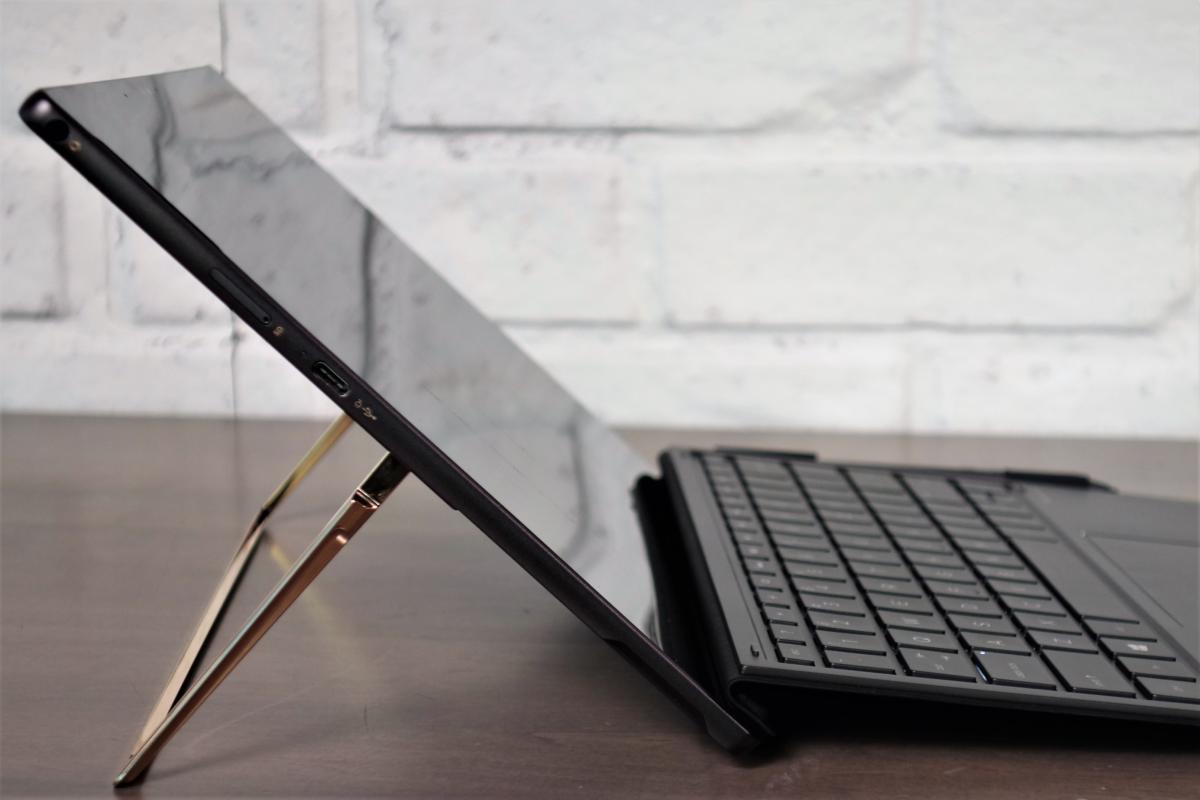 While last year's Spectre x2 buried the speakers inside the keyboard, HP has returned to the more conventional front-firing speakers, again tuned by Bang & Olufsen. They offer a serious punch, and turning off the B&O effects leaves music sounding tinny. Nevertheless, adjusting the bass slider seems to do absolutely nothing. I still prefer the Dolby Audio effects and speakers on the Surface Book, which generates an overall richer soundscape.
Kickstand, pen loop anchor the productivity
A 2-in-1's kickstand, keyboard, and stylus bridge the gap between tablet and traditional clamshell. The Spectre x2's components are net positives.
One of the strongest points about HP's prior-generation tablets was, well, its strongest point: the sturdy metal kickstand, which returns this year with a luxurious copper finish to accent the ash-black color of the chassis. HP asked us to compare the experience of inking on the Surface Pro to the Spectre x2's. As HP promised, if you're inking with the tablets fully reclined, the Surface Pro bounces a bit, while the Spectre x2 offers a better, more stable experience.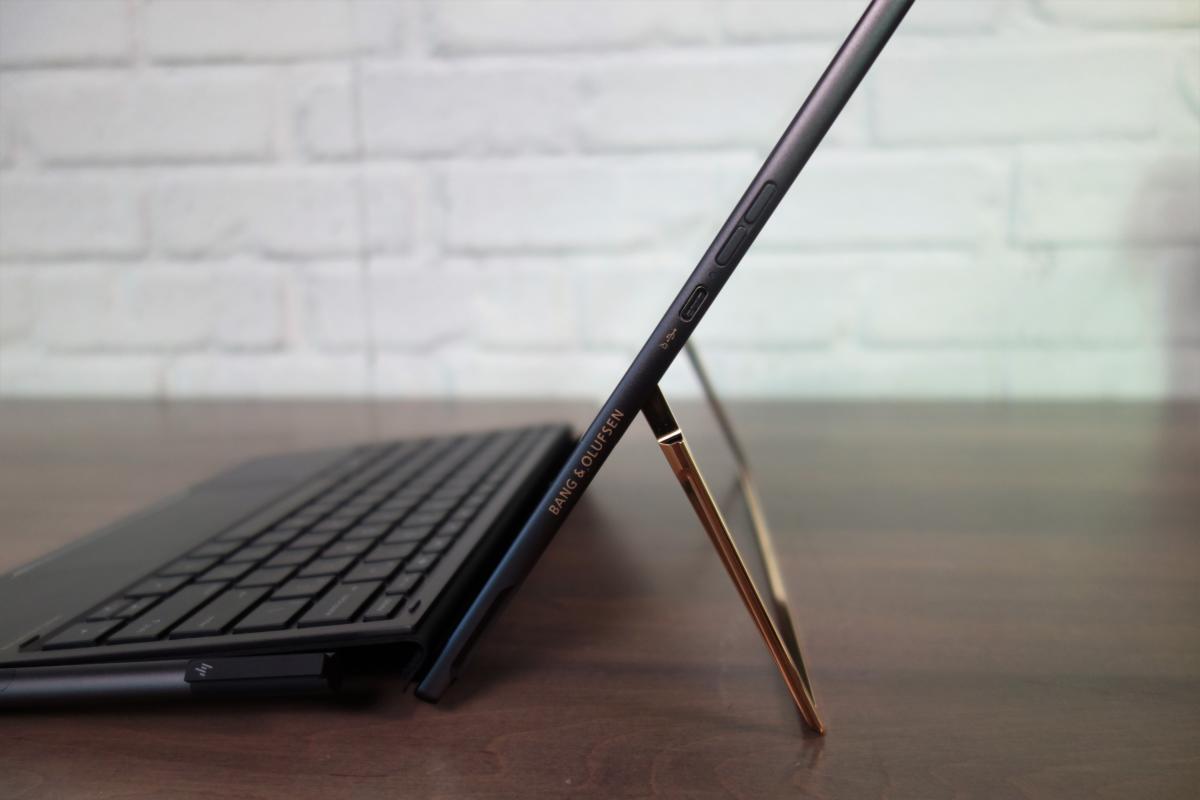 However, it's also worth pointing out that the Spectre x2 doesn't recline as far as the Surface Pro—just 150 degrees compared to the Surface Pro's 165 degrees. HP also ditched the slider switch that freed the kickstand from its moorings, apparently due to user feedback. However, trying to flip the kickstand open with a fingernail requires a bit of fumbling around.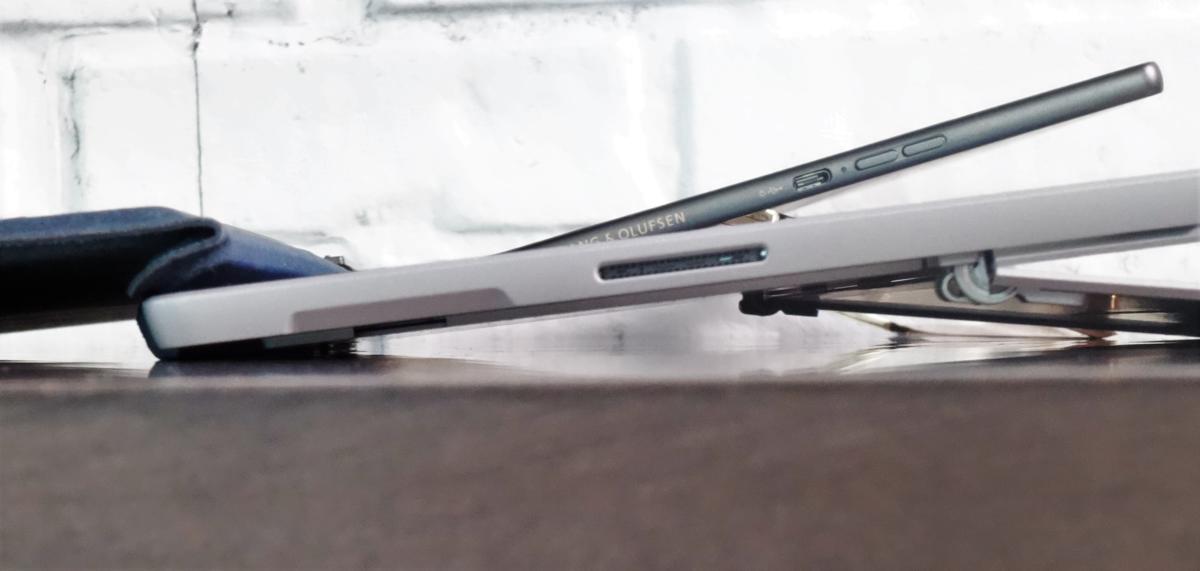 The Spectre x2's keyboard is good. While Microsoft prefers to wrap its Surface keyboards in Alcantara fabric, HP has traditionally used an aluminum layer above a plastic foundation. The aluminum is not structural, as you'll still see the slight bowing that characterizes other 2-in-1 keyboards. But the Spectre x2's version also boasts a full 1.5mm of key travel, providing a comfortable, responsive typing experience. The elongated touchpad also works well.
Oh, and the weak keyboard hinge we complained about with the HP Elite x2? Solved: HP's Spectre x2 is rock-solid on your lap, even though HP claims it's best perched on a table or desk instead. Oh well.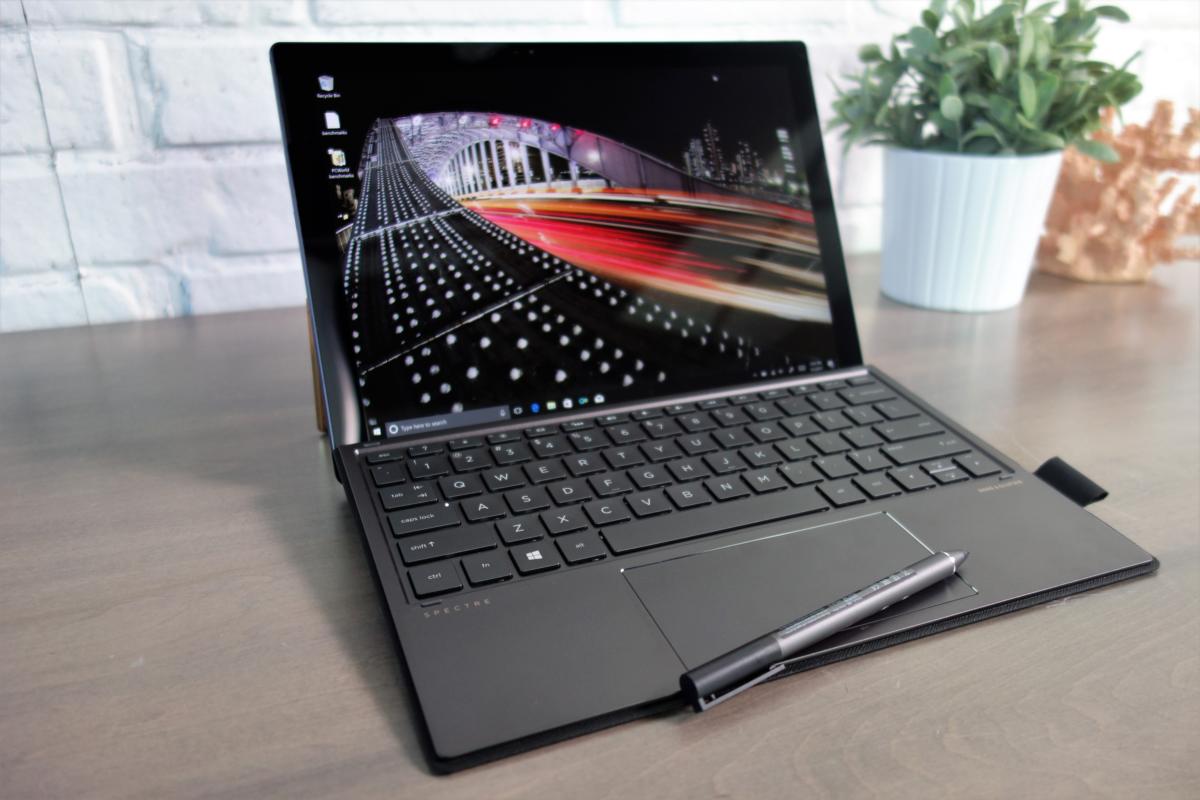 As noted above, HP's Spectre x2 bundles a powered HP stylus and (praise be!) a Surface Pro 3-styled pen loop that comes pre-attached to the right-hand side of the keyboard. HP's Elite x2 employs a thin cord that ties the pen to the tablet; this is a superior solution.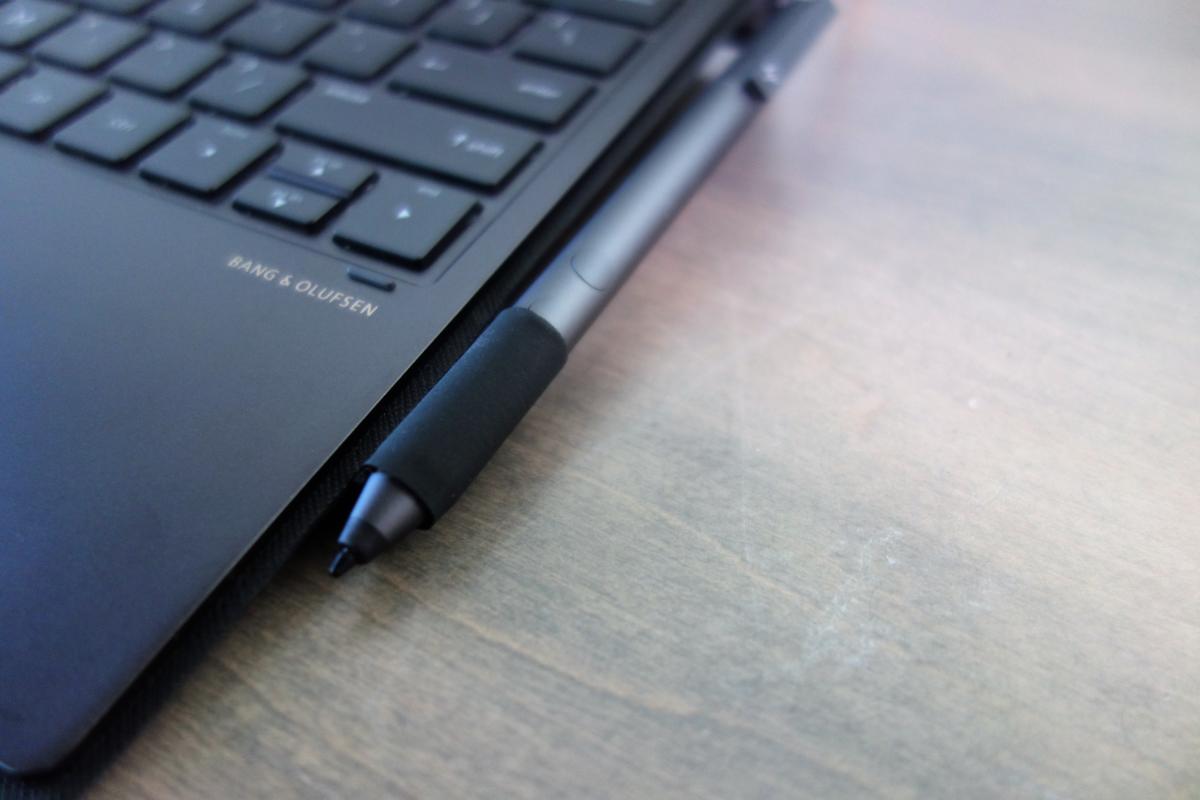 This time around, HP ditched the Wacom stylus, preferring an nTrig pen with just 1,048 pressure levels. From a consumer standpoint, this was a smart decision: I sincerely doubt that most consumers can tell the difference between styluses with different levels of sensitivity. HP's pen is powered by a AAAA battery with about a year's lifespan. It lacks the digital eraser found on the Surface Pen, though one of the two buttons can be configured to erase digital ink.
Extra software
HP's Spectre x2 includes several additional apps beyond the normal Windows selection, including HP-authored software. We're always on bloatware alert, but these apps are pretty useful. Some step in and replace Windows functions with HP's own UI, such as the HP Pen Control for configuring the buttons on the included stylus. HP JumpStart provides tips, tricks, and a tour of the tablet. The company also discloses that it collects anonymous info on how you use JumpStart to improve the app. A pair of apps, including HP Audio Switch, provide finer-grained audio controls.
One of the more significant apps, HP Orbit, facilitates a wireless connection between an Android phone or iPhone so you can share notes, links, or pictures. Though I was able to establish a connection across my home network, after leaving the room for a cup of coffee I was unable to re-pair both platforms. (They re-paired a little while later, as I began fiddling with other apps on my phone.) Orbit also has remote-wipe capabilities. If you enable it, all of the content you shared will be erased.
On the lighter side, HP also preinstalled games—the ubiquitous Candy Crush Soda Saga, Royal Revolt 2, Sling. Other apps include Twitter, Netflix, and the Keeper password manager, plus a trial of McAfee LiveSafe. Finally, the Spectre x2 bundles Microsoft Office desktop apps, which you'll need to enable with the one-month Office 365 trial or your own subscription.
Performance: Marred by mediocre battery life
With its 3,000×2,000-pixel touchscreen, the Spectre x2 supports a demanding display with a correspondingly powerful processor. Because of those extra pixels, and the fact that the Spectre x2 uses a slightly slower chip than the new Surface Pro (2017), HP's tablet lags a bit in benchmarks. Is that enough to turn you off the Spectre x2? Maybe, as the battery life isn't especially awe-inspiring, either.
We compared the Spectre x2 to other Windows tablets we've tested, including the Surface Pro, Samsung Galaxy Book, Dell XPS 2-in-1, and the older Spectre x2. For the clamshell perspective we brought in some ultrabooks, including the LG Gram 14 and the excellent Lenovo Yoga 910.
We didn't have enough time to test the Spectre x2 on any mainstream games, but we broke out the part of PCMark's benchmark that tests what is termed "mainstream" DirectX 11 gaming, complete with frame rate. With scores of 13.2 frames per second and 6.5 fps at native resolutions, you'll clearly have to dial down the resolution to achieve playable frame rates.
Otherwise, the Spectre x2 is a middling-to-better work machine, as the numbers indicate. PCMark's Work measures general office tasks, while the related Home benchmark incorporates Web browsing and tasks like photo manipulation.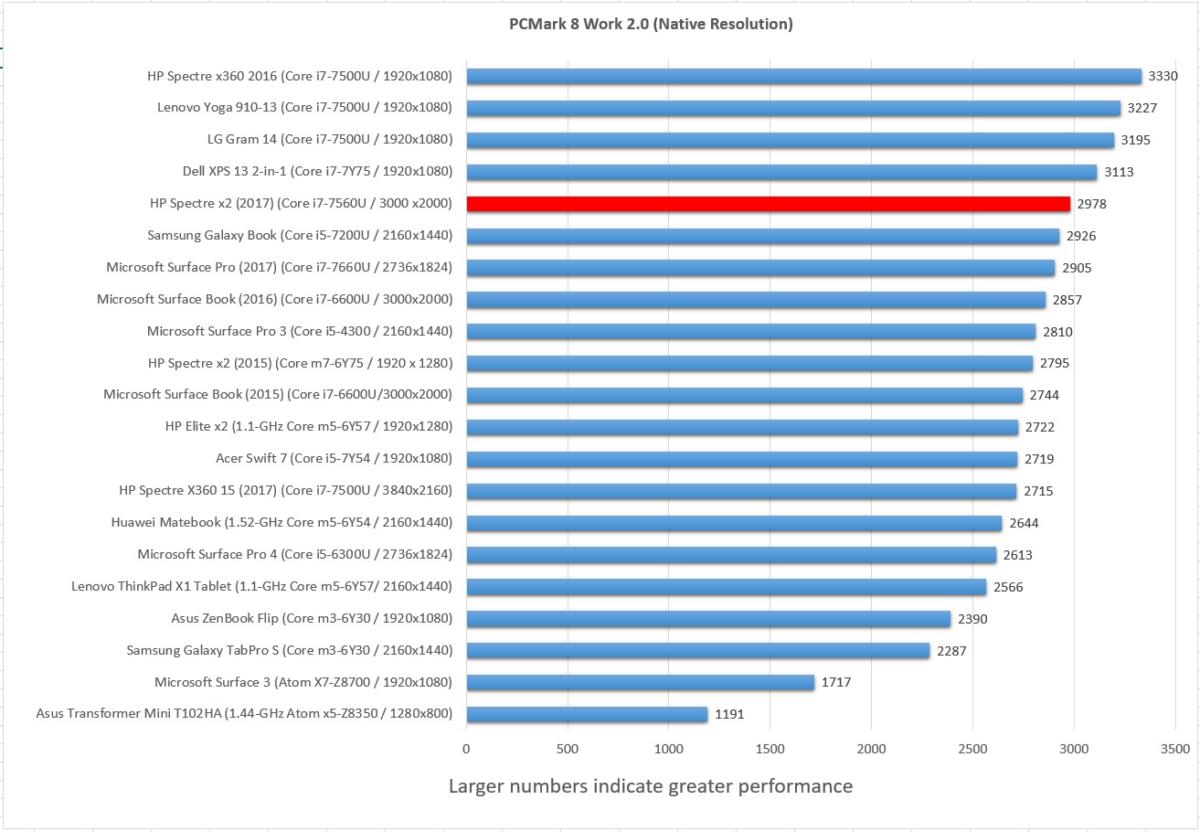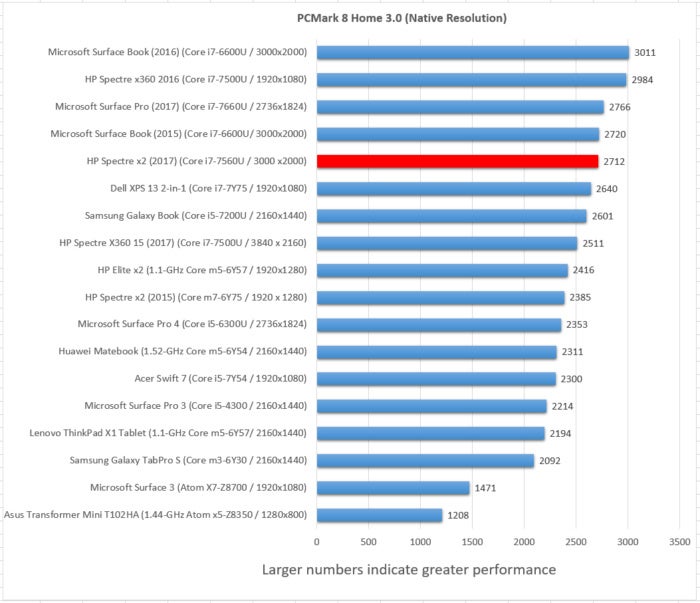 Finally, there's the PCMark Creative benchmark, which helps demonstrate the tablet's performance using a range of content-creation tasks. The modern Kaby Lake chip does it a world of good.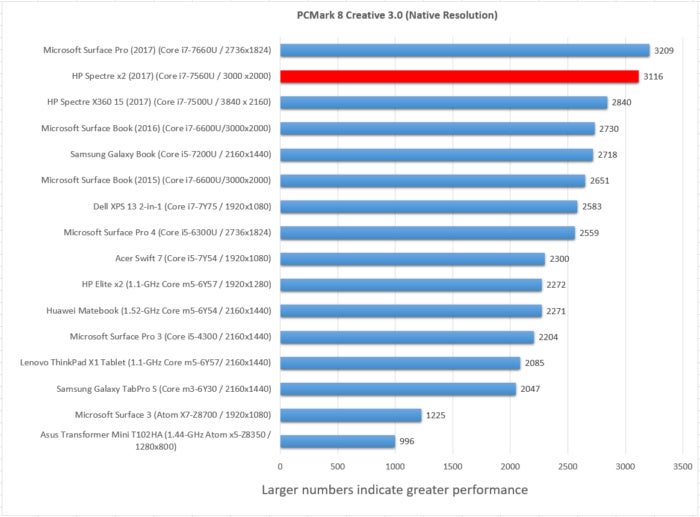 We typically test notebooks and tablets using Maxon's Cinebench benchmark, which stresses all of the cores available on a chip to construct and render an image. The Core i7 found within the Spectre x2 includes two cores and four threads, the average for a mobile device. Here, the new Spectre trails behind the Surface Pro and the Galaxy Book, but tops most of the other tablets.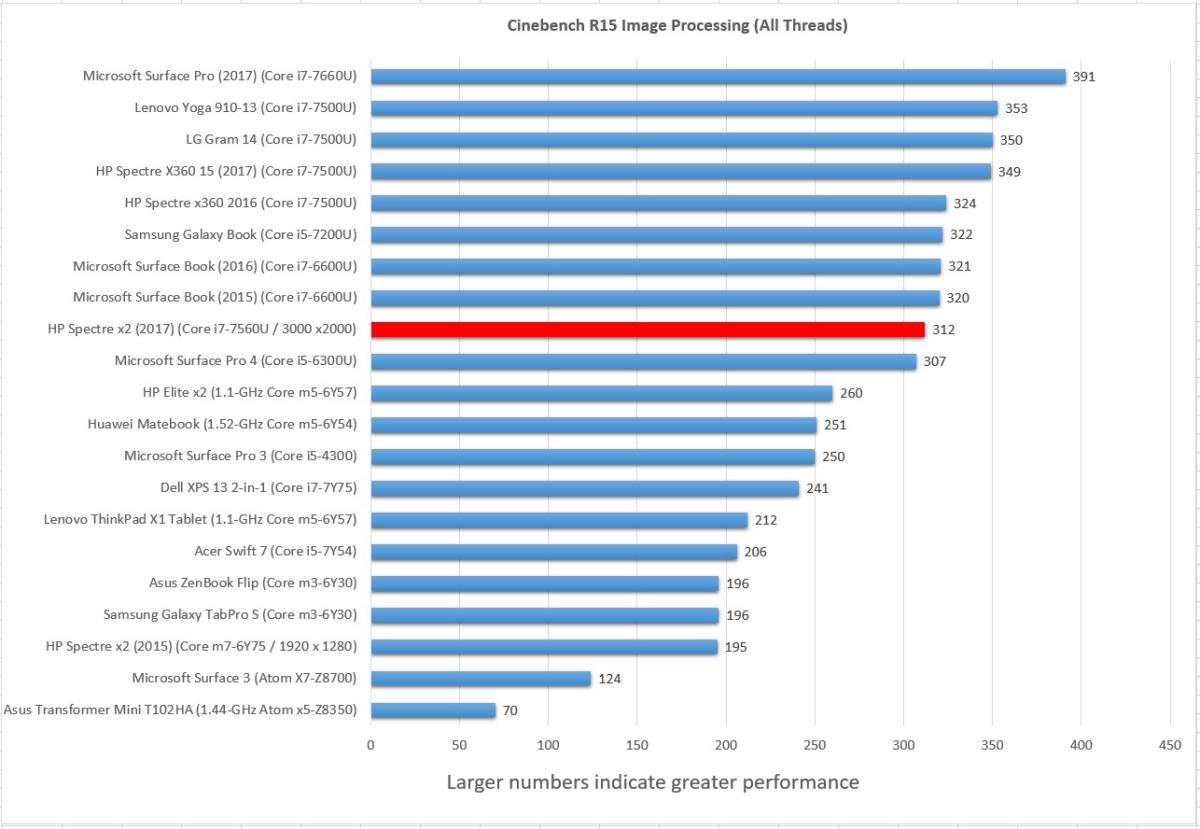 We also use the open-source Handbrake tool to convert a major Hollywood film from DVD quality into a format viewable on a tablet. This transcoding stresses the CPU over a period of time. Again, it falls behind most of the ultrabooks, but outperforms most of the tablets save for the pricey Surface Pro.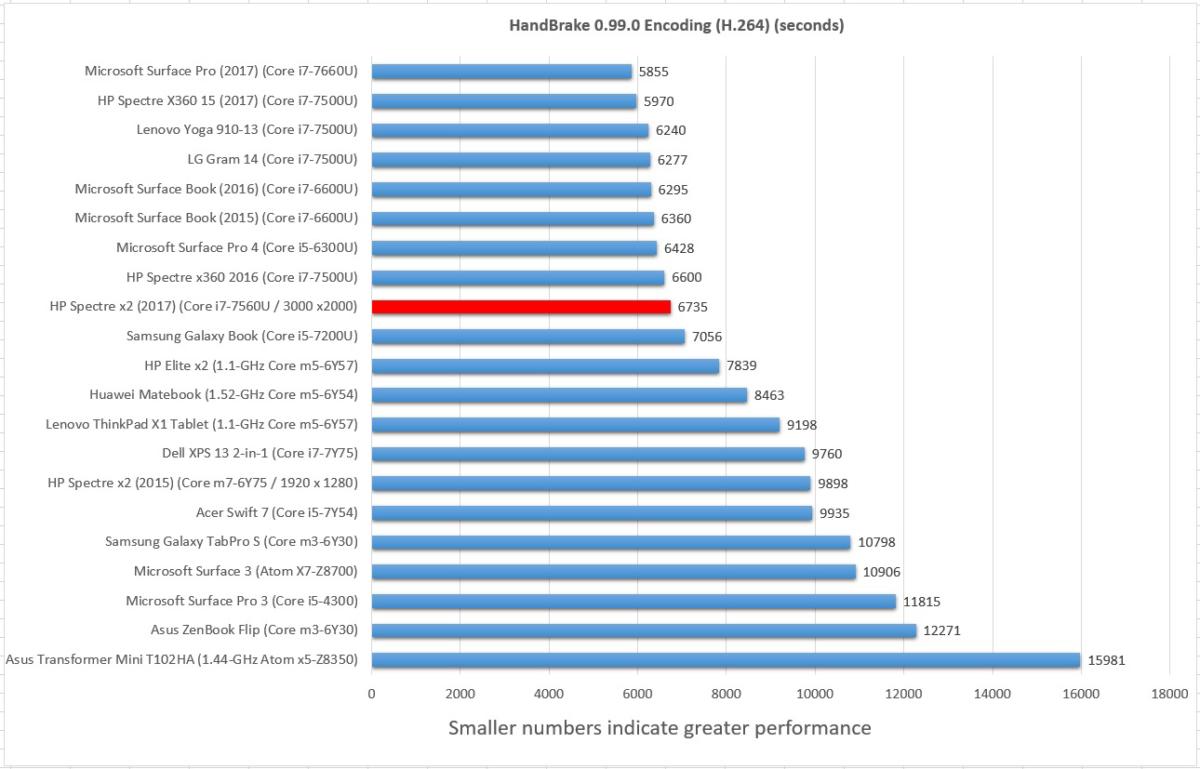 The 3DMark Sky Diver benchmark attempts to simulate an actual DirectX 11 game. For a tablet with the same Iris Plus graphics chip as the Surface Pro, the Spectre x2 falls well behind. We also noticed some thermal throttling, where performance drops by about 10 percent under prolonged load. Nevertheless, it does well among the tablets we tested.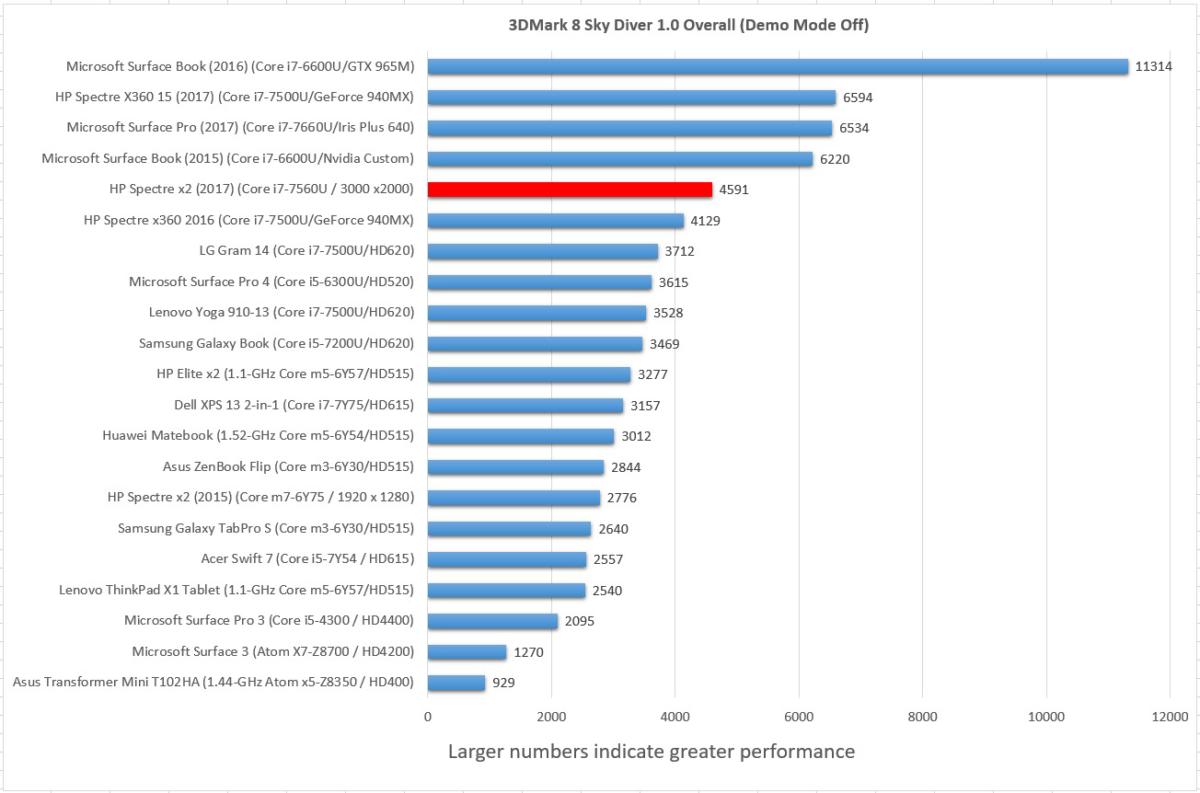 Battery life, though, left us wanting more. We typically set the display brightness at about 250 nits (a viewable level for a bright room), then loop a 4K video over and over until the battery runs down. That gives you an idea of how long a tablet would last on a long flight's worth of movies.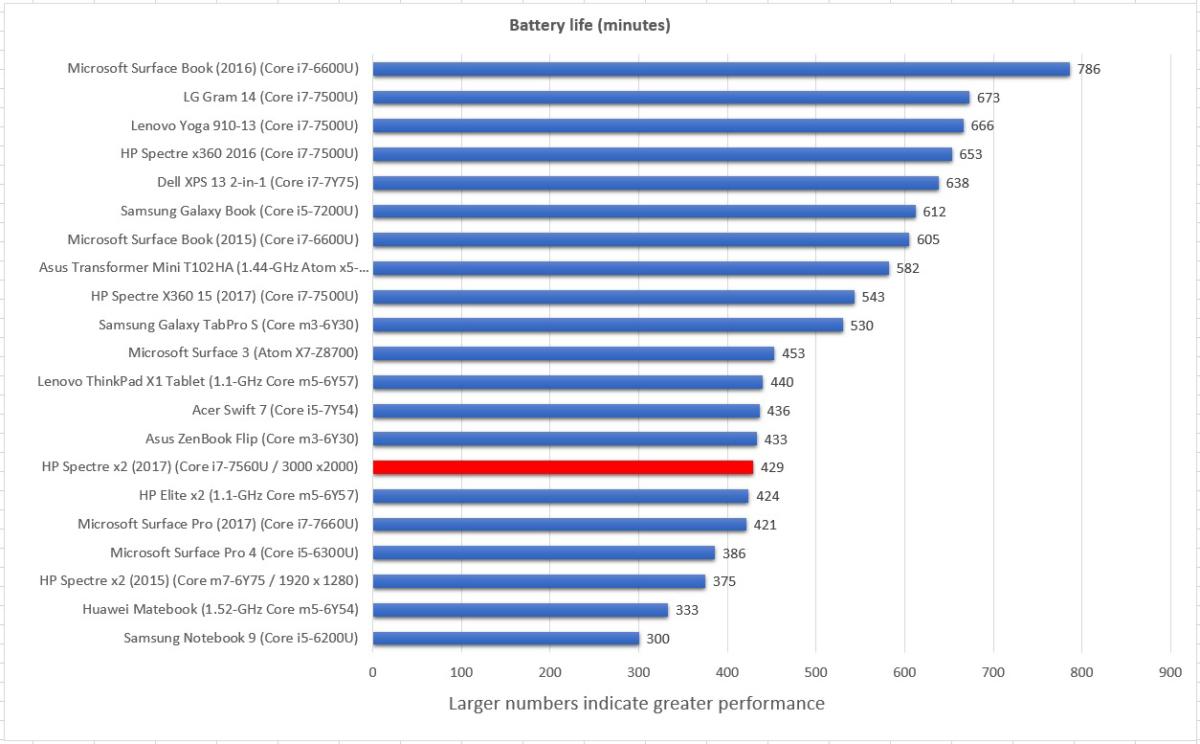 The Spectre x2's battery life of about seven hours is lackluster. Sure, it's a step up from the older Spectre x2, but we'd like to see this number climb a bit higher. Battery life is simply too important for a mobile device.
Conclusion: Good value despite a few flaws
HP's Windows tablets remain among the very best in terms of construction, with careful attention paid to what users have been asking for. With a pen, keyboard, and dongle all in the box, what you see is truly what you get.
It's interesting that HP apparently believed that its choice of Core m chips on the previous Elite and Spectre lines was a negative. In large part, the company is bowing to consumers who think they want the power of a Core i5 or Core i7 chip—in part because you can never have too much performance, right?
In this case, though, I think HP bit off slightly more than it could chew. If you're a typical user, you'll probably be happy with the day-to-day performance of the Spectre x2. Yet its fan flips on more often than I'd like, and either an improved cooling solution, a lower-resolution display, or simply a lower-power chip could have solved that problem and extended the tablet's battery life. In HP's mind, the Spectre brand exudes a sense of elegance and power that set the tone for its design. That's a noble goal, and the Spectre x2 almost gets there.
Best Prices Today: Spectre x2 12-c012dx (2017)