At a Glance
Expert's Rating
Pros
Can automatically change passwords on 500 websites
Analyzes and rates the strength of your passwords
Supports auto-filling web forms with personal profiles
Cons
More expensive than most password managers
Our Verdict
With its strong password analysis and polished interface, Dashlane is one of the best password managers available.
Best Prices Today: 1
This article was updated to reflect changes in pricing and the addition of Password Health, Identity Dashboard, and VPN features.
Of all the password managers we've reviewed, Dashlane has come closest to stealing LastPass's crown. Easy to use and rich with features, it meets all our requirements for a top-tier password manager. But Dashlane goes beyond just managing your login credentials, providing insights for how to think smarter about security.
Dashlane's strength has long been its elegant interface, which displays your accounts as tiles or a list. Each tile has its own fly-out menu from which you can edit your account info, securely share your login credentials, and view your password history.
As with LastPass, Dashlane includes a password changer, which you can open from the top of the password list. Unlike LastPass, which requires you to open a specific website entry to auto-change its password, Dashlane's tool lists all of your saved websites and you can change as many passwords as you want at once by selecting the checkbox next to each entry. Dashlane's password changer also supports 500 sites, soundly trumping LastPass's 80.
Note: This review is part of our best password managers roundup. Go there for details about competing products and how we tested them.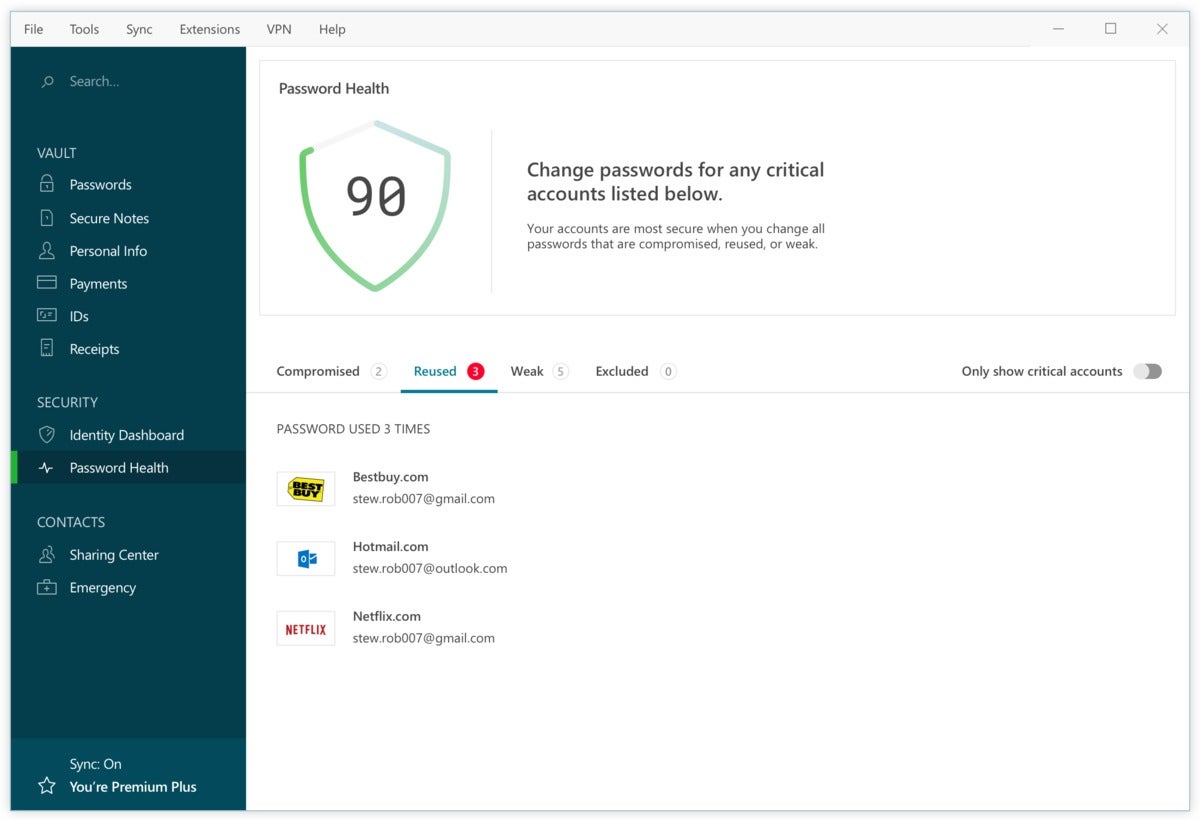 One of Dashlane's most attractive features in previous versions was its security dashboard, which rated the security of each password with a safety percentage as well as on of a half-dozen color-coded descriptions ranging from "super safe" to "Very unsafe." That's been replaced by a Password Health report that provides an aggregate security percentage and shows you only weak, compromised, and reused passwords. For each of these, you can click on a Replace Now button to change them.
Also new is an Identity Dashboard. You'll get a security alert here, as well as a pop-up notification, if any of the credentials in Dashlane is breached. Premium users will also get Dark Web Monitoring, which scans and alerts you to stolen personal data found on the dark web whether the credentials have been used or not. You can associate up to five emails for scanning.
Dashlane has also added a simple VPN for secure Wi-Fi hotspot connections. After an intital setup, you just click VPN from the menu, choose a servier location from more than 20 countries, and select Connect. Though any VPN can impact the speed of your internet connection, I didn't notice any slow down in my usage. VPN protection is only available with paid premium accounts.
Dashlane also supports auto-login, form autofill, secure notes, and secure sharing with emergency contacts. The desktop client is free to use on any single device, but to sync your password you'll need Dashlane Premium for about $78 per year. The paid plan also gives you multi-factor authentication secure file storage, remote access, and priority support, along with the VPN and dark web monitoring. A Family plan offers everything the Premium plan offers, but for up to six private accounts.
Bottom line
At this point Dashlane's capabilities have caught up with LastPass, so the only significant differentiator is how much you have to spend to unlock each tool's full capabilities. Dashlane's higher premium may be the deciding factor for many. But if the extra expense isn't a concern, Dashlane is a top-shelf password manager.
Best Prices Today: Dashlane