At a Glance
Expert's Rating
Pros
Tri-band router uses one network for dedicated wireless backhaul
Has nearly all the features you'd find on a conventional router
Satellites don't require grounded outlets and won't block the lower outlet
Cons
Plug-in satellite isn't nearly as attractive as the second-generation Eero
Satellite doesn't have ethernet ports for hardwired backhaul
You need to use a combination of the web app and two smartphone apps to exploit every feature
Our Verdict
Chopping one spatial stream off Netgear's dedicated wireless backhaul had a significant impact on its performance.
Best Prices Today: Netgear Orbi RBK30
Netgear continues to very quietly buck the mesh networking trend. Its new Orbi RBK30 WiFi System is based on a tri-band router that operates on a hub-and-spoke topology, instead of a true mesh. So it's very similar to its pricier stablemate, the Orbi RBK50, that we picked as best mesh Wi-Fi router in April.
Both systems consist of a router and a satellite that uses a dedicated third network (a second network on the 5GHz frequency band) for data backhaul. But where the RBK50 uses a 4×4 radio for that task, the RBK30 has only a 2×2 radio. In a true mesh network, backhaul traffic hops from one node to the next back to the router.
Netgear's scheme works splendidly with the RBK50, and it helped the RBK30 pick up a pair of second-place finishes when I benchmarked its TCP throughput with a Windows laptop client (an HP Envy x360 with a 2×2 Intel Dual Band Wireless-AC7265 Wi-Fi adapter). The RBK30 was much less exciting when benchmarked with a MacBook Pro outfitted with a 3×3 Broadcom BCM4360 adapter. It turned in middling performances on that front with one exception: A strong second-place finish that beat the more-expensive RBK50 when the MacBook Pro was located in the great room, 33 feet from the router.
The RBK30's long-distance performance was much less impressive, however, delivering just 38.6Mbps of throughput when the Windows client was in the sun room. The second-generation Eero WiFi system, by comparison, delivered near triple-digit throughput in every room in my home.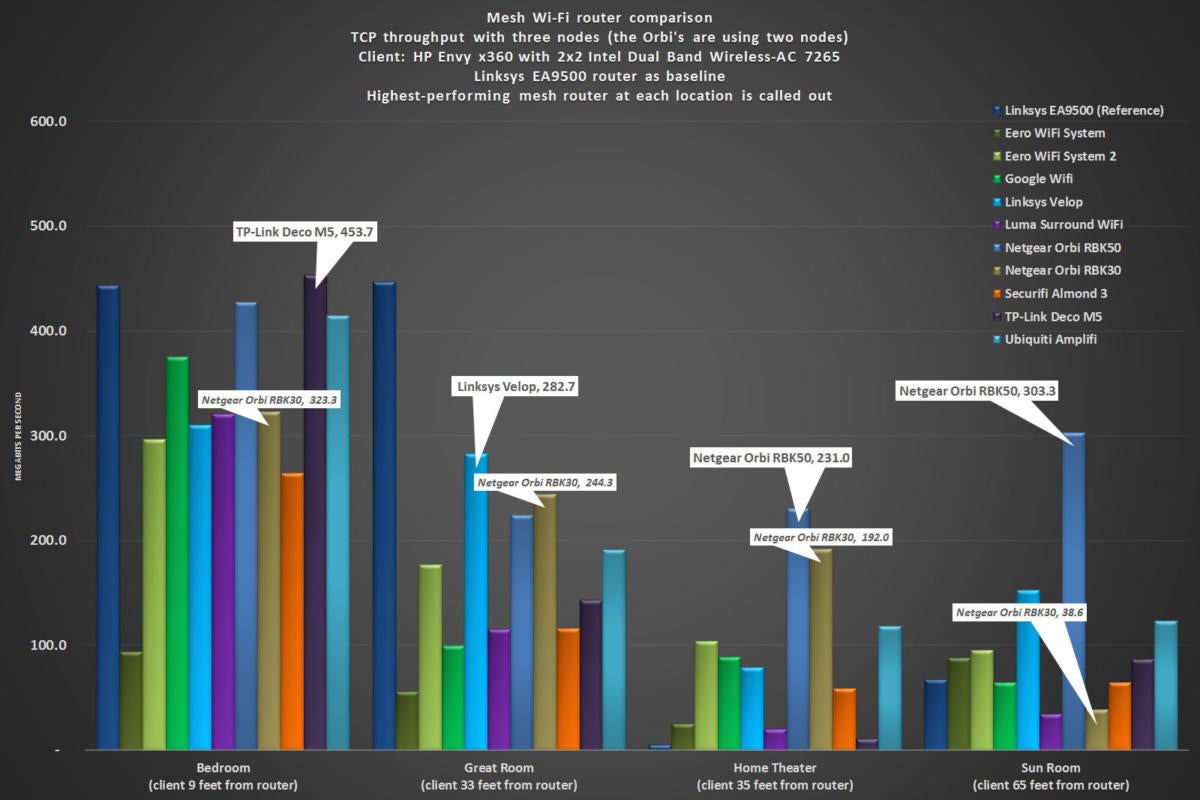 The router in the Orbi RBK30 system is smaller than the one included in the RBK50 kit, but it still has a four-port gigabit ethernet switch. All the mesh routers I compared it to have just one ethernet port for connecting to your DSL or cable modem and a second for your local network (the folks who use it will most likely use it to connect to a multiport ethernet switch). One satellite, which is substantially larger than the second-generation Eero Beacon, is included in the package. Like Eero's Beacons (and Ubiquiti's Amplifi nodes), these satellites plug directly into AC outlets. In this respect, they look very much like the range extenders you might use with a more conventional router.
Unlike the satellite in the Orbi RBK50 kit, this one does not have hardwired ethernet ports. Despite the fact that most outlets are just 15 inches above the floor, Netgear says the RBK30 should blanket up to 3500 square feet with Wi-Fi. And as long as you plug the satellite into the upper socket, it won't prevent you from using the other socket to power other devices. You can add additional satellites to the network should one not provide adequate coverage, but you might as well spring for the RBK50 kit at that point.
Netgear classifies the RBK30 as an AC2200 system, meaning it delivers up to 400Mbps of throughput on its 2.4GHz network, and up to 866Mbps of throughput on each of its two 5GHz networks (Yes, Netgear rounds its sums up quite generously). You can choose any of the 11 channels for the 2.4GHz network, but Netgear limits you to the lower channels (defaulting to channel 48) for its 5GHz network. Netgear reserves the upper channels for its dedicated backhaul network.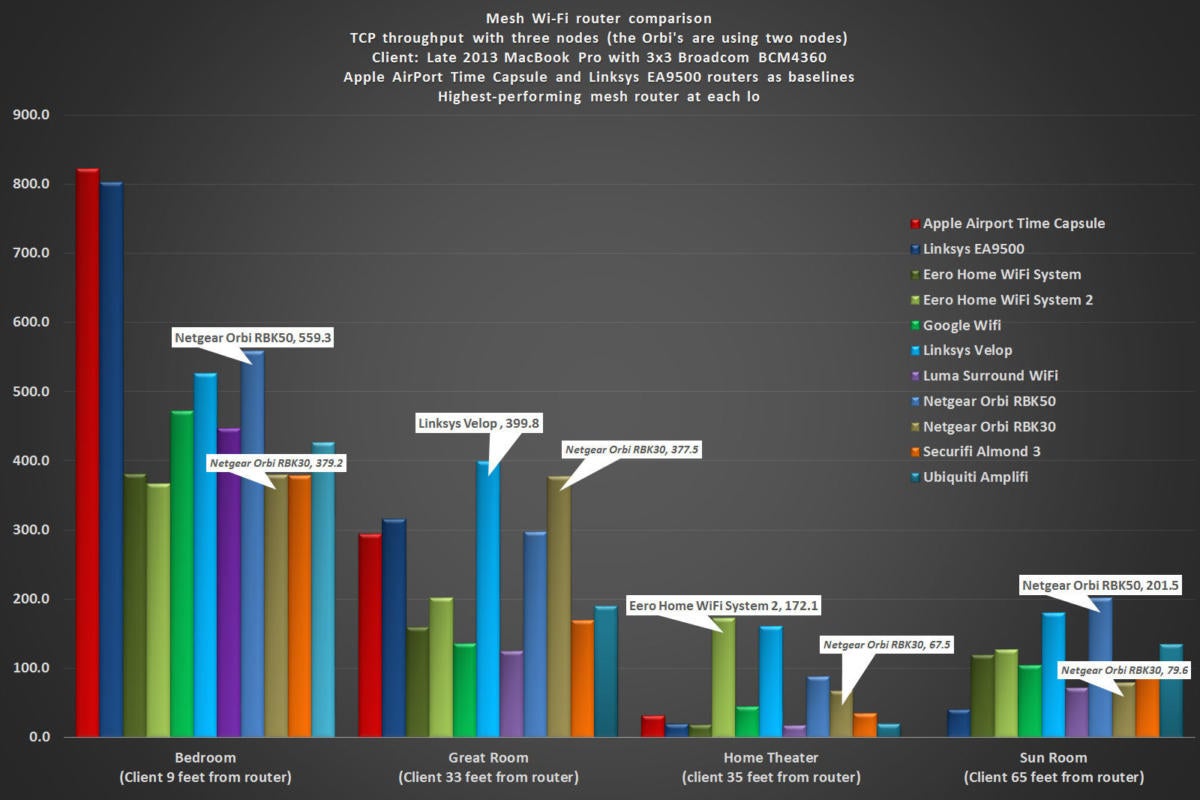 Installation (and the app)
In a break from the practice that most Wi-Fi router "system" manufacturers follow, Netgear lets you configure its routers and access points from either its smartphone app or its traditional web interface. Installation was easy, but not as slick as the second-generation Eero 2. Netgear's app doesn't perform any diagnostics to help you place the satellite, either. If you're looking for lots of hand-holding while building out your network, you'll like Eero's installation process better.
Whether your use Netgar's smartphone app or the web app, you'll be instructed to set up an admin password before you do much of anything else. That's good practice. The router's Wi-Fi network is password protected by default, and that—along with its default SSID—are helpfully printed on plastic bands wrapped around the tops of the router and the satellite. If you want to get into the nitty-gritty of the router's firmware, to access settings such as IP address reservations and port forwarding, you'll need to use the web app. The smartphone app doesn't get into that level of detail. And that's fine by me and my aging eyesight.
You can operate one guest network, although the smartphone app incorrectly indicated that the router didn't support a guest network when I tried to enable it from there. I was successful doing it from the router's web app. The guest network defaults to not letting guests see each other on the network, and it bars them from accessing your local network. You can enable both of those if you prefer, but you should take care to set a guest network password—the web app defaults to using no security at all. Parental controls are available through the Netgear Genie app, which is available for Android and iOS. Enabling them depends on your having a free OpenDNS account. I didn't spend any time with this feature.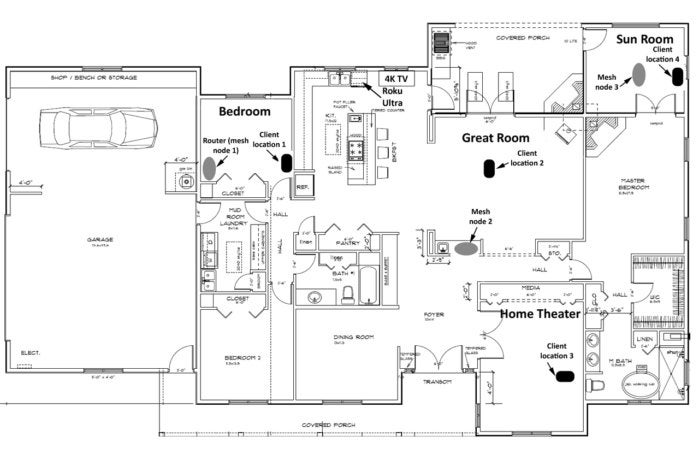 Is this the Wi-Fi system for you?
This is a tougher call than most. Comparing MSRPs, the Orbi RBK30 (router plus one satellite) is the same price as the three-node TP-Link Deco M5 and Google Wifi systems: $299. Google Wifi was significantly faster both when the client was far from the router and when it was close. But the Orbi RBK30 was faster when the client was in the two mid-range locations. The TP-Link setup was much faster than everything else at close range, and it beat both the Google Wifi and the Orbi RBK30 when the Windows client was at its furthest distance from the router. But it delivered a weak performance in the home theater test.
The RBK30 is $100 cheaper than a second-generation Eero WiFi (the kit with two Beacons). The Eero was faster at my longest-range test, so the presence of that third access point might be worth the money if you're dealing with a dead spot. On the other hand, The Orbi system was a lot faster at my other three test spots. My MacBook Pro benchmarks, meanwhile, indicate that the Netgear kit was faster when the MacBook Pro was at the two closer locations. I didn't benchmark the TP-Link system with the Mac this time around, but will circle back to it down the road.
Netgear tells me they're planning to release a firmware update in the August/September time frame that will enable its Orbi satellites to use wired ethernet for backhaul, but that won't help the RBK30's satellite because it doesn't have ethernet ports. In terms of hardware features, that leaves only the four-port switch on this Orbi router as a clear advantage. The Orbi RBK30 therefore won't move into our recommended budget Wi-Fi system slot.
Best Prices Today: Netgear Orbi RBK30
Note: When you purchase something after clicking links in our articles, we may earn a small commission. Read our affiliate link policy for more details.