Christmas in July? More like Halloween in July, as we are inundated with horror trailers this week—Evil Within II, Observer, and Call of Duty: WWII's spooky new zombies.
That, plus John Romero reveals who served as inspiration for the iconic Doom cover art, American Truck Simulator closes down Pacific Coast Highway, and StarCraft II adds skins, sprays, and other Overwatch-style fodder.
This is gaming news for July 17 to 21.
More Wang
Looking for something to play this weekend? If you never purchased the 2014 Shadow Warrior reboot, you can grab it from the Humble store from now until 10 a.m. Pacific on July 22—less than 24 hours from now. I know, it's not the longest-running promotion, but that 2014 Shadow Warrior is an incredible corridor shooter with some awe-inspiring boss battles and great (albeit crass) humor.
Everything people lauded Doom for last year? Shadow Warrior did most of it in 2014. It's worth your $0 purchase for sure.
Oh, and speaking of Humble: You can also grab a bundle of Telltale's games right now.
Blood on the ground
Call of Duty's Nazi Zombies mode has changed a lot in the last decade. It's maybe hard to remember now but the first iteration way back in World at War at least pretended to be spooky, before the various successors spun it into B-movie fodder, meta-humor, and increasingly ridiculous themed settings.
Mentioned in this article
Call of Duty: WWII
Price When Reviewed:
$59.99
Looks like Call of Duty WWII's main campaign isn't the only thing going back to its roots this year then, as the latest Nazi Zombies trailer doubles down on the horror elements and American Horror Story- style camera pans.
Robot zombies
Call of Duty looking too spooky? Prefer your Horde Mode spinoffs with less gore and more wall-running? Titanfall 2 is adding a co-op Frontier Defense mode next week that throws four players up against five waves of enemies. Seems like a smart move, considering AI enemies are already a prevalent part of the multiplayer.
Come on baby, light my Pyre
Pyre, the new game from Bastion/Transistor developer Supergiant, releases next week. There's a trailer, which touches on the usual Supergiant strengths—lush art style, a creative-looking world, and (of course) Darren Korb's music. Look for it on July 25.
Stuck on the 101 instead
Mentioned in this article
American Truck Simulator
Price When Reviewed:
$19.99
Not much of a simulator if you don't mirror real life, eh? A landslide closed a massive chunk of California's Pacific Coast Highway earlier this year, and now American Truck Simulator is updating accordingly—this week, SCS announced it'll be closing the in-game version of Highway 1 too, pending real-world events. Pretty cool.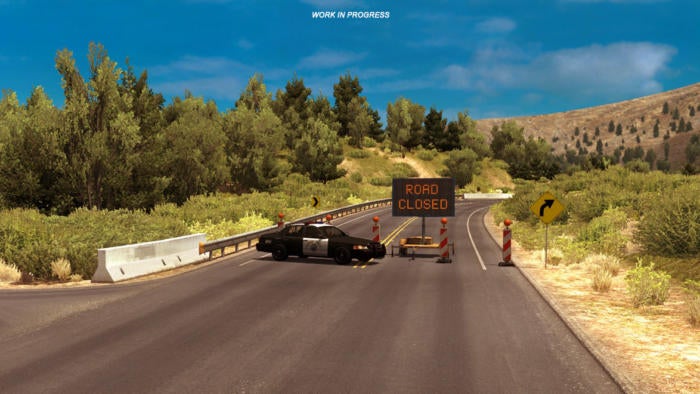 A larger path
Path of Exile keeps on growing, with The Fall of Oriath set to release on August 4. The expansion adds a whopping six acts to the game, doubling the size and adding both brand new areas and some reworked regions. Oh, you also fight against the gods. Plenty of clicking ahead, so give your index finger some endurance training.
Norsca
A preorder bonus that's not actually a preorder bonus? One that's available to people who buy the game after reviews hit? How positively ethical.
Mentioned in this article
Total War: Warhammer II
Price When Reviewed:
$59.99
This week Creative Assembly announced a "preorder bonus" for Total Warhammer II, the Norsca Race Pack a.k.a. basically Vikings. The good news? It's also free to anyone who buys the game within the first week post-release. More of this, please. (It'll cost $10 after that first week.)
"War Chest"
When I heard "StarCraft II" and "War Chest" together I thought this was going to be a cool follow-on to the massive Battle Chest box sets Blizzard put out in the past. Alas, no such luck. Instead, it looks like skins, sprays, and the rest of the microtransaction-fodder from modern multiplayer has finally made it to StarCraft II. I guess it was only a matter of time.
Milkman
Mentioned in this article
The Evil Within 2
Price When Reviewed:
$59.99
The latest Evil Within 2 trailer isn't quite so stylish as the one shown at E3, but I'm still loving the unique look it's going for. Incredibly surreal. Now if only I didn't hate playing the first one.
Tears in rain
Add even more horror to the pile with a new trailer for Observer, the latest from the Layers of Fear developers. Weird cyberpunk horror this time around. And if you're digging the Blade Runner vibe? Good news: Rutger Hauer is voicing the main character.
Doomguy
Okay, enough horror. Time for something lighthearted to close out the week. This one comes courtesy of John Romero, who wrote about the original and iconic Doom cover on his blog—specifically, about who modeled for the strapping young man facing down demons.
The answer? Why, John Romero of course. A shirtless John Romero.
Apparently Romero explained what he was looking for to Don Punchatz, the illustrator, but the sit-in model wasn't understanding what Romero wanted. Writes Romero:
"The model was holding the gun in various positions and none of them were interesting to me.

Frustrated, I threw my shirt off and told him to give me the gun and get on the floor – grab my arm as one of the demons! Defeated, he deferred. I aimed the gun in a slightly different direction and told Don, 'This is what I'm talking about!' Don took several pictures. I moved the gun some, the demon grabbed my leg, other arm, etc. At the end of it we all decided the arm-grabbing pose was going to be the best.

And that's the story of how the cover composition was created.

I am the Doomguy. (at least on the cover)"
No word on whether those were Romero's real abs.