As AMD begins shipping its low-end Ryzen 3 chip Thursday, it's employing a familiar strategy: undercutting Intel's Core i3 pricing while offering more performance.
Mentioned in this article
AMD Ryzen 3 1300X with Wraith Stealth cooler
Price When Reviewed:
$129.00
AMD used the same tactics with its higher-performance Ryzen lineup, most notably with the eye-popping discounts attached to its Threadripper high-end gaming processors. But don't expect such massive cuts with AMD's new Ryzen 3 1200 and Ryzen 3 1300X: You'll pay just a few dollars less, though AMD promises performance from 17 percent to 29 percent better than what Intel's Core i3 chips can achieve.
As AMD revealed about two weeks ago, the company is offering two Ryzen 3 chips:
The $109 3.1GHz 4-core, 4-thread Ryzen 3 1200
The $129 3.5GHz Ryzen 3 1300X
There's apparently little physical difference between Ryzen 3 and its more powerful cousins. AMD executives said they've used "downcoring" and "downbinning"—using Ryzen 5 or Ryzen 7 chips with cores turned off, running at slower speeds—to enable the Ryzen 3 product line. Like every other Ryzen, however, the Ryzen 3 chips are multiplier-unlocked, allowing overclocking.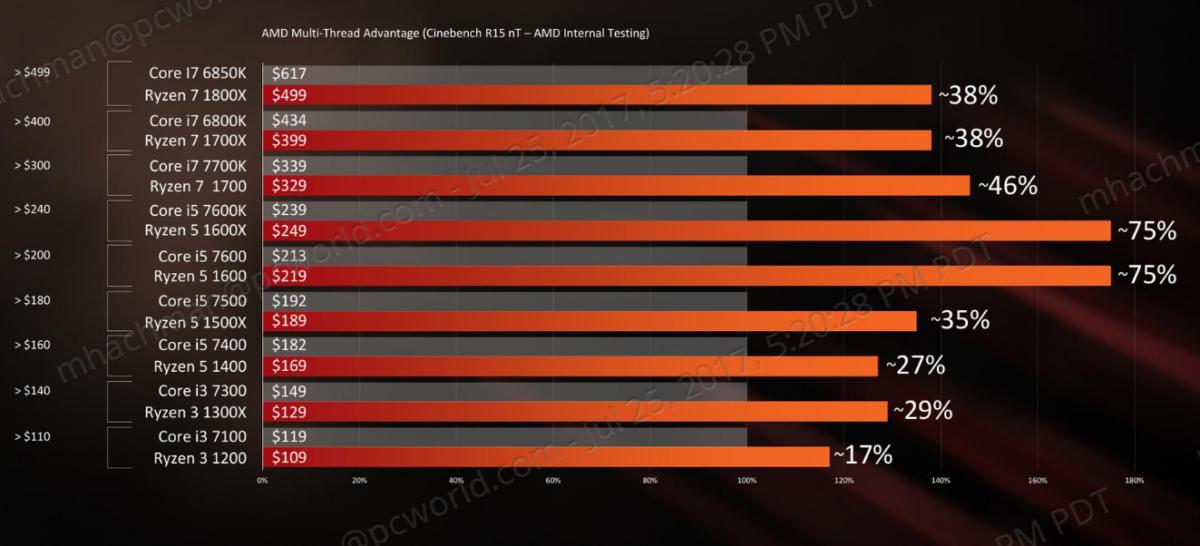 As for prices, the Ryzen 3 1200 offers an 8-percent price discount versus Intel's own 3.9GHz 2-core, 4-thread Core i3-7100. The Ryzen 3 1300X is 13 percent cheaper than the 4GHz 2-core, 4-thread Core i3 7300.
Though Intel's Core i3 chips top AMD's Ryzen 3 chips in clock speed, AMD is promising superior performance. AMD claims the Ryzen 3 1200 and Ryzen 3 1300X are 17 percent and 29 percent faster, respectively, than their Intel counterparts. AMD also promises the 1300X will be 13 percent faster than the Core i3 7300 in Overwatch at 1080p resolutions. Finally, AMD said both Ryzen 3 chips will be VR-ready, though without the performance of some of its more powerful cousins, like the Ryzen 5.
AMD hopes the competitive pricing and performance will help it sell lots of Ryzen 3 parts. "It's priced at a more budget-conscious price point," explained Jim Anderson, the senior vice president and general manager of AMD's Computing and Graphics Business Group, in a statement. "We would certainly expect Ryzen 3 to do significant volume."
Mentioned in this article
AMD Ryzen 3 1200 with Wraith Stealth cooler
Price When Reviewed:
$109.00
The Ryzen 3 chips may lack the awe-inspiring power of their high-end Threadripper cousins, but quantity sales matter to AMD, too. Anderson added, "just the size of the market of Ryzen 3 in terms of units is more than Threadripper. So Ryzen 3, we would think, would be a higher-volume product, overall."
Like the other Ryzen chips, all of the Ryzen 3 processors will use the AM4 socket. AMD offers three chipsets: the X370 enthusiast chipset, the B350 mainstream chipset, and the A320 basic chipset for low-end PCs.
There's one, final, unexpected bonus: AMD will be offering its Wraith Stealth cooler in conjunction with the Ryzen 3, the company said.
Why this matters: AMD hopes that Ryzen 3, sold in volume, will be the budget CPU that pulls more users onto the AMD bandwagon. The lower end of the desktop market is AMD's traditional strength, after previous generations of AMD chips were essentially banished to the bargain bin because they lacked competitive performance. AMD will actually continue to sell the existing A12, A10, A8 and other Athlon chips for "entry-level PCs" a rung below Ryzen. If Ryzen 3 proves it has some spunk, that could help build more precious user loyalty.