At a Glance
Expert's Rating
Pros
Excellent performance
Super small and light
Our Verdict
The T5 is easily the fastest non-RAID portable USB SSD we've tested. It makes full use of its Gen 2, 3.1 interface while retaining the svelte profile of the T3. A winner for sure.
Best Prices Today: T5 SSD
We've been fans of Samsung's super-svelte T series USB SSDs since their introduction in the form of the T1. They're small, light, silent, nearly indestructible, attractively styled—and the T1's 300MBps performance over USB was a kick in the pants when we first experienced it.
The follow-on T3 added a Type-C connector and Gen 1 USB 3.1, but overall performance was only a marginally better. With the T5, the company has gone state-of-the-art with 10Gbps USB 3.1 Gen 2, and the performance increase is now noticeable. Very noticeable. We like it.
This review is part of our roundup of best external drives. Go there for details on competing products and how we tested them.
Performance
As the major change between the T3 and T5 is the implementation of USB 3.1 Gen 2 (10Gbps), let's first talk about speed. After our initial test unit failed to pass muster, Samsung replaced it, and the second set of benchmark results turned our heads. With the exception of random access times, the numbers were as good or better than an internal SATA SSD drive and about 20 percent faster than the T3. We've seen better scores from an external USB drive only when RAID or PCIe/NVMe is involved.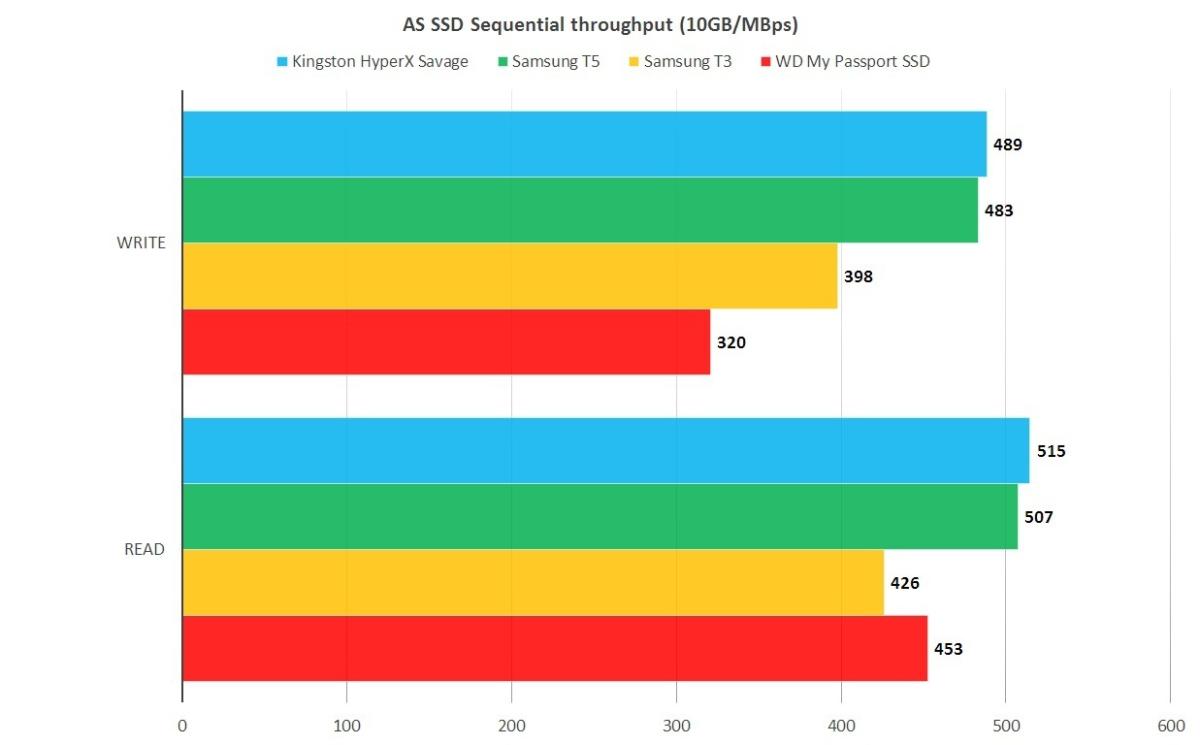 Our real-world copy tests showed gains over the T3 as well, though a bit more modest. Note that the T5 arrived formatted to exFAT. We offloaded the included management software and reformatted to NTFS for better performance when writing small files.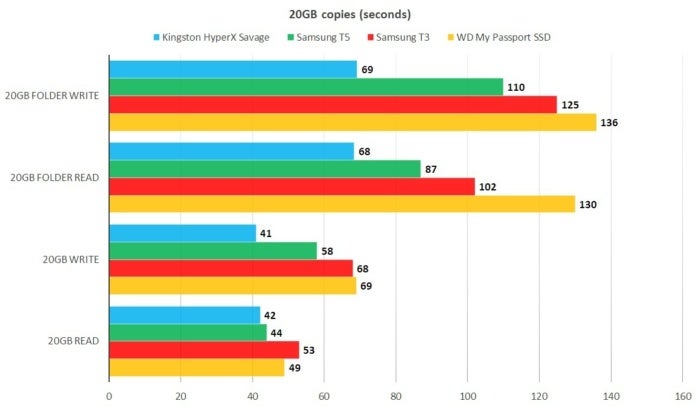 You'll also notice that the T5's parity with internal SATA drives in the synthetic benchmarks disappeared in our real-world test when writing all types of files, as well as reading smaller files. Regardless, the T5 is very fast external storage.
Note: To see the type of performance shown above, you need a 10Gbps USB 3.1 port. With 5Gbps USB 3.1 and USB 3.0, and 480Mbps USB 2.0, performance will diminish accordingly.
Price and Design
The T5 retains the T3's diminutive size: 3 x 2.3 x 0.4 inches—small for a 1.8-ounce drive that ships with up to 2TB on board. Indeed, the T5 looks exactly like the T3, with the exception that it now is available in an attractive cobalt blue.
Pricing varies from 50 cents per gigabyte for the $130/256GB version, to 40 cents with the $200/500GB, $400/1TB, and $800/2TB models. The drive ships with both Type-C to Type-C and Type-C to Type-A cables. Other features include 256-bit AES hardware encryption and software for Windows, OS X, and Android that can be used to update and password-protect the drive.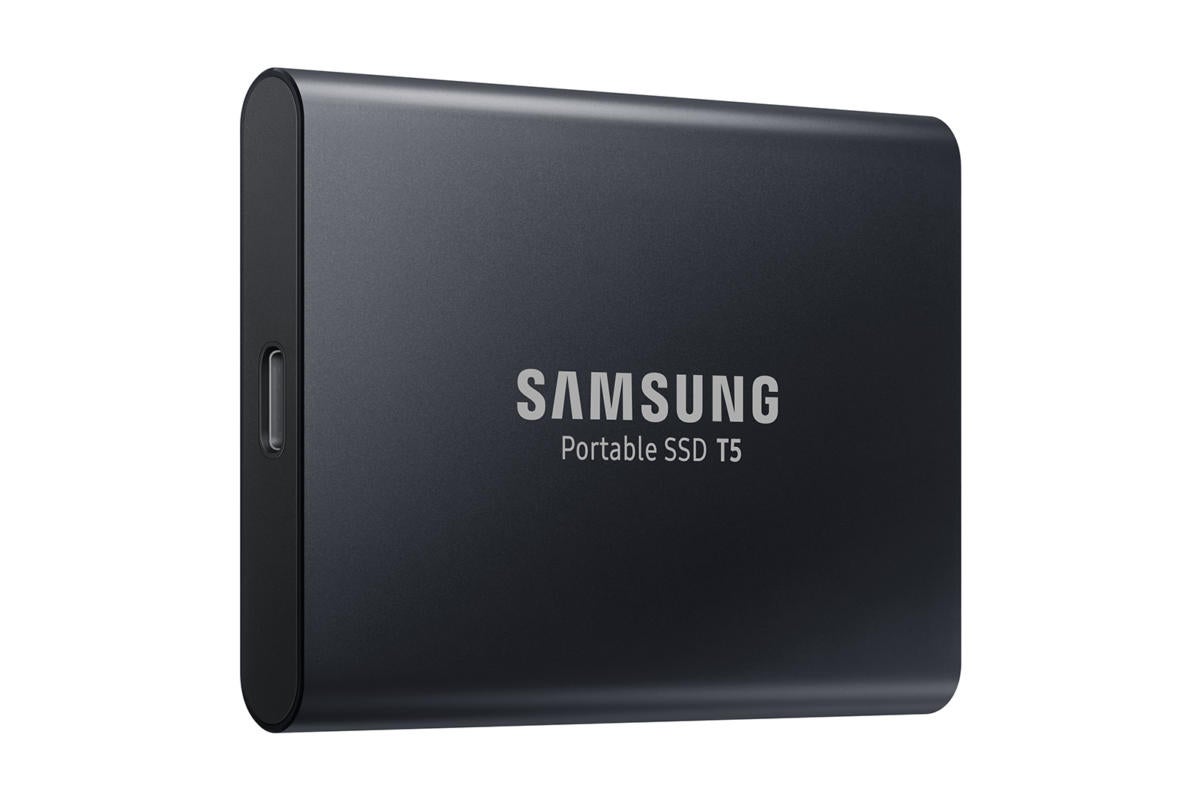 Samsung was more forthcoming about the components inside the T5 than WD was about its My Passport SSD, which comes close to the T3 in performance, but pales next to the T5—despite also having the same 10Gbps USB 3.1 interface. Where WD had "no comment," Samsung let us know that SSD is a SATA type using a bridge chip, and the NAND is the company's latest 64-bit, stacked (vertical) TLC (Triple Level Cell/3-bit).
The T5 carries only a three-year warranty, instead of the five that some of the better internal drives sport. Samsung didn't have a TBW rating (TerraBytes Written) for us, but we've gotten good life out of both the T1 and T3.
One caveat: As with many external USB SSDs, at one time or another, both the T1 and T3 have come up with a message telling us that the device isn't accessible. Repartitioning and reformatting revives the drive, but we don't recommend the breed for backup unless you're using at least two.
Conclusion
All things being equal, and we're talking price, the T5 is the external SSD most users will want. Sandisk's Extreme 900, a much larger drive, is still the speed king, but the T5's superior combination of small size and big performance makes it our overall favorite.
Best Prices Today: T5 SSD
Note: When you purchase something after clicking links in our articles, we may earn a small commission. Read our affiliate link policy for more details.