Intel released the final details of its Core i9 microprocessors Monday morning, and the data is in: AMD's high-end Threadripper processors will be faster—except when you really need it.
Remember that Intel's Core X-series family (also called the Core i9) was announced with several key omissions: namely the clock speeds of the 12-core Core i9-7920X and above, as well as the thermal design power, or TDP. On Monday, Intel filled those in. The 12-core Core i9-7920X launches Aug. 28 while the 14-, 16-, and 18-core Core i9 chips ship on Sept. 25.
Mentioned in this article
AMD Ryzen Threadripper 1950X
Price When Reviewed:
$999.00
Perhaps most important, though, is that we now know how fast Intel's Core i9s will run. When Intel inadvertently revealed that its 12-core Core i9-7920X was 2.9-GHz—slower than the comparable AMD Threadripper—a subset of the Internet had a small freakout. We now know that that will be true for the remaining Core i9s as well, but with a big caveat.
[ Further reading: 10-core Intel Core i9-7900X review ]
Here are the remaining speeds and feeds for the high-end Core i9 chips:
Core i9-7980XE (18 cores, 36 threads): 2.6GHz; Boost, 4.2GHz to 4.4 GHz
Core i9-7960X (16 cores, 32 threads): 2.8GHz; Boost, 4.2GHz to 4.4 GHz
Core i9-7940X 14 cores, 28 threads: 3.1GHz; Boost: 4.3GHz to 4.4GHz
Core i9-7920X (12 cores, 24 threads): 2.9-GHz; Boost: 4.3-GHz to 4.4GHz
Note that the boost speeds refer to both Intel's Turbo Boost Technology 2.0 and 3.0. (The latter is also referred to as Intel Turbo Boost Max Technology 3.0). In this case, the boost numbers refer to the fastest dual-core frequency that can be achieved. If you're going to be buying one of these chips, however, it's likely you'll be trying to achieve maximum performance.
Finally, here's the complete matrix of Intel's Core i9 processor family: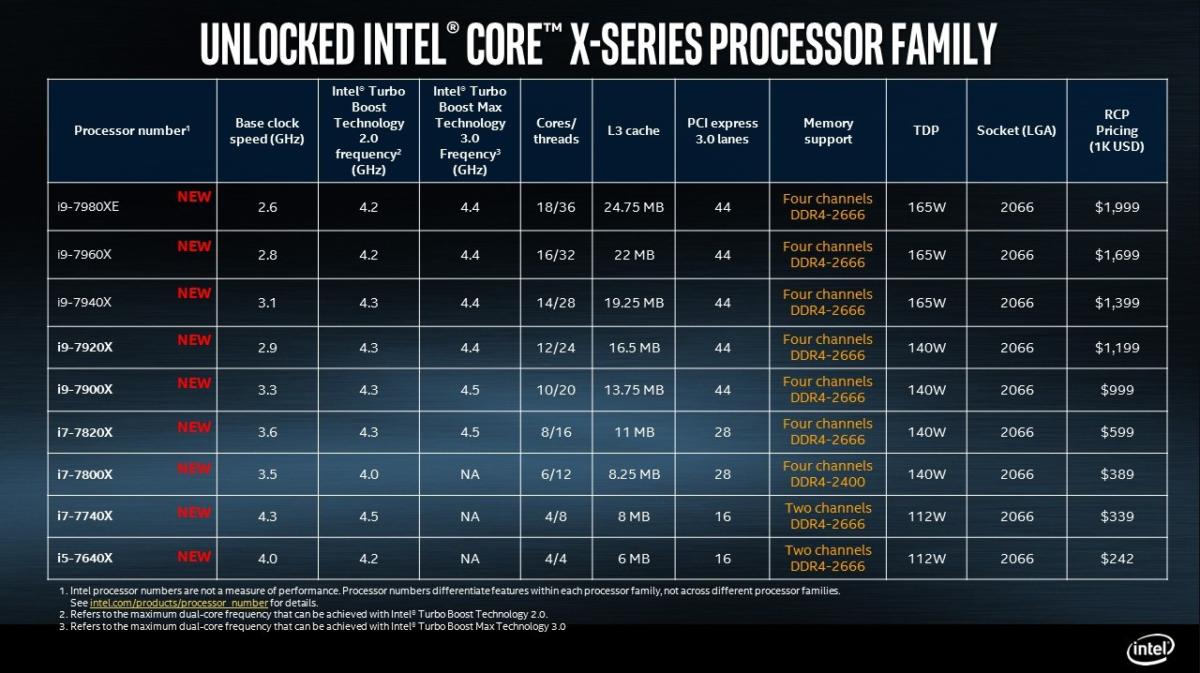 Essentially, both Intel and AMD can claim the title of fastest processor. As our quick comparison chart reveals below, Threadripper's base clock speeds are faster, but Intel's boost speeds climb higher than Threadripper can. It's also important to note that while Threadripper consumes 180 watts, even the fastest Core i9 chips Intel has announced have a lower TDP of 165 watts.

What's also important, however, is that Intel has left its pricing completely unchanged—still giving a massive advantage to AMD. Does Intel believe that the Core i9 will outperform Threadripper, justifying its higher price? It certainly appears so.
Intel's first Core i9 CPU is available now
Intel Core i9-7900X Processor
Price When Reviewed:
$999.00
Why this matters: Now that we've seen the final clock speeds from Intel, we know that, on paper, Intel's Core i9 will be faster in applications with minimal threads, such as traditional gaming. The Core i9 will also consume less power. But AMD still has an enormous pricing advantage in terms of sheer cores, and it's likely that Threadripper will catch up under multithreaded loads. Still, what we have here is true competition, and there's enough here to make the question of which processor is "better" a truly interesting one.