It looks like AMD's high-end desktop lineup won't be limited to XFR-compatible chips after all. While the initial salvo of Threadripper CPUs—the 16-core Threadripper 1950X, 12-core Threadripper 1920X, and 8-core Threadripper 1900X—all sport the telling "X" designation, CPU support pages from several motherboard vendors have tipped off a non-X Threadripper 1920 that AMD hasn't announced yet.
Tweakers discovered the Threadripper 1920 listed on websites for Asus, Gigabyte, and ASRock. PCWorld was able to confirm the listing on Gigabyte and ASRock's sites, though Asus has since scrubbed its support page for the $550 ROG Zenith Extreme entirely.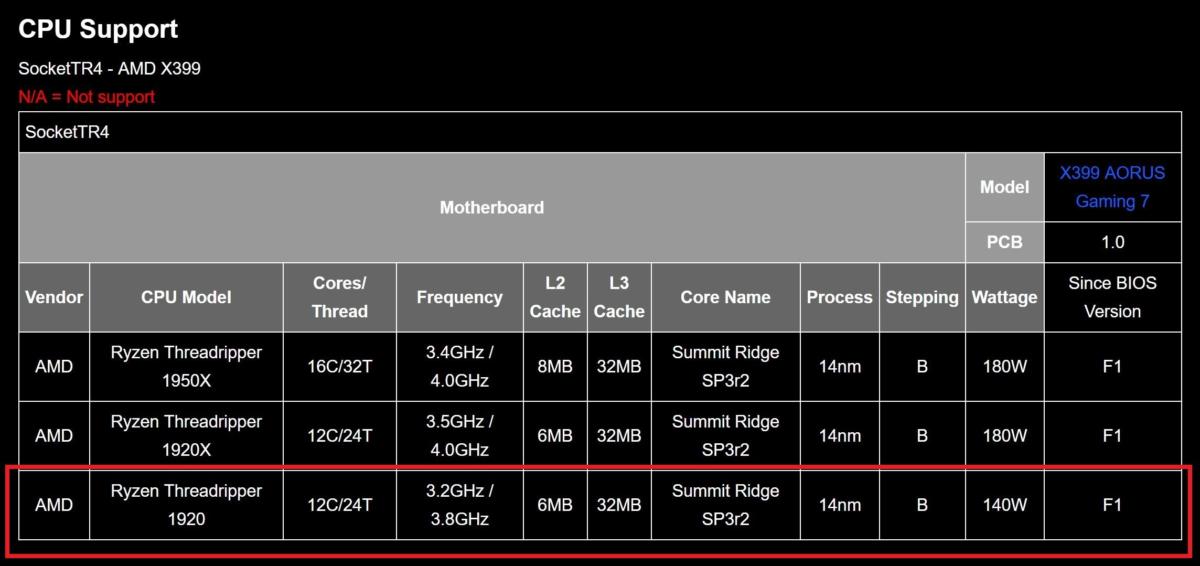 Mentioned in this article
AMD Ryzen Threadripper 1920X
As you can see, the Threadripper 1920 is also a 12-core, 24-thread processor, though it's clocked slightly lower than its cousin at 3.2GHz to 3.8GHz. (The 1920X runs at 3.5GHz to 4GHz.) It also lacks the extra oomph provided by AMD's XFR technology in some situations. But the lower speeds translate to lower power requirements too, as the leaked Threadripper 1920 is rated for 140W, compared to the 180W for the Threadripper X chips. The chip also includes 6MB of L2 cache and 32MB of L3 cache.
The motherboard support pages don't mention pricing for Threadripper 1920, though it'll undoubtedly slot somewhere between the $550 Threadripper 1900X and the $799 Threadripper 1920X. Nor do we know when the unannounced chip will be officially announced. I'd bet on it being sooner than later, however, as the ($1,000) Threadripper 1950X and 1920X are slated for release on August 10. Head over to PCWorld's in-depth Ryzen Threadripper explainer for everything you need to know about AMD's imminent rivals to Intel's Core i9 chips.
Watch PCWorld's Gordon Mah Ung and Alaina Yee unbox and install Threadripper.