At a Glance
Expert's Rating
Pros
Excellent peformance
Highly affordable for an MLC NAND SSD
Cons
Only available up to 480GB
TBW endurance rating could be higher
Our Verdict
This affordable MLC NAND SSD is an outstanding performer, though the somewhat limited capacity (480GB max) might cost it some market share. But if you value speed over capacity, there are very few drives that can match the BX300. Especially given the price.
You may color us surprised any time we receive an SSD such as Crucial's new BX300 that's not based on 3D TLC NAND. Actually, you may color us delighted. MLC NAND, even 3D (aka stacked, layered, tiered, etc) like that used in the BX300, can consistently perform near the limit of SATA 6Gbps, where TLC generally can't. Once you exceed the cache in a TLC drive, performance dips, sometimes drastically. With MLC, you get consistent straight-line performance, generally 450MBps or better.
Note: This review is part of our best SSDs roundup. Go there for details about competing products and how we tested them.
Design and features
The BX300 is available in 120GB, 240GB, and 480GB flavors that we found on Amazon for $60 (50 cents per GB), $90 (37 cents per GB), and $150 (31 cents per GB) respectively. Competitive, though we've seen cheaper TLC drives. The 120GB and 240GB models have 256MB of DRAM cache, while the 480GB (the one we tested) has 512MB. There's also 4GB of SLC NAND cache per 120GB of MLC.
All three models carry a three-year warranty, and the 120GB version is rated for 55 TBW (Terabytes Written), the 240GB model for 80 TBW, and the 480GB version, 160 TBW. That's not the highest TBW we've seen, but still well over the expected usage for a period of 5 years. Actually, for most users, 10 or 15 years.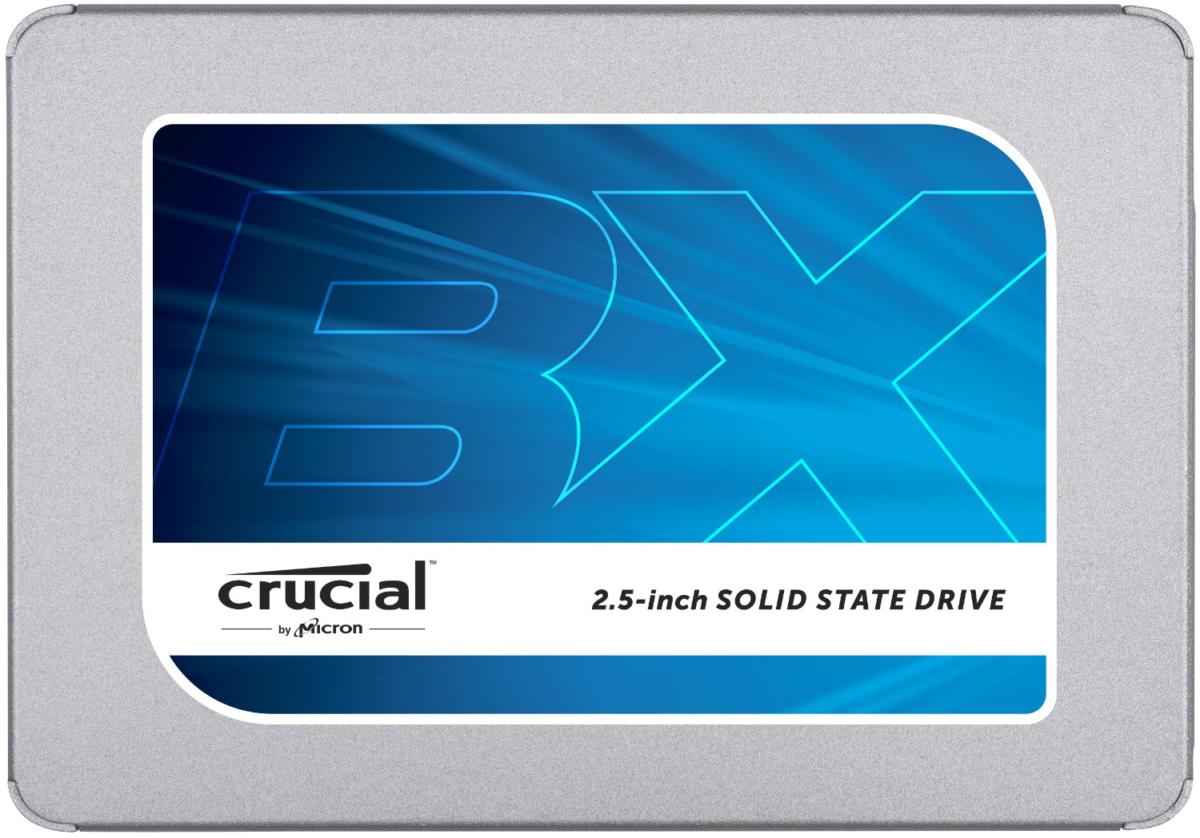 Design… really? Come on, it's a 2.5-inch SATA 6Gbs SSD. The BX300 is the same size as all of its ilk, though we should tell you that it is 7mm, not 9mm, thick, and consequently a nice fit for upgrading a laptop. It's silver and has a blue Crucial logo. Oh, and it has rounded corners.
Performance
Having already sung the praises of MLC, the only thing to do is to show you the difference. We've included Kingston's HyperX Savage (MLC, of course), which is the fastest SATA SSD we've ever tested, as well as some TLC drives to show you the difference.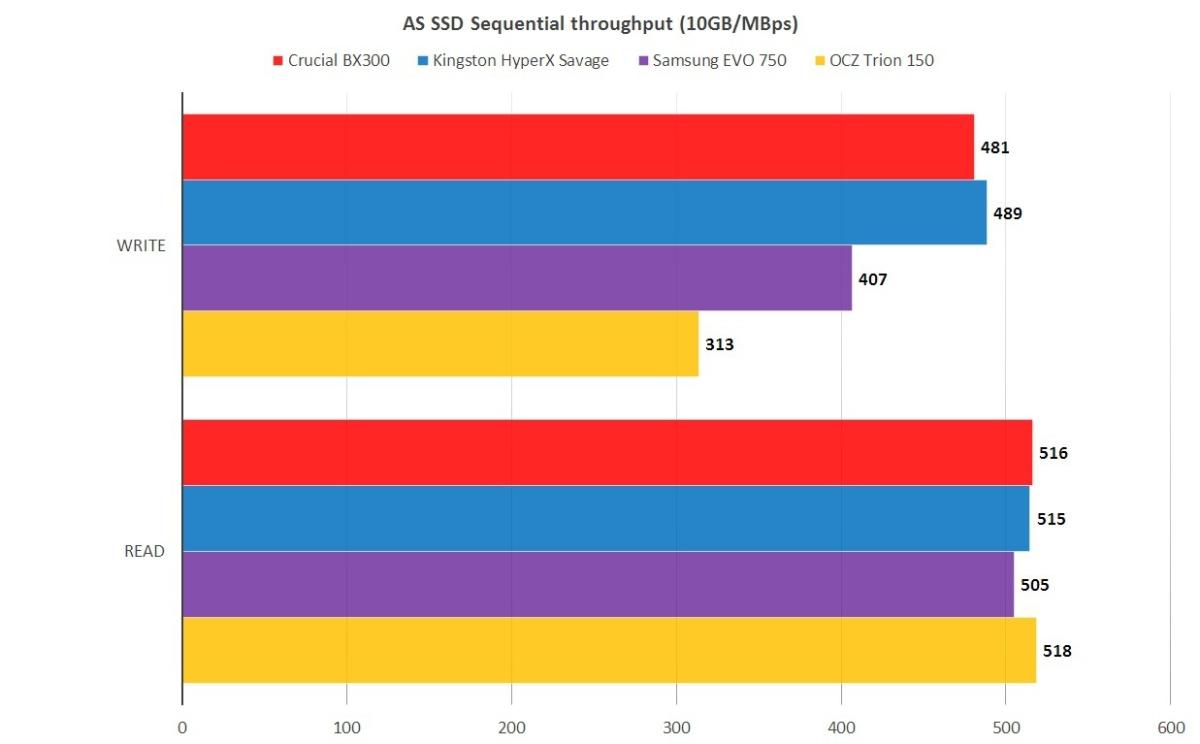 We tested the BX300 using AS SSD and CrystalDiskMark 5 (not shown), and we performed 20GB copy tests. As the latter might not exceed the cache of our 480GB model by much, and to dispel any doubts of monkey business, we also tried writing larger 40GB and 49GB data sets to the drive. It maintained the same sustained speeds shown in the charts.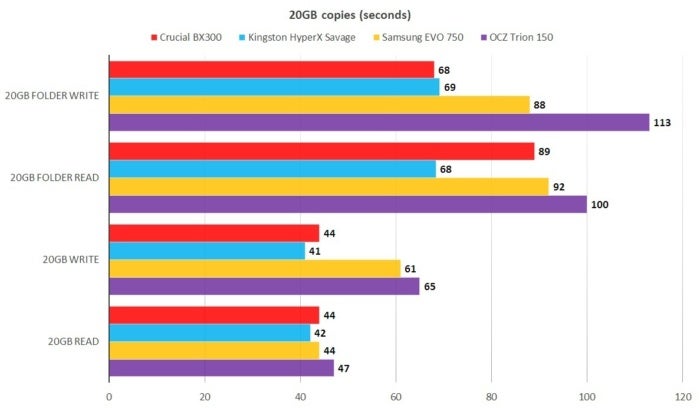 PCIe/NVMe? That's a completely different class. We didn't include one on the charts because 2TBps reading and 1.2TBps writing tends to make SATA look bad.
Note: While we tested the 480GB version of the BX300, the lower-capacity models, especially the 120GB version, might test a bit slower; most noticeably when writing lots of small files. This is not because of the type of NAND or amount of cache, but simply because there are fewer chips and fewer pipes to spread data across.
Conclusion
The BX300, all things being equal, and by that we mean available at or near the same price as TLC NAND SSDs, is the better drive. You might not notice the performance difference in everyday use, but the first time you write a large batch of files to it you'll be happy you opted for it. Thanks to Crucial for putting an affordable, non-compromised SSD out there for consumers.