At a Glance
Expert's Rating
Pros
Fast PCIe/NVMe performance
Evocative assault rifle styled heat-sink
Decent price per gigabyte
Cons
Evocative assault rifle styled heat-sink (yes, we know)
Requires modern BIOS if you want to boot from it
Our Verdict
It's not the fastest PCIe/NVMe SSD we've tested, but that's like saying the Lamborghini we tested isn't as fast as the Ferrari. What the PT920 is, by far the most evocative. But it's evocative of an assault rifle which will limit it's appeal to the shoot 'em up gaming crowd. For then, great. For others… Just hide it in the case.
Best Prices Today: PT920 Commando PCIe/NVMe SSD
Apacer's Commando PT920 (Patrol Torpedo?) has a mission: to make sure your gaming ambitions aren't foiled by laggardly data handling. A SATA SSD might not ensure your lightning-fast mental and physical reflexes are rewarded, but with a PCIe/NVMe SSD such as the Commando PT920, your failures will be your own, we assure you.
Note: This review is part of our best SSDs roundup. Go there for details about competing products and how we tested them.
Design and features
There's usually not a lot to talk about with the outward design and appearance of an SSD. But when you're aiming at the gaming market, all bets are off—and the bling is on. Plextor's PCIe/NVMe SSDs are colorful, and the PT920 Commando, because of its cover/heat sink styling, is evocative of a famous family of weapons—the M-16/AR-15.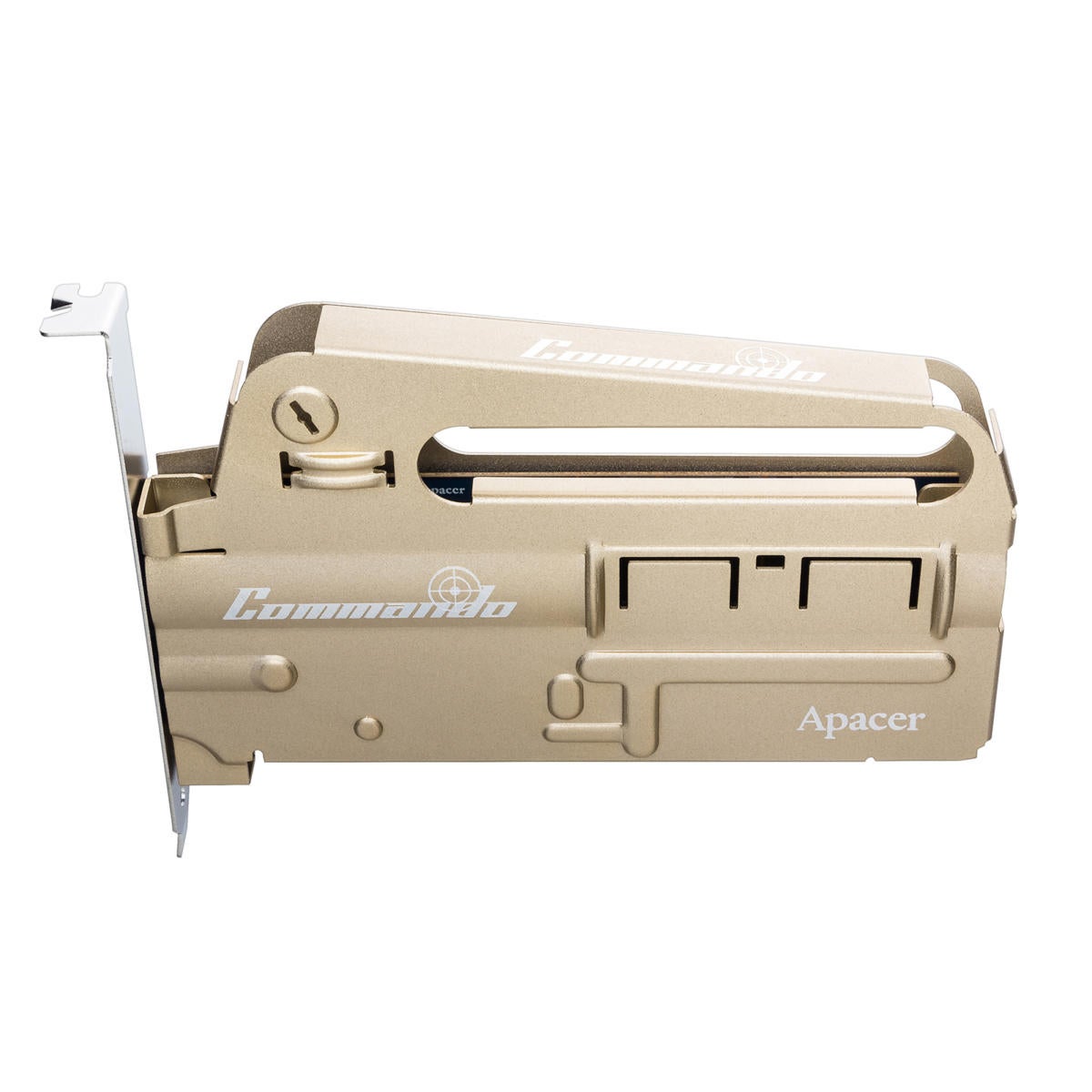 The rendering isn't completely accurate, but the resemblance is unmistakable due to the handle. That said, the soft-gold model we received takes enough of the military edge off that parents might not mind the violent overtones. It also stands out better than black or camouflage would. Okay, dark camouflage, anyway.
The PT920 Commando is an M.2 NVMe SSD on a PCIe Gen 3 X4 adapter card. The NAND is 2D MLC (non-layered, Multi-Level Cell/2-bit), and the drive is available in $200/240GB and $270/480GB flavors. The larger capacity is obviously the better deal in terms of price per gigabyte, though the lower capacity model lets you in the game if you're on a tight budget.
To maximize the PT920's potential, you'll need at least one free PCIe 4X or greater slot, and four Gen-3 PCIe lanes from your CPU/chipset. Having enough PCIe lanes is generally a concern only with entry-level gaming PCs, and usually only when expanded beyond their initial configuration—like when you add an PCIe/NVMe SSD.
Performance
Before you check out the benchmarks, please take the AS SSD results less than seriously. They're only here to demonstrate the technology involved. They don't indicate real-world performance, as the program issues a FUA, or Force Unit Access command—not something likely to happen in a consumer PC, only in enterprise-level servers.
SSDs that heed the command turn off all caching they're performing to ensure data being written isn't lost if power is removed. With NVMe SSDs, there's a lot of caching going on. While the PT920 read just about as fast as the Intel 750 and OCZ RD400 in AS SSD, its write score was less than half. The 750 and RD400 ignored the FUA command, hence their commanding lead. Move on to the next tests and you'll see how the PT920 will actually perform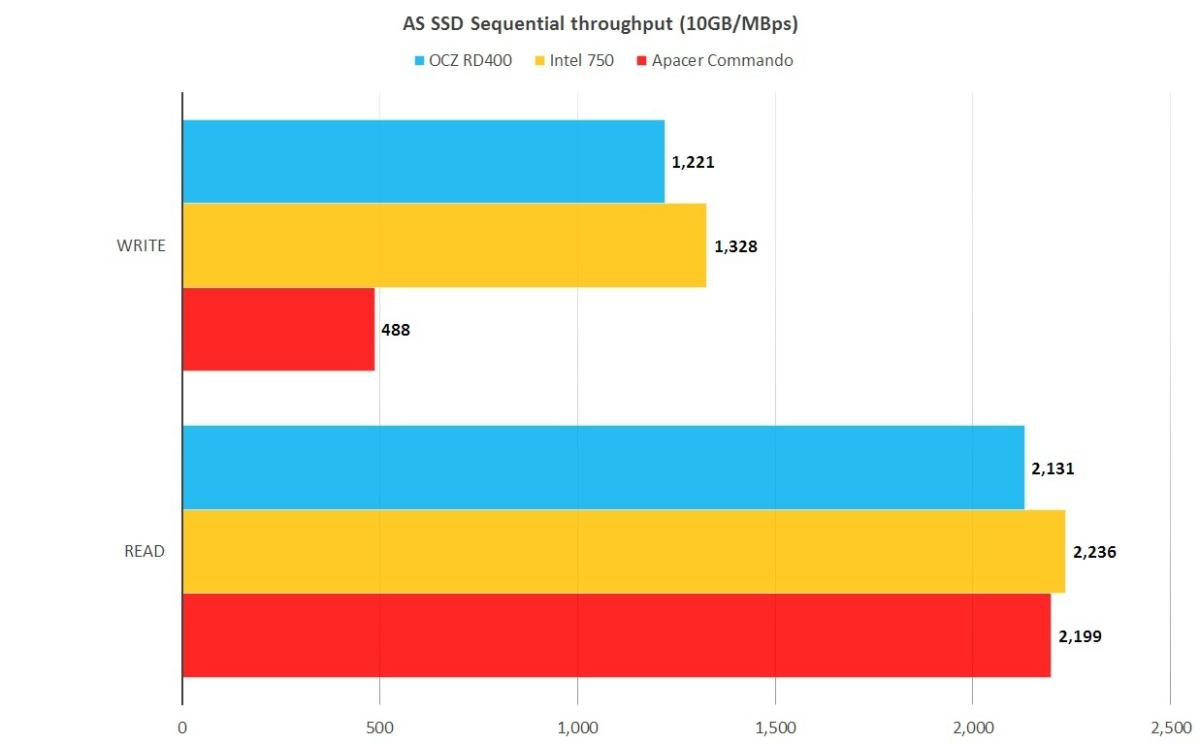 The numbers you see in the CrystalDiskMark and real-world copy tests, on the other hand, are indicative of what you'll actually experience and here the Apacer actually outwrote the Intel 750 and OCZ RD400. Reading, it was considerably slower.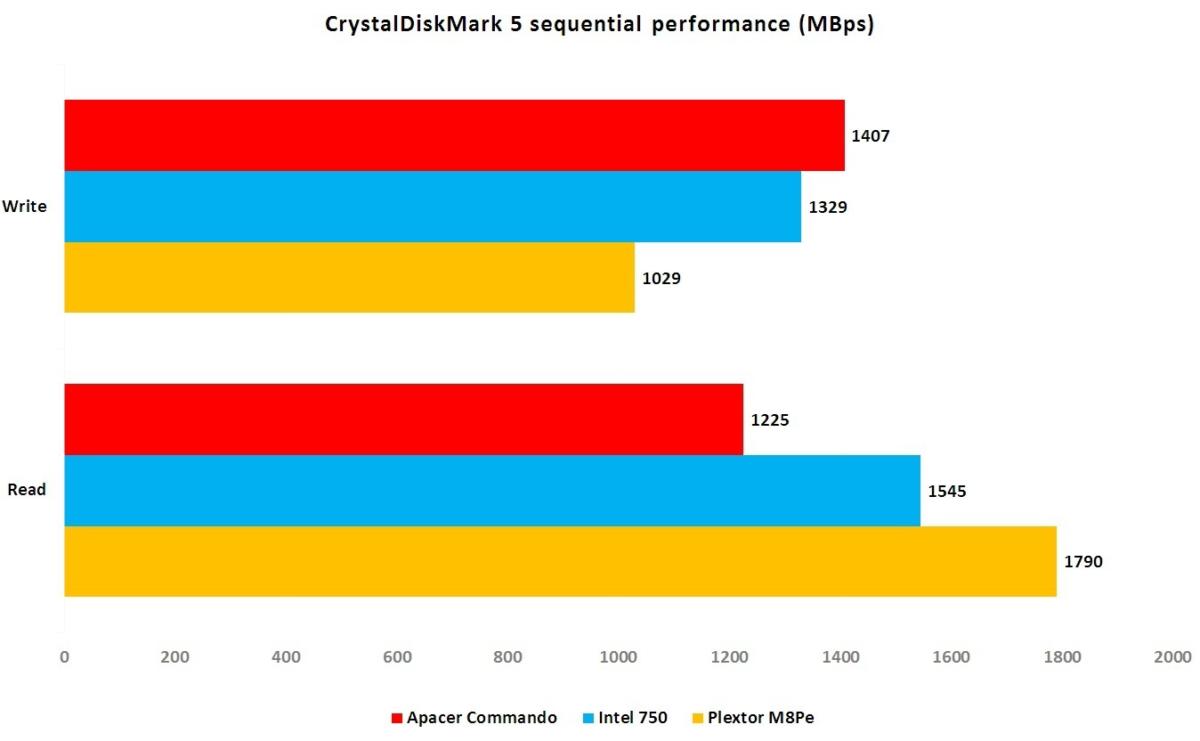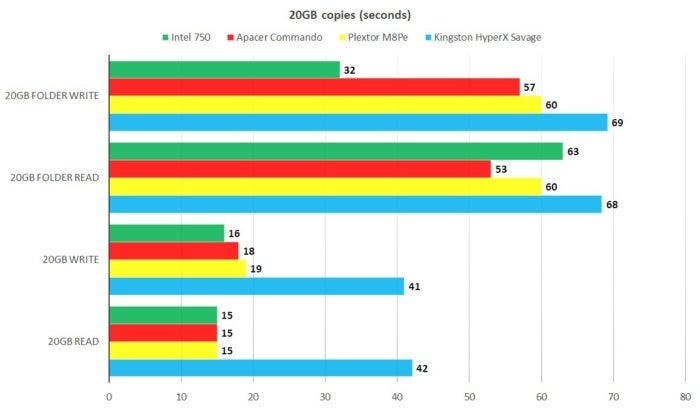 The copy tests above show that there's little practical difference between the three drives when it comes to moving data around using Windows Explorer. To be blunt, it's impossible subjectively to tell the difference between the drives when placed in the same system.
Conclusion
Though it's not the fastest PCIe/NVMe SSD we've tested at all tasks, the Apacer Commando PT920 will still deliver a kick in the pants to your overall system performance. Assuming of course, your system can boot from NVMe, which only fairly recent PCs can do. We're guessing that if you're running a gaming rig, it will. But even if not, you can run the games and direct any caching to the PT920 for a very nice boost in performance.
If you like the look, have at it.
Best Prices Today: PT920 Commando PCIe/NVMe SSD