At a Glance
Expert's Rating
Pros
Mesh router and smart-home hub all in one unit
Supports Wi-Fi, Bluetooth, ZigBee, and Z-Wave
Broad support for first- and third-party smart-home hardware
Cons
Samsung Connect app isn't as powerful or sophisticated as the SmartThings app
A mid-range mesh Wi-Fi router at best
Limited support for smart thermostats
Our Verdict
This is the best router/smart-home hub combo on the market, but you'll trade power for convenience and ease of use.
A smart-home system has components distributed all over the house, controlled by a hub that's connected to the internet via a router. That arrangement enables you to control the system from anywhere you have broadband access. So Samsung's decision to meld a smart home hub with a mesh Wi-Fi router is a no brainer. But melding is always tricky. You might get something delicious, like a Reese's Peanut Butter Cup. Or you might end up with a disappointment, like the 1962 Amphicar, a car/boat that didn't excel as either. The Connect Home isn't a bad product, but it's much closer to the floating car than the sweet confection.
Samsung has never been a big player in the Wi-Fi router market, and it didn't have a presence in the smart-home market until it acquired SmartThings in 2014. The SmartThings hub is our current top pick for DIY smart home system because of its power and relative openness. You can create systems that are as simple or as sophisticated as you want, using just one or multiple apps to control third-party products as easily as SmartThings-branded hardware. But Samsung is aiming the Connect Home series at a broader audience and wants it to be easier to use.
There are two versions of the Connect Home, available in three SKUs. Both are dual-band 802.11ac mesh Wi-Fi routers with SmartThings hubs and Z-Wave, ZigBee, and Bluetooth radios integrated into the same enclosure. In this regard, Samsung one-ups the only other router/smart-home hub I've tested: You need a $30 dongle to bring Z-Wave compatibility to the Securifi Almond 3.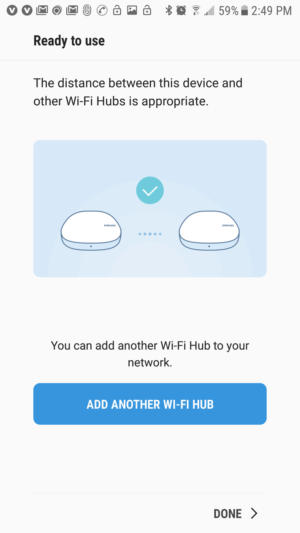 During setup, one of the nodes in the Connect Home 3-Pack gets configured as a 2×2 MU-MIMO router, which means it uses two spatial streams to transmit and two spatial streams to receive. MU-MIMO support enables it to transmit data to and receive data from multiple clients simultaneously. (You can read more about MU-MIMO in this story.)
Samsung classifies the router in the three-pack as an AC1300 model delivering TCP throughput of up to 866Mbps on the 5GHz band and 400Mbps on the 2.4GHz band. The two other devices in the three-pack operate as network nodes to blanket homes up to 4,500 square feet.
Samsung also sent its Connect Home Pro, which I'll review another time. This 4×4 MIMO router uses four spatial streams to transmit and four to receive simultaneously. Samsung classifies the Connect Home Pro as an AC2600 router delivering up to 1,733Mbps of TCP throughput on the 5GHz band and 800Mbps on the 2.4GHz band. The box for the Connect Home Pro indicates that it's a MIMO router—not a MU-MIMO router—but that's apparently inaccurate. My Samsung contact told me both routers support MU-MIMO. The company says the Pro model is adequate for homes up to 1,500 square feet, but you can pair it with up to four Connect Home or Connect Home Pro units operating as satellite nodes to increase its effective coverage to 7,500 square feet.
Both models have two ethernet ports, and if your home has the infrastructure, you can use one of them for wired backhaul. The smart-home features in all three SKUs are essentially the same, although the Pro comes equipped with a faster CPU.
Smart-home performance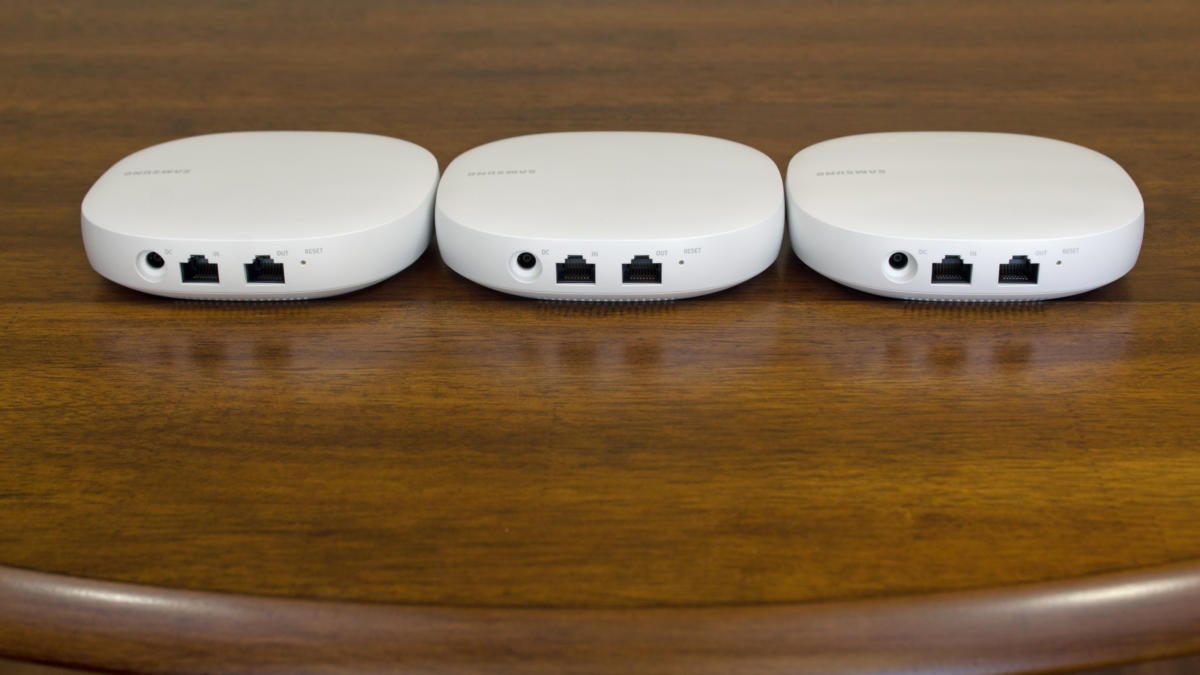 The SmartThings platform is strong when it comes to third-party hardware. You can use Kwikset, Schlage, and Yale smart locks; smart outlets, switches, and dimmers from GE, Leviton, Lutron, and Remotec; and smart bulbs from Cree, Philips, LIFX, Sengled, and Sylvania. Direct support is a little thinner for security cameras (you can choose from Netgear's Arlo line and Ring's video doorbells) and smart thermostats (Ecobee and Honeywell are your only choices; Nest is not supported).
I don't see any indication that Samsung intends to change its approach to supporting third-party hardware on its SmartThings platform, but the Samsung Connect app the company is encouraging Connect Home buyers to use is a dumbed-down version of the original SmartThings app. It has a more basic rules engine, and it doesn't allow you to bolt on other apps so you can create more sophisticated automation routines.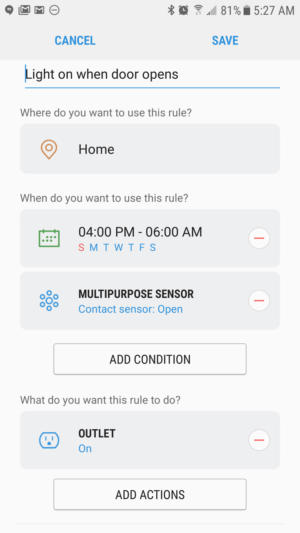 There's nothing to stop you from using the SmartThings app to control the Connect Home or Connect Home Pro, but I get the impression that Samsung would prefer you didn't. When I asked a company representative about Samsung's position on controlling the Samsung Connect Home with the SmartThings app, as opposed to the Samsung Connect app, I was told buyers could use either one, but that "Samsung Connect Home is designed so any user can use a single app to control and manage devices instead of using multiple apps."
When I asked the follow-up question, "does Samsung encourage Connect Home users to use the Samsung Connect app over the SmartThings app as a best practice?" the spokesperson replied "Connect Home is designed to simplify the user experience and put everything into one application, which is the Connect app."
Mentioned in this article
Almond 3 Smart Home Wi-Fi System (three pack)
Price When Reviewed:
$399.99
That would be well and good if the Samsung Connect app was as powerful as the SmartThings app, but it's not. I quickly discovered some of its limits even with the few SmartThings-compatible smart-home devices Samsung sent along with the router: A multipurpose sensor and a plug-in smart outlet. With the multipurpose sensor installed on a door and a lamp plugged into the smart outlet, I created a routine that would turn the lamp on if the door opened any day of the week between 4:00 p.m. and 6:00 a.m.
That's terrific. I no longer need to worry about entering a darkened house at night when my arms might be filled with grocery bags. The Samsung Connect app enabled me to set up several conditions: if it's dark, and if it's a particular day of the week, and if the door is opened…. And when all those conditions are met—and I could have come up with more—the smart plug will turn the lamp on. But Samsung Connect only allows one action per rule, so the lamp will stay on forever unless I turn it off. A far superior solution would be to allow a simple follow-up action, such as "after 10 minutes, turn the smart plug off." SmartThings is also compatible with Google Home and Amazon's Echo voice assistants, so you could use a voice command to turn off the light once you're home, but where's the fun in that?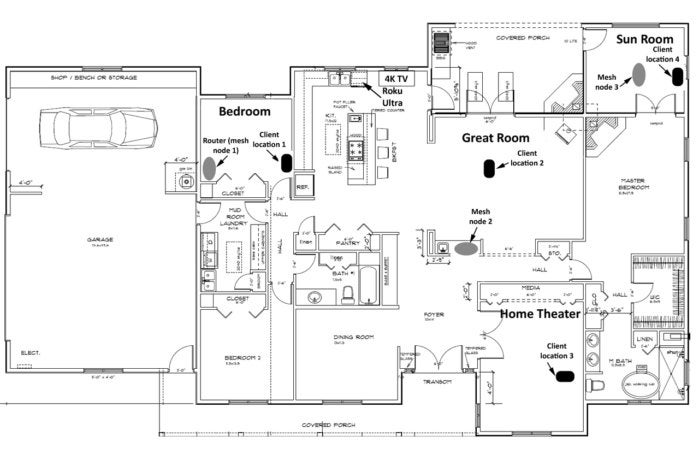 Mesh router performance
I haven't benchmarked the Connect Home Pro yet, but the Connect Home is a middling performer when it comes to wireless TCP throughput. When tested with a Windows PC server and client, The Connect Home never finished higher than sixth place out of the 11 mesh routers I've tested to date (I test with a client in four locations inside my home). Compared to the Securifi Almond 3—the only other router/smart-home hub I've looked at—the Connect Home was slightly faster when the client was in the great room (33 feet from the router) and in the home theater (35 feet from the router, but with more physical obstacles between it and the router). The Almond 3 was faster at close range and more than three times faster when the client was furthest from the router—65 feet away.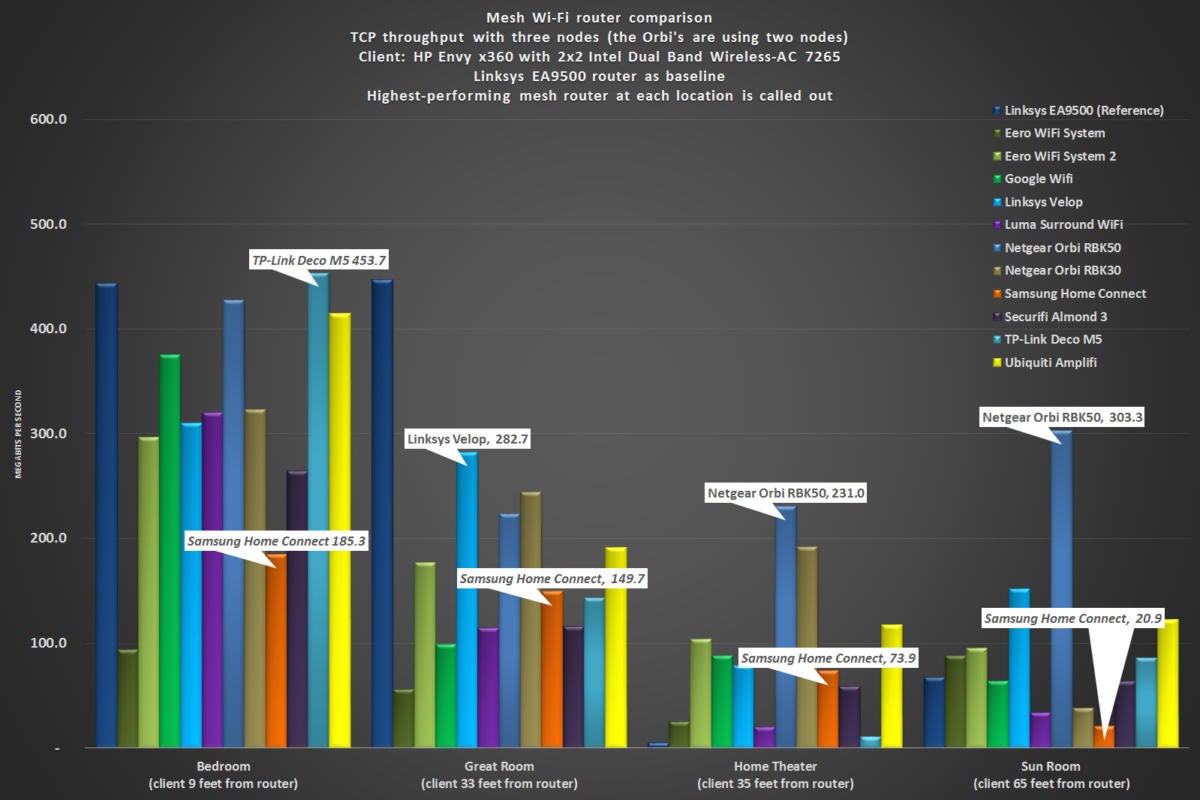 I saw similar results when I tested the router with a Mac server and client. In this scenario, the Connect Home again never finished higher than sixth place, and it was faster than the Almond 3 at two locations while the Almond 3 was faster at the other two. The performance deltas between these products, however, was much closer. At no point and with no client/server platform did Samsung's router outperform the Netgear Orbi RBK50, the Linksys Velop, or the second-generation Eero WiFi System.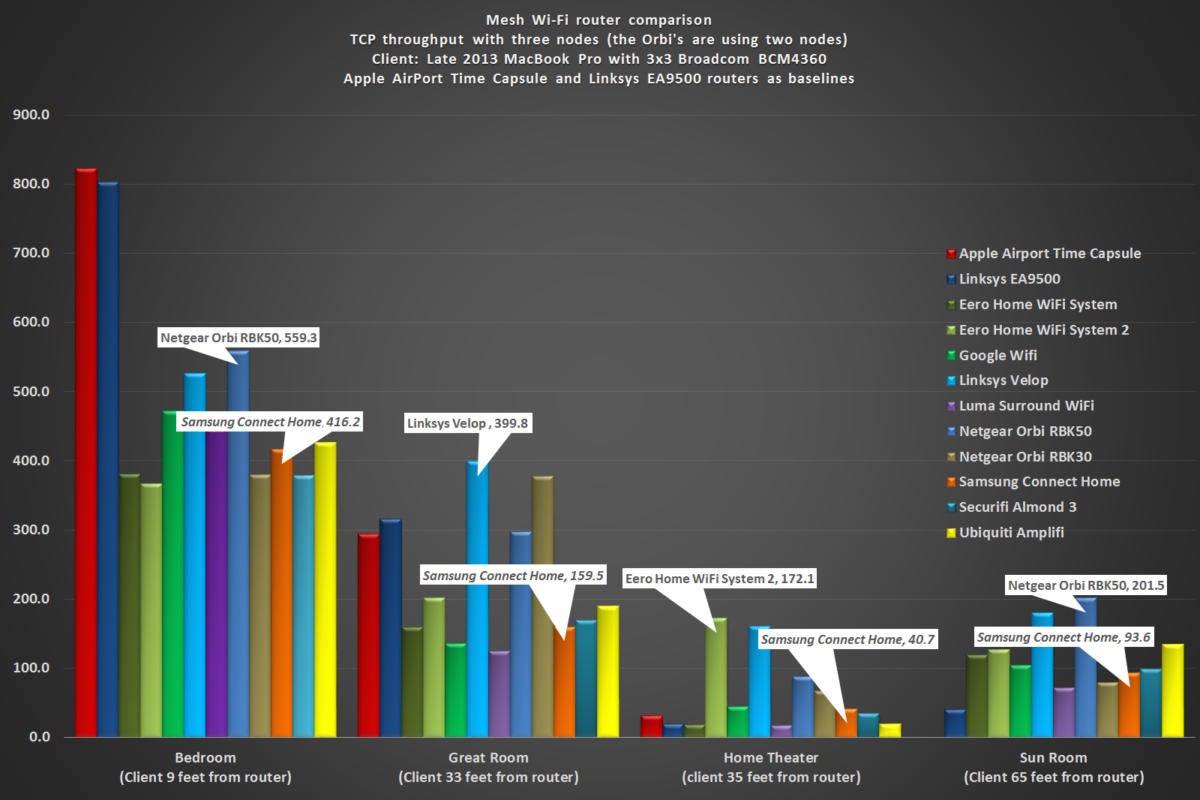 Not quite the ultimate smart home system
Samsung clearly wants to take the smart home mainstream, and it's willing to make its SmartThings platform simpler and easier to achieve that objective. But simpler and easier are usually synonymous with less powerful. Connect Home isn't the best smart home system you can buy, and it's not the best mesh router you can buy. But for now, it's the best smart-home/mesh-router combo you can buy, and that will be good enough for a lot of people. If you want the most powerful components in both worlds, you'll need to buy a smart-home hub that's discrete from a router—and your router might not be a mesh model.
Correction, 8/24/2017: This review originally reported that the Samsung Connect Home doesn't support smoke detectors. The SmartThings platform supports smoke and carbon monoxide detectors from First Alert and Halo.