Ahhh. I see what you did there, Samsung. By releasing a Galaxy Note 8 that looks and feels remarkably like the Galaxy S8+ (a phone most Android enthusiasts would love to have in their pockets), you stand to dissolve all the bad mojo associated with the Galaxy Note 7 (a phone most Android enthusiasts would consign to a fireproof safe).
Seriously, with a 6.3-inch, curved-glass display and remarkably slim bezels, the Note 8 is an S8+ doppelganger. It's got the same 2:1 aspect ratio—which delivers copious screen real estate, without all the bulk—and only a 0.1-inch increase in display size, a second rear camera, and the addition of an S Pen really differentiate the Note 8 visually from its less productivity-focused stablemate.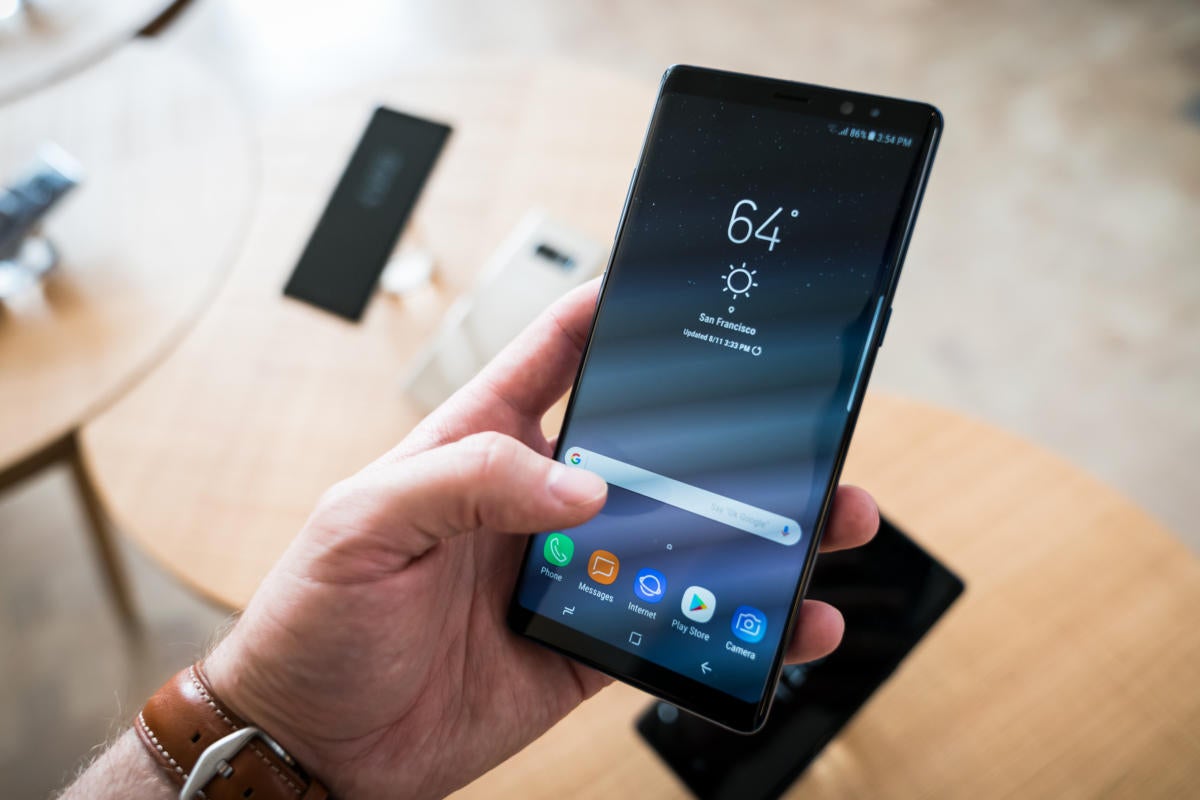 The fingerprint sensor is even slapped on the back, just like on the S8 and S8+. It's annoying as ever, right up against the camera housing, where you don't want any fingerprints at all.
But, hey, a poorly positioned fingerprint sensor didn't dissuade S8 buyers, so why not build upon success? As Samsung told journalists during our Note 8 pre-brief, the S8 and S8+ helped restore confidence in the Galaxy brand following the Note 7 battery debacle.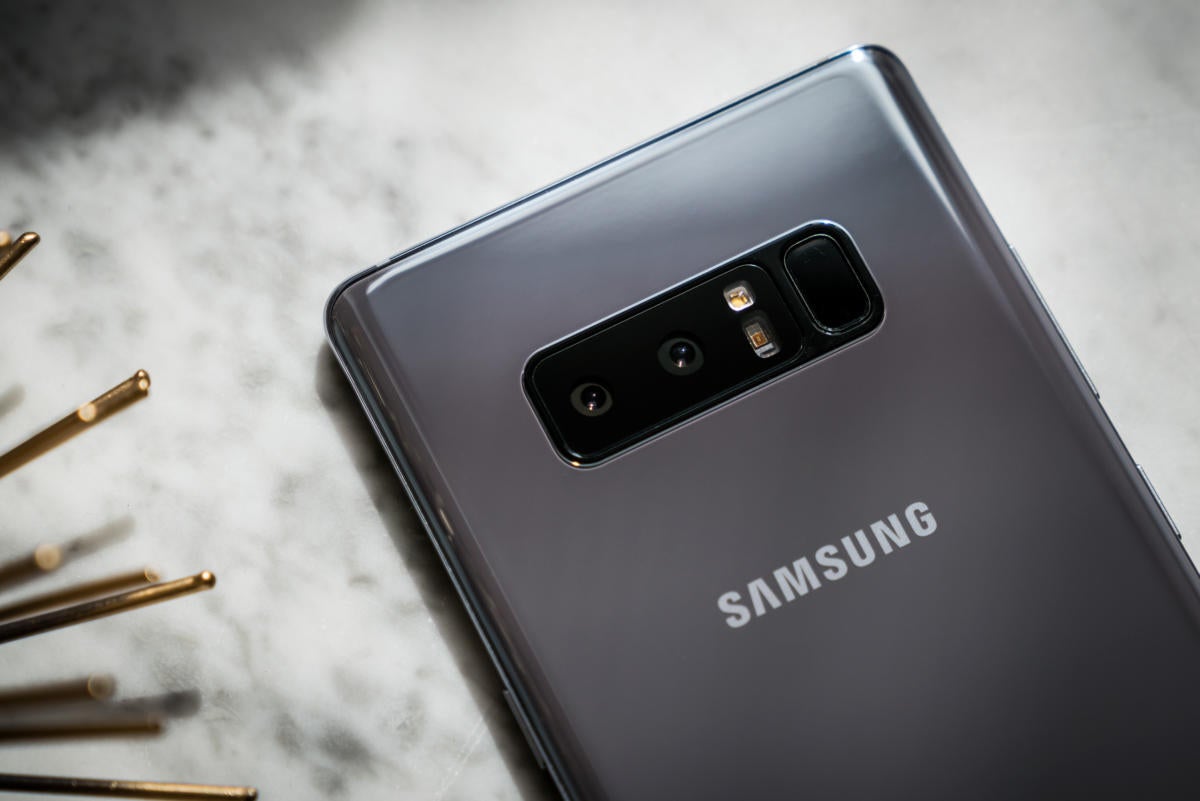 In fact, one may reasonably conclude the Note 8 has the safest smartphone design on the planet. Samsung now puts all of its phones through an 8-point safety check that specifically addresses failures with the Note 7 battery. Plus, c'mon. Can you imagine a third battery recall? Samsung knows another battery controversy would be an Extinction Level Event.
I spent just about an hour with the Note 8, and my gut-level takeaway can be summed up in a single question: Why buy the S8+ when you can have the Note 8? The new flagship phablet has all the benefits of the S8+, plus a bunch of features that compel you to do stuff with your phone, to get productive, and not just be a passive participant. Let's get into the highlights.
[ Further reading: Note 8: all its features and specs. ]
App Pair launches two apps at once
Sometimes the smaller, more subtle features have the most impact. Case in point, I was really enamored with the new App Pair feature that lives on the side of the display in Samsung's Edge panel. In the Note 8, you can define pairings of apps, and when you tap on one of them, the apps launch together into a multi-window arrangement. For example, you could pair the phone dialer and a calendar app (perfect for productivity scenarios), or Twitter and a streaming video app (so you can live-tweet some political debacle).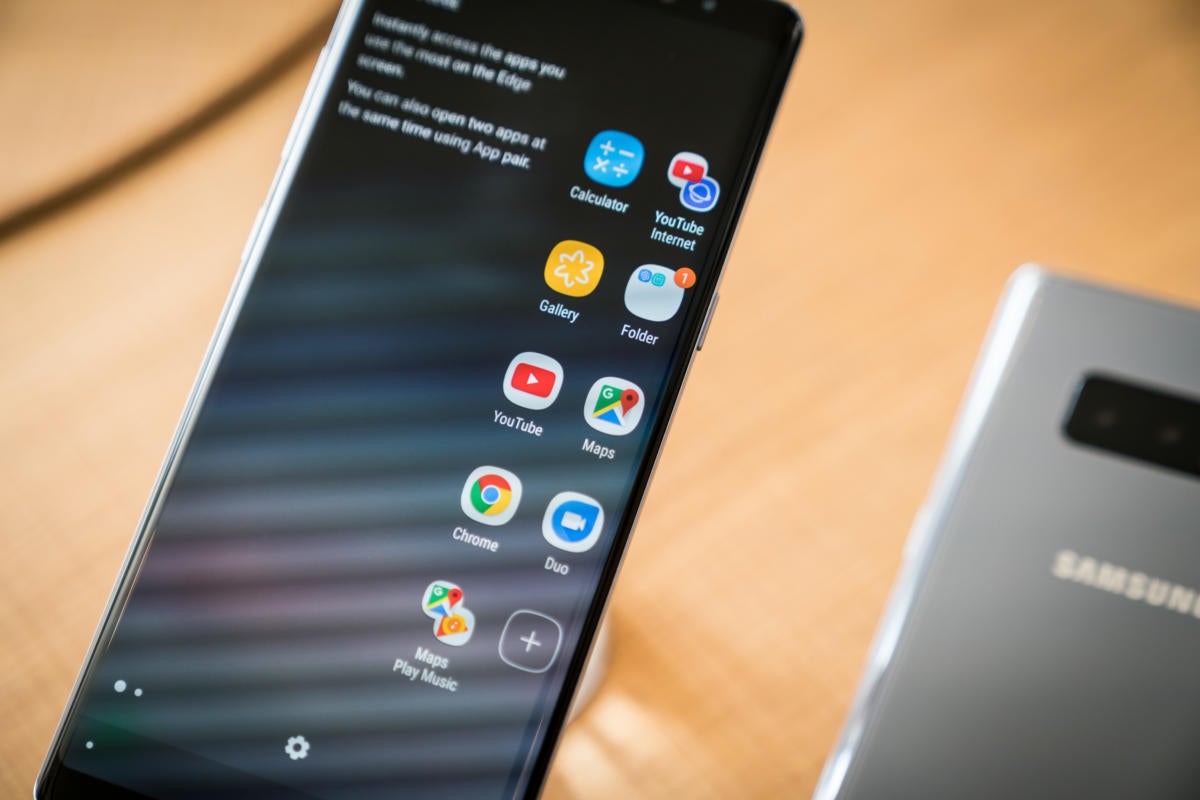 S Pen and Screen Off memos
It wouldn't be a Note if not for Samsung's S Pen, and in the Note 8, the pen gets an even finer, more precise 0.7 mm tip, along with some new functionality. For starters, the new S Pen taps into all the same Air Commands that I enjoyed in the Galaxy Tab S3, including a tool that creates animated GIFs directly from YouTube videos. Given that today's kids are spending more and more time alone with their phones, I applaud any feature that turns the phone into a creativity tool.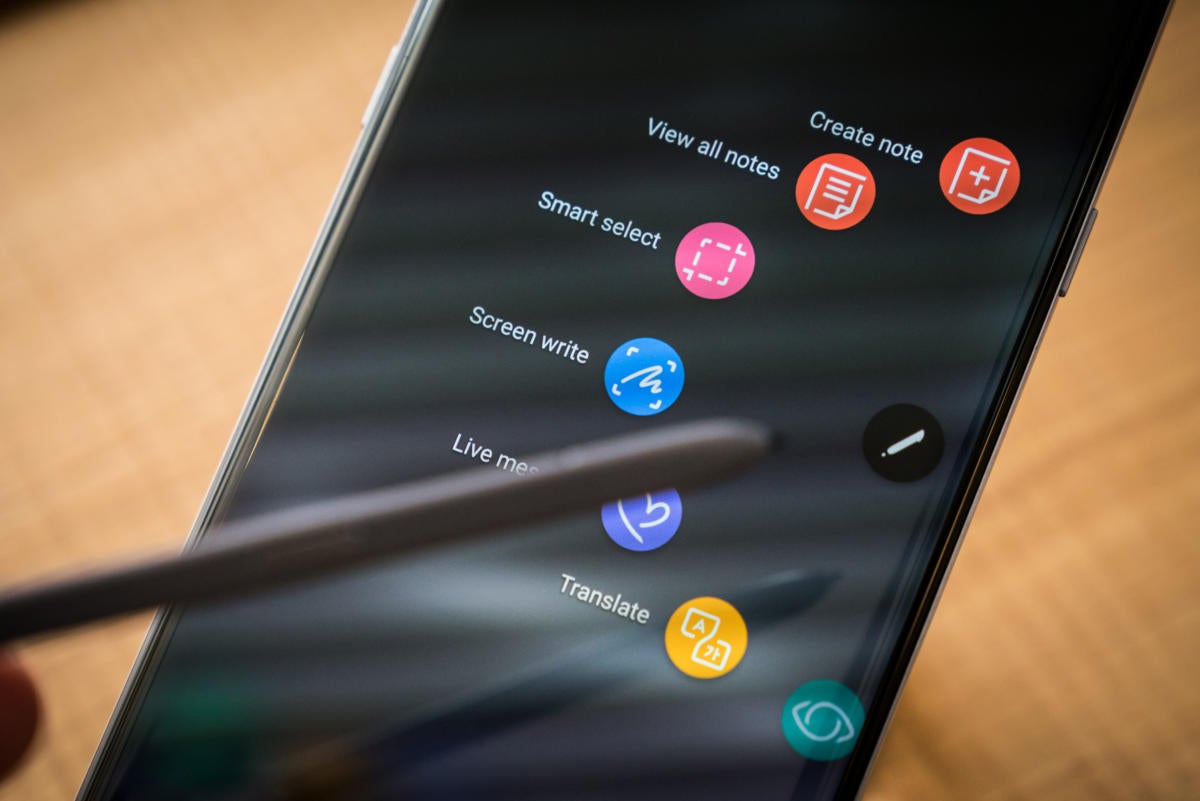 The new S Pen boasts 4,096 levels of pressure sensitivity (just like earlier iterations), and it's optimized for creativity apps like Recolor (a coloring book for adults) and Adobe Illustrator Draw. To think that Samsung, and not Apple, is owning fine-art content creation in the smartphone space.
S Pen also enables a new Live Message feature that's available across multiple messaging apps. Just choose Live Message from an Air Command, jot out a handwritten note with the pen, and then apply a special effect, including Glow and Sparkle options. The Live Message becomes an animated GIF, which makes it fully transportable to other phones.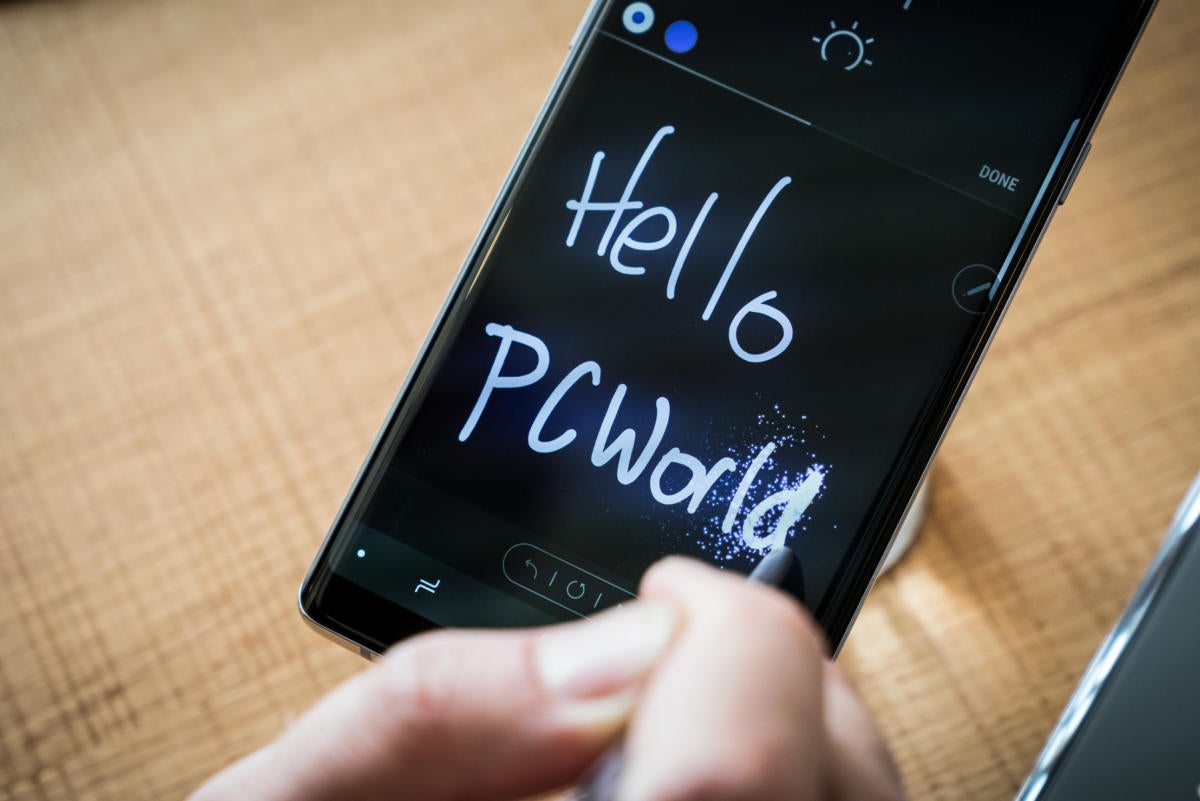 OK, it's not a serious feature, but surprise and delight matters too.
If you're looking for something less frivolous, you can dig into Screen Off memos, an S Pen feature that's aimed squarely at productivity junkies. Note 8 owners will be able to jot down no fewer than 100 pages of digital handwriting notes, all without ever unlocking the phone. Indeed, as soon as you remove the S Pen from its storage compartment, you can begin writing notes on the Note 8's always-on display.
The S Pen felt thin and wispy in my hand, but I still enjoyed the speed and zero-lag responsiveness of the note-taking experience. All of the notes are stored as digital ink and can be edited post facto, and you can even pin a note to the Always On Display. For many people (myself included), an always-in-your-face handwritten reminder is more effective than an audio notification.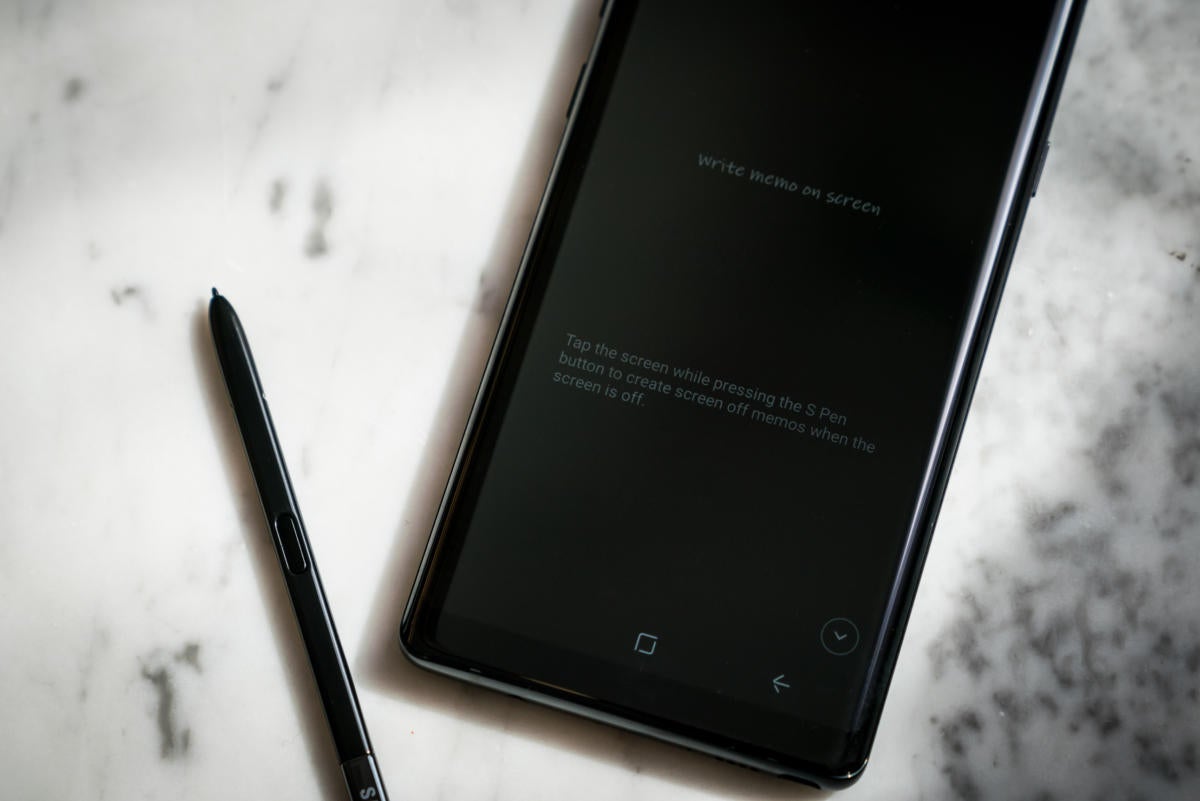 Finally, the S Pen pairs up with an improved translation engine. You can now use the pen to translate not just words, but entire sentences in 71 languages. This has to be attractive to worldly wanderers, multi-national business tycoons, and, who knows, random State Department employees.
Dual cameras and Live Focus
Samsung is late to the dual-camera party, as LG, Huawei and Apple have already released phones with tandem rear cameras. Nonetheless, the Note 8's new Live Focus mode appears to one-up Apple's similar approach to depth-of-field bokeh effects.
Let's start with some raw specs discussion. Each of the Note 8's rear cameras clocks in at 12 megapixels, but the "wide" lens has an f/1.7 aperture and 77-degree field of view (26 mm equivalent), while the so-called "telephoto" lens has a slower f/2.4 aperture and 45-degree field of view (52 mm equivalent), giving you an effective 2X optical zoom. Both cameras offer optical image stabilization (OIS), and this should help ensure crisp, properly exposed, non-blurry images.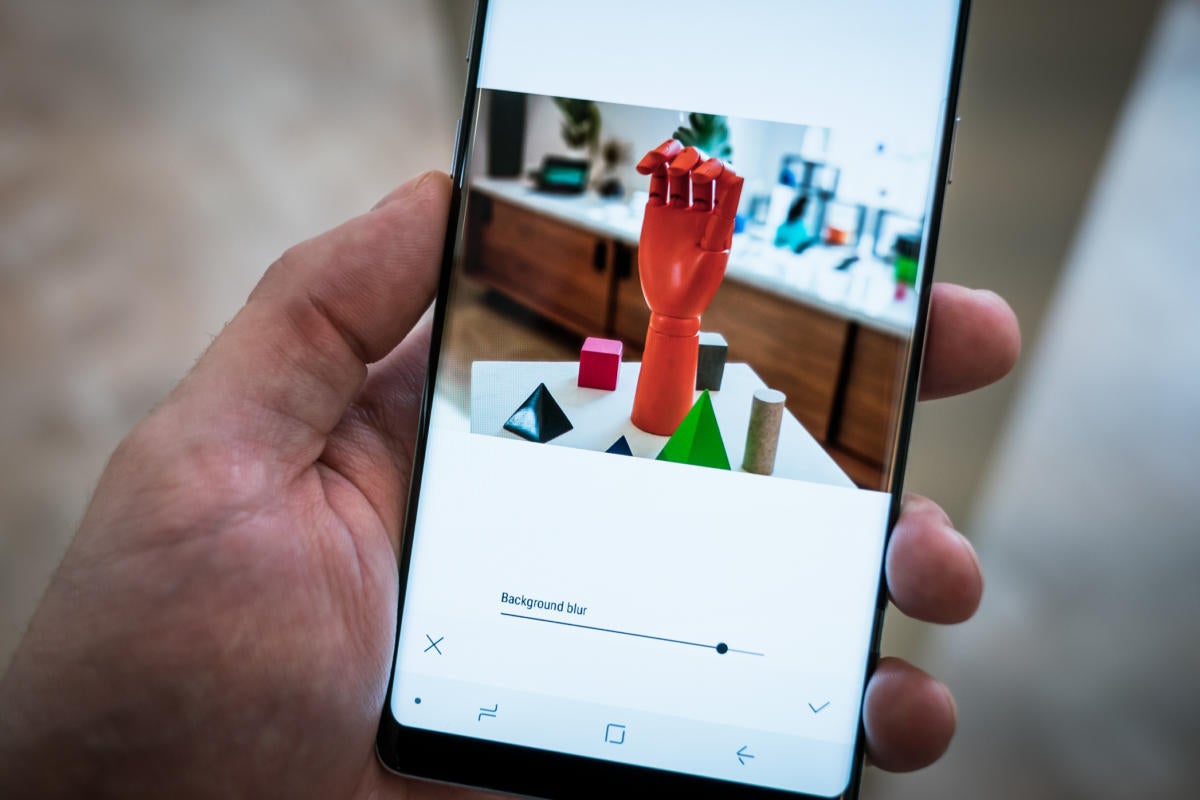 We haven't yet put the Note 8's camera system to the test, but on paper Samsung's specs and overall philosophy look great. Once we start using the phone and can view full-resolution images on a PC desktop, we'll know a lot more. For now, I can only comment on Samsung's Live Focus app experience, which offers a lot of useful flexibility.
When you shoot an image with Live Focus toggled on, both rear cameras fire simultaneously, with OIS engaged. The telephoto lens is tasked with taking the bulk of the photo, while the wide lens gathers depth information. With both images in hand, the Note 8 models out a merged image to synthesize a depth-of-field effect. But here's the cool part: You can use a slider to adjust the strength of that bokeh effect. It's available in preview mode as you frame your shot, and you can further tweak the effect when you're viewing individual images in your photo gallery.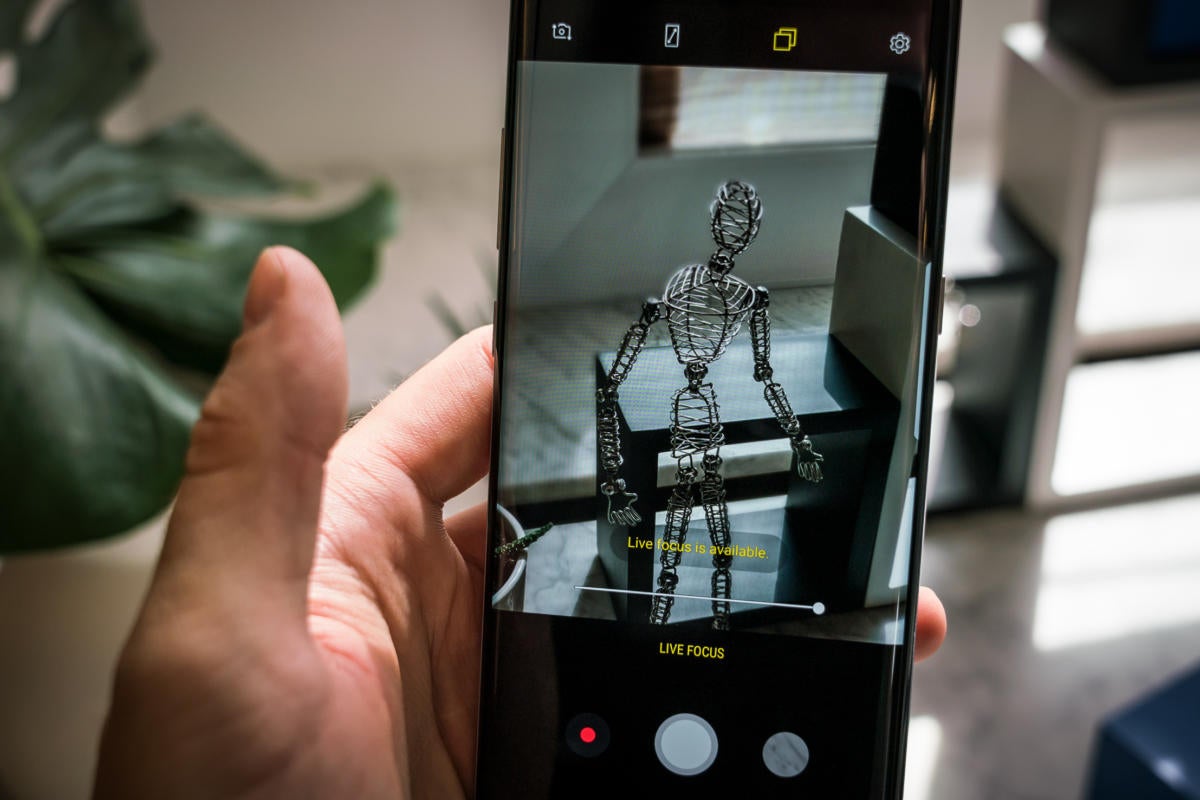 Apple offers similar bokeh effects via Portrait Mode in the iPhone 7 Plus, but the iPhone doesn't offer any adjustment slider (probably because Apple elevates user-proof simplicity over power-user control). In all, I found Samsung's Live Focus incredibly easy to use, but its depth-of-field effects can be a bit difficult to see on the Note 8's display—however beautiful that 2960×1440, 521 ppi Super AMOLED display may be. It really depends on what you're shooting, and how much blur you apply, but I suspect the effects will really come alive on desktop displays or paper prints.
Please see our video below for more insight into the cameras.
Better DeX, better silicon, better everything
Samsung raced through its Note 8 demos at a brisk pace, but I was thrilled to catch a small little detail during the DeX desktop demo: The DeX dock, which turns supported Galaxy phones into serviceable desktop PCs, now supports Bluetooth pairing while the phone is seated in the dock. This fixes a major pain point I discovered when I tested DeX with the S8+. Samsung is also adding keyboard and mouse support to DeX gaming, as well as more productivity apps to the DeX library.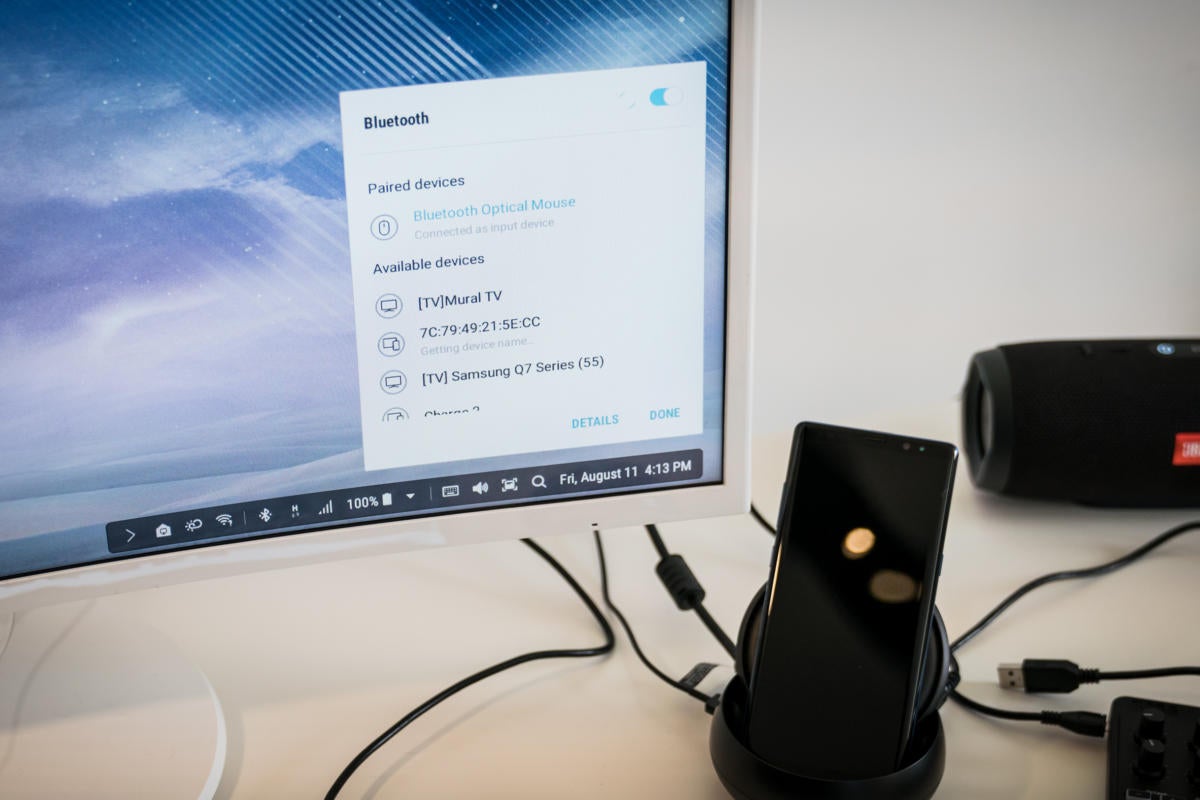 Like the Galaxy S8 and S8+, the Note8 has a Snapdragon 835, but the slightly larger, higher-ambition-level phone boosts RAM to a whopping 6GB. And your 64GB of storage can be expanded with another 256GB. So, between all the features I've noted above, as well as the extra memory, I really have to question how the S8+ remains relevant in the Galaxy line up.
Will Samsung price the Note 8 high enough to make the S8+ seem like a "bargain"? Well, the price for an unlocked Note 8 is $929, compared to $675 for an unlocked S8+. So pricing alone keeps the S8+ relevant. But this much is for sure: While it's unclear where the S8+ stands in the grand Galaxy pantheon, we know exactly where the Note7 stands: Forgotten, irrelevant, and fully eclipsed by a very buttoned-up Note 8.