Antivirus software has become a necessary tool in today's online world. Even the most tech-savvy and cautious among us can drop their guard at times or be tricked into exposing themselves to a malware, spyware, or ransomware vulnerability. Antivirus protection is an essential backup against such threats.
We're not suggesting that PC security software is fool-proof, but it does a great job of protecting your computer against harmful malware and ransomware. Most systems come with security software baked into the OS, but this is often the bare minimum you need. Choosing to purchase more robust antivirus software will provide you with features such as an advanced firewall, sandbox environments for suspicious programs, and multi-device protection, among other things.
How do you choose a good antivirus? We've tested a multitude of offerings, including all the big names, so you don't have to! When testing antivirus software, we look for products that strike a balance between excellent protection, a worthwhile selection of features, and minimal performance impact on your PC. For more information, you can read about how we test antivirus software below our picks.
Updated 09/06/23: We know a lot of PC enthusiasts are the go-to IT support for friends and family, many of whom use Apple's products. For you, we've also included a recommendation for Mac users: Intego Mac Internet Security X9. Read our summary below to learn why we chose it.
Best antivirus of 2023 reviewed and ranked
What to look for in an antivirus suite
There are three basic requirements that an antivirus suite needs:
High detection rate for malware and other threats
Low impact on system resources
An easy-to-use interface
That's not all to consider, however. These days, many security suites come with extras such as a backup service for your most essential files, Android apps for mobile security, a more advanced firewall, family protection (read: child restriction) features, and the right to use the program on multiple PCs. Whether you need those extras depends on your personal situation.
How we test
First, we take a look at the interface to determine how easy or complicated it is. Does the interface make it easy to get at essential tools like PC scans and password managers, for example, or is everything buried under multiple clicks? Are there elements that look like they should be clickable but aren't? Are alerts interactive or purely informational, and does that make sense in context?
We also examine the features on offer. Every good antivirus suite should have the basics like scanning and real-time protection, but many vendors offer elements that go beyond basic security like password managers or firewalls. We try to discern whether any of these extra features are particularly useful, or just frills that look nice but don't serve a practical purpose.
To test the suite's demand on system resources, we run two benchmarks. The first is PCMark 8's Work Conventional test, which simulates a variety of workloads including editing spreadsheets, browsing the web, and running video chat.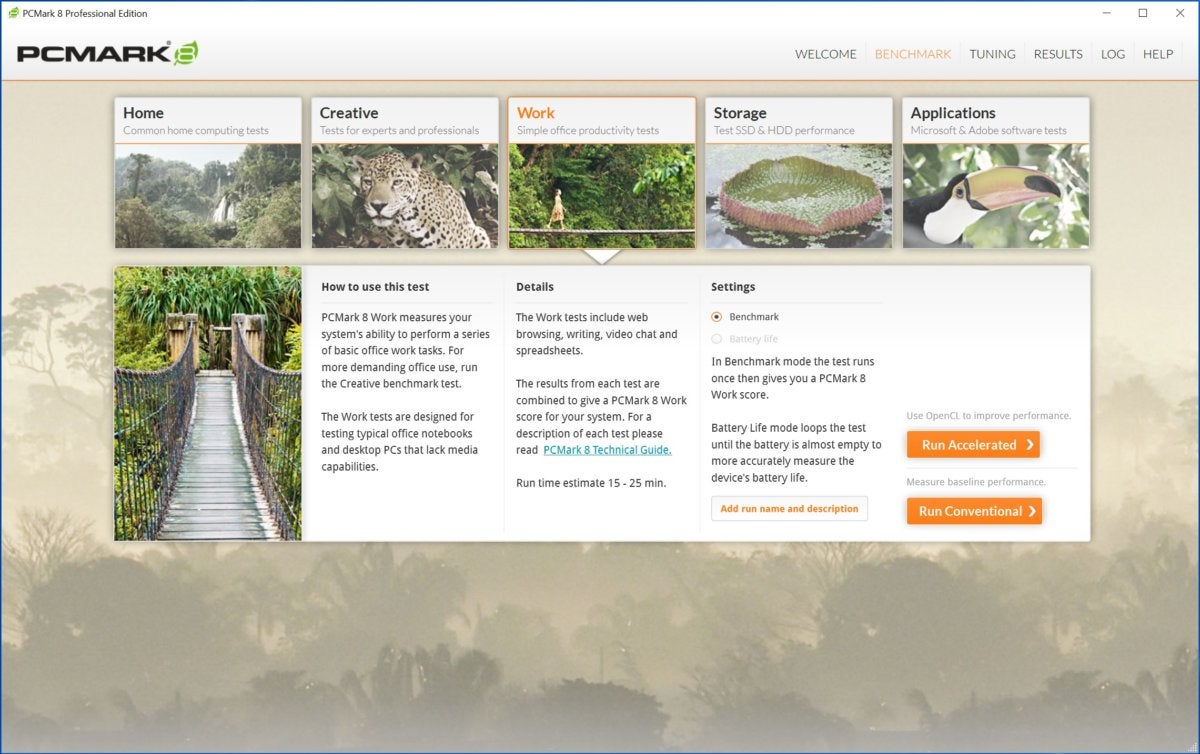 We run the benchmark before the security suite is installed. Then we install the software, have it run a full scan on our Windows 10 test machine, and start a second run of the benchmark at the same time. Then we compare the overall scores to see if the decline between the two benchmarks is significant.
As a harsher stress test, we also use Handbrake to transcode a video before and after installing the A/V. On most home PCs, this encoding task utilizes 100 percent of the CPU. We then compare transcoding times to see if there's any significant decline.
Our test machine is an Acer Aspire E15 with an Intel Core i3-7100U, 4GB RAM, and a 1TB hard drive. Each security suite is tested on a clean install of Windows 10 Home.
As for the antivirus suite's detection capabilities, we'll rely on the opinions of security researchers dedicated to this task. We'll take into consideration reports from outlets such as A-V Comparatives, A-V Test and SE Labs.
We'll also take pricing into account and what you get for it.
Whenever possible we'll review security suites using a free trial to get a sense of what consumers see when they first try out a new product.
FAQ
---
1.
Will antivirus software slow down my computer?
The short answer is maybe, but probably not. Antivirus software scans files and programs to ensure there is no malware or other harmful threat present. The longer the time frame between each scan, the more files the program will need to check. These intensive scans may have some noticeable effect on your computer speed. It's therefore recommended that you schedule your scans to run more frequently or even at night so as to not impact your computer usage.
While antivirus software can affect the speed of your computer, it is most likely not the only factor—or even the most prominent. Other factors such as unnecessary startup and background programs, insufficient RAM, or even undiagnosed malware can have more drastic effects on your computer speed than a simple antivirus scan.
2.
Should you pay for antivirus?
It really comes down to what features are most important to you in an antivirus software. Do you just need a program that will scan, detect, and remove malware? Then go with a free version. But if you are looking for more advanced features such as the ability to block webcam hacking, run suspicious apps in a sandbox environment, and permanently delete sensitive files, then you should seriously consider upgrading to a paid premium antivirus service.
Overall, premium antivirus software is better suited to more complete coverage against threats—especially for inexperienced users. Children and seniors are particularly vulnerable to modern threats and therefore paid antivirus apps, which allow for multiple-device protection, may be a better option for families.
3.
What should I do if my antivirus detects a threat?
In a perfect world, your antivirus software will halt and clean the infected files for you. However, this largely depends on which antivirus program you are using.
In general, the antivirus will send a warning to you and try to quarantine the infected file in order to keep it from spreading. Once isolated, the software will give you the option to try to remove the infection or delete the file altogether.
4.
What is the difference between a full scan and a quick scan?
A full scan performs a comprehensive and thorough check of your whole system. It usually checks your system memory, startup programs, system backup, email databases, hard drives, and any removable storage drives.
A quick scan only checks a few areas including startup programs, system memory, and boot sectors. It may not detect all malware, but it can usually give you an idea if your computer has a virus.
As to when you should do either, we recommend a full scan once per week, during computer usage downtime (such as late at night). A quick scan can be done anytime you like; however, it is usually only necessary if you notice suspicious activity on your PC.
5.
Do I need to update my antivirus software?
Absolutely! Keeping your antivirus software up-to-date is crucial in helping you to avoid the most recent threats.
That being said, most antivirus software today—whether free or paid—will default to automatic updates. This way you don't need to worry about manually updating your software. It may still be worth checking to confirm that your antivirus is running the most up-to-date version from time to time.