At a Glance
Expert's Rating
Pros
Online and local backup in the same job
Supports multiple PCs and devices on the same account
Cons
One of the pricier services, beyond the free version, though justifiably so
Our Verdict
iDrive has you covered six ways to Sunday when it comes to backup. Online, local, sync, snapshots, shipping hard drives to you for quicker recovery… You name it, the company does it. Not the cheapest service, but easily the most comprehensive.
Best Prices Today: Online Cloud Backup
As of our latest look, iDrive remains the most comprehensive online backup and sharing service we've tested. It's not the cheapest, but it's still affordable and comes with backup clients for nearly every PC and device, and is more than competent at local backup.
The company also provides additional storage for syncing all your devices and PCs, allows sharing of files with anyone, and has the ability to back up to a local drive. See how well it compares to the competition in our big online backup roundup.
Note: For more about data backup, see our best free backup software/services and the best Windows backup software roundups.
As of August 3rd, 2021, iDrive notified us that the personal plan had risen from $69.50 to 79.50 per annum.
Plans and pricing
Believe it or not, iDrive still offers a free 5GB of storage plan. As far as we're aware, it's the only free repository not associated with a mega corporation (Microsoft, Apple, Google, etc.) still in existence.
For those that need more (most of us these days), iDrive has two Personal plans that cover one user with unlimited computers and devices: $79.50 a year for 5TB, and $99.50 a year for 10TB (currently $74.62). That's double the storage at the same price as the last time we reviewed iDrive, about three years ago.
If you enable the separate sync service, you get an equal amount of storage just for that task—no extra charge.
There's a new Team plan that scales from five users and computers for $99.50 per year to 50 users and computers for $999.50, all offering 1TB of storage per user. Those are also discounted at the same rate as the Personal plans at the time of this writing.
Don't get completely caught up in the price-per-gigabyte game: The size of your essential data is probably a lot smaller than what's being offered by iDrive, unless you're into HDR and 4K.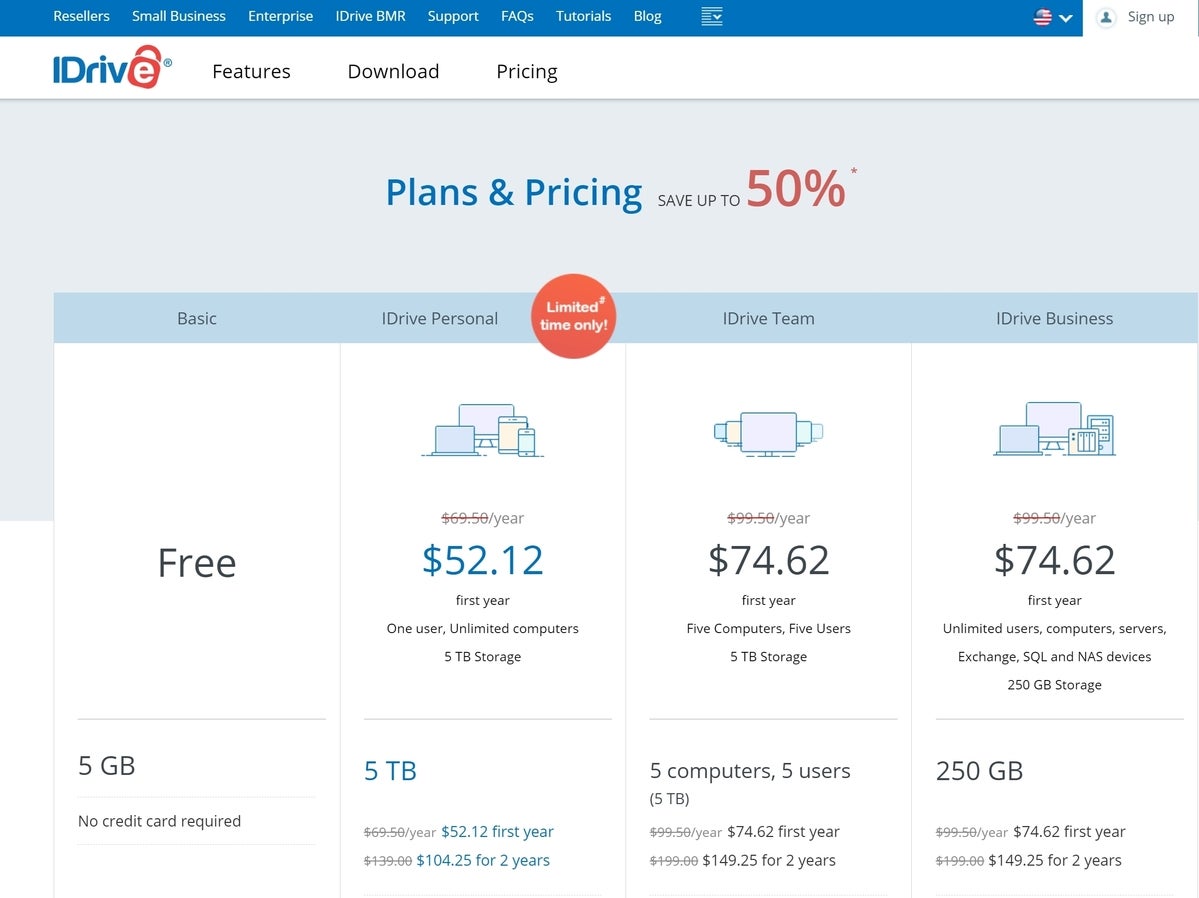 Features
Like its competitor Carbonite Safe, iDrive uses continuous data protection (CDP) rather than backing up on a set schedule. If you have a rapidly changing data set, it's nice to have files backed up as they change, not just on a set schedule. iDrive also supports nearly every type of PC and device: Windows, OS X, Android, iOS, and various NAS boxes. Also nice are the snapshots, which make it easy to restore your PC to a particular point in time.

iDrive now features two local clients. The normal one allows access to all the options, and is nearly identical to iDrive's online dashboard. The other, iDrive Basic, is for those who just want to push a button and back up everything (assuming your plan has the space.)
Mentioned in this article
Carbonite Safe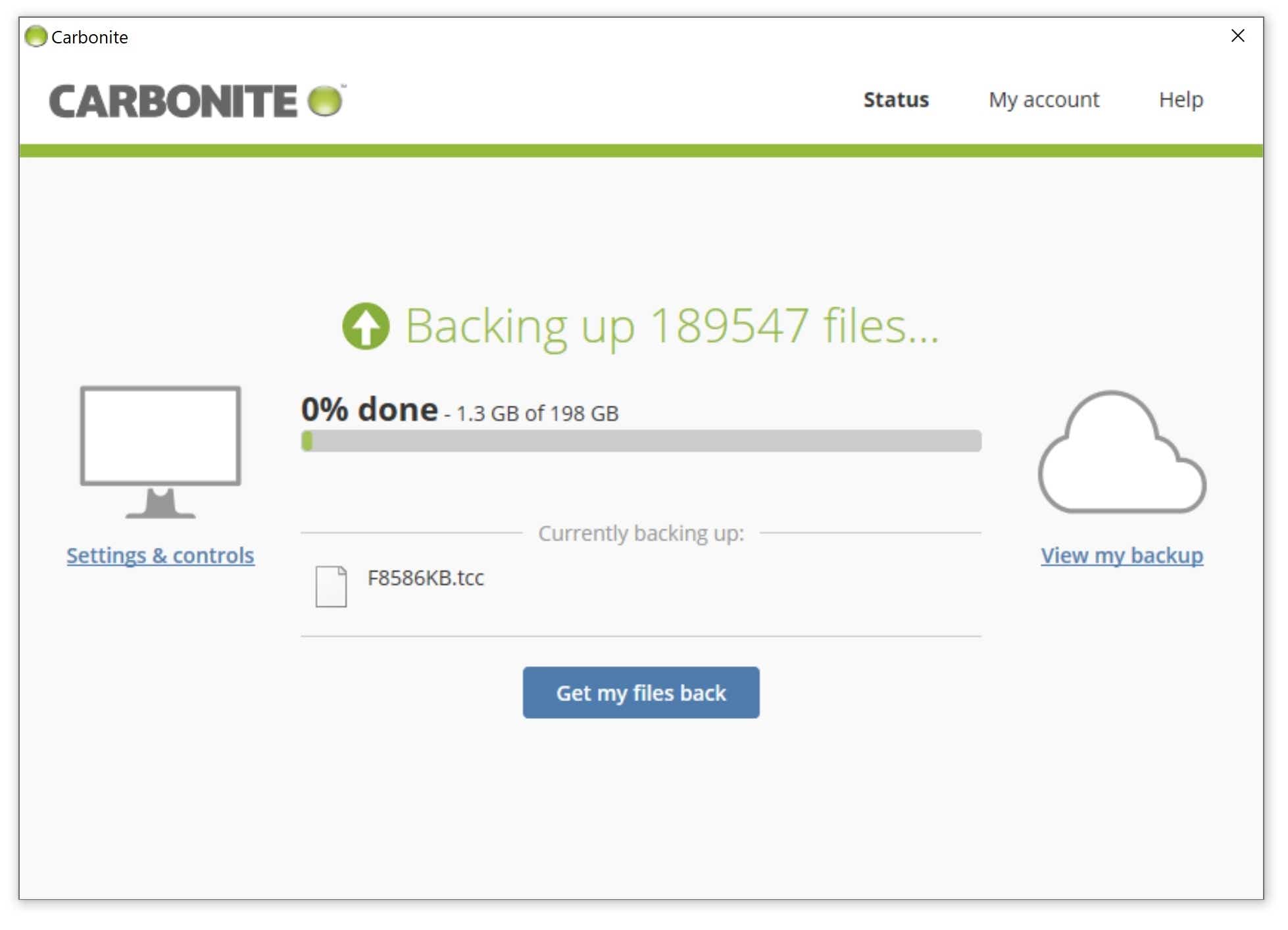 iDrive will also handily duplicate your online backup to local storage. That allows you to painlessly maintain the Rule of Three: your original data, a copy, and a copy of the copy. Also, it's much faster to restore from a hard drive than from any online service.
iDrive also features iDrive Express, a two-way physical shipment service. Say you're walled off from the internet, or just in a very low-bandwidth location. Use iDrive's local backup function to back up your data to a storage device provided by the company, then ship it to them. It will get uploaded to your online account, and then updated by your local client thereafter. Or if you need to restore from a backup in hurry, iDrive will ship your data to you on an appropriate device. All within a week's time.
Personal customers get 3TB of data delivered to or fro for free—the first time. Team and Business users get three free deliveries. Subsequently, there's a $60 charge per use.
Superbly versatile
iDrive offers the most comprehensive set of backup and backup-related features of any online service we've tested, plus one of the simplest clients we've seen for those that just want to back up with a minimum of fuss. That all the advanced features are available at the basic service level, makes iDrive less expensive than it might seem at first glance. Good stuff from a now venerable company in the online backup field.
Editor's note: Because online services are often iterative, gaining new features and performance improvements over time, this review is subject to change in order to accurately reflect the current state of the service. Any changes to text or our final review verdict will be noted at the top of this article.
Best Prices Today: Online Cloud Backup