At a Glance
Expert's Rating
Pros
Several levels of passphrase security available
Elegant, get-down-to-business interface
Cons
Higher-capacity plans can get expensive
Best Prices Today: SOS Online Backup
SOS Online Backup has great security options, from the usual password to privately managed keys and triple-layer 256-bit encryption. It will duplicate your online backup to a local hard drive, or another computer or NAS box on your local network for additional safety and quick restore. It's also easy to use if you're a reasonably knowledgeable user, and quite affordable for modest amounts of data. We like SOS a lot, and most tech-savvy users will as well. Be sure to check our online backup roundup for more reviews of the competition.
Setup
Signing up and installing SOS is easy. Enter your name, email address, and phone number at the website, and you'll be sent an email that will send you to another webpage, where you can define your password. Additionally, you can define your own standard SOS-managed, or private, encryption keys as you set up a backup. If you're not overly concerned about security, you can stick with a normal password.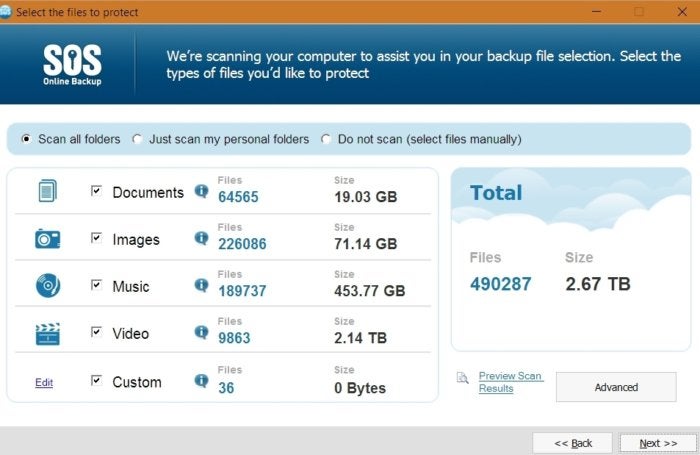 SOS's local client automatically scans your entire system for files that should be backed up. The criteria are editable, and you may add folders or files you think it may have missed. If you use less-common apps with unusual file extensions, that's a good thing. The data selection walk-through should be easy enough for most users.
Probably our favorite feature of SOS is that you can save the same backup to a local or local network destination. If you're rocking a NAS box or have a PC around the house that has the space, that's a great convenience. The only thing better would be if you could back up to multiple local locations. Hint, hint. Yes, we're greedy.
We also like the traffic analytics, as well as the file sharing, and the interface in general, which doesn't talk down to experienced users. Another bonus: The service will retain unlimited versions of your files, depending on the space available. Many online services cull older versions after a relatively short period of time.
Plans and pricing
SOS is affordable if you don't have a massive amount of data, or plan on just backing up the essentials. Plans start at $5 a month for 50GB and top out at $300 a month for 10TB. If you sign up on a yearly basis, you get, in effect, two months free.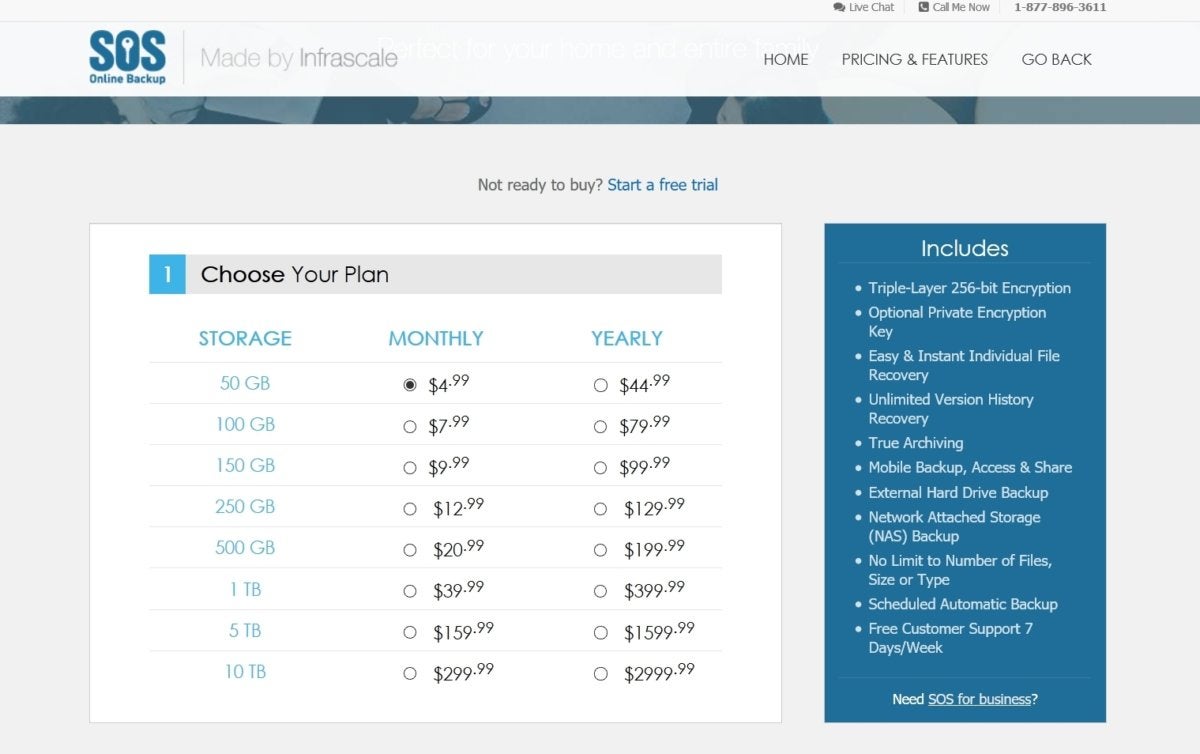 Conclusion
SOS may not be quite as slick as, say, Carbonite with its OS integration, or as as idiot-proof as BackBlaze, which backs up everything by default. But its IT-like approach is reassuring; the security is as good as it gets; unlimited versioning is a boon; and it's affordable enough for vital data backups. Price aside, it really doesn't get any better.
Best Prices Today: SOS Online Backup