At a Glance
Expert's Rating
Pros
Surface Dial-like knob adds productivity
Can integrate with the powerful Logitech Flow software
Cons
1.8mm key travel feels a bit short for a desktop keyboard
Keyboard slope isn't adjustable
At over 2 pounds, it's bulky
Turning on the backlight can run down the battery in as little as a week
Our Verdict
Logitech's Craft wireless keyboard isn't nearly as comfortable as some of its competitors. But it offers two features competitors don't: a handy Surface Dial-like knob, and integration with Logitech's powerful Logitech Flow software.
Best Prices Today: Logitech Craft Advanced Wireless Keyboard with Creative Input Dial and Backlit Keys, Dark grey and aluminum
The Logitech Craft keyboard is what happens when a keyboard engineer glimpses Microsoft's Surface Dial hockey-puck peripheral and decides: We can do that, too. But if you want to spend $200 for just a keyboard, don't bother: The only way the Craft makes sense is if you see value in its Surface-Dial-like navigation knob that also integrates with Logitech's PC-spanning Logitech Flow software.
Aesthetically, there's room for improvement. The Craft weighs a ponderous 2.08 pounds, anchored by a broad metal bar that runs across the top of the keyboard and houses the 1,500mAh battery, plus the electronics driving the crown. You can't adjust the Craft's slope. And personally, I found the Craft's scalloped keys to have a shallower travel than I'd like.
Nevertheless, as a productivity tool, the Craft (for both Macs and Windows PCs) is worth serious consideration. Logitech dubs its version of the Dial the Crown, and you can tap, spin, or push-and-turn it to perform various functions on an app-by-app basis. Logitech's Flow, meanwhile, allows the Craft to switch quickly from PC to PC, an excellent feature if you already own other tablets or convertibles, plus a Flow-enabled mouse.
Just be a little wary buying it. Most of Amazon's shopping pages want you to pay $250 or so, while BestBuy.com and Dell.com charge $199.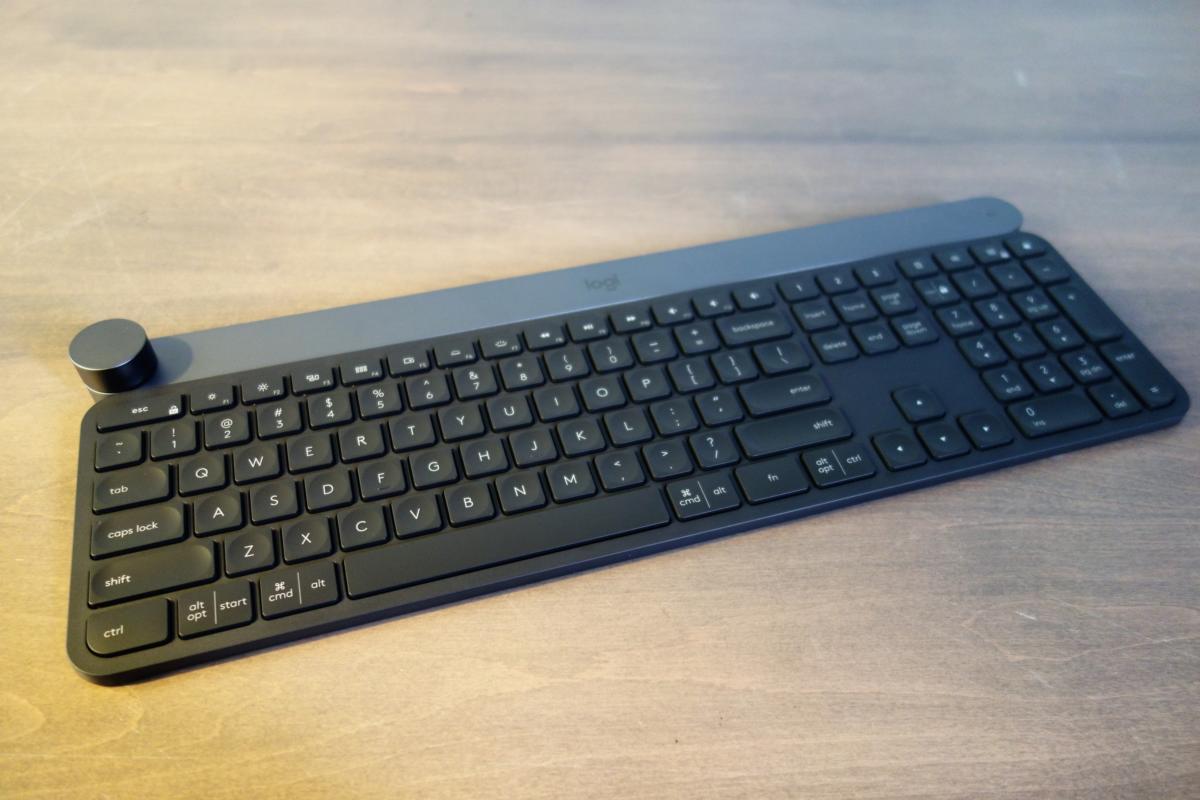 Basic specs: Solid, but clunky
The Craft measures just short of 17 inches across, 5.88 inches from front to back, and about 1.13 inches thick. According to Logitech, the pitch—the distance from the center of one key to the next—is 19 millimeters, which is within the normal range for a standard-size keyboard.
At just over two pounds, the keyboard lands on your desk with a thunk. Unfortunately, it lacks the traditional hinge or legs to adjust the slope, set at 4.7 degrees. It's absolutely sturdy, however, without any discernible flex.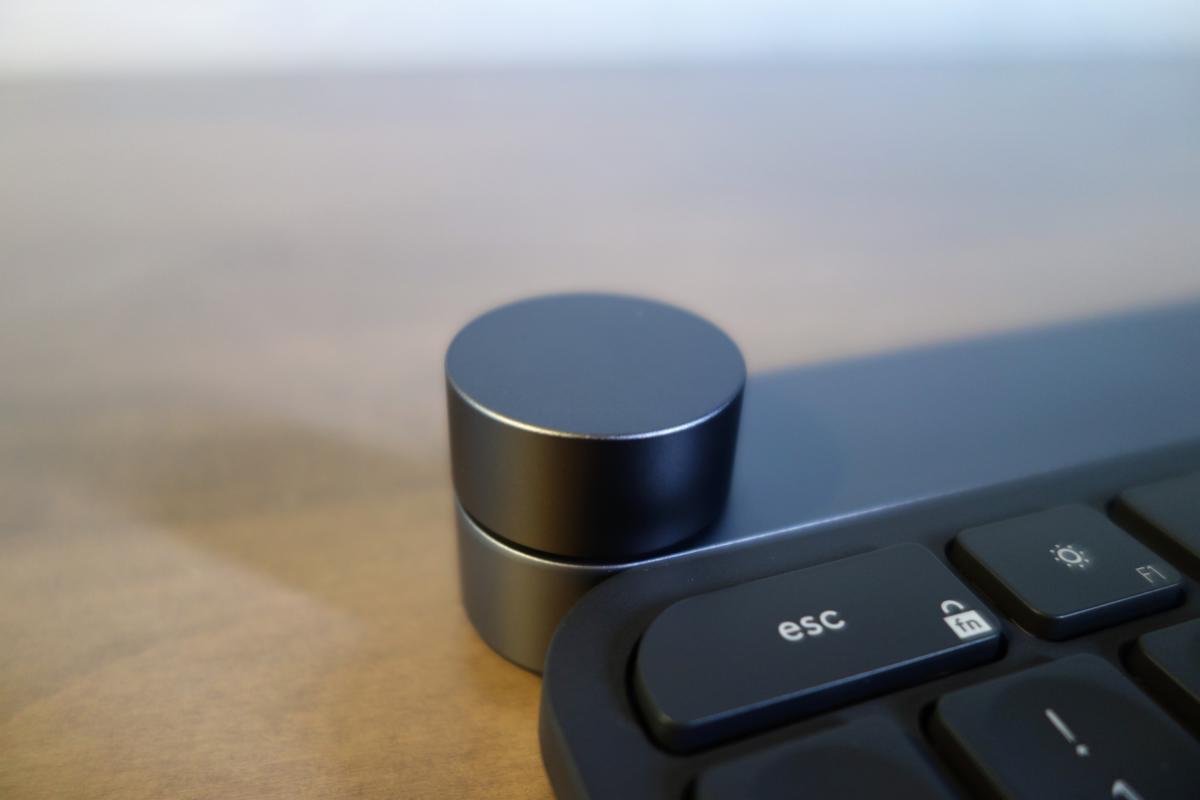 Connecting the Craft to your PC means pairing it either via Bluetooth or with the associated Logitech unifying receiver, a USB dongle that's included in the box. You'll also need to download the associated Logitech Options software, the secret sauce that connects the Craft's crown to the applications on your PC.
Note that because the Options download is an executable file, most of the Craft's features beyond its basic keyboard functions won't work with Microsoft's latest Windows 10 S operating system. Windows also doesn't recognize the Craft's crown as a Surface Dial, meaning it can't take on any of that device's functions natively within Windows.
The first cause for concern is battery life. According to Logitech, the Craft will last just a week with the backlight powered on. (By contrast, Logitech's popular K360 wireless keyboard lasts three years on a AA battery.) If you turn off backlighting, the 1,500mAh battery will last about three months, according to Logitech. Charging the Craft took me about six hours via the Craft's USB-C cable, from my PC. Logitech also includes a power switch on the front of the keyboard, another tip-off that the Craft consumes more juice than you might expect.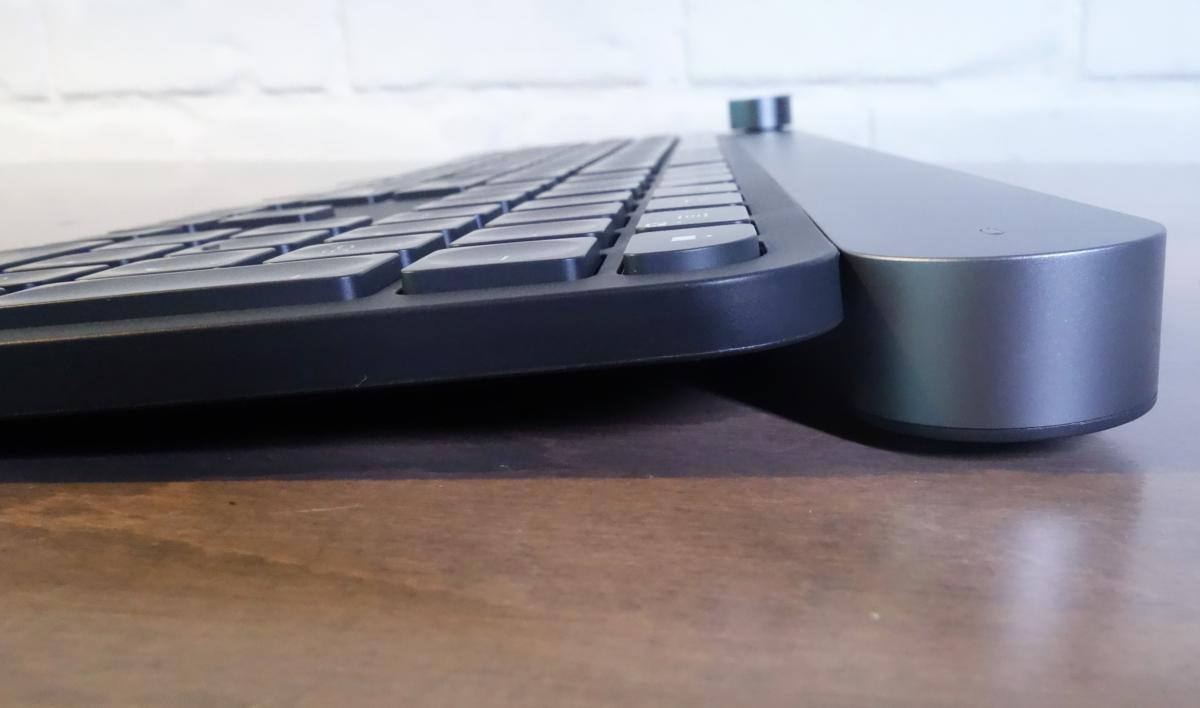 The Craft's backlight turns off after a few seconds of inactivity, and resumes when you put your fingers near it. You can adjust the backlighting through 10 or 12 different gradations to eke out longer battery life. However, there is no battery gauge on the keyboard itself, just a battery icon that lives inside the Options utility software.
Logitech certainly understands the basic requirements of a keyboard, and the Craft is thoughtfully designed. Along the top row of function keys Windows users will find dedicated keys for switching between applications, launching Action Center notifications and minimizing applications, and locking the keyboard.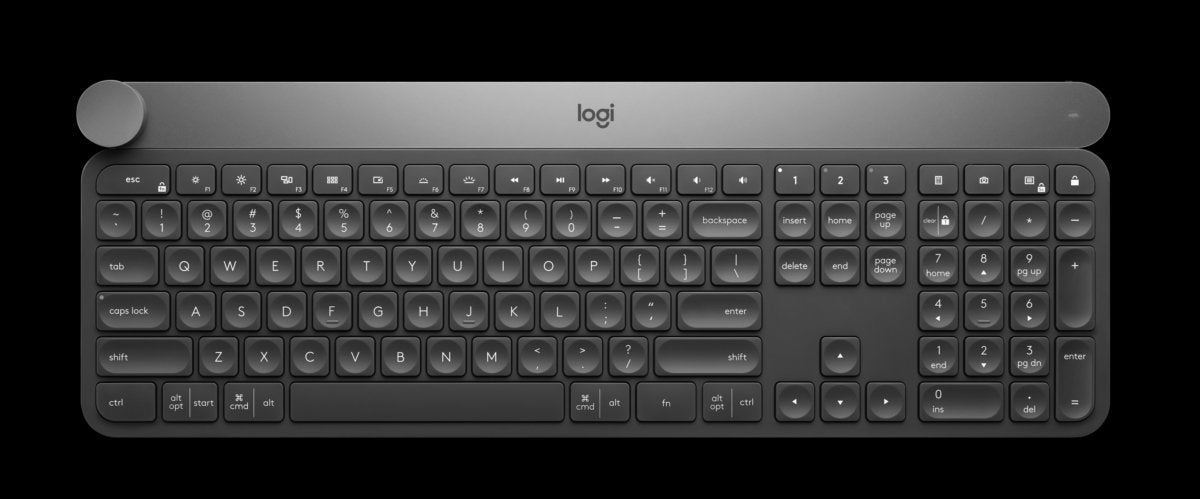 You'll find the standard media controls and keys to adjust either the keyboard backlighting or the brightness of the screen. There's also a handy calculator button above the dedicated number pad.
The Craft works with Macs as well as Windows PCs. Logitech accommodates both platforms by incorporating a Start key and an Apple Command (CMD) key as options on the Alt keys around the spacebar. Three dedicated Easy-Switch buttons, above the Insert, Home and PageUp keys, allow you to pair the Craft with up to three devices, including Macs.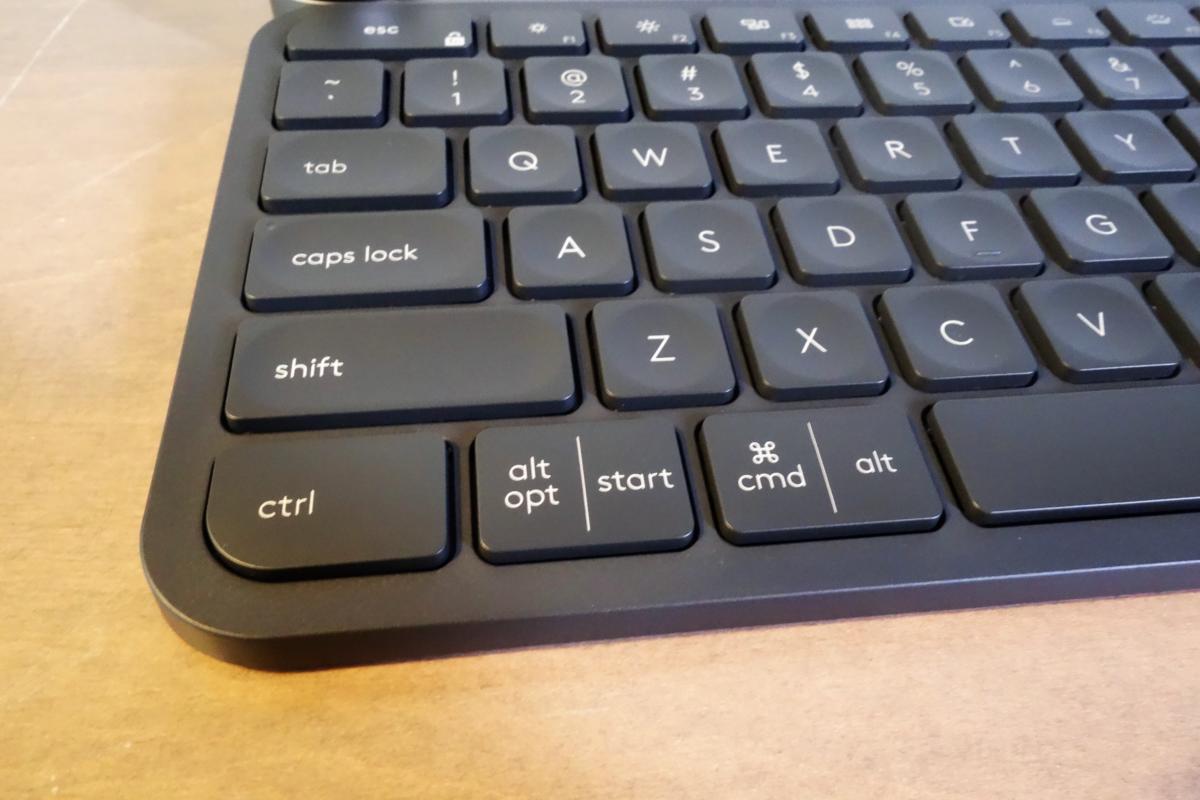 Typing experience isn't up to snuff
I'm not entirely impressed with how the Craft functions on an everyday basis, however. It's actually nice for keys to have a slight concavity to guide your fingers, as the Craft's keys do, but the unusually deep dimple feels distracting to me. While the scissor-switch mechanism under each key responds firmly, the 1.8mm key travel is rather shallow for a desktop keyboard—my fingers bottomed out too quickly to be comfortable. The space bar also frequently emitted a slight, annoying squeak when I struck it, but that could be a quirk particular to my review unit.
According to a Logitech representative, its customers—creatives and photo editors—"like the tactile feedback of the keystroke with the silence of the scissor mechanisms." I've always believed that the keyboard experience is a largely subjective one, which will vary from person to person. For me, the Craft isn't quite there.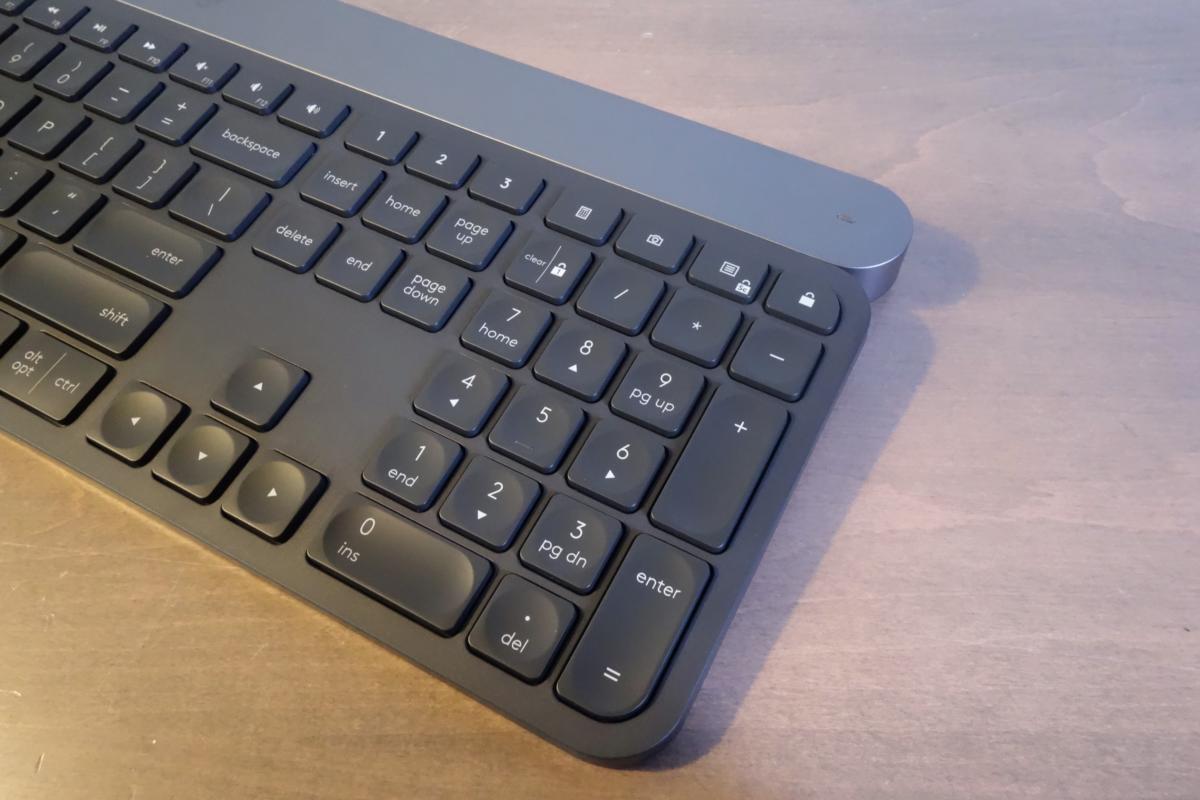 The Craft's Crown sets it apart
With any other keyboard, the review would end there. With the Logitech Craft, though, we're just getting started.
Obviously, the real reason to buy the Craft is the Crown, the small dial that squats on the upper left-hand corner of the keyboard. It spins either smoothly or incrementally, depending on what kind of menu or function you're using with it. You can also press it, or press, hold and turn it simultaneously. The Crown is extremely sensitive, so just the lightest brush of your finger will trigger a popup on your screen indicating what function will trigger if you spin it. Switching the Crown between simply turning it and press-and-turn mode is accompanied by a bit of haptic feedback, and by a noise that sounds disconcertingly like a camera shutter.
And what function is that? That's up to you. Most of Logitech's peripherals ship with its Options software, a set of standard utilities that allow you to map specific functions to your mouse buttons. With the Craft, your options expand seemingly exponentially.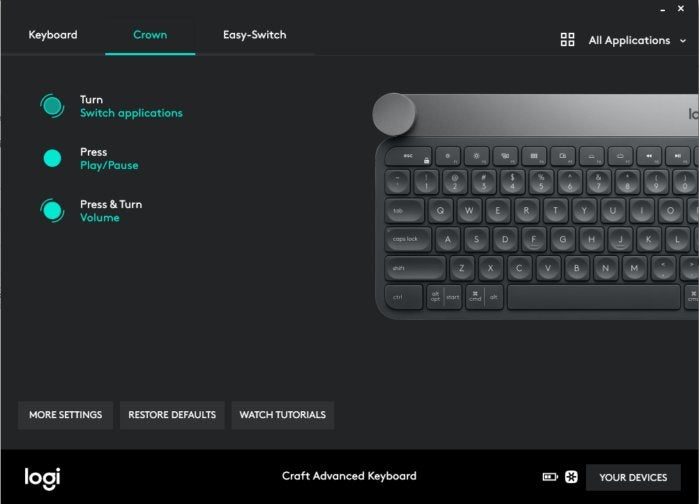 By default, spinning the Crown adjusts your PC's audio volume (even without the Options software installed), but you can assign pretty much whatever function you'd like to either the turn, press, or press-and-turn functions. If you'd like the Crown to be a Cortana button, it can be that.
I assigned the turn function to cycle through my various applications, the press function to play and pause my media player, and press-and-turn to adjust the volume. Note that there are far more options available to the press input, as granular as opening My Documents or performing a right-click. Naturally, you can reconfigure the keyboard's function keys, too, though that almost seems like an afterthought.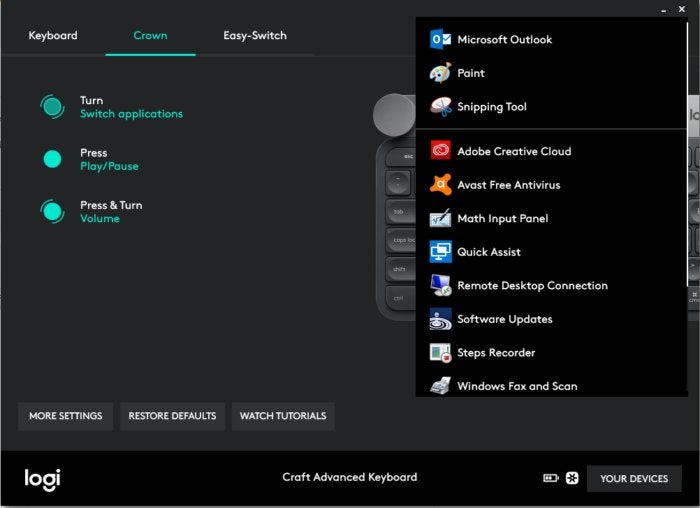 Almost immediately, I found that using the Crown was far more convenient than simply Alt-Tab-ing around my desktop. I was able to consolidate my workflow down to a single monitor, something I rarely do. That's a win, in my book.
Logitech went the extra mile, though, and developed custom profiles for popular apps: Microsoft's Edge browser, plus Google Chrome and Mozilla Firefox; Excel, PowerPoint, and Word; and the Adobe Creative Cloud apps, including Illustrator, InDesign, Photoshop, and Premiere Pro.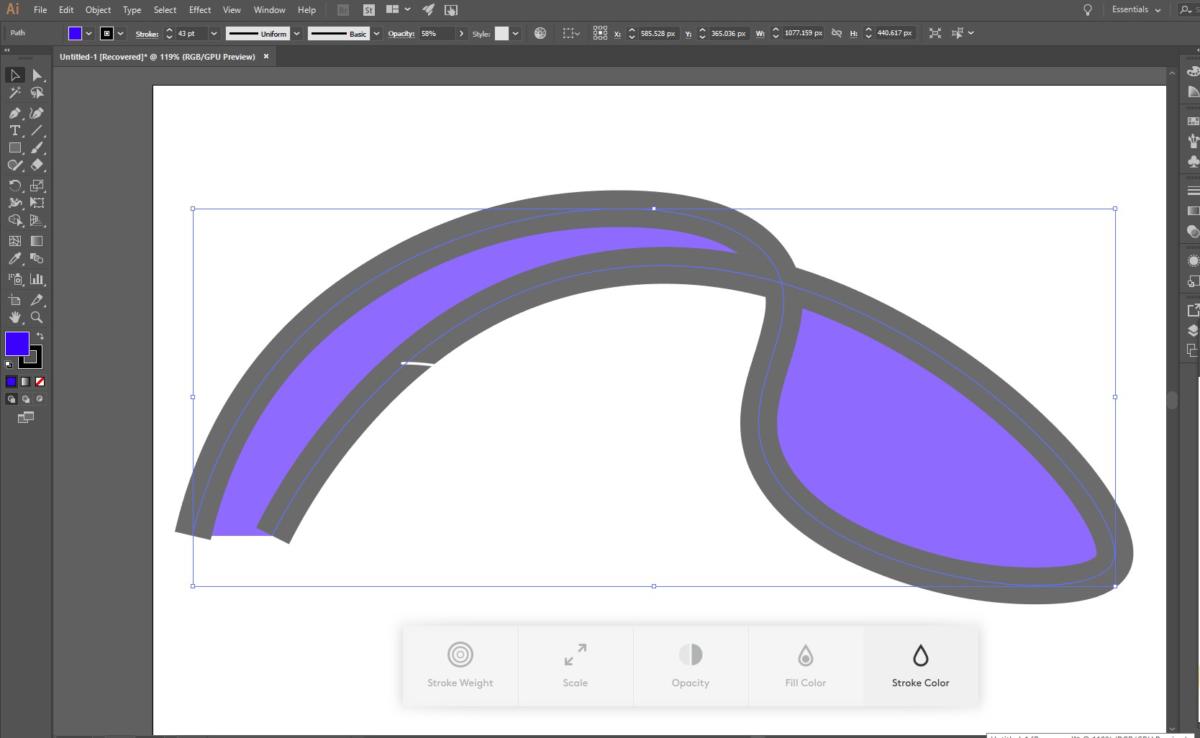 In each, Logitech already assigned the button to specific functions. Spinning the Crown cycles through open tabs in Chrome, Edge, and Firefox, for example. Within Illustrator, you can change the stroke size and color just by adjusting the Crown, similar to what you can do with some drawing apps with the Surface Dial. Word allows you to resize images or quickly change document formats. It's these pre-configured apps that add yet one more function to the Crown: tapping (not pressing) the Crown to move between one or more functions, which you can then adjust by turning the Crown.
If you've been paying attention, though, you may have already sussed out one of the Craft's issues: How does it know what you want to do? In other words, you may find yourself in a situation where you've set up the crown to cycle between apps within all Windows apps, but between open tabs while using Chrome. If you're in Chrome, should the Crown cycle between apps, or the open tabs? Fortunately, the Craft was smart enough to prioritize tab switching within Chrome, and app switching within other contexts.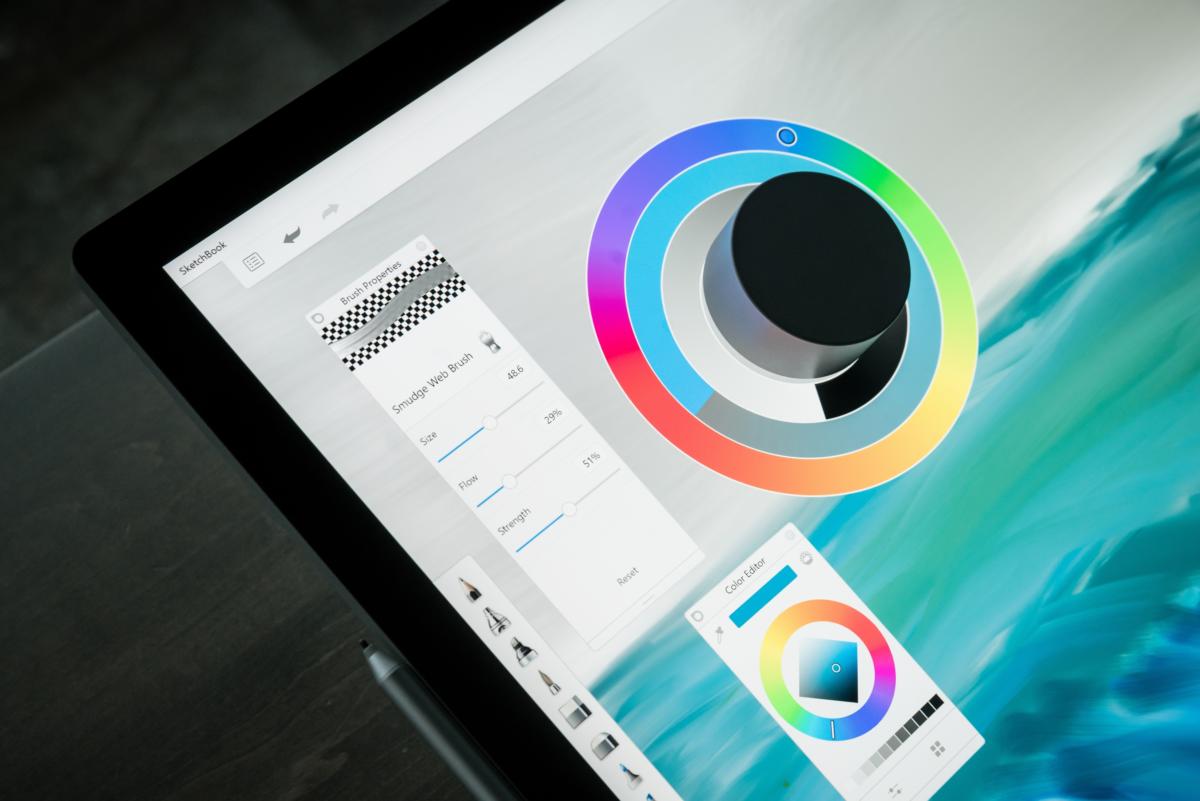 We should note that the Craft's associated Options software was a bit glitchy when we originally went hands-on with it in 2017. Its stability has since improved during the several days we spent with it recently as part of this review. The only problem I noticed was an inability to reconnect to Bluetooth after a Windows update, forcing me to re-pair the device on two occasions.
Logitech Flow: A unique feature—for a price
If you're using the Craft as merely a keyboard, you'd be better off buying one that's lighter, offers more configuration options, and is probably cheaper. Logitech Flow, though, offers an additional dimension of productivity that other manufacturers can't provide, assuming you're willing to buy into the Logitech ecosystem.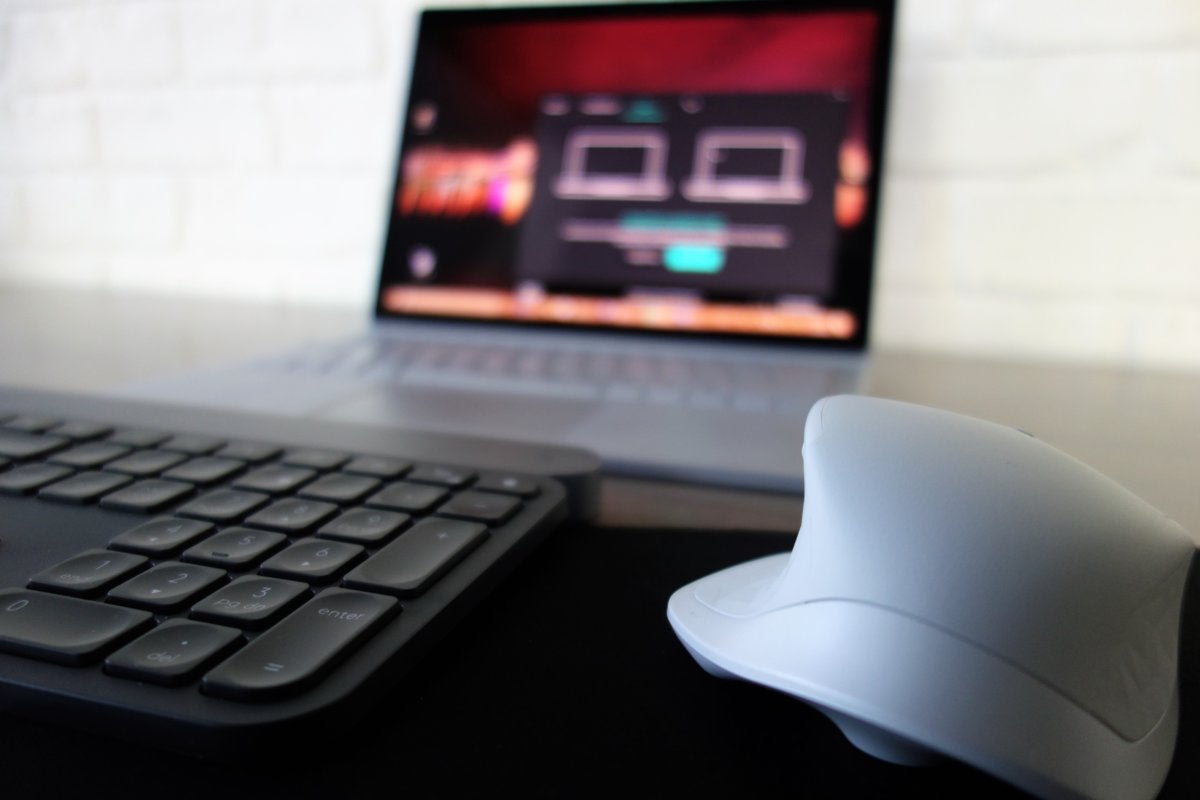 A small number of Logitech mice and keyboards, including the Craft as well as the Logitech MX Master 2S, are Flow-enabled, meaning that they'll work with more than one PC. If you're willing to a.) invest in both a Flow-enabled keyboard and mouse; b.) connect both to more than one PC, with the appropriate Options software installed; and c.) enable Flow, something amazing happens: You can combine each PC into one continuous workspace.
Put another way, Flow enables you to drag your mouse cursor to the edge of the screen, where it "jumps" to another PC. Because the keyboard can essentially be paired with the mouse, this means you can use the mouse and keyboard with different PCs. Why invest in a separate display when you can simply place an old laptop or tablet next to your existing monitor? Even older laptops that lack Bluetooth can be paired with the Unifying Receiver dongle.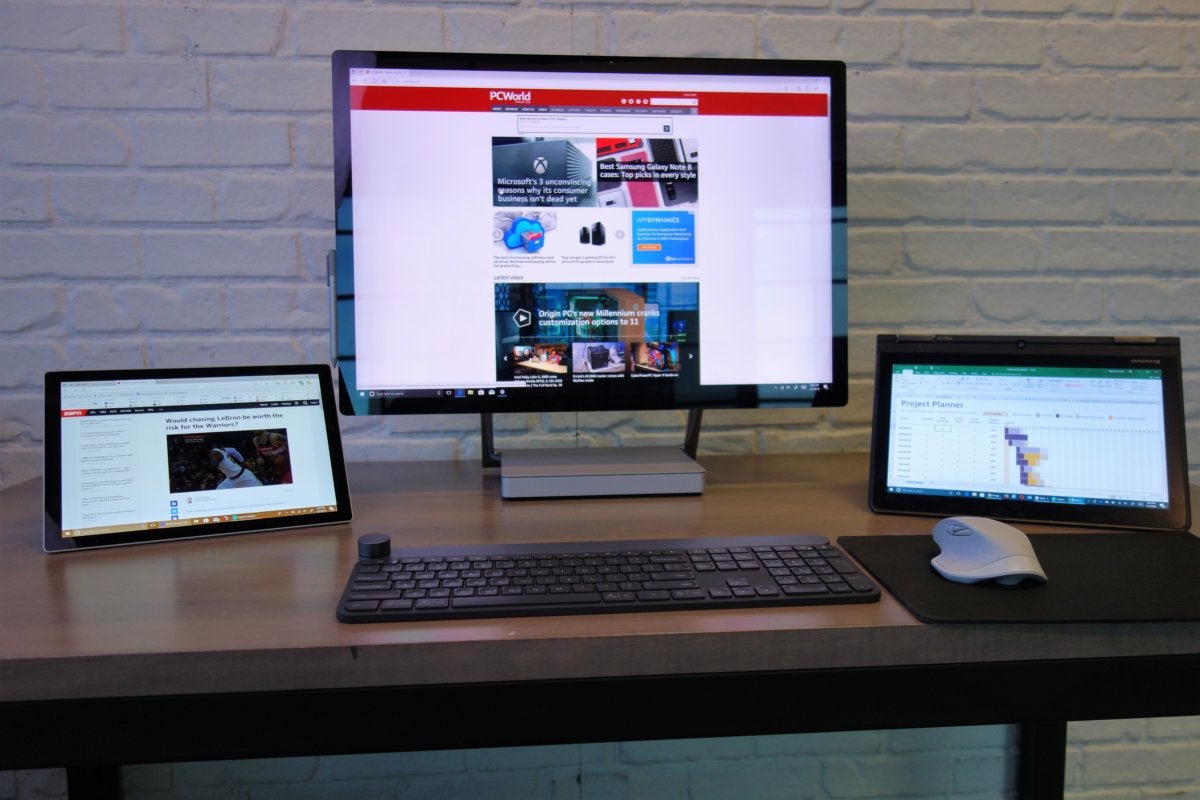 Even better, Flow also allows you to copy documents, files, and text between those PCs, allowing them to work within a single unified environment. All of the PCs have to be connected to the same wired or wireless network, and bulk transfers will only go as fast as your wireless network allows. The catch, of course, is that you have to buy a Flow-enabled mouse and keyboard from Logitech.
There's another quirk, too: while Options provides different configuration options for both the mouse and keyboard, Flow controls are only associated with the mouse. There, you'll have the option to link a keyboard. (Options auto-detected and linked the Craft.) Still, finding Flow can be a little frustrating.
Be aware, though: Flow is also quite sensitive to wireless security. Making it work with my home firewall required some tweaking, but it simply flopped at work, where our IT administrator had implemented the company's own, inflexible network policies.
Spending $200 on the Craft keyboard (a keyboard!) for its Crown dial might be hard to justify. Paying even more for a mouse hits your wallet harder. But Flow helps make the purchases more palatable.
Conclusion: The price of innovation
Logitech clearly realizes it has something nearly unique in the Craft—a rarity in the peripherals market—and has priced it accordingly. Given that Microsoft's Surface Dial alone costs $100, you can see why the company would value the Craft at $200, even if most people would hesitate to spend that much on a keyboard. To enjoy the Crown plus the full benefit of Flow requires you to spend even more on a Flow-enabled mouse—the $100 MX Master 2S, for example, which already includes its own, Crown-like thumbwheel.
I detest spending money on things I won't use, and the Craft's Crown doesn't really enable any function you can't already trigger with a mouse or even a keyboard shortcut. But fumbling for the CTRL+PgUp keys to shift to the next open tab just isn't as easy as flipping the Crown. And I find the concept of Flow fascinating, just because it gives me a reason to power up those crappy old laptops of yesteryear.
As a keyboard, though, the Craft definitely has room for improvement, in terms of the pitch and battery life. I'd suggest Logitech explore Crown derivatives that build a small Crown thumbwheel into the side of the keyboard, hopefully enabling longer battery life and a more ergonomic form factor.
It all boils down to this: if you're thinking about buying the Craft as just a keyboard, don't. If you have other tablets and convertibles lying around doing nothing, though, the Flow software and the Crown make the Logitech Craft a tempting piece of productivity hardware.
This review was updated on Feb. 22 to clarify issues concerning Flow and wireless networking while at the IDG offices.
Best Prices Today: Logitech Craft Advanced Wireless Keyboard with Creative Input Dial and Backlit Keys, Dark grey and aluminum