The third and final piece of AMD's initial return to high-end desktops slide into place on Thursday, as the Ryzen Threadripper 1900X hit the streets, along with AMD's Ryzen Pro processors.
The Threadripper 1900X ($549 on Amazon) doesn't offer an almost ludicrous number of threads, unlike its bigger brothers, the 12-core Threadripper 1920X ($799 on Amazon) and the 16-core Threadripper 1950X ($999 on Amazon). Instead, it offers 8 cores and 16 threads—similar to the core count in most previous Intel Extreme Edition flagship CPUs, but also mirroring the hardware inside the superb $500 Ryzen 7 1800X.
So why would you spend more on a Threadripper 1900X for the same amount of cores and threads as a mainstream Ryzen processor? Well, the 1900X's base clock is slightly higher, at 3.8GHz vs 3.6GHz for the 1800X. But the real reason for this chip's existence is to grant access to the beefy X399 platform to folks who only need 8 cores.
[ Further reading: Threadripper: Everything about AMD's monster CPUs ]
The mainstream Ryzen platform only has 16 usable PCI-E lanes for graphics cards, networking cards, sound cards, storage, et cetera. Threadripper supports an unprecedented 64 PCI-E lanes—Intel's 8-core, $588 Core i7-7820X has 28 and Core i9 chips offer 44—and quad-channel memory, compared to mainstream Ryzen's dual-channel RAM. AMD also plans to add bootable NVMe RAID support to X399 on September 25 as a free firmware update.
Mentioned in this article
AMD Ryzen 7 1800X processor
Price When Reviewed:
$499.00
Be sure you can put those extra features to good use, however, because while AMD's high-end desktop platform was built to last, moving up to Threadripper doesn't come cheap. The mainstream Ryzen 7 1800X ostensibly costs $500, but can regularly be found for $430 on Amazon, and Ryzen motherboards aren't outrageously priced. Most Ryzen boards built around the highest-end X370 chipset cost under $200, with flagships like the Asus ROG Crosshair VI Hero going for $235 on Amazon. That's $665 total to get a Ryzen 7 1800X and a flagship X370 motherboard—and you can find X370 boards for $100 less if you wanted.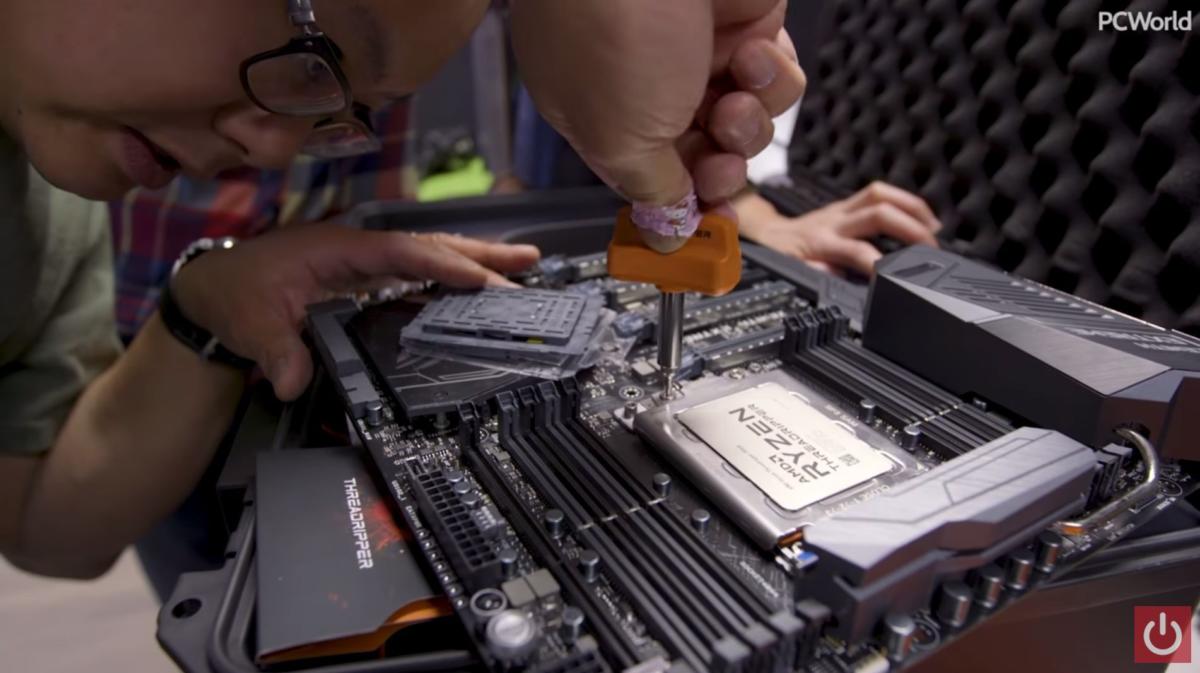 By comparison, the cheapest X99 motherboards cost $350, and they go up to $550 if you want all the bells and whistles. That's a minimum investment of $900 in motherboard/CPU to adopt the Threadripper 1900X, and you'd probably want to spend more to utilize X399's quad-channel memory support, too. That's money well-spent if you can put X399 to work, but if you don't have a concrete reason to put the Threadripper 1900X to work, you're probably better off getting the Ryzen 7 1800X.
Mentioned in this article
AMD Ryzen Threadripper 1900X
Price When Reviewed:
$549.00
A quick PSA, while we're discussing cost: Amazon was selling the Threadripper 1900X for AMD's $549 asking price this morning, while Newegg's $600 price included a $50 markup. Shop smart.
Ryzen Pro
Speaking of putting processors to work, AMD also launched the Ryzen Pro processor lineup Thursday morning. Every Ryzen Pro chip enhances Ryzen's base features with enhanced security and encryption functions, longer guaranteed availability and image stability, DASH manageability, a 36-month warranty, and more.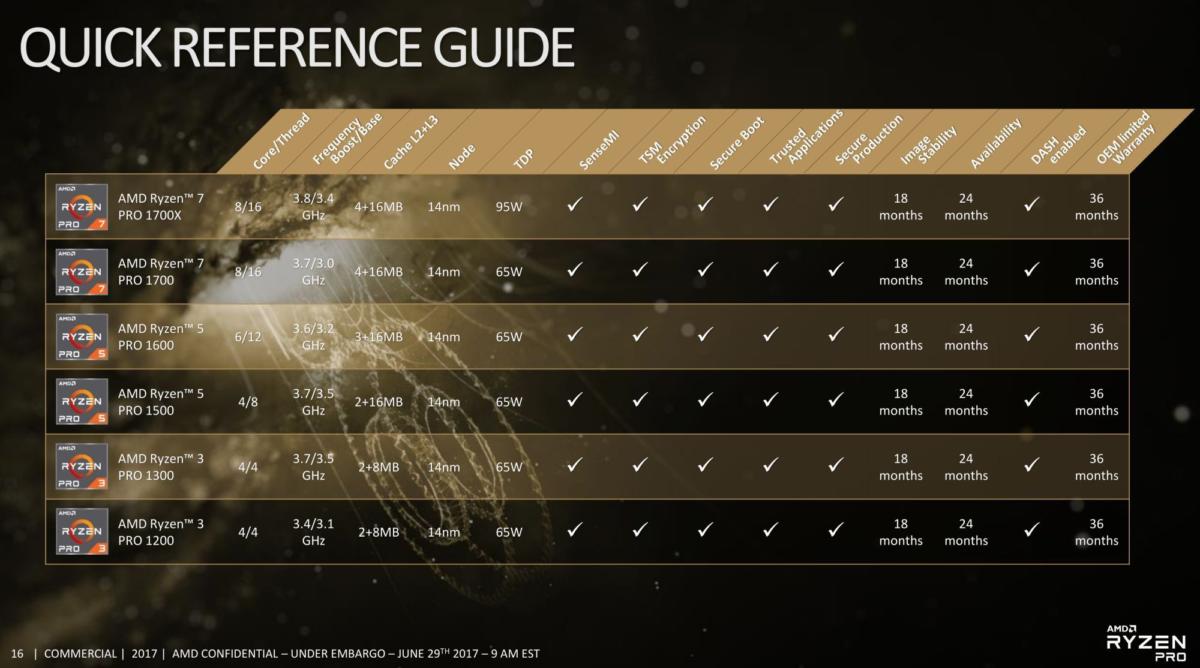 Here's a rundown of the commercial-focused Ryzen Pro systems that are coming down the pipeline, straight from AMD:
Dell Optiplex 5055 desktop PCs are expected to ship in the coming weeks.
HP EliteDesk 705 desktop PCs are expected to ship in the coming weeks.
Lenovo ThinkCentre M715 desktop PCs are expected to ship in the coming weeks.
Lenovo ThinkPad A475 and A275 notebook PCs are expected in Q4 2017.
Ryzen PRO mobile processors are scheduled for launch in the first half of 2018.