At a Glance
Expert's Rating
Pros
Physical design captures the Nintendo aesthetic.
Not a bad controller for downloaded ROMs.
Cons
May not fit every phone perfectly.
Physical design obstructs on-screen permissions pop-ups.
One one of six games tested worked perfectly. Bugginess abounds!
Our Verdict
When the SmartBoy works, it turns your Android phone into a Nintendo Game Boy. Problem is, the set up is horribly flawed, and most original Nintendo cartridges fail to work at all.
Best Prices Today: SmartBoy
While some people still prefer the Nintendo 3DS, PlayStation Vita, or Nintendo Switch for their on-the-go gaming needs, billions of us now have a gaming device in our pockets at all times. It's called a phone. And now the Hyperkin SmartBoy lets us use our Android phones to run games from Nintendo's nearly-30-year-old Game Boy system. Sounds awesome, right?
The SmartBoy is essentially a controller shell that snaps onto the bottom of an Android phone via a USB-C connection, and it looks and feels much like Nintendo's retro handheld. And when you pop one of the ancient Game Boy cartridges into the back, you can play all your old games—through your Android phone!
It's a very cool (albeit very niche) idea, but the actual execution falls well short of expectations. From the awkward setup to laborious game play to significant compatibility issues, the SmartBoy isn't quite as intelligent as it seems.
At least the SmartBoy looks right
In terms of aesthetics, Hyperkin nailed it. The SmartBoy is thicker than the original Game Boy, but the buttons look and respond much like the real ones, and the plastic has that familiar rugged feel to it. Nostalgia will certainly drive the SmartBoy's success, so adhering to the classic look (despite being an unofficial product) helps the $50 device make a strong first impression.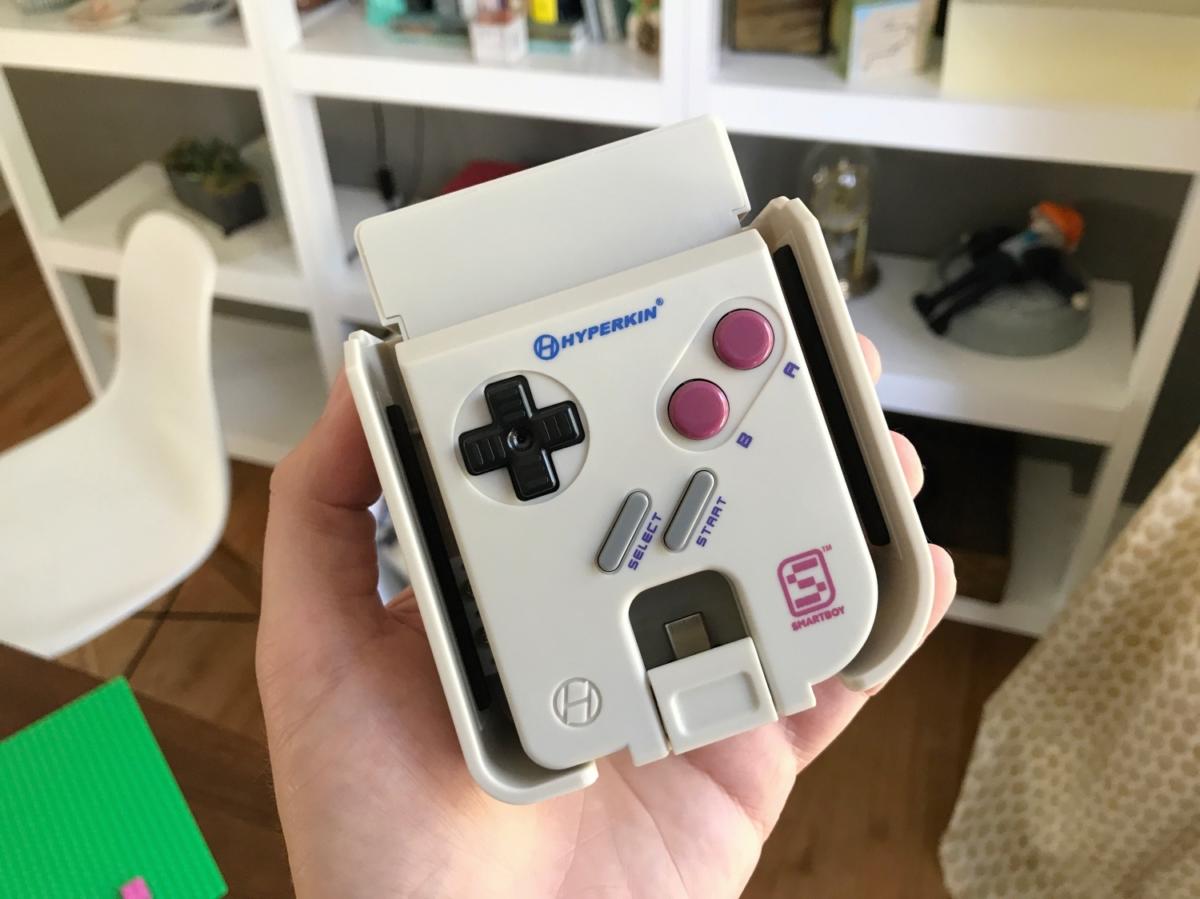 The SmartBoy is designed to adapt to most Android phones with a USB-C port at the bottom, although the Samsung Galaxy S8 is featured on the box alongside an official "Designed for Samsung" logo. The back of the SmartBoy has a little button that expands the width of the unit when pressed, letting you slide your phone in. From there, you squeeze the sides to snugly secure it.
That's the plan, at least. The Galaxy S8 does fit, but not securely: It's just a hair too narrow to sit flush against the soft pads inside, so it rattles around a little while you're playing. I also tried the larger Google Pixel XL and had more luck with that: The side cushions snugly grab tight to the phone and keep it in place while you're playing. Your experience may vary depending on hardware, but so long as your phone is marginally wider than the Galaxy S8, it should be fine.
SmartBoy is really dumb
So far, so good (for the most part), right? Yes, but once you start trying to play anything with the SmartBoy, that's when the headaches pop up.
First off, the SmartBoy app permissions pop-ups weren't visible because of the SmartBoy itself. I couldn't see the full message or what I was agreeing to (or denying) because the peripheral blocked the view. That was especially true on the taller Galaxy S8 display, but it remained a problem with the Pixel XL, as well.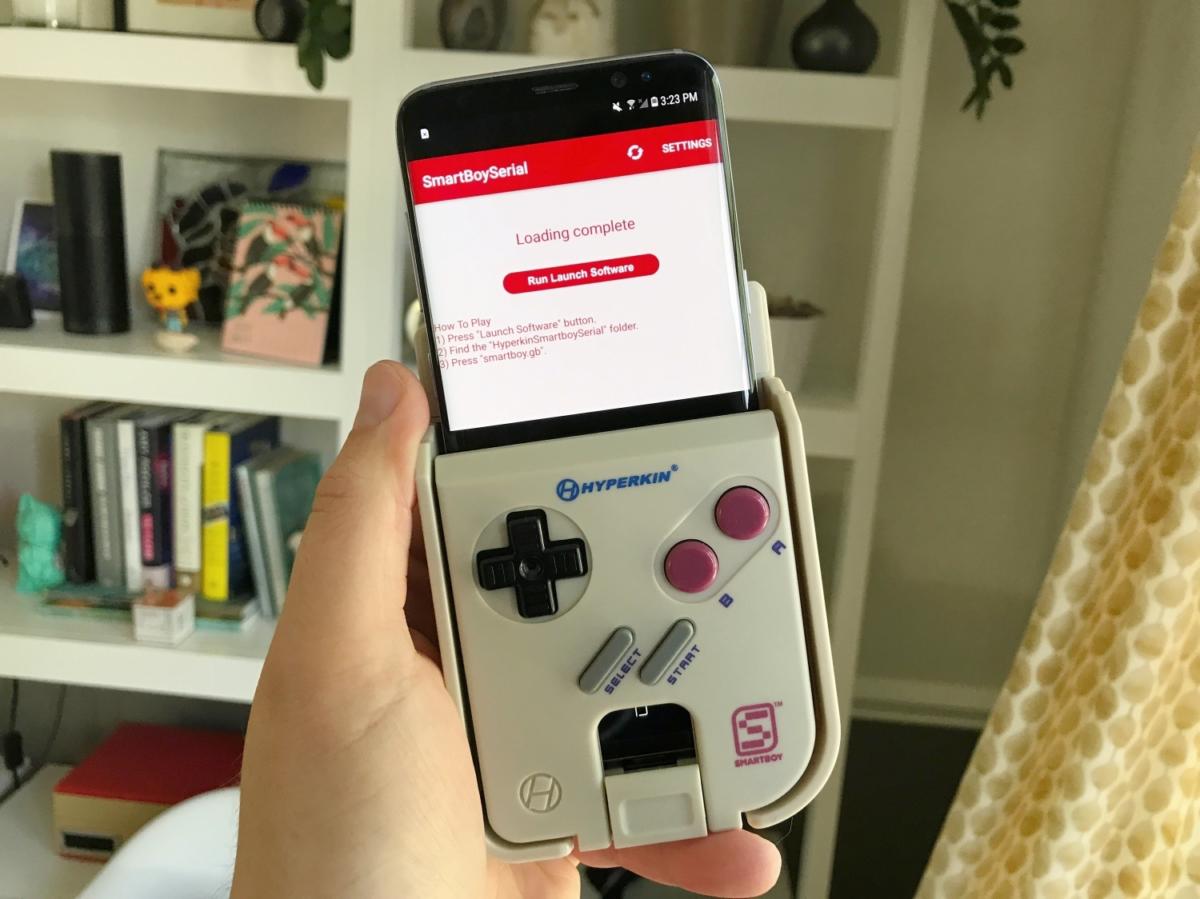 Your only solution is to awkwardly yank your phone out of the SmartBoy—and this becomes a very common practice. You'll have to do it any time you want to swap games, or exit or restart the app. There's no smooth process to this, and it's both jarring and a total hassle every time.
And it's particularly problematic because games barely work with the device, prompting a whole lot of stopping and starting on the way to finally getting a game up and running.
More misses than hits
The SmartBoy claims to be compatible with Game Boy and Game Boy Color games from both the NTSC and PAL regions, meaning you should be able to run games from North America, Europe, and most other countries without issues. The SmartBoy app quickly copies ROM data from the physical cartridge into memory, and then loads up a separate emulator app to run the game in Android.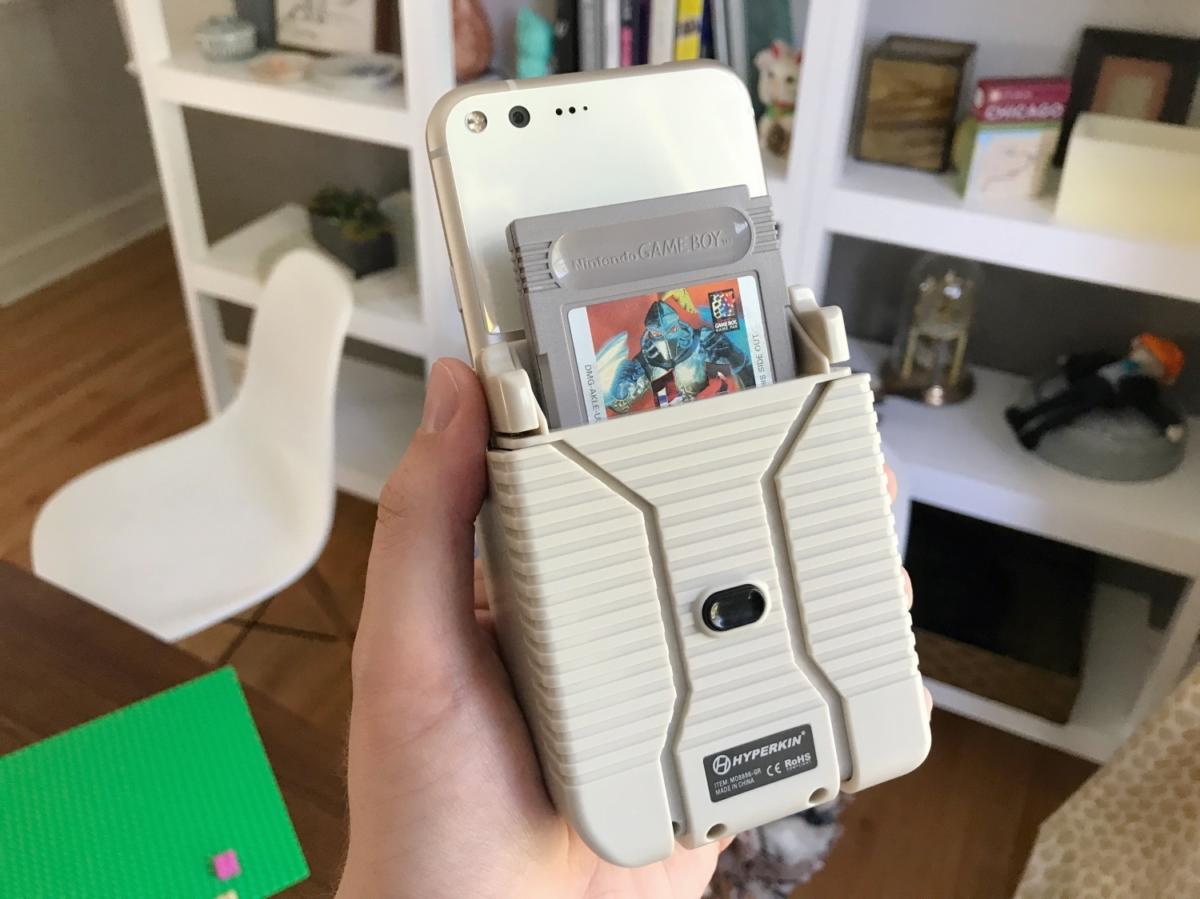 Which emulator app it uses is up to you. By default, it points to My OldBoy! Free, but you can choose another one from the Play Store and then select (within the SmartBoy app) which one loads once you start a game. I tested both the paid and free versions of My OldBoy!, as well as John GBC.
And I had problems. I had six different original Game Boy and Game Boy Color cartridges handy, and I verified that all worked properly within a real Nintendo Game Boy. But only two of them worked consistently with the SmartBoy, and only Metroid II: Return of Samus gave me zero problems whatsoever. This title worked with both the Galaxy S8 and Pixel XL, the controls felt responsive, and the ancient game looked crisp on those Quad HD panels.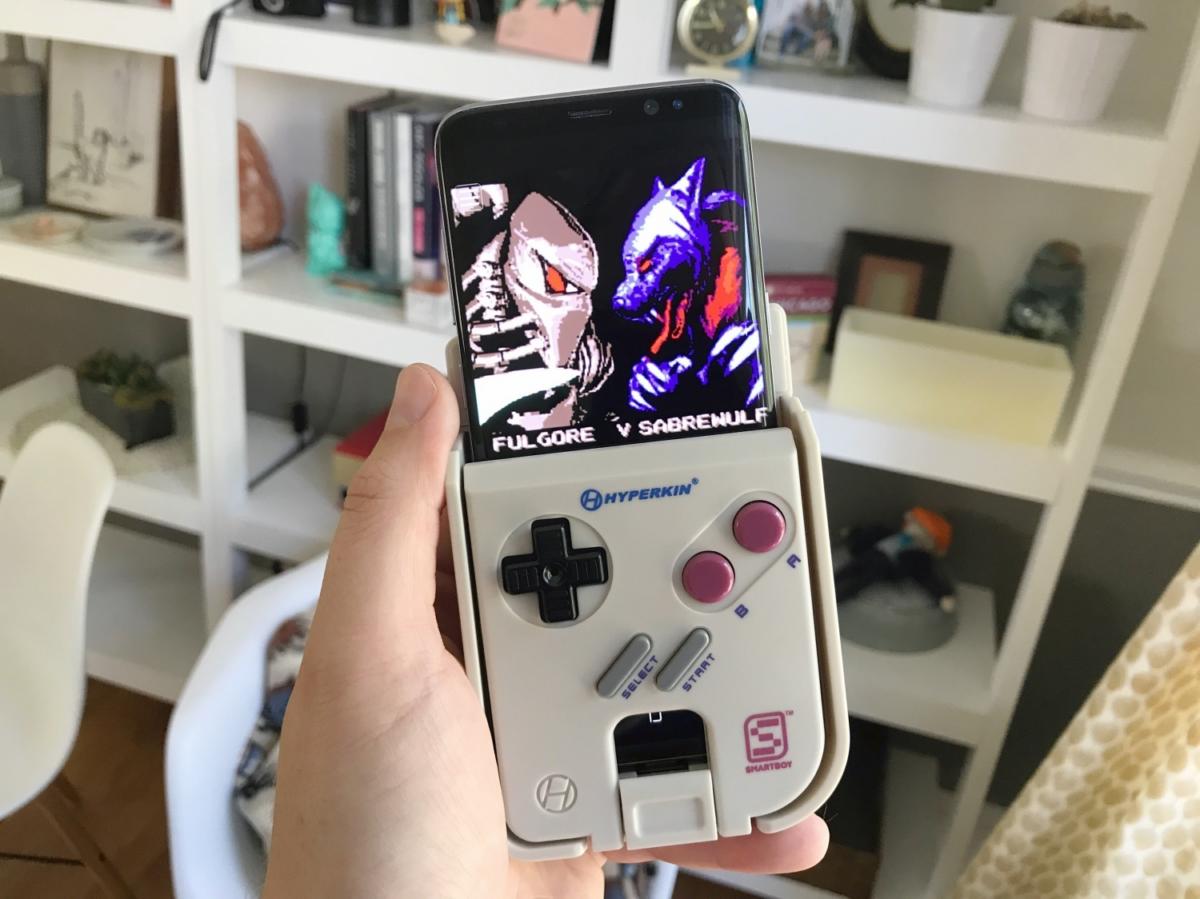 If I'd had that same experience with every game, then it would be pretty easy to recommend the SmartBoy. But, unfortunately, issues came in all shapes and sizes.
The directional pad didn't work at all with Alleyway, for example, rendering it unplayable. Super Mario Land 2 would load, but then typically crash as soon as I tried to walk around the world map. In one instance, I actually got into a level, but a glitch had swapped most of the game's icons and background textures for others.
Kirby Tilt 'n' Tumble wouldn't load at all. It crashed both emulator apps as soon as I tried to play. Killer Instinct, meanwhile, was hit-or-miss. It would sometimes load and play perfectly, while other times, I'd get a bright red piracy warning across the screen and be unable to continue. And I'm sure it's a legitimate cartridge, as I remember buying it 20 years ago as a kid, brand-new and sealed.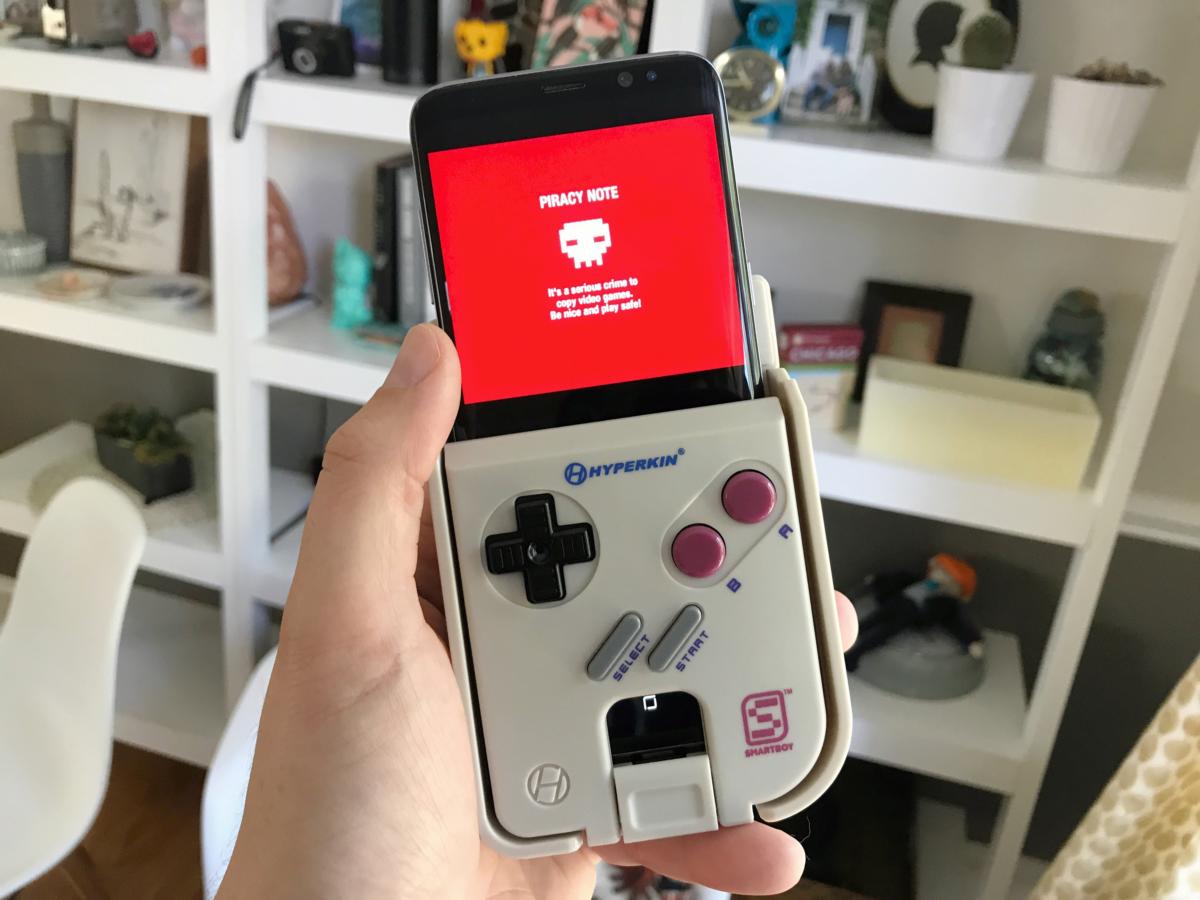 However, the SmartBoy works pretty well with downloaded ROMs, making it a pretty good solution for playing games you've downloaded online. Keep in mind, if you don't own the original cartridge, then a ROM is considered an illegal copy—and no, we won't point you toward any of them. But where something like Super Mario Land 2 didn't work properly once moved over from my cartridge, the downloaded ROM I found worked just fine. So that's odd.
The SmartBoy is also compatible with Game Boy Advance ROMs, although you'll probably have to configure the buttons within the emulator (I used My Boy! Free). The SmartBoy has a couple of shoulder buttons included that are seemingly intended for Game Boy Advance play, even though the device won't read actual the system's cartridges—yes, I tried. Maybe that's something Hyperkin plans to add eventually, but for now at least, you can run downloaded ROMs.
Not a very good 'Boy
I was excited to dig back into my old Game Boy favorites, but ultimately, I got very little satisfaction out of the SmartBoy. Only a couple of my games worked at all, and the whole process was incredibly irritating.
It seems like the issues are present in every part of the experience—from how the SmartBoy reads the cartridges to how the app and emulator work. It goes far beyond a little bit of troubleshooting, and your average buyer who's trying to rekindle a bit of nostalgia could be wildly frustrated, depending on which games he or she has.
For players who are familiar with downloadable ROMs, on the other hand, the SmartBoy works well as a reasonably priced controller shell for your Android phones, and it's an ideal approximation for the fit and feel of the original Game Boy. It's just that the out-of-the-box functionality of running actual cartridge games is a mess.
Until Hyperkin works out the kinks and offers a reliable emulation option that works fluidly with the vast majority of games, I can't recommend the SmartBoy. You can pick up a second-hand Game Boy, Game Boy Color, or Game Boy Advance for less than $50 and completely avoid the compatibility headaches here.
Best Prices Today: SmartBoy