The fierce competition between the HTC Vive, Oculus Rift, and Windows Mixed Reality headsets has been heating up ever more in 2018, with rampant price drops and the arrival of the much-improved HTC Vive Pro.
These virtual reality platforms all run on headsets connected to a PC. The software has plenty of overlap, the hardware is of similar heft, and the overarching concepts all involve playing around in room-scale, virtual worlds. But each VR solution has its own share of technical and philosophical differences, diverging from competitors in several key ways.
Here is our attempt at explaining all those similarities and differences between the HTC Vive (and Vive Pro), Oculus Rift, and Windows Mixed Reality headsets in the least confusing way possible. Facebook's standalone Oculus Quest isn't tied to PCs, and it won't launch until spring 2019, so we won't be covering it in detail here yet. We do touch on its augmented reality ambitions towards the end, however.
Editor's note: This article was last updated to mention the Oculus Quest.
Vive vs. Oculus vs. Windows Mixed Reality: What's in the box
Although the Oculus Rift and HTC Vive originally had some significant hardware differences, lately they've become more similar as prices for both headsets have fallen, and as Oculus has added more sensors and touch controllers to the mix.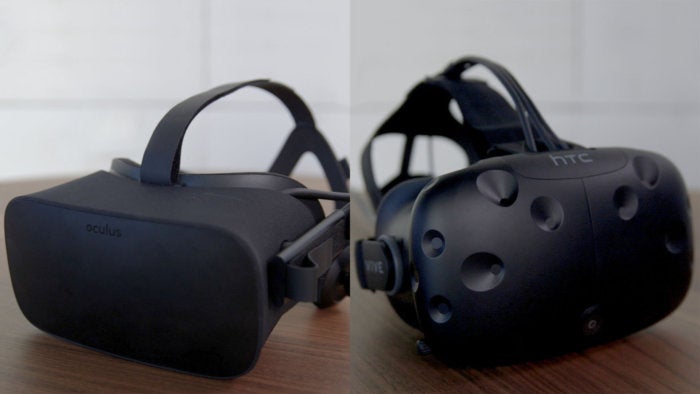 The Oculus Rift + Touch bundle includes the headset, a pair of hand-tracking controllers, and a pair of desktop IR LED-tracking sensors for $399 after a recent price cut. This creates a tracking area of five feet wide by five feet deep. For an extra $59, Oculus sells a third sensor that expands the tracking area to eight feet by eight feet when placed at the rear of a room. The Rift also includes integrated headphones, which is a nice touch.
Mentioned in this article
HTC Vive
Price When Reviewed:
$800
For $499, the HTC Vive includes a headset, a pair of hand-tracking controllers, and a pair of wireless base stations. But instead of sitting on a desk like the Rift's sensors, the base stations should reside in opposite corners of the room, creating a large play area of up to 15 feet by 15 feet. Unfortunately, the Vive doesn't have integrated headphones, but you can add them for $100 with the Deluxe Audio Strap if you're feeling extra spendy (or simply don't want to buy a separate gaming headset).
The higher-resolution HTC Vive Pro stands as the current pinnacle of mainstream virtual reality headsets. It wraps in the Deluxe Audio Strap's many quality-of-life improvements, like integrated headphones and a rigid headstrap design with a counterweight on the rear of the headband. But it's pricey; the $799 headset is all you get in the box, with none of the needed Lighthouse base stations or Vive controllers. A complete Vive Pro VR system with two of each as well as the headset costs a staggering $1399 on Amazon.
With Windows Mixed Reality, pricing varies by vendor, just like with Windows PCs. While you can sometimes buy the standalone headsets for a lower initial cost, you'll really want to pick up a bundle that includes a pair of motion controllers. Here are the Windows Mixed Reality headsets available, though they're frequently found on sale for less.
Lenovo Explorer with motion controllers – $399 on Microsoft
HP Windows Mixed Reality headset with motion controllers – $449 on HP
Dell Visor with motion controllers – $449 on Dell
Samsung Odyssey with motion controllers – $499 on Microsoft
Asus Windows Mixed Reality headset with motion controllers – $399 on B&H

Remove non-product link
Mentioned in this article
Acer Windows Mixed Reality headset and controllers
Price When Reviewed:
$399.99
Unlike the Vive and Rift, none of these Windows Mixed Reality headsets include tracking stations. Instead, Microsoft's system uses a camera on the headset to keep track of where the controllers are. This may help keep costs down and make setup less burdensome, and in theory it allows for more spacious simulations, but it brings a major trade-off. Grabbing objects without looking directly at them becomes difficult, as you can read about in our Windows Mixed Reality review.
Also, no Windows Mixed Reality systems have integrated headphones with the exception of the luxurious Samsung Odyssey, so you'll need to buy a headset or bring your own earbuds with most models.
Vive vs. Oculus vs. Windows Mixed Reality: VR tech specs
As for the nitty-gritty details on VR quality, each platform has its strengths and weaknesses.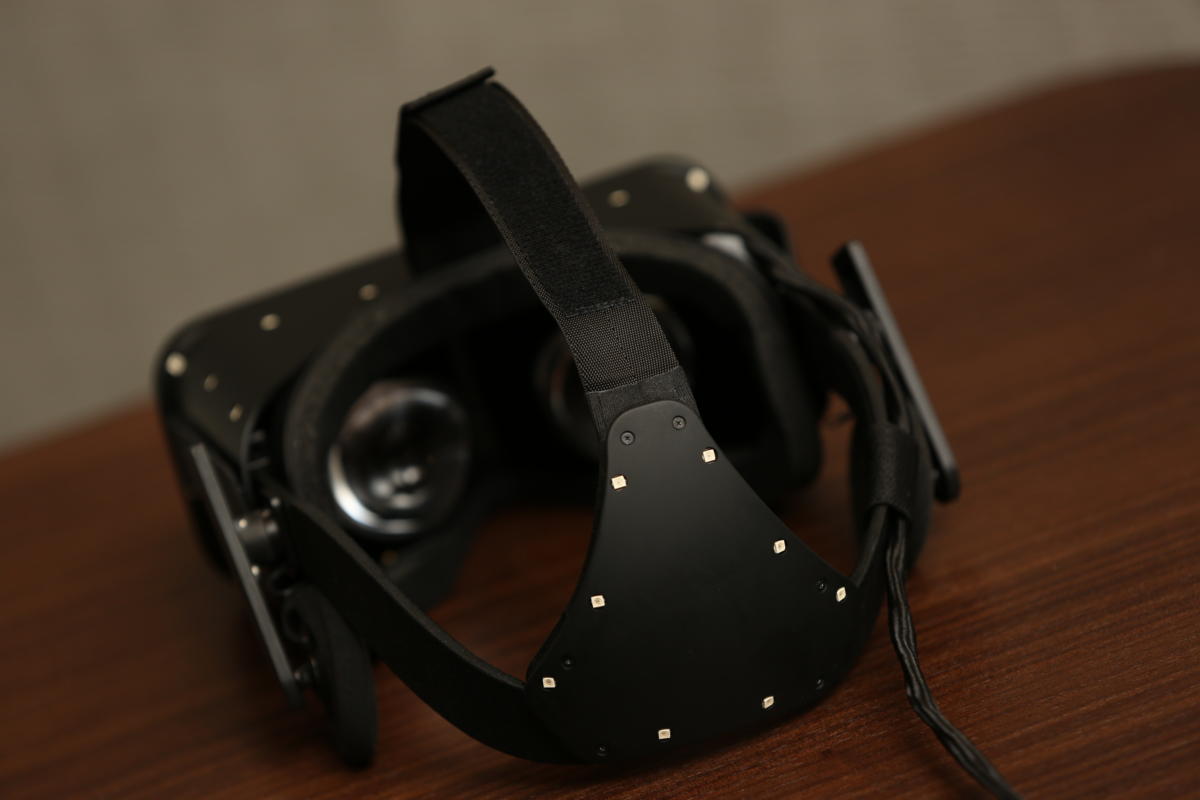 For resolution, the Vive and the Rift offer 1080×1200 per eye, while most Windows Mixed Reality headsets announced so far are crisper at 1440×1440 per eye. The HTC Vive Pro and Samsung Odyssey WMR headsets stands out with a higher 1440×1600 resolution per eye. Higher resolutions mean you're less likely to notice the individual pixels in an image—a key concern when the displays are so close to your face. In-game text also becomes much more readable as resolution ramps up.
Mentioned in this article
HTC Vive Pro VR headset
Price When Reviewed:
$799.00
Refresh rate is 90Hz on the Vive and Rift, and up to 90Hz on Windows Mixed Reality headsets. However, Microsoft says some headsets will run at just 60Hz if the user's PC can't handle higher frame rates. (More on that shortly.) High refresh rates are crucial to prevent users from potentially suffering nausea while using VR.
The field of view on the Oculus Rift and the HTC Vive is about 110 degrees, and it'll vary from headset to headset with Windows Mixed Reality. HP and Acer both list a 95-degree field of view, while Dell's Visor and the Samsung Odyssey hit 110 degrees. The Lenovo Explorer sits in the middle at 105 degrees.
Also worth noting: Both the Oculus Rift and HTC Vive use OLED displays, while most of the current crop of Windows Mixed Reality headsets use LCD technology, which can be more susceptible to motion blur. Samsung's Odyssey uses an AMOLED display.
Vive vs. Oculus vs. Windows Mixed Reality: PC system Requirements
You need a compatible PC to run these VR headsets, of course.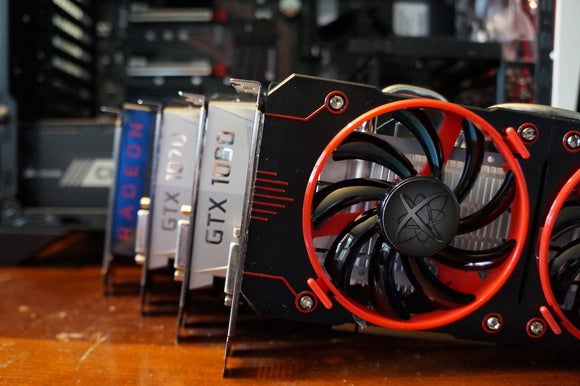 For the Vive and Vive Pro, HTC recommends at least an Intel Core i5-4590 or AMD FX 8350 processor, an Nvidia GeForce GTX 1060 or AMD Radeon RX 480 graphics card, 4GB of RAM, one USB 2.0 port, and either an HDMI 1.4 port or a DisplayPort 1.2 port. (The Vive Pro ditched HDMI, relying exclusively on DisplayPort.) All AMD Ryzen 3, 5, and 7 processors and 8th-gen Intel Core desktop processors should work just fine.
Mentioned in this article
Oculus Rift
Price When Reviewed:
$499
Oculus' minimum PC specs are a bit less stringent on the processor side, thanks to the company's Asynchronous Spacewarp technology. The Rift requires at least an Intel i3-6100, AMD Ryzen 3 1200, or FX-4350 for the CPU, and at least an Nvidia GTX 1050 Ti or AMD Radeon RX 470 for the GPU. In other areas, it's a bit more demanding, requiring 8GB of RAM, a USB 3.0 port, and two USB 2.0 ports. Video output must be HDMI 1.3 or higher.
Note that those are the minimum requirements. The more CPU and GPU firepower you can throw at PC-based VR, the better your experience will be. Investing in a more powerful graphics card is particularly enticing because games only get more graphically demanding as time goes on. PCWorld's guide to the best graphics cards can help you explore your options if you decide to go beyond the minimum PC VR requirements.
The situation with Windows Mixed Reality is trickier, as Microsoft's platform is split into two variants.
The standard version requires an Intel Core i5-7200U, HDMI 1.4 or DisplayPort 1.2, and integrated Intel HD 620 graphics. But with integrated graphics, framerate is limited to 60Hz, which is more likely to trigger motion sickness. Such a modest setup will likely be unable to run demanding VR games—you might wind up limited to VR-based productivity and entertainment apps.
Mentioned in this article
Ryzen 5 1400 with Wraith Stealth cooler
Price When Reviewed:
$169.00
Meanwhile, the "Ultra" version of Windows Mixed Reality offers the same 90Hz framerate as HTC Vive and Oculus Rift, and has similar requirements: Intel Core i5-4590 or AMD Ryzen 5 1400, Nvidia GTX 960/1050 or AMD RX 460, and HDMI 2.0 or DisplayPort 1.2. Both versions require 8GB of RAM and a USB 3.0 port (either Type-A or Type-C). Despite those modest graphics card requirements, you'll probably want at least at GTX 1060 or Radeon RX 580 for the best results, as with the Vive.
As for software requirements, Windows Mixed Reality is tied exclusively to Windows 10, and you'll need to have the Fall Creators Update installed. HTC Vive still works on Windows 7 or higher, while Oculus Rift runs on Windows 8.1 or higher.
Vive vs. Oculus vs. Windows Mixed Reality: Software
All of these VR speeds, feeds, and specs are academic without software, of course. And at least officially, the software situation is straightforward: The HTC Vive and Vive Pro works with Valve's SteamVR platform, Oculus Rift uses the Oculus Home storefront, and Windows Mixed Reality will get content from Windows 10's Windows Store.
Unofficially, it's complicated.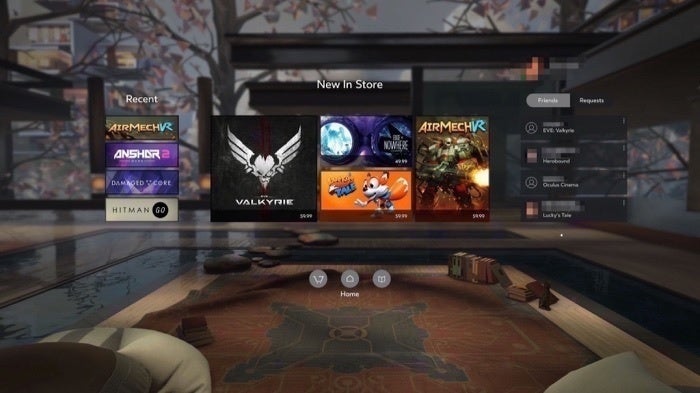 Oculus Rift users can access the full SteamVR catalog, but not quite out-of-the-box. To break out of the Oculus walled garden and access SteamVR exclusives like AudioShield and The Lab, you must check the "Unknown Sources" box in Oculus Home's settings menu.
The HTC Vive, meanwhile, can access Oculus Home—and exclusives like Lone Echo and Lucky's Tale—but here the workaround is more elaborate. It requires installing a third-party tool called Revive, which Oculus has thankfully stopped trying to kill.
Windows Mixed Reality supports SteamVR, albeit in beta format. But Microsoft has suggested that software exclusives from the Windows Store won't flow the other way onto Vive and Rift headsets. So if you want to sample the Halo VR experience that 343 Industries is working on, you'll need a proper Windows Mixed Reality headset.
Actually, it's easier to explain this situation with an image: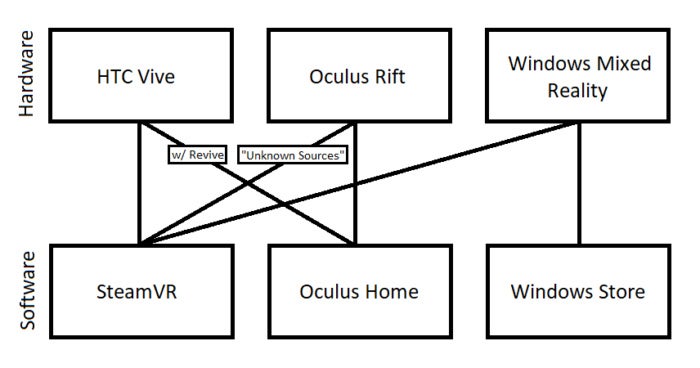 That's not to say you need access to all three stores. Outside of a handful of high-profile exclusives—some of which are for a limited time—SteamVR and Oculus Home already have lots of overlap in their software selection. The same will probably be true with the Windows Store once its VR wares arrive.
Vive vs. Oculus vs. Windows Mixed Reality: What else?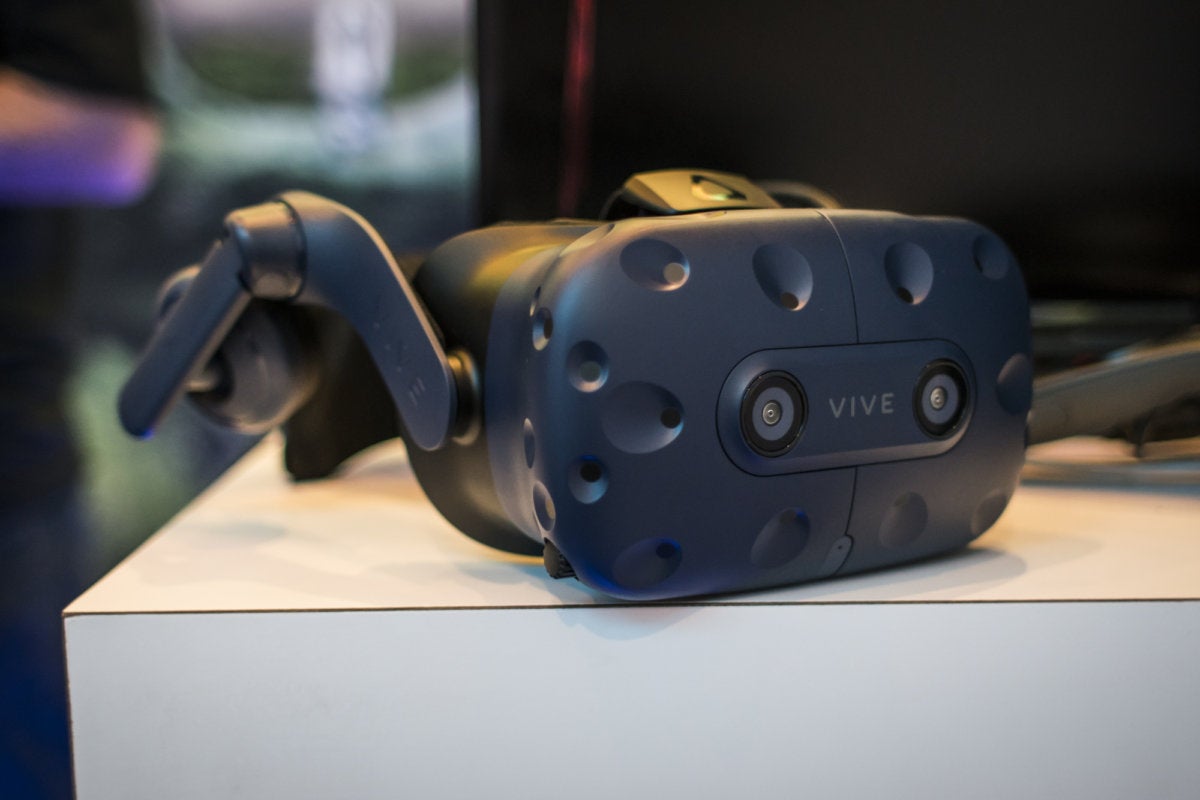 There is one wild card here, which is the "Mixed Reality" element of Microsoft's scheme.
The best VR option for most people
HTC Vive
Price When Reviewed:
$800
The name hints at a platform not just for virtual reality, but for augmented reality, with holographic images mapped onto the real world. Microsoft has said it wants to allow for such applications in the future, but it's unclear when that will be, given that the first wave of Mixed Reality headsets will be VR-only. They're not "Mixed Reality" at all. Buying any of these headsets with the expectation of more than VR would be unwise.
Facebook also teased future augmented reality plans for the Oculus Quest, a standalone VR headset that doesn't need to connect to a PC. Don't expect AR support to be enabled when Quest launches for $399 in spring 2019, though—the early demo looked rough, and a lot like A-Ha's 'Take on Me' music video.
Finally, this blow-by-blow comparison isn't the same as a proper review of each headset. Read our full reviews of the HTC Vive, Vive Pro, Oculus Rift, and Windows Mixed Reality to see what using one of these headsets is like. Spoiler: We prefer the Vive's fully room-scale experience, though the Oculus Rift's new $400 price point is awfully compelling.
Below: Watch PCWorld use four HTC Vive headsets on a single Core i9 PC.