At a Glance
Expert's Rating
Pros
Generally solid construction with some smart design touches
Fold-down kickstand makes for a comfortable lap experience
Fingerprint reader adds Windows Hello capabilities
Cons
Mediocre performance
At press time, on the pricey side
Expansion modules cost extra
Our Verdict
Lenovo's second-generation ThinkPad X1 Tablet is a solidly designed, if somewhat expensive, 2-in-1 tablet that's sure to satisfy traditional ThinkPad fans.
Best Prices Today: ThinkPad X1 Tablet (2017)
Lenovo's ThinkPad X1 Tablet (2017) does little to differentiate itself from the company's first-generation X1 Tablet, and we're generally okay with that. Lenovo kept what we liked most—the comfy kickstand, fingerprint reader, and modular accessories—but upgraded the new 12-inch ThinkPad X1 Tablet with an Intel Kaby Lake chip to bring it in line with the competition.
The ThinkPad brand is equated with no-nonsense business machines, and the X1 Tablet offers a host of useful checkbox items like front and rear cameras, an SD card slot, and the traditional TrackPoint nubbin, which should appeal to ThinkPad fans. But those features might not be enough to silence the call of emerging, stylish rivals like the Samsung Galaxy Book, which offers better battery life, and at a lower price. Let's be clear: The new X1 Tablet is a competent two-in-one. But the competition has improved, and for that reason we're knocking the second-generation X1 Tablet's score down a half-star from its predecessor.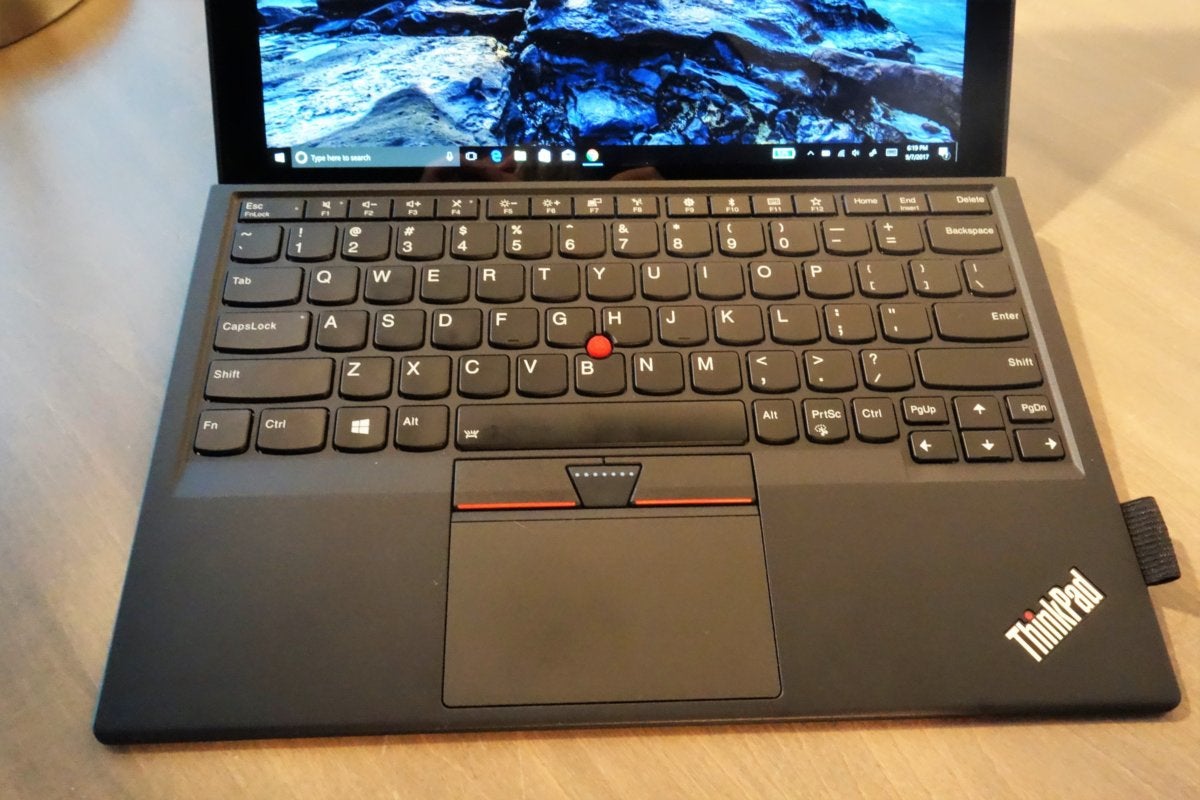 Modest specs, but solid workmanship
Lenovo's second-generation X1 Tablet maintains the same black bento-box aesthetic
Mentioned in this article
Galaxy Book
Price When Reviewed:
$1130
that ThinkPads are known for. Compared to its predecessor, it's almost imperceptibly thicker at 11.47 x 8.25 x 0.55 inches with the keyboard attached. It weighs 2.38 pounds with the keyboard and 1.66 pounds without. The X1 achieves a nice balance between structural rigidity and maneuverability, allowing you to easily reposition the device, from desktop to lap, say, without it ever feeling clunky or awkward. Overall, Lenovo's build quality seems as sound as ever.
Inside, little has changed since Lenovo launched its first-generation ThinkPad X1 Tablet last spring, save for the inclusion of a new 1.2GHz, Core i5-7Y57 processor—one of the seventh-generation dual-core, four-thread Kaby Lake models. Our review model included 8GB of LPDDR3 memory, and 256GB of PCIe NVMe M.2 storage. It offers Wi-Fi via Intel's Wireless-AC 8265 2×2 radio, and Bluetooth 4.1. A pair of cameras (8MP rear, 2MP front) round out the tablet's capabilities.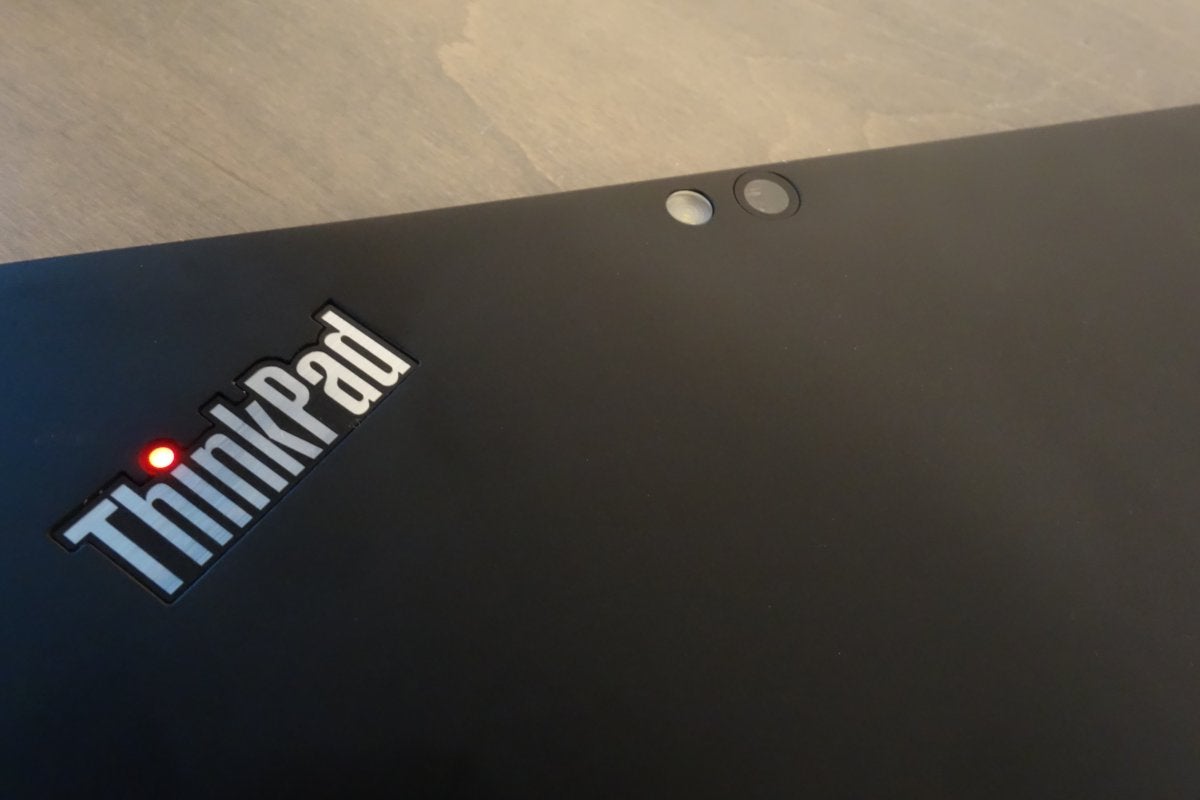 It's worth noting a small upgrade outside the X1, however: Though both generations of X1 Tablets use USB-C for charging, Lenovo abandoned the "wall wart" plug of its first X1 in favor of the two-piece power brick used by most laptops. It's now much easier to fit into a power strip.
While USB-C is used for power delivery to the 36 watt-hour battery, expansion comes via a single USB 3.0 port, as well as a Mini DisplayPort connector for an external monitor. Don't forget about the MiniSD card slot hiding underneath the kickstand, either. For security, there's both a Kensington lock port as well as the integrated fingerprint reader to the right side of the tablet. If you'd like, WWAN capabilities are available for an additional $220, though we didn't test that feature.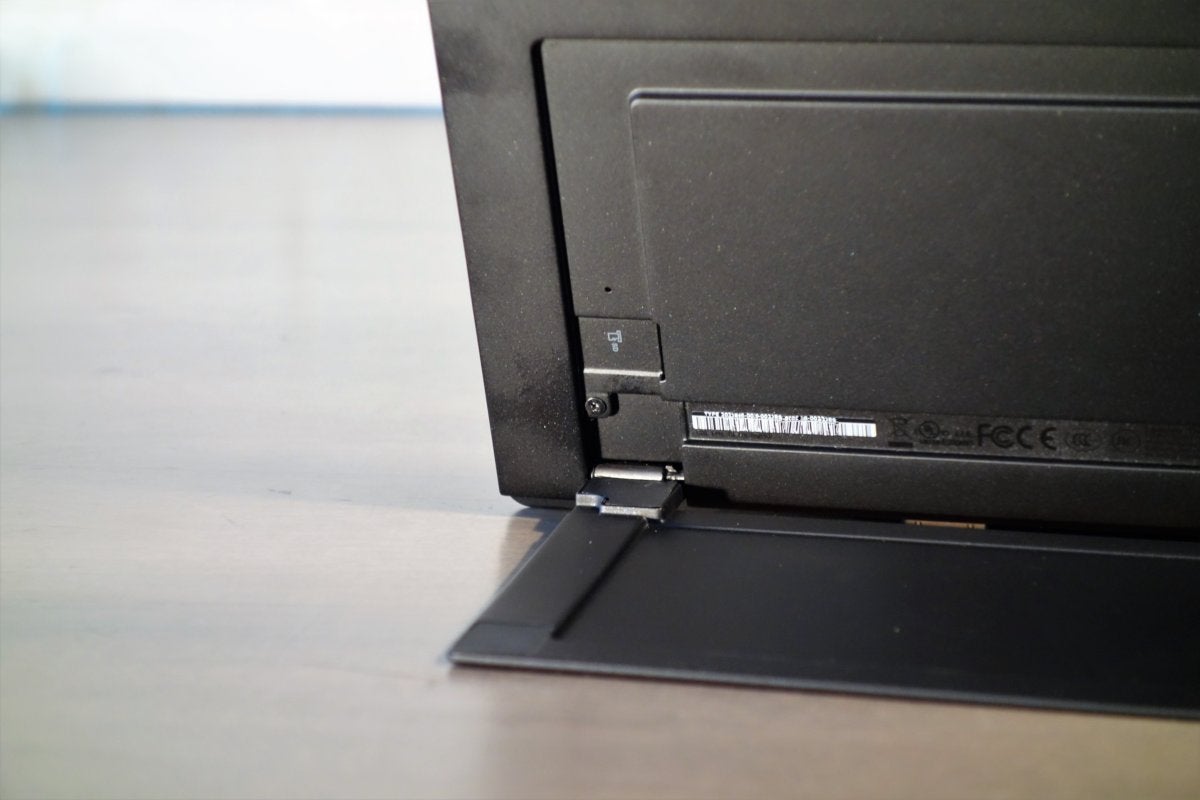 Lenovo includes a 12-inch IPS 10-point touch display with the somewhat odd resolution of 2160×1440. The display is pleasingly bright, pumping out 385 nits of luminance in our tests. While it won't deliver the richness of, say, the OLED screen on the Samsung Galaxy Book, it's sufficient.
The starting price for the new X1 Tablet is $1,304; the version Lenovo provided us for review is priced at $1,547.10. That includes the keyboard as well as the ThinkPad Pen Pro.
A decent typing experience
Though the Lenovo X1 tablet and keyboard are shipped as a single unit, Lenovo refers to the keyboard as the ThinkPad X1 Tablet Thin Keyboard Gen 2, as opposed to the first-generation keyboard that shipped with the original X1 Tablet.
Though I was unable to perform a side-by-side comparison with the first-gen X1, my impression this time around was of a keyboard that feels slightly springy and hollow, like walking down a hallway framed with plywood, not concrete. There's perceptible flex. Lenovo uses the dual magnetic-hinge approach that Microsoft does with its Surface tablets to hold the tablet and keyboard together securely, even on the lap.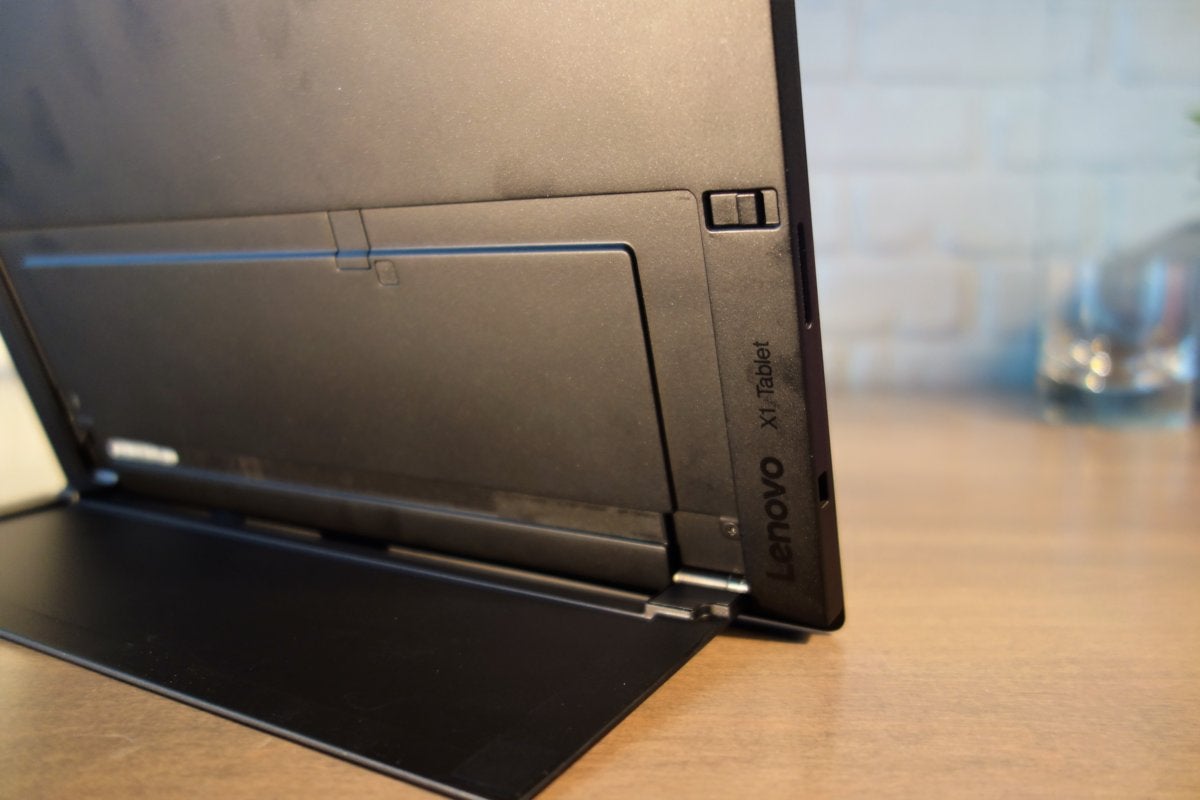 Typing on the new X1's keyboard feels comfortable, with average key travel; the key resistance, however, was slightly too stiff for my liking. There's noticeable backlight bleed from underneath the keyboard, though the uniformity of light surrounding each individual key makes me think this was an aesthetic choice, and not a design flaw. As always, keyboard preference is somewhat subjective, but my overall take is that this is a slight step down from the previous model.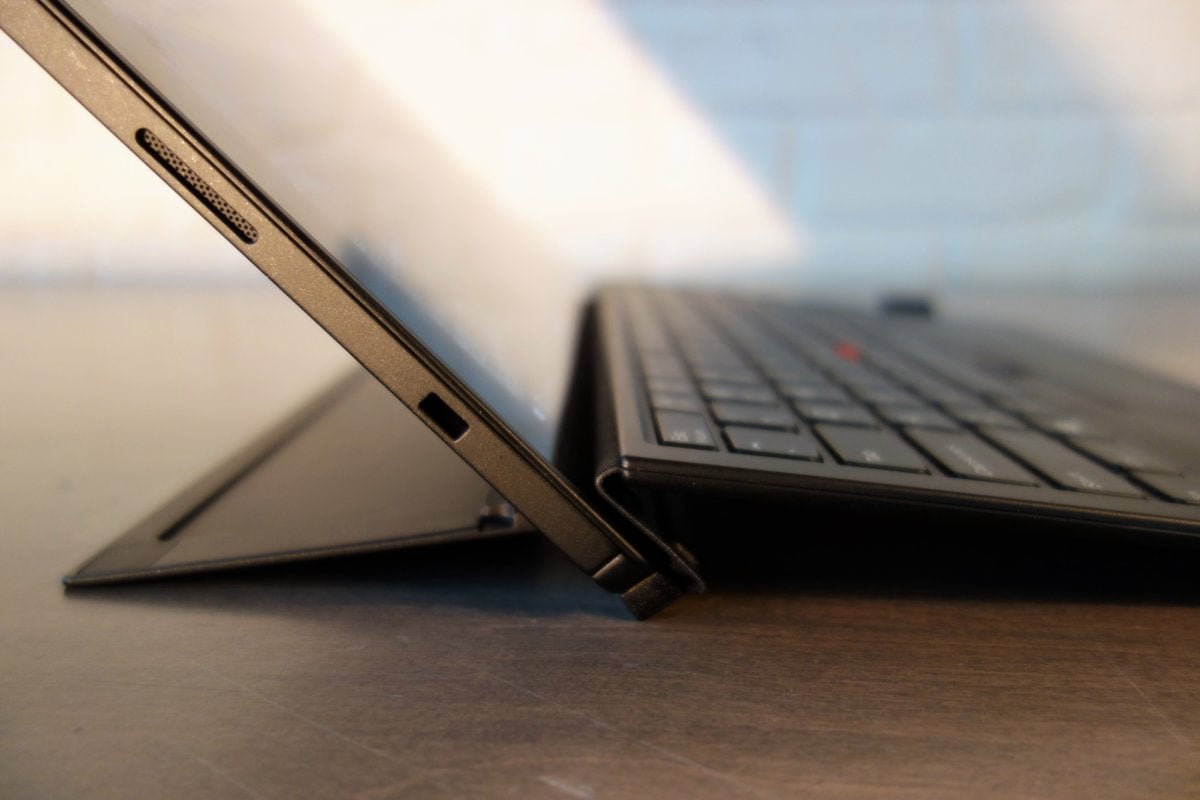 In my mind, however, one of the key selling points for the new X1 Tablet remains the fold-down kickstand. Instead of jabbing your thighs like the kickstands on most other two-in-ones, the X1 kickstand folds down to create a mostly flat surface that supports the rest of the device. You may not be totally satisfied—the cool metal of the kickstand can feel downright chilly on bare skin, and the smooth surface may slide on a desktop—but the ThinkPad X1 Tablet provides a stable typing surface, as long as you don't recline it too far. Unlike the Microsoft Surface Pro (2017) and some others, the X1 doesn't try to become a digital easel for content creation. The hinge reclines the tablet comfortably to about 50 to 60 degrees, and that's it.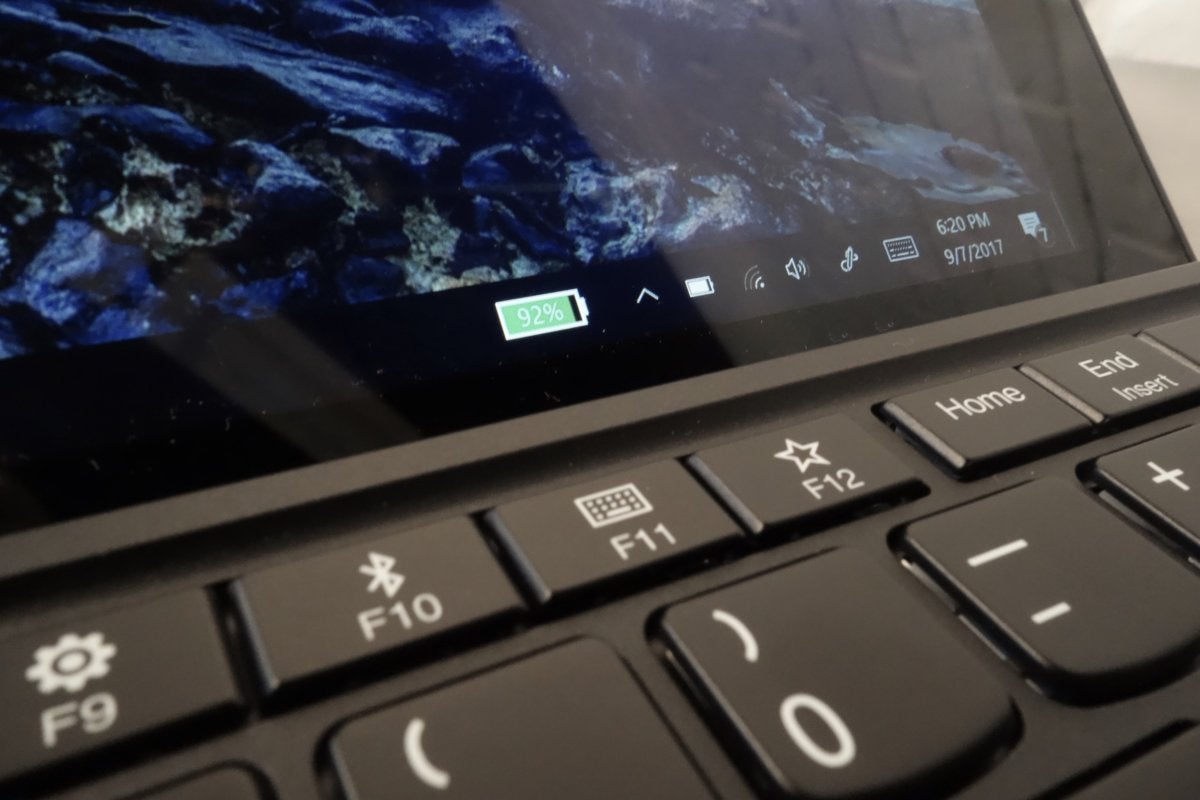 Lenovo also reprioritized its function keys, replacing some functions (F10 used to be search, and now triggers the Bluetooth settings). Other icons have been reworked, like F11 and F12, but still trigger Lenovo's own, comprehensive Lenovo Settings app. Be aware that the bottom row of Lenovo's keyboard puts the Function key before the Control key on the left-hand side, and not after, a marked difference from most Microsoft and Logitech keyboards.
The new X1 Tablet also sports Lenovo's iconic TrackPoint, that small red nubbin that serves as a joystick of sorts. There was a time when the TrackPoint—originally designed by IBM—was a virtual necessity, given the relative quality of touchpads at the time. While some touchpads still can't quite cut it, that's not the case with the new X1 Tablet. Lenovo's touchpad is competent, if a tad finicky at registering clicks, providing a nice smooth surface to slide a finger over. Lenovo's three mouse-like buttons on top of the trackpad are also a legacy feature, although admittedly, selecting text Lenovo-style—one finger on the button, the other on the trackpad or mouse—is still superior to using the touchpad alone.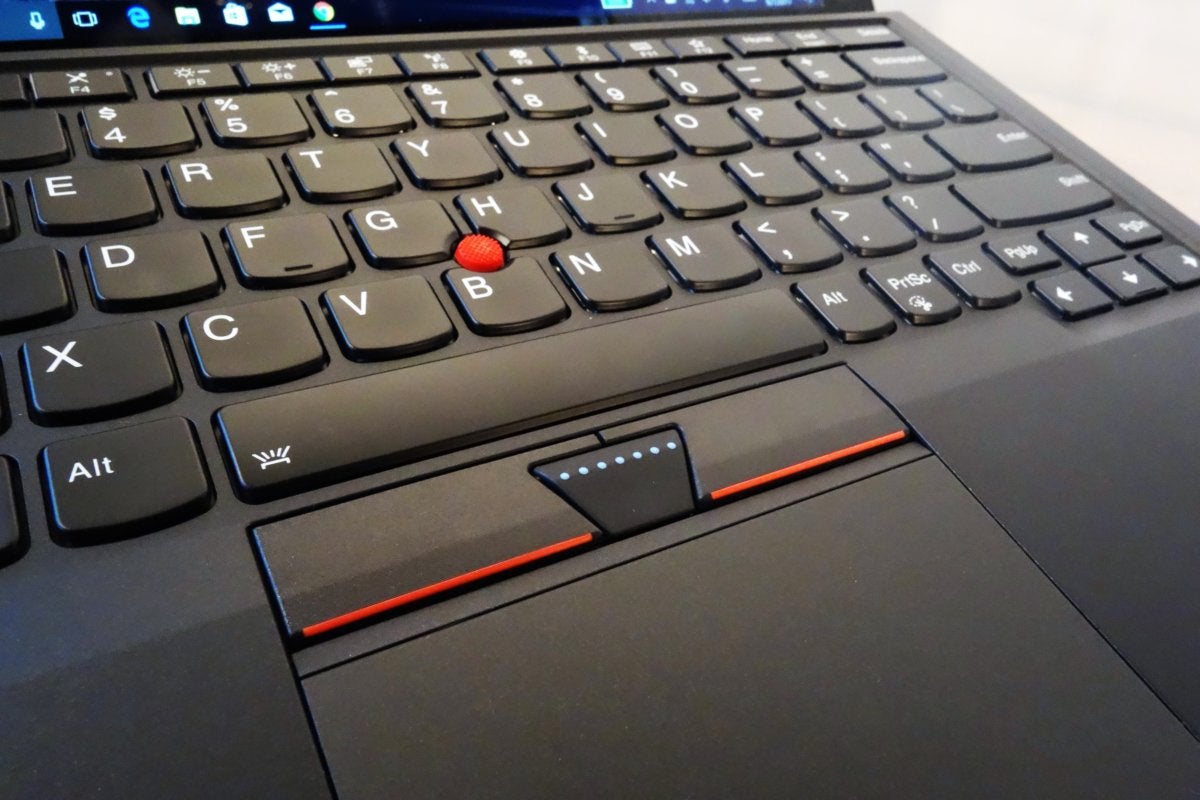 The original Thin Keyboard that shipped with the first-gen X1 Tablet provided two options for attaching the bundled pen: a pen loop that attached to the keyboard via a slot, and a small plastic holder that fit into one of the USB slots. On the second-gen model, it appears that the pen loop is now permanently affixed, and the additional USB holder wasn't included with our unit. No matter. The loop flops out of the way when used, and holds the pen securely.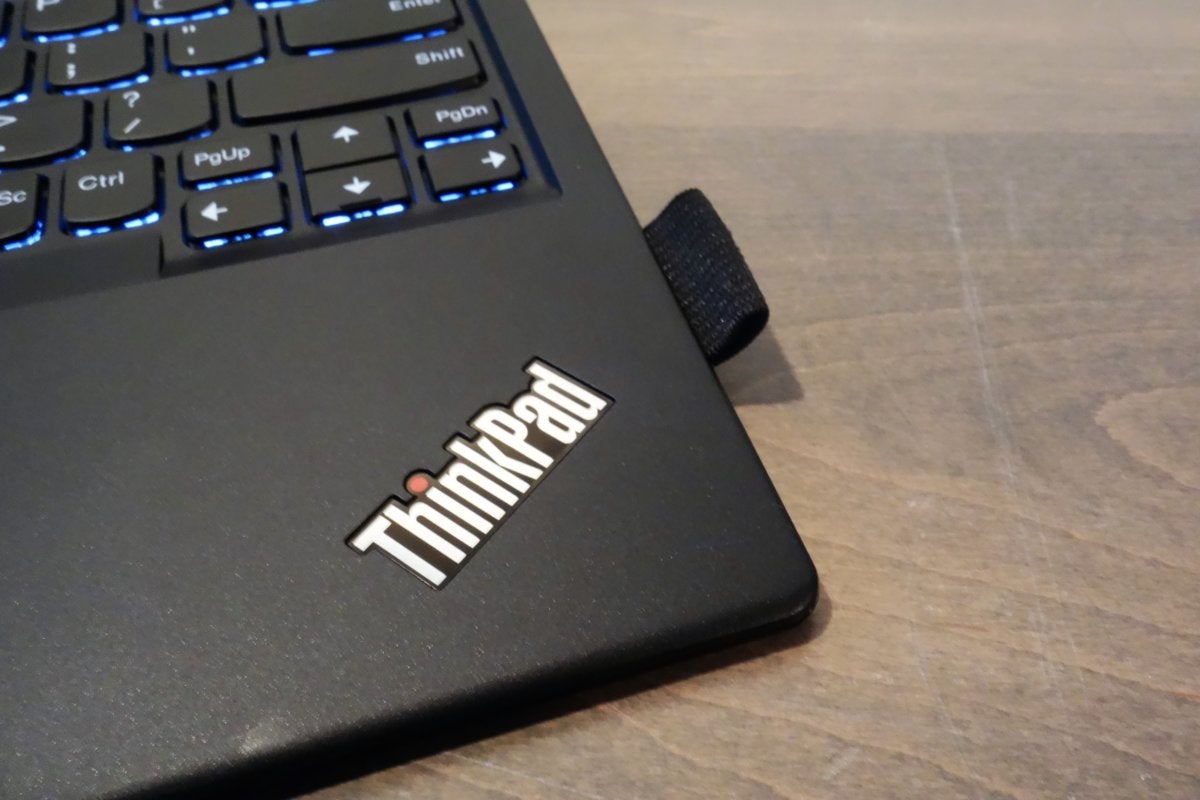 As for the ThinkPad Pen Pro itself ($35 if sold separately), it provides 2,048 levels of pressure. Though there's no "eraser" as on Microsoft's Surface Pens, the Pen Pro contains both a left- and a right-click button that can be configured as you choose. It's powered by a AAAA battery, standard for tablet pens. Drawing with it was issue-free, also standard.
Although you're probably not buying the X1 Tablet for features like its audio capabilities, it's worth noting that its speakers sound quite flat. Oddly enough,the Dolby Audio technology Lenovo included makes for a pleasurable listening experience when headphones or earbuds are plugged in.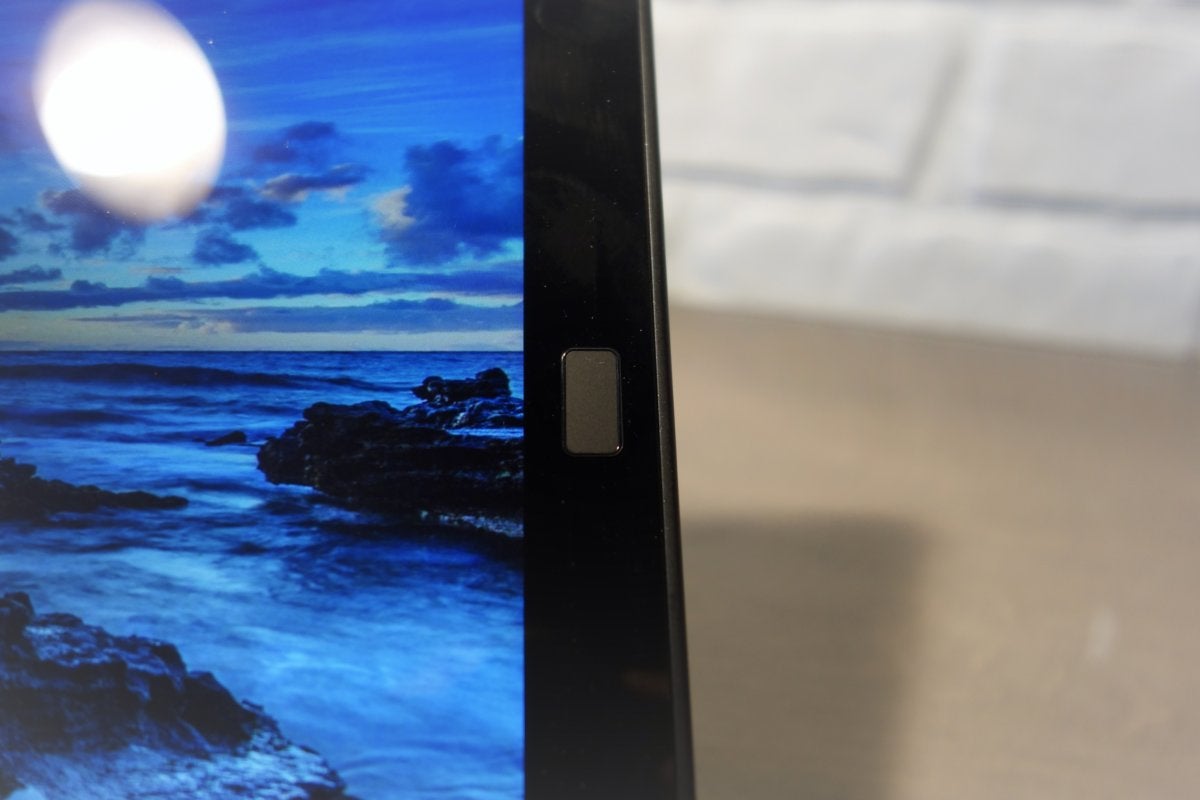 The two cameras on the new X1 work well, providing HDR and digital zoom. They're a bit slow to focus, however—typical of tablets—and photos are a bit washed out. Neither camera is Windows Hello capable, but the fingerprint reader to the right of the tablet worked flawlessly as a Windows Hello authentication device.
Though Lenovo doesn't emphasize the tablet's modularity, the new X1 still supports "feature expansion," the add-on modules that differentiated the first-gen X1 Tablet. The first X1 could be expanded via a $150 Productivity module, $300 pico-projector Presenter module, and a $220 3D Imaging module. Now just the first two modules exist. (We previously reviewed those modules, and their performance should remain relatively unchanged with the second-gen X1 Tablet.)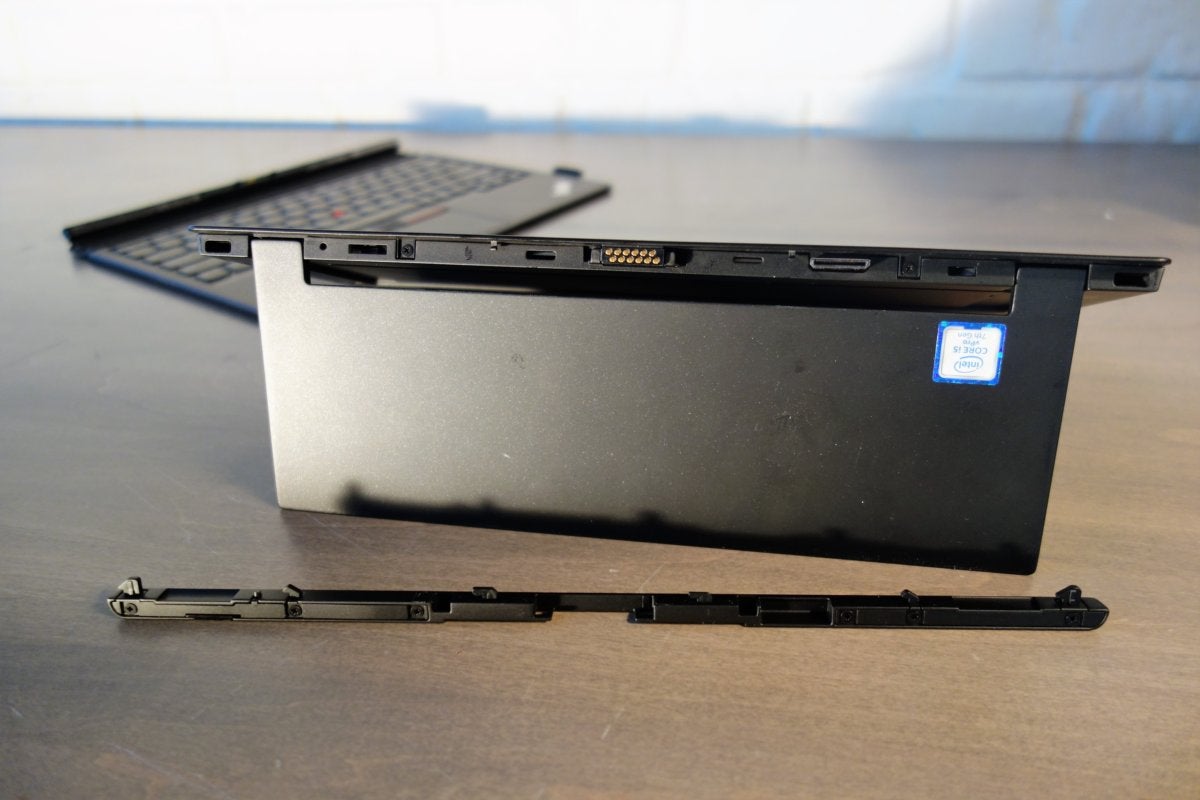 Each of the modules snaps in between the tablet and the keyboard, though you'll have to remove, set aside (and not lose), a small plastic cover that will cost you $30 if you misplace it. Obviously, buy the module that suits your needs. I prefer the cheapest, Productivity module "barrel battery," which can add up to five hours of battery life, a bonus that can serve you well just about anywhere.
Mentioned in this article
ThinkPad X1 Tablet Productivity Module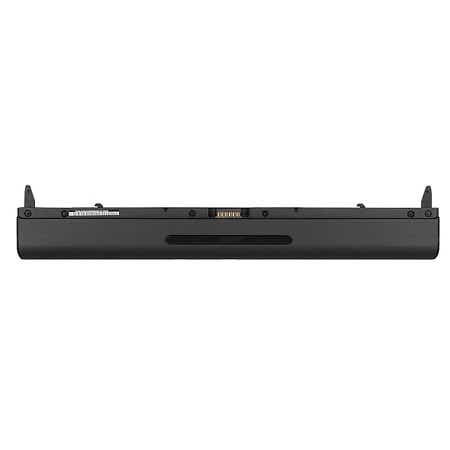 Price When Reviewed:
$149.99
Performance: Rather basic
Reviewers tend to put a somewhat outsized emphasis on benchmarks, if only because they're one of the only metrics available to assess performance. For a device like the X1 Tablet, just one benchmark matters: the PCMark Work benchmark, which measures basic office tasks. For such chores—think Microsoft Office, Google Docs, or just basic web surfing—the second-gen X1 Tablet's anemic i5 chip suffices. Remember, a browser like Chrome or Microsoft Edge can eat up system resources like any other app, but system memory—not processing power—is more important here.
Of course, any tablet will be helped immensely by 8GB of memory, a decent SSD, and a competent processor. Lenovo skimped a bit on the latter, but it's not a deal-breaker. Processors have advanced far enough that the second-gen X1 Tablet can even provide some light gaming on the road, provided you pick and choose your application.
We compared Lenovo's X1 Tablet (2017) against many other two-in-one tablets, as well as some notebooks. We've also included processor speeds and display resolutions, where applicable, so you can better assess competing options.
Again, the most important benchmark is PCMark Work, which measures performance across a range of office tasks.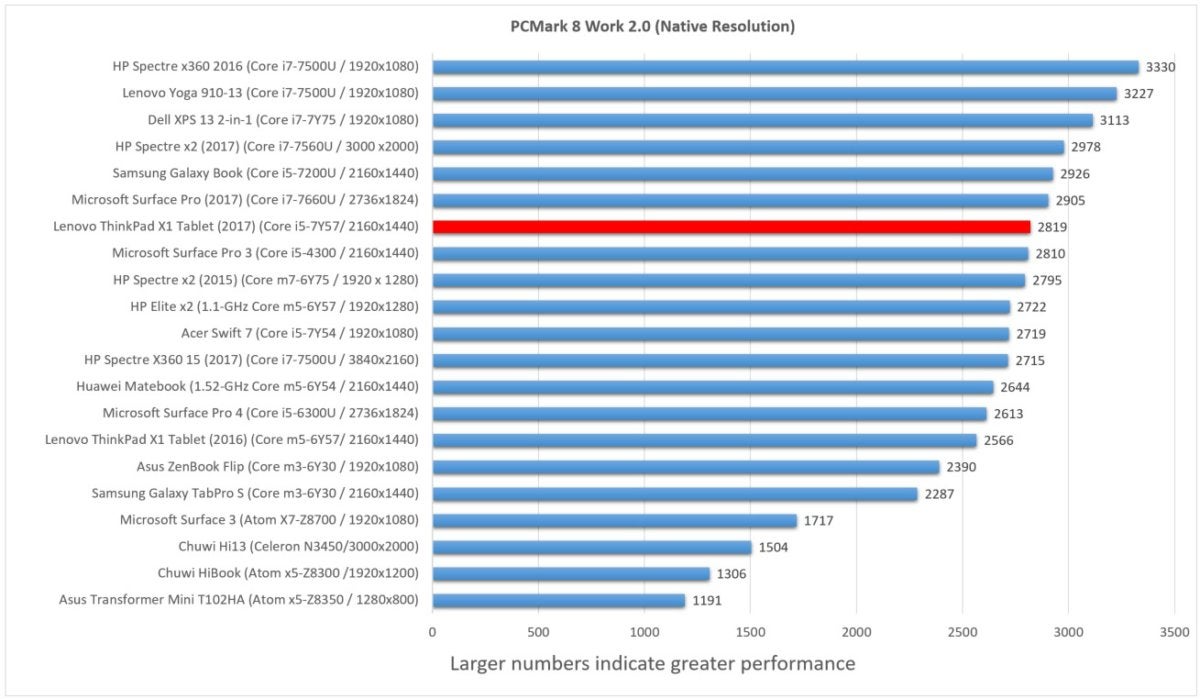 We've also included the PC Home and Creative benchmarks, which stress the tablet through image manipulation and light gaming. The numbers say the second-generation X1 is simply middle-of-the-road—and that's compared to older tablets, such as the Surface Pro 4 and Surface 3.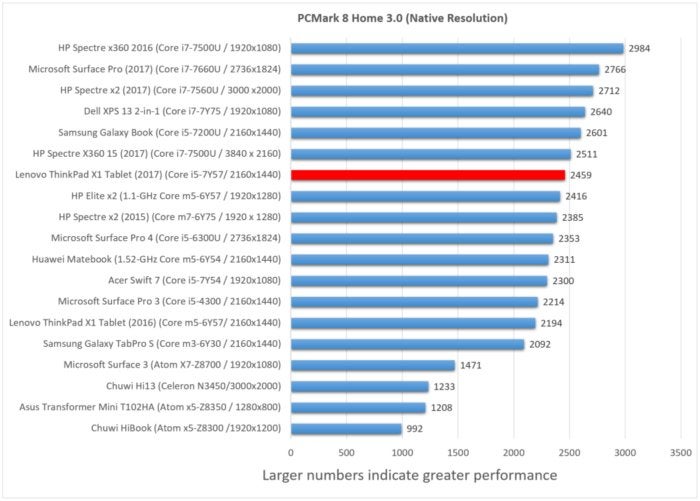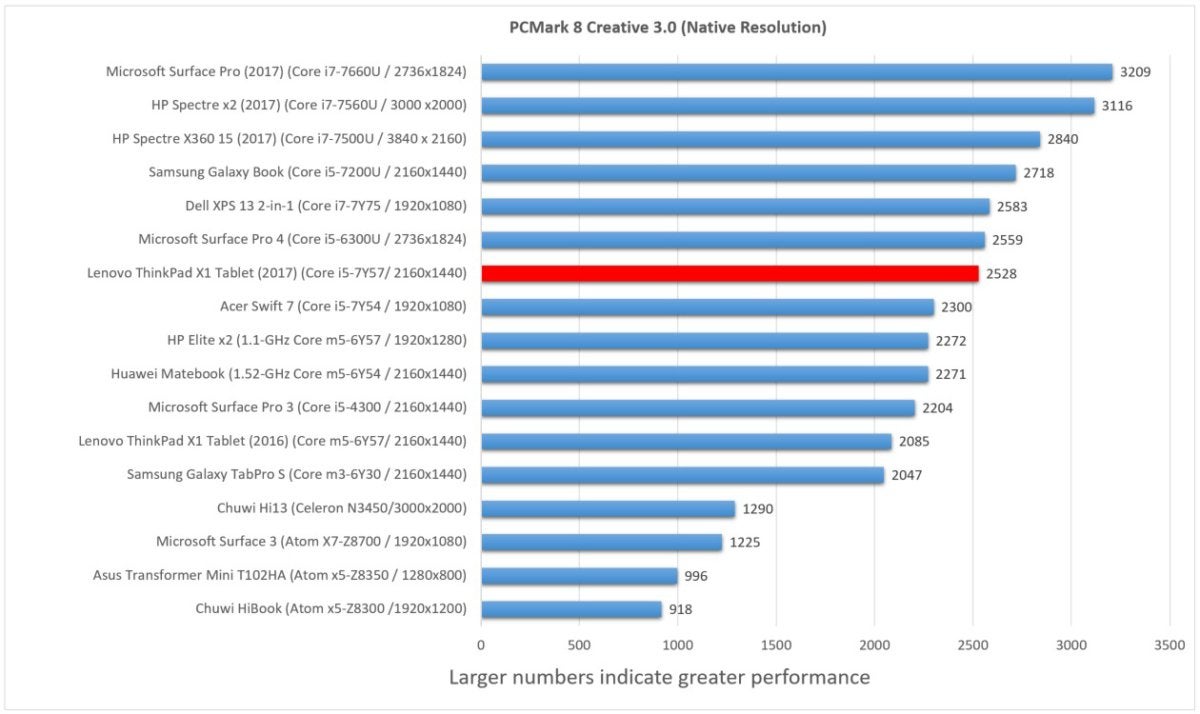 We also test the tablet's ability to render a scene using the Cinebench benchmark by Maxon, which asks each core of the processor to render part of an image. It's based on Cinema 3D, a 3D content-creation tool. While it's completely unrealistic to expect the X1 Tablet (2017) to render a complex 3D scene for movie work, we can use it to reveal how powerful the tablet is compared to its competition. It's a popular benchmark for even high-end CPUs. Again, Lenovo's second-gen X1 Tablet is decidedly mediocre.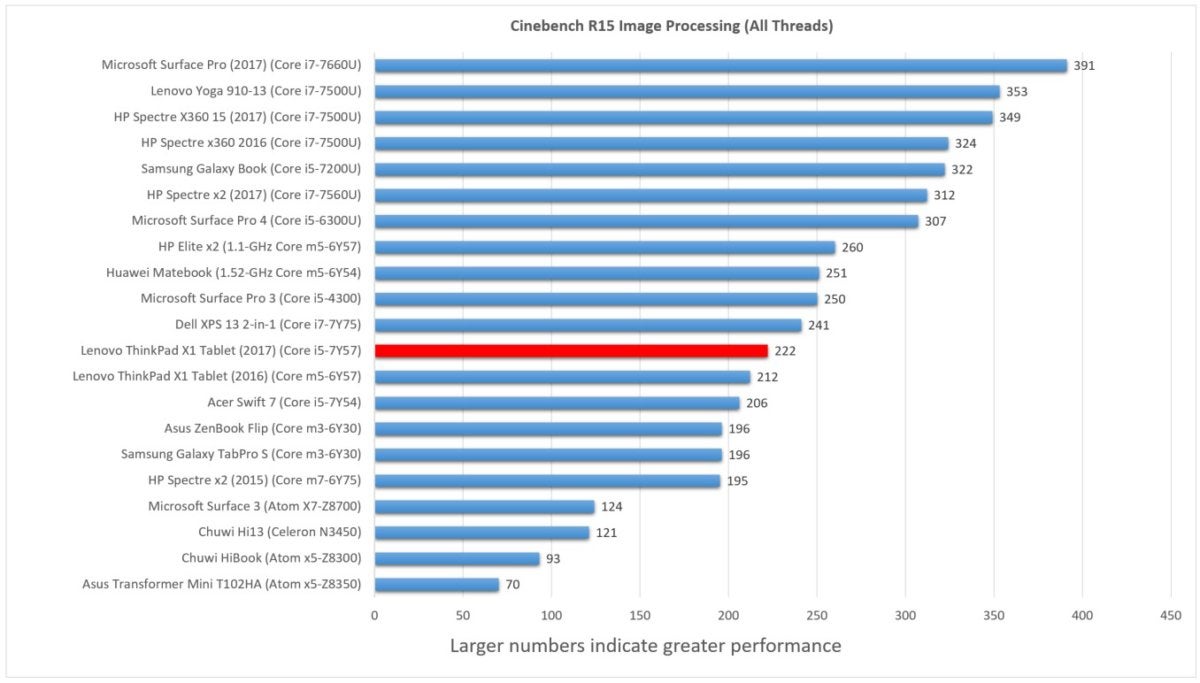 The Handbrake test, using the open-source tool of the same name, measures how well the tablet's processor transcodes a top-tier movie title into a file format that can be viewed on a tablet. Again, the X1's performance falls well below its immediate competition, and into the range of older tablets.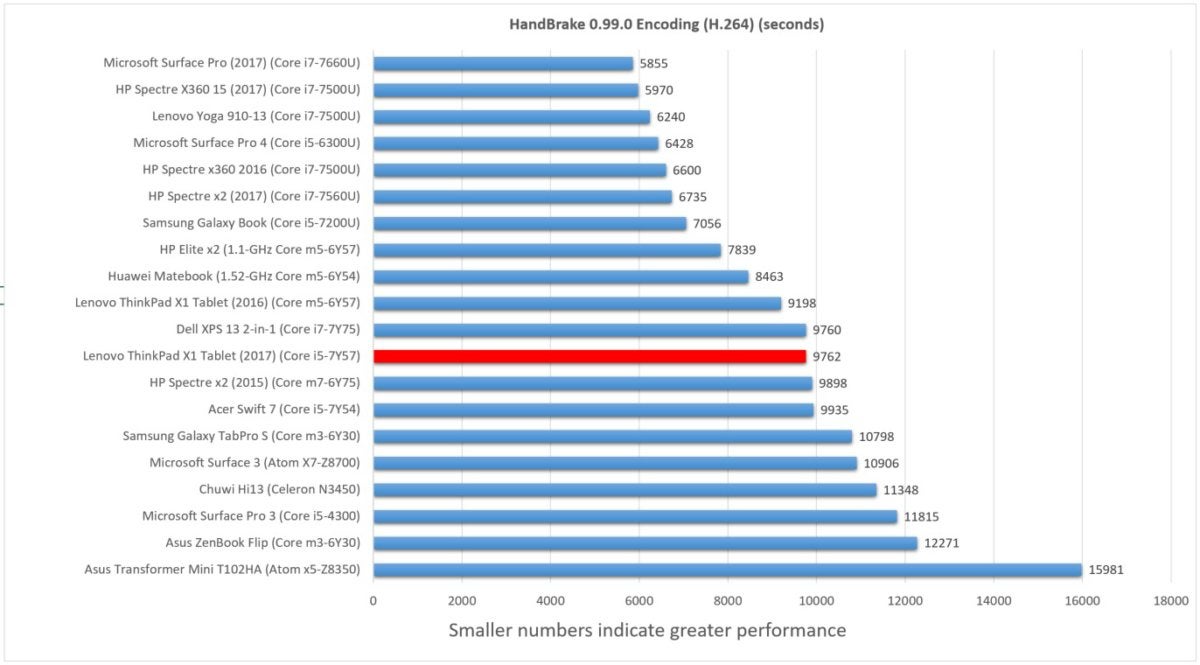 Gaming is a factor, though to a lesser degree. As a measure of potential gameplay, the 3DMark benchmark reveals that you won't be able to play much after a long day of PowerPoint presentations. Take heart, though—solid, non-intensive PC games like Terraria, Oxenfree, and Microsoft's own Minecraft are quite playable, and even older first-person shooters like Saints Row 4 are (barely) playable at their lowest settings.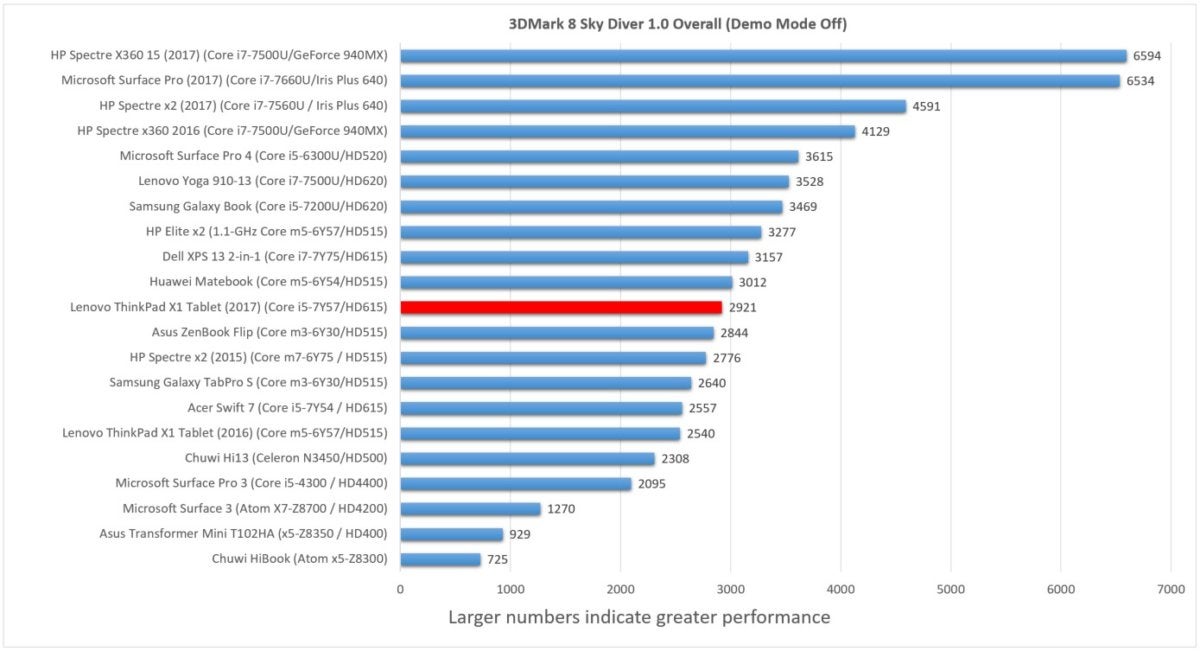 Finally, there's battery life. PCWorld measures this by setting the display's light output to a precise level (verified with a light meter), then looping a 4K video until the battery expires. In terms of its overall rankings, Lenovo's new X1 Tablet and its 36.4 watt-hour battery performed better here than in other benchmarks. At 8 hours, 2 minutes, that's barely a typical workday, but most of a long plane flight. Nevertheless, you have many other options if this is a major consideration in your two-in-one purchase.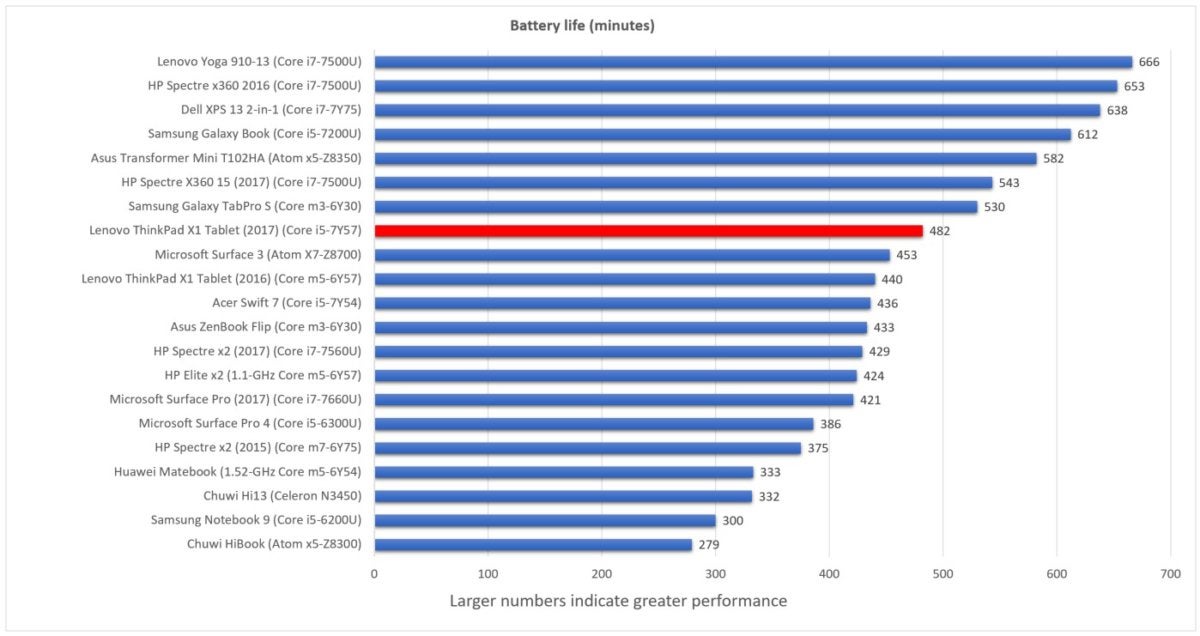 Conclusion: Consider the competition
As the charts above demonstrate, the Lenovo X1 Tablet (2017) is an average two-in-one tablet, ranking somewhat beneath its competition in terms of performance and battery life. Still, while the performance is somewhat limiting, you'll probably be pleased with the overall quality.
Nevertheless, competing tablets like the older Surface Pro 4 and Samsung Galaxy Book offer a compelling combination of features at a more affordable price—even given the Galaxy Book's 4GB of memory. Keep an eye on the Lenovo X1 Tablet, though; the design is mostly right, and Lenovo just needs to twiddle the knobs of performance, price, and battery life to nail it.
Best Prices Today: ThinkPad X1 Tablet (2017)