At a Glance
Expert's Rating
Pros
Support for Microsoft Office formats
Real-time co-authoring
Deep integration with Google Drive and other Google products
Cons
Somtimes has problems translating complex Excel files
Lacks many of Microsoft Office's advanced features
Our Verdict
With its Office compatibility and excellent collaboration features, Google's productivity suite is a great option for road warriors, teams, and else who needs the flexibility to work from anywhere.
Best Prices Today: Google Docs, Sheets, and Slides
Google Docs, Sheets, and Slides
Price: Free, or $5-$25 per user per year as part of GSuite for businesses.
Platform: Online
Once considered merely a lightweight web-based alternative to Microsoft Office, Google's trio of office apps has grown into a worthwhile productivity suite in its own right. Though its capabilities still aren't quite as robust as most desktop office suites, its tight ties to other Google products and extendability through a growing market of Chrome extensions make it a powerful, cost-effective option for students and workers.
Google Docs, Sheets, and Slides are free to use by anyone with a web browser, a Google account, and an internet connection. The subscription-based G Suite, which adds more business-oriented features, is available in three pricing tiers for organizations.
This review is part of our roundup of best Microsoft Office alternatives. Go there for details on competing products and buying advice.
Hands on
Google Docs, Sheets, and Slides maintains a consistent look across its three component apps. Elegant and unadorned, the interface has clearly labeled menus with intuitive toolbar icons. All three apps also have a healthy set of hotkeys—accessible by typing Ctrl+/ on a PC or ⌘+/ on a Mac—for those who prefer to keep their fingers on the keyboard.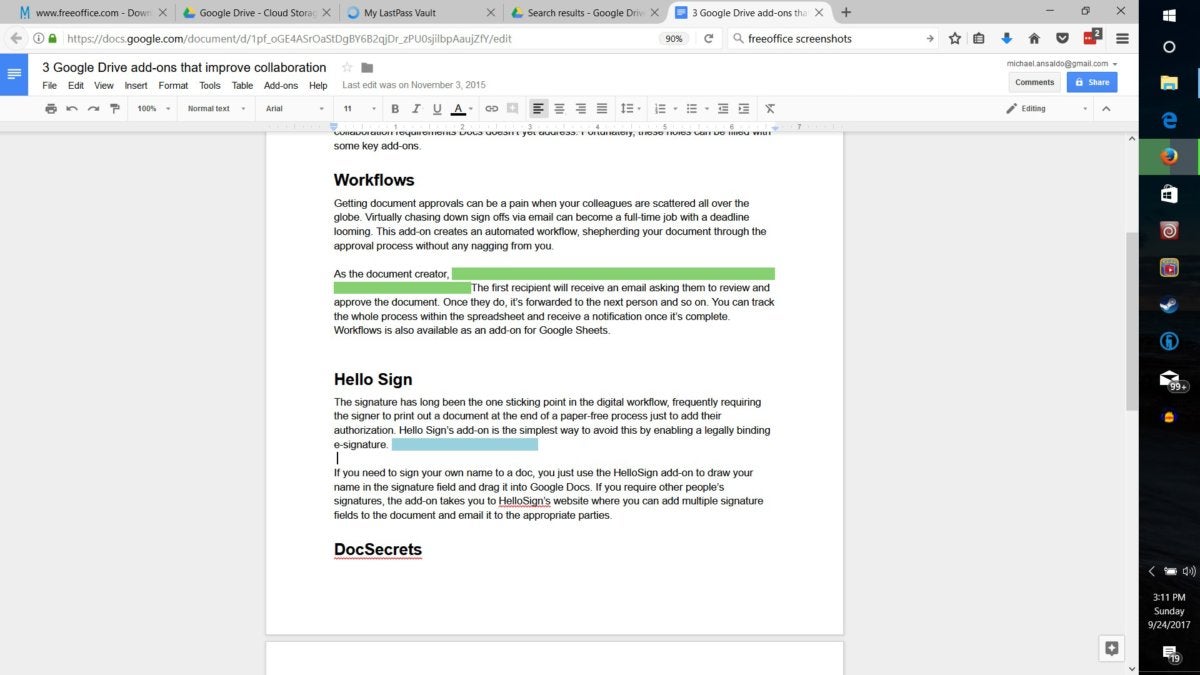 Any files you work on in the suite have to be stored in Google Drive, the search giant's popular cloud storage. New Docs, Sheets, and Slides files are automatically created in your Drive account, and you can also upload Microsoft Office files for editing. All your changes are saved to Drive as long as you're online; you can install a Chrome browser extension to edit files offline, but it requires some configuring and it only works with native Docs, Sheets, and Slides files.
The respective apps do an admirable job of importing Word and PowerPoint files, though you sometimes have to tweak elements in the latter. Importing Excel files to Sheets is more of a mixed bag, with spreadsheets containing basic functions translating more faithfully than larger, more complex ones.
The suite still shines brightest as a collaborative tool for written documents, thanks to features like real-time commenting, revision tracking, and deep integration with Google Drive cloud storage. It's also intimately connected to Google search, allowing you to search for information relative to what you're working on from within the individual apps.
Standout features
Excellent collaboration tools
Tight integration with other Google products
Simple, fast interface
Missing features
Extensive formatting options
Offline editing capabilities
Google Docs, Sheets, and Slides is best for:
Road warriors, collaborative teams, and anyone else who needs the flexibility to work from multiple locations will get the most out of Google's office suite. If your needs run to creating large, intricate documents; mail merges; or serious number crunching, you'll likely find the suite's capabilities limited and should look elsewhere.
Best Prices Today: Google Docs, Sheets, and Slides