At a Glance
Expert's Rating
Pros
Clean, fast interface
Excellent compatibility with lots of Office formats
Cons
No integrated cloud support
Can't save save to modern Office formats
Our Verdict
FreeOffice offers great alternatives to Office's big three apps, but its inability to save modern Office formats prevents it from being a viable replacement.
Best Prices Today: FreeOffice 2016
Price: Free
Platform: Windows, Linux
If you believe less is more, SoftMaker's FreeOffice may the Office alternative for you. FreeOffice is the no-charge version of SoftMaker Office 2016 and offers its versions of Microsoft's big three productivity apps in TextMaker (Word), PlanMaker (Excel), and Presentations (PowerPoint). It contains most of the features of the commercial product, but omits some key ones you can only get by upgrading to either SoftMaker Office Standard 2016 for $69.95 or SoftMaker Office Professional 2016 for $99.95. It's available for Windows and Linux and has an Android companion app.
This review is part of our roundup of best Microsoft Office alternatives. Go there for details on competing products and buying advice.
Hands on
FreeOffice employs a static-menu interface that should feel comfy to users who preferred the pre-ribbon Office look. Tools are intuitively organized and all three apps have a clean-and-light feeling about them. It's more than cosmetic, too, as FreeOffice is exceptionally fast, even when working with data-dense spreadsheets.
FreeOffice provides excellent compatibility with Open Document format, as used by LibreOffice and OpenOffice, as well as the full spectrum of Microsoft Office formats, including password-protected files. However, newer Office formats including DOCX, XLSX, and PPTX can only be opened—not saved—in the free version of the suite.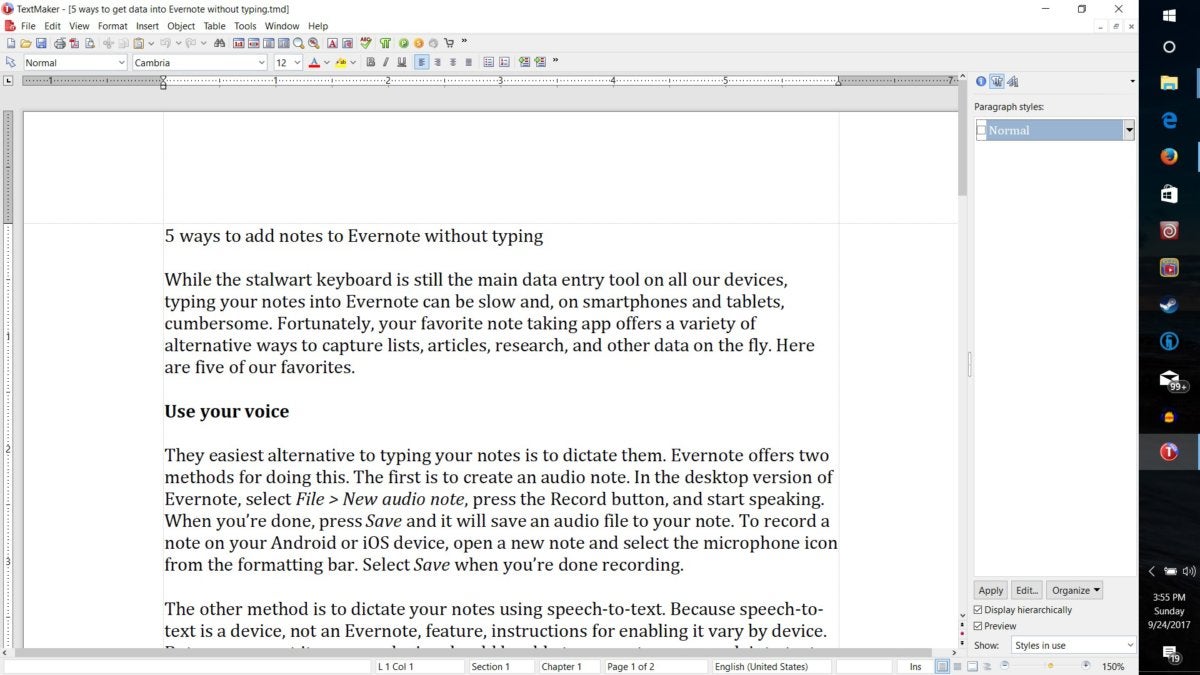 All three apps include advanced features similar to those of their Microsoft counterparts, including PDF creation, pivot tables, and interactive presentation capabilities, to name a few. Some other desirable features—tabbed documents, a thesaurus function, the ability to save modern Office formats—are reserved for the pay product, though.
As with most free desktop suites, collaboration is where FreeOffice falls short of Office. It includes track-changes and commenting features, but with no cloud support you can't co-edit documents with others in real time.
Standout features
Clean, fast interface
Excellent compatibility with lots of Office formats
Pivot tables and conditional formatting (PlanMaker)
Animations and slide transitions (Presentations)
Missing features
Cloud support
The ability to save modern Office formats
Google OfficeFree is best for:
In terms of both format compatibility and features, FreeOffice is a fantastic Office alternative for anyone concerned with just the three core programs. But the inability to save files in DOCX, XLSX, or PPTX formats keeps it from being a truly viable Office replacement. If that's a deal breaker, you can still purchase one of the paid versions for a full Office-like experience.
Best Prices Today: FreeOffice 2016