At a Glance
Expert's Rating
Pros
Familiar Office interface
Real-time collaboration features including Skype integration
Compatible with all Office formats
Cons
Lacks many of Microsoft Office's advanced features
Doesn't support some popular file formats
Our Verdict
Office Online is great for basic productivity needs or quick edits of Office documents, but it's not meant to be a full replacement for the desktop suite.
Best Prices Today: Office Online
Price: Free
Platform: Online
Not to be outdone by Google and its free online office suite, Microsoft offers its own gratis web-based apps in Microsoft Office Online. The suite includes Word, Excel, PowerPoint, and OneNote and is accessible to anyone with a desktop browser. There are mobile versions of each app for iOS and Android, and a dedicated extension for Google's Chrome browser.
This review is part of our roundup of best Microsoft Office alternatives. Go there for details on competing products and buying advice.
Hands on
The app interfaces for Office Online look and navigate pretty much like their desktop counterparts, and therein lies the appeal. If you're on the road or otherwise away from your trusty PC version of Word, you can open a doc in the web version of the app—no conversion required—and dive right in. As these apps are made for down-and-dirty editing, you'll notice some omissions on the tool ribbon—the Designs, References, and Mailings tabs are gone from Word, for example—but all the basic functionality is accounted for.
As with Google Docs, Sheets, and Slides, Office Online works right inside your browser. Also like the Google suite, it requires your documents be uploaded to the cloud—in this case to Microsoft OneDrive—before you can edit them. If you lose internet access, there's no way to work on those files offline without one of Microsoft's paid Office products.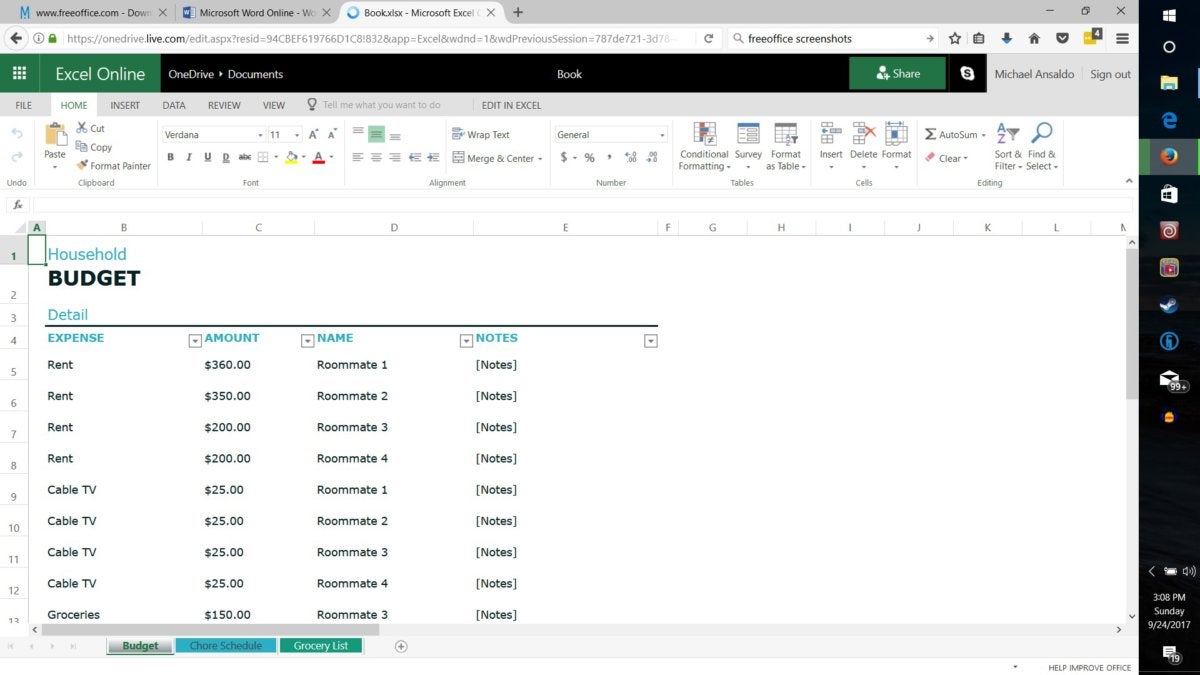 These slimmed down-versions of the big three productivity apps are aimed primarily at home users, so you won't find pivot tables, fancy formatting options, or more advanced business-oriented capabilities. Many file formats that are supported in the desktop versions of the apps—.csv files, as one example—are not supported here. You can, however, collaborate in real-time in any of the apps with other Office users, including taking advantage of Skype integration.
Standout features
Familiar Office interface
Works with native Office formats, no conversion required
Allows real-time collaboration with other Office users
Missing features
Offline editing
Many of Office's advanced capabilities
Doesn't support some popular file types
Microsoft Office Online is best for:
Office Online is an excellent way to work with Microsoft document formats if you have modest needs or you're on the road and just need to quickly view a file and make some simple edits. But as it was really made to complement rather than replace desktop Office installations, it doesn't have the advanced functionality business users require to make it your main tool.
Best Prices Today: Office Online