At a Glance
Expert's Rating
Pros
Customizable interface
Excellent Office compatibility
Integrated cloud storage
Cons
No real-time co-authoring
Our Verdict
WPS Office 2016 provides the most Office-like experience of any alternative. All the productivity essentials are here with built-in cloud support, plus a few unique extras.
Best Prices Today: WPS Office
Price: Free with ads, or $30 per year without
Platform: Windows, Linux
Kingsoft touts WPS Office as "your dream solution for a low-budget, no-commitment, free productivity office suite," and it's not just hyperbole. The suite—comprised of the self-explanatory Writer, Spreadsheets, and Presentation apps—replicates most of the essential Microsoft Office features and adds a few unique extras. It also comes with 1GB of online storage, called WPS Cloud, for sharing documents.
If getting all this for free sounds to good to be true, there is a small caveat. The free version requires you to view ads to gain time-limited access to certain features like printing and exporting to PDF. The ads are short, around 10-seconds, but if you want to banish them for good, you can purchase the Premium version for a modest $30 per year. WPS Office is available for Windows and Linux and offers companion apps for iOS and Android.
This review is part of our roundup of best Microsoft Office alternatives. Go there for details on competing products and buying advice.
Hands on
As Office alternatives go, none adhere as faithfully to the Microsoft suite as WPS Office. Its ribbon interface is nearly identical to Microsoft Office's, with tabs and tools in roughly the same spots in all three of its apps. Never really dug that look? Don't worry—the interface is customizable so you can turn back the clock to an Office 2003-style static menu interface with the click of a button. You customize each app's interface independently, so you can mix it up if different UIs work for you in different programs.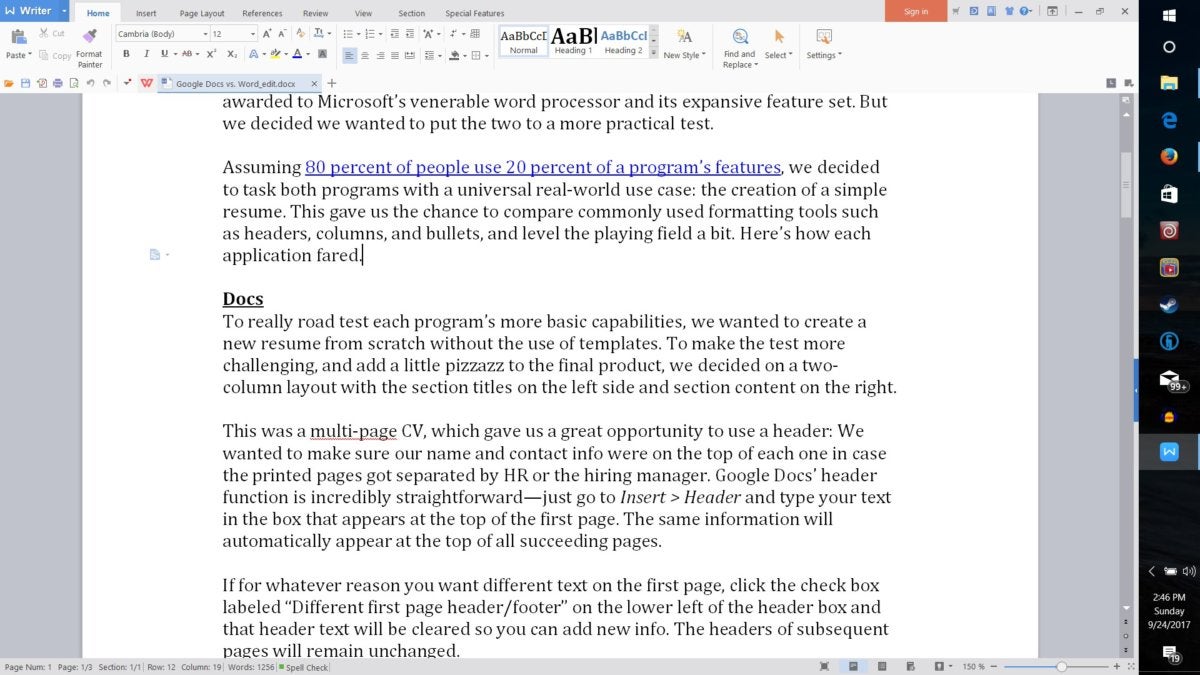 A few features you won't find in Microsoft Office make working with documents even easier. All three apps support tabbed documents, eliminating the hassle of toggling between multiple document windows. WPS Writer includes a feature called Paragraph Layout that lets you adjust line and paragraph spacing and indents with a drag-and-drop tool. And Section Navigation lets you quickly jump around large documents.
Compatibility with Office files is excellent across all three apps, with Presentation standing out for accurately translating PowerPoint files better than any other non-Microsoft product we tested. There's also scads of templates—over 100 in Writer alone—for all kinds of personal and business documents.
WPS Office has limited collaboration capabilities. Document-reviewing features like commenting and track changes are included, and you can share files with others via link through WPS Cloud, but real-time co-authoring is not supported.
Standout Features
Customizable interface
Excellent Office compatibility
1GB cloud storage for sharing files
Missing Features
WPS Office is best for:
If you love everything about Microsoft Office except the price, you'll likely love WPS Office. While it doesn't support real-time collaboration, neither do most desktop Office alternatives; if that's a priority you'll have to look to Google Docs, Sheets, and Slides or Microsoft Office Online. Otherwise, this suite has everything else you could ask for in an Office alternative, and if the ads ever become an annoyance, you can always upgrade to the premium version for a very modest fee.
Best Prices Today: WPS Office