At a Glance
Expert's Rating
Pros
Good protection
New design for the app is very good
Android privacy check is a welcome addition
Tech scam protection
Cons
Mixed impact on performance
McAfee Web Boost only supports Chrome
True Key tutorial can't be dismissed
Our Verdict
McAfee Total Protection offers good PC protection, decent pricing, and a welcome new desktop design on Windows 10. We'd like to see some better offline protection scores, and we really don't like what the True Key tutorial is doing right now.
Best Prices Today
Editor's note: Based on new scores released from both AV-Test and AV-Comparatives, we made changes to our initial review of McAfee Total Protection, updating the performance section and changing our verdict to a 4.
McAfee is heading into 2021 with a fresh coat of paint. The antivirus company just rolled out its latest version of McAfee Total Protection with a complete redesign for Windows (coming later to macOS), some new features, and improvements to the Android and iOS apps.
Note: This review is part of our

best antivirus

roundup. Go there for details about competing products and how we tested them.
This version of McAfee puts particular focus on keeping personal data private and secure, especially in the face of rising scams and threats associated with Covid-19. Between March and September 2020, McAfee had discovered more than 100,000 malicious URLs around the topic of the coronavirus, and nearly 2 million Covid-related exploits since January.
Meanwhile, the Federal Trade Commission says the total fraud loss to coronavirus-related scams has already broken $100 million. Covid scams are big business, especially when general low-burn anxiety could impair some people's judgment around clicking on links.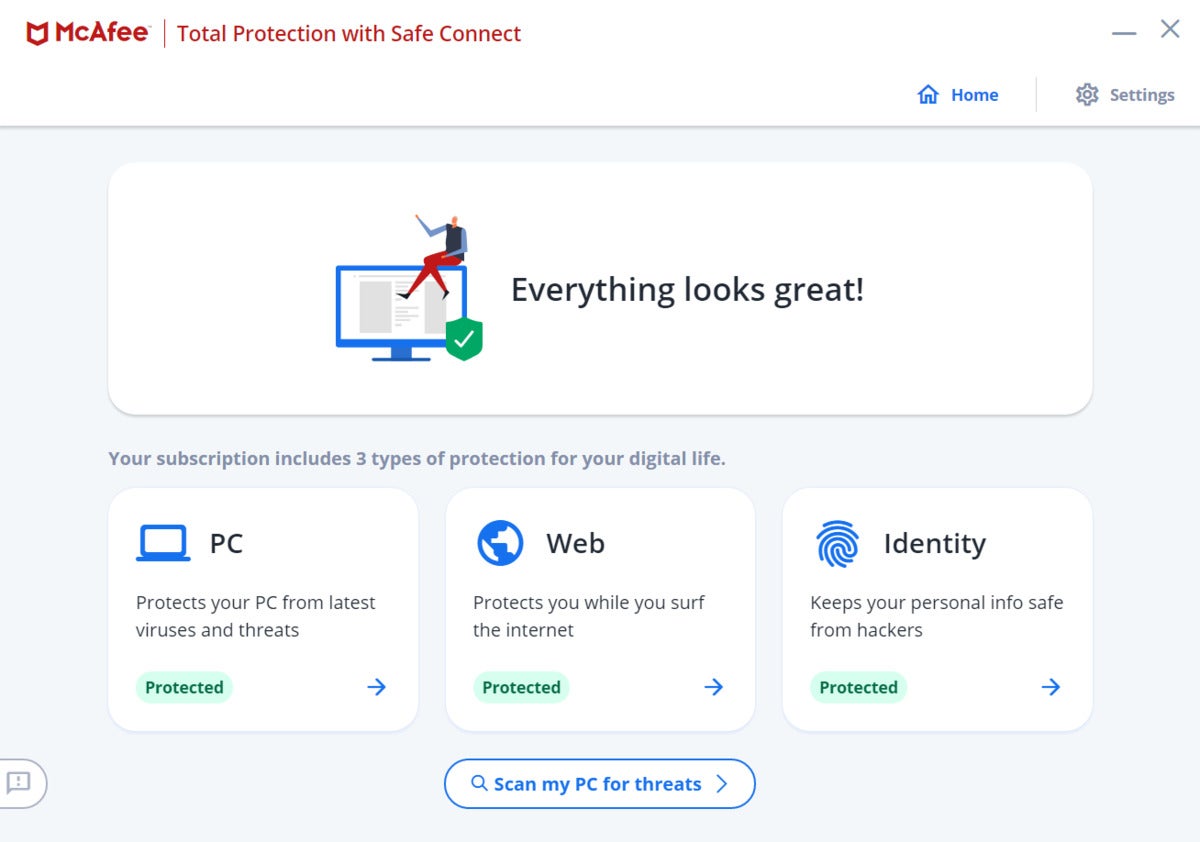 McAfee said it's also focused on basic security improvements, such as using machine learning to automate signature creation. This shortens the gap between virus detection and the distribution of the security update to McAfee's users. McAfee is also focused on reducing false positives, and dealing with fileless threats that rely on legitimate software to infect a computer.
The software
The new design of McAfee Total Protection does away with the old five categories at the top of the window and the informational left rail. It wasn't the best design and had a lot of wasted space in the primary section of the window.
The new version includes a large status banner at the top of the window. If it's green you're good to go, red is a serious threat, and so on. This area can also have alerts and messages such as reports from Web Advisor, McAfee's browser extension, detailing what's been blocked or what apps on your PC need an update.
Below the informational area are three category tiles: PC, Web, and Identity. Each section includes features pertinent to its title. Scans and firewall settings are in PC, for example, and Web includes the VPN and Web Advisor.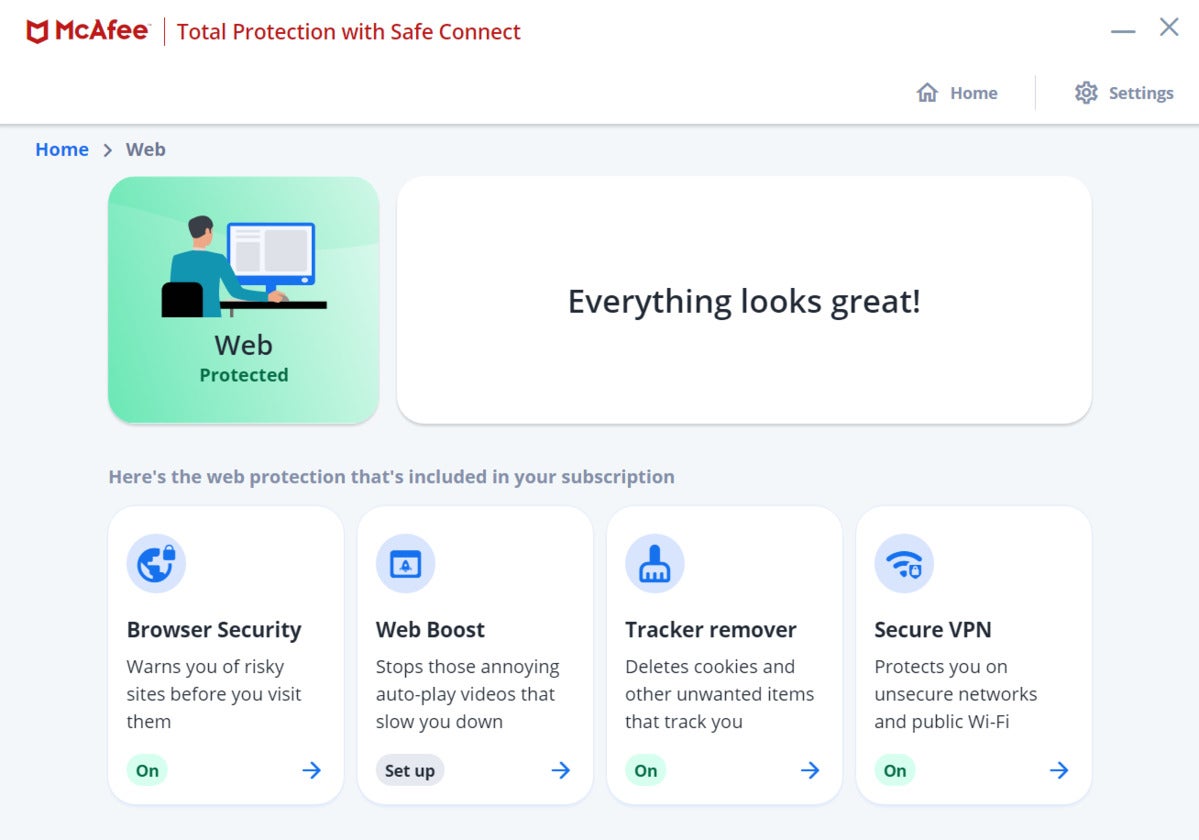 Dipping into each category tile, you'll see that the features are laid out in a similar fashion to the primary dashboard. This helps you figure out which subsection to enter.
The new design is welcome and makes much better use of the space than the previous approach. It's also a friendly design for newer users since it has such a logical flow leading to the suite's critical features.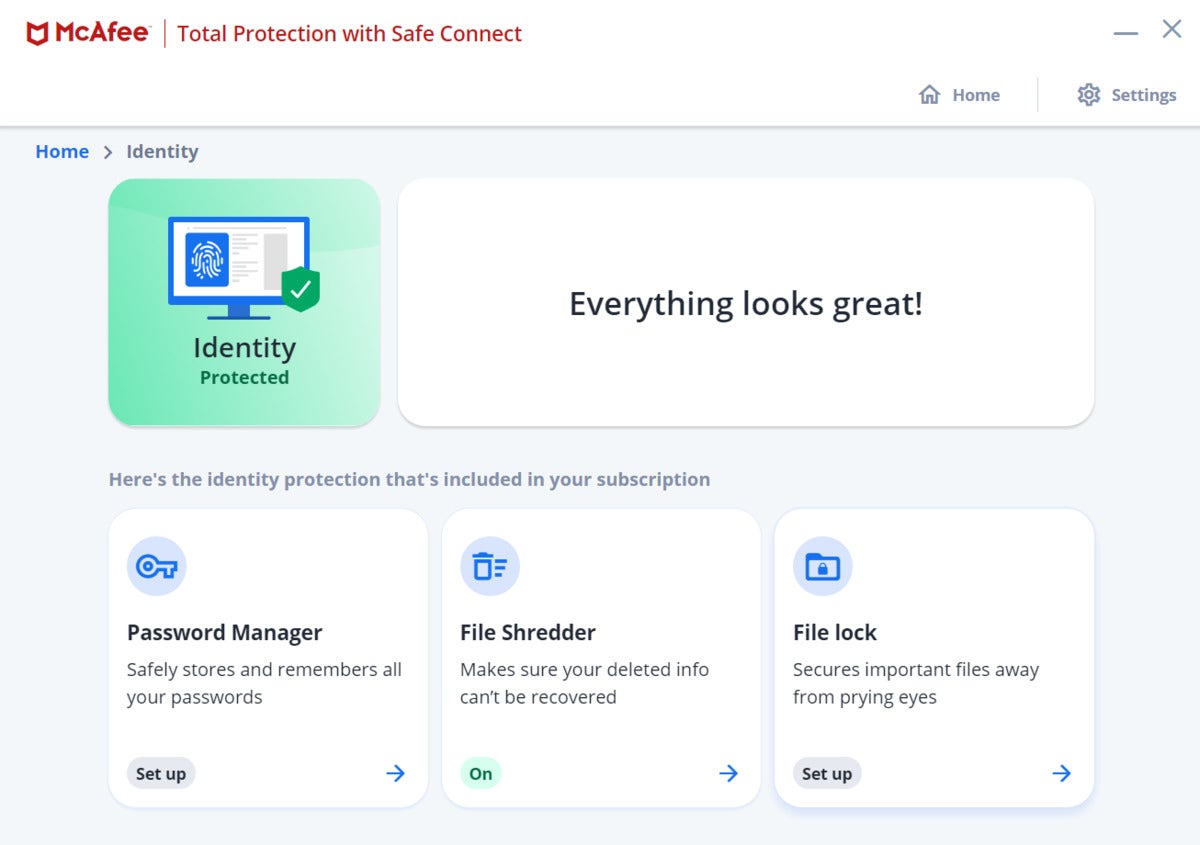 Most of the usual McAfee Total Protection features are still here, such as the secure vulnerability scan for app updates, the secure file shredder, file lock for encrypting sensitive files, and the True Key password manager.
One interesting new feature is the result of a simple tweak: The VPN is now built in to the suite instead of a separate download. Connecting via the VPN is straightforward—you just pick a country location from the drop-down menu and turn on the VPN.
Some of the biggest security additions for this year's version of Total Protection are in the Web section. McAfee's Web Advisor now detects and installs itself in the new Edge browser, as does the password manager True Key. Oddly, however, McAfee's Web Boost feature, which halts autoplay videos, doesn't automatically detect the new Chromium-based Edge. Instead it insists on using Chrome.
Web Advisor received some new social networking protection updates. It has the ability to check links on a wide array of social sites, including Facebook, Reddit, Twitter, Facebook, Instagram, LinkedIn, and YouTube. In theory, every link is granted either a green checkmark indicating it's safe, or a warning icon if the URL raises concerns.
This feature isn't quite where it should be, however. McAfee Web Advisor had no trouble checking and rating links in Instagram and Reddit. We didn't see it have much success in Facebook or YouTube, however, and Twitter was hit or miss. Apparently, with Twitter, Web Advisor only checks URLs within the text of a tweet. That's a problem since promoted tweets almost never have a link in the text and display only a clickable Twitter Card (site preview).
Web Advisor also has social scam-detection built in, which is a fantastic addition. Tech scams are those where someone calls claiming that the victim's PC is infected, or they induce unsuspecting users to call into a call center where they receive a similar spiel.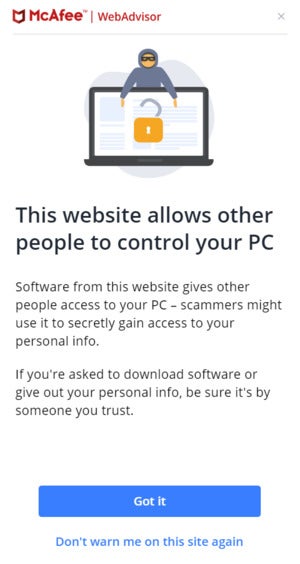 McAfee's scam protection is not particularly advanced, but if someone lands on a site such as RemotePC.com, Team Viewer, or Chrome Remote Desktop then Web Advisor will throw up a very clear warning as seen here. It won't lock down the ability to download the software, but hopefully it will give the user pause before surrendering control of their PC.
Tech Scam protection is URL based, so if a more advanced crew has their own landing site for downloading remote software, McAfee might not detect it. At least at first. The company told us its detection list is always growing.
McAfee also made some improvements to mobile. True Key on iOS now has in-app password autofill. Android, meanwhile, has a new app privacy check. This latter feature scans all the apps installed on a device, and then reports whether they are asking for too much information.
Along with this list of high risk apps, the privacy check identifies what information each app is gathering, as well as how to protect your privacy. There's also an option to delete any app.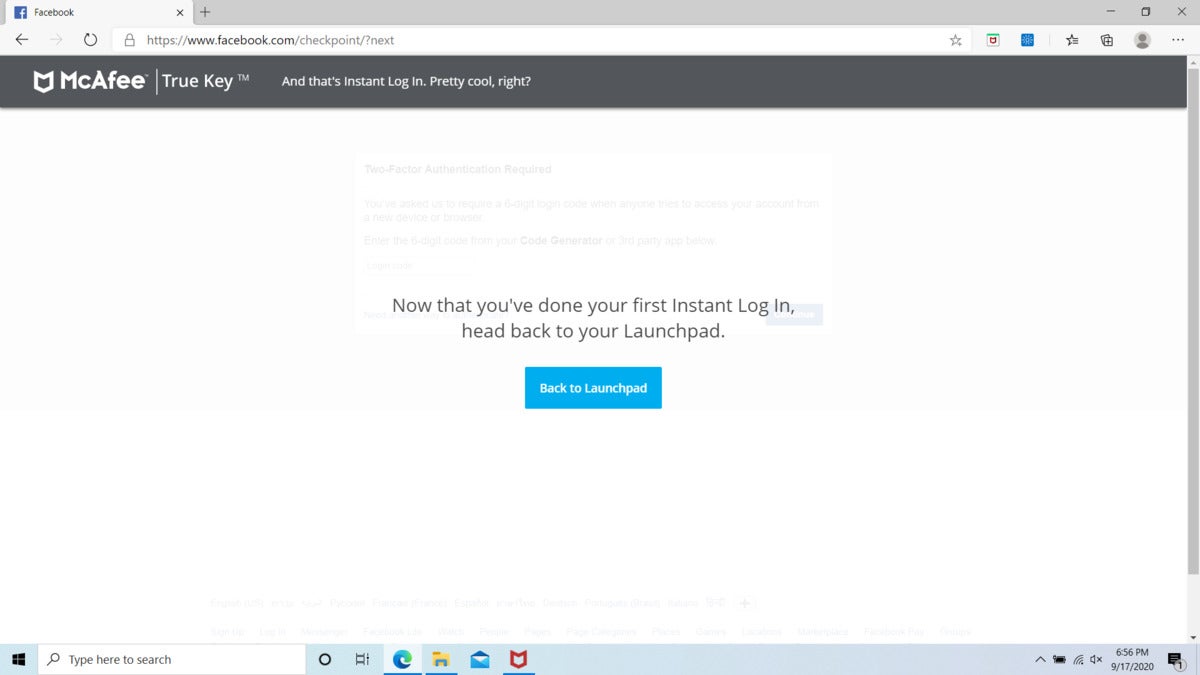 Before we leave this section let's touch on True Key. In its current state, McAfee's password manager is annoying. Once it installed itself on our test PC's Edge browser, it immediately wiped out the login cookies for sites such as Twitter, Facebook, and LinkedIn in order to recapture them in the app.
Then once we landed on a social site and logged in True Key took over the site (as pictured here), and basically said, "Do you see how amazing that was? Now let's go back to the True Key landing page." There was no option to dismiss the browser takeover, and this forced return to True Key happened twice. Never mind the fact that our login process wasn't finished since both times we still had to enter a two-factor authentication code, or the fact that advanced users don't need this kind of hand holding.
We asked McAfee about this and were told that the design was deliberate. That is a terrible, terrible idea. We've never seen this behavior from 1Password, Dashlane, or LastPass. There's no reason for True Key to be any different. If you're interrupting an everyday workflow and forcing a user to do something they don't want to do, you've made the wrong design decision.
Also, True Key definitely shouldn't be wiping out the browser's saved logins—that's just infuriating for an end user. Anytime software, especially security software, does something unexpected, it leads to less trust by the end user, not more.
Performance
In our tests, McAfee had some performance impact on our mid-range test PC. In PC Mark 10's Extended Test our PC scored 1,658 without McAfee installed and 1,626 with it running, a drop of 32 points. The differences were mostly in the productivity tests, as well as digital content creation and gaming.
The essentials section, however, which includes app startup times, video conferencing, and web browsing, actually performed better with McAfee running. That's a good sign, and suggests that everyday use of your PC won't be impacted; however, mid- to low-end PCs will likely take a hit when working with photo- or video-editing apps. Gaming would also be impacted, but the machines we're talking about are in the "runs on a potato" class of gaming and any of those titles should be fine.
During our large-file transfer test, archive tests, and unarchive tests, McAfee was slower by a few seconds, but these results were well within the margin of error.
Moving on to third-party testing, AV-Test gave McAfee 100 percent in July 2020 and 100 percent in August on its zero-day test—the industry average is 97 percent. For the detection of widespread and prevalent malware, Total Protection also scored 100 percent in both months.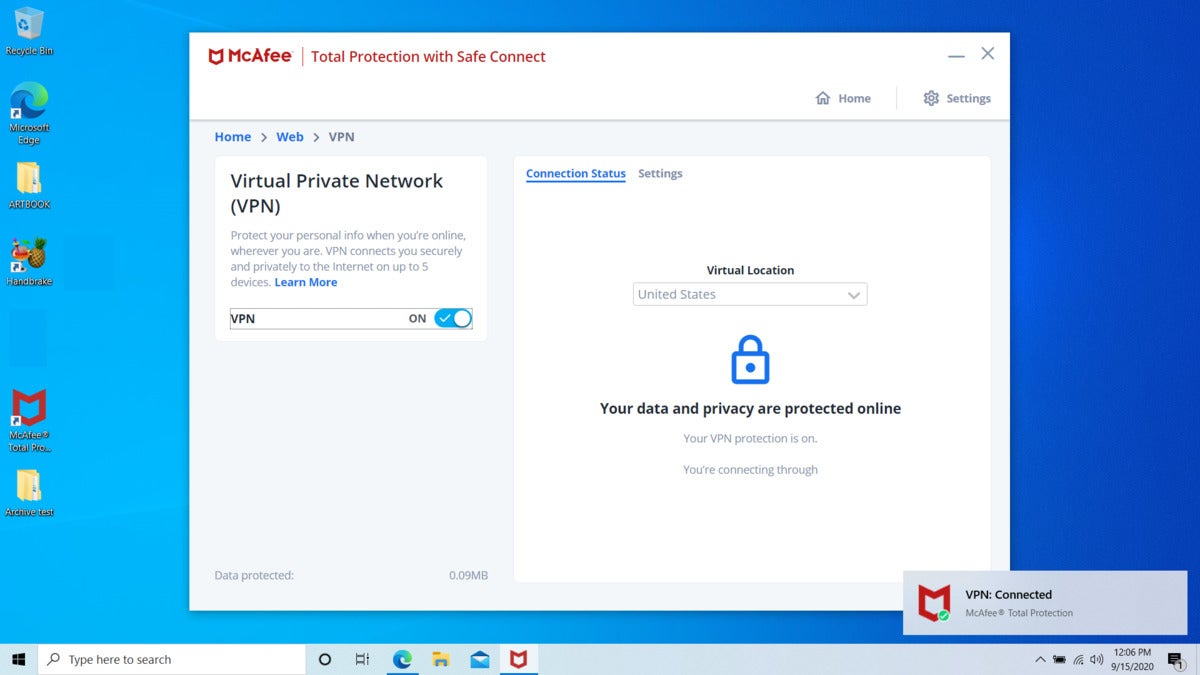 Over at AV-Comparatives, the testing firm's most recent Real World Protection Test comes from July and August 2020, using 380 samples of live URLs with malicious downloads. McAfee blocked 98.2 percent of threats, and had two false positives. That missing 1.8 percent of threats resulted in compromises. That puts McAfee behind most of the pack, with every suite in AV-Comparatives' test performing better with the exception of Total Defense.
In the AV-Comparatives Malware Protection test from September 2020, with more than 10,000 samples, McAfee had one of the best online detection rates at 98.7 percent, falling behind only Avast and AVG. The online protection rate was top-notch at 100 percent, matching Avast, AVG, and Microsoft. Offline detection, however, was less impressive: In AV-Comparatives previous report, Total Protection scored an abysmal 67 percent. In the latest report, that score has improved to 79.5 percent, which still isn't great, although it's a better showing than Microsoft, Norton, Panda, and Trend Micro had.
Finally, we've got the SE Labs test from April through June. The testing firm gave McAfee a triple-A rating, which nearly every other suite also received. Overall, McAfee scored a 100 for detection, with 99 blocks and 1 threat neutralized—there were no compromises.
Overall, protection is good, and it's encouraging to see McAfee's results from AV-Test and AV-Comparatives improve over time. McAfee told us this was to be expected as it improved its online detection backend to deal with emerging threats more efficiently.
What's more concerning is the poor showing offline. While most malware issues will crop up while you're online, you want at least a reasonable amount of protection for those times your PC is offline. It's not the worst performer, but McAfee's scores here fall short of many other top-ranked antivirus suites.
Pricing
McAfee Total Protection covers up to 10 devices for $45 for a single year for new customers, while the official non-introductory price is $120. If you want unlimited devices it costs $100 for new customers and $140 after that. The five-device plan is $40 for new customers and $60 following. Finally, there's a single-device option for $35 and then $80.
Non-introductory prices can change, as antivirus companies typically offer all kinds of sales and other inducements to keep you subscribed. Your return pricing experience may vary, in other words.
Conclusion
McAfee does a good job at protection for the most part, but we'd like to see better performance in that offline detection rate. We're almost always in range of a wireless connection these days, but there will be times when a PC is under threat offline, and since the norm for offline protection is much higher than what McAfee achieved it needs to do better here.
McAfee's pricing is very good and the app itself and the extra features you get with Total Protection are excellent.
Editor's note: Because online services are often iterative, gaining new features and performance improvements over time, this review is subject to change in order to accurately reflect the current state of the service. Any changes to text or our final review verdict will be noted at the top of this article.
Best Prices Today
Note: When you purchase something after clicking links in our articles, we may earn a small commission. Read our affiliate link policy for more details.
Ian is an independent writer based in Israel who has never met a tech subject he didn't like. He primarily covers Windows, PC and gaming hardware, video and music streaming services, social networks, and browsers. When he's not covering the news he's working on how-to tips for PC users, or tuning his eGPU setup.