On Thursday, AMD released Radeon Software 17.9.2, a driver that unlocks 2-way multi-GPU support in the company's newly released Radeon RX Vega graphics cards. Great! But also weird. Previous Radeon generations supported up to 4-way CrossFire configurations. No more. In response to a PCWorld follow-up question, AMD confirmed that RX Vega will top out at 2-way configurations—at least in games.
"We have delivered two-way mGPU support in games," and AMD representative told PCWorld via email. "Three- and four-way configurations will continue being supported in compute and professional applications."
AMD's move isn't unprecedented. Nvidia nerfed SLI (its brand name for multi-GPU support) with the launch of its current-generation graphics cards, the GTX 10-series, which also tops out at 2-way support in traditional games. Like AMD, Nvidia killed support for these extreme enthusiast setups quietly, only 'fessing up to the change when asked for comment by the press.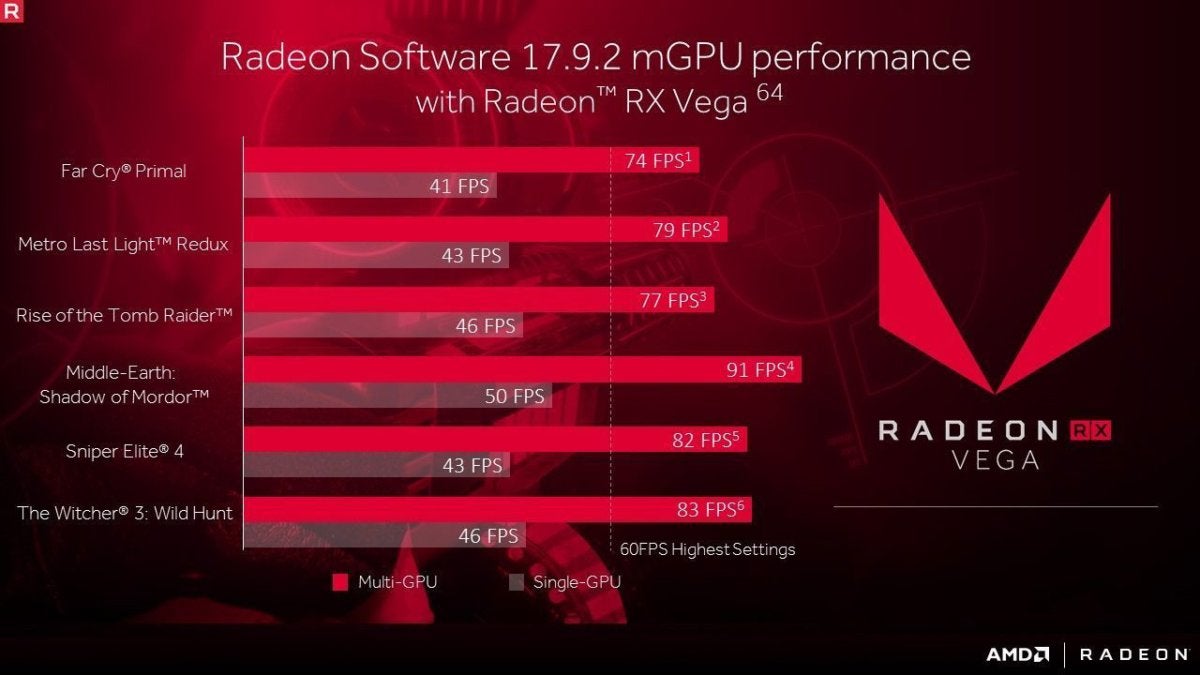 There's a caveat to all this. CrossFire and SLI enable multi-GPU support in DirectX 9 and DirectX 11 games via AMD and Nvidia profiles, respectively. The new DirectX 12 tech found in Windows 10 requires developers to explicitly build multi-GPU support into their games instead of relying on those profiles. More advanced 3- and 4-way multi-GPU support will still work in DirectX 12 games that want to take the time to bake in that capability. But considering how few DX12 games currently support multi-GPU whatsoever, and how deeply niche 4-way fire-breathing gaming PCs actually are, don't expect to see it embraced by DX12 games often.
Add another twist to the story: the technically diverse nature of DX11 and DX12's support needs. Last week, AMD confirmed to PCWorld that it's phasing out the CrossFire brand. Going forward, all official AMD references to multi-GPU support will simply use the term "multi-GPU" or "mGPU."
The story behind the story: It's sure starting to smell like the end of an era for over-the-top gaming rigs. That's not necessarily a bad thing, because 3- and 4-way multi-GPU configurations have never offered a totally smooth (or economically justified) experience. It's only gotten worse in recent years as more and more games shy away from mGPU entirely.
Mentioned in this article
ViewSonic XG2700-4K 27″ 60Hz IPS 4K FreeSync display
Price When Reviewed:
$549.99
Fortunately, today's hardware makes powering through the most graphically demanding PC games possible on a single graphics card, rather than requiring the brute force of a 4-way rig. Even a 2-way Radeon RX Vega 64 setup should be able to max out today's highest-end 60Hz 4K monitors. The experience could be smooth even with a single graphics card if you snag a stutter-killing FreeSync-equipped display.