At a Glance
Expert's Rating
Pros
Fantastic compatibility with Microsoft Office formats
Familiar Office-like interface
Cons
No integrated cloud storage
Doesn't support real-time collaboration
Our Verdict
Libre Office is a great choice for anyone who wants an open-source Office alternative.
Best Prices Today: Libre Office
Libre Office came to be when the community developing Open Office jumped ship several years back and created their own suite on the same code. Without going in to the details of the divorce, suffice it to say Libre Office has fared better than its ancestor, both in terms of development and popularity.
Like Open Office, Libre Office includes includes six programs: Write (word processing), Calc (spreadsheets), Impress (presentation), Base (database management), Draw (vector graphics) and Math (mathematical formulae). It's free to use on Windows, Mac, and Linux desktops.
This review is part of our roundup of best Microsoft Office alternatives. Go there for details on competing products and buying advice.
Hands on
Because Libre Office was forked off Open Office, there are, unsurprisingly, many similarities between the two. Libre Office has the same Office 2003-style static menu look with easily navigated icons and toolbars. The only real difference is that it adds a splash of color akin to the current version of Microsoft Office and generally feels more polished.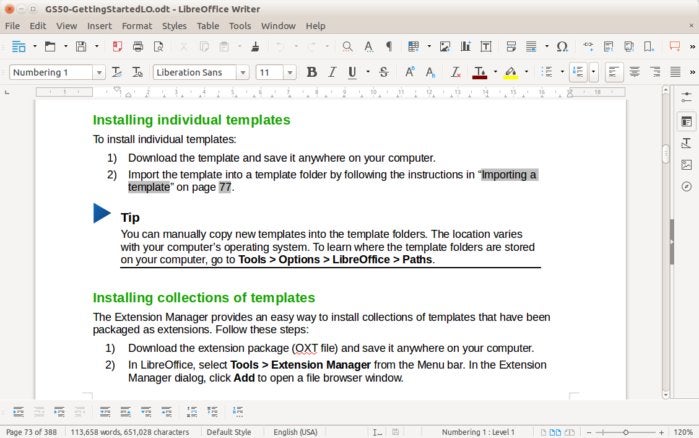 Libre Office uses open document format as its native format, but it can also read and write a range of Microsoft Office formats including the newer DOCX, PPT, and PPTX files. In our tests, it better handled the more complex documents that Open Office struggled with. The installed template selection pales compared to what you get with Microsoft Office, but you can beef it up with downloads from Libre Office's Extensions and Templates library.
There's no native cloud integration, but Libre Office does have a Remote Files feature that allows you to access files outside servers like Google Drive and OneDrive. That can facilitate sharing files for group review—track changes and commenting are supported—but no real-time authoring.
Standout features
Fantastic compatibility with Microsoft Office formats
Familiar Office-like interface
Missing features
Integrated cloud storage
Real-time co-authoring
Libre Office is best for:
Libre Office should be the choice of open source enthusiasts. Having relative feature parity with Open Office, it comes down to the release frequency of new features and fixes, and Libre Office wins that race hands down. As of this writing, Open Office's last update was a year ago; Libre Office's latest release came last month. That makes Libre Office the obvious choice for businesses, schools, and anywhere else security is important. And if you're a Linux user, you may already be using Libre Office as it's now included with many Linux distributions.
Best Prices Today: Libre Office