At a Glance
Expert's Rating
Pros
Excellent wireless performance, plus the PWM3366 sensor
Lightweight construction, glides smoothly
Suitable for both left- and right-handed people
Cons
If you're not using Powerplay, not much improvement over the old G900
Expensive
Ambidextrous shape not very ergonomic
Our Verdict
The G903 is one of the best wireless mice on the market, but its ambidextrous shape and high price may limit its appeal.
Best Prices Today: Logitech G903
Logitech's new Powerplay system is pretty revolutionary: a mouse pad that charges your wireless mouse as you use it. The problem? Well, it's expensive. But even that's not likely to be the biggest issue. No, the real problem (at least at launch) is that the Powerplay mouse pad is only compatible with two mice, the Logitech G703 and G903.
In this review we evaluate the higher-end option: the G903, an ambidextrous mouse which, at $150 list price, is one of the most expensive mice on the market. So is it worth $50 more than the sub-$100 G703? And if you're not buying Powerplay, is it still a wireless mouse worth checking out?
Let's dig in.
This review is part of our roundup of best gaming mice. Go there for details on competing products and how we tested them.
Even-handed treatment
As I said up top, the G903 is an ambidextrous mouse. I used to use an ambidextrous mouse daily (a Zowie AM) but gave it up for the Logitech G502's contoured curves—still to this day the most comfortable mouse I've used.
Using the G903 was surprisingly easy though, and for an ambidextrous mouse I think it's actually pretty comfortable. You lose the support under the ring and pinky fingers, but the rear is flared a bit outward and nestles right in your palm, giving you the secure grip you need to make precise movements.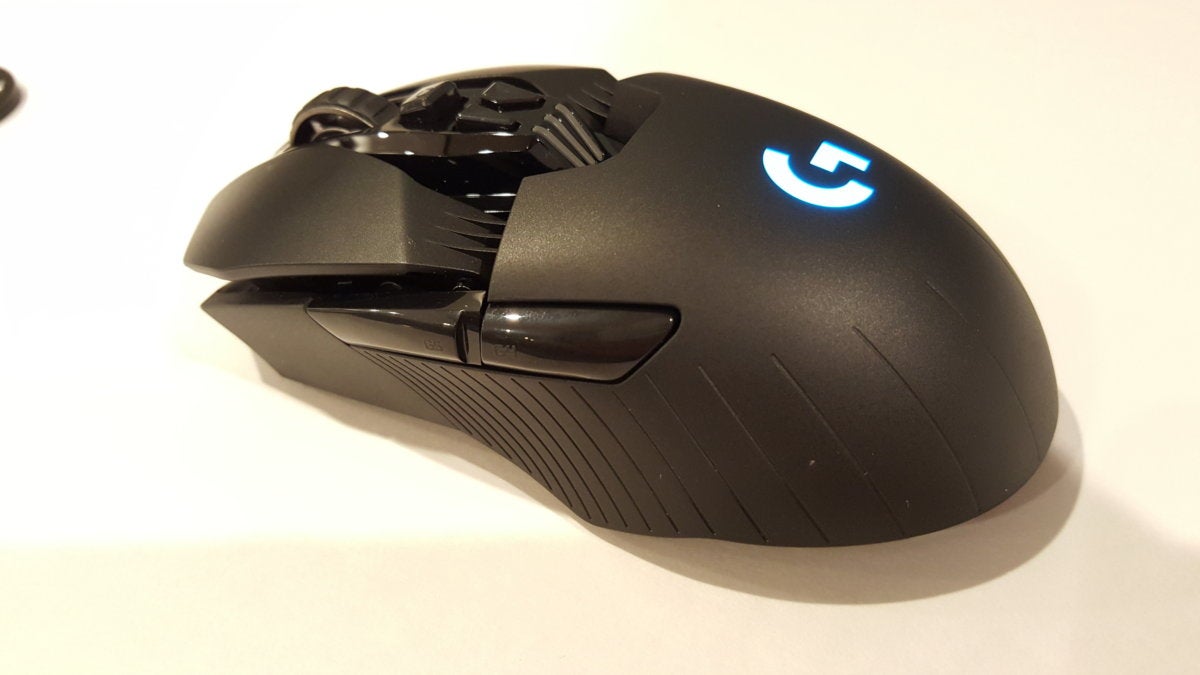 That being said, this mouse (as with any ambidextrous mouse) is definitely more suited to claw grippers. Palm gripping inevitably leads to pinky and maybe even ring fingers dragging along the mouse pad, while a good claw grip gets them up out of the way. I'm a claw gripper myself, and that's no doubt why I find it easy to go back and forth between scooped and ambidextrous mice. Palm grippers should probably look for something with more support, unless there's a very good reason to go ambidextrous.
Mentioned in this article
Logitech G502 Proteus Core
Price When Reviewed:
$79.99
The G903 makes a good argument though. As with the G502, Logitech has crammed high-end features into this mouse. Actually, in many ways the G903 is just an ambidextrous (and wireless) version of the G502.
You get nine buttons here, although two are disabled by default—the thumb buttons on the right side are replaced with a stabilized piece of plastic. This piece connects magnetically, so you can easily swap it out and put the two right-edge thumb buttons in and run with all four connected or, if you're left-handed, put the right-edge thumb buttons in and replace the left ones with the matching plastic guard. Your preference.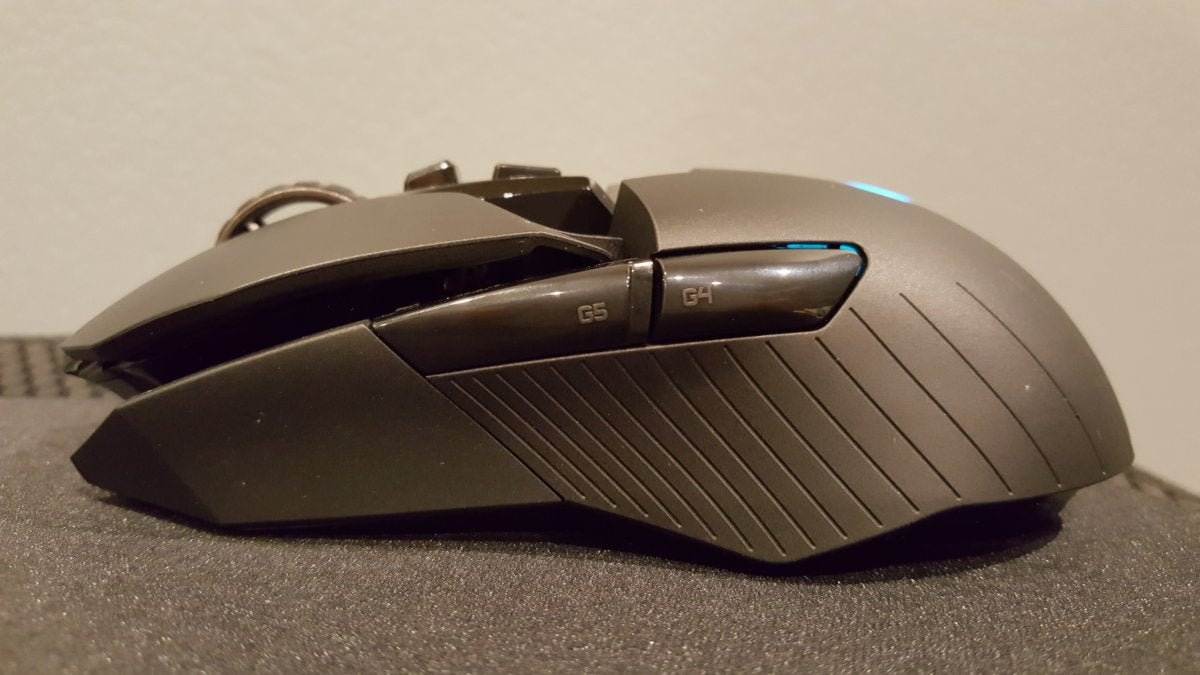 Aside from that you've got standard left and right click, middle click, plus two buttons that by default are mapped to dpi-swapping. These buttons are a bit awkward, placed behind the mouse wheel, but that's only a problem if you plan on switching dpi often. For me, that's more of a premeditated maneuver than something I do mid-match, so the awkward placement doesn't bother me much—in fact, it prevents accidental clicks, which is a problem I occasionally run into on the G502 (where the dpi buttons are next to the left click).
Speaking of the mouse wheel, there's technically a 10th button on the G903, directly behind the mouse wheel. Like on the G502, this button has a single purpose: to switch the mouse wheel from a smooth glide to a clunky "stepped" action. I've really come to appreciate this feature over the years, often swapping to a smooth mouse wheel while browsing the internet, then back to a stepped wheel when I need precision—while gaming, for instance.
One important aspect that's nevertheless hard to convey in words is how excellent the G903's various buttons feel. It's immediately apparent when going back and forth between the G703 and G903, to say nothing of various competitors. The G903's left and right click are on a hair trigger, and even the slightest weight is enough to activate them. Same with the thumb buttons—they're incredibly quick to react.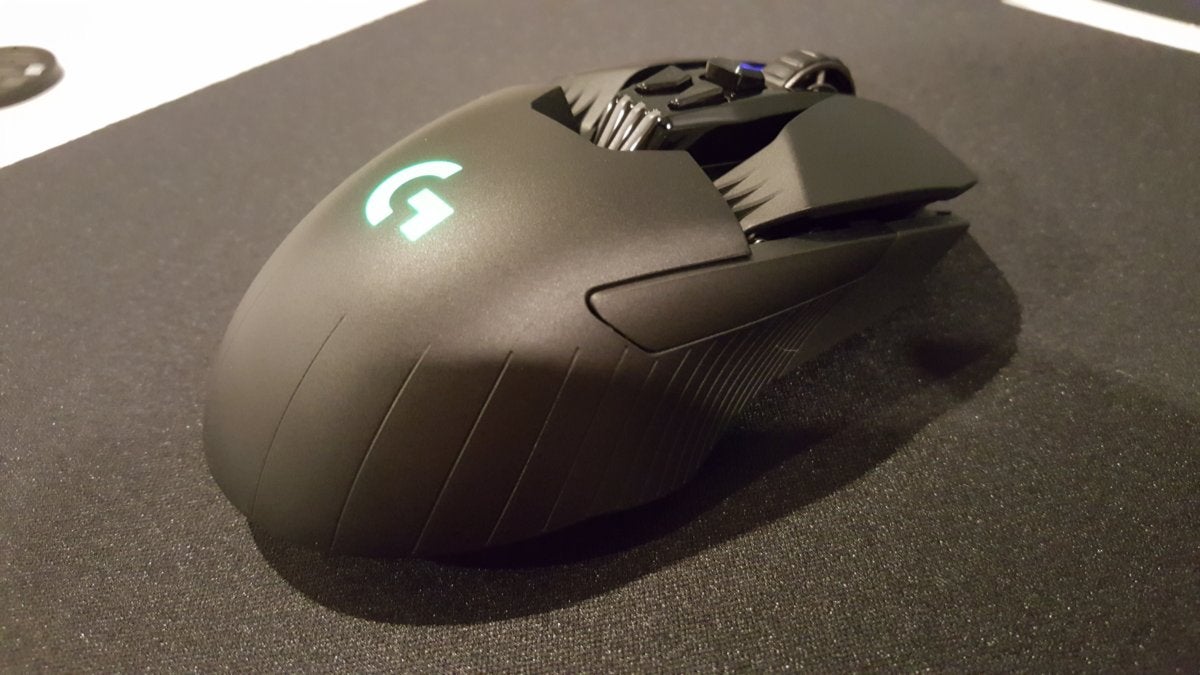 Some might dislike how light a touch the G903 demands, preferring a meatier and more solid click. I get that—the G903 lacks that reassuring "yes, you've clicked me" feel that some mice have. There's no disputing though that the G903 is excellent turning reflexes into registered actions. It's instantaneous. Effortless.
Like magic
Instantaneous, eh? I guess that brings us to our wireless-performance section.
There are two ways this can go. If you're using the G903 as a normal wireless mouse, you'll use much the same USB dongle as Logitech has used on its other wireless devices for a few years now. If, on the other hand, you're using the G903 with Powerplay, the mouse pad itself acts as your wireless receiver. That's the mode I've used the majority of my time with the G903, though I haven't noticed any real difference between the two.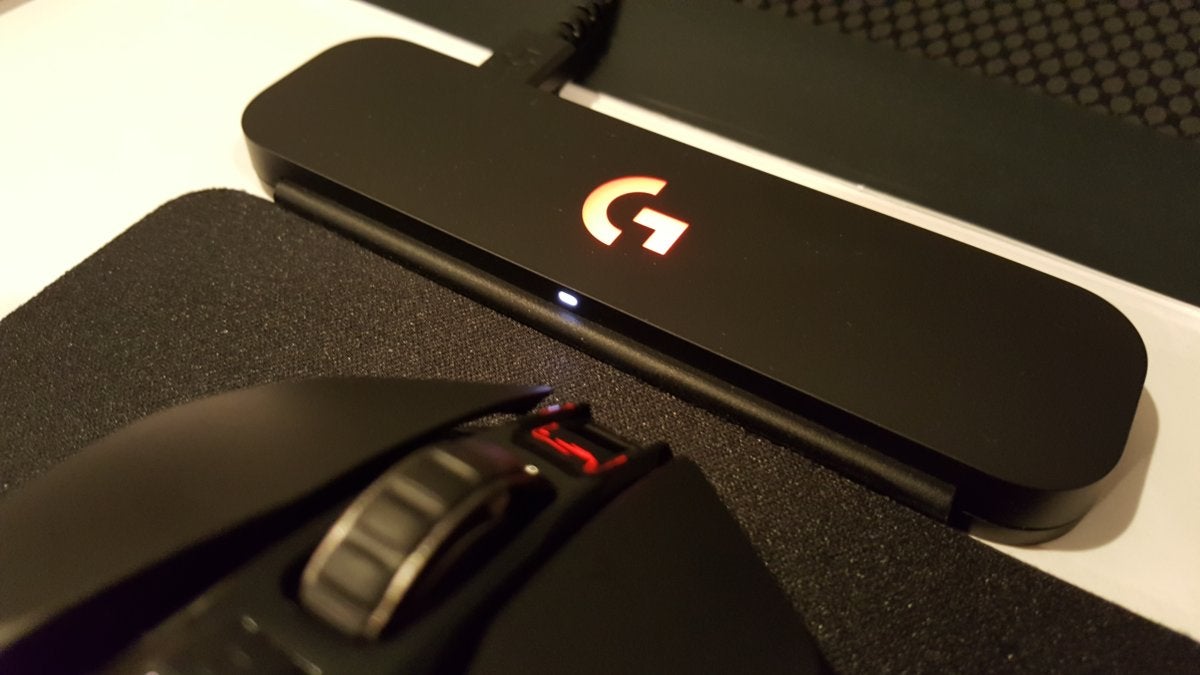 Performance is great, in either case. Logitech has been the market leader lately in wireless technology, and the G903 is another excellent Logitech wireless mouse. When Logitech debuted the G903's predecessor, the G900, it claimed that its wireless technology (known as Lightspeed) was not just faster than other wireless mice, but also many wired competitors.
Point being, wireless mice used to get a bad rap for being undependable, with interference, low polling rates, bad sensors, and latency among the many trade-offs. Those days are gone.
The G903 is indistinguishable from any wired mouse I've used. There's about a quarter of a second of dead time when I first move the mouse in the morning, as I go to wake up my computer. That's the only time I've ever noticed that the G903 isn't wired. I've had zero interference, even in my signal-drenched apartment. No judder, no skipping, nothing. It's been perfect.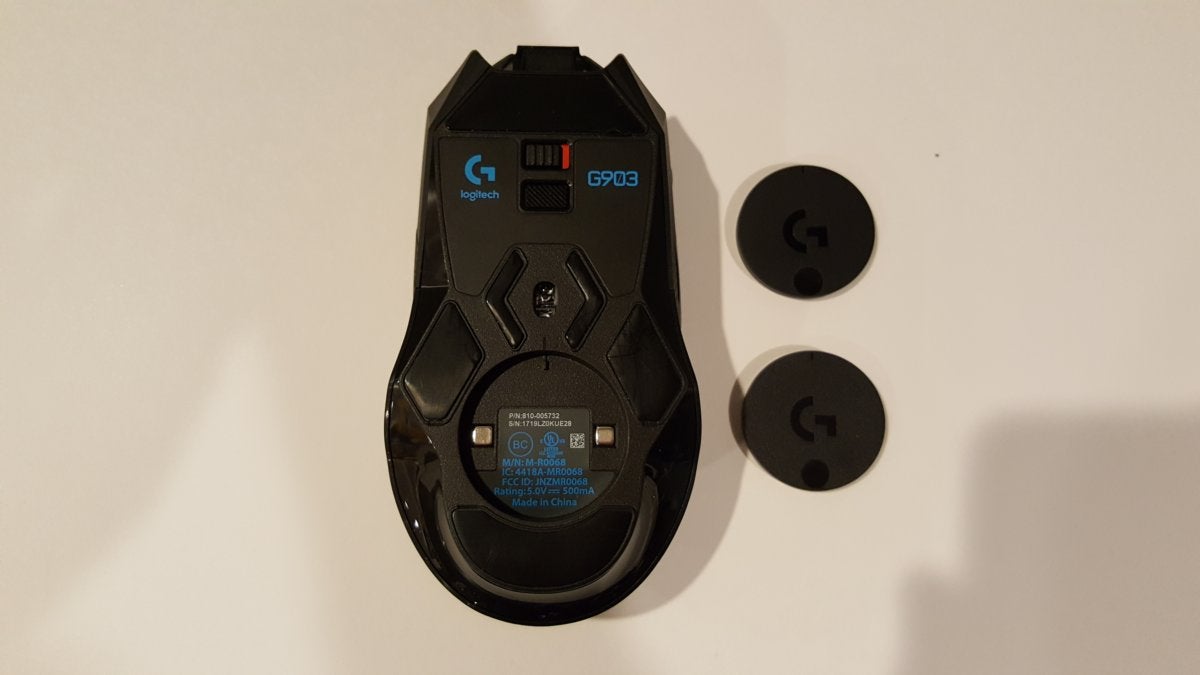 That comes down to the sensor, too. Like the G502 and most other high-end Logitech mice, the G903 uses the PWM3366 sensor. We've written at length about the 3366 in the past, but suffice it to say, it's still one of the most accurate and precise sensors on the market, and the implementation here is spot on. Moving from the G502, I entered all my usual dpi settings, and aside from the shape it was like I hadn't even changed mice.
As for the battery, even without Powerplay the G903 is respectable. I got two to three days of hard use (10-12 hours) out of the G903 while reviewing Divinity: Original Sin II before the battery ran down to zero. That's in line with Logitech's figures, which tout 24 to 30 hours of battery depending on your lighting setup. At that point, you'll need to plug in the included Micro USB cable and temporarily turn your G903 into a wired mouse for about two hours as the battery recharges.
With Powerplay there's no need for that cable. You can read our lengthier Powerplay review, but I'll give you a brief rundown. Making your G903 a Powerplay mouse is as easy as removing the circular piece of plastic embedded in the bottom. Non-Powerplay users can stick an optional 10 gram weight in this slot, but Powerplay users will instead insert the "Powercore," which despite the name is really just another small circle of plastic. The Powercore connects to the mouse magnetically, and this also serves as the charging leads.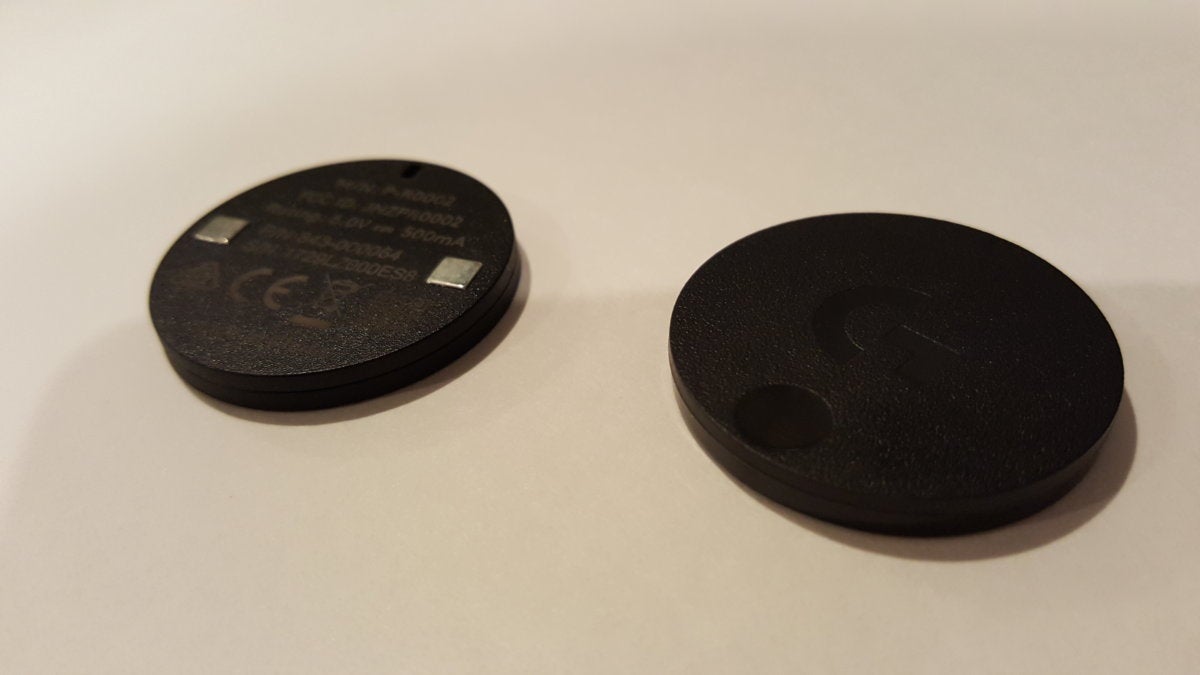 And…that's it. Put it on the mouse pad and the mouse charges. I received the mouse at 20 percent charge, and it trickle-charged while I used it at a rate of about 1 or 2 percent per hour. That's slow, sure, but the mouse is still usable the entire time so it's not like you'd notice. When I came back the next morning it had charged up to 95 percent, and from there the mouse continually cycles between 85 and 95 percent to keep the battery healthy.
It worked, in other words.
Whether Powerplay is something you need….Well, I'll let our review address that (expensive) question. But if you're looking at buying the G903 for a Powerplay mouse, just know it works perfectly. You'll never need to plug it in again.
Bottom line
The ambidextrous shape will no doubt scare some away, but with premium switches, the dual-mode mouse wheel, a lightweight chassis, and extremely low latency, the G903 is one of the best wireless mice on the market. It's also the better of the two Powerplay mice, though that's to be expected—it is, after all, $50 more expensive than the G703.
That price is likely to be the other sticking point for many people. At $150, it's one of the most expensive mice on the market—two, and almost three, times as expensive as a competent wired gaming mouse. Add in Powerplay, and you're looking at a $250 investment. That's steep. Like, double-black diamond ski slope steep.
But it's definitely something to consider, if you have the money. Powerplay or not, the G903 is a premium mouse, with a premium look and premium performance. It's luxury all around, and probably the best mouse I could ask for short of a wireless G502.
(Okay, now I'm crossing my fingers for a wireless G502.)
Best Prices Today: Logitech G903