If you've splurged on a monstrous Ryzen Threadripper processor, you can now put its ludicrous 64 PCIe lanes to use supercharging your already-supercharged storage—or making sure your data won't disappear with a hardware failure. Monday morning, AMD released beta drivers that unlock RAID support for NVMe drives on the Threadripper platform, as controversy continues to swirl around Intel's rival VROC implementation for Core i9 chips.
Mentioned in this article
960 Pro M.2/NVMe SSD
Price When Reviewed:
$629.99
NVMe solid-state drives like the ludicrously fast Samsung 960 Pro are the fastest storage you can buy, and RAID technology lets you combine the powers of several individual drives. The new Threadripper drivers support RAID 0, 1, and 10. (You can boot your PC from the RAID array, too!)
RAID 0 pools several drives into one bigger, faster storage unit, but losing even one drive can jeopardize your data. RAID 1 skips the speed and capacity improvements to instead mirror your data across multiple drives, ensuring your information stays safe if an NVMe SSD fails. RAID 10 is a blend of the two, but it demands a lot of available drives—either four or six, which is the maximum number of NVMe SSDs Threadripper supports without additional adapters. AMD tested a Threadripper system with multiple Samsung 960 Pro NVMe drives in RAID 0 to see how it scales. Here's a look at the company's results.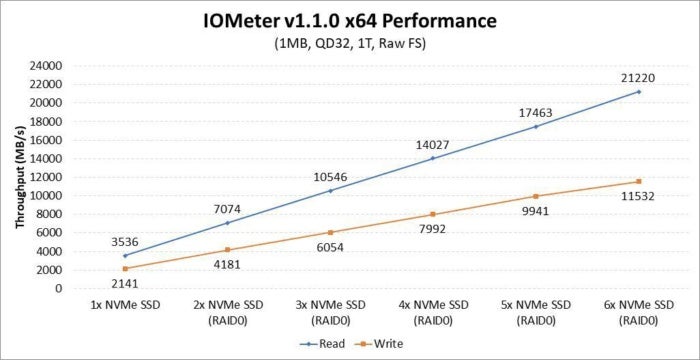 The story behind the story: AMD takes several digs at Intel's controversial VROC—or Virtual RAID on CPU—feature for Core i9 chips in a blog post announcing the feature. VROC will cost extra money, and work only with particular Intel SSDs and Core i9 CPUs. Core i9's X299 motherboards still support various RAID 0, 1, 5, 10 through the chipset, but the chipset RAID won't touch the performance you get from VROC.
Mentioned in this article
Ryzen Threadripper 1950X
Price When Reviewed:
$999.00
"Just enjoy!" AMD's Hallock writes. "No hardware activation keys, license fees, or arbitrary SSD restrictions apply. It's that simple." Shots discreetly fired.
Key Threadripper NVMe RAID details
Take note of several key things before you travel down this expensive path to extreme storage speeds:
Updating to these drivers requires you to update your PC's BIOS. Back up your old one before you take the plunge!
The setup process is very similar to how Threadripper handles standard SATA RAID configurations, but this new system isn't compatible with existing RAID setups. "In-place upgrades of the RAID driver are not supported at this time," AMD's Robert Hallock says. "Please back up your data and break down your array prior to installing an NVMe RAID-ready BIOS or driver. AMD recommends that users start fresh with a new NVMe RAID array and a new install of Windows."
These NVMe RAID drivers currently work only on Windows 10 x64 (build 1703) at this time. Sorry, Windows 7 fans.
Hot-swapping drives is supported in RAID 1 and RAID 10.

You can configure your NVMe RAID away using one of two tools: the BIOS in your X399 motherboard, or AMD's RAIDXpert2 management software. "We expect all AMD X399 motherboards to be updated imminently, though the exact date(s) of availability will depend on the motherboard vendor's QA schedule," Hallock says.
RAIDXpert2 is available now on AMD's NVMe RAID support driver page. Be sure to read AMD's blog post announcing the feature for a helpful list of FAQs.