For years, the software that shipped with graphics cards didn't add a lot of value when you were actually, you know, playing games. Sure, you wanted the latest drivers for the best performance, and it's nice to be able to adjust how your monitors behave or optimize your games with a click—but none of that is exciting in the heat of the moment. Nvidia's new ShadowPlay Highlights and Ansel features in GeForce Experience change that.
Let's dig into how ShadowPlay Highlights and Ansel make using GeForce graphics cards just plain more fun, letting you easily create and share stunning gameplay videos and glamoured-up screenshots, respectively. You'll need a GeForce graphics card to take advantage of these Nvidia-created goodies, of course.
If you've ever wanted to mimic PewDiePie or DeadEndThrills, read on, but be warned: Once you've dabbled in these dandy features, you'll wish they were available in every game.
What is ShadowPlay Highlights?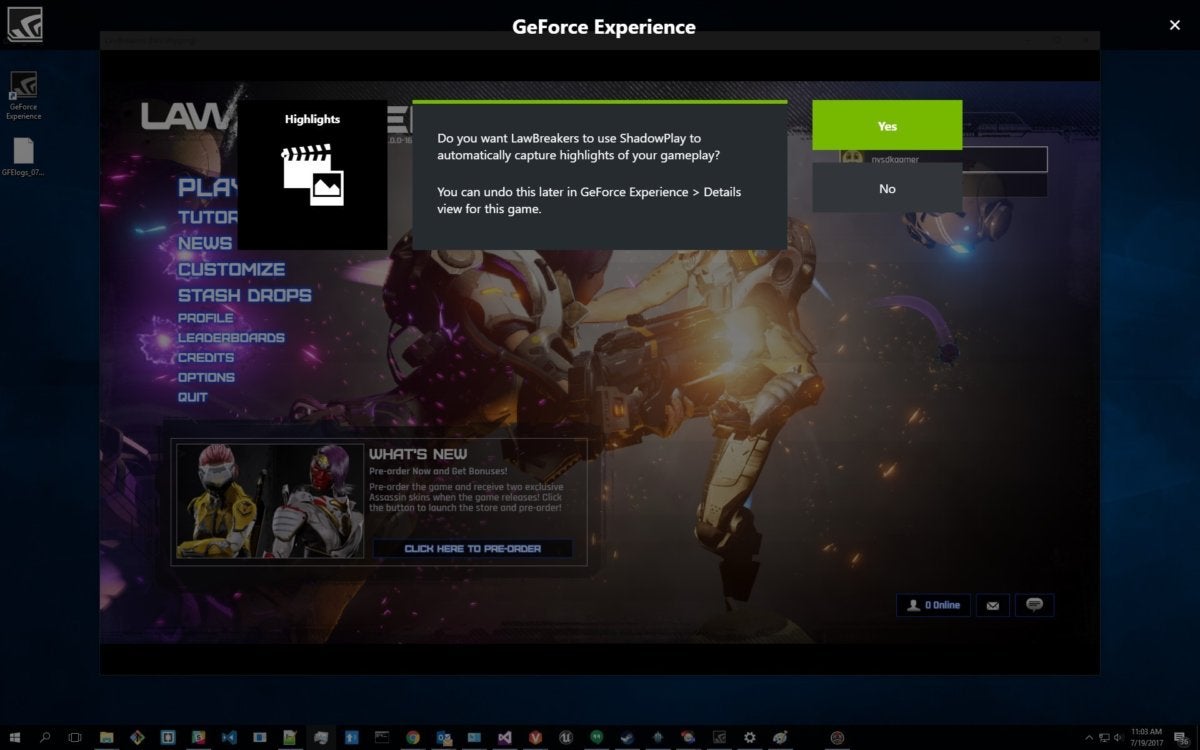 ShadowPlay Highlights builds atop Nvidia's long-lauded ShadowPlay technology, which helps make GeForce Experience the best PC game recording software for owners of Nvidia hardware. It takes the hassle out of capturing your most glorious gaming experiences, automatically saving video of key moments like kills, deaths, match wins, and more, then letting you share those clips easily to Facebook and YouTube—or you can save the clips locally. It's similar to a feature that rival game capture service Plays.tv uses to grab your e-sports highlights, but built right into your graphics card's software.
You'll need a GeForce card
Zotac GeForce GTX 1060 AMP Edition
Price When Reviewed:
$279.99
And ShadowPlay Highlights is a blast. I'm not the type of person who normally blasts videos of my gaming escapades out to the Internet because, well, editing and uploading videos sounds like the last thing I want to do when I find some free time to play. ShadowPlay Highlights takes all the time and legwork out of the process, so that even video noobs like yours truly can start sharing gaming clips and aspire to become a YouTube sensation one day. (Hey, it could happen—right?)
Here's an Nvidia video showing how it works. I'd share Highlights of my own, but watching me get massacred after landing in PlayerUnknown's Battlegrounds again and again isn't exactly must-see TV.
The biggest issue is finding games that support it. Like the Plays.tv version of the feature, ShadowPlay Highlights only works for games that explicitly support it, and given that it's only been available for a short time, that whitelist is limited to a scant two games at the moment: Cliff Bleszinski's LawBreakers ($30 on Amazon) and the wildly popular PlayerUnknown's Battlegrounds ($30 on Amazon). More PC games are planning to include ShadowPlay Highlights support, though, including Final Fantasy XV, the martial arts RPG Absolver ($30 on Steam), and campaign shooter Raider of the Broken Planet.
Here's hoping a lot more will come sooner than later. Popular e-sports games would be a good place to start—I don't think it's coincidental that the first two ShadowPlay Highlights titles are first-person shooters. In the meantime, ShadowPlay Highlights is stellar for chronicling LawBreakers multi-kills or the journey to those elusive PUBG chicken dinners.
How to use ShadowPlay Highlights
PUBG supports ShadowPlay Highlights
Playerunknown's Battlegrounds
Price When Reviewed:
$29.99
Using ShadowPlay Highlights should be fairly straightforward if you've got GeForce Experience installed. Nvidia says it's supposed to be on by default, and you'll see a ShadowPlay prompt to allow automatic Highlights capture once you start playing a Battlegrounds or LawBreakers match.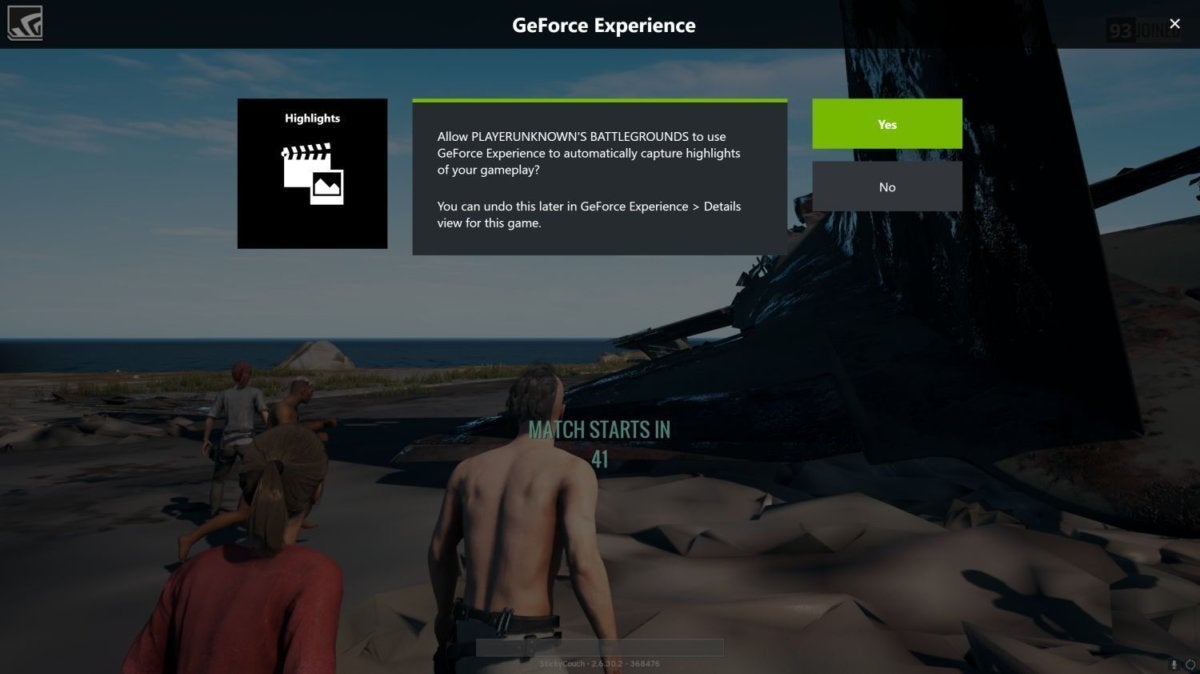 If you don't see the prompt for some reason (which was the case for me in Battlegrounds), open GeForce Experience, and enable the in-game overlay on its settings page. Press Alt+Z to summon the ShadowPlay overlay and click the gear icon on the right side of the screen. Open the Highlights option (in the interface shown below, where the gear icon shifts to the left), and make sure the feature is enabled. (This interface also lets you choose where unsaved clips are temporarily stored, and the maximum amount of storage space it'll use.)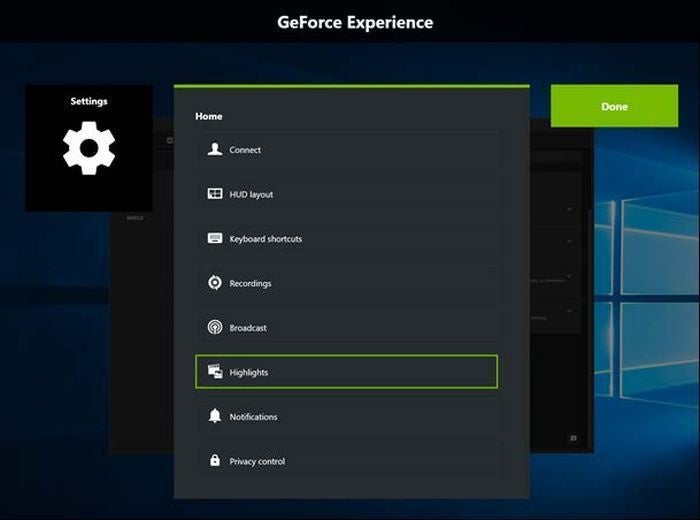 And if you still don't see the prompt when you start a match, head into the game's options and make sure ShadowPlay Highlights is active there, too. It's under "Video Capture" in Battlegrounds and "Enable Nvidia Highlights" in LawBreakers.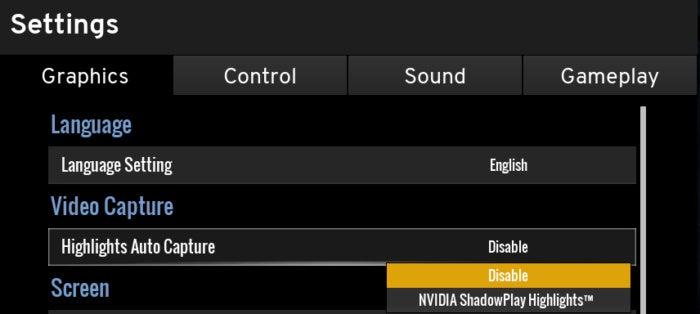 When it's working, you'll see a tiny square icon of a clapperboard in the lower-right corner of the screen. At the end of your match, the ShadowPlay Highlights overlay will appear in Battlegrounds when you exit to the lobby, so you can share or save your automatically created clips. In LawBreakers, you'll see a button stating how many highlight clips were created in the post-match screen, next to the Continue button. It'll bring up the same GeForce Experience overlay.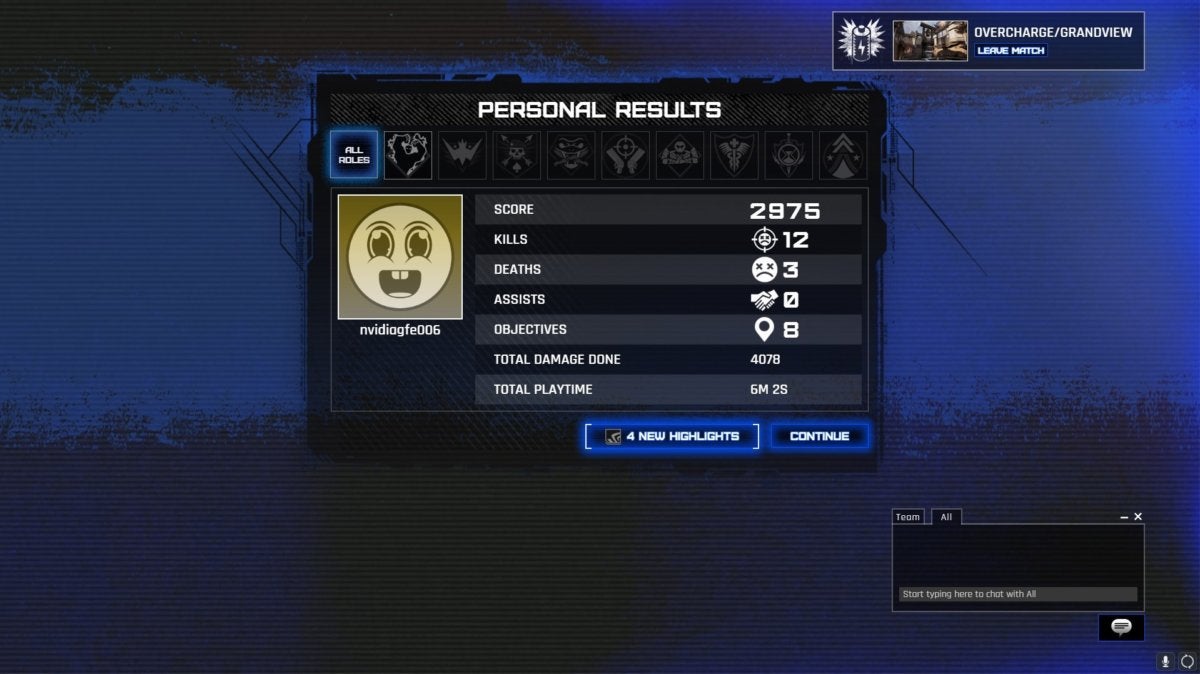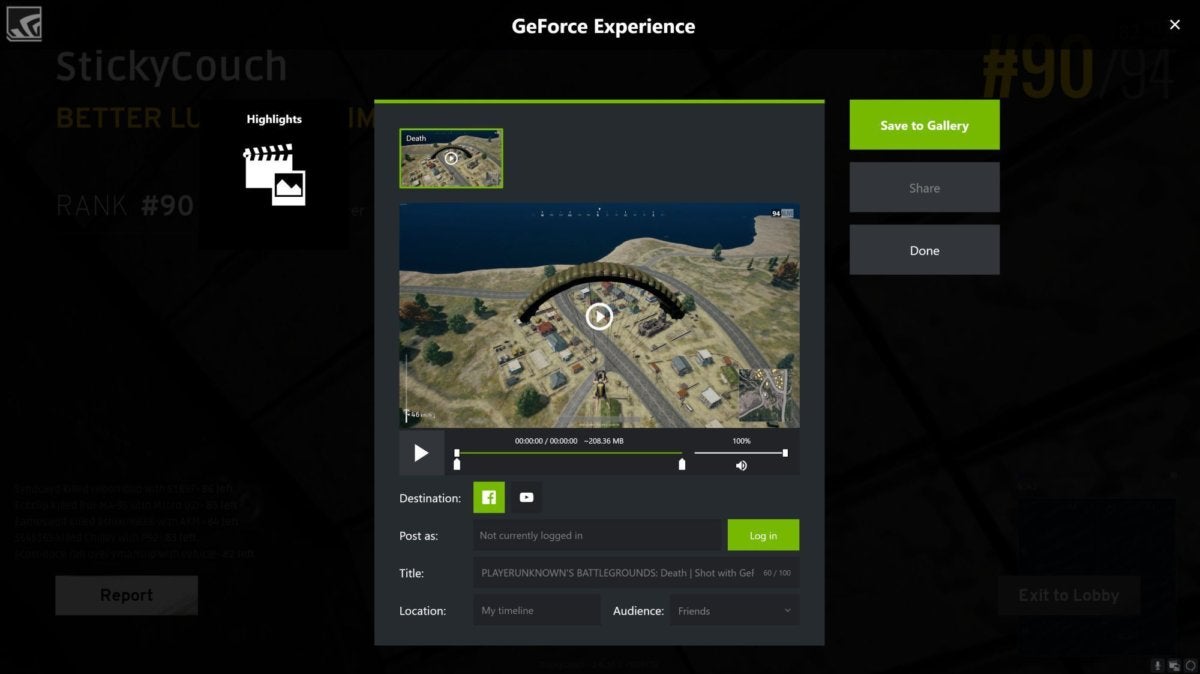 You can tweak which clips ShadowPlay Highlights saves in PlayerUnknown's Battlegrounds and LawBreakers, too. Click the Details button on either game's icon on the GeForce Experience home screen to go to its options. Select the ShadowPlay Highlights icon from the strip above the upper-right edge of the picture, then click Edit. In the pop-up that appears you can select which types of in-game actions the feature will automatically capture. (You know, in case you don't want those embarrassing self-knockouts recorded for posterity.) Here's what both games capture by default.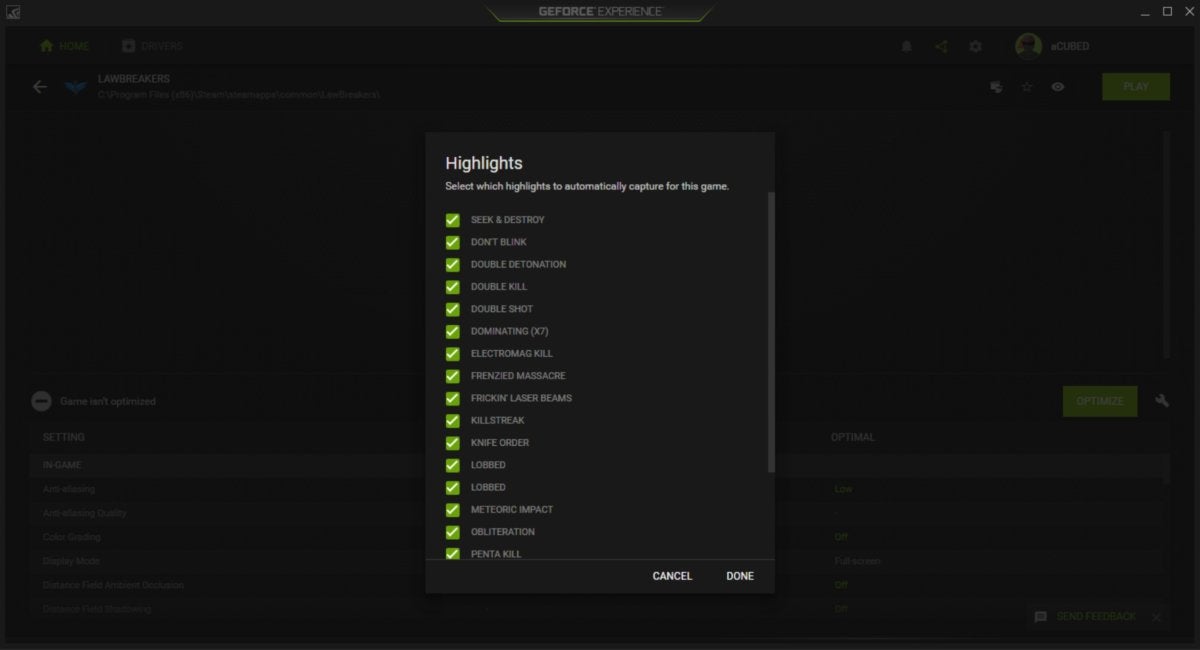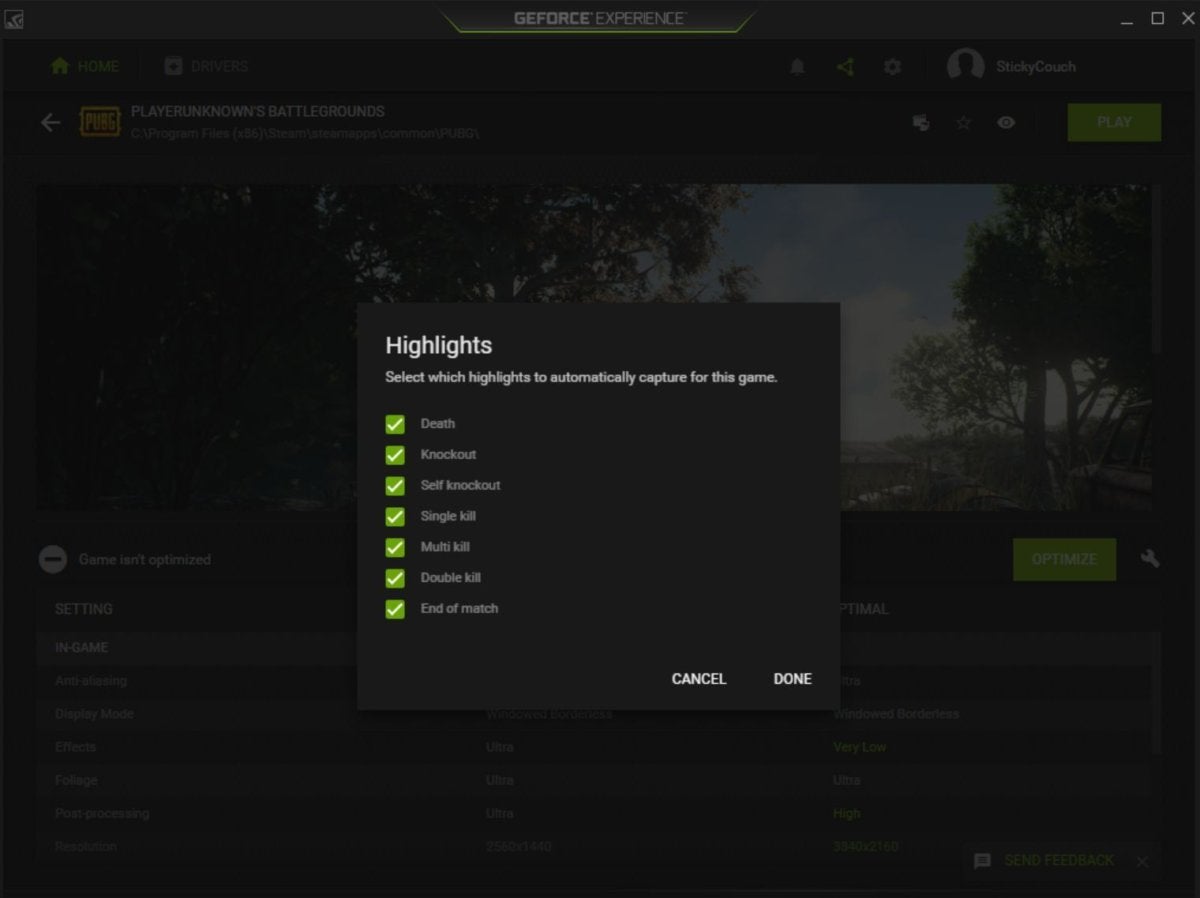 Developers select what types of in-game moments are eligible for the Highlights treatment, as you can see. But as much as ShadowPlay Highlights rocks for pumping out gaming videos, it's time to turn our attention to gaming pictures and Nvidia Ansel—which is even more fun to actually play with.
Next page: Nvidia Ansel super screenshots
What is Nvidia Ansel?
Nvidia's Ansel tool is basically Steam's F12 screenshot option on steroids, and your key to creating drool-worthy images rivalling the pictures that games advertising use to drum up excitement.
Activating Ansel pauses the game and drops you into the scene as a free-roaming 3D camera (though developers can put limits on its range if desired, to keep secrets hidden). You can navigate around the scene to find the perfect angle, then apply various filters and other basic image editing options to turn that perfect angle into the perfect shot.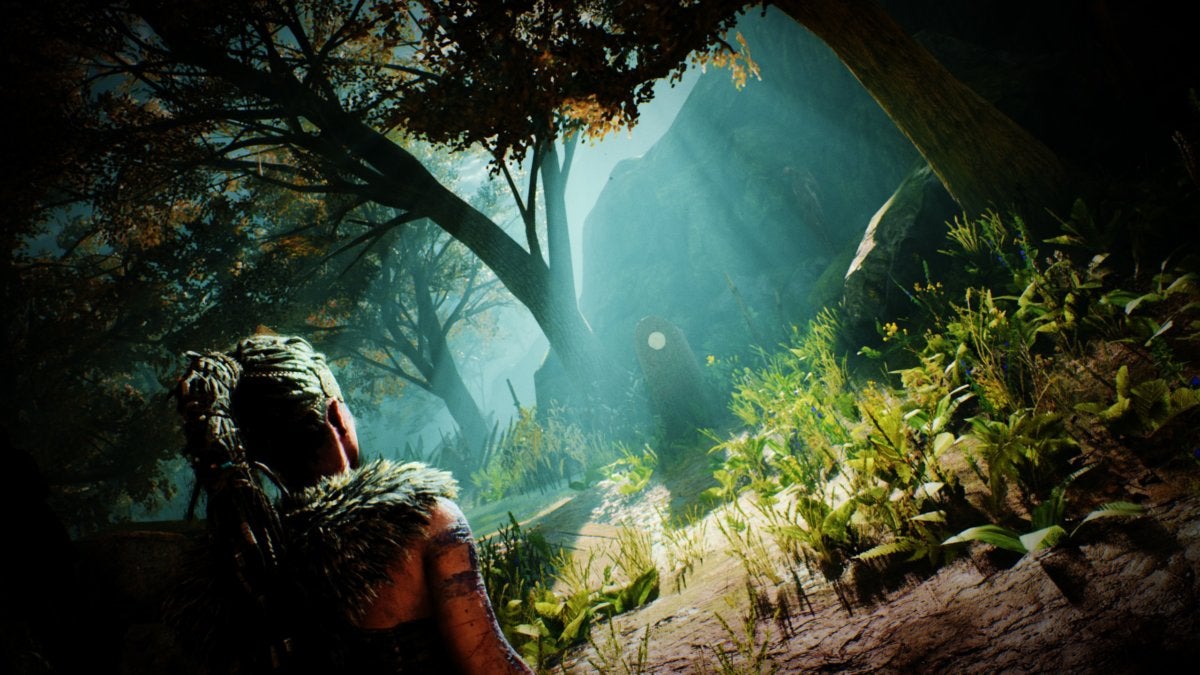 Once you've lined it up, you can even activate a "High Resolution" option to crank the resolution up far higher than games can actually run—up to tens of thousands of pixels—to eliminate aliasing "jaggies." Check it out in this amazing Nvidia-supplied image of Witcher 3, which clocks in at an astounding 46,080 x 25,920 pixels. (Be warned though: It's a meaty 1.7GB download.)
Mentioned in this article
HTC Vive
Price When Reviewed:
$800
You can even grab raw HDR images with Ansel, and export pictures in OpenEXR format to choose your camera exposure post-process. You can also capture massive 360-degree snapshots of a scene that you can then check out in the HTC Vive, Oculus Rift, Google Cardboard, or other virtual reality headsets.
Ansel is dead simple and damned addictive. I spent more time playing with Ansel in Mass Effect: Andromeda than I did playing Mass Effect: Andromeda itself—no exaggeration. Here are a couple of images I grabbed in that game and Hellblade: Senua's Sacrifice, and I've sprinkled Ansel-derived screenshots throughout this section.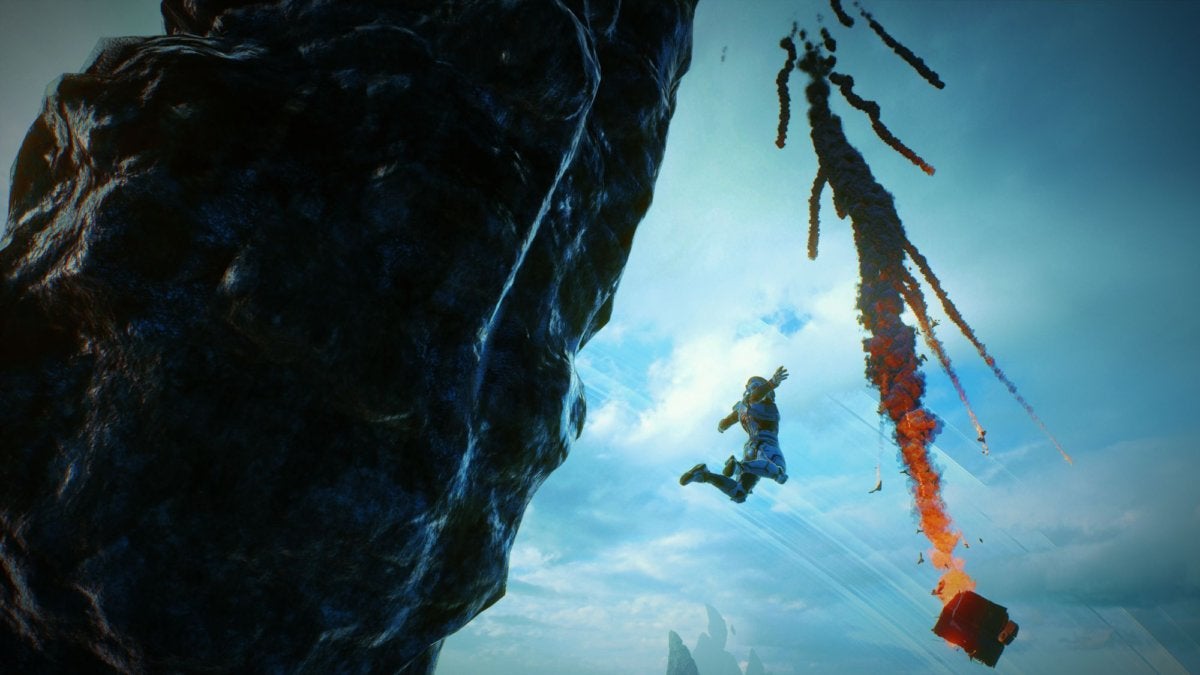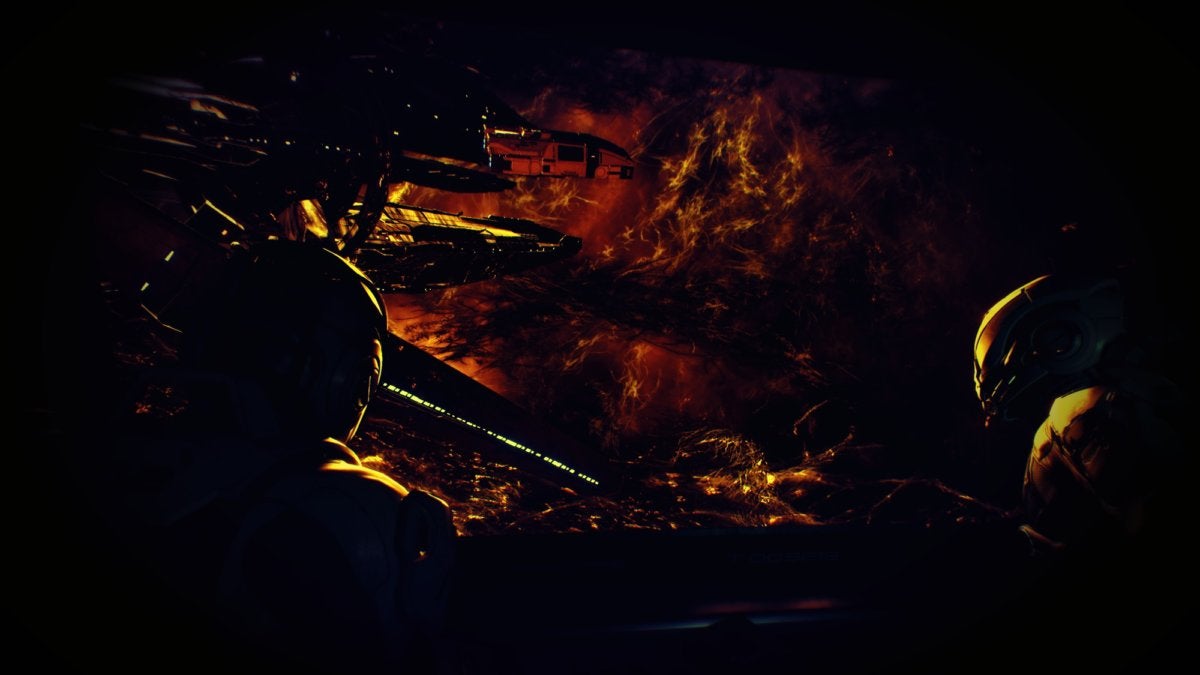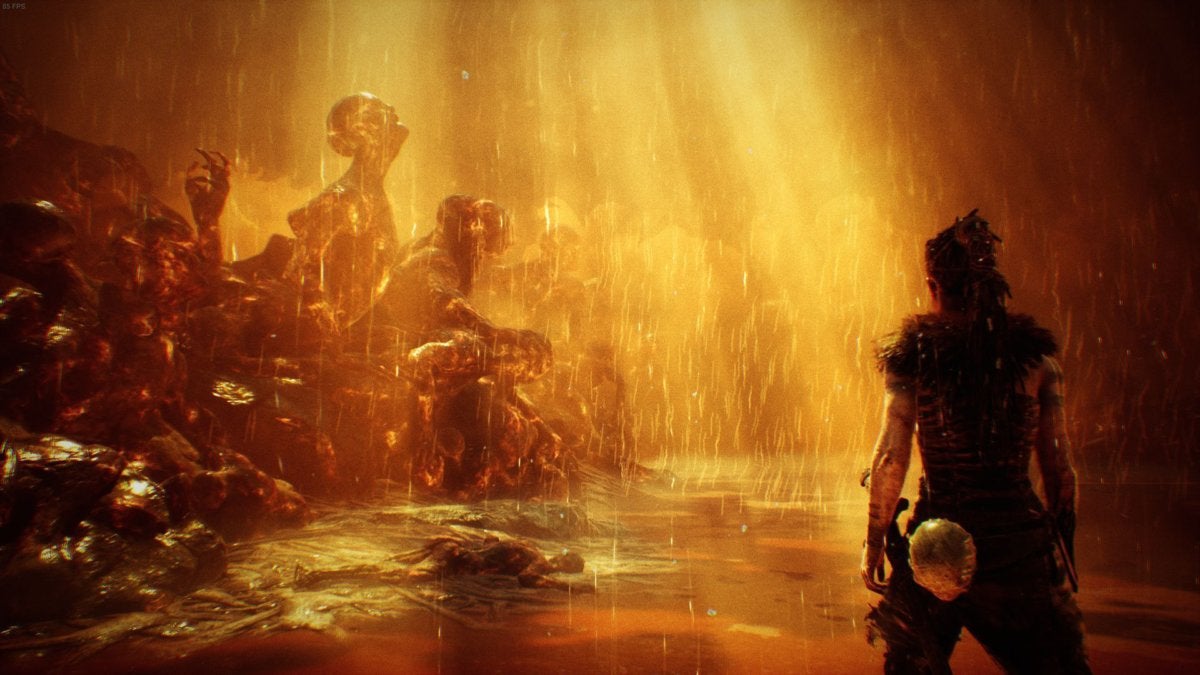 Like ShadowPlay Highlights, Ansel requires developers to explicitly support the feature, but Ansel's been around since the GeForce GTX 1080's debut in 2016 and it's been included in over 25 games. They're not all indie releases, either: Standouts include Middle-earth: Shadow of War, Witcher 3, Dishonored 2, Ark: Survival Evolved, Watch Dogs 2, For Honor, Tekken 7, The Witness, Hellblade: Senua's Sacrifice, Ghost Recon Wildlands, War Thunder and more. Nvidia says it's quick and easy to add Ansel support to games—claiming it can be added with as little as 40 lines of code—so fingers crossed the list keeps swelling.
How to use Nvidia Ansel
You need an Nvidia card to use Ansel
GeForce GTX 1080 Ti SC2
Price When Reviewed:
$769.99
If you have the GeForce Experience overlay enabled and boot up a game that supports Ansel, you'll see an on-screen prompt to press Alt + F2 to use the feature in-game. (Most Nvidia graphics cards from the ancient GTX 600-series onward support Ansel.) Simply pressing that keyboard shortcut pauses the game and summons the Ansel interface. Here's a look at it in Volition's Agents of Mayhem.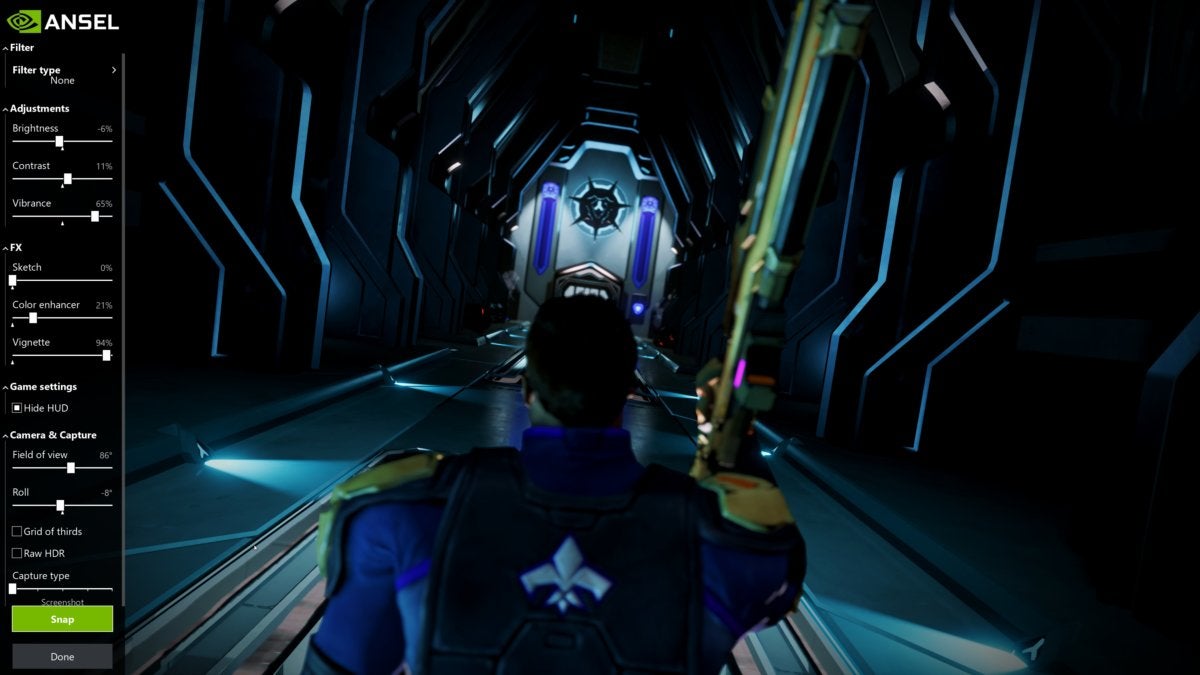 The actual options available may vary from game to game, as developers can choose which Ansel features to support, but what you see in Agents of Mayhem is pretty standard. Brightness, contrast, vibrance, "sketch," color enhancer, and vignette options all operate on a slider that scales from 1 to 100 percent, and additional options let you adjust the field of view or roll the angle left and right.
Driving home the point that different games can offer different Ansel features, Middle-earth: Shadow of War includes options for depth of field and depth of field intensity, which you can see in action here…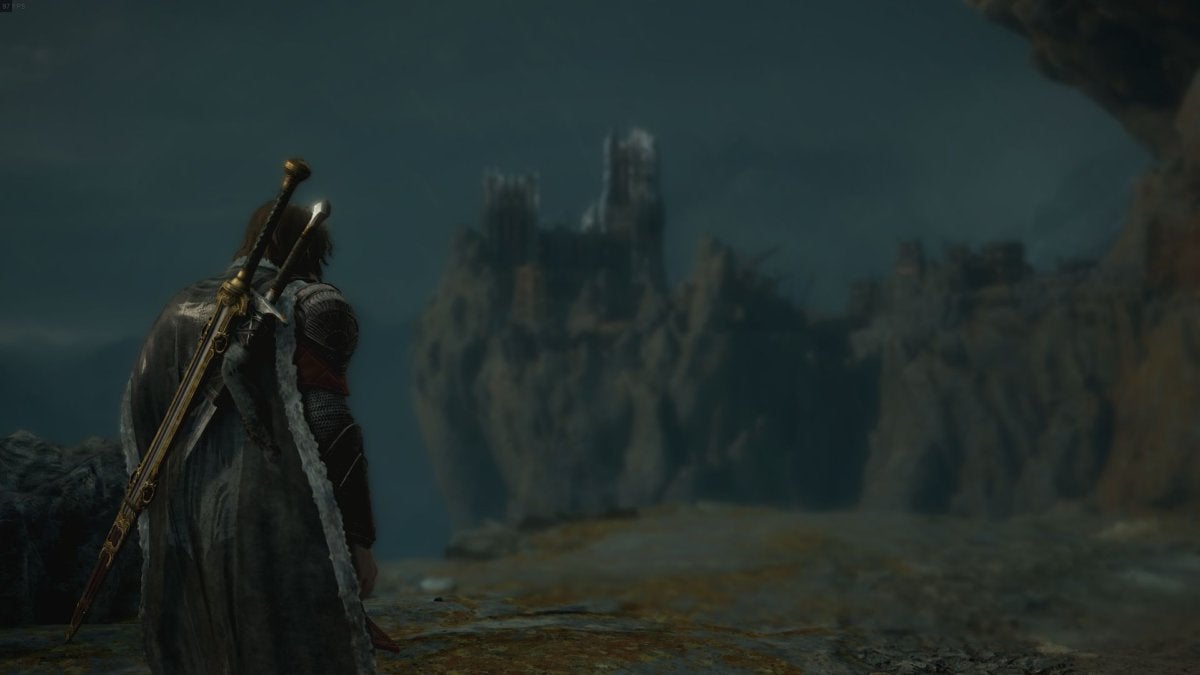 …as well as an option to shift the focal length, which combines with the depth of field feature to let you shift the focus of a shot from something in the foreground to something in the background. Here it is in action; click to each image to enlarge it to see the effect more clearly.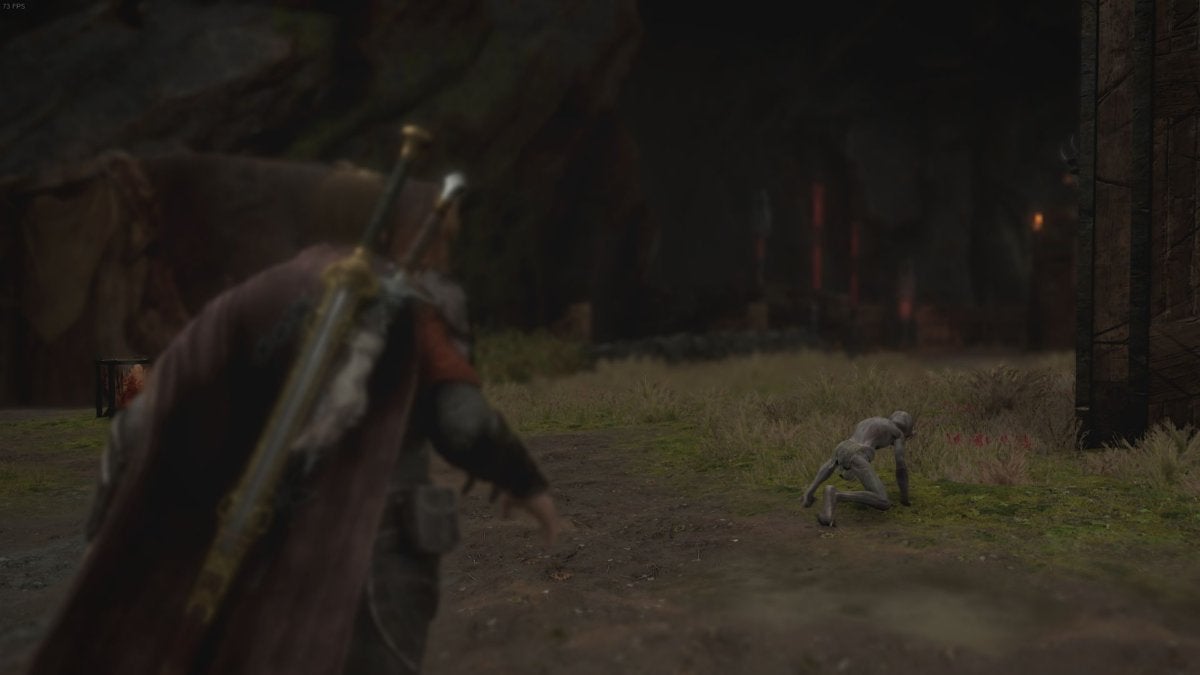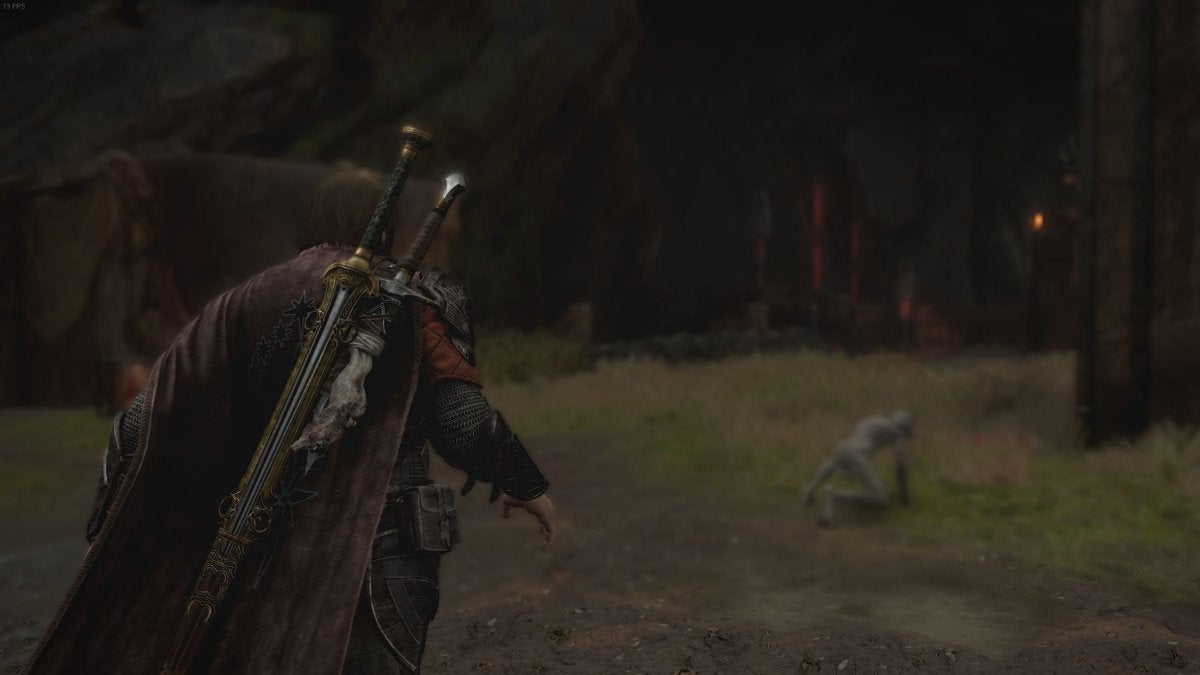 Nvidia also includes post-processing filters—sepia, black and white, half-tone, and retro—to change the overall look of the image. You can also adjust the intensity of each filter effect. Here's a look at images using each, augmented with standard editing options sliders like vibrance and contrast.
No filter, but editing options tweaked in Hellblade: Senua's Sacrifice and Witcher 3.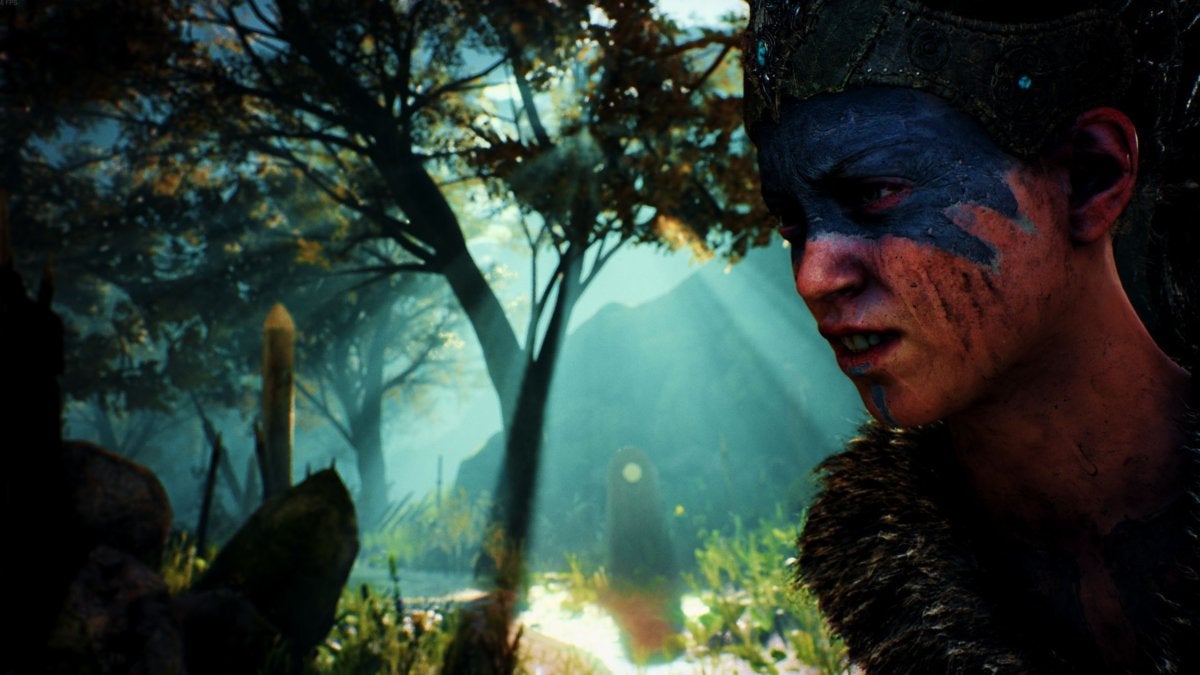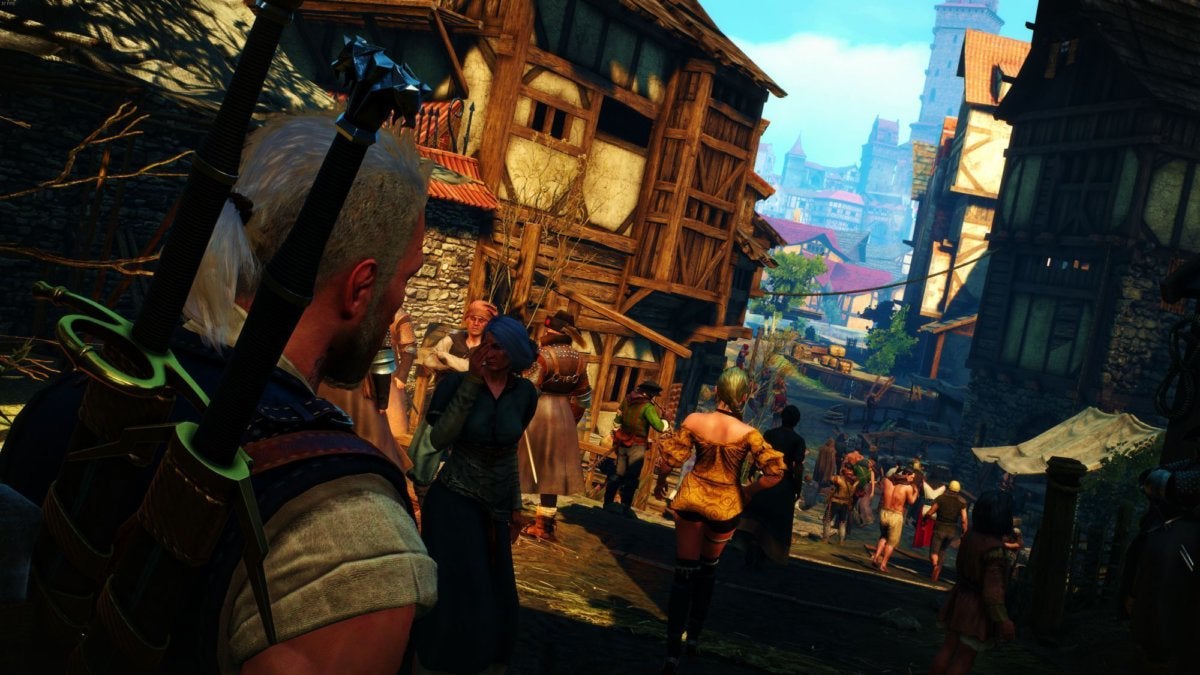 The black and white filter in Ghost Recon: Wildlands.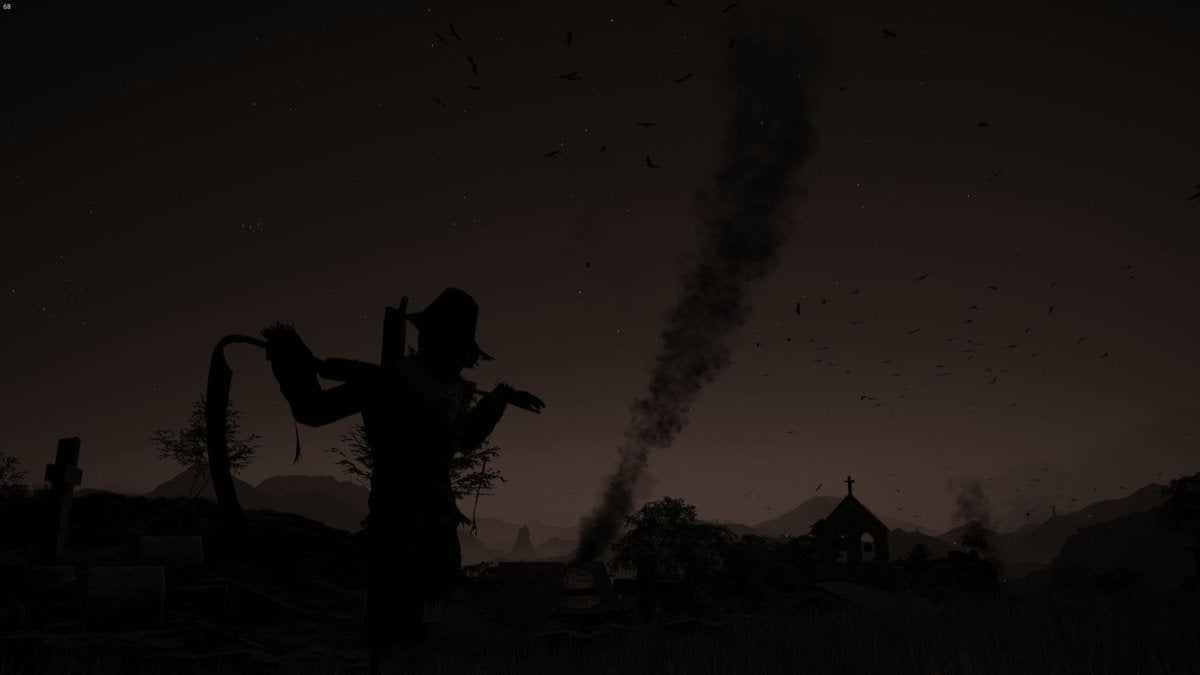 The retro filter in Agents of Mayhem.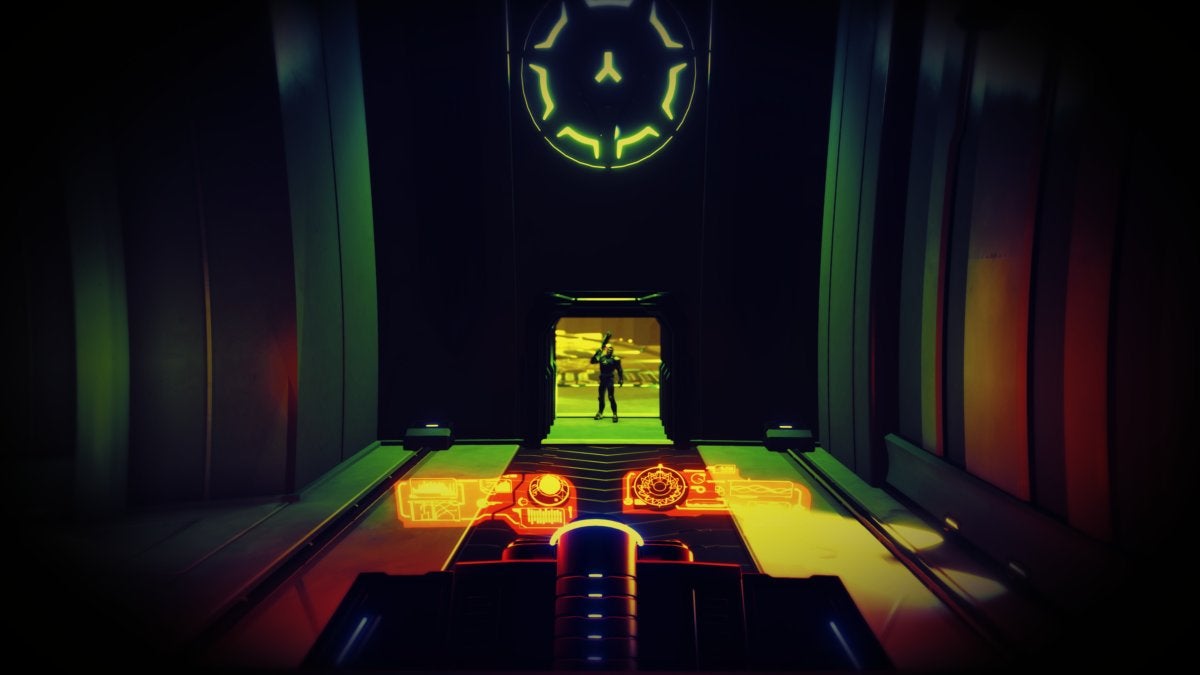 The sepia filter in Hellblade.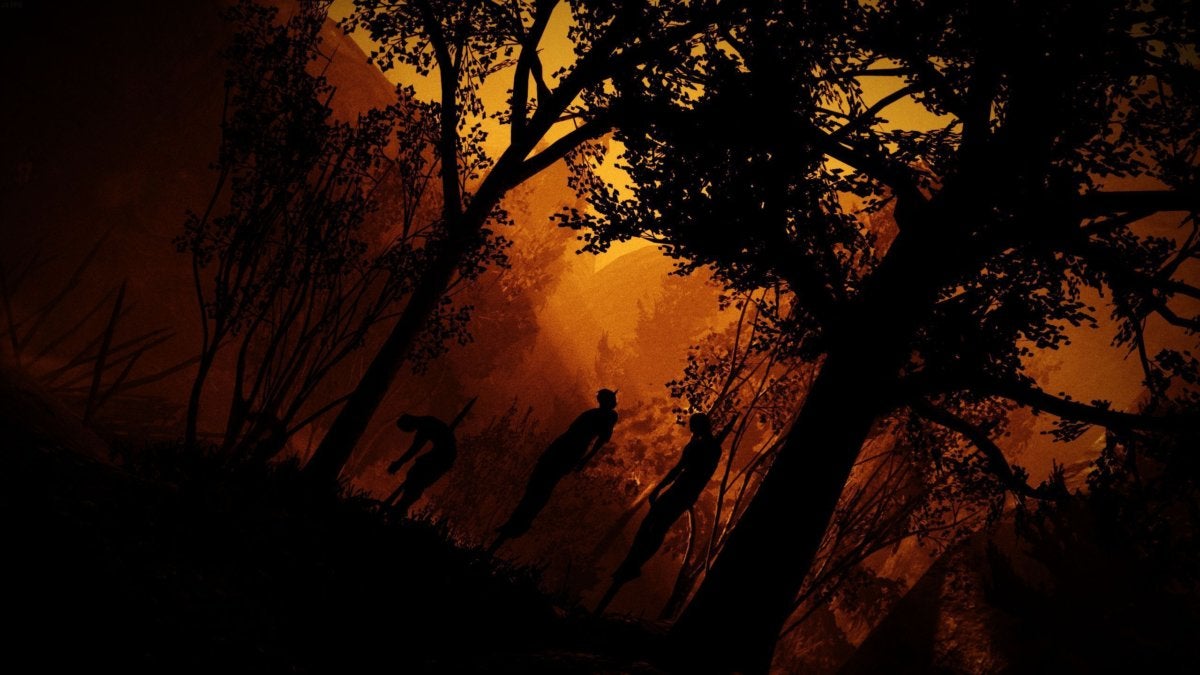 The half-tone filter in Agents of Mayhem.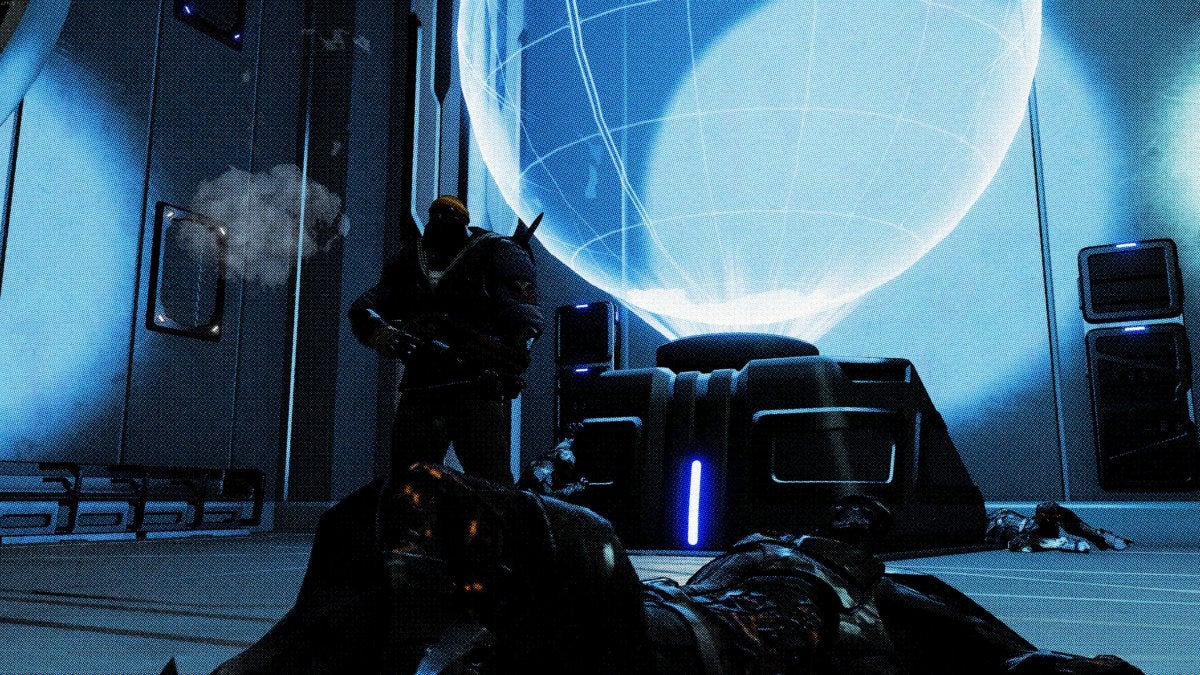 You can combine the different effects to create even more dramatic shots. To create this image during Hellblade's introductory sequence, I positioned the camera behind Senua's head, enabled the retro filter, cranked the vignette and contrast options to darken the picture, then used roll to spin the image 90 degrees. After saving it, I then rotated the image back to standard orientation using the Irfanview image editor, giving the picture its stark vertical look.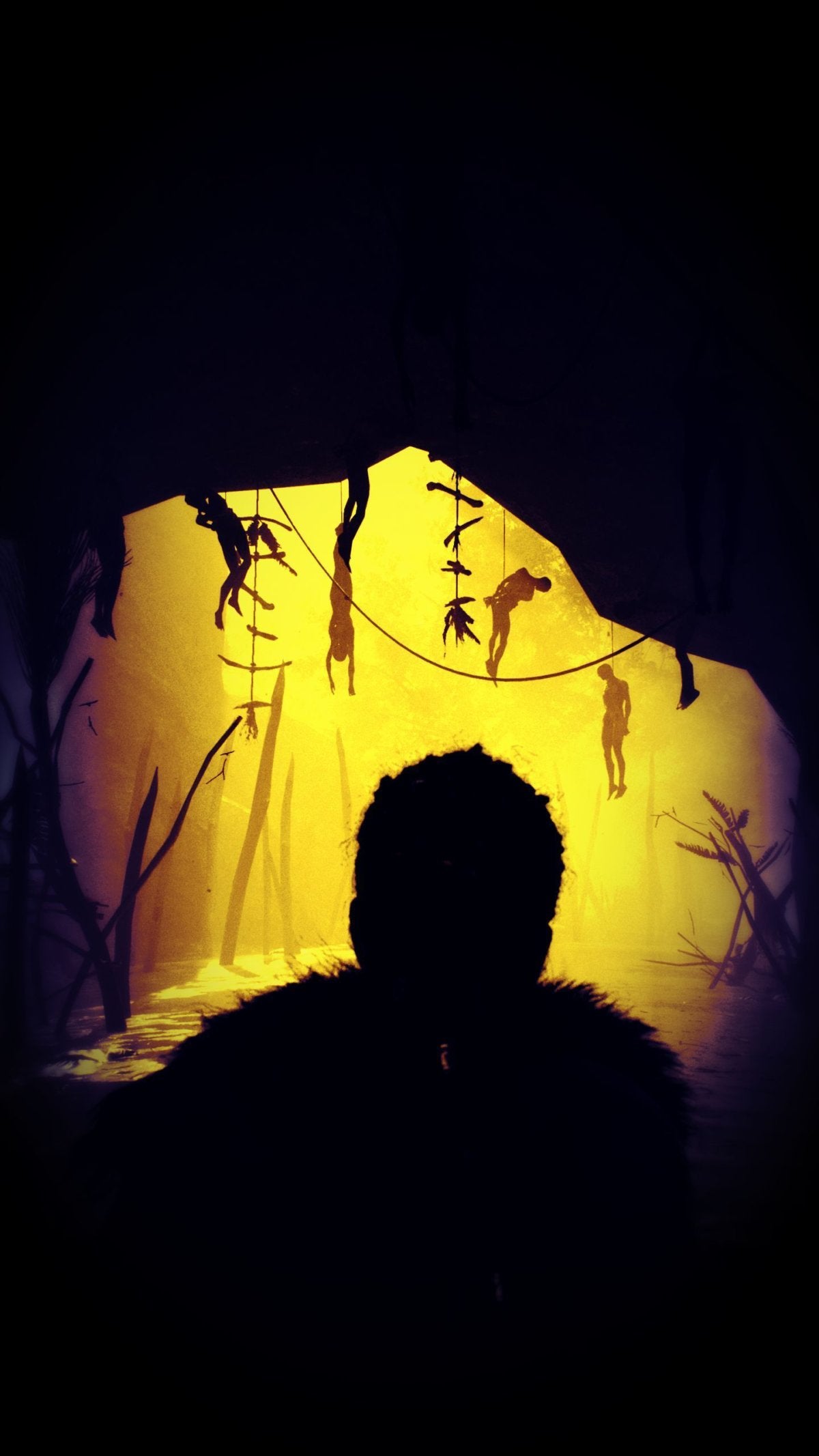 Seriously, if you enjoy creating artistic game screenshots, this rabbit hole goes deep. You can spend hours fiddling with Ansel.
Towards the bottom of Ansel's features, you'll see advanced options, such as the ability to enable Raw HDR output, or switch the saved image from a basic screenshot to a Super Resolution or panoramic 360-degree screenshot. In case it wasn't obvious, clicking Snap takes a screenshot, which saves to your Video folder by default. Done exits Ansel.
Nvidia Ansel and ShadowPlay Highlights make games better
Mentioned in this article
Gigabyte GeForce GTX 1080 Windforce OC
Price When Reviewed:
$499.99
So there you have it: Nvidia Ansel and ShadowPlay Highlights tap into your GeForce graphics card's potential to make playing games even more fun, and infinitely more shareable. Bolstered by automatic game optimizations and the constant flow of day-one Game Ready drivers, the GeForce Experience software has evolved into a strong selling point for Nvidia graphics cards.
AMD simply doesn't offer anything like this for Radeon hardware. That's not to say Team Red's software lacks standout features; GeForce Experience doesn't include anything like the per-game Radeon WattMan overclocking and Radeon Chill power-saving feature in the Radeon Settings app. But as good as those AMD features are, they're tools designed to make your games run smoother—not ones that directly enhance the fun factor like ShadowPlay Highlights and Ansel.
Now if you'll excuse me, Hellblade and Ansel are calling my name. Have I mentioned how addictive these features are?