At a Glance
Expert's Rating
Pros
Unlimited simultaneous connections
Independently certified no-log policy
Decent global server spread
Cons
Monthly membership is pricey
Not all servers work with streaming services
Our Verdict
IPVanish provides excellent server spread and unlimited simultaneous device connections. The features it brings to the table are robust, but its interface has a tendency to lag a bit. Overall its a solid VPN with great speed and its no-log policy, recently confirmed via third-party audit, has made the service even more attractive for the privacy conscious.
Price When Reviewed
$47.89
Best Prices Today: IPVanish VPN
IPVanish in brief:
P2P allowed: Yes
Unlimited device connections: Yes
Business location: United States
Number of servers: 2,000+
Number of country locations: 75+
Cost: $11.99 per month or $47.89 for a yearly subscription
Very few VPN services actually own their own server networks and that's where IPVanish stands out. Instead of relying on commercial server farms, U.S.-based IPVanish prides itself on running its own hardware and servers. They even claim that running their own server infrastructure makes them a "top-tier VPN service." In our test, we took IPVanish for a spin to see if it can truly live up to that self-proclaimed title.
Note: This review is part of our ongoing roundup of the best VPN services. Go there to learn more about competing products, what to look for in a VPN, and buying recommendations.
IPVanish: Features and services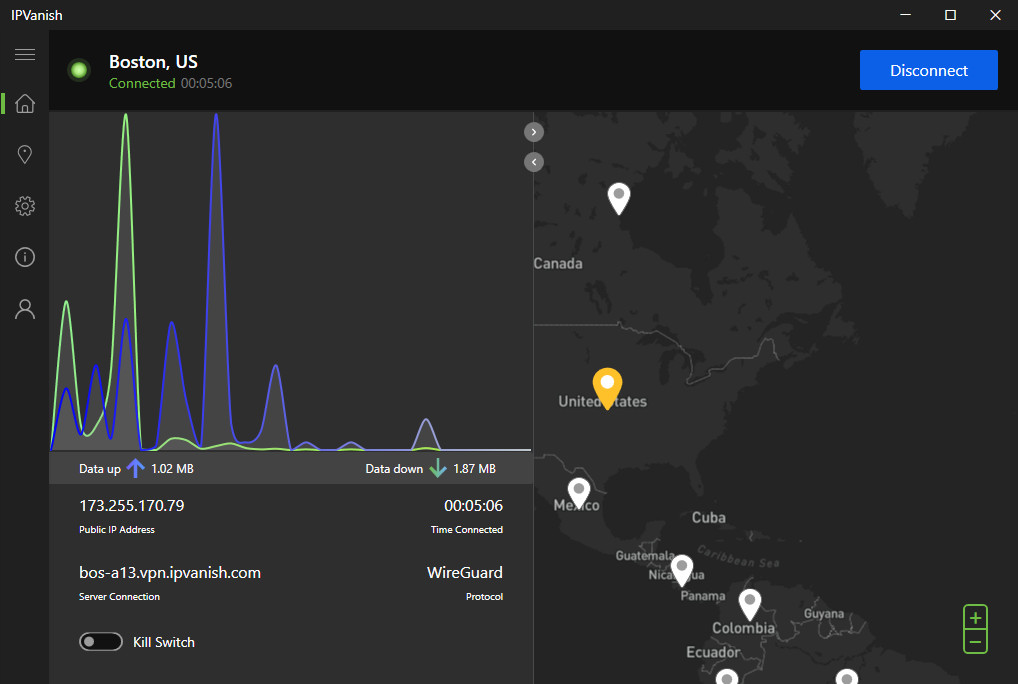 Sam Singleton
At first blush, IPVanish has a clean, if rather muted interface. The initial screen you're presented with is a quick connect dashboard with a world map that allows you to choose your server location and jump right in. At the bottom of the dashboard you can see basic information about your connection including the server location, IP address, connection status, protocol used, and data up and down. While it may not have any fancy design flair, the interface is intuitive and extremely user friendly. I did note however that the application itself seemed to lag or take an unusual amount of time to load things, such as when you move or zoom in on the map. First time connections to servers I had never used before also seemed to take longer than usual to connect.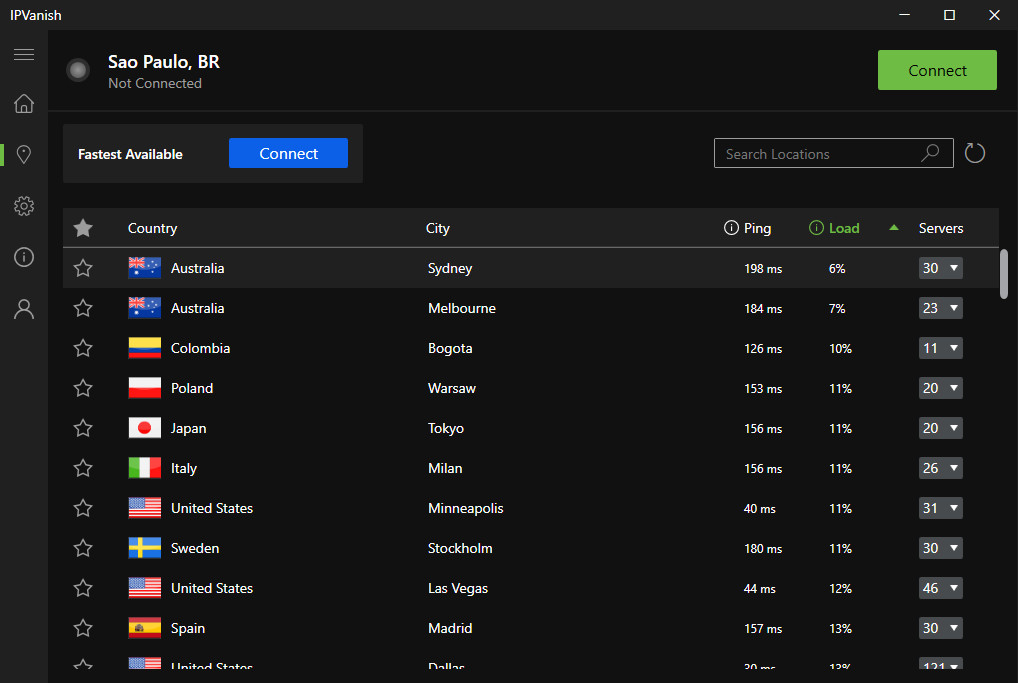 Sam Singleton
There is a toolbar on the left of the application's interface with options for Locations, Settings, Info, and Account. Under the Locations tab, you're able to access more detailed information about each server including each location's ping, load (amount of server utilization from current user connections), and number of servers available in that location. They also have a helpful filtering mechanism that allows you to find the servers with the least ping or load. There are over 2,000 servers all over the world to choose from on IPVanish, which is a huge step up from just a few years ago when they had less than half of that.
In fact, IPVanish has made great strides in recent years to update and optimize its services. It now supports most major operating systems including Windows, macOS, iOS, Android, Chrome, Linux, and a few others. This is on par with most of the other top VPN providers.
IPVanish currently does not have a browser extension, but it does offer access to an in-browser SOCKS5 Proxy, which isn't encrypted like a VPN connection, but does allow you to still reroute your browser's traffic through remote servers.
IPVanish has also improved recently in its location-spoofing abilities. In previous years, we noticed that IPVanish servers were frequently blocked when trying to access location-restricted content in other countries. The company has evidently stepped up its game and during the review period there were very few noticeable blockages while trying to access Netflix from a variety of IPVanish servers throughout the world. Take this with a grain of salt, however, as Netflix and other streaming services are constantly trying to block known VPN IP addresses, making it a cat-and-mouse game that could change another user's own personal experience.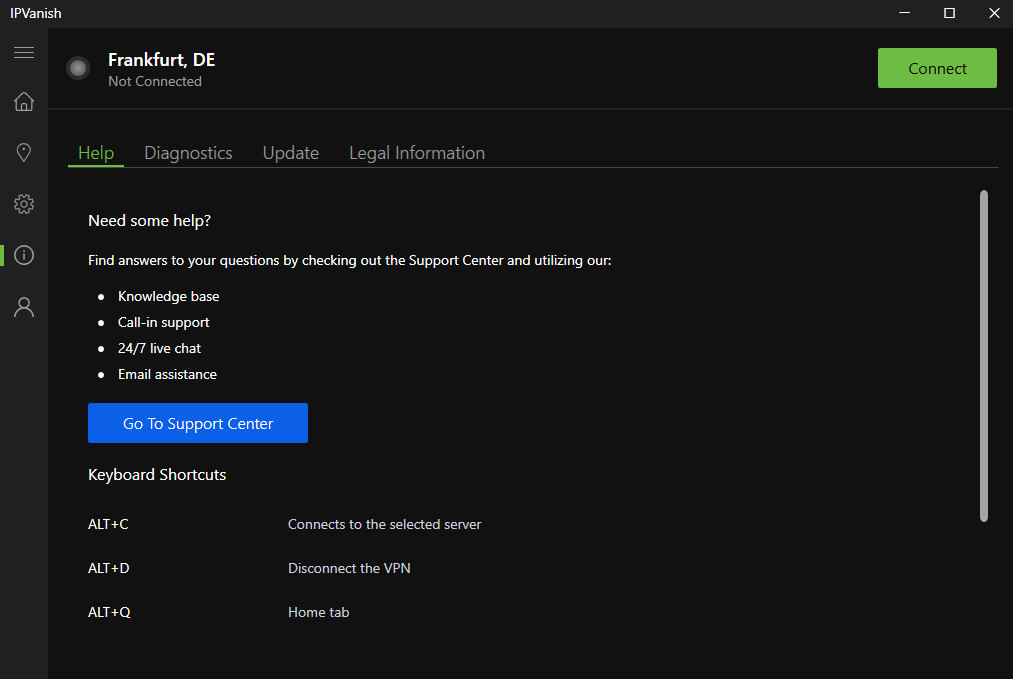 Sam Singleton
The company also does a great job with its customer support. It has a built-in support contact link directly from the app. Additionally, it offers 24/7 live chat support and a call center that is open every day of the week. Its app even supports multiple languages such as English, Spanish, French, German, and Dutch. These are all welcomed additions in recent years that show the company is trying hard to improve the full scope of its services.
IPVanish: Performance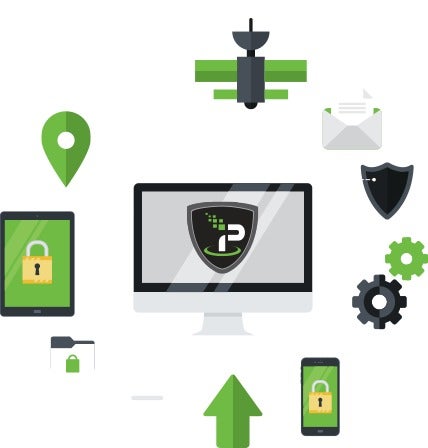 IPVanish
With claims of having a superior network, how does IPVanish hold up in speed tests? Really well, actually. Comparing speeds across five different countries' VPN server connections, IPVanish scored an impressive average of 59 percent of the base download speed and 54 percent of the base upload speed. That puts it firmly in the top five speediest VPNs we've tested.
Those relatively high speeds should be plenty fast enough to stream all of the high-resolution video or games across most country connections. Please note however that this is a single experience on a limited number of machines, and your experience may vary.
IPVanish: Security and privacy
Being based in the U.S. like IPVanish could potentially lead to privacy problems. This is due to certain domestic laws requiring that VPN companies log and store client information in the event that they're needed by law enforcement. But IPVanish promises to keep your data totally secure by not logging or sharing client information at all.
This has been validated recently when IPVanish allowed a third-party audit of its services which was conducted by Leviathan Security group. The audit confirmed the claims that IPVanish does not keep logs of client data whatsoever. It's not everyday that a VPN provider is willing to put themselves through that kind of scrutiny to substantiate its claims.
Sam Singleton
IPVanish also supports a number of protocols such as WireGuard, IKEv2, and OpenVPN. It offers the additional option to customize OpenVPN connections, allowing you to further tweak and optimize your connection setup.
While using its service, everything is encrypted with AES 256-bit encryption which, while excellent, is the standard for most VPN providers nowadays. The Windows client comes with IPv6 and DNS leak protection—which our tests verified to be true using both DNS leak test and IPleak.net across all connections. Meaning that your true location is not being accidentally leaked while connected to its servers.
The IPVanish VPN service comes with a few extra perks as well. It provides an automatic kill switch which will disconnect you from the internet in the event that your VPN connection is severed. Also, the VPN comes with an antivirus program called VIPRE. It's your standard run-of-the-mill antivirus but it'll still block malware and other threats on your computer—unfortunately it isn't available for mobile versions.
IPVanish: Final thoughts
IPVanish is a very appealing VPN based in the United States. Its connection speeds have jumped by leaps and bounds since our last review and it's now firmly entrenched among our fastest VPNs. The desktop app has also been improved with an interface redesign that is easier to navigate. A recent third-party security audit is a refreshing sign that IPVanish is confident in its services and willing to prove it to users. At just a little under $50 for a yearly subscription the price is also hard to beat. Many people might gravitate to more prominent VPN providers, but IPVanish shouldn't be overlooked. Its recent improvements show a willingness to add features that users want while continually improving year by year.
Editor's note: Because online services are often iterative, gaining new features and performance improvements over time, this review is subject to change in order to accurately reflect the current state of the service. Any changes to text or our final review verdict will be noted at the top of this article.
Best Prices Today: IPVanish VPN