Microsoft's Surface Book 2 aspires to repeat the original Surface Book's history, blowing users away—only more so, with performance it claims to be five times greater than what the original 2015 model achieved. We got a close look at the new hardware at a recent press briefing and have all the information for you below.
Not one, but two Surface Book 2 models
The fact that there is a Surface Book 2 is surprising enough, let alone two: a successor to the original 13-inch form factor, and a new 15-inch model. We spent some time with both, even unearthing what could be the first performance numbers on Microsoft's new beast.
How fast is it? Try 8th-generation Core fast. Microsoft sprang for an Intel Core i7-8650U to power both most of the 13-inch and both of the 15-inch machines, and bundled them with what made the Surface Book line famous: discrete, powerful Nvidia GeForce GTX 1050 and 1060 GPUs, mounted in the base. There's even a first for Microsoft—USB-C!—plus a next-generation Surface Pen and a lovely Surface Precision Mouse to round it out.
No Surface is cheap, though, and you'll pay between $1,499 and $2,999 for the 13-inch Surface Book 2, and between $2,499 to a whopping $3,299 for the 15-inch model. You can preorder both on November 9 for shipments on November 16, with one catch: Microsoft's 15-inch Cadillac of convertibles will ship only to U.S. customers, at least initially.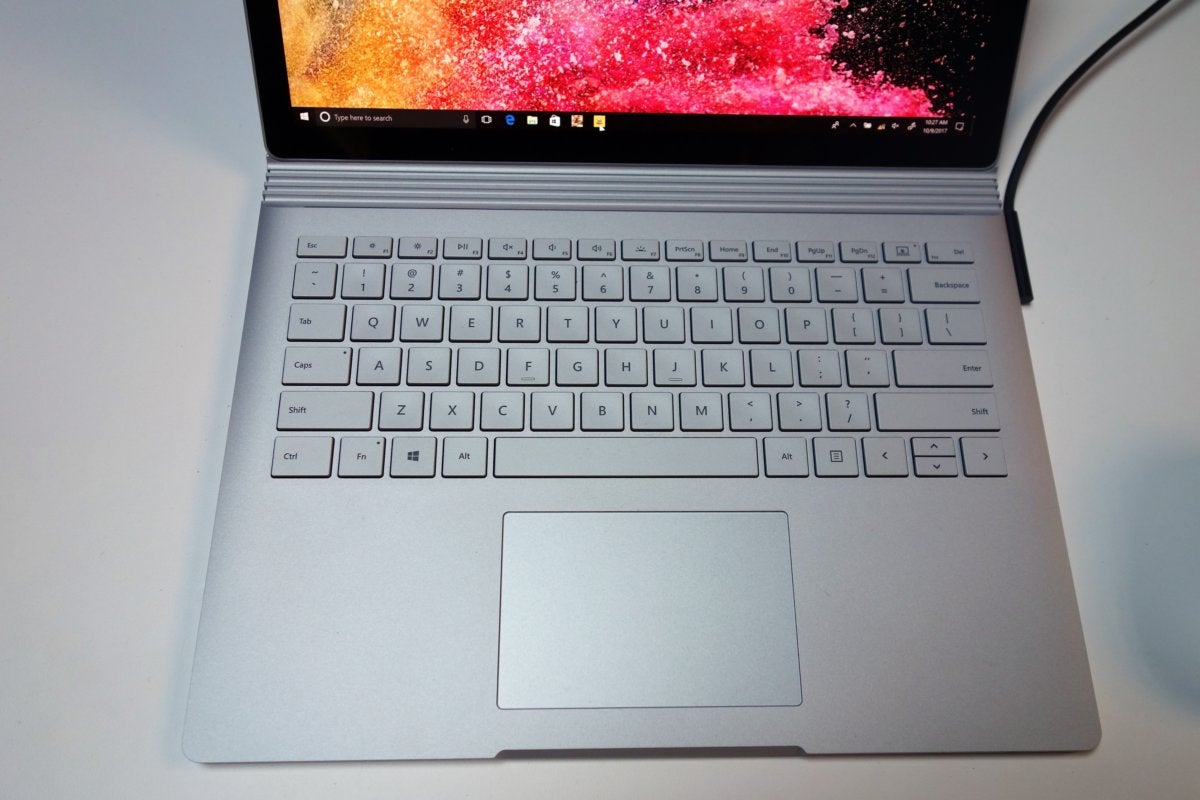 Microsoft Surface Book 2 specs and prices
Microsoft positions the Surface Book 2 as a machine that that outpunches its weigh class. Where the Surface Pro tablet embodies mobility and the Surface Studio all-in-one is a digital easel for creativity, "this is a desktop," Microsoft's corporate vice president of devices, Panos Panay, went so far as to call the Surface Book 2. "For many, this is likely the most performant desktop they've ever seen."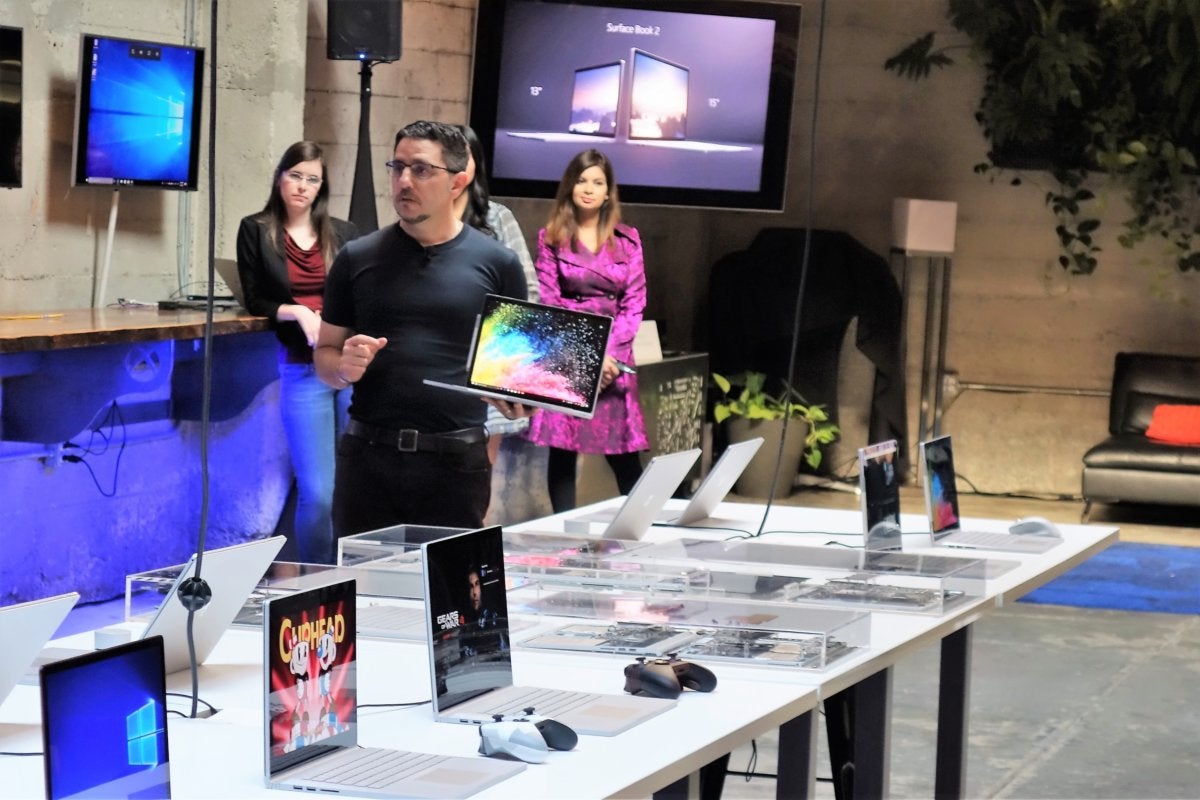 As it has done previously, Microsoft has also provided options for consumers to choose between different amounts of memory and SSD storage. Here are the options, according to Microsoft:
13-inch Surface Book 2:
2.6GHz dual-core Core i5-7500U; 8GB RAM; 256GB SSD: $1,499
1.9GHz quad-core Core i7-8650U 8GB RAM, 256GB SSD; dGPU: $1,999
1.9GHz quad-core Core i7-8650U 16GB RAM, 512GB SSD; dGPU: $2,499
1.9GHz quad-core Core i7-8650U 16GB RAM, 1TB SSD; dGPU: $2,999
15-inch Surface Book 2:
1.9GHz quad-core Core i7-8650U 8GB RAM, 256GB SSD; dGPU: $2,499
1.9GHz quad-core Core i7-8650U 16GB RAM, 512GB SSD; dGPU: $2,899
1.9GHz quad-core Core i7-8650U 16GB RAM, 1TB SSD; dGPU: $3,299
As you can see, only one of the Surface Book 2 models has a 7th-generation Core chip inside it: the cheapest $1,499 13-inch Surface Book 2 model. In fact, that's the only Surface Book 2 with an integrated GPU, too—all of the other 13-inch models include the Nvidia GeForce GTX 1050 (2GB), while the 15-inch model Surface Book 2s include the GeForce GTX 1060 (6GB). (PCWorld reviewed the GTX 1060 card in 2016.) That GTX 1060 is what provides five times more graphics performance than the original Surface Book, Microsoft says.
The kicker? The tablets are fanless. The bases, however, aren't, and the Surface Book 2 will turn on the fan during gameplay.
The similarities between the Surface Book and the Surface Book 2 extend to the display, which still hasn't reached the 4K threshold. The standard 3,000 x 2,000 (267 ppi) 13.5-inch PixelSense display graces the 13-inch model, while a 3,240 x 2,160 (260 ppi) 15-inch display is built into the larger model. According to Pete Kyriacou, who heads the Surface team at Microsoft, the reason to forgo 4K was simple: battery life. Both the 13-inch and 15-inch Surface Book 2 are rated at a whopping 17 hours of battery life—up from 12 hours in the original Surface Book. Pushing pixels consumes extra battery life, and Microsoft wanted to maintain a 17-hour battery life on both models, Kyriacou explained.
"How many hours do you sleep at night? How many hours do you work and play?" Panay asked. "We've got you covered."
From the outside, the 13-inch Surface Book 2 looks almost identical to the first Surface Book: At 12.3 x 9.14 inches, and 0.59 to 0.9 inches deep, the measurements are essentially identical. The Surface Book 2 is heavier, though: either 3.38 pounds or 3.62 pounds for the two 13-inch versions, and 4.2 pounds for the 15-inch model. (The 15-inch Surface Book 2 measures 13.5 inches x 9.87 in. x 0.57 in. to 0.9 in.)
The 15-inch tablet alone weighs just 1.80 pounds, surprisingly light to hold in the hand. Remember, though, that it lacks the kickstand of its Surface Pro cousins.
Surface Book 2 hands on
Though the Surface Book 2 weighs more on paper, it didn't feel substantially heavier in the hand. I would have sworn that the edges were slightly rounded, and that the backlit keyboard keys were slightly scalloped. Upon closer inspection, though, that appeared to be a trick of the light. The Surface Book 2's key travel is 1.55 mm, Microsoft says.
Like previous members of the Surface family, the Book 2 has a pair of Surface connections, which it uses for power and I/O: one that connects the base to the tablet; and a second on the right of the tablet, for power or connecting to the Surface Dock.
There's also a bit of a surprise: a USB-C port, a first for Microsoft's computers. That USB-C port supports power in and out, video, and USB 3.1, according to Microsoft's documentation.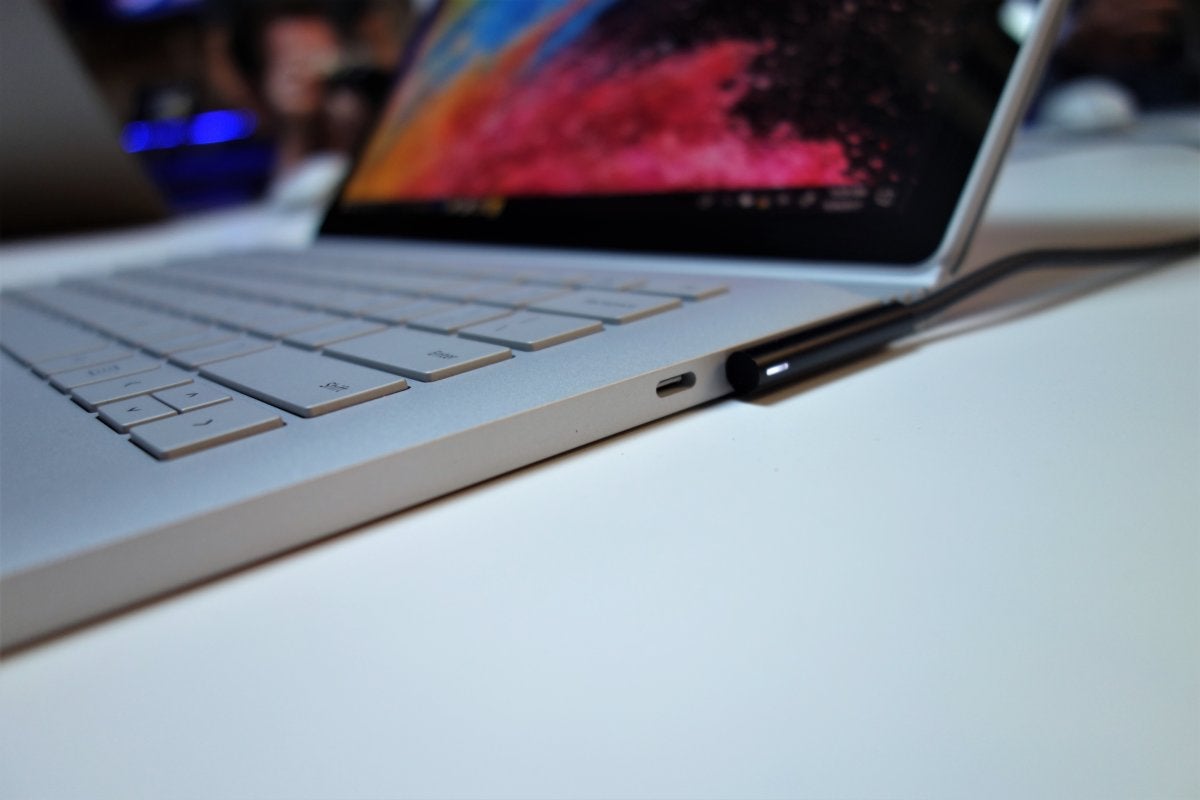 Small improvements crop up everywhere you look. The hinge (which still leaves a bit of a gap) appears a bit more articulated, and the tablet disconnects a bit faster. (The "muscle wire" that holds it in place now works more consistently across different temperature ranges, too.) The Surface Book 2 reclines to the same angle as the original, officials said.
Surface Book 2 initial benchmark
The Surface Book 2's raw horsepower—4.3 teraflops—naturally means it can be used to play games as well as create content. Panos Panay waxed poetical again: "These products are for the creator that sees no limit… you want to dream, do not let the performance get in your way."
Though just the 15-inch Surface Book 2 supports integration with the Xbox One controller, video games will obviously stress the laptop to its limit. Microsoft showed off two: Cuphead, and Gears of War 4.
The latter is the most interesting, as it contains an integrated benchmark mode. So we ran it. On the 15-inch Surface Book 2, the benchmark confirmed that yes, the Surface Book 2 can run GoW4 at 60 frames per second. As you can see, the graphics performance is excellent—enough to run the game at Ultra and High settings. (By comparison, here is one Twitter user's own GoW4 benchmark using the original Surface Book.)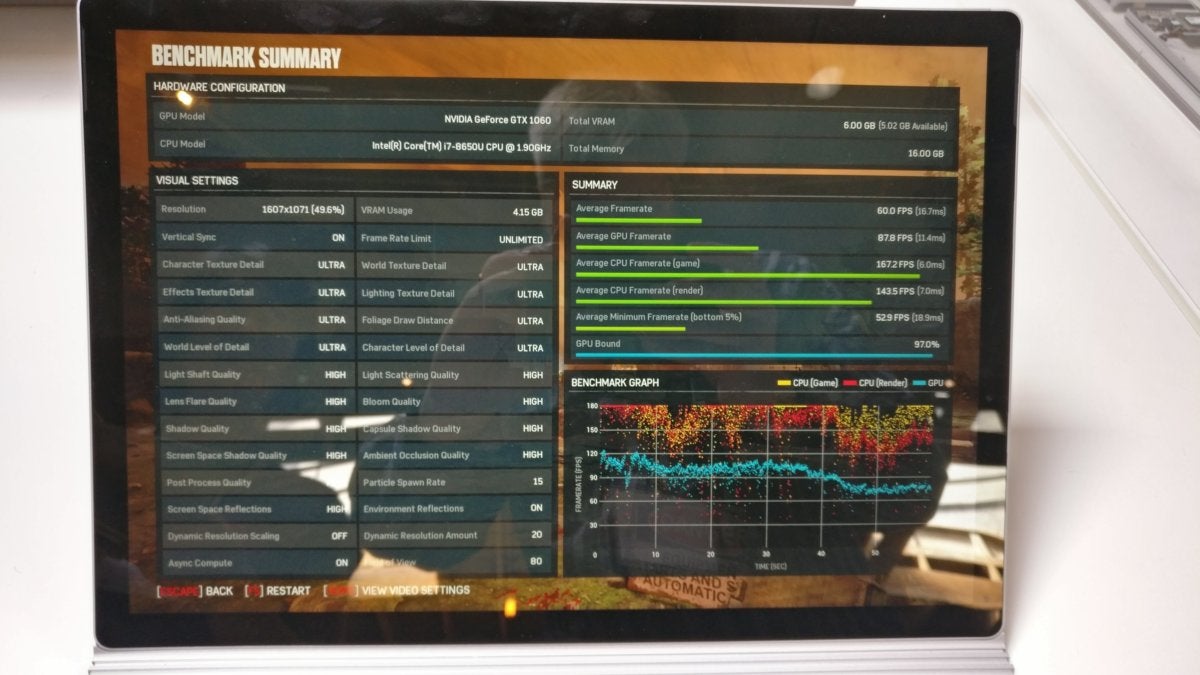 We pushed the system almost to its limits. Without the actual resolution numbers handy, we simply set the resolution to 3,000 x 2,000—-close to its maximum. We'll test the Surface Book 2 more when we can get a unit in for review, but that's a very promising first start.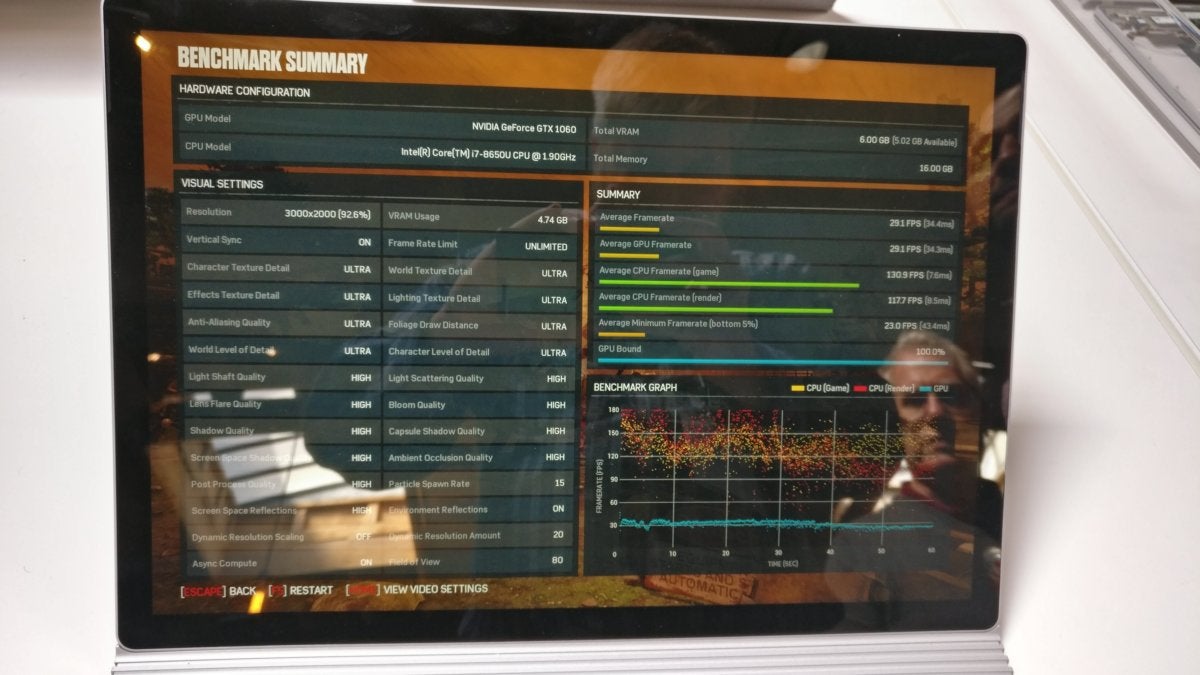 The bottom line: The 13-inch Surface Book 2 looks and feels like the original Surface Book. The 15-inch Surface Book 2 feels appropriately massive, though, giving the whole thing a sense of weight to match its under-the-hood performance. I can't help but feel a little trepidation about the hardware issues Microsoft's Surfaces sometimes suffer early on, but fingers crossed regardless.
Surface Pen and the Surface Precision Mouse
While I didn't have a chance to try out what Microsoft calls the Next Generation Surface Pen, Microsoft officials assure me that it's more sensitive, with 4,096 levels of pressure sensitivity. It ships in metallic silver with blue accents, as well as three other colors.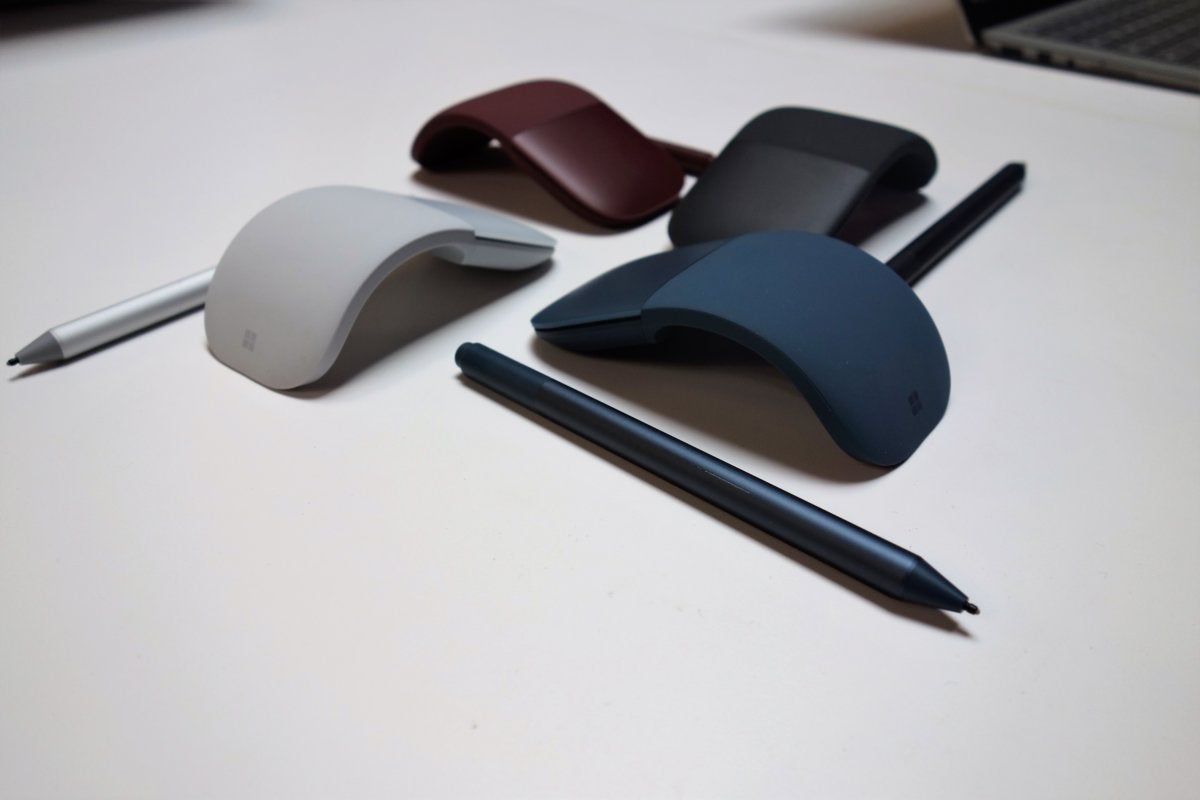 Microsoft's existing Surface Dial also works right on the Surface Book 2 screen.
More interesting is the new Surface Precision Mouse, a $99 mouse that reminds me of older mice like the Logitech M510. A "handed" mouse—and exclusively designed for righties, sadly—the Precision Mouse uses Bluetooth to connect. Three buttons are on the side, with one on top.
What's nifty about the mouse is that it can be dynamically set for either smooth scrolling, or the notched scrolling that provides haptic feedback. Microsoft didn't provide battery-life details, though the mouse appears to use microUSB to recharge. It felt great in the hand, though favoring righties was a little disappointing.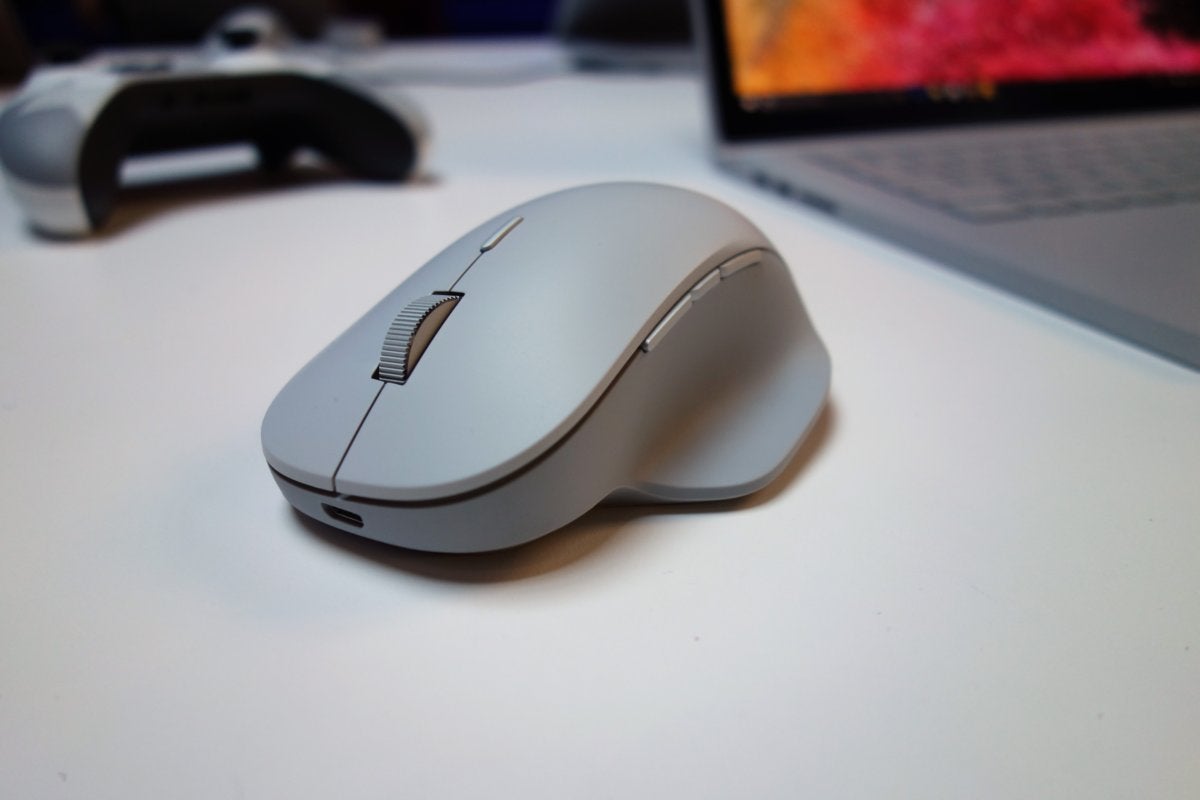 What isn't disappointing, though, is our first look at the Surface Book 2. And unlike years past, Microsoft is launching a major OS update, the Windows 10 Fall Creators Update, on top of this new hardware. That's a one-two punch competitors like Apple and Google employ. Now Microsoft is taking that tactic and using it to its advantage.