At a Glance
Expert's Rating
Pros
Pure, glorious, pristine Android Oreo.
Amazing camera experience.
First phone to receive Google Lens.
Beautiful new display and physical design.
Packed with A.I.-driven surprise and delight features.
Cons
Some key features aren't exclusive.
Not a monumental upgrade over original Pixel XL.
No headphone jack, no manual camera controls, meh speakers.
Our Verdict
The Pixel 2 XL is an incredible phone that grafts device experiences to life experience in simple, intuitive and smile-provoking ways.
Best Prices Today: Pixel 2 XL
You'll want the Google Pixel 2 XL if you're looking for the most elegant Android experience possible in a 6-inch phone. You'll want the Pixel 2 XL if you're looking for a generous display with an 18:9 aspect ratio, amazing portrait photography, and a ton of surprise-and-delight features made possible by Google Lens and the rest of Google's A.I. tool chest.
When the Pixel 2 XL was announced on Oct. 4, Google reminded us that its machine learning engine is watching our every move to improve its A.I. algorithms. So, yes, the Pixel 2 XL's ever-Googley magic tricks may keep robophobes up at night. But it's an incredible phone that grafts device experiences to life experience in simple, intuitive, and smile-provoking ways. And you'll rightfully want one it if you're due for a phone upgrade.
But if you already own the original Pixel, your decision is more difficult. The Pixel 2 XL kicks ass, but much of what makes it special—the most refined expression of Android, the Google Photos experience, Google Assistant in the home button, and Google Lens—is available in the first-generation Pixel phones, too. To this extent, the Pixel 2 XL (and the smaller Pixel 2, which I'll review soon) are victims of Google's success at creating a cloud-first, machine-learning platform that spans #MadeByGoogle devices.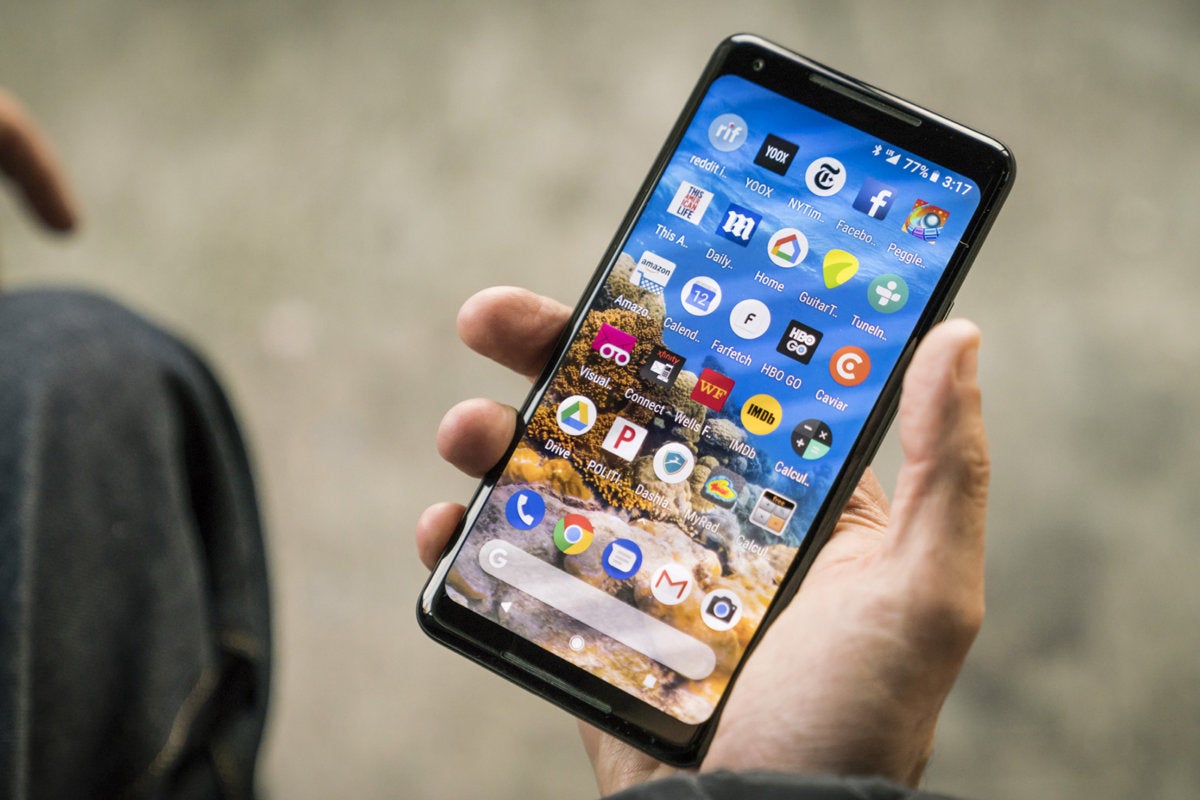 Pixel 2 XL specs
Before we drill down into features, let's get straight to Pixel 2 XL specs.
OS: Android 8.0 Oreo with guaranteed updates for three years
Dimensions/weight: 6.2 x 3.0 x 0.3 inches/6.2 ounces
Display: 6-inch QHD+ (2880×1440) pOLED, 538 pixels per inch
Processor: Qualcomm Snapdragon 835
Memory/storage: 4GB RAM/64GB or 128GB
Cameras: 12.2MP rear camera with f/1.8 aperture and optical + electronic image stabilization, 8MP front camera with f/2.4 aperture
Battery: 3520 mAh
Port: USB-C (and that's all she wrote)
As first glance, the numbers don't look mind-blowingly advanced. Other phones have similarly generous display resolutions and run the Snapdragon 835. The Samsung Galaxy Note 8 even comes with 6GB of RAM. And neither the Pixel 2's 12-megapixel resolution nor f/1.8 aperture are best-of-class for a rear camera.
But don't get bogged down in the swamp of raw numbers. In practice, I found the Pixel 2 XL to be insanely zippy, just like the first-gen Pixel XL. Apps open in a flash, and the interface is ultra-responsive and fluid, with nary a touch of tangible latency.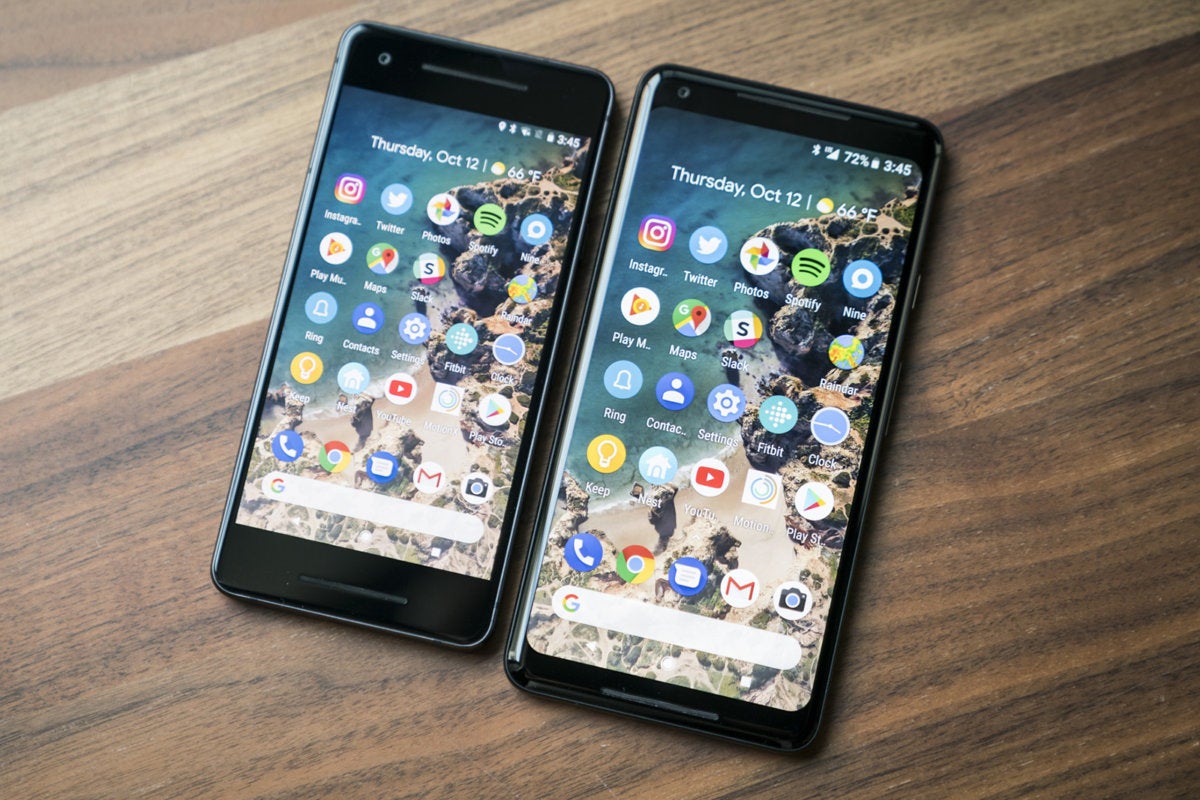 And as our camera tests bear out, the Pixel 2's new dual-pixel camera sensor (now featuring smaller 1.4-micron pixels) makes raw resolution and aperture speed less relevant bragging points. The upshot is the Pixel 2 should autofocus very quickly, perform better in low light situations, and deliver impressive depth-of-field bokeh effects—with just a single rear camera, instead of two like you'll find on the Galaxy Note 8 and iPhone 8 Plus.
Physical design: Less is more
Let me see a show of hands: How many of you put your phone in a case? Yeah, I thought so. Physical aesthetics don't mean much when your phone is entombed in some other manufacturer's plastic. Nonetheless, I give Google props for upping the Pixel's design game in this second-generation treatment.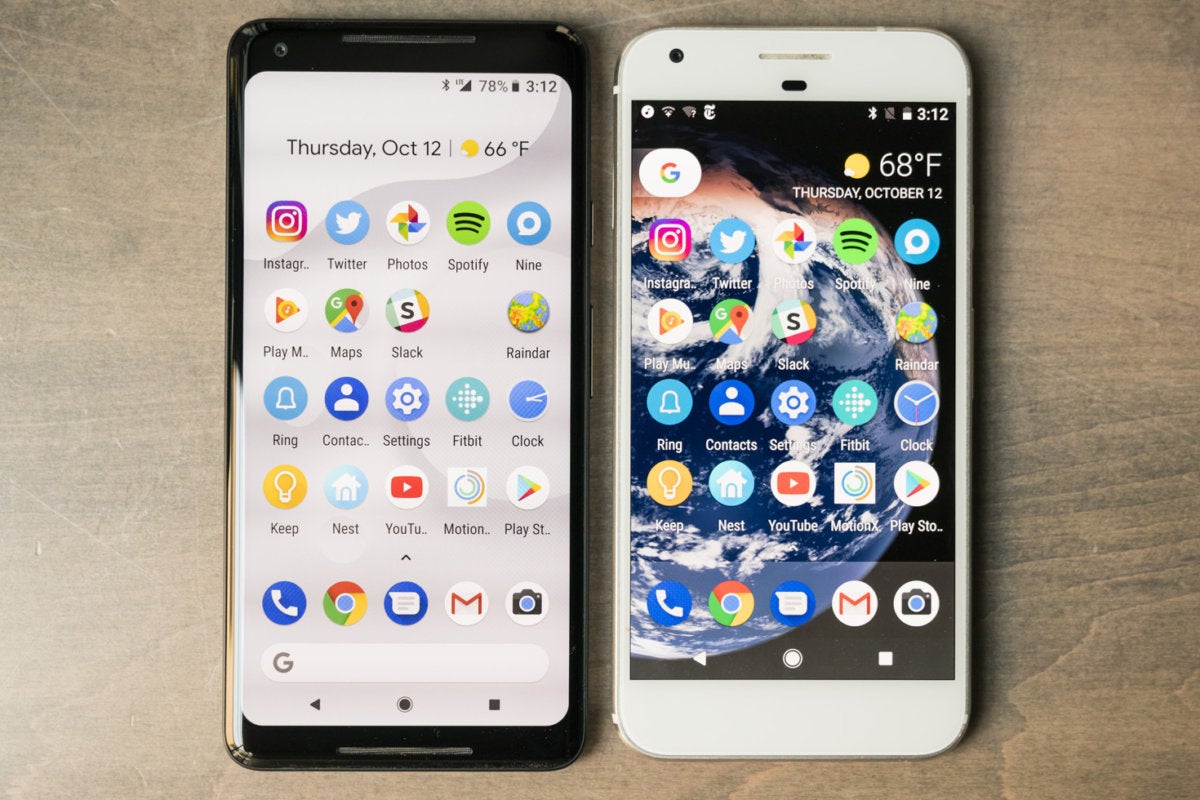 The new phone's dimensions are almost identical to that of the original Pixel, but thanks to the new 18:9 display ratio—and, more importantly, much slimmer bezels, top and bottom—you get somewhere near 5/8th of an inch of extra vertical screen real estate. It's not life-changing, but it's progress. The Pixel 2 XL's front glass (Gorilla Glass 5) also has a gentle curve at the bezels. This, along with the elimination of visible antenna lines, gives the Pixel 2 XL a more polished, contemporary feel than the Pixel XL.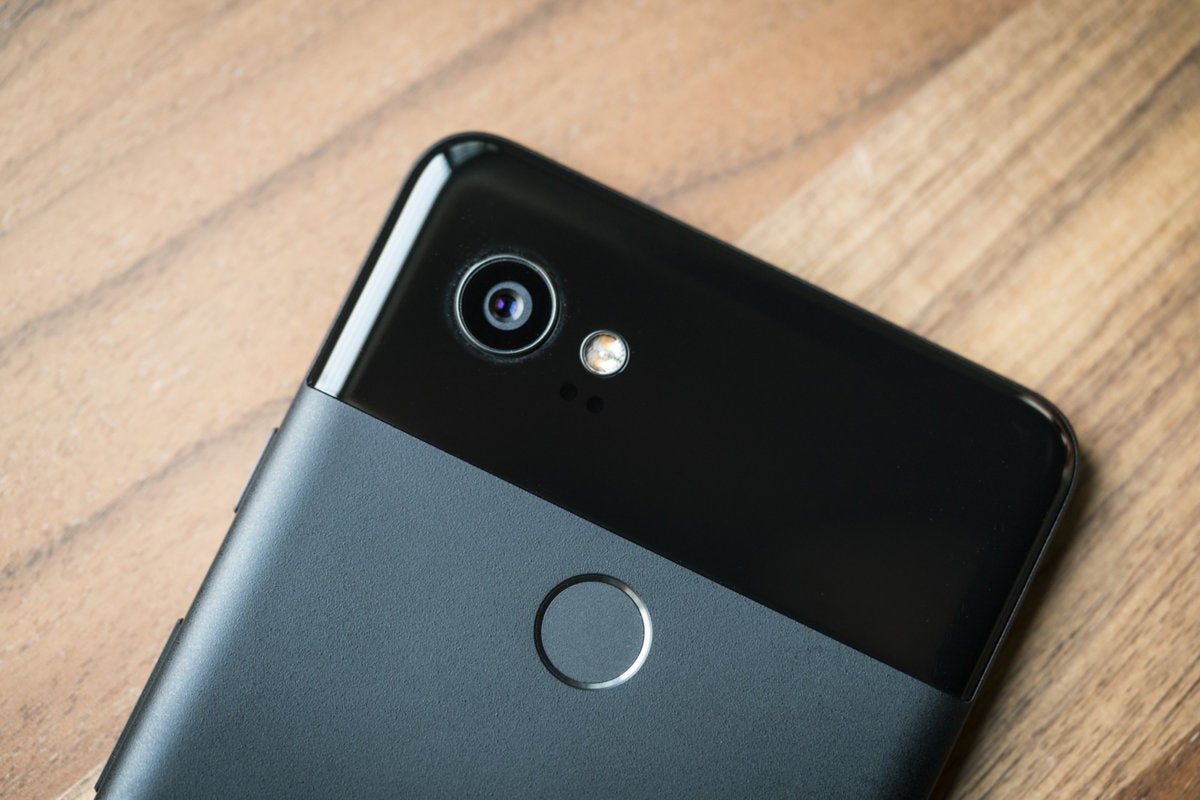 Flip the phone over, and you'll find a much smaller glass "visor" relative to the design of the original XL. It's a subjective call, but I think the new design looks better balanced, perhaps because the fingerprint sensor sits on the aluminum unibody, rather than on top of the glass. I also love the slightly toothier texture of the coating Google applies to the aluminum. It's just a bit more confidence-inspiring than the more silky finish of the original Pixel.
If I have any gripes, it's the new, ever-so-slightly-protruding bump around the rear camera. It's just high enough to give me pause when placing the phone on a coffee table. But when the Pixel 2 XL is encased in Google's super-lush fabric case, all fears disappear.
Folks who fear the forward march of progress will lament Google's decision to eliminate the headphone jack. Well, you'll be marching without me. I haven't used wired headphones in two years, and I'm convinced we'll all look back at "You killed my headphone jack!" protests in the same way we view Grandpa Simpson reminiscing about his onion belt.
Bottom line: If you care about wired headphones, having to rely on a USB-C adapter is an inconvenience. So I hear your pain. I just don't feel your pain.
Pixel 2 XL display upgrades
Looking at pure specs alone, the Pixel 2 XL has a spectacular display—but so do all the other flagship smartphones, so it's becoming harder to deliver a display with a competitive advantage. Nonetheless, the phone's 6-inch size and 2880×1440 resolution beat last year's XL model, which measures 5.5 inches and clocks in at 2560×1440. That's nice progress considering the Pixel 2 XL is just a bit taller than the first-gen phone.
For the 2 XL version, Google is also going with LG's pOLED display tech, rather than AMOLED, which appeared in both sizes of the original Pixel, and remains in the 5-inch Pixel 2. The "p" stands for plastic, and allows Google to curve the edges of the display near the phone's bezels.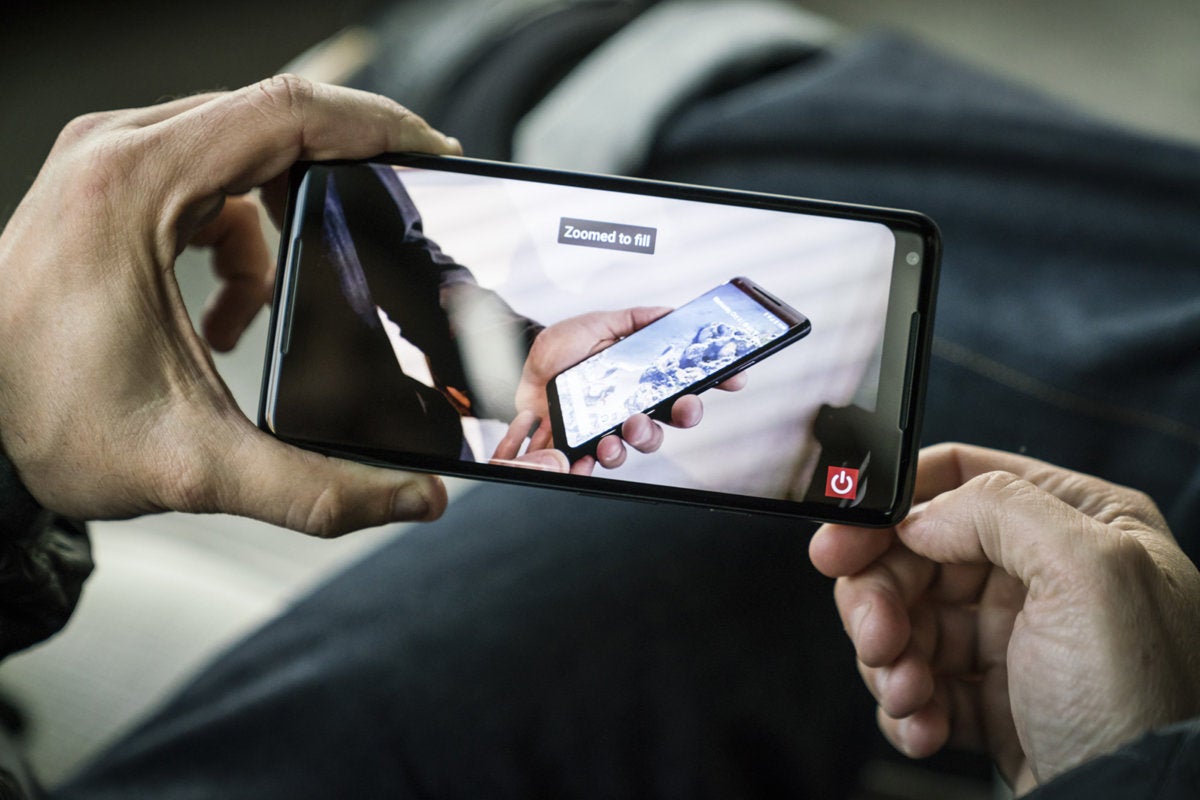 The Pixel 2 XL display has also been tuned for a wider color gamut, Google says, and includes a circular polarizer to increase screen visibility when viewed with sunglasses.The pOLED display doesn't look demonstrably better than the original AMOLED, and if anything, it appears cooler in terms of color temperature, and is less saturated and brilliant. Other reviewers have found significant color inconsistencies with the display, but my review unit checks out fine in terms of display consistency. That said, I have found the display looks even cooler when viewed off-axis—a "blue shift" effect, if you will.
After 10 days of use, I have also observed the so-called "burn in" effect that other reviewers are seeing. In my case, I can see the faint, faint imprint of Android's navigation buttons on a gray background. It doesn't bug me personally (because only full-screen video content would ever appear in the affected area). but it could bug others. And when you add the slight burn-in to the color inconsistency concerns, and then throw in the display's, well, blandness, you're left with a screen upgrade that's entire keyed into real estate, and not pixel quality.
The polarizer benefits, meanwhile, are difficult to discern. It definitely helps the display pop when wearing shades, but you'll still need to increase display brightness on a bright day, sunglasses or not.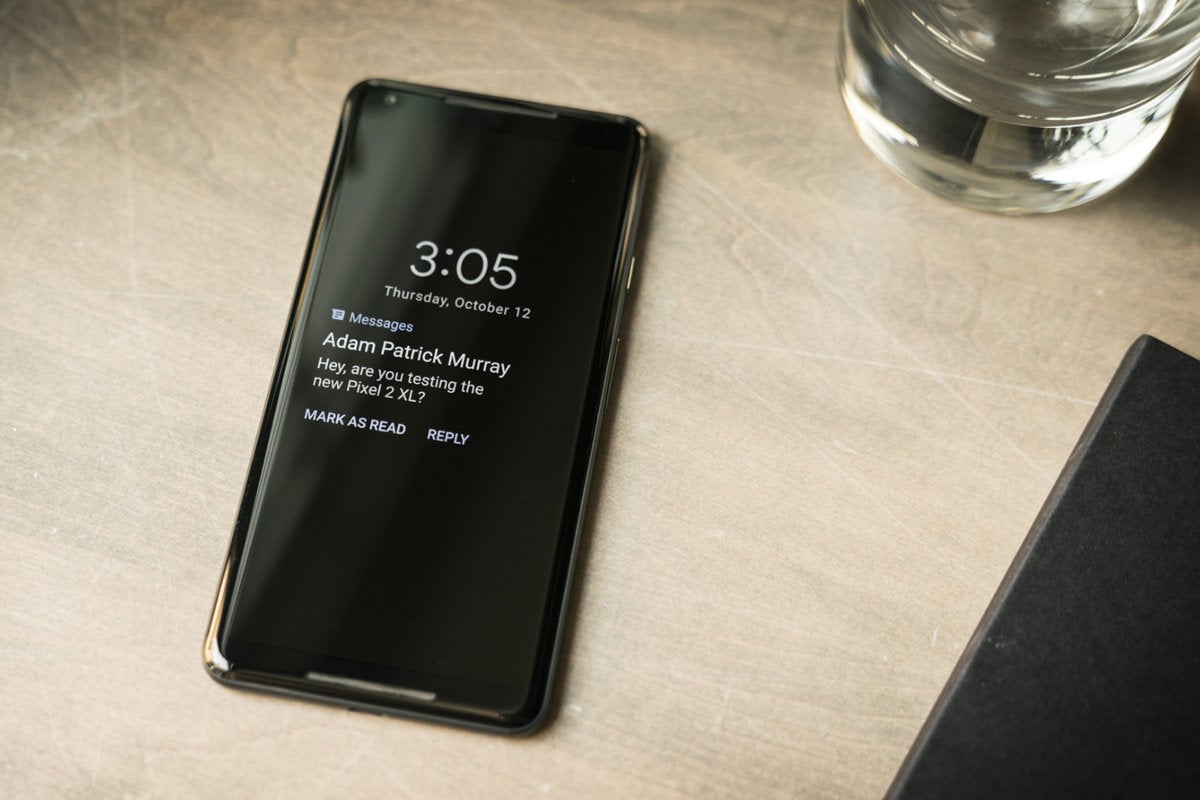 The coolest display upgrades, in fact, appear when the screen is off. Adding a feature that was conspicuously absent from the original Pixels, the new Pixel 2 models include an Always on Display mode for your lock screen. It's an immensely helpful feature that lets you see the time, date, and notifications even when the phone is off.
Granted, this ambient mode does consume a nominal amount of battery life, but the convenience of seeing full text messages on the lock screen far outweighs the penalty.
Now Playing: Google's built-in Shazam
The other big display upgrade, Now Playing, taps into Google's machine-learning story. Think of Now Playing as an always-on, Google-fied version of Shazam, the music-identifying app.
When the phone is locked and Now Playing recognizes the digital fingerprint of a song playing in the background, the song title and artist will appear on the Always On Display. From there, you can double-tap on the song title, and you'll be shuttled off to Google Assistant, where you can launch the song on YouTube, Google Play Music, or Spotify (though you'll need to be subscribed to the latter two services to hear playback and to save the song to your library).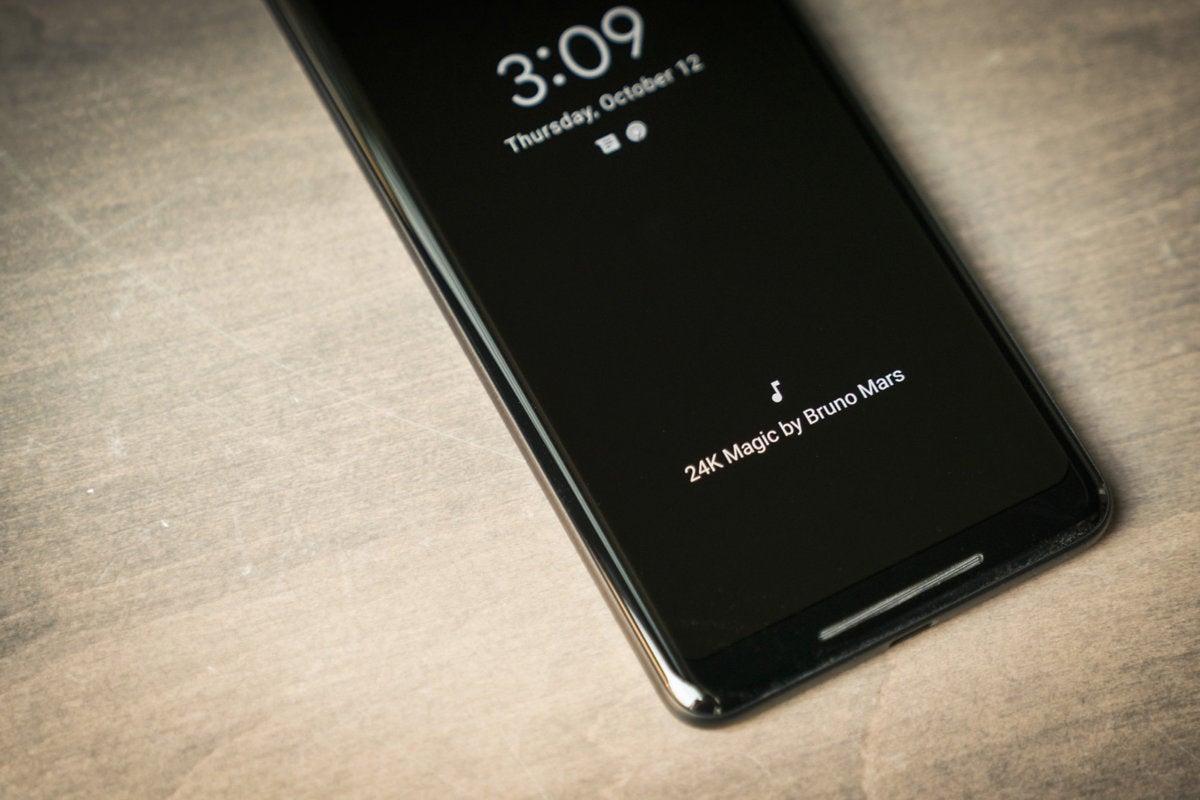 Now Playing is pure surprise-and-delight—not a must-have, life-changing experience, but it's a great illustration of Google's A.I. chops, and another example of how Google uses its awareness of the world's data, broadly speaking, to deliver numerous little personal assists throughout the day.
Now Playing downloads a database of digital fingerprints directly to the Pixel 2, and all this data is stored locally, so you don't need a WiFi or LTE connection to identify songs. Song identification typically takes about two to three seconds, but is currently limited to tracks that appear in the Google Play Music catalog. Google says its Now Playing database currently has tens of thousands of songs, and is updated weekly, but during testing I frequently stumped it with obscure tracks.
Here's a partial list of Google's song catalog, compiled by developer Kieron Quinn. You can read it to get a flavor of Now Playing's strengths and limitations.
Google Lens: What's lurking inside your photos?
Is Google Lens a photo feature, a surprise-and-delight trick, or a productivity tool? It's actually all three. It's a fantastic demonstration of Google's machine-learning chops, and is coming to both original Pixel phones as well as this year's models.
Open up Google Photos, and pick an image of a landmark, painting, or basically anything with words or pictures on it. Now tap the Google Lens icon, and prepare to be amazed. Google's always-improving machine-learning engine will scan the image's visual data, determine what it's looking at, and then—if it hits a match—give you insights into whatever you've shot.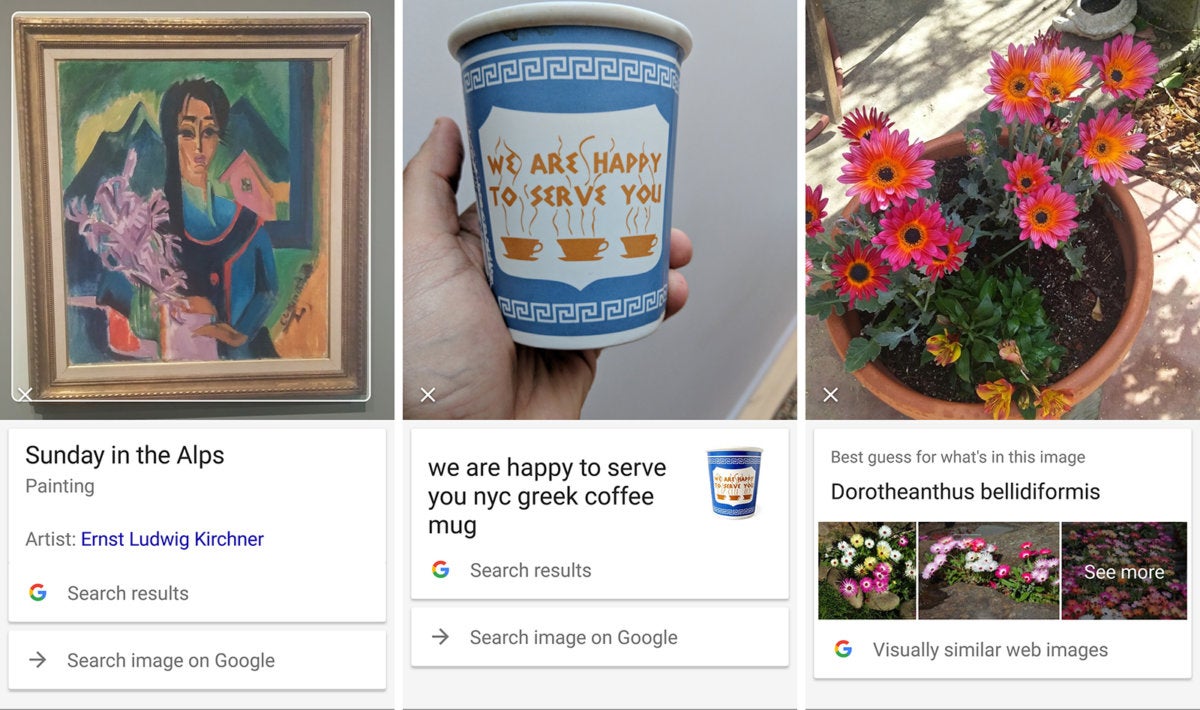 In practice, I found Lens was almost always successful in giving me Google Search results for famous paintings I shot in public galleries. I was also thrilled when it identified a specific coffee cup, and pointed me to a shopping link.
But I was less impressed when I Googled Lens'ed a bunch of images of San Francisco's Sutro Tower. For one shot, Lens identified the tower as a tree. In another image, Lens described the landmark as a simple transmission tower. Yet in a third shot, Lens scored a direct hit, and pointed me to a Google card on Sutro Tower proper.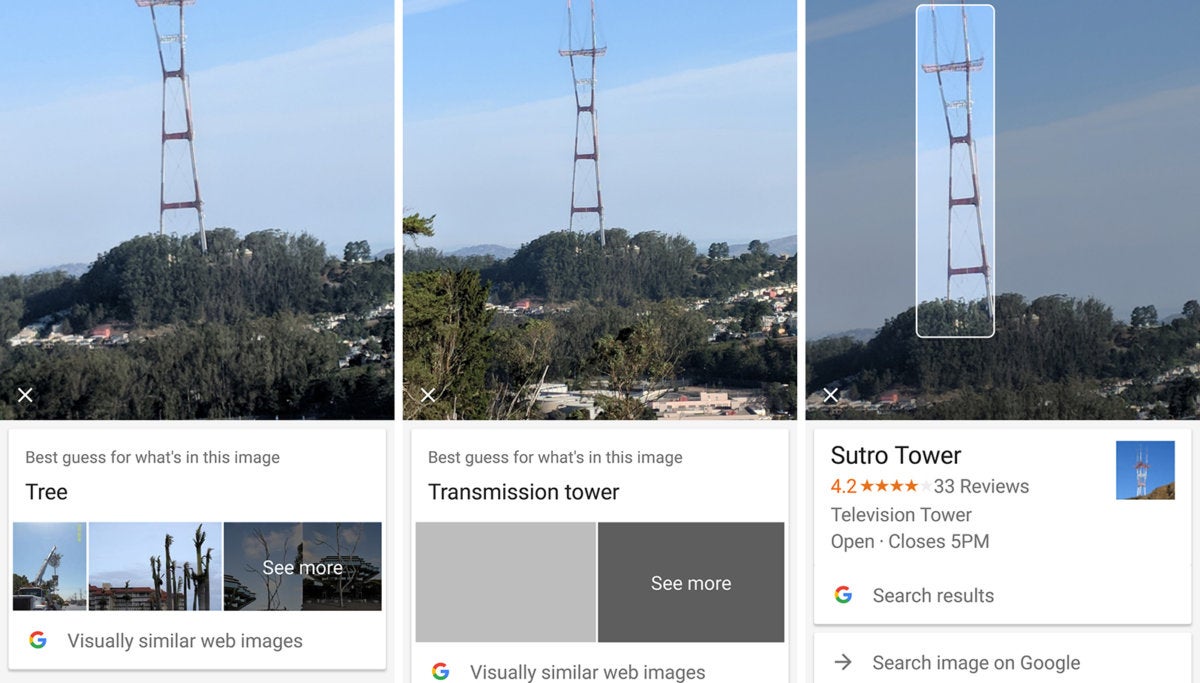 It was a telling illustration of machine learning struggling with nearly exactly the same reference material. I was also surprised when Google Lens failed to recognize a perfectly clear shot of the 100-foot cross at the top of Mount Davidson. I would have assumed that Google's location services would have helped Lens score a perfect match. But, hey, it's machine learning: Maybe Lens will figure it out soon.
Play with Google Lens long enough, and it begins to feel like inspecting random objects in Fallout 4. Take a photo of a pear… and Lens will tell you you're looking at a pear. Take a photo of a watch… and Lens will tell you it's a watch. Hell, I should have taken a photo of a bottle cap. I was a bit chagrined that Len identified my pet Whiskey as a "street dog," but was impressed that it could share the Latin name of a daisy.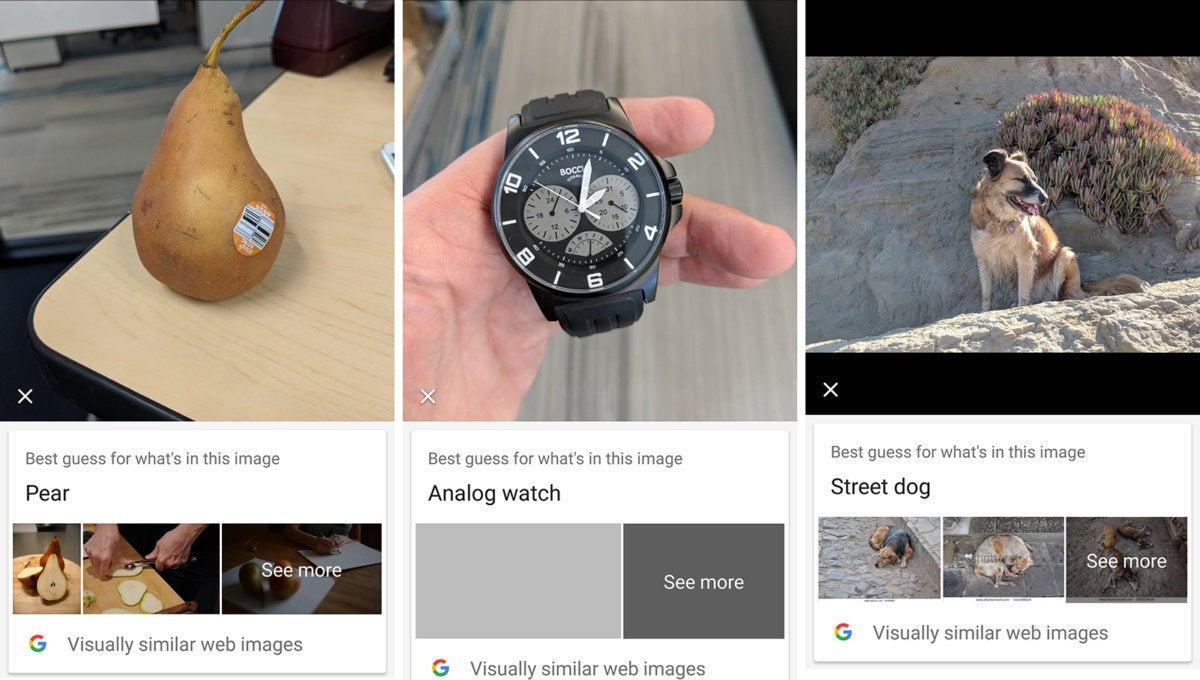 It's mostly fun and games until you use Lens to transport web URLs, email addresses, and phone numbers to Chrome, mail apps and the phone dialer. At this point, Google Lens becomes a time-saving productivity tool, sparing you the trouble of typing out often-confusing jumbles of letters.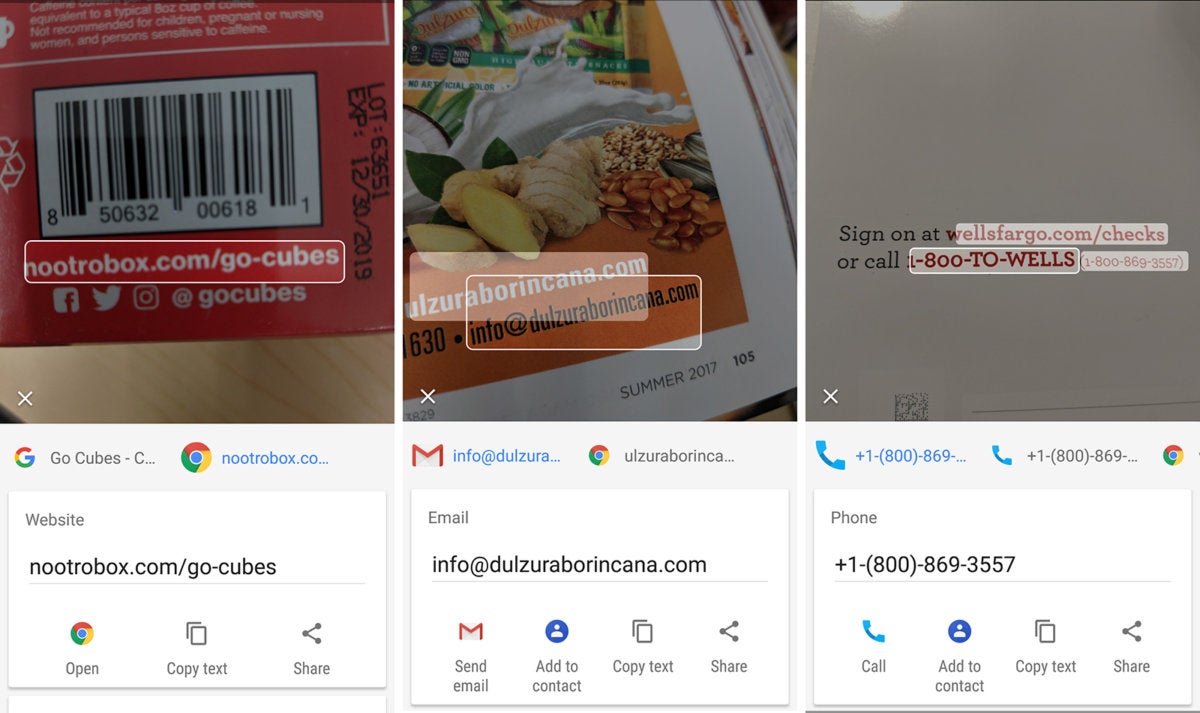 Will I remember to use Lens for this purpose? I hope so. As is so often the case with Google Assistant (and Google Now On Tap before it), simply remembering that a new Google feature exists is half the battle.
Next page: How the Pixel 2's camera performs in Portrait mode and in low-light environments.
Pixel 2 XL camera: Portrait Mode for the win
If you've read this far, you're likely extremely Pixel-curious, and if you're extremely Pixel-curious, you're probably well aware of Google's camera upgrades for the Pixel 2 family (both models have exactly the same camera).
For instance: Low-light performance is better than last year's phone, thanks to optical image stabilization and a new approach to HDR. And video has been improved by marrying electronic stabilization to optical stabilization. And the Pixel 2's dual-pixel technology does DSLR-style bokeh effects with just a single camera.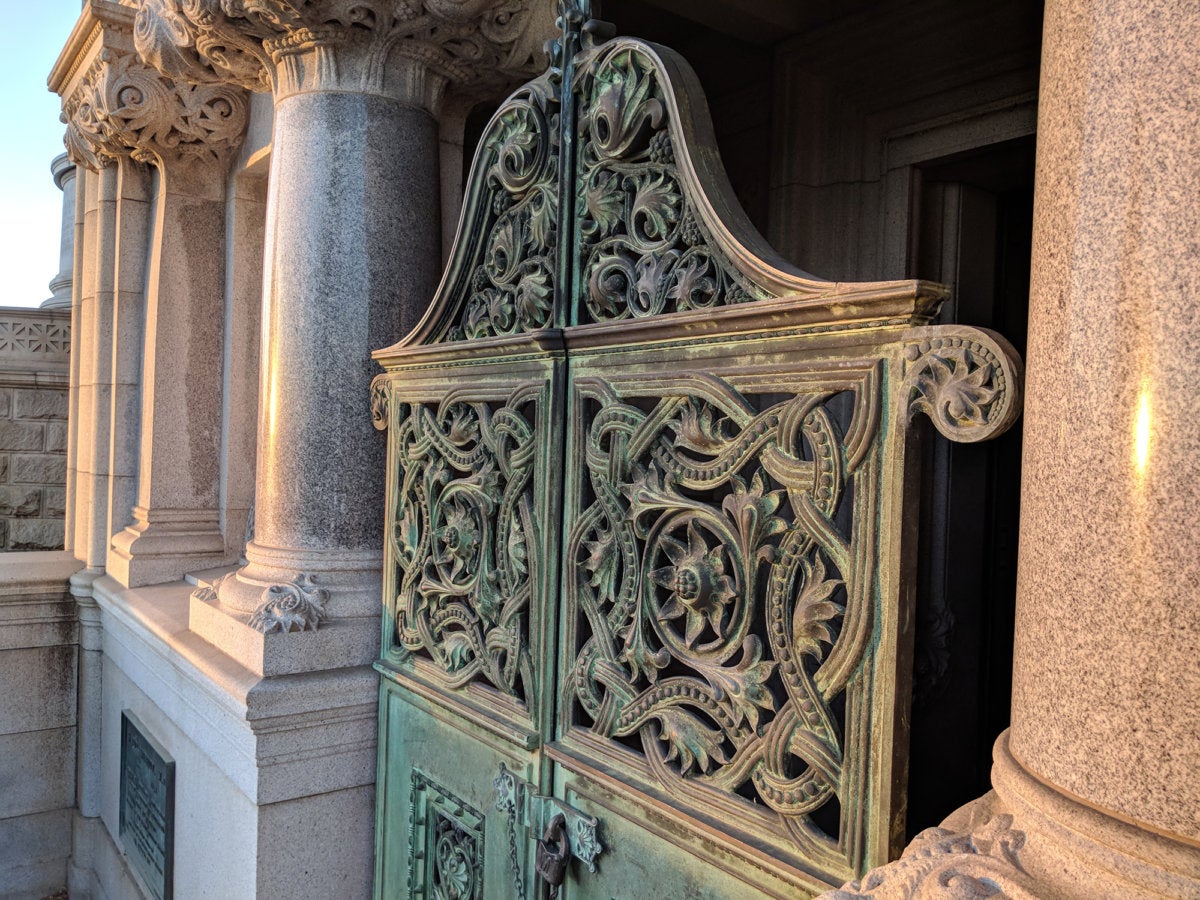 But how does it all perform? In blunt terms, the overall camera experience is the best I've ever used. Camera performance isn't flawless, mind you, but the results are often mind-blowing.
Let's look at some Portrait mode shots. When you shoot a portrait, the Pixel 2 will save two images—one with background blur, and one untouched. I'm providing crops of each version side by side to give you a better idea of Google's machine-learning, algorithmic magic.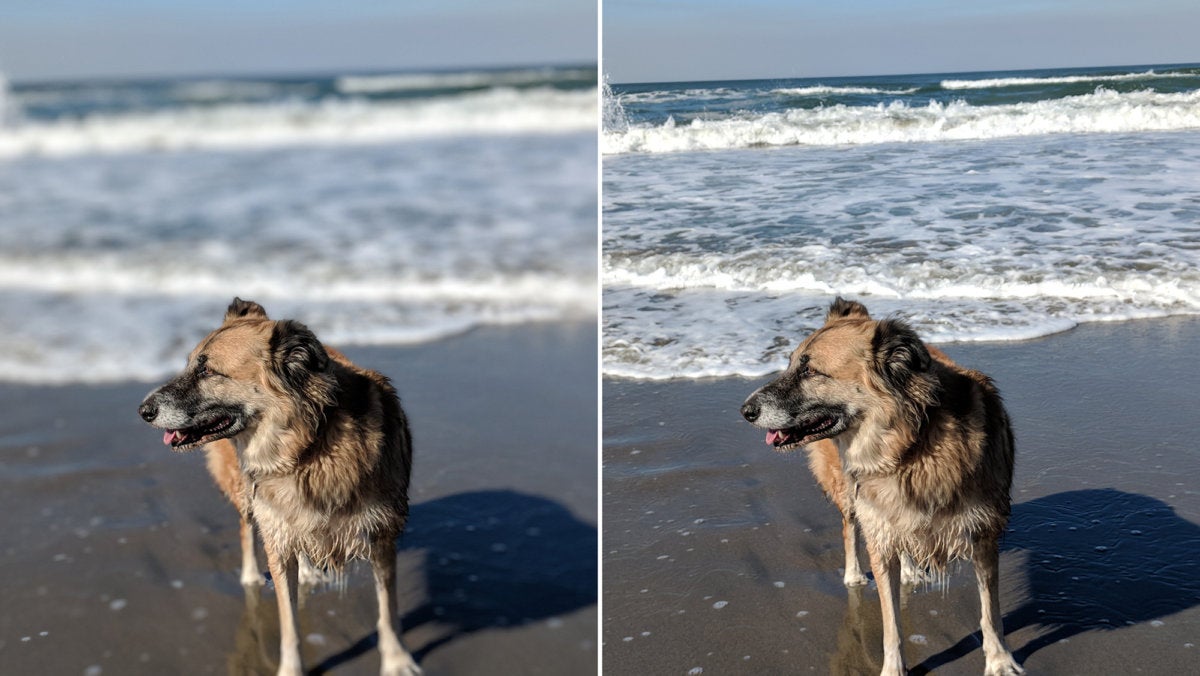 As you can see, Google's software was able to almost perfectly mask Whiskey's shape against a complex background. And because Google's machine learning is designed to improve over time, we may see even better results in the future.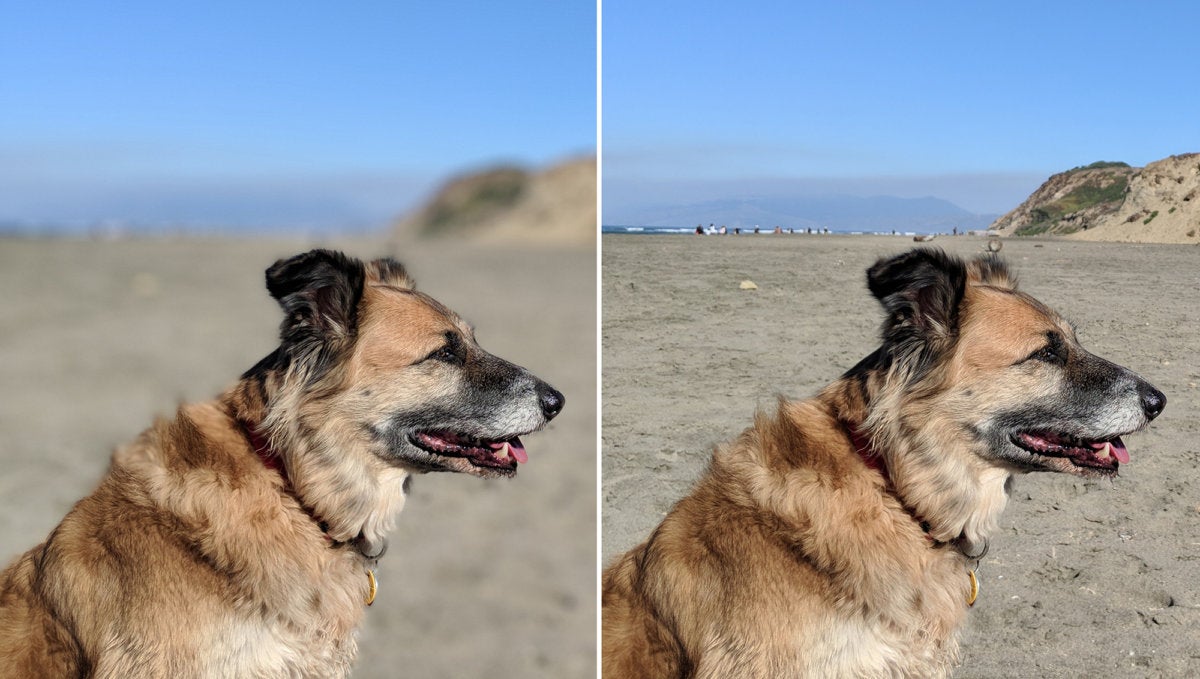 We're currently testing the Pixel 2's camera performance against other smartphones, paying close attention to portrait modes. All of the phones suffer a bit of detail degradation in the transition from blur to sharpness, but in my quick anecdotal comparisons, the Pixel 2 seems extremely capable with just its single camera. But if you're looking for "mistakes," check out the hair on Whiskey's ears in the shot above. An SLR camera would have resolved the hair properly—blurring the hair, but not eliminating it entirely.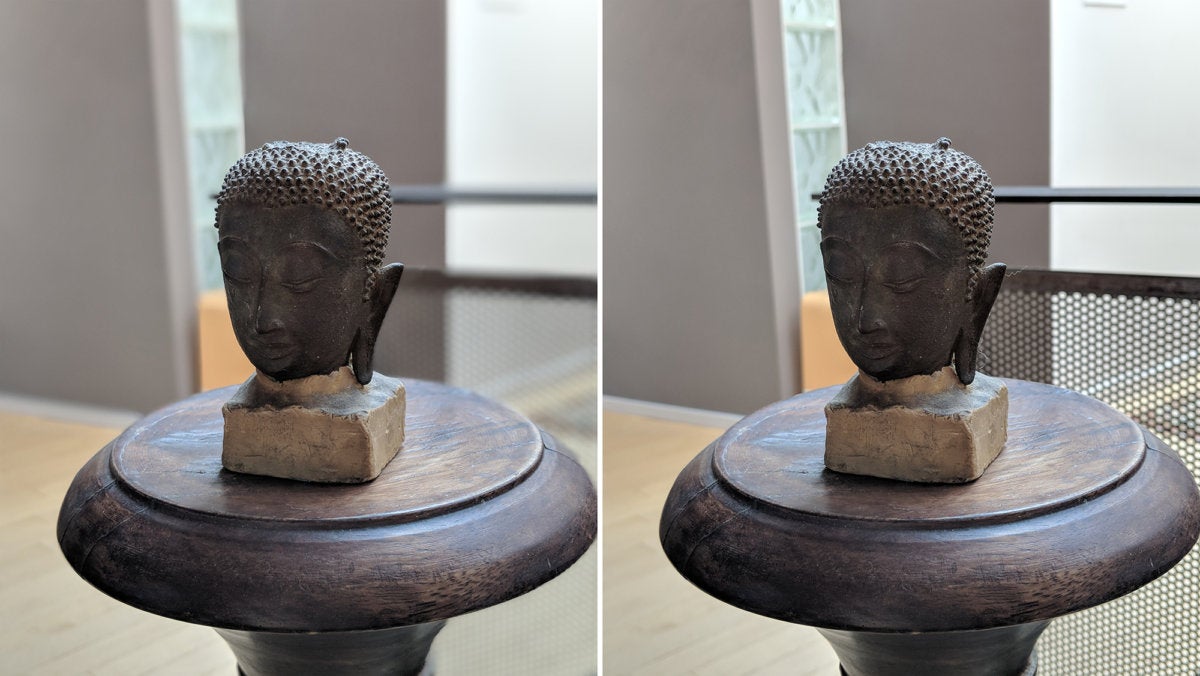 I'm especially happy with the photo of the Buddha head above—if only because I shot it with almost reckless disregard for my final results. And check out the lint removal on the ear. It's probably a lucky accident, but it does make the photo looks better. Nice clean-up work, Google.
Low light photos and video stabilization
Once you get into elite flagship phone territory—I'm talking Galaxy Note 8, LG V30 and iPhone 8 Plus—you're mostly assured of capturing great photos in good lighting conditions. Low light performance is what separates the elite from the also-rans, and the Pixel 2 delivers low-light in spades. First, check out how the Pixel 2 compares to last year's model.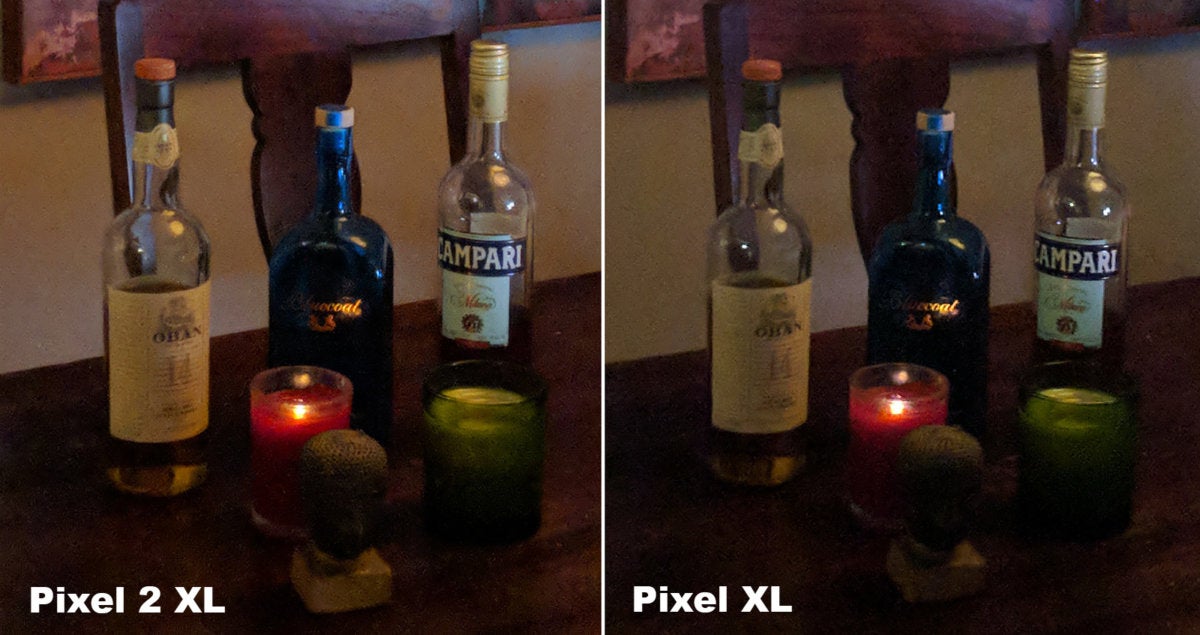 The shot above illustrates extreme crops of a much larger scene. I locked down each phone on a tripod to eliminate camera shake, so image stabilization shouldn't necessarily be in play. Overall, across various shots, I found that the Pixel 2 XL delivers the appearance of longer exposures compared to the original Pixel, but not at the expense of detail. Look at the clarity of the whiskey bottle label.
Now check out how low-light performance compares to the iPhone 8 Plus.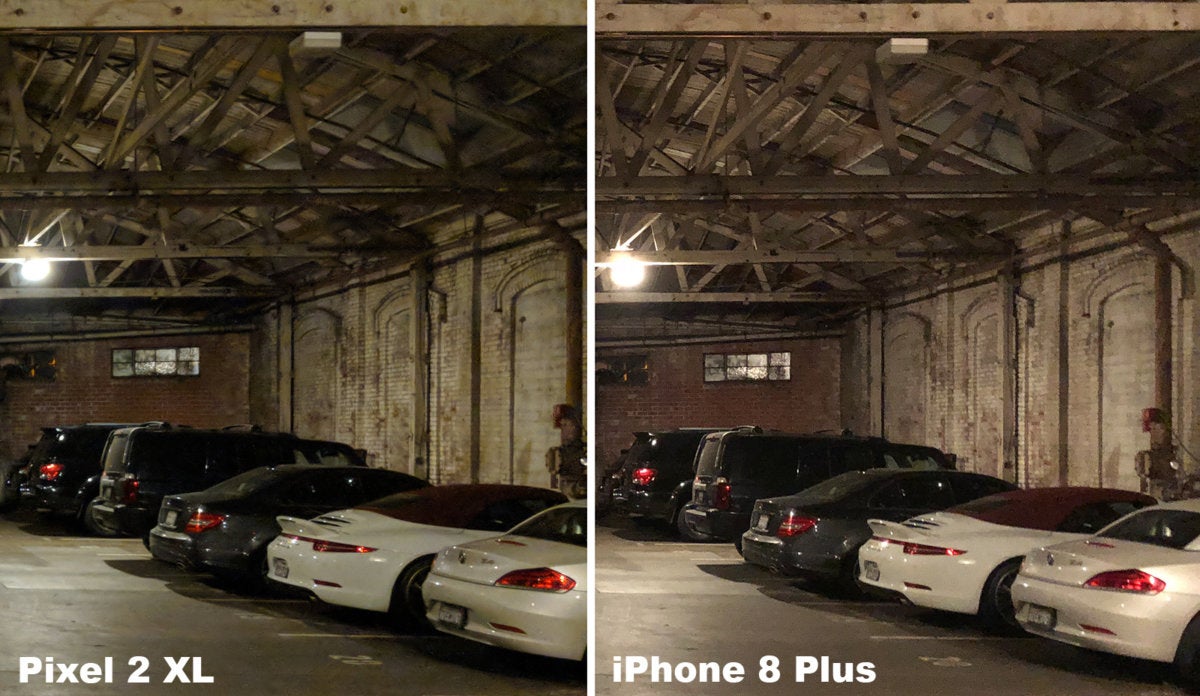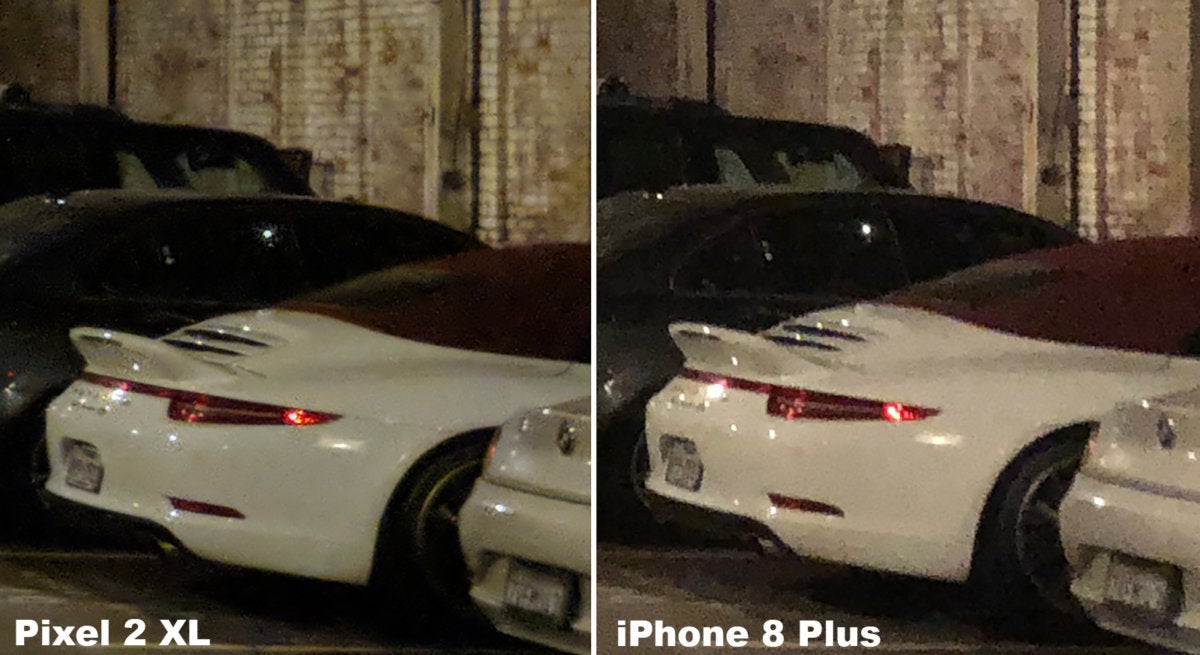 If you took the time to click and enlarge the second image, you'll see how well Google's camera retains clarity under challenging lighting conditions. Granted, the iPhone 8 Plus looks beautiful when viewed full-frame—which is fine when you're viewing photos on a phone—but once you zoom in closely on both shots, you see just how far Google has come in terms of raw image quality.
The Pixel 2 camera also delivers remarkable image stabilization in video. I took a number of videos on my weekend hike up Mount Davidson, and what I recorded sometimes looked like it was shot on a gimbal—mostly free of discernible shake, and with none of the jelly effect that we see in so many smartphone videos. You can watch the video at the top of this article to see Google's fused optical and electronic image stabilization in action.
Google Photos: For Pixel, Pixel 2, and everyone
When you buy a Pixel 2, you get free, unlimited storage for all your photos and video at original quality through the end of 2020. After that, you get unlimited storage for what Google calls "high-quality" photos taken with your Pixel phone. For regular-old consumers, these freebies are reason enough to switch.
But I have to call special attention to the Google Photos app—specifically its Assistant features. The app is actually available to all Android and iOS users, but the Pixel phones are the app's main entry point. And Google Photos rocks.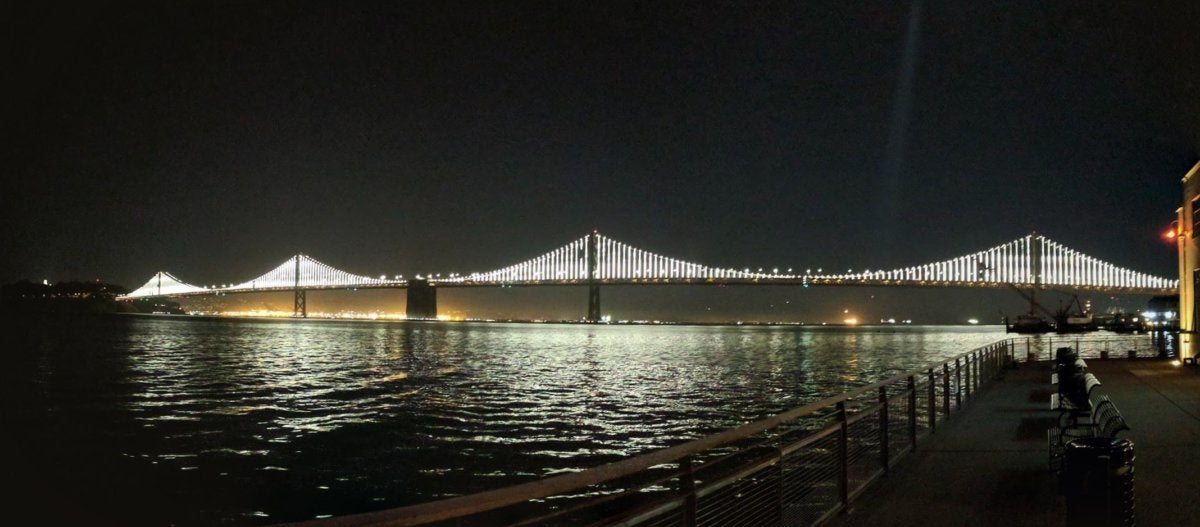 Exhibit A: The panorama shot of the San Francisco Bay Bridge I've inserted above. I actually had no intention of shooting a panorama. I merely shot a bunch of photos of the bridge, and walked away. A few hours later, the Photos Assistant app sent me the stitched-together image, all by its own volition. Basically: Thought you might like to see this. Enjoy.
And that's what Photos Assistant does. It finds similar images that were shot in close succession and turns them into trippy animations. It creates a chronological photo essay of your trip to wine country. It find photos of your beloved dog, and sends you a movie—with a soundtrack!—that chronicles your pup over a number of years. And it takes interesting photos, and tweaks them for dramatic effect. All of these gems pop up as notifications for you to save or discard as you please.
Artificial intelligence. Machine learning. Sometimes it's freaky and scary. But when those Googlers get it right, they really nail it.
Pixel 2 launcher tweaks and Active Edge
Like the first-gen Pixels, the Pixel 2 and 2 XL offer Android—now version 8.0, aka Oreo—in its most elegant, bloat-free form. Call me crazy, but I want Android expressed just how Google intends it to be expressed, free of unnecessary apps and customizations. "Pure" Android Oreo—the version seeded to developers—doesn't have Now Playing. Nor does it come with the Pixel launcher. But other than these tweaks, the Android experience on Pixel 2 is about as pure as it gets.
In terms of pure UX design, I find Google's version of Android more intuitive to navigate than Samsung's TouchWiz interface on the latest Galaxy phones. And in terms of raw visual design aesthetics, the Pixel 2 experience looks cleaner and classier than the designs we see from the rest of the Android pack. It's a fun, bright aesthetic that elevates playfulness over techiness
For the Pixel 2 and 2 XL, Google has made some subtle tweaks to the Pixel launcher, and the changes are pleasant, but not revolutionary.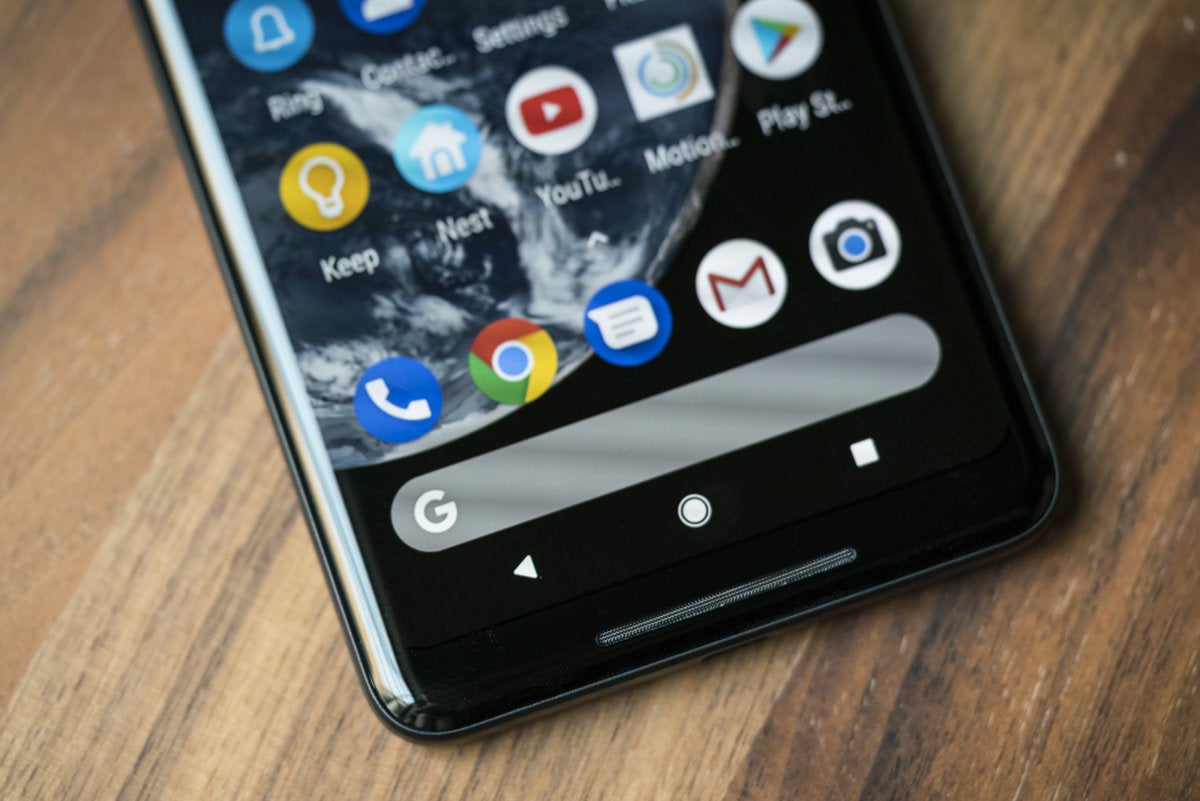 The most obvious tweak is a redesigned Google search field: Where the original Pixels had a search "pill" in the top-left corner, the Pixel 2s have a full-width search field at the bottom of the home screen. The new search bar is much more in your face, and may compel me to actually use traditional Google search, rather than resorting to Google Assistant or opening a Chrome tab, which offer different behaviors and less comprehensive search results.
The collapsed weather widget at the top of the home screen also has a new design. It now spans nearly the full width of the display, and is rendered in a slightly tweaked version of Google's Product Sans font. Before, if you tapped anywhere on the weather widget, you opened up the full Weather app. Now, if you tap on the (much larger) date you'll launch Calendar, and if you tap on your local temperature you'll launch Weather.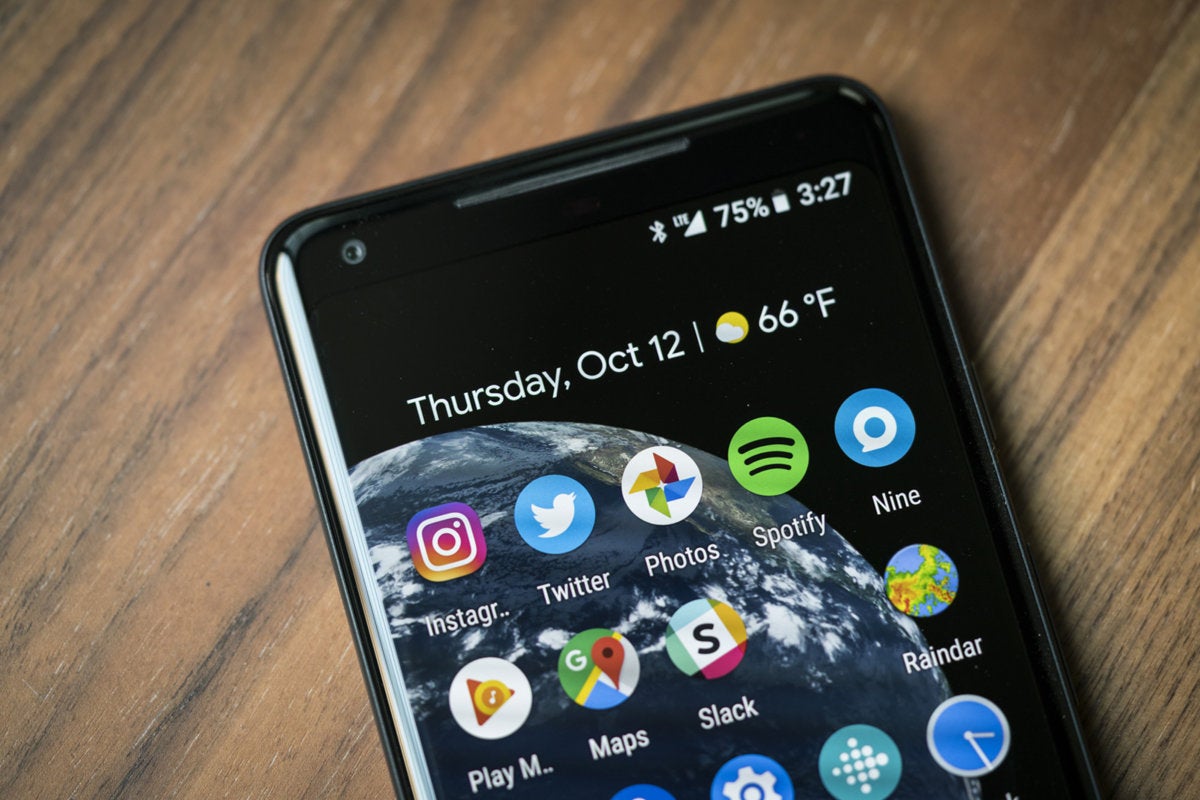 Google didn't stop with flat interface design, as there are some physical U.I. tweaks as well. The most showy is Active Edge. Borrowing a trick straight from HTC playbook, you can squeeze the bottom of the phone's unibody to launch Google Assistant—adding yet another way to launch Assistant (you can still voice "OK Google" or long-press the home button). Active Edge really feels like a "we did it because we can" feature, its fun factor notwithstanding. I just wish it could trigger other actions, like launching user-defined apps, per HTC's Edge Sense.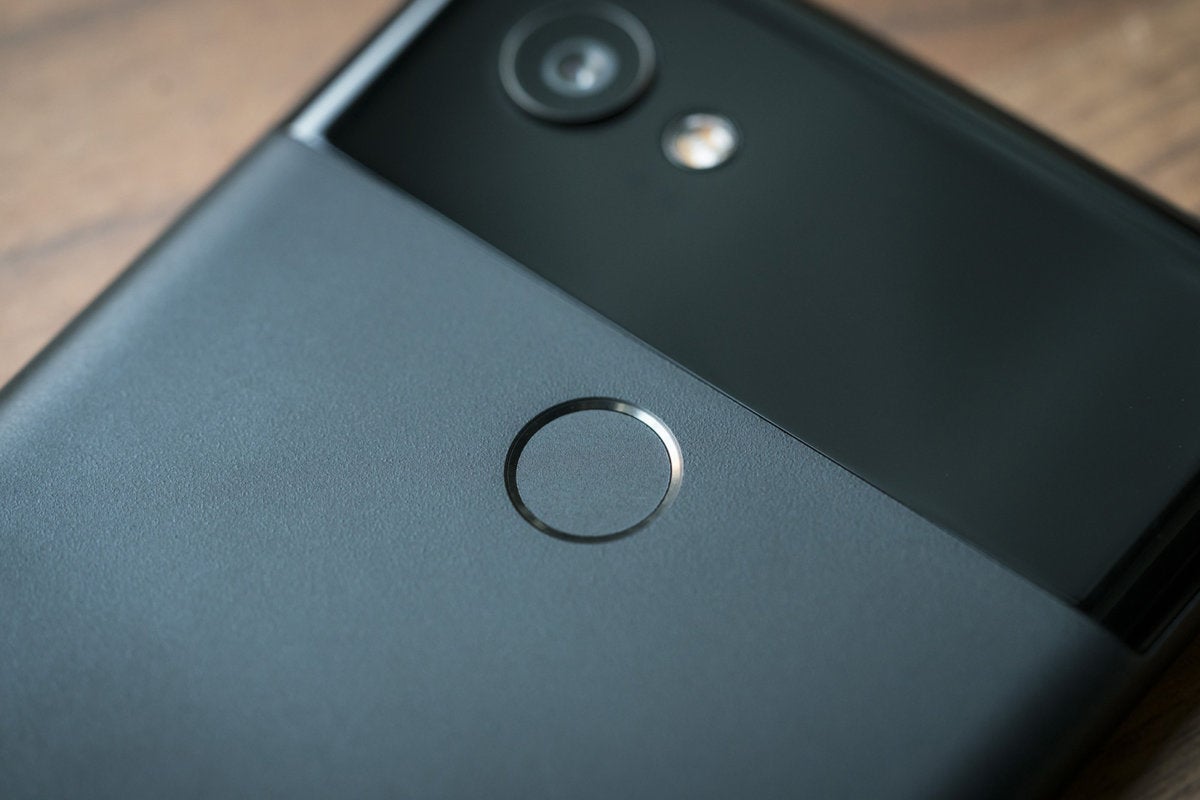 Finally, the Pixel 2 models have a new fingerprint sensor—the fastest in the world, Google says. Yes, it's fast. Damn fast. Like, it basically unlocks if you even think about touching it.
I kid. But, yeah. it's fast.
Pixel 2 XL: Should you buy it?
I clearly love what Google has done with its Pixel phones. And to everything I mention above, you can add:
The Pixels' Quick Switch Adapter, which makes migrating from your current phone to the Pixel 2 remarkably easy.
The camera app's filmstrip, which drops you straight into Google Photos.
Easier Bluetooth headphone pairing thanks to a new Fast Pair feature.
The personalized Google app feed that lives to the left of your home screen (it's my first stop for news every morning).
IP67 dust and water resistance (hallelujah!).
And of course Google Assistant, the most aware, constantly evolving A.I. assistant working today.
Yes, I have my quibbles. As stated above, I don't care about the lack of a headphone jack, but I'm not impressed with the audio quality of Google new front-facing speakers. In fact, every now and then I've heard weird distortion in some of my notification sounds. This combined with the screen burn-in issue suggests Google may have quality-control issues to address. Neither problem has affected my my Pixel 2 XL experience in any material way, but they must be noted.
I would also like manual, DSLR-style camera controls, like those available in LG and Samsung flagships. And I do see immense value in all of S Pen features available in the Samsung Galaxy Note 8. A Pixel with an intelligent stylus would be epic, but the Pixel 2 XL is "just" a phone.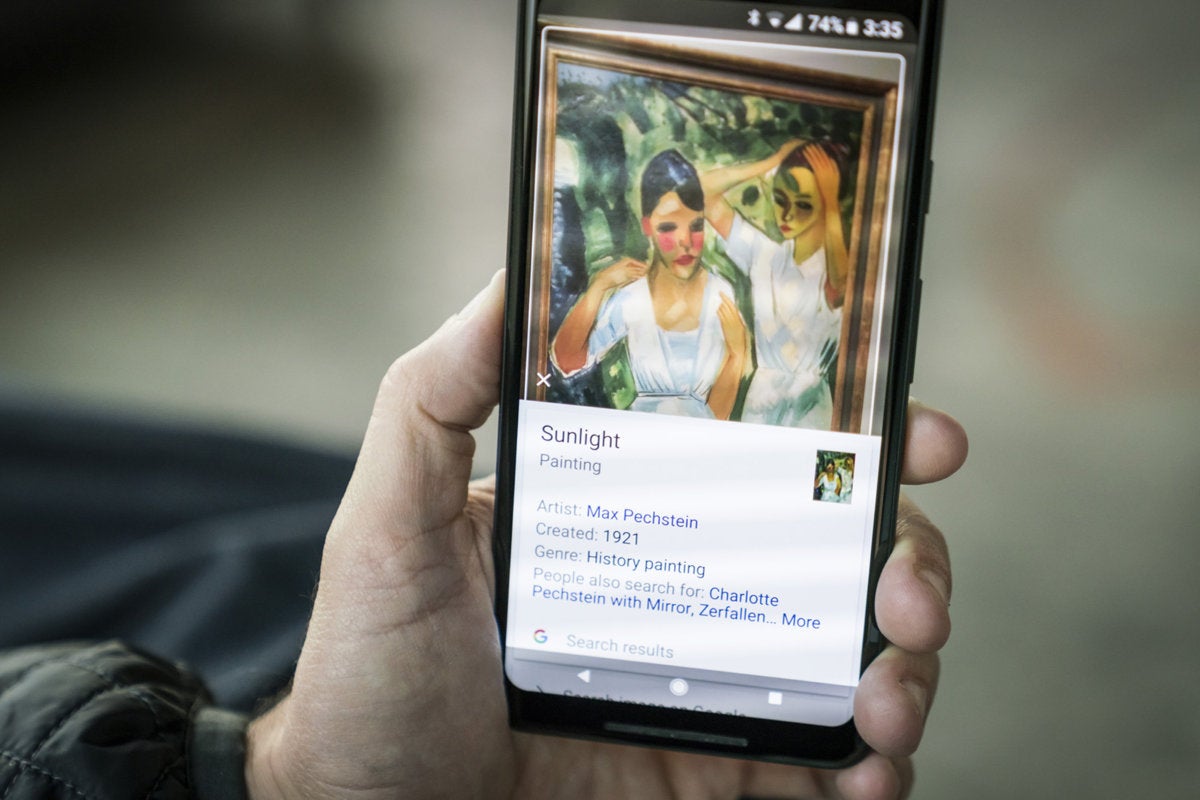 But my biggest gripe of all? It's that the Pixel 2 XL doesn't feel like a monumental, stop-the-presses, this-is-a-game-changer upgrade over the Pixel XL. The physical design is better. The camera is a lot better. But none of these advances are amazeballs better, and the Pixel 2 doesn't feel a grand revelation like the original from 2016.
Once you consider that Google Lens is coming to the original Pixels, and that Google Assistant and Google Photos are phone- and platform-agnostic, you find yourself faced with a tough decision. If you've haven't bought a new phone in two years, and don't care about Samsung's S Pen, then the Pixel 2 XL is the phone you want to buy.
But if you already own an original Pixel, look closely at your bank balance, and think about your priorities in life. To wit: The Pixel XL has been my daily driver for the last year, and I don't think I'd splurge $849 on the latest model.
It's OK to wait. October 4, 2018 is now less than a year away.
Best Prices Today: Pixel 2 XL