Harman Kardon's Invoke speaker, debuting Thursday for $199.95, may end up following in the footsteps of notable Microsoft-powered devices like Nokia's Windows phones: lovely hardware that's slightly tripped up by Microsoft's software and services.
The soul of Harman's elegant, cylindrical smart speaker is Cortana, the digital assistant that lives within Windows 10. Cortana deftly steps in during the business day to manage reminders, answer questions about your schedule, reply to general queries about the weather, nearby restaurants, and place calls via Skype. After hours, she's your personal DJ, playing back audio with some serious boom. She also serves as the majordomo for your digital home.
The inherent tension between a productivity-minded assistant and a consumer-oriented device gives the Invoke a bit of a split personality, and we've split our stories as well. PCWorld's hands-on examines the Invoke inside a home-office environment. Our sister site, TechHive, is evaluating the Invoke as the centerpiece of a digital home.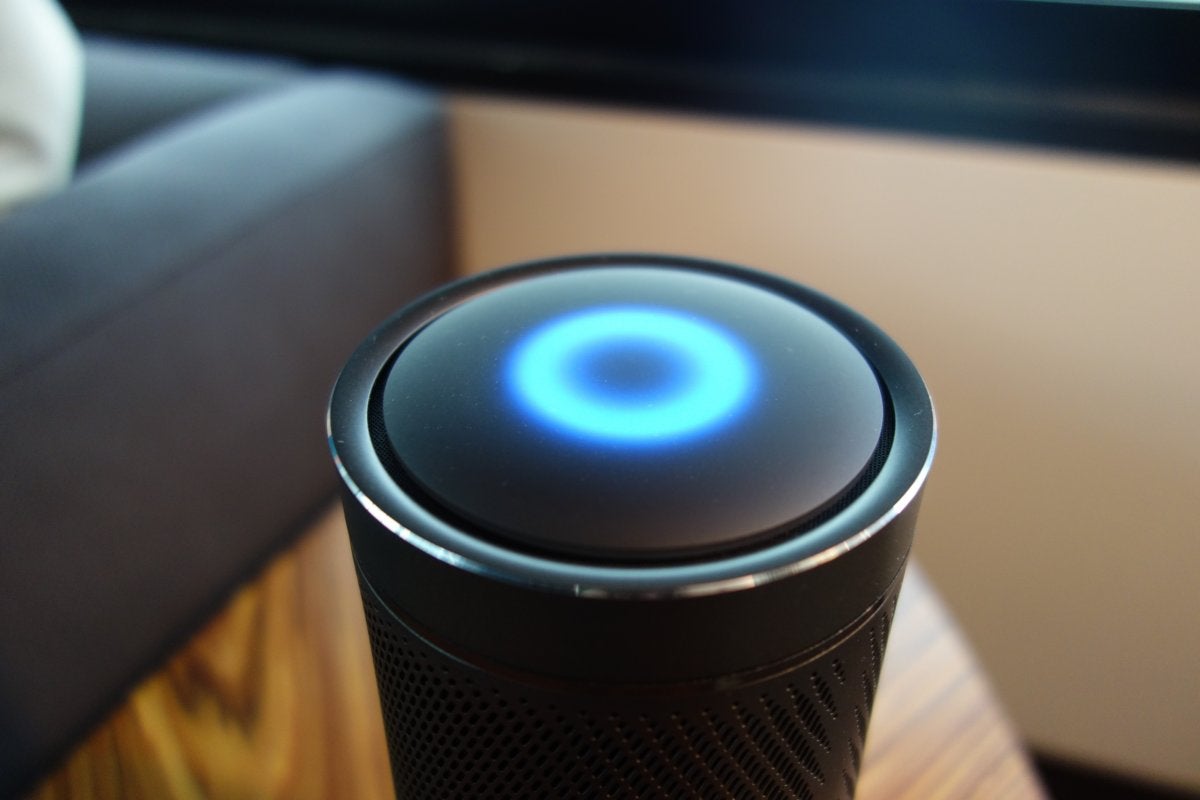 Setup's a snap
Thanks to Microsoft's expansion into Android and iOS, you don't need to own a Windows PC to own and set an Invoke. You will need Cortana, whether as part of Windows (the Creators Update or the current Fall Creators Update) or as the dedicated app on Android or iOS.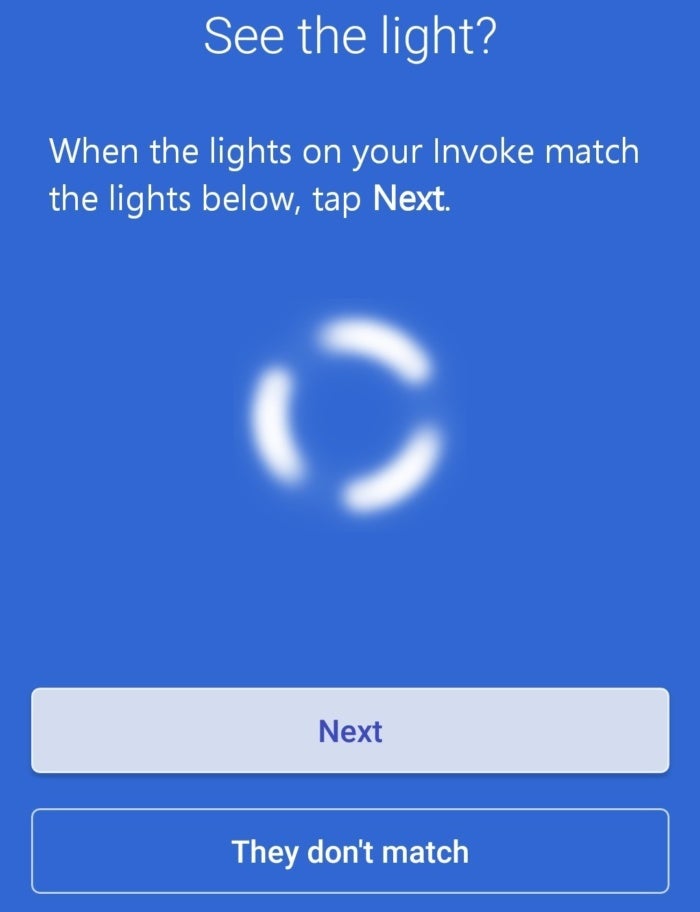 Be aware, though, that Cortana will ask for all sorts of permissions, such as location (so it knows the weather around you) and contacts (so it knows whom to call when you say someone's name), before you can use the Invoke. There's no local account access—you'll need to sign up for a free Microsoft account (at outlook.com, say) or you won't be able to use the Invoke.
Microsoft says the Invoke will work with most home Wi-Fi networks, including 2.4GHz/5GHz networks, and those with hidden networks with undisclosed SSIDs. It won't work on most enterprise networks or in hotels, the company says, as they block the NTP or mDNS protocols the Invoke uses.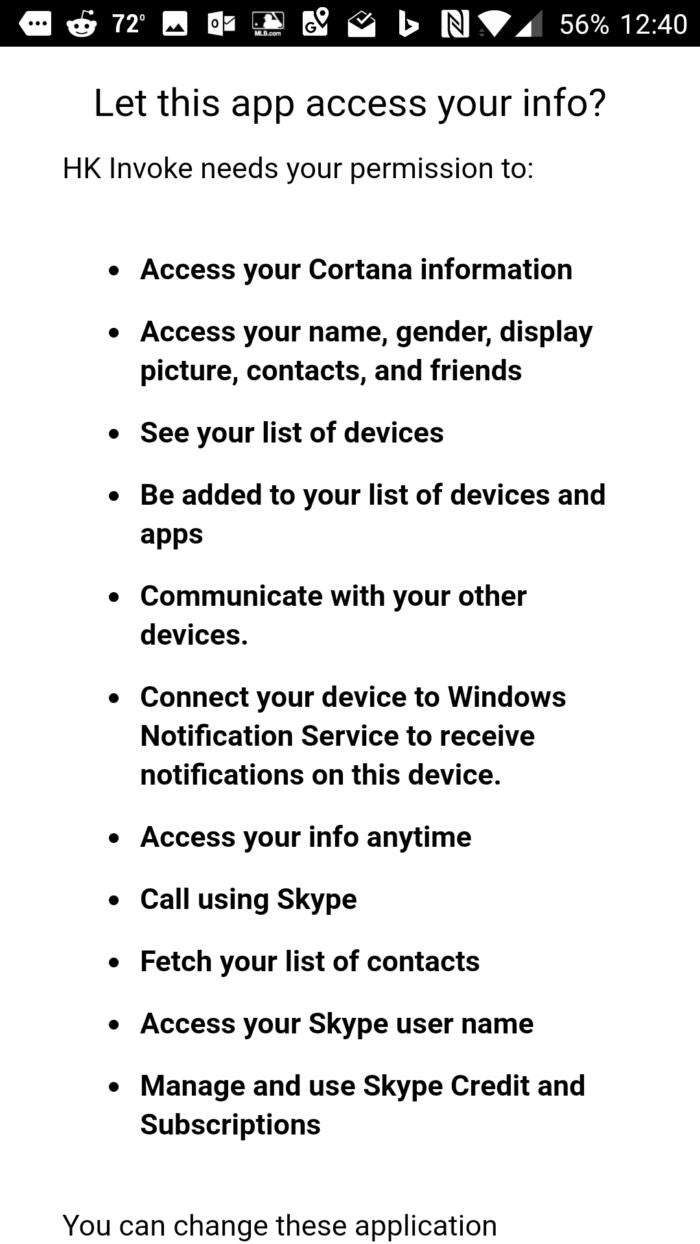 I set up the Invoke on my Android phone. Once I walked out of range, it seemed to have trouble connecting to the network. I then ensured my Windows PCs saw it as well, though, and thereafter I could move it from room to room (something most users wouldn't do) without trouble.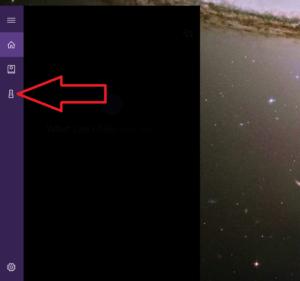 Just as Cortana asks for as many permissions as it can, the real benefits of the Invoke come with its connected services. If you enable Skype, you should be automatically provisioned for six months of free calls to landlines and mobile phones using Skype. For the several calls I placed, the sound quality was clear, and the people I spoke to seemed to have no problem understanding me.
A nice piece of audio hardware
Harman's Invoke stands just under 9.5 inches high and 3.5 inches across, slightly larger than Amazon's Echo Plus. Your can choose between Graphite (black) or Pearl/Silver (white). A cord measuring about three feet snakes from the base out to a plug that incorporates a large wall wart. On the base Harman has placed a pair of buttons: The larger one shuts off the mic, for privacy or conversations that might accidentally include the trigger phrase "Hey Cortana," while the other toggles Bluetooth. (The Invoke works best with Wi-Fi to connect to both a PC and the Internet, though it can also serve as a generic Bluetooth speaker.)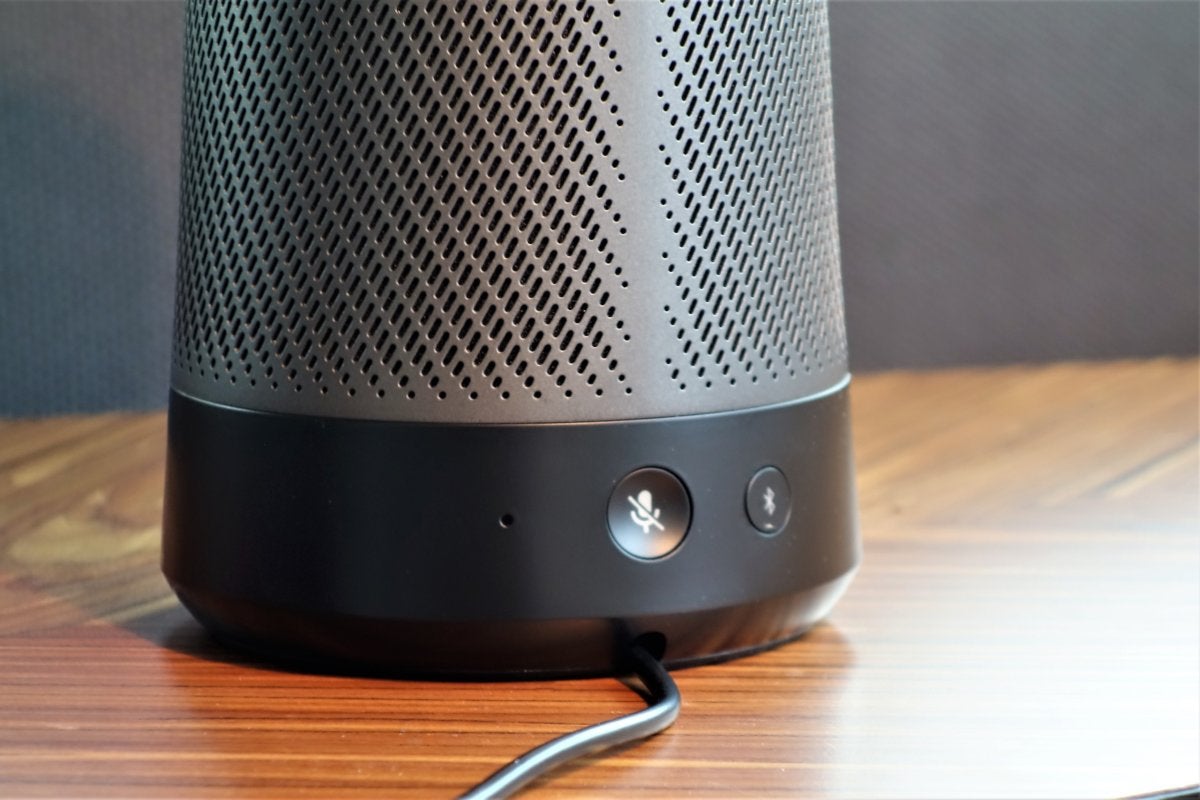 It might be fair to say that Amazon designed its Alexa hardware with convenience and shopping in mind. With a legacy of home audio, Harman Kardon designed the Invoke with that in mind, and it delivers—three 0.5-inch tweeters drive the high end, complemented by three 1.75-inch woofers.
You can only do so much with the bass within the Invoke's form factor, but to my ears the Invoke sounds refreshingly free of the treble hiss that accompanies most of the laptop speakers I test. Fleetwood Mac's live retrospective The Dance provided the soundtrack to this hands-on: The Invoke ably captured the punch of Mick Fleetwood's bass drum as well as the upper registers of Stevie Nicks' and Christine McVie's voices.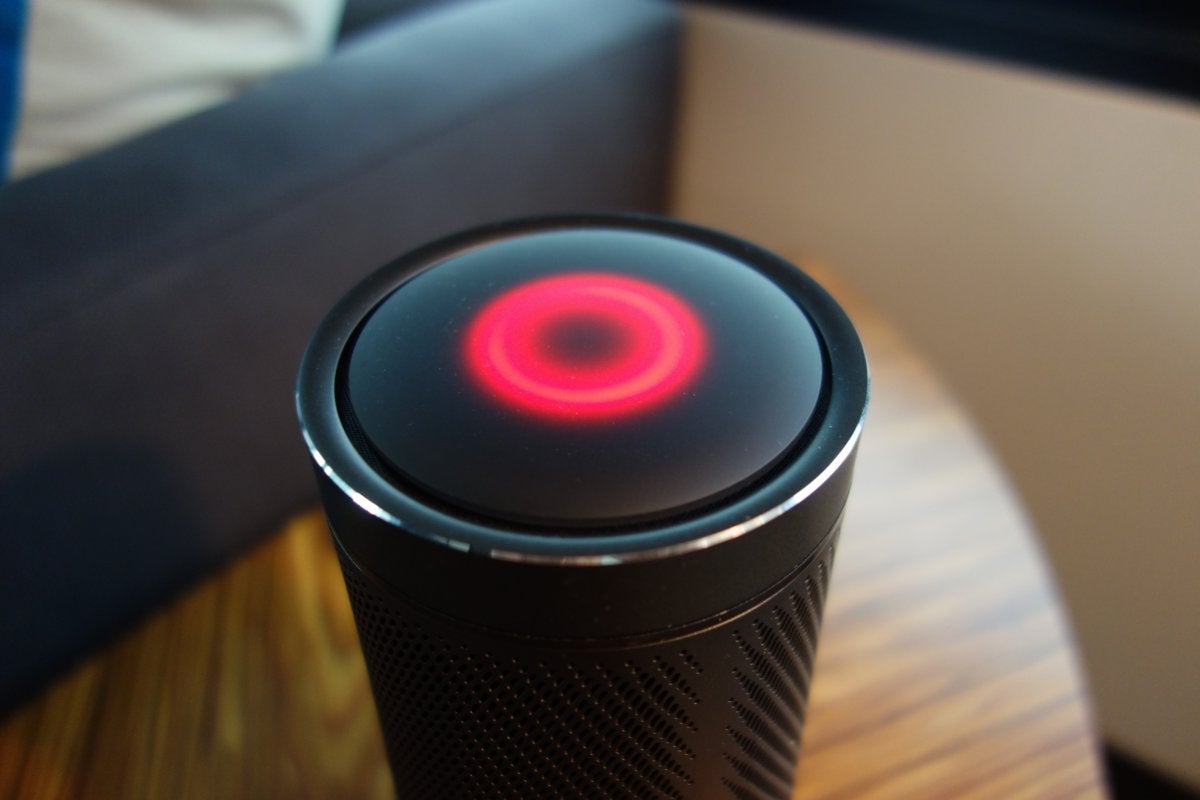 As a connected speaker, the Invoke implicitly encourages you to pump up the volume, and it completely fills a room with minimal distortion as the sound builds. The challenge for the Invoke is to pick up the trigger phrase "Hey, Cortana," in a variety of situations. To solve this problem, Harman built a 360-degree, seven-microphone array into the Invoke, called Sonique. The Invoke had no problem heeding the trigger phrase from my voice—or my kids' voices—against the backdrop of a dinner conversation. I couldn't say the same while playing back music, unfortunately. Then, the Invoke frequently couldn't hear my voice, at least the first time, even when I was sitting just a foot or two away.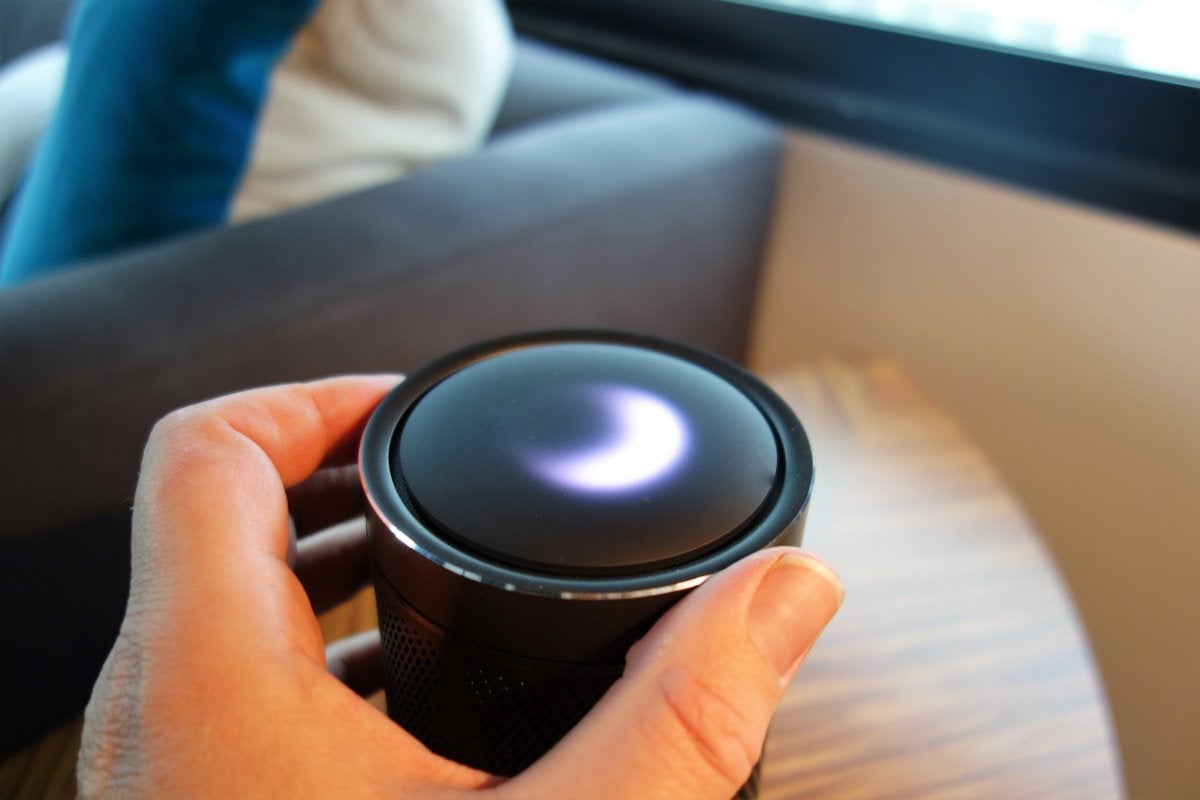 A good business partner
As a Cortana device, think of the Invoke as a discreet facilitator. It makes its presence known with a swirling white circle that appears on the top of the device. If something goes wrong and the Invoke disconnects, the white circle will turn red. The Invoke will always display the blue, circular Cortana logo when you ask a question. You may also set up the speaker to play an acknowledgement sound. Twist the top silver ring to dial the volume up and down.
I use Cortana frequently, using the "Hey Cortana" trigger to set reminders of all sorts. You'll need to probably turn off audio sensing on your phone and nearby PCs to prevent more than one device from triggering.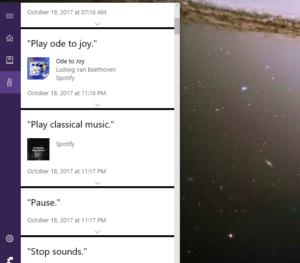 During the workday, I basically pester Cortana with all sorts of random, trivial questions I'm just too lazy to look up myself, such as the exchange rate or a simple math problem. With Skype, I can yell at it to call my wife. If you let Cortana peer into your calendar, it can report your schedule, and tell you how long it will take to get to a destination. (It seemed less proactive about meeting alerts, though.)
In rare cases, Cortana shines. On a whim, I asked for Bill Gates' phone number. Cortana noted that the best way to reach him was at the Bill & Melinda Gates Foundation, and provided a phone number and mailing address.
That doesn't mean that Cortana, or the Invoke, is universally effective. Asking Cortana "what's the news" brings up a podcast by NPR or The New York Times that simply isn't the summary I was hoping for. When a reminder pops up, chances are I've seen it on my PC or my phone before the Invoke brings it up. Even then, it simply tells me that there's a reminder available, without actually telling me what it is. (That's acceptable if I've already seen the reminder.) If Cortana failed to understand me, I was never quite sure whether Cortana couldn't answer the question, or if I phrased it incorrectly.
The Invoke also falls short on a few Cortana features that would seem to be easy to implement on a speaker. For instance, I can orally command Cortana on my PC to send a text or a short email, and I can reply to a text that pops up in my Windows 10 notifications. But I can't send texts or emails from the Invoke—it just refers me back to my phone or PC.
Other quirks are endemic to Cortana or Windows. I can ask the Invoke to add apples to my shopping list, but it's not really obvious where that shopping list lives. (It's part of Cortana > Lists, or in the Wunderlist app that Microsoft bought and is retiring in favor of Microsoft To-Do. But it's not in To-Do, yet.)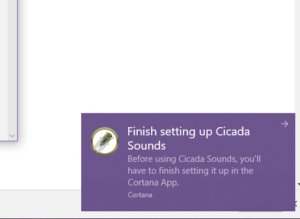 There's one additional capability that the Cortana-powered Invoke has, and that's Cortana "skills," third-party add-ons to Cortana's smarts. Essentially, they're specialized bots, allowing you to query and book tables at OpenTable, research trips via Expedia, seek out local concerts via StubHub, and more. There's also a range of ambient-sound "apps," like rain or a cat's purr. The small group of skills currently available all require some interaction with the PC or phone to accept sharing your information with the third parties. But after just a click or two, Cortana gets smarter.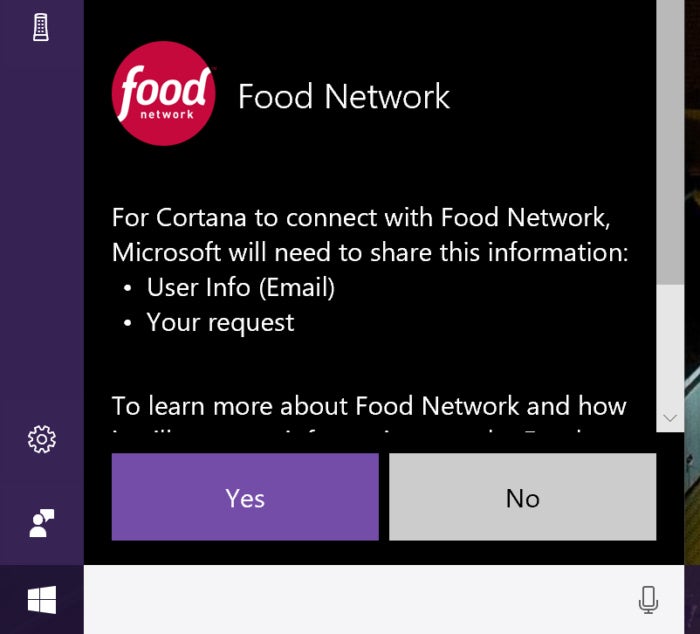 Eventually, the Invoke will gain an even more powerful tool: Amazon's Alexa. But that's some way off in the future, and Microsoft hasn't said when. For now, don't plan on buying a crate of paper towels or beef jerky from your Invoke speaker anytime soon.
After hours: Invoke for music
Whistling in the newsroom is forbidden. No one's quite sure why. It might be superstition, it might be distraction, but personally I've always preferred to avoid listening to music that might stick in my head and distract me. With the Invoke, though, I can leave the speaker off to the side and dial down the volume to a comfortable level.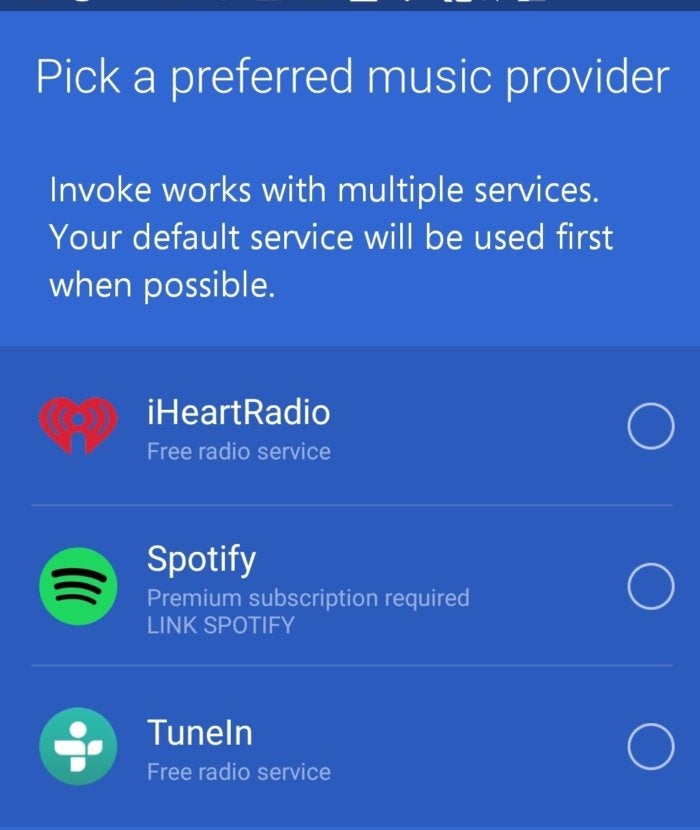 The oddest, saddest thing about the Invoke is its lack of support for Groove Music Pass, Microsoft's own sunsetting music service. Instead, the Invoke supports iHeartRadio, TuneIn, and Spotify. Pandora is next, Harman executives say. Part of the Groove-to-Spotify transition involves sending music you own and playlists that either you or Groove created to live within Spotify.
I initially struggled to set up Spotify on the Invoke. I'd ask Cortana to play a specific song, Cortana would acknowledge it, and then…silence. Downloading the Spotify app on my PC, then connecting the Invoke via Spotify Connect seemed to solve the problem. (You don't need to have the app open to use Spotify on the Invoke, though.) Though you can play and pause playback, jump between tracks, and turn up the volume using the Invoke, more fine-grained control can only be accomplished via the PC app.
Cortana's music smarts is occasionally a mixed bag, too. Spotify renamed one of my Groove playlists "Driving Tracks from Groove Music 10/18"—and Cortana forced me to use that exact terminology to play it. On the other hand, I couldn't really remember the name of Fall Out Boy's "My Songs Know What You Did in the Dark (Light It Up)" and Cortana guessed it—well, once, anyway. On subsequent tries, it simply played a channel with the band's music. Fortunately, you can ask Cortana what song is playing, and she'll tell you.
As noted before, I found Harman's audio pleasingly rich. I don't pretend to be an audio expert but I know what I like, and I purchased Harman's Infinity aftermarket speakers for a car I owned when I was younger. Though there don't seem to be any audio controls on the PC, phone, or Invoke to adjust the soundscape, they're really not needed.
Again, there's an entire facet of the Invoke's capabilities that we're leaving out: smart home control. I lack any sort of connected home device beyond a PC. That's not the case at TechHive, where my colleague Michael Brown is set up with multiple devices.
Conclusion: a good first start
Harman Kardon smartly weights the Invoke towards its audio capabilities, an area where it feels it can compete favorably with Alexa-powered devices, and presumably Google's smart speakers. I'm not entirely convinced that the Invoke is a better purchase than any of the other platforms, simply because many of its basic capabilities are reproduced elsewhere. And if the Invoke's Skype integration is a selling point, the lack of texting is a drawback. So is the lack of shopping skills, which may or may not be a big deal.
Google now has multiple speakers, and Amazon is building out an ecosystem, too. With that said, I don't think that a single Cortana-powered speaker leaves Microsoft lacking, even if its competition also offers smaller, cheaper alternatives. The Invoke is a solid product. The emphasis, though, is on music, rather than shopping. If that works for you, think about the Invoke as your next smart speaker.