AMD just opened a new beachhead in its war with Intel by launching two Ryzen laptop CPUs, which it claims are the "world's fastest processor" for ultrabooks.
The two chips launched this morning are:
The Ryzen 7 2700U features four cores with simultaneous multi-threading and 10 compute units based on the Vega graphics architecture. The chip has a base clock speed of 2.2GHz and boost speed of 3.8GHz. The GPU will clock "up to" 1,300MHz.
The Ryzen 5 2500U also has four cores with SMT. The main difference between it and the Ryzen 7 2700U is the graphics core and clock speed of the CPU and GPU. The Ryzen 5 has 8 compute units instead of 10, and its cores will clock up to 1,100MHz. The compute cores will hit 2GHz with a boost clock of 3.6GHz.
Both chips are rated at 15-watt TDP, which puts them in direct battle with the Core i5 and Core i7 CPUs used in the vast majority of laptops.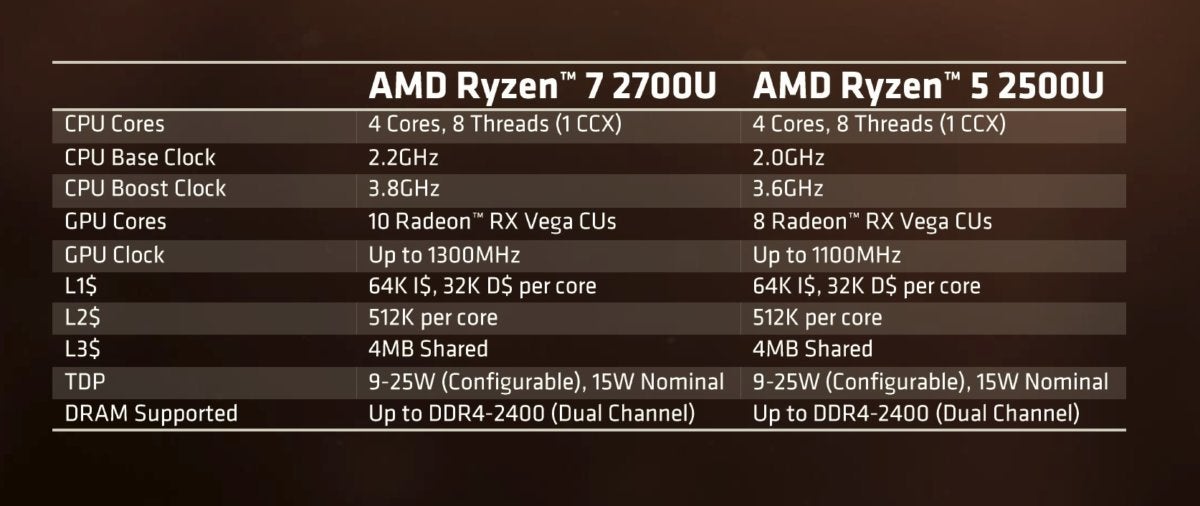 While the compute side is based on the same microarchitecture AMD uses for its celebrated Ryzen and Ryzen Threadripper CPUs, AMD has made some tweaks aimed at maximizing mobile performance:
Precision Boost 2 builds on the original Precision Boost introduced with Ryzen. Its "opportunistic algorithm" tries to run the clock speeds at higher levels based on the CPU's temperature, current use, and workload, working in 25MHz increments.
Mobile XFR focuses just on thermals and will give the clocks a 100MHz boost—if the laptop's cool enough to handle it. In practical terms, AMD said in a five-minute workload, mobile XFR can increase performance up to 23 percent. Laptops must meet the company's cooling criteria to support mobile XFR.
AMD claims the chip is dramatically faster compared to 7th-generation Bristol Ridge APUs. The company had projected a 50-percent bump in CPU performance and a 40-percent bump in GPU performance with 50 percent less power. Based on the company's testing the CPU has overachieved: It's 200 percent faster in CPU operations and 128 percent faster on the GPU side, while using 58 percent less power.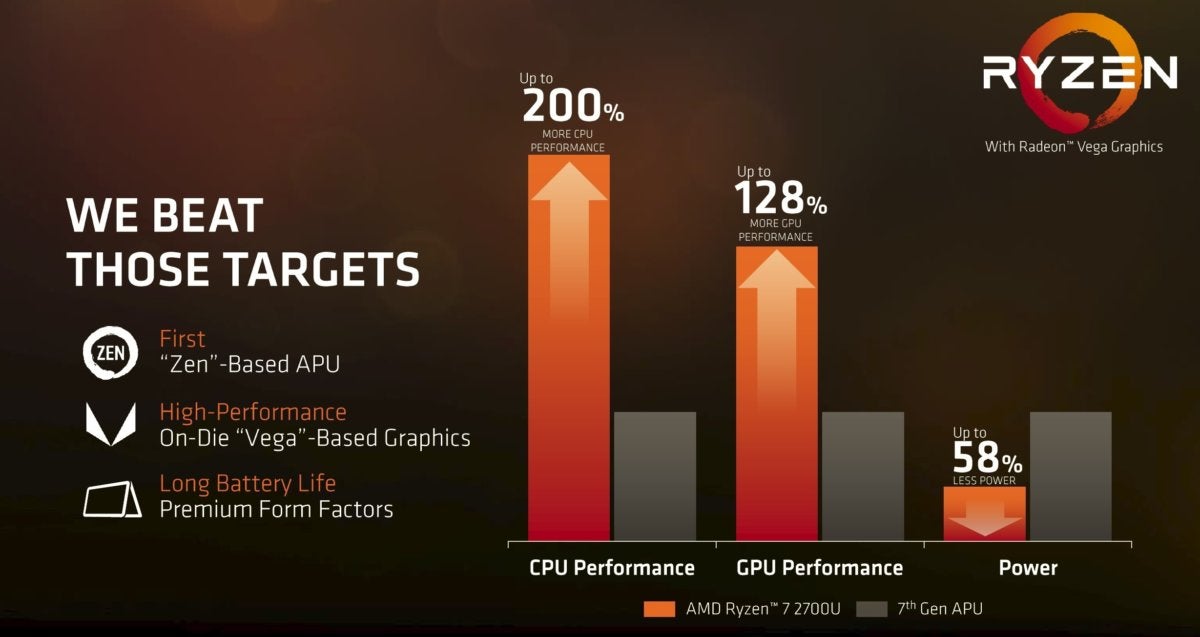 What makes it the "world's fastest processor"
Beating up on a Bristol Ridge isn't the goal, of course. AMD said it's the combination of the performance Ryzen cores and the performance Vega cores that gives Ryzen 7 and Ryzen 5 a boost over Core i7 and Core i5 in laptops.
AMD showed off several performance results against Intel's older 7th-generation Core i7 Kaby Lake as well as the brand-new 8th generation Kaby Lake Refresh. In single-threaded CPU tests using Cinebench R15, the Ryzen 7 7200U nearly ties with a 7th Generation Core i7-7500U and falls just a skosh behind the new 8th generation Core i7-8550U.
On multi-threaded tests, the results AMD shows from the quad-core Ryzen 7 simply crushes dual-core Core i7-7500U in an HP Envy x360 and surprisingly smokes the new quad-core Core i7-8550U in an Acer Spin 5. We'll say that again: Ryzen 7, on paper, looks even faster than Intel's brand new 8th gen Core i7 chips.
Perhaps even more troubling for Intel, AMD officials told PCWorld the performance results it's showing off are not the best possible. Both Ryzen 7 and Ryzen 5 are capable of running at higher speeds if a laptop's cooling is up to snuff.
It's worth noting that the laptops AMD is using for comparison are convertible laptops, which typically run slightly slower than a traditional laptop. But, AMD told PCWorld, so is HP's new Envy x360, which should be the first laptop sanctioned to support Mobile XFR. Its performance with Mobile XFR will be higher than what you see below.
AMD also broke out several other benchmarks to show off Ryzen 7. In POVRay, PCMark 10, and TrueCrypt, Ryzen 7 is in front. Only in PassMark 9 does the newest Intel chip take the lead—but not by much.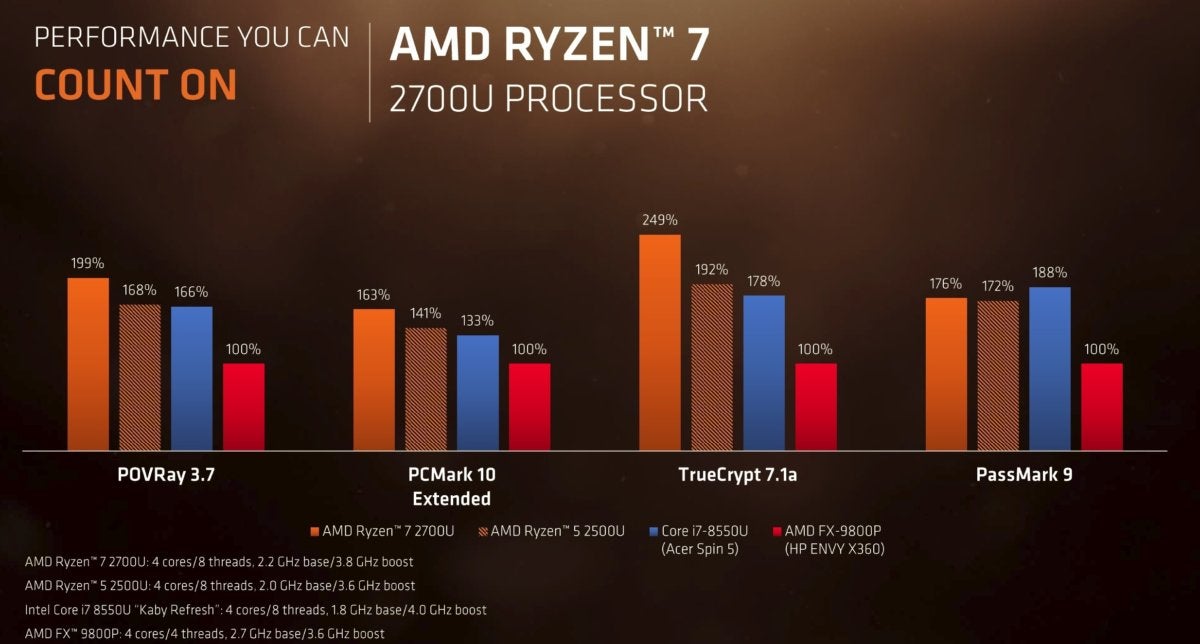 Ryzen's other secret is GPU performance. With 10 Vega compute units under the hood the results are what you'd expect compared to Intel's "good-enough" integrated graphics performance.
In gaming, for example, AMD says the Ryzen 7 smokes the integrated graphics in Intel's 15-watt chips in the 3DMark Time Spy benchmark. In the same test, Ryzen 7 actually keeps pace with a GeForce GTX 950M in an ultrathin laptop.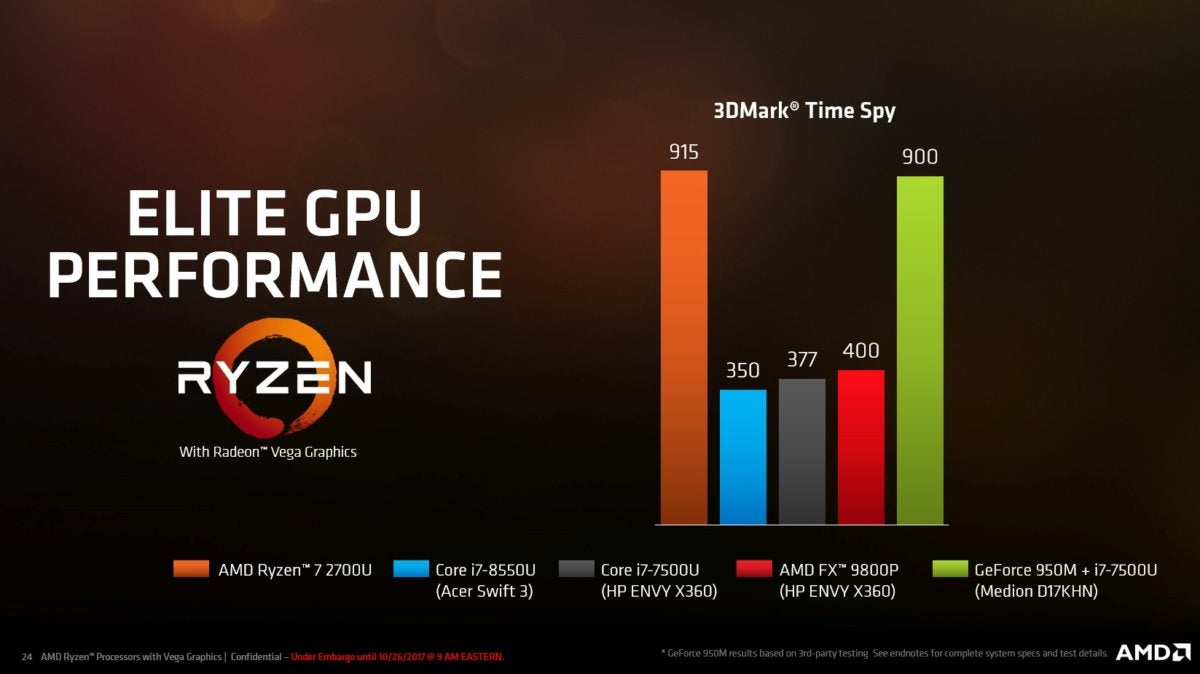 In actual games, AMD said to expect playable frame rates in several popular titles depending on the demands. League of Legends, for example, can push 59 fps at 1920×1080 on Medium, AMD said. Overwatch will need to be run at 1280×720 on Low to hit 66 fps.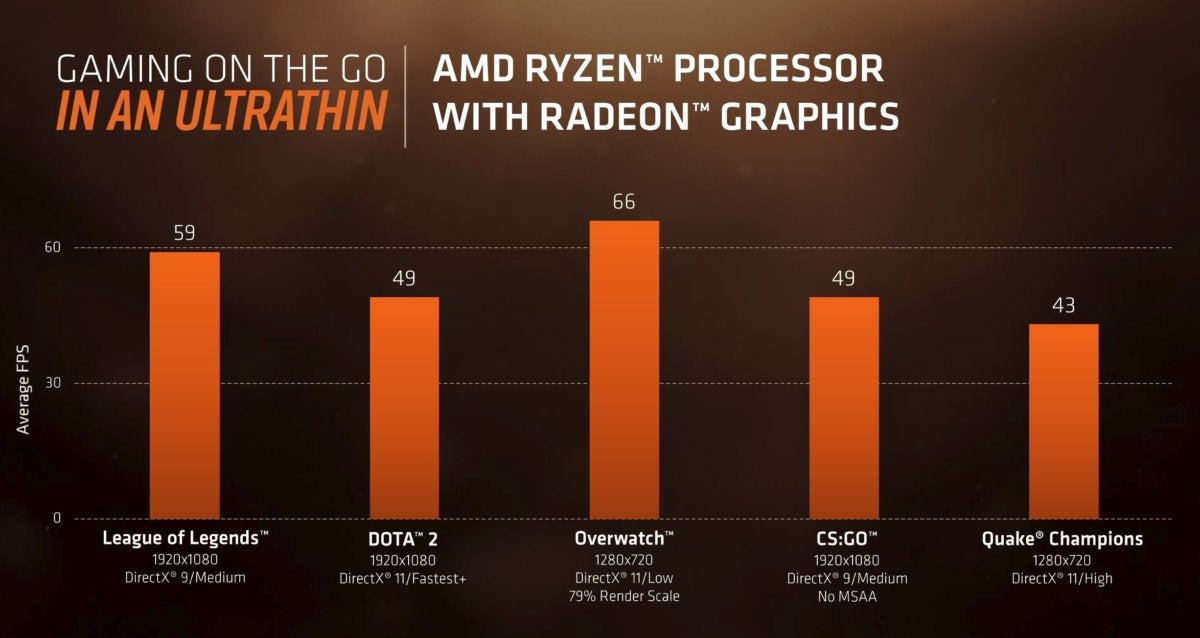 Better battery life
For an ultraportable laptop, battery life is a critical question. Although AMD hasn't published results versus Intel-based laptops, it has against a previous AMD 7th-gen APU and the results are much improved. Using a baseline of a 50Wh battery, AMD says the biggest improvement over an AMD FX 9800P chip comes in VP9 playback (VP9 is an advanced video codec), which goes from 4.5 hours to 9.2 hours.
That efficiency, though, is due to improved hardware codec support in the chip—Ryzen has dedicated circuits in its media engine, while the FX 9800P is likely processing it with the x86 cores. We've seen the same improvement in Intel CPUs going from Skylake to Kaby Lake due to improvements in the the media engine.
The figures that are probably more important are for standard 1080p H.264 playback. There it's a more modest improvement, going from 10.6 hours to 12.2 hours.
Ryzen gets a nicer bump in the industry standard MobileMark 14 battery rundown test. The Ryzen chip gives up 13.5 hours of battery life, while the FX 9800P died at 10.7 hours. Based on other published MobileMark 14 figures, that's decent life considering AMD uses a 50Wh battery base.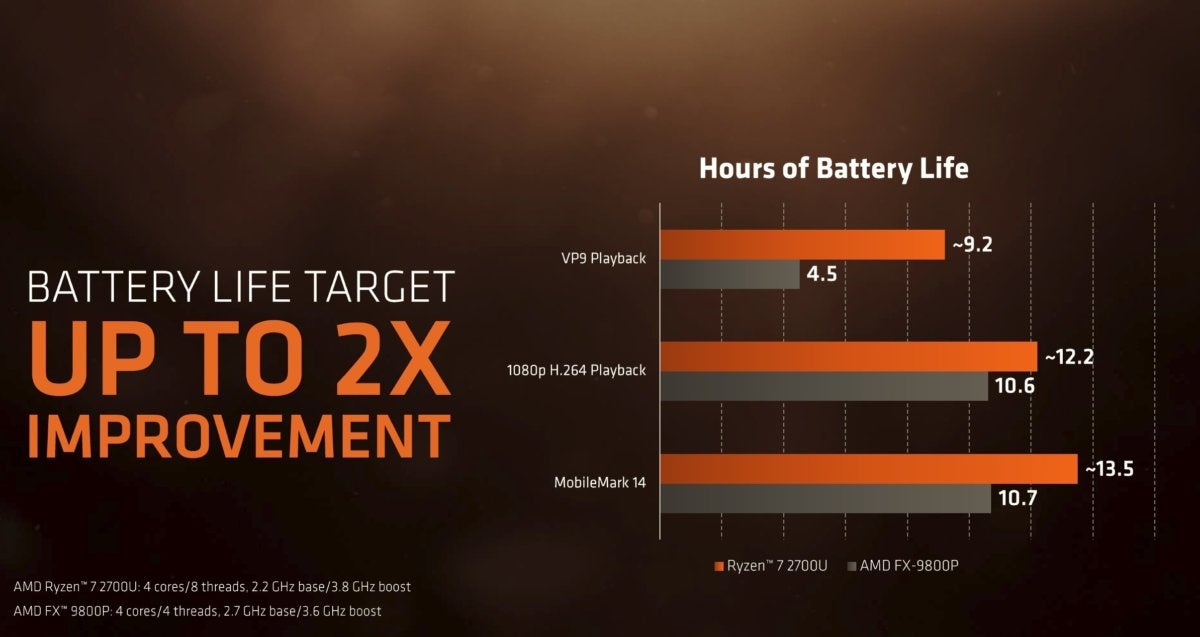 What's inside Ryzen for laptops
In the nuts-and-bolts department, mobile Ryzen differs from desktop Ryzen CPUs in some key ways. The chip is fabbed on a 14nm process by GlobalFoundries in New York. Unlike the quad-core Ryzen 3, which is built using two dual-core CCX units, the Ryzen APU uses a single quad-core CCX. This should let Ryzen for laptops avoid any of the latency that occurs between CCX units. While AMD said not to make too much of that fact, when you look at a large set of gaming benchmarks, some perform slightly worse when cores have to communicate between CCXes, and some perform better.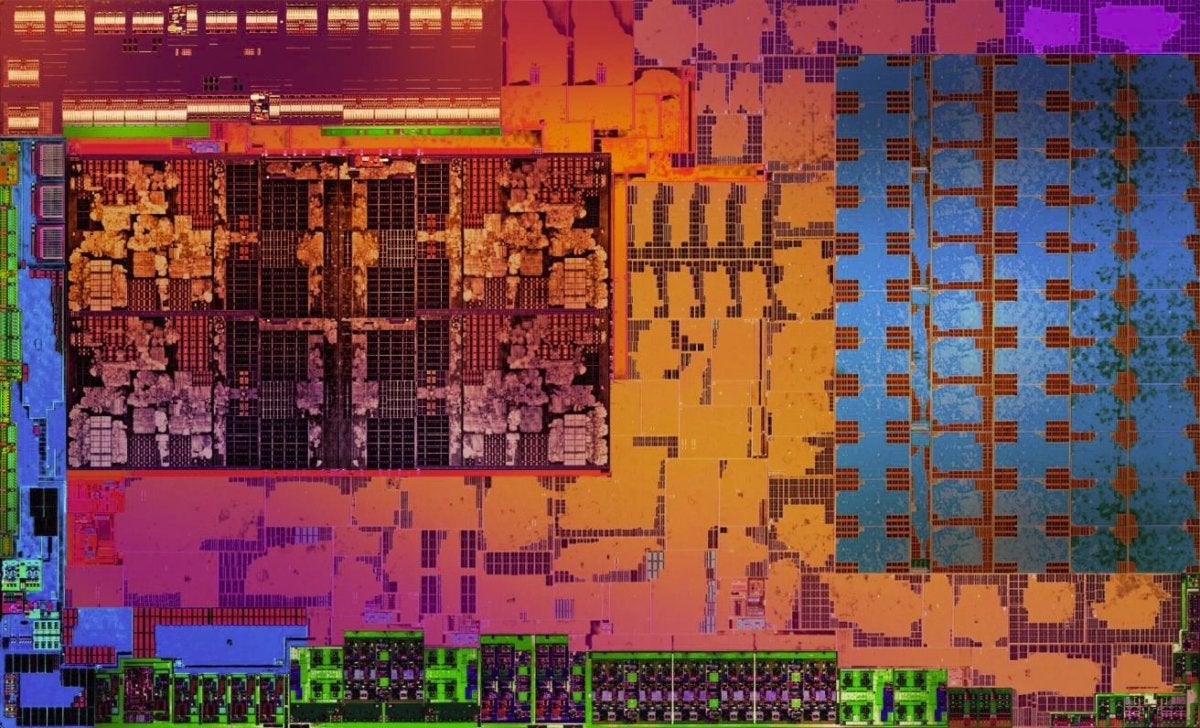 Although a single continuous die, AMD's approach is very modular, with six main components connected with the company's Infinity Fabric. AMD said this modular approach allows it to swap out designs faster. For example, if a future Ryzen laptop needed a different multimedia engine using someone else's intellectual property, that could easily be designed in. Ryzen mobile supports only DDR4 today, for example, instead of the power-sipping but lower-performing LPDDR3. Because the memory controller is external to the GPU and CPU, it's easy to see an LPDDR4 version in the future.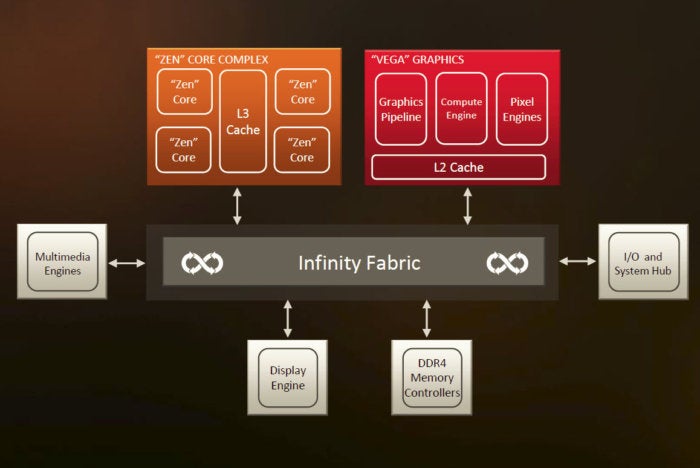 Which laptops will use Ryzen
AMD said it has many laptops in the works with the Ryzen chips. As of launch, it was ready to announce three, all of which offer SKUs with either Ryzen 5 or Ryzen 7. AMD didn't release prices of the three laptops nor exact dates of sale, but all three should be on store shelves before the holiday shopping sprees begin.
Lenovo IdeaPad 720S: It'll support single-channel DDR4/2133, and offer up to 1TB of SSD for storage. The display is 13.3 inches and comes with either a 1080p IPS panel or a 4K IPS panel. The battery is sized at 48Wh, and it'll weigh about 2.5 pounds.
Acer Swift 3: It will support up to 8GB of dual-channel DDR4/2133. Storage options will go up to a 256GB SSD. The screen is a 15-inch 1080P IPS panel, and the battery is 48 watt-hours. The Swift 3 will weigh just under 4 pounds.
HP Envy x360: It will feature a 15.6-inch, 1080p touchscreen. Up to 8GB of DDR4/2400 will be available, along with up to a 512GB SSD or a 1TB HDD. The battery is 55Wh. The Envy x360 will be the heaviest of the three at 4.7 pounds.