At a Glance
Expert's Rating
Pros
Beautiful 2400×1600 display
Fast performance
Very thin and light
Long battery life
Cons
Keyboard throw is a little short
Our Verdict
Google's Pixelbook supports Android apps, Google Assistant, and pen input, making it a leader in Chromebook capabilities. Whether anyone will follow is the great unknown, but it's probably the best chance Chromebooks have to get out of their rut.
The Pixelbook is Google's latest attempt to make the Chromebook cool. Despite two prior generations of flagship Chromebook Pixels and a handful of high-end copycats from other manufacturers, the Chromebook category remains in a rut. Typecast as cheap, disposable browsing machines or easily locked-down classroom computers, Google hasn't figured out how to make the Chromebook essential in the same way the smartphone is for most people.
Google's answer is to make the Pixelbook more like a smartphone. It joins the growing list of Chromebook models that support Android apps. It's also the first Chromebook to support Google Assistant, formerly available only on Android devices (and via an iOS app).
As you might guess from the Pixelbook's name, some of its features work specifically with Google's flagship Pixel phones. In the absence of Wi-Fi, for instance, it'll be able to tether automatically to your Pixel phone, a welcome convenience that should be ready, Google says, by the time the laptops start shipping October 31. We'll add our experiences with tethering once it comes online.
For this review, I've looked at both the hardware and the software experiences. The hardware is brand-new and the software we tried was still in beta, so not everything worked as planned. I can confirm the Pixelbook is a fast, capable device—just like its ancestors—but that's no longer enough. Joining forces with Android is probably the best shot Chromebooks have at becoming desirable hardware to mainstream users. Whether this strategy will actually work for the Pixelbook (and be broadly adopted by other Chromebook manufacturers) is still unknown.
The Pixelbook hardware: Thin is in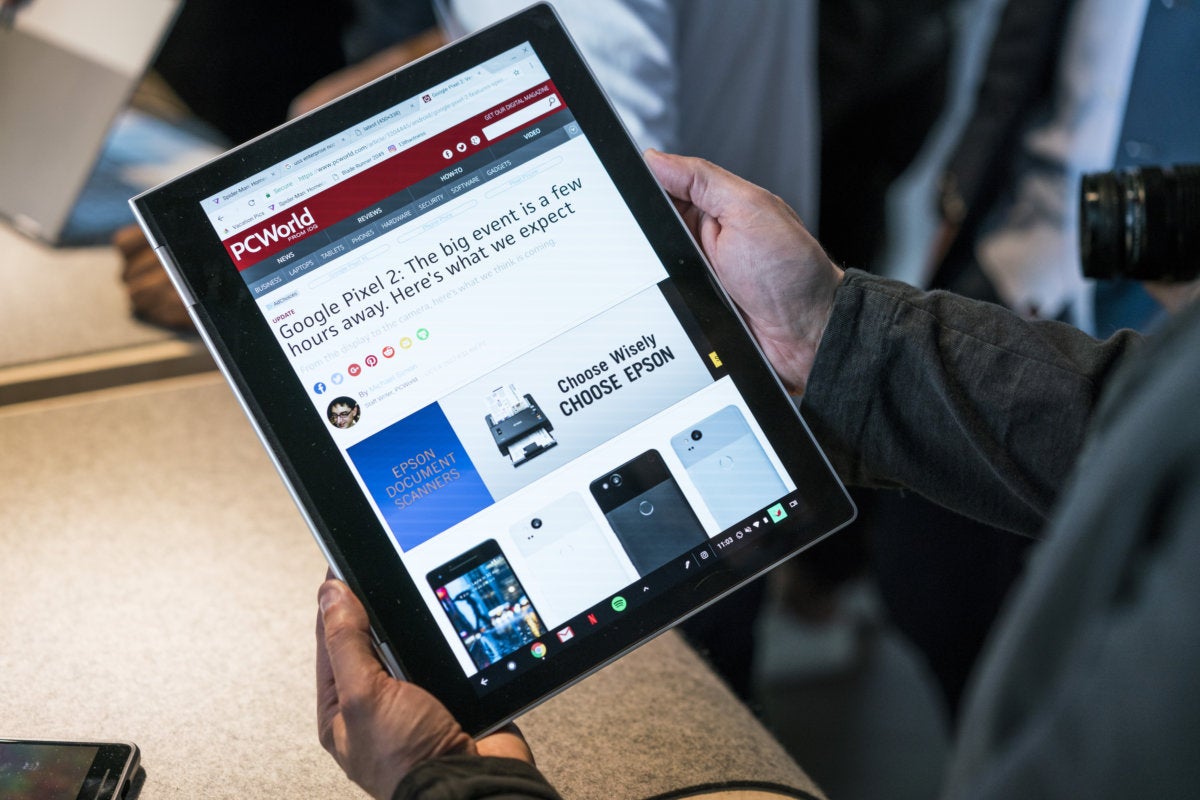 Even if the Pixelbook didn't have a bunch of Android tie-ins, it would still be the nicest Chromebook you can buy: thin, light, and full of forward-looking features. You can see the specs and prices for all the SKUs in our original Pixelbook news story, but below I have details on our particular review unit.
Price: $1,199
Dimensions: 11.4 x 8.7 x 0.4 inches. This is a very thin laptop that slips easily into your bag or under your arm.
Weight: 2.4 pounds. This is lighter than usual compared to popular Windows 360-degree laptops, such as the latest HP Spectre x360 (2.8 pounds).
Mentioned in this article
Pixelbook (Core i5, 8GB RAM, 128GB eMMC)
Price When Reviewed:
$999.00
CPU: Intel Core i5-7Y57 1.2GHz. This is a 7th-generation (Kaby Lake) mobile CPU with two cores and four threads. It has a base clock of 1.2GHz and a maximum of 3.3GHz. As you'll see in our performance tests below, this CPU performed handily.
Graphics: Integrated Intel HD Graphics 615 (a lower-end chip).
Memory: 8GB RAM. This looks small compared to what you'd get with a Windows or Mac laptop, but for a Chromebook, it's an adequate amount.
Storage: 256GB eMMC storage. This is an affordable, if unexciting storage type that's common to Chromebooks. The highest-end Pixelbook SKU has a 512GB SSD.
Display: 12.3-inch, 2400×1600, 235ppi LCD touchscreen on a 360-degree hinge. The default resolution is 1200×800, which is probably easier on your eyes as well as on the laptop's power draw. The display has a very high maximum brightness of 400 nits, though we measured it even brighter. Note, however, that the brighter the display, the more power it needs.
Chassis: Aluminum unibody with 360-degree hinge, in one color, Silver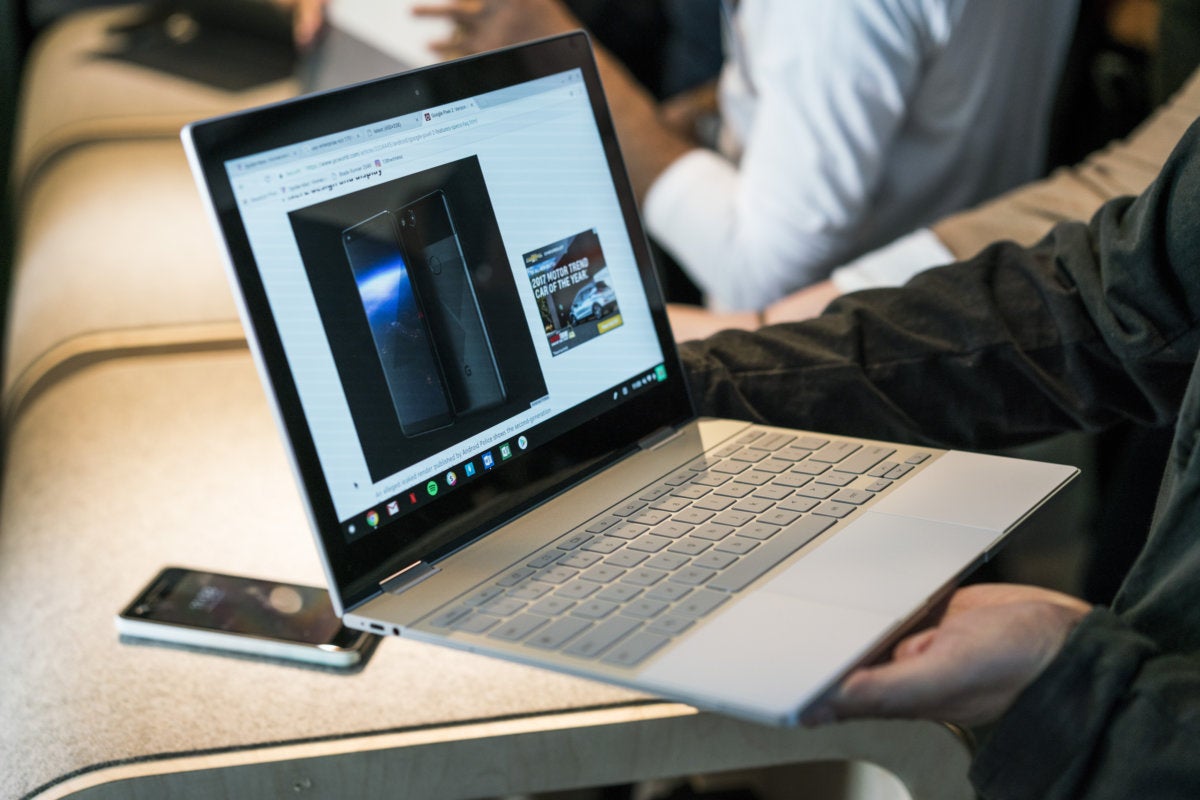 Keyboard: The full-size keyboard has a 19mm pitch and a short 0.9mm travel—an expected compromise in a design this slender. The keyboard is still comfortable, but I prefer the longer-throw keyboards on past Chromebook Pixels.
Trackpad: Etched glass, with soft white rubber panels on either side. Clicking, scrolling, and mousing on the pad all felt responsive.
Connectivity: Two USB-C for charging and 4K display support. That's it, people. No legacy USB-A, not even an SD card slot. But there is a headphone jack!
Wi-Fi: It's worth noting the broad compatibility of the antenna: 802.11a/b/g/n/ac. Also, the reason the Pixelbook has a glass upper lid area is to enhance the Wi-Fi antenna's strength.
Battery life: The 41Whr battery lasts up to 10 hours, Google says. Your mileage will vary, especially if you crank up the display brightness. See our performance section for more on the battery life.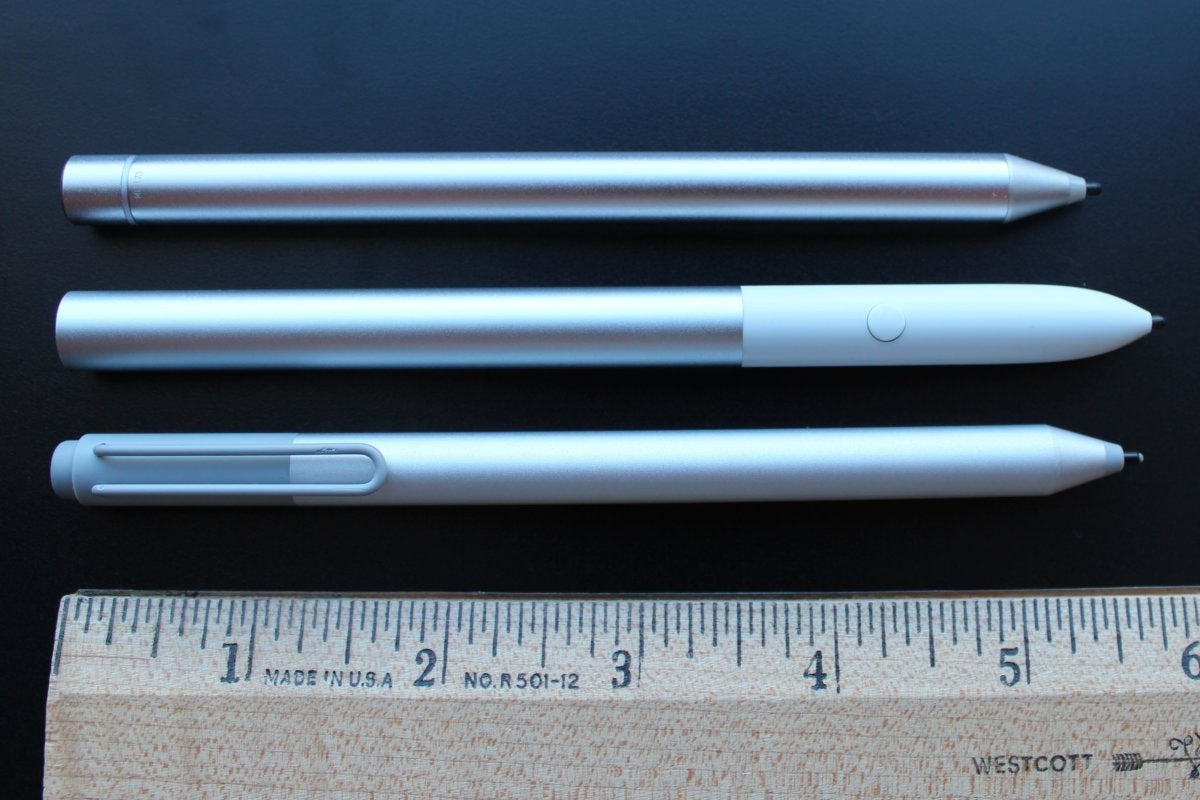 Pixelbook Pen: A $99 option, it measures 5.79 inches long and 0.42 inches in diameter, and weighs 0.75 ounces. It takes a AAAA battery. It has 10ms latency, which is fast, and recognizes 2,000 levels of pressure, which is about midrange—some competing pens have up to 4,096 levels of pressure.
Most of the shaft is aluminum, but Google says it put a white-plastic section near the nib to make the pen easier to grasp.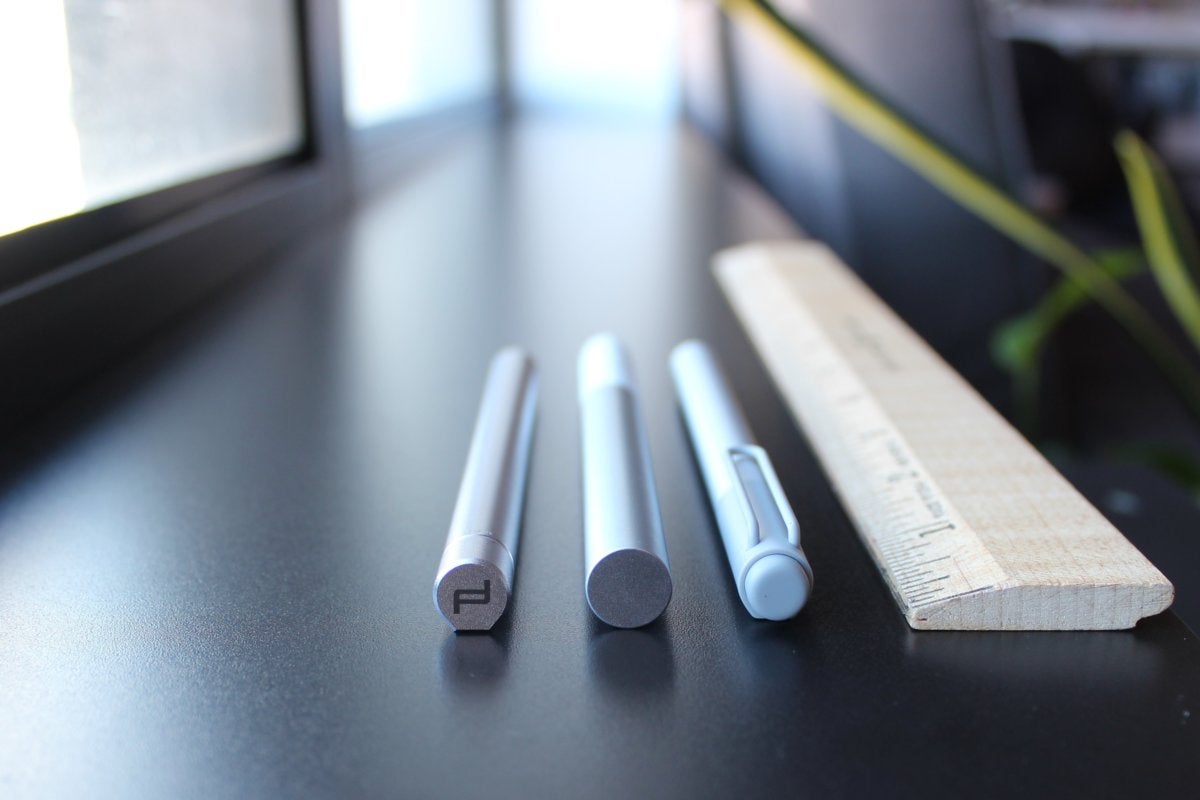 There's just one notable downside to this pen. Other models we've used, such as the Porsche Design Book One's Stylus and Microsoft's Surface Pen, have one flat edge to keep them from rolling. The Pixelbook Pen is perfectly round, and it rolled all over the place on my desk. It would be nice if a $99 pen were a bit harder to lose.
Google Assistant and pen support stand out
Normally I'd dive into performance next, but the Pixelbook is different. Its Android app support, along with its new capabilities relating to Google Assistant and pen support, matter much more than its speeds and feeds. And, overall, my experiences were positive.
I've tried Android apps on Chromebooks, and it's still a work in progress. Google even warned us that the Pixelbook's app behavior would be buggy due to the beta build loaded on eval units, though the problems we ran into were few and mostly minor.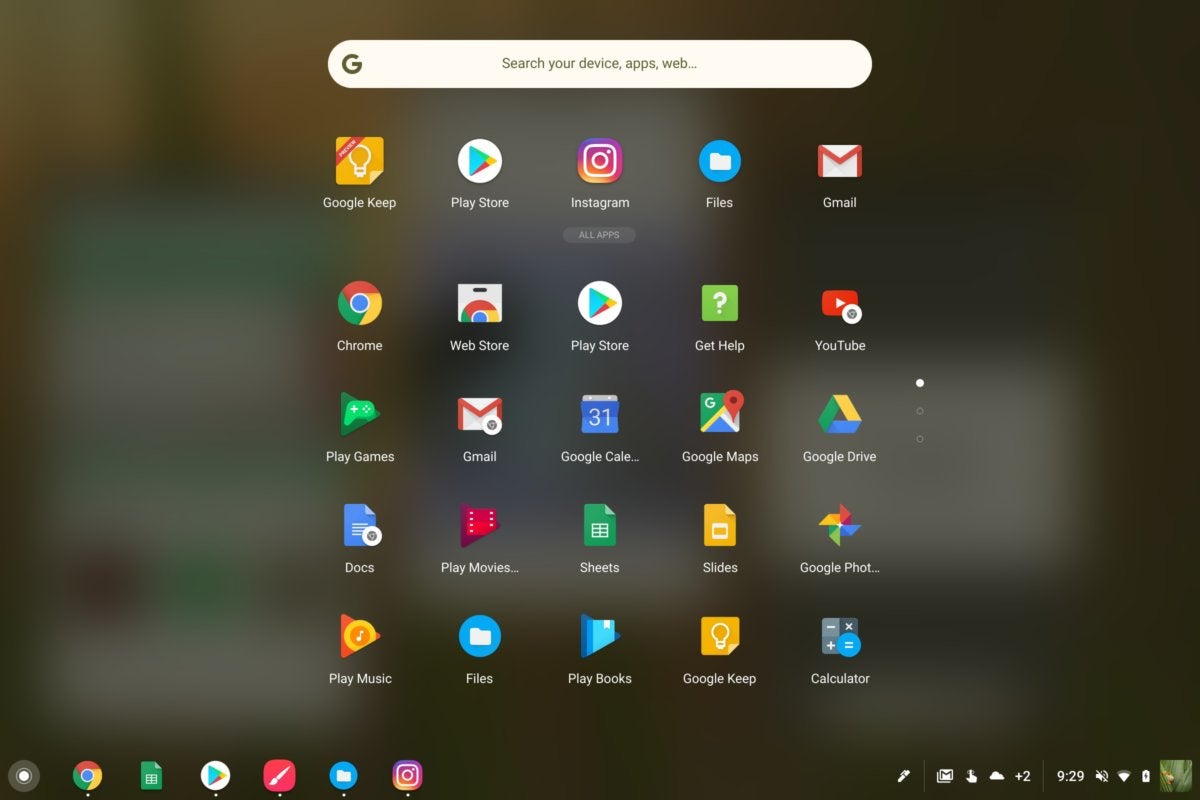 Android app support matters because it suddenly gives the Chromebook a lot more to do. For diehard Android users, being able to use a favorite app on a bigger display with a keyboard can improve usability significantly.
At the time of this review, however, my favorite app (Instagram), and many other Android apps, remain stubbornly puny: You can enlarge Instagram from smartphone to tablet format, but you can't make it full-screen. Google says it's working with developers to help apps embrace the full width of a Chromebook's screen compared to a mobile screen, but they've been saying that for a while now, so apparently it's going to take some time.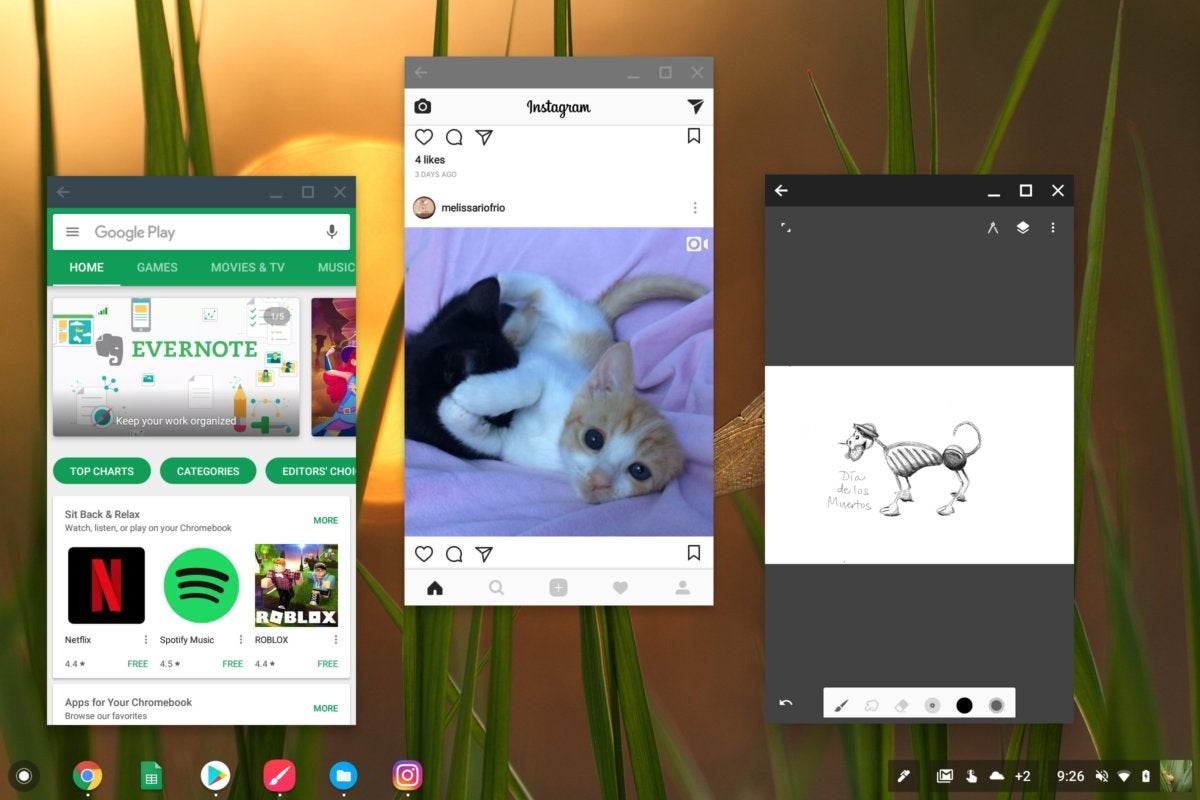 Meanwhile, adding Google Assistant to the Pixelbook inches Chromebooks closer to parity with Windows and Mac PCs, which have Cortana and Siri, respectively, to talk through schedules, tasks, and random search queries. When I added my user account to the Pixelbook, I said "OK Google" three times to train the device to recognize my voice. Then all I had to do was say "OK Google" within range of the Pixelbook's four microphones, and Google Assistant would launch on the display, ready for my request.
If I didn't feel like talking, I could type a query into Google Assistant's text box. Even better, I could pick up the Pixelbook Pen, and watch Google's A.I. engine really go to work. You start by holding the button on the pen's shaft while drawing around any image or snippet of text in a Chrome webpage. Now step back and see what Google Assistant finds.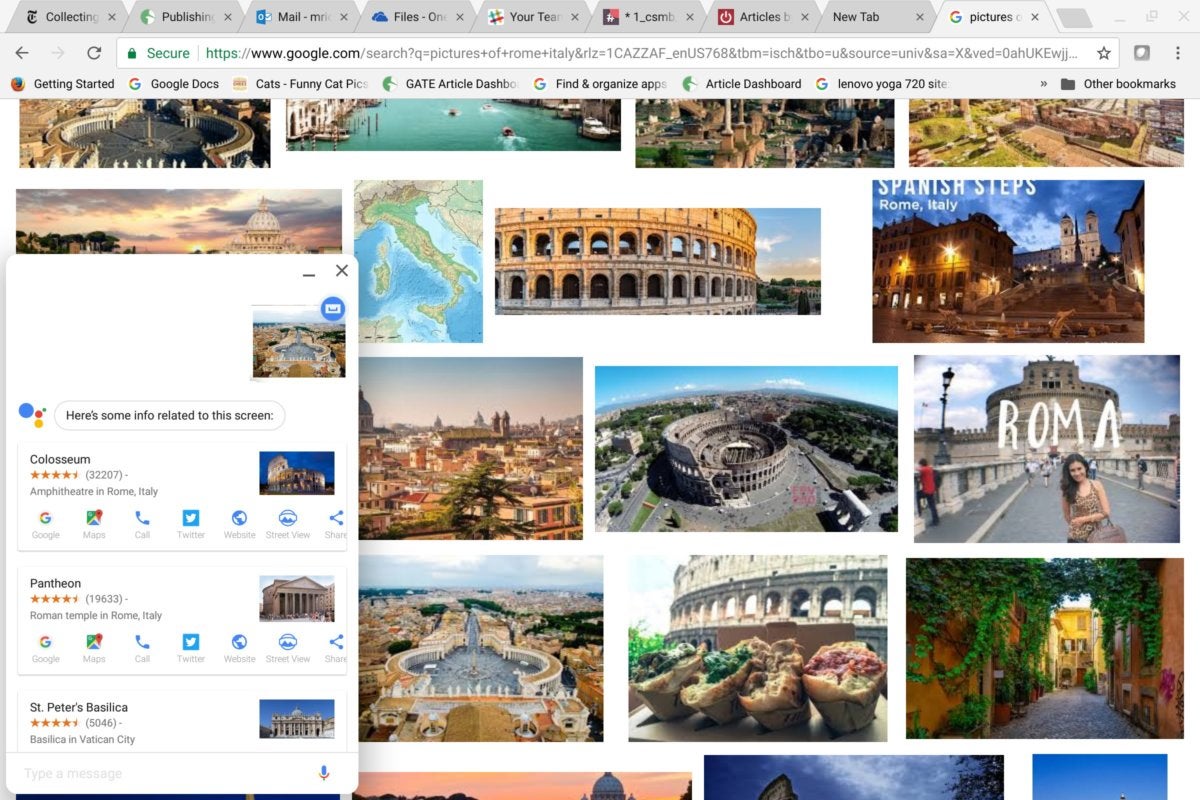 Once you've selected something and released the button, Google Assistant will try to identify the image and provide information, or transcribe the text for you. In my tests it also seemed to learn from its mistakes: A search on an image from Rome yielded results that were slightly off, but repeat tries led to more precise responses.
For me, the real fun began when I tried drawing apps like Painter. In the course of making the sketch shown below, the pen's 10ms latency rarely distracted me, but I already found myself wishing for more levels of pressure when I wanted to create finer areas of shading. Still, the ability to get off the keyboard and trackpad and get creative—digital erasing, in particular, is a huge convenience—is something I love about all the pen support.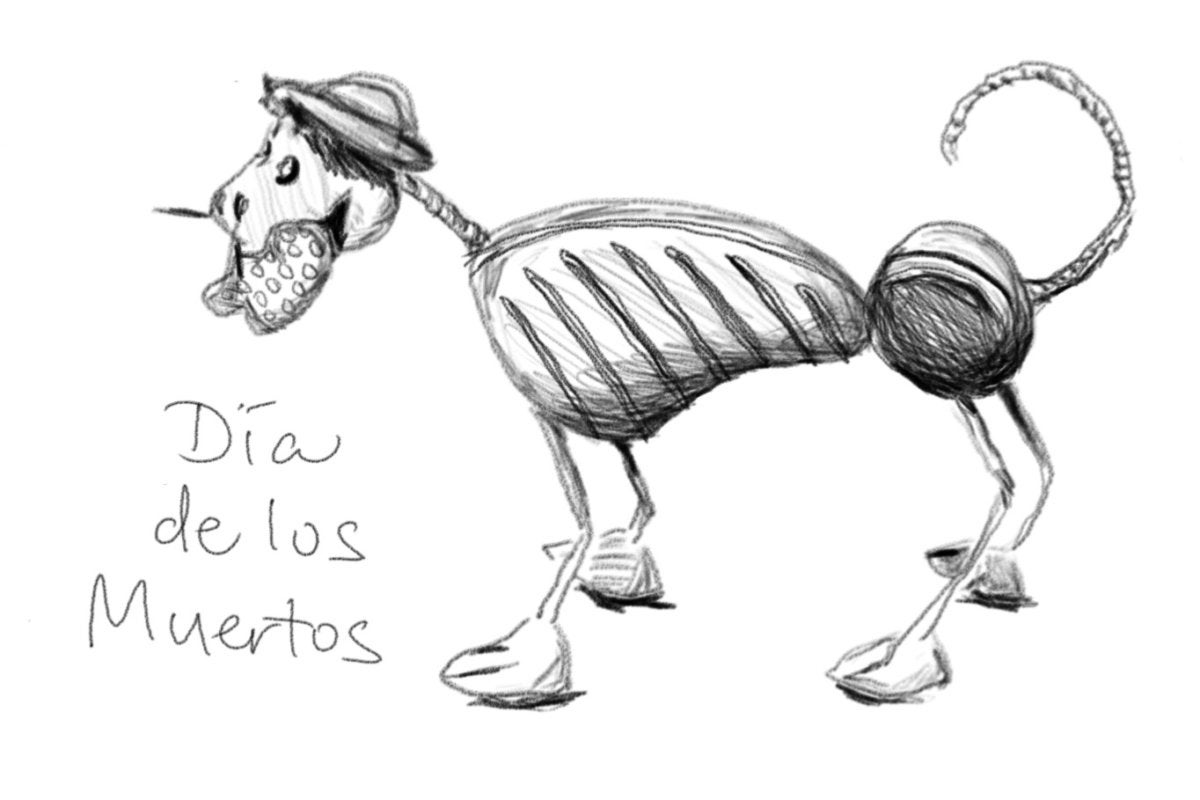 Pixelbook performance: Kaby Lake rules
When we talk about Chromebook performance, remember that Google updates Chromes OS every six weeks. Newer models will always benefit from any recent improvements.
That said, the Pixelbook's greatest advantage its 7th-generation Kaby Lake CPU, which is a little more powerful and a lot more efficient than its Skylake predecessor. An improved video engine helps, too. Compared to its 2013- and 2015-era Chromebook Pixel predecessors, the Pixelbook makes great leaps forward.
The Cr-XPRT test measures Chromebook performance in basic productivity tasks, as well as in more demanding activities, such as watching movies and playing games. Comparing the Pixelbook to Chromebooks without Kaby Lake, it's basically no contest.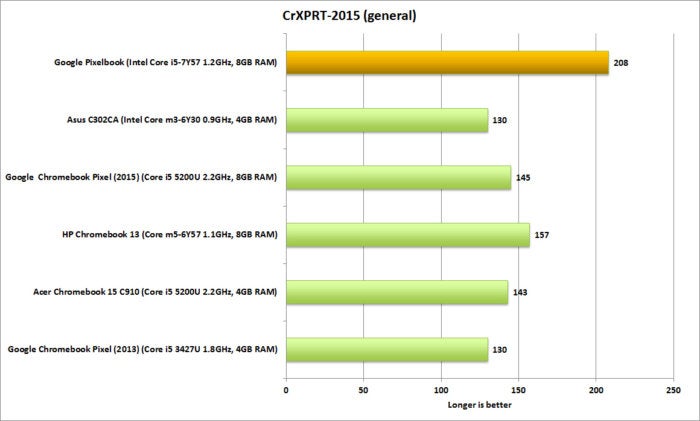 Basemark is a broad-based benchmark that incorporates WebGL and JavaScript tests. The Pixelbook maintains its strong lead against models with 6th-gen and 5th-gen CPUs.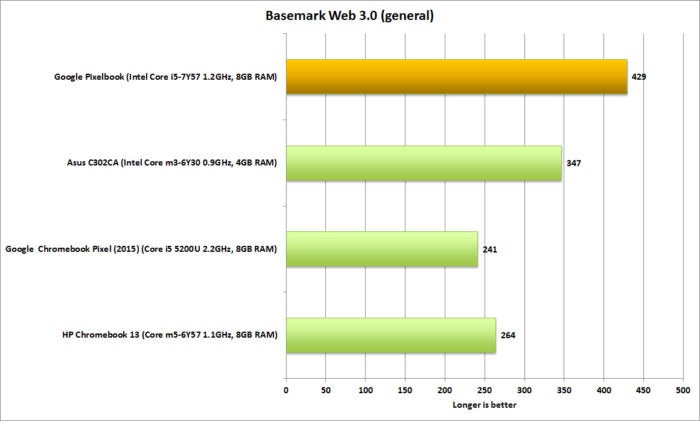 Kraken is a JavaScript performance benchmark created by Mozilla that uses real-world applications and libraries. Shorter bars are better in this case. We see a surprise rally by HP's Chromebook 13, with its 6th-gen Skylake CPU, but Google's Pixelbook is neck-and-neck for lead position.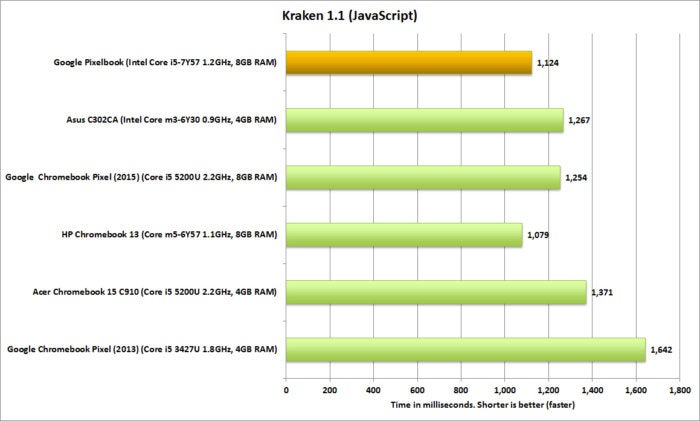 We also ran Cr-XPRT's predicted battery runtime test. For the test, we set the Pixelbook's brightness as close to 200 nits as possible, and attach headphones for audio output. The Pixelbook's projected runtime of 11.67 hours exceeds Google's spec of 10 hours and is more than enough to get you through a long day.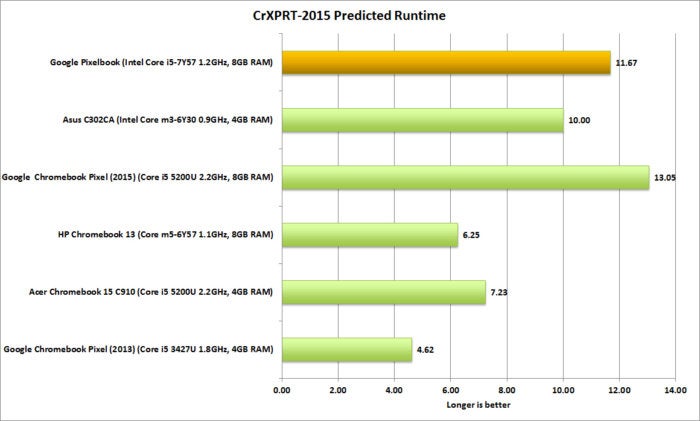 The Pixelbook looks ahead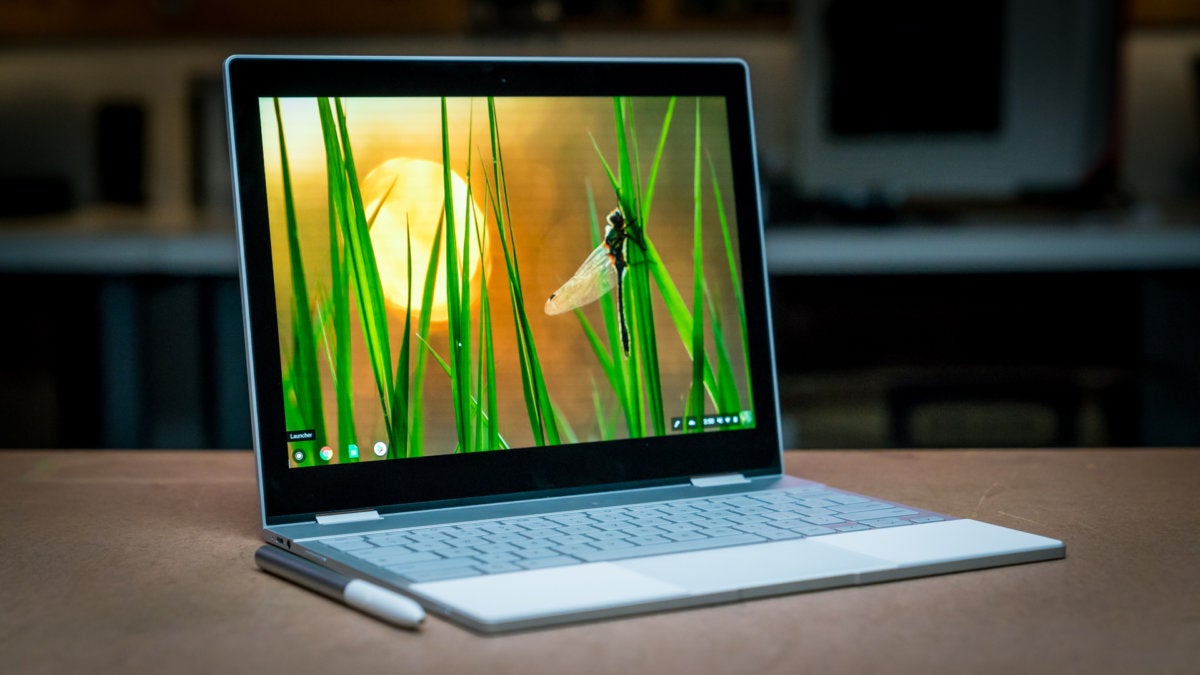 Truth be told, the Pixelbook probably has more power than most Chromebook users will ever need. It gets a high rating not because I think everyone should buy it. Frankly it's unaffordable for most people, and hard for many to justify compared to a full-fledged Windows or Mac PC. Instead, the Pixelbook earns its rating because it succeeds in showing the best a Chromebook can be.
Interestingly, "best" has evolved from simply "premium laptop" to "premium Chromebook-slash-Android experience." With its 360-degree hinge, and its support for Android, Google Assistant, and pen input, the Pixelbook is prepared to become an Android phone's best friend and open up new frontiers for the humble Chromebook. What we don't know is whether other Chromebook (and Android phone) manufacturers will join Google's push.