At a Glance
Expert's Rating
Pros
Compact design, great battery life, and top-of-the-line specs.
Camera app brings excellent features and shooting modes.
Quad DAC offers superior sound through wired headphones.
Wireless charging and IP68 water resistance are a nice addition.
Cons
Display is inconsistent and duller than other OLEDs.
UX 6.0+ skin doesn't improve on the Android experience.
Image quality isn't as good as its peers.
Our Verdict
The V30 is a really good phone in a sea of great ones, and it just doesn't do enough to stand out from the crowd.
Best Prices Today: LG V30
When I first went hands on with the LG V30, I was sure I had found the phone of my dreams. But that was before the Galaxy Note 8 and Pixel 2 XL had made their debuts, and LG had just fed me a feast of specs: a Snapdragon 835 chip, 1440×2880 18:19 pOLED display, Quad DAC, and a 16MP camera with a f/1.6 lens.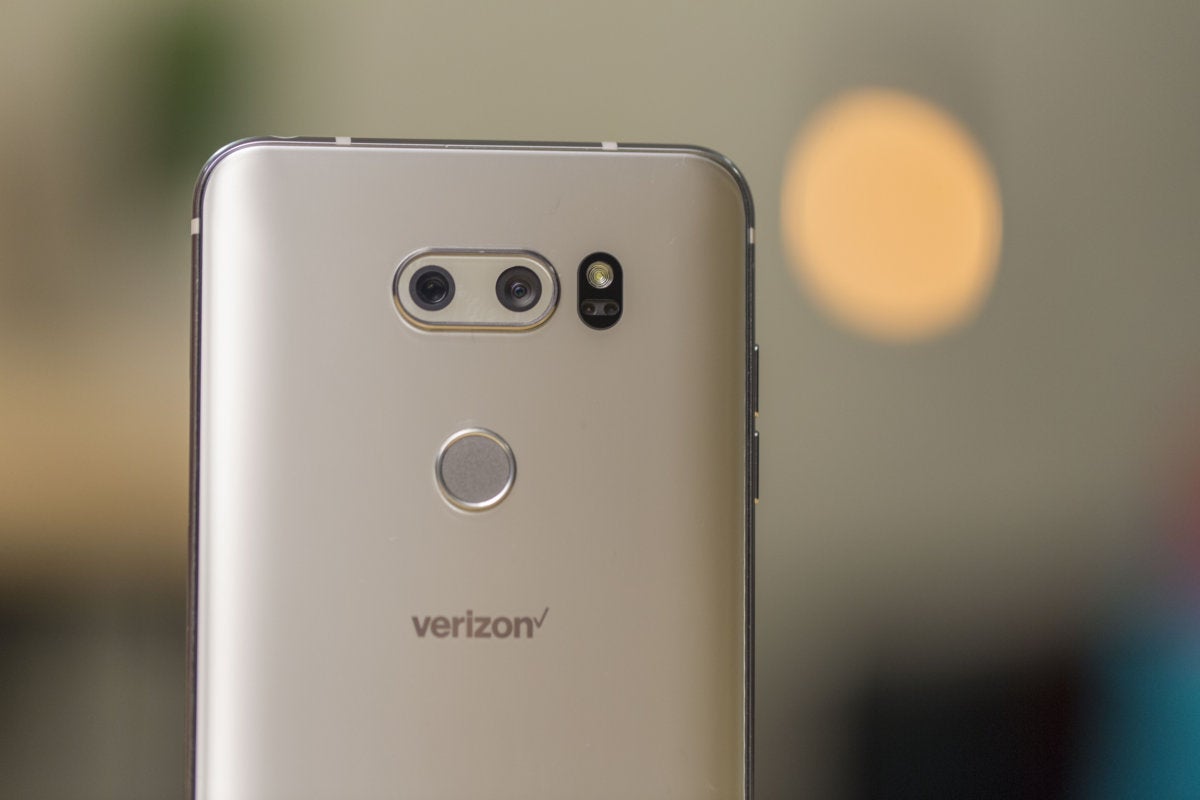 And there it all was, packed inside a sleek frame with skinny bezels and a lot of glass, as if it were the love child of the Samsung Galaxy S8 and LG G6. At once, the V30 seemed to be a wholesale reimagining of the V20 and a declaration that LG was finally serious about building a flagship phone free of gimmicks (the second screen) and niche features (the removable battery).
But even if LG's timing hadn't been doomed it from the start—the subsequent launches of the Note 8, iPhone 8 and iPhone X, and Pixel 2 have all but snatched the spotlight—the V30 still misses the mark in small but meaningful ways. Despite a couple of cool features that its higher-profile competitors are lacking (most notably a kick-ass headphone jack), ultimately the V30's legacy will be the same as the LG flagships that came before: So close. And yet, so far.
V30 design: all too familiar
While the V30 isn't nearly as much of a departure from its predecessor as the G6 is from the modular G5, it still brings some significant design changes. The most obvious is that there isn't a physical second screen at the top anymore, giving the phone much better visual symmetry and balance. The corners curve a bit more than last year, and the bezels have slimmed down dramatically, giving the phone a more compact look despite its larger screen (6 inches vs 5.7 inches on the V20).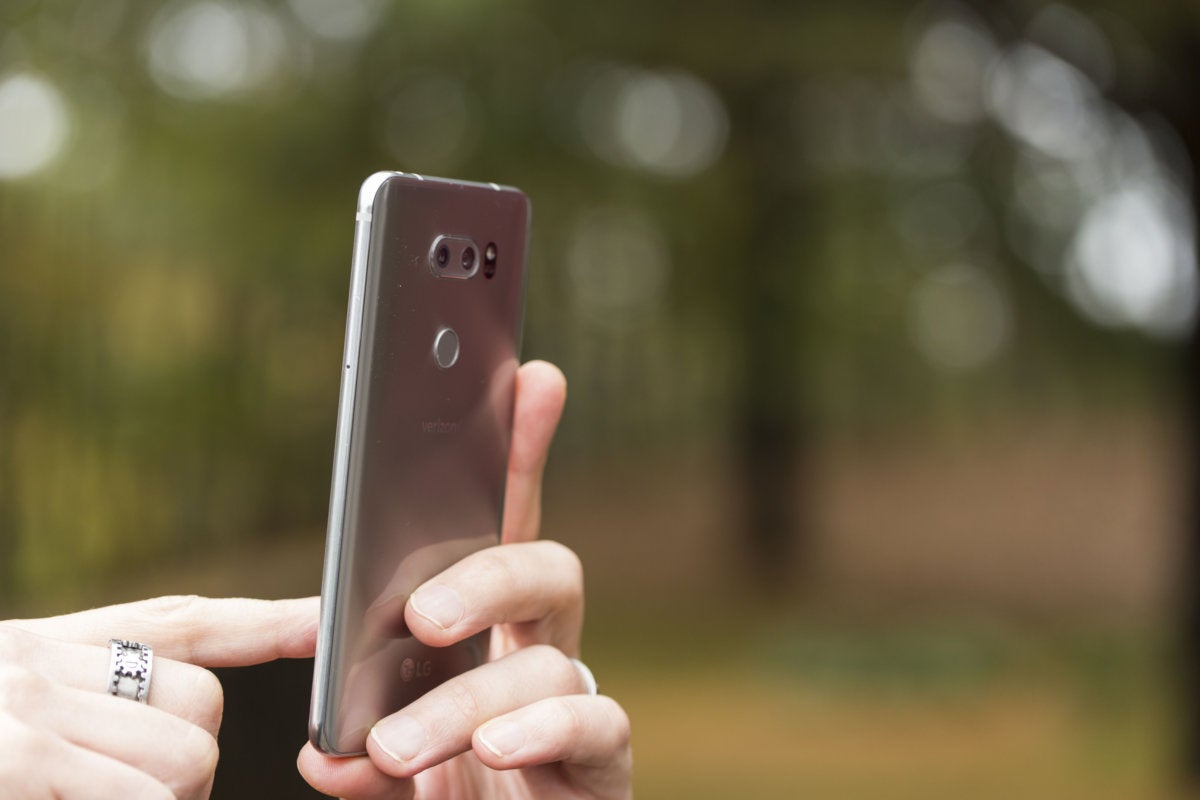 With its new design, however, the V30 has also left behind some of the V20's character. Where the previous model had strips of metal at the top and bottom reminiscent of the timeless HTC One, the front of the V30 is entirely made of black glass. Around the back you'll find a dual camera setup and a centered fingerprint scanner that once again doubles as a power button. The glass backing has a metallic sheen to it that reflects the light nicely, and feels smooth without being too slippery.
The bezel-slimming movement has had the unfortunate side effect of homogenizing large handsets to the point of bring indistinguishable, however, and LG couldn't resist the trend. While there's nothing wrong with the V30's design, there's nothing memorable about it either. It looks like any old Android phone. I prefer the distinguishing touches of metal in the G6 and V20.
Display deficiencies
The V30 represents LG's first OLED phone since the ill-fated G Flex 2. The newness of the display is evident. With HDR and Daydream VR capabilities, the OLED's deep blacks and vivid hues represent an upgrade over previous generations of LG LCDs. Unfortunately, though, the deficiencies stand out more.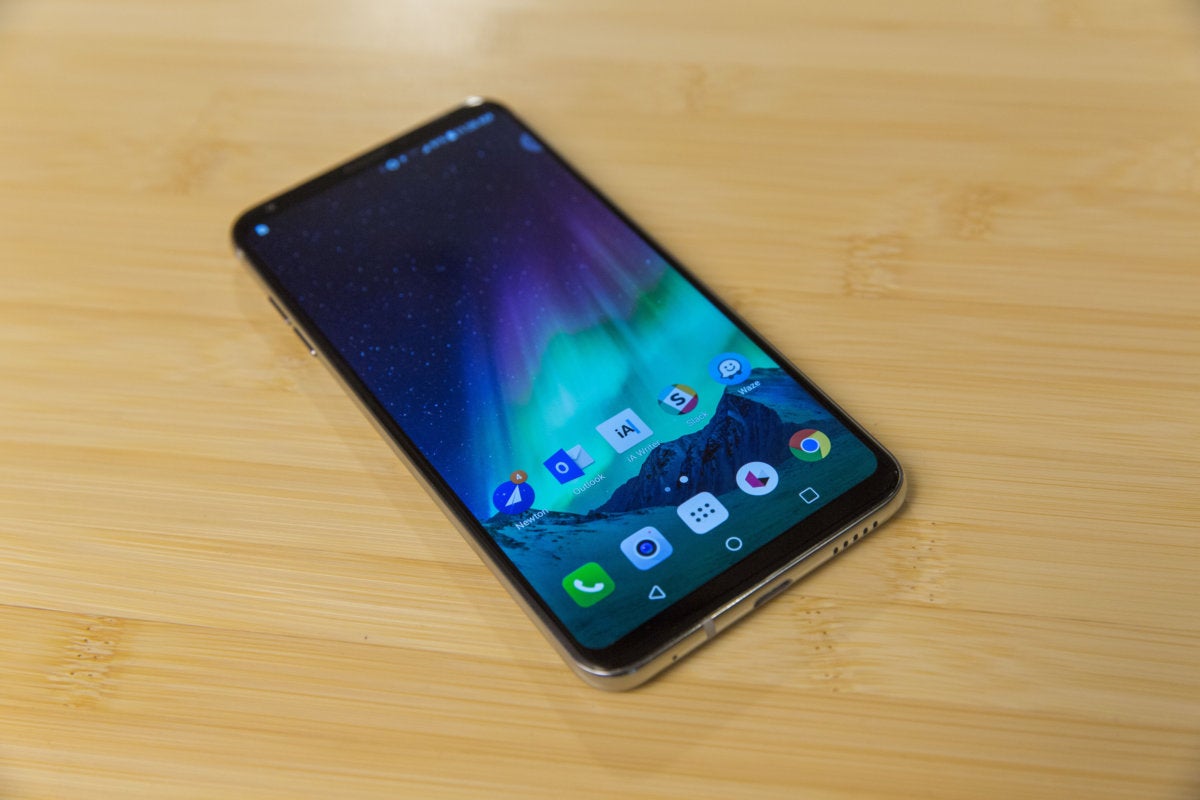 The "p" in pOLED stands for plastic, which is used to make the display thinner and more flexible than would be possible with glass—similar to the AMOLED screens Samsung uses in its Galaxy phones. Compared to the G6 and the V20, the V30's curved edges are definitely a step in the right direction, but the display's not quite in the same league as the Infinity Display on the newest Galaxy handset. Plus, in my experience, it scratched way more easily than other phones despite being covered with Gorilla Glass 5.
Samsung has practically perfected its AMOLED displays with the S8 and the Note 8, and as a result the V30's pOLED screen feels several generations behind. In fact, colors are often a bit cooler and somewhat duller than they are on the G6. At lower brightness levels, the V30's screen is noticeably uneven, with pockets of inconsistent colors and occasional graininess. It echoes the issues some users are seeing with the Google Pixel 2 XL, which also has a display made by LG. Given the impressive track record with its LCDs, it's a little surprising that LG's quality control team keeps letting subpar product out the door.
Power-packed and power-efficient
What the V30 lacks in display performance, it makes up for in actual performance. The V30 sports a Snapdragon 835, along with 4GB of RAM. While the 835 is a step above the Snapdragon 820 in the V20 and the Snapdragon 821 in the G6, it's still a bit old hat by this point. Nevertheless it's very capable: Navigation and app switching is fast and smooth, and there's a cool haptic engine that emits little pulses of feedback when you flip a toggle or snap a photo.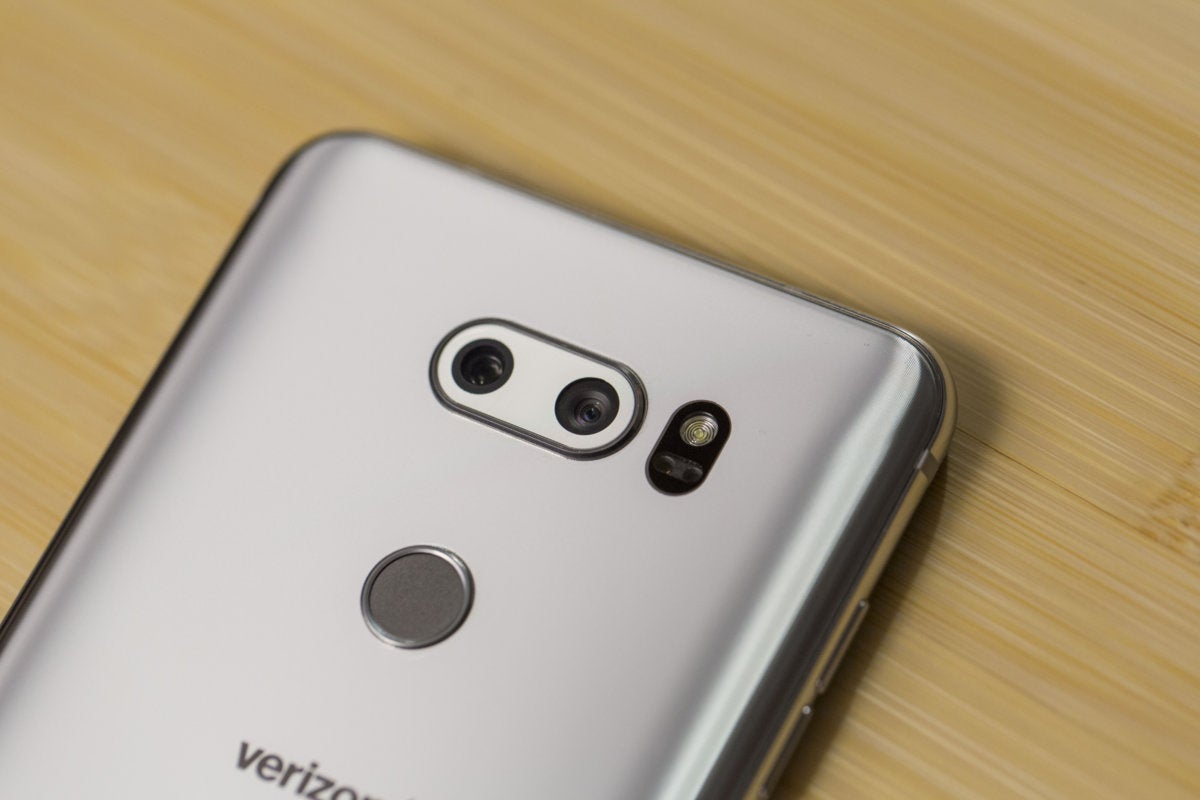 LG has put a 3,300mAh battery in the V30, but this time around it's not removable. The V20 was the last major Android phone with a removable battery, so some enthusiasts will be very disappointed. For most buyers, however, it won't matter, especially because LG has added wireless charging and IP68 water resistance in its place.
You wouldn't need to swap it out very often, in any case. Benchmarks were somewhat inconclusive, as PCMark's Work 2.0 battery life test repeatedly crashed before it could tally the results. Based on my observations of the tests as they ran, however, a span of about 8.5 hours seems realistic—longer than the G6, but not quite as long as the Galaxy S8+. Most importantly, however, I never had to plug it in during a heavy load of real-world testing. The V30 should get you though a full day, but you'll need to charge it while you sleep. You know, like pretty much every other Android phone.
Sound sets the V30 apart
While Google and Apple are leading the charge to dump the headphone jack, LG is doubling down on the legacy port by building a 32-bit advanced Quad DAC (Digital-to-Analog Converter) into the V30. The results are pretty incredible.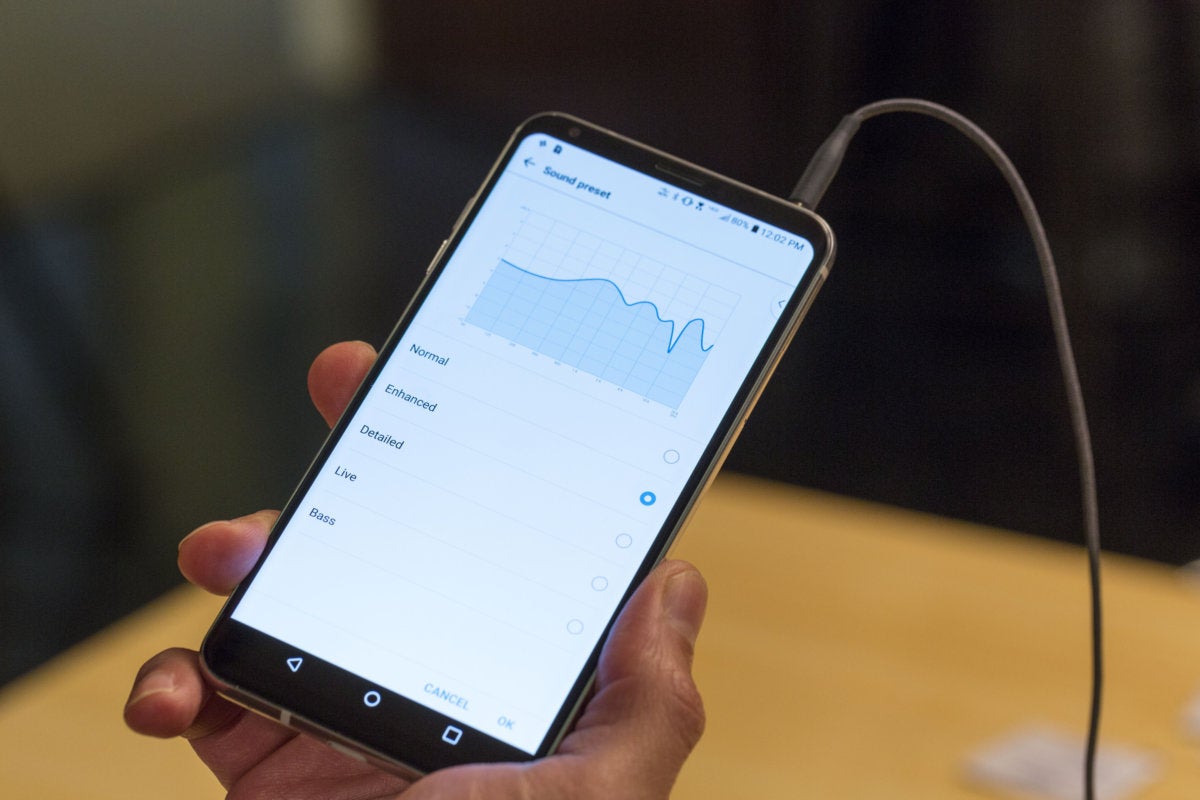 With a pair of Bluetooth buds, the V30 sounds like any other phone, but with wired headphones and the Quad DAC flipped on, it's in a class by itself. Even comparing it against the HTC U11, which has its own USB-C-based audio system with a proprietary pair of noise-canceling earbuds, the V30 more than held its own. Once I plugged in a pair of higher-end headphones, the sound was downright spectacular for a smartphone. My only quibble is that I would have preferred the headphone jack at the bottom edge of the phone rather than the top.
With on-par performance and battery life, the V30's Quad DAC is easily its best selling point, especially for people turned off by the Pixel 2 XL's reliance on a USB-C-to-3.5mm dongle. In an era where specs and design are increasingly homogenous, sound quality could very well become one of the main differentiators among flagship phones. The V30 is definitely among the cream of the crop.
A really good camera with even better tools
The V30 continues its product line's tradition of being a showcase for LG's latest advancements in smartphone photography. The dual-camera setup pairs a 16MP lens with a 13MP one. LG has stuck with its wide-angle camera over the telephoto one on other flagship phones, so there's still no portrait mode.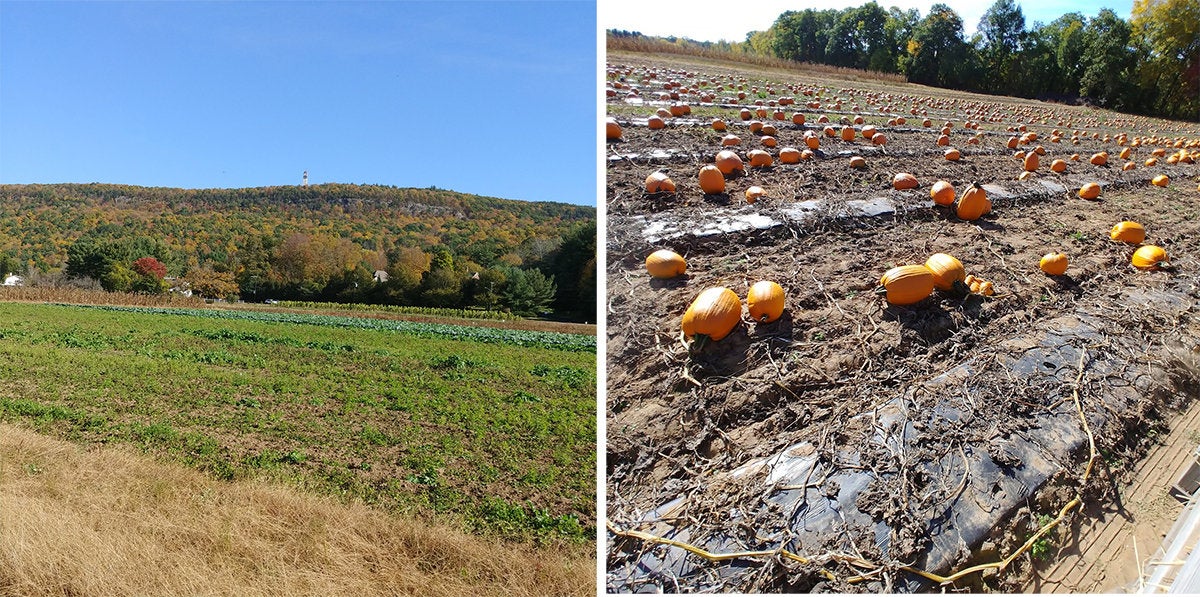 If you've used an LG G6, you pretty much know what to expect with the V30's camera. In the right light, pictures are clear and bright, and colors are vivid, though they can get a touch oversaturated at times.
Low-light performance is still very good and a step above the G6's, though I wasn't as blown away by its f/1.6 aperture and optical image stabilization as I'd hoped. In extreme darkness, the Pixel 2 and Note 8 are far more impressive. And while autofocus is speedy in most cases, it struggles with motion, whereas the Pixel 2 are able to lock in and capture crisp, clear images of moving subjects.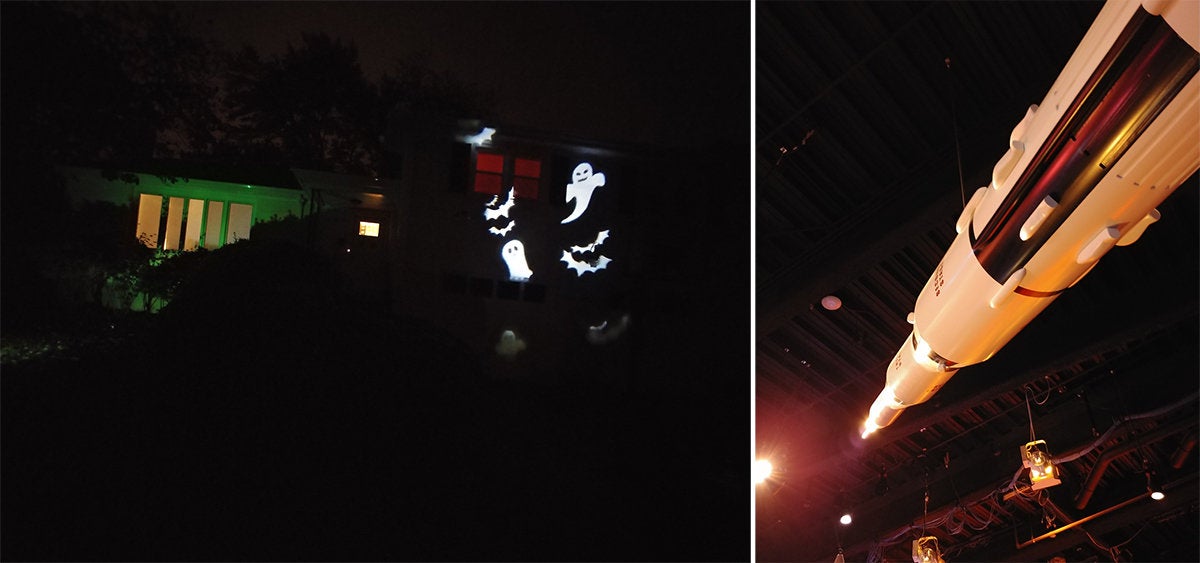 But those are just my anecdotal observations. We're also running the LG V30 through a battery of real-world camera tests. At this point we can say that the V30 holds its own against our longtime champion, the LG G6, and even brings some notable improvements in image quality and user experience. However, the V30 struggles to match the superior image processing power of the newer Pixel 2. Stay tuned for our full camera shootout.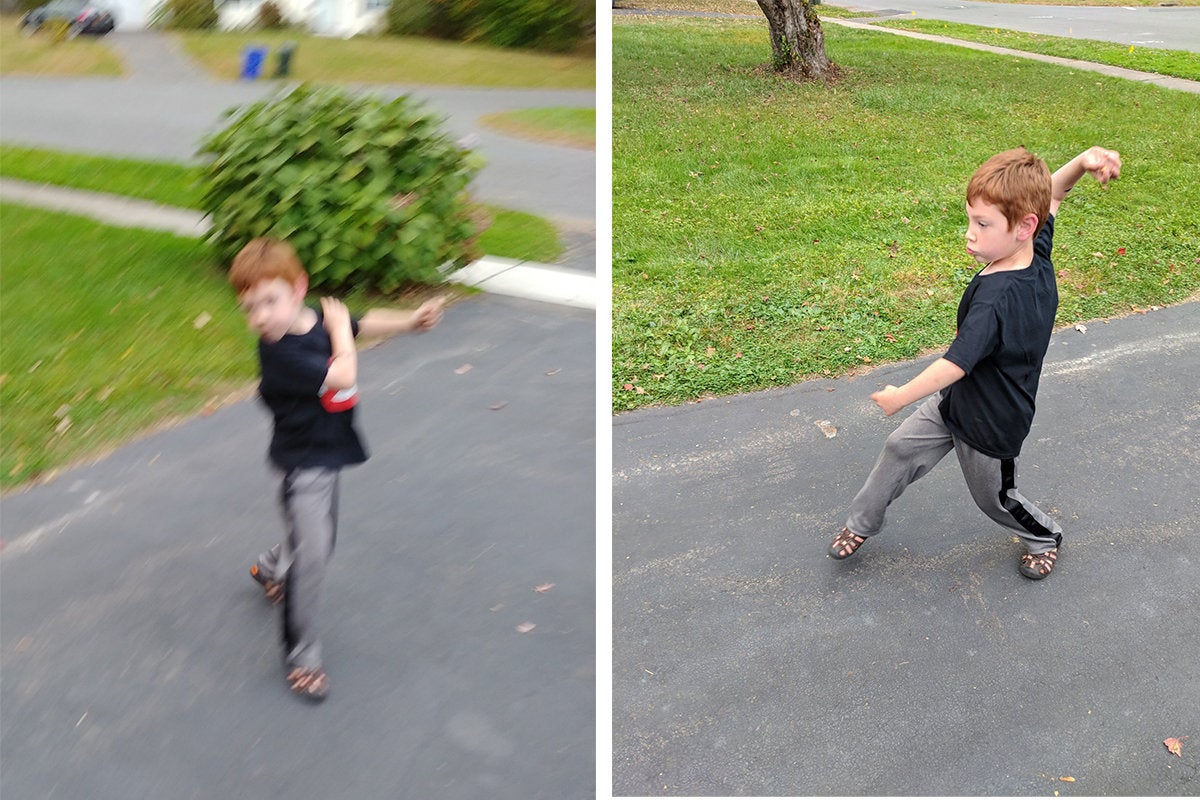 While it might not be superior to its peers in terms of raw image quality, the V30 excels in giving you plenty of creativity tools. LG has expanded on the G6's incredible camera app, keeping features like Match Shot (taking a pic with the front and rear cameras simultaneously) and Snap Shot (showing a preview of your last pic alongside the viewfinder), while also adding some cool new ones. Flip over to manual mode and you'll see a new Graphy icon that lets you browse a library of professional photos and automatically import the same white balance, shutter speed, and ISO settings that were used to take it. You can finally learn the secret to taking perfect sunset and fireworks photos.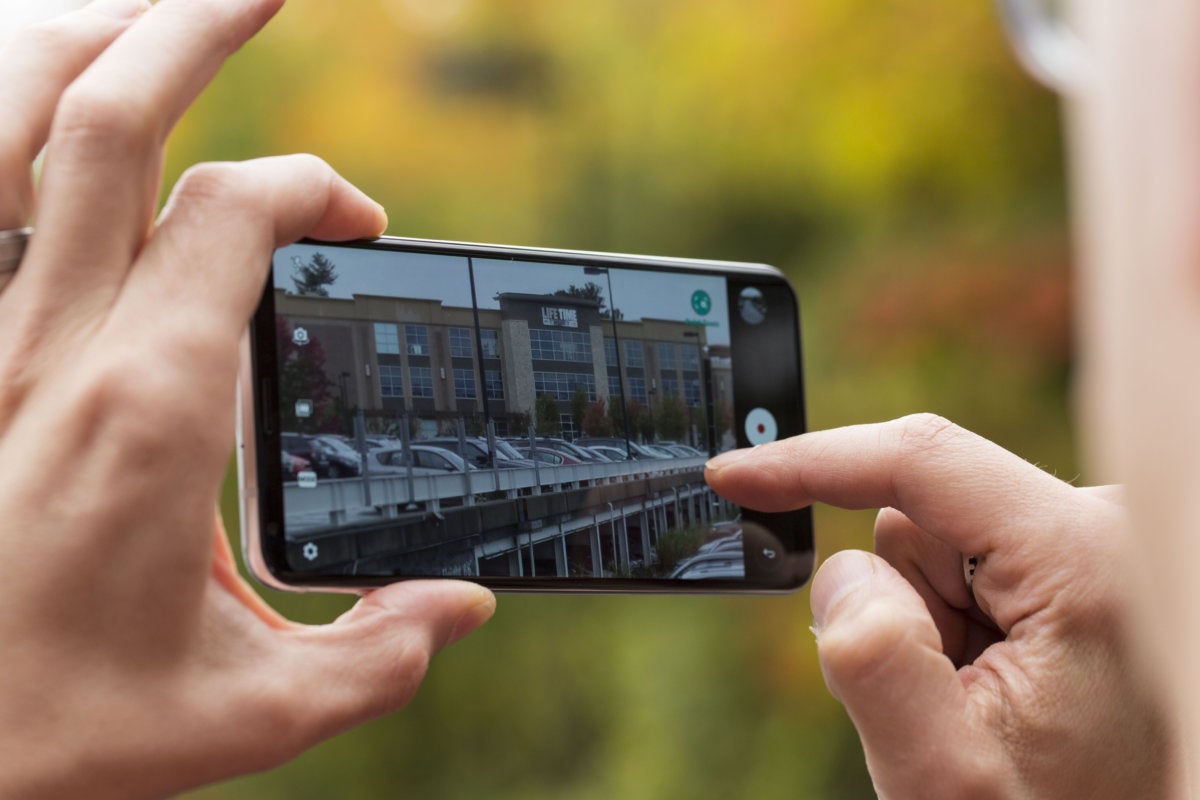 LG has beefed up the V30's video capabilities as well. The marquee feature is Cine Video, which offers a variety of color grades for your shot. Like lens filters for your videos, you can choose from a variety of tints, like dark-blue in Thriller or old-time black and white with Classic. The results look surprisingly professional. Also new is point zoom, which lets you pick an area on the screen that the lens will lock into while zooming. Neither feature is particularly groundbreaking, but they go a long way toward making up for the technical issues with the camera. I might have taken consistently better photos with my Pixel 2 and Note 8, but I had way more fun taking them with the V30.
UX 6.0+ enhancements fall short
The V30 ushers in an updated version of LG's UX OS, version 6.0+. The most notable difference is the addition of a Floating Bar that can be toggled off in the settings. A virtual representation of the V20's second screen, it serves as a place for shortcuts and controls. Also like the V20's second screen, it's not very useful.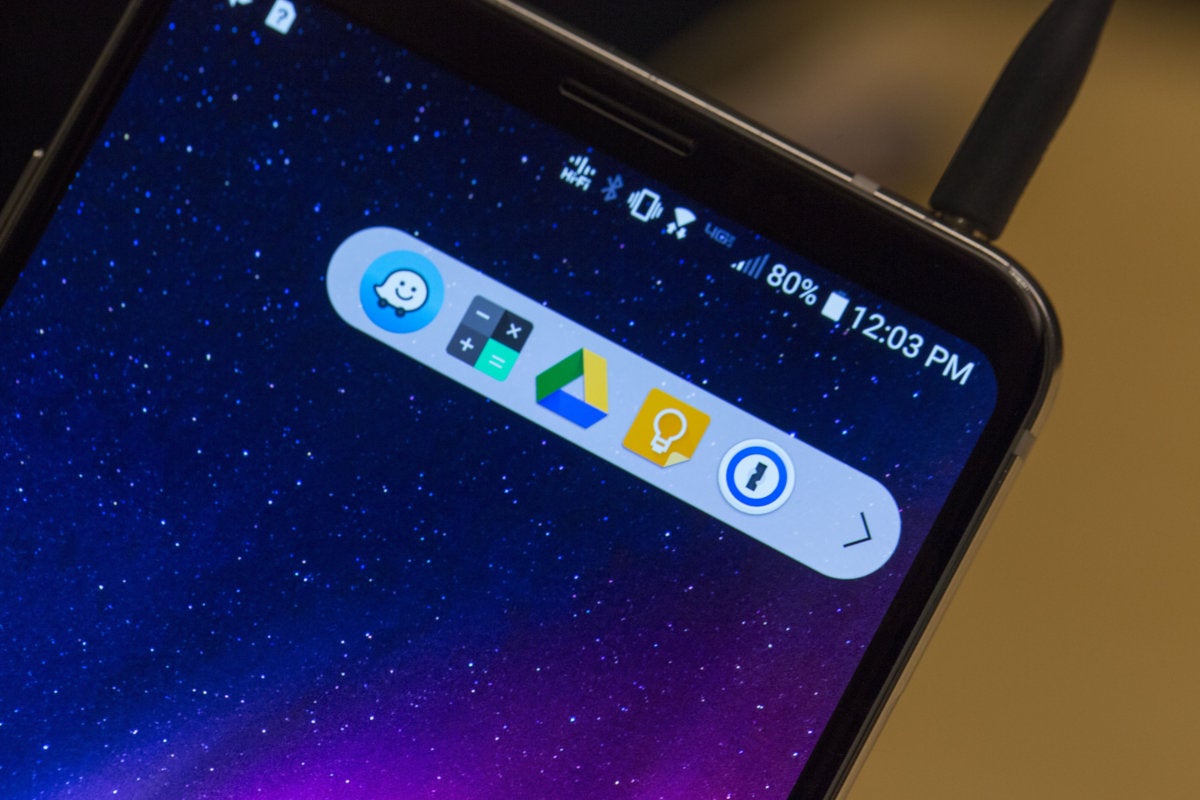 It lives on the edge of the screen and you can move it anywhere you want, but it's fairly limited in scope. You can show app shortcuts, a set of screen capture tools, contacts, and music controls, but not things like upcoming events and quick settings. Ultimately, I found it to be even less useful than Samsung's Edge Panels, and I ignored the floating bar for long stretches until I finally just turned it off.
What I did like about UX 6.0+ is the new color-tinged always-on display. Previous LG always-on displays have offered little more than a clock, but the V30 brings the ability to display color photos and adds a set of useful quick controls for things like turning off Wi-Fi and turning on the flashlight. I only wish I could customize the placement and assortment of buttons.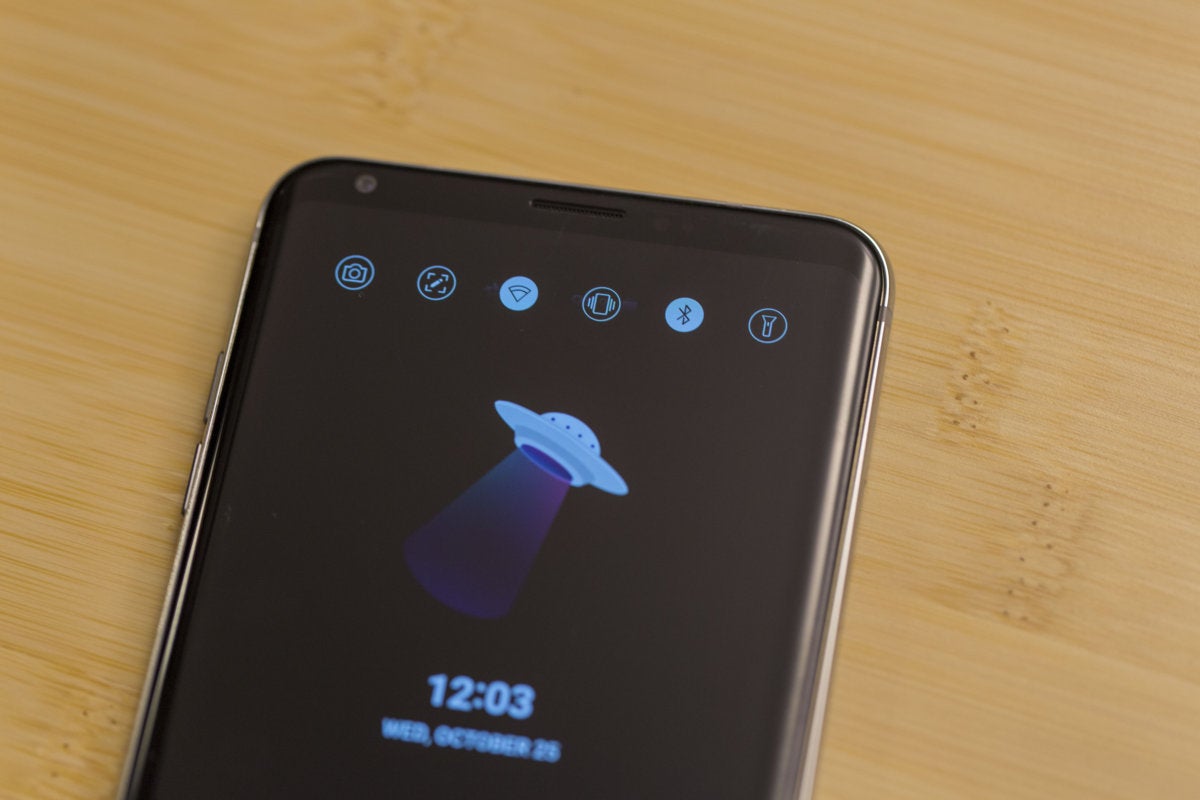 Among the other UX 6.0+ changes is a new biometric unlocking mechanism using your voice. Just as with "OK Google," you can set a word or phrase that will automatically unlock your phone whenever you utter it. It worked well—so well, in fact, that a quick audio recording of me saying my unlock word also repeatedly unlocked the phone. In the age of iris scanning and Face ID, it's an unnecessarily insecure method.
Should you buy an LG V30?
Even without last year's gimmicks, the LG V30 is still basically an Android enthusiast phone, appealing to die-hard fans who need the latest smartphone specs, and want killer audio and assortment of fun features. But its competition has only gotten tougher with the launches of Samsung's Note 8, Google's Pixel 2, Huawei's Mate 10, and Apple's iPhone 8. To get noticed, LG's V30 would have to be nearly perfect, and it's not. But it's still a pretty great phone that improves upon both the G6 and the V20.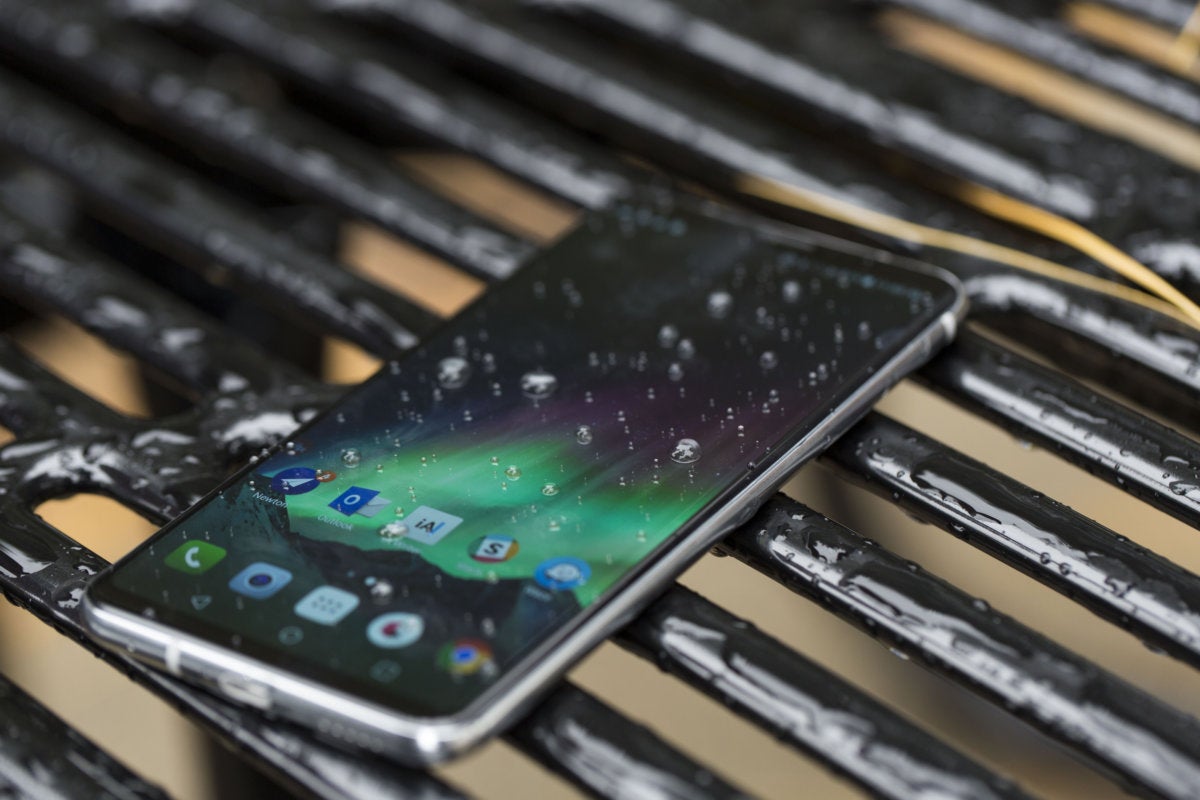 The LG V30's outstanding sound quality and nifty camera tricks are good reasons to consider it. At $829 for an unlocked 64GB model, however, price isn't a compelling reason to pick up the V30 over an $850 Pixel 2 XL or even the $799 iPhone 8 Plus. Neither is the screen, nor the battery. When you add it all up, the V30 is an enthusiast phone that's hard to get all that enthusiastic about.
Best Prices Today: LG V30