At a Glance
Expert's Rating
Pros
Top-notch, all-day battery life
Excellent performance, particularly in graphics
Stellar display, complete with additional visual modes
Cons
Premium notebook, premium price
Underpowered Dock makes multi-monitor support problematic
USB-C without Thunderbolt is a mistake
Our Verdict
Microsoft adds to its "ultimate laptop," the Surface Book 2, by increasing the performance, battery life, and display size.
Best Prices Today: Surface Book 2
Editor's Note: We've updated this Surface Book 2 review on Nov. 27 after reflecting on the Surface Book 2 power problem we discovered recently. We've left our review score unchanged, and we'll discuss why later on.
Microsoft's Surface Book 2 solves a big problem for Microsoft: How do you market the Surface Book as a performance notebook when it's two years out of date? As our review shows, by making it bigger and faster, with longer battery life. Only a power problem slows it down.
With the Surface Book 2, Microsoft brings 8th-generation Intel Core processors and powerful, discrete Nvidia GPUs with enough horsepower to start thinking of the Surface Book 2 as a graphics workstation. But Microsoft's big October surprise was the debut of not one, but two Surface Book 2 devices: a 13.5-inch and a new 15-inch model (we reviewed the latter). Neither is a simple clamshell notebook, though calling them convertible 2-in-1s instead seems like we're selling them short.
As our review of the 15-inch Surface Book 2 shows, however, the new generation isn't perfect. An ambitious decision to use a USB-C port has ripple effects for expansion capabilities. There's a power issue. And then there's the price: up to almost $3,300! Should you buy it? Yes, there's reason to look elsewhere. But none of its flaws are deal-breakers.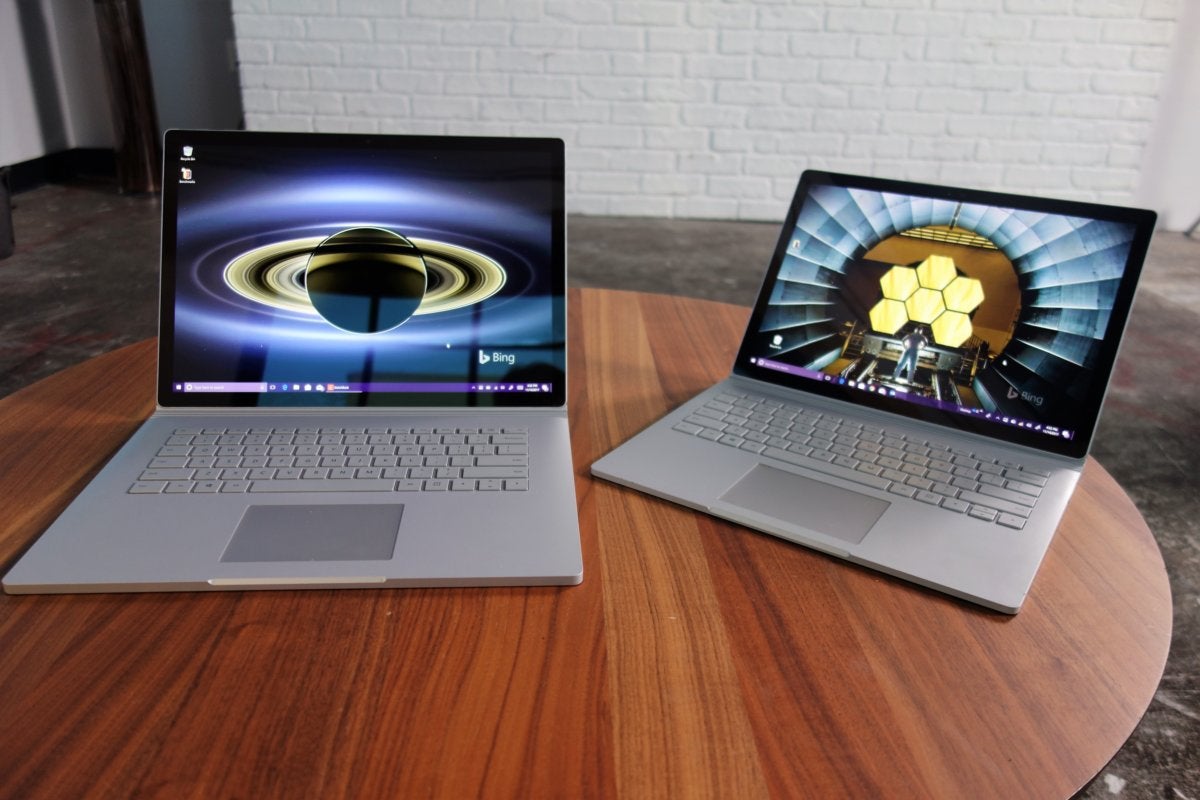 Surface Book 2: Basic specs
With a name like "Surface Laptop," you'd think that the Laptop, not the Book, would be Microsoft's flagship notebook. It's not. I very rarely ever undocked either the first- or second-generation Surface Book, and the combination of a sturdy construction, full-sized ports, terrific battery life, and excellent performance makes the Surface Book 2 the undisputed star of Microsoft's mobile lineup. Compare it to Apple's MacBook Pro, if you'd like: On paper, the Surface Book 2 tops it.
If you already own a Surface Book, you know what the Surface Book 2 looks like: It's virtually identical. But now it has a bigger sibling, as the Surface Book 2 ships in either a 13.5-inch or a 15-inch form factor. The cheapest Surface Book 2 is priced at $1,499 (with a 10 percent discount for military, students, faculty and even parents of K-12 or higher-ed students). Though it uses a 7th-gen Intel Core i5-7300U with an integrated GPU, the other models will ship with the 8th-gen Core i7-8650U, as shown below.
We tested the priciest Surface Book 2 available: the $3,299 (!!) 15-inch model, which ships on December 15. The other SKUs will be available on November 16, Microsoft says.
Here are the basic specifications of the Surface Book 2:
CPU: Core i5-7300U (dual-core, 2.6GHz-3.5GHz); Core i7-8650U (quad-core, 1.9GHz-4.2GHz)
RAM: 8GB or 16GB 1,866MHz DDR3
GPU: Intel HD Graphics 620; Nvidia GeForce GTX 1050/2GB GDDR5 (13.5-inch); Nvidia GeForce GTX 1060/6GB GDDR5
Display: 13.5-inch PixelSense (3,000 x 2,000, 267 PPI); 15-inch PixelSense (3,240 x 2,160 (260 PPI)
Storage: 256GB/512GB/1TB NVMe SSD Ports: Two USB 3.0 (Type A), one USB-C, two Surface Connect (one user-accessible)
Weight: 4.18 pounds (5 pounds with power brick)
Dimensions: 12.3 x 9.14 x 0.51-0.90 inches (13.5-inch); 13.5 x 9.87 x 0.59-0.90 in. (15-inch)
Chassis material: Magnesium
Microsoft has a new digital stylus—what it calls a Next Generation Surface Pen—as well as the Surface Precision Mouse. Neither ships with the Surface Book 2, and neither is required. Our Book 2 shipped with the Windows 10 Creators Update, and not the Fall Creators Update—possibly due to a bug in the FCU that essentially turns off the Pen.
Surface Book 2: Display and chassis
Microsoft's Surface Book has always reminded me somewhat of an answer to Lenovo's classic ThinkPad, replacing the classic black bento box with a nearly uniform silver slab. Unlike the Surface Pro and the Surface Laptop, there are no color options, and the only adornment is the Windows logo on the outer casing. Raise the display into a laptop configuration, and the keyboard's backlighting is the only visual cue that the Surface Book 2 is awake and active.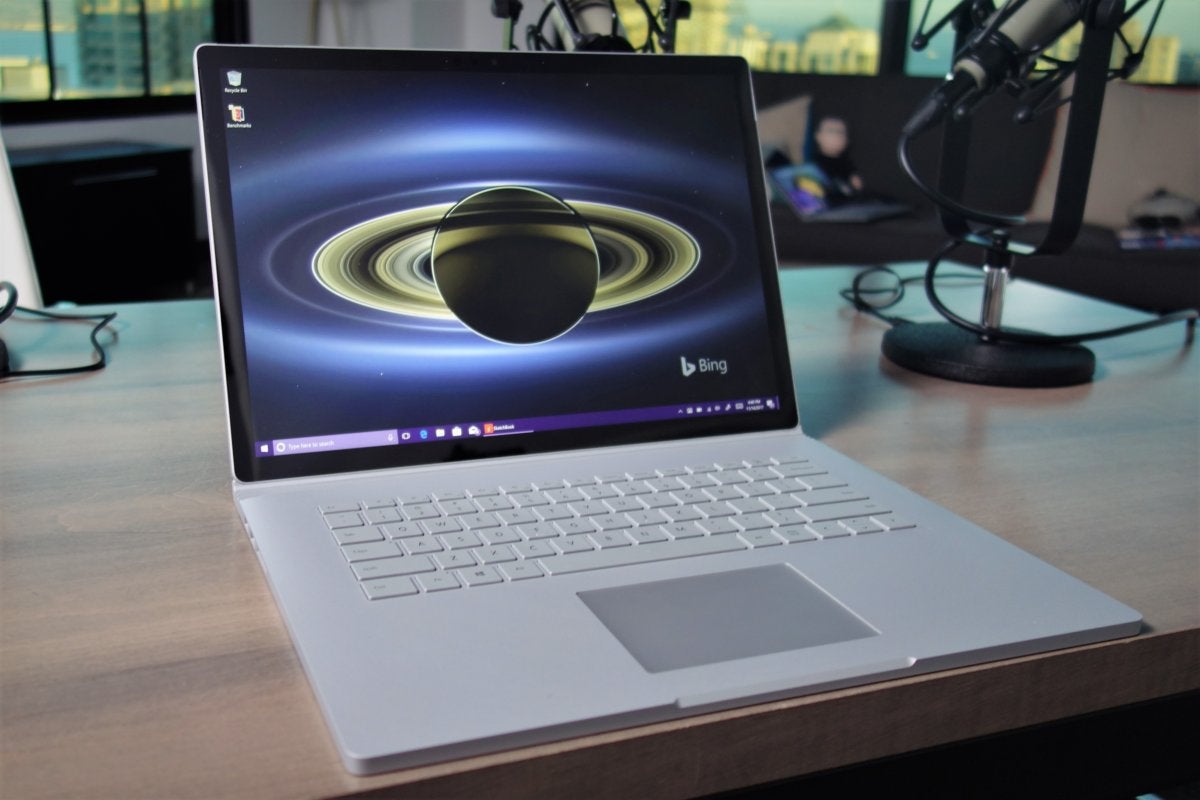 Your eyes, therefore, are sucked toward the big, bright, vibrant screen. Our Surface Book 2's display pumped out 412 nits, more than enough. And while a 3.2K IPS display might not quite reach that magic 4K milestone, the superb visual quality lives up to the Surface brand. More pixels would have negatively affected performance and battery life. It's a good tradeoff.
Though Microsoft doesn't tout the Surface Book 2 as a content-creation machine as it does the Surface Studio, the Book 2 does include both of its color profiles: standard RGB, and its "enhanced" profile, which makes colors a bit more vivid. If you'd like, you can also use the Surface Dial peripheral on the ten-point touchscreen. While docked, the Surface Book 2 reclines to about the same 50-degree angle as the original Book, not nearly flat enough to let the Dial rest without sliding to the ground. While undocked in tablet mode, though, the Surface Dial works fine.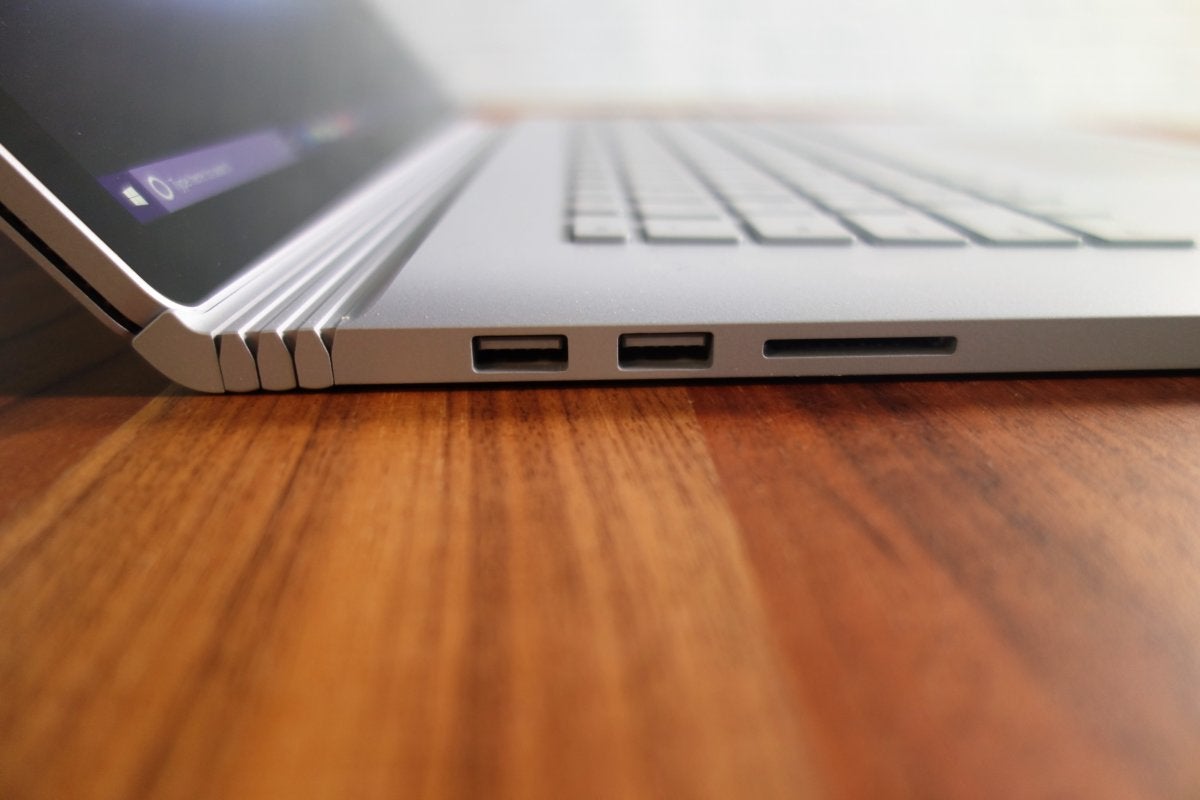 Though the Surface Book's weight climbs towards four pounds, the incredibly long battery life means you can leave your charger at home. (If you're an acolyte of the Microsoft ecosystem, you probably already own a Surface Dock for expansion and charging, anyway.) Still, it's no wonder why Microsoft's device chief Panos Panay refers to the Surface Book 2 as essentially a desktop, as the device is big and bulky, though not especially heavy.
The Surface Book 2 is a 2-in-1 convertible. Though it lacks the 360-degree hinge of most such models, the display can be flipped over and reattached into a tent mode for viewing videos, or detached to function as a conventional tablet. Press a button on the keyboard, and after a second or two the "muscle wire" retracts, and the tablet disconnects from the base.
Microsoft claims the tablet disconnects more quickly than in the previous Surface Book, though in testing both, I couldn't see much difference. After a second or two, the Surface Book 2 releases the tablet, and you can lift it free. This is no Amazon Kindle, though: Undocked, the 15-inch tablet is almost ludicrously huge, and unless you're in the NBA, I doubt one hand will have enough breadth to hold it comfortably. By itself, the tablet weighs 1.8 pounds, surprisingly light for something so big, but it's still awkward. Once detached, it feels like it needs a Surface Pro-like kickstand.The tablet is multi-touch, with the standard ten points of contact.
(Undocked, you'll discover that a Surface connector provides the data interface between the base and tablet. Though you can connect a charger or Surface Dock to this port, there's very little point in doing so.)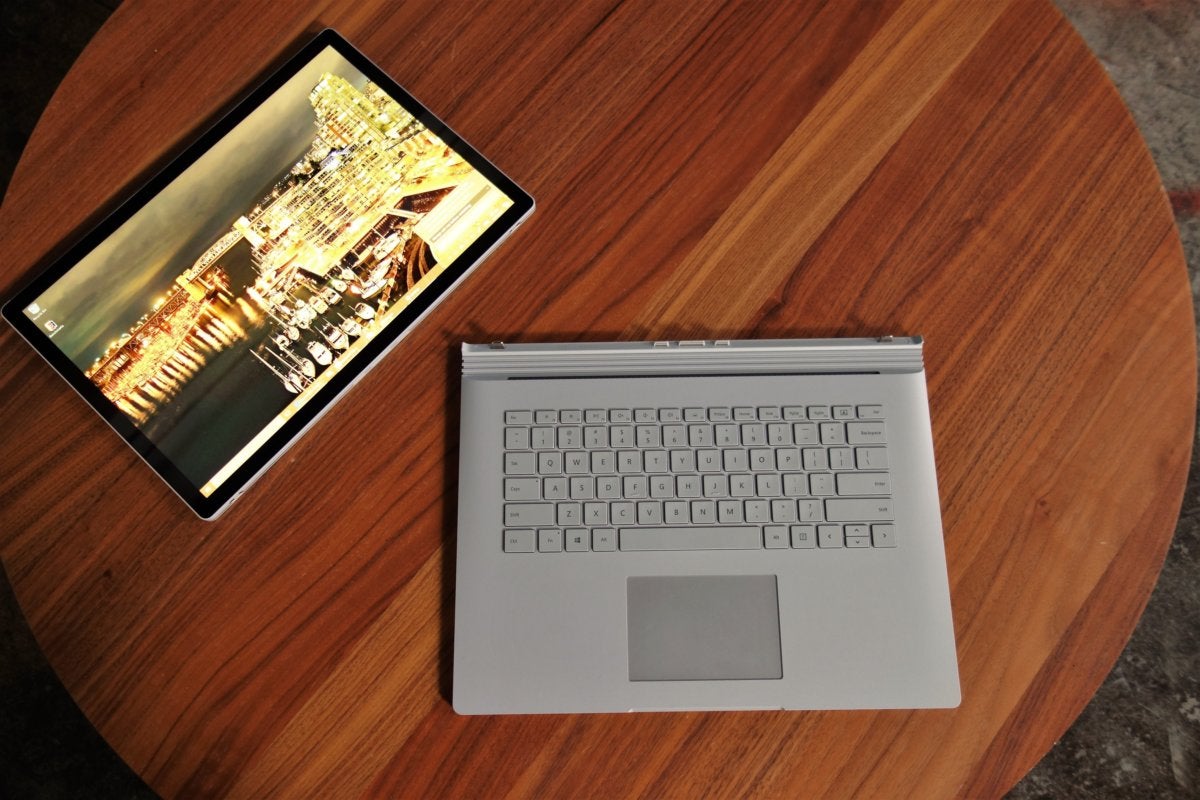 The silvery metallic exterior of the Surface Book and Surface Book 2 both exude an almost military-like solidity. In a year or so of using the original Surface Book as a daily driver, it became slightly dented in places from normal wear and tear within a sometimes crowded backback, and suffered a larger divot from a Kinect that plunged from the top of my rolltop desk as it lay, closed, on my desk. Neither affected its performance. That's a good indicator that the Surface Book 2 will be equally durable.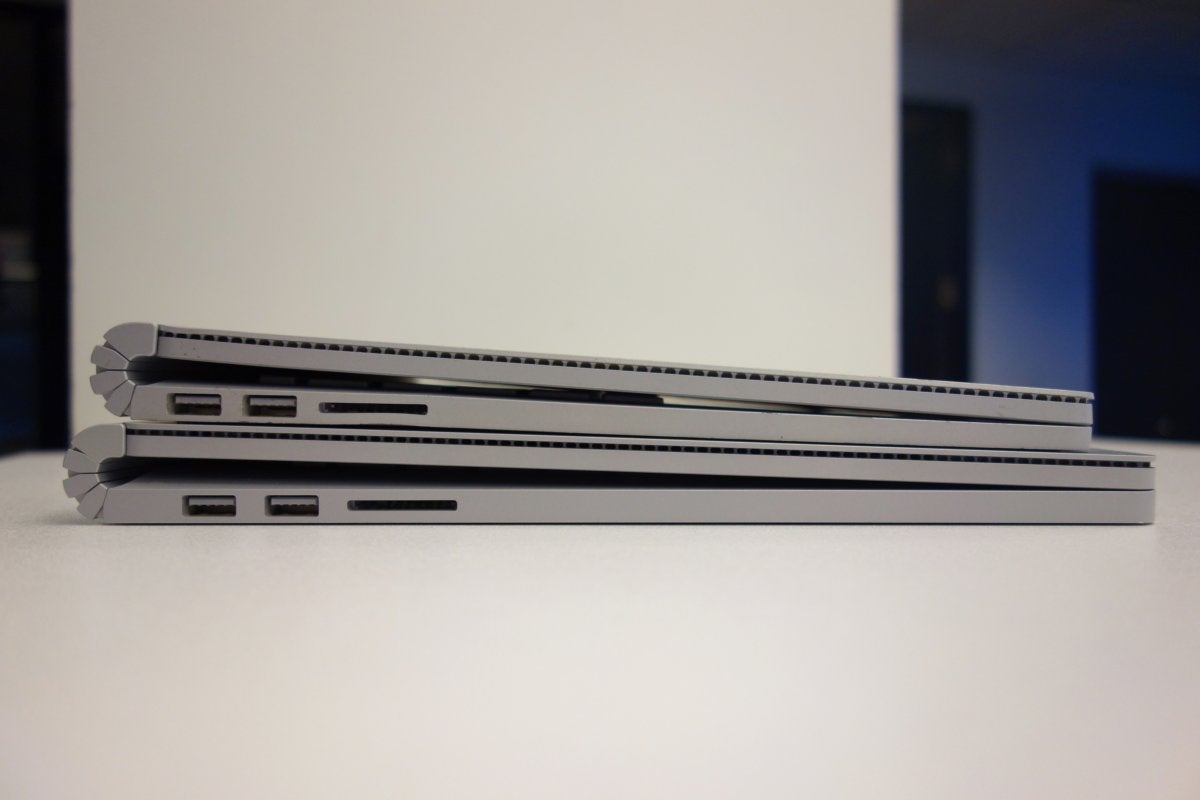 Piling an additional notebook or two on top of the Book never damaged its iconic, accordion "dynamic fulcrum" hinge, which remains within the Surface Book 2. When the Book 2 is closed—now with a more authoritative click—a small gap remains near the hinge. While that space may still be oddly frustrating to some, it doesn't affect performance and seems as structurally rigid as before. The tablet does wobble when you jiggle the base, though not as much as with the original Surface Book. It's a reminder, though, that this isn't a true notebook.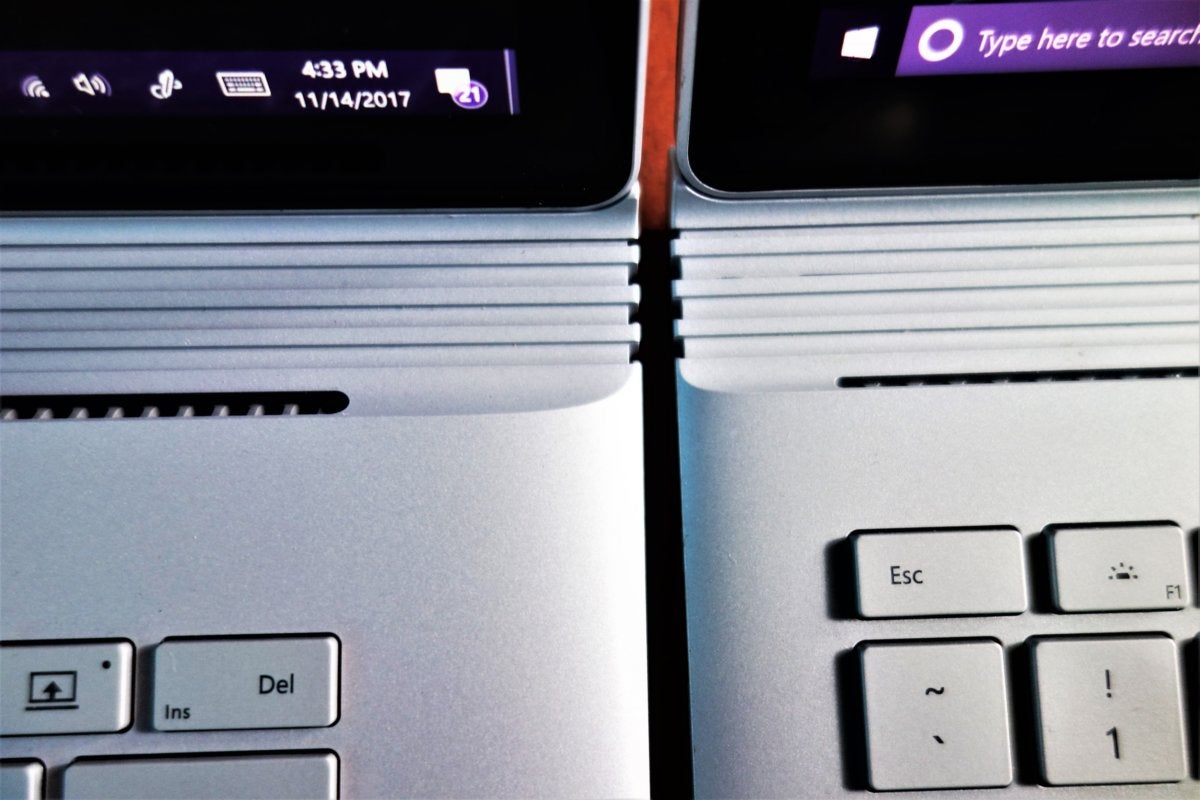 Perhaps the most surprising thing about the Surface Book 2, though, is simply how quiet it is. Microsoft uses a passive cooling system to cool the clipboard or tablet portion of the Surface Book 2, forgoing the fan entirely. Yes, it's a fanless Core i7!
There's one area where the Surface Book 2 falls short. Keep reading to find out how.
Surface Book 2: The keyboard, and the port/power debacle
The Surface Book 2 didn't mess too much with one good thing: Its keyboard feels essentially unchanged from the first iteration. Note, however, that it follows the Surface Laptop's layout, rather than the original Book's: Microsoft eliminated the "Insert" key, and added a separate key for toggling through various backlight controls. Otherwise, a wider bezel surrounds the keyboard on the 15-inch model, really emphasizing how vast the available space is.
I've always found the Surface Book's keyboard quite comfortable to type upon, with a firm response and good key travel. The Surface Book 2 keyboard felt ever so slightly stiffer, with response that felt a tad shallower. The trackpad feels identical: slick, smooth, and responsive.
The Surface Book 2 also includes 802.11ac for wireless connectivity, which connected satisfactorily as I roamed around my home and office. Bluetooth 4.1 Low Energy is also built in, which avoids collisions with the Wi-Fi signal. Finally, there's a bonus for gamers: Xbox Wireless is built into the 15-inch version, meaning you can connect your wireless Xbox One controller for gaming on the go.
Microsoft did mess with the port allotment, however, and it's one area where I feel the Surface Book 2 takes a step back.
The left side of the Surface Book 2 base should look familiar to to Surface Book owners: with two USB 3.0 Type A connectors, plus a UHS-II SDXC card reader. Microsoft even preserved the 3.5mm headphone jack.
Along the right side, though, things change: Alongside the expected Surface connector, there's a USB-C connector—and that's it.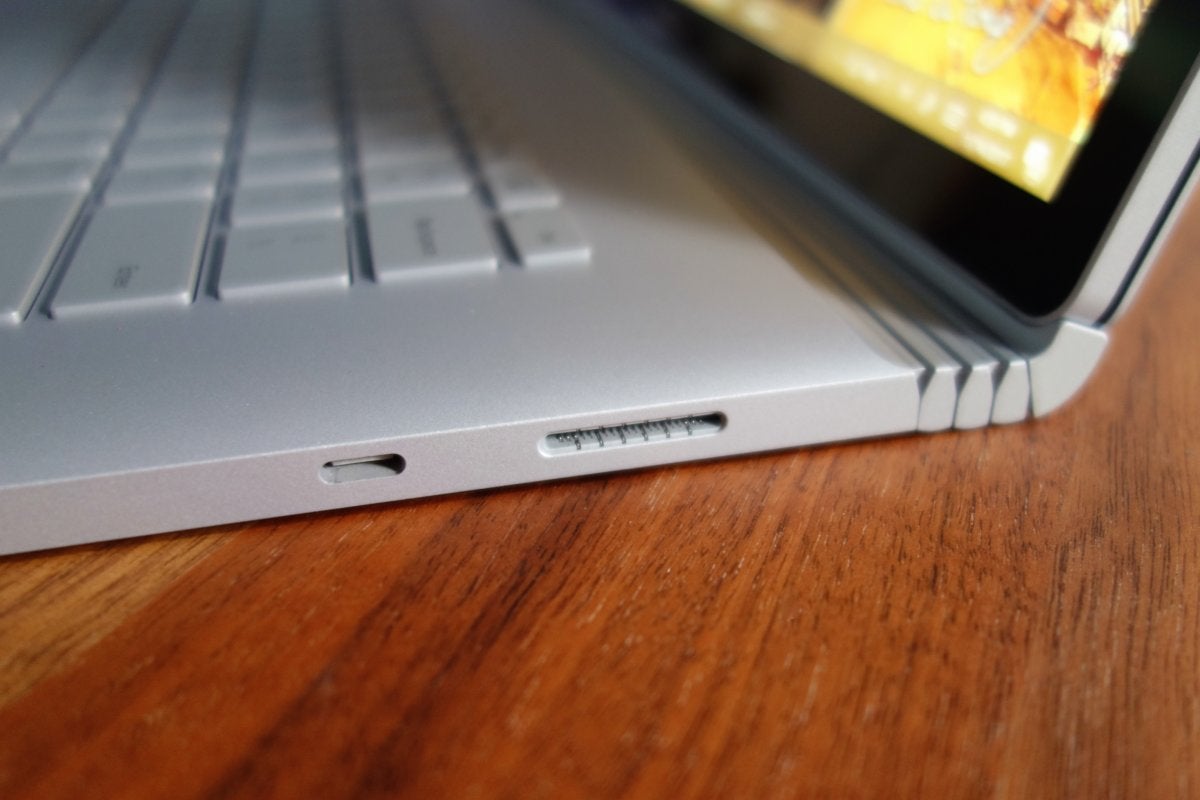 Previously, Surface Books included a miniDisplayPort connector, a simple way to connect to a single monitor by way of a miniDP-to-HDMI cable. To connect to multiple monitors, you used the Surface Dock, a $200 hub with two additional miniDP connections.
With the Surface Book 2, the miniDP connector is gone. Instead, you'll need to invest in new infrastructure, beginning with a new adapter—a USB-C to HDMI cable, perhaps—that will cost you about $20. Theoretically, the USB-C connector also anticipates a future where you'll be able to connect the Surface Book 2 to an ecosystem of external hard drives and other devices. But Microsoft's implementation also lacks the Thunderbolt I/O implementation, part and parcel of Apple's MacBook Pro and an easy way to connect multiple displays to a device that supports it.
That means connections to external monitors are somewhat limited. Officially, the Surface Book 2 can drive two 4K monitors at 30Hz either via the USB-C port or the Surface Dock. Alternatively, either the Dock or the USB-C port can power a single 4K monitor at 60Hz. (If you try simultaneously to connect a monitor via USB-C and a second monitor over the Dock, only the Dock-connected monitor will light up, Microsoft says.) We successfully connected the Book 2 to a conventional 1080p monitor at full frame rate, but managed only 30 frames per second on a 120Hz 4K HDTV.
Microsoft's traditional solution for multi-monitor setup has been the Surface Dock, which allows you to connect up to two external displays via a pair of miniDisplayPort connectors. But that has a problem, too: The 144-watt Dock doesn't supply as much power as the Surface Book 2's 180-watt native charger. Microsoft says that, under load, a Surface Book 2 powered by the Dock may use up so much power that it will drain the battery and enter sleep mode.
During testing, I played a few 3D-intensive games for nearly an hour, while using the Dock, as well as an additional 15 minutes or so while completely undocked. During that time, the battery decreased to about 65 percent overall. During ordinary use—web browsing, office work, et cetera—the Dock supplied sufficient power without issue. And if the Surface Book 2 is connected to its charger, as well as to a single monitor via a USB-C to HDMI cable, the Book 2 should operate normally.
Though we tested the Surface Book 2 by itself, with no external monitor attached, additional testing revealed an unexpected issue: undocked, while playing a 3D game, the Windows 10 power slider remains at its most conservative setting, clocking the GPU down somewhat beneath its full potential. If you dial it up to "Best performance" mode, the battery begins to discharge, as our separate testing shows.
Interestingly, the Surface Book 2 battery won't discharge completely. In fact, over time, the GPU seems to throttle itself to bring the power consumption down — but this lowers the performance, too. Microsoft's explanation is that the Surface Book 2 is a content-creation machine for STEM users in the sciences and education, not a gaming platform. This smells like a bit of PR spin to us.
Meanwhile, Microsoft claims that the Book 2 will charge from any USB-C PD3.0 compliant charger from 7.5W to 95W, with a 60W to 95W USB-C charger powering the Surface Book 2 to 80 percent charged in 1.5 hours time. I didn't have enough time to confirm the latter claim, but as for the former, our Surface Book 2's USB-C port didn't accept power from a few random external chargers or battery packs. (And no, you can't charge the Surface Book 2 from the USB-C and Surface ports, simultaneously—we asked.)
All of this talk of ports and power sparked a somewhat lively internal debate. How many people actually connect more than one monitor to a laptop? How many buy a Surface Book 2 for gaming, and how many of those will be unhappy with a GPU that throttles itself over time to prevent the battery from discharging — and isn't fully throttled up in the first place? Our initial review factored in the Dock issues. We don't consider the additional power issues a reason not to buy the Surface Book 2, especially if you do plan to use it as a content-creation machine, not as a gaming platform. But if gaming is your thing, consider one of these, the best gaming laptops, instead.
Surface Book 2: Speakers, cameras, the Pen and the Precision Mouse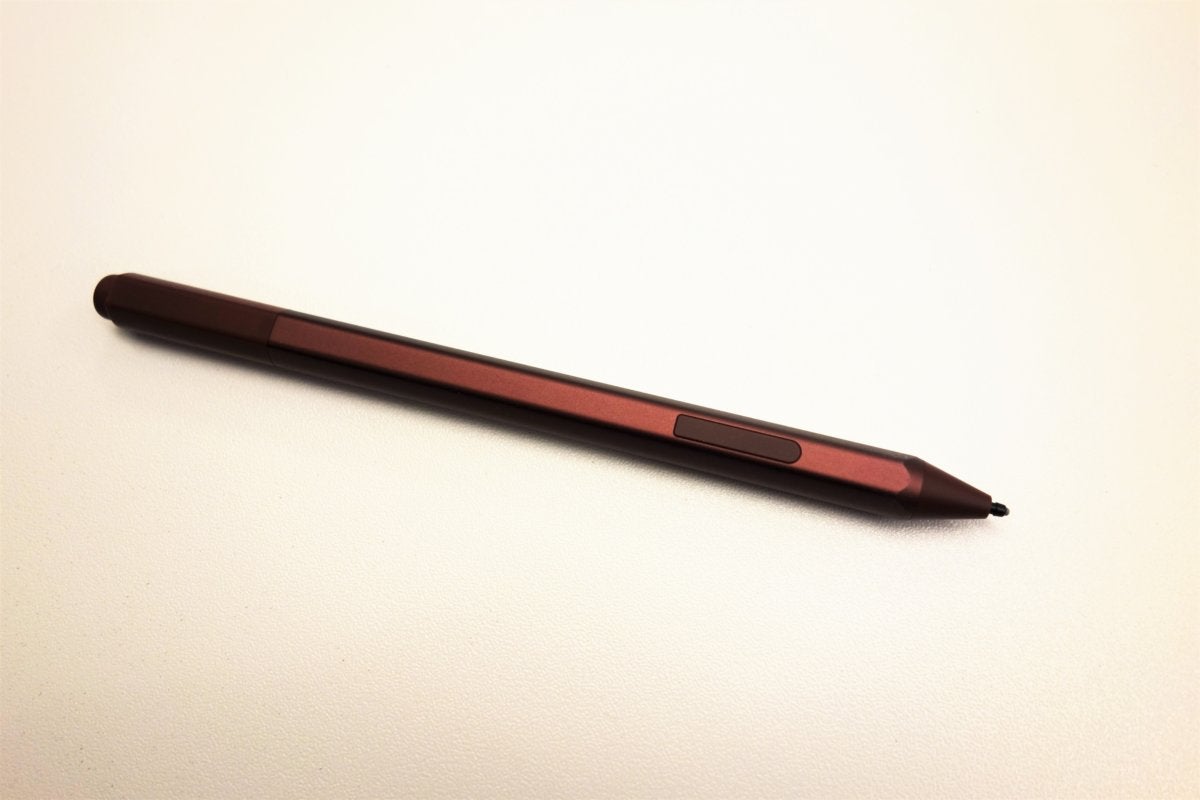 Like the original Surface Book, the Book 2 sports both front (5MP, 1080-capable) and rear (8MP autofocus, 1080p-capable) cameras that take serviceable pictures and enable Windows Hello's biometric logins. Normally, few people would care about a tablet camera. But the Windows 10 Fall Creators Update that's rolling out now includes such fun utilities as the Mixed Reality Viewer, where you can snap a photo with the rear camera and drop in a computer-generated dinosaur, giant taco, or bug right into the scene. Our review unit shipped with the older Creators Update, however.
The Surface Book 2 continues the Surface Book tradition of decent audio, accompanied by Dolby Audio processing. Though it supplies an adequate range of sound, you'd still be better off routing Spotify through headphones or an accompanying Invoke speaker for better bass response. The speakers are mounted inside the tablet, unlike the Surface Laptop's base-mounted speakers.
Microsoft also provided what it calls a "next-generation" Surface Pen for review. To be honest, the increasing levels of sensitivity—4,096 in this version—have moved beyond our ability to test. Microsoft's new Pen looks nice, writes smoothly, and is powered by a replaceable AAAA battery. That's enough.
We didn't receive Microsoft's new Precision Mouse in time for review, but we were quite impressed in the short hands-on time we had earlier.
Microsoft says the Surface Book 2 is 3 to 4 times faster than the Surface Book. Find out for yourself on the next page.
Surface Book 2: Performance
We expect an Nvidia GTX 1060-powered system such as the Surface Book 2 to perform well. Microsoft created extra pressure, however, by claiming the Surface Book 2 would perform three to four times better than the original Surface Books. In our performance charts below, you'll see us compare the Surface Book 2 to its predecessor, as well as some recent laptops we've reviewed that have discrete graphics: Dell's XPS 15, Lenovo's Yoga 720, and Samsung's Notebook 9 Pro.
We threw both mainstream and gaming benchmarks at the Surface Book 2. Somewhat surprisingly, the Surface Book 2 doesn't necessarily top the heap in general productivity performance, but as a graphics workstation it's among the very best.
Our first test is PCMark Work 8 Conventional, which simulates everyday activities like web browsing, video chat, and document editing. It's a good test for isolating the CPU's role in everyday use. Any machine scoring 2,000 or above will sail along smoothly during these low-intensity tasks. The Surface Book 2 lands square in the middle: a little faster than its predecessors, but a little slower than the trio of recent competitors.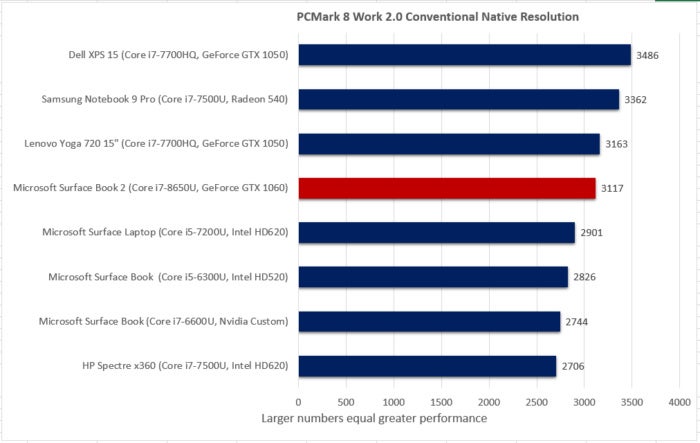 The Home and Creative broaden the scope somewhat, adding light gaming, photo editing, and finally some image and video processing. In general, how the Surface Book 2 compares against the Surface Book most likely ties into the base processor clocks of both chips: 2.6GHz for the original Book, 1.9GHz for the Surface Book 2. When needed, the Book 2 can boost up to 4.2GHz—but in these tests, it doesn't need to. As with the Work Conventional test, it scores below similar laptops with discrete GPU.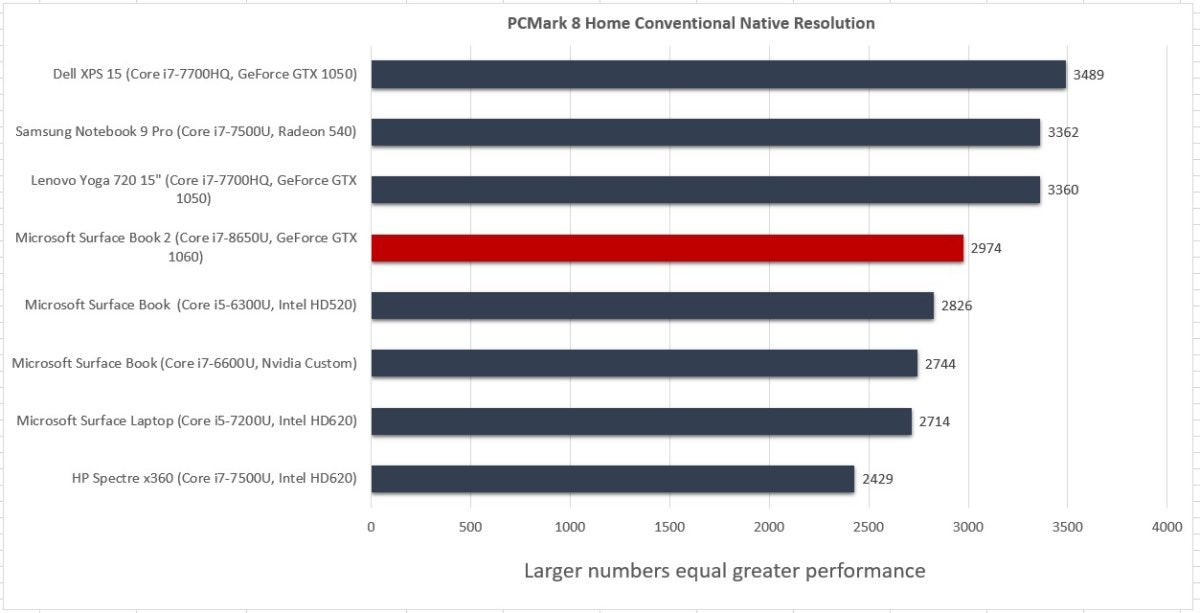 Remember, the eighth-generation Core chips use four cores and eight processing threads. Applications that take advantage of all of them perform better than the earlier dual-core Core chips. Maxon's Cinebench benchmark takes advantage of this, with benchmarks that exercise all available cores. Here, the Surface Book 2 is in the middle of the quad-core leading edge, while all the dual-core systems fall into place behind them.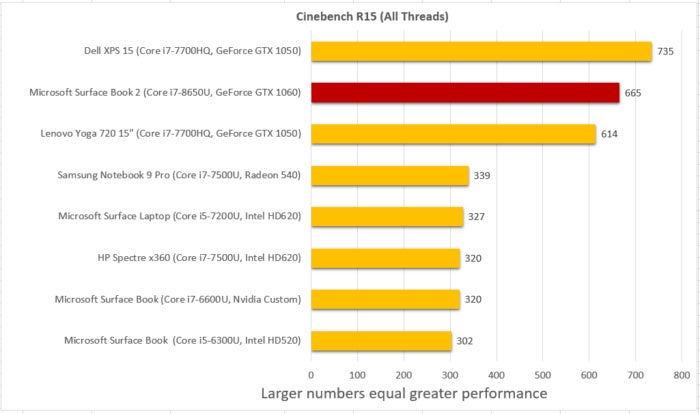 We ran HandBrake, a prolonged test that converts a Hollywood movie into a format suitable for an Android tablet. One of the advantages of Windows 10 and the new Core chips is that they're optimized for video playback. Still, the test is both a good workout as well as a real-world application, especially if you're preparing some in-flight entertainment for your kids. Here, Microsoft's Surface Book 2 is the slowest of the quad-cores, possibly because it throttles its fanless Core i7 chip under prolonged load.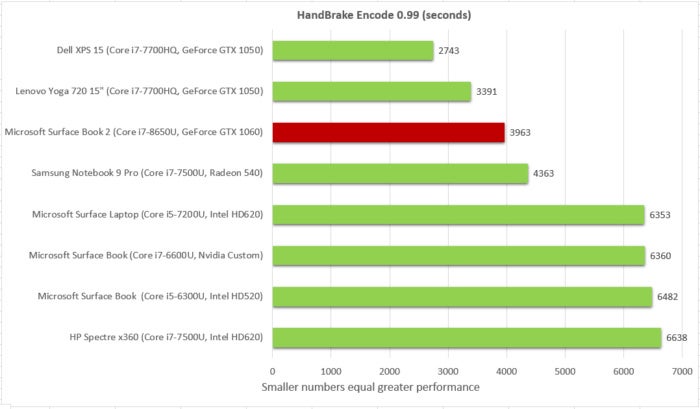 The Surface Book 2 differs slightly from gaming machines in that it's more of a general-purpose performance notebook. If you'd like, you can download an Play Anywhere title for the Xbox, like Gears of War 4, and fire it up on the Surface Book 2. Conversely, Microsoft also offers a complimentary three months of Adobe Creative Cloud—check the installed Surface app for the offer—as encouragement to use it for more traditional creative pursuits. Either way, it's hard to go wrong.
Here, we tested using the 3DMark Sky Diver benchmark, where the Surface Book 2 really begins to strut its stuff, outpacing all comers. Compared to the prior-generation Surface Book with discrete GPU, Microsoft's claim of a 3X to 4X performance difference is proven out.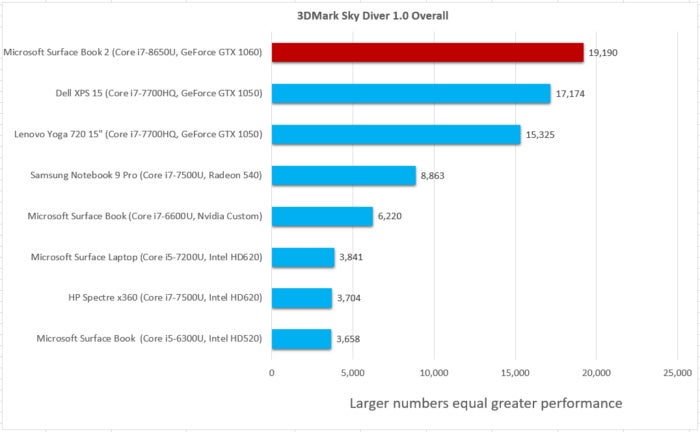 I also played around with performance-hungry games from yesteryear, like Crysis 2, and maxed it out on my 1080p monitor at Ultimate performance levels. Modern games, such as Watch_Dogs 2, also rendered smoothly at High and Very High settings. Just for fun, I tried Far Cry 3 on the Surface Book 2's native tablet settings. It didn't quite deliver playable frame rates, though the detail, naturally, was amazing.
Finally, there's battery life—a traditional strength of the Surface Book, and one that carries over here. We gauge a laptop's stamina with our video rundown test. We first charge the laptop to 100 percent, then set its screen between 250 and 260 nits to simulate the brightness level you'd use in an office. With a pair of earbuds plugged in and the volume set to 50 percent, we run a 4K video file (the open-source Tears of Steel) on continuous loop in Windows 10's Movies & TV app until the laptop shuts itself off.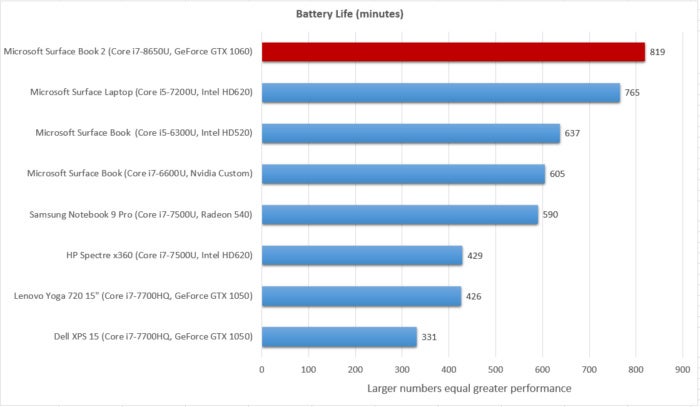 Over time, we've expanded the notion of "all-day battery life" from a generous six hours to more than eight hours and above. The Surface Book 2 carves out new territory at the high end, pushing past a whopping thirteen hours with ease. Microsoft's Surface Book 2 includes two different batteries: a 23.2 Watt-hour battery in the tablet, and a separate 62.2 Wh battery in the base. (Interestingly, those are the design capacities, as measured by Windows; the batteries actually charged to 23.6Wh and 65.6Wh, respectively.)
Sure, 13 hours is far less than the 17 hours at which Microsoft rates the Surface Book 2. But Microsoft typically dials down the brightness to below the levels at which we test. On the other hand, our tests didn't take advantage of the Windows 10 Fall Creators Update's ability to prolong battery life by playing back video at a lower resolution, or running entirely in battery-saver mode. As our previous tests showed, aggressively managing battery life can tack on as much as 30 percent more runtime—enough to match up with Microsoft's own numbers.
Surface Book 2: Our verdict
Reports of the PC's death have ushered in a renaissance of sorts, producing marvelous designs from Microsoft, HP, Lenovo, and others. I used the original Surface Book as a daily driver for months, if not years, and I'm an unabashed fan of that original—and now, the Surface Book 2.
The trap that Microsoft sets, though, is not unlike Apple's: The company tacitly encourages you to think within its ecosystem and only its ecosystem, rather than its competition. Once you begin looking elsewhere, options like the Lenovo Yoga 720 begin to look more attractive, and at possibly cheaper prices, too. Other alternatives include the Dell XPS 15, which tops the performance charts, above—save for battery life, where it finishes at the bottom. Otherwise, what's a few thousand dollars between friends?
There's one question we can't answer: stability. One of the unfortunate legacies of the Surface products is a shakedown period of a few months where some early models suffered anything from "hot bag" refusals to enter a sleep state, to screen flickering. Our Surface Book 2 exhibited a strange buzzing noise (a short? a speaker flaw?) almost immediately, which persisted for about an hour or so, then vanished completely. We experienced no other glitches.
The bottom line? If you can afford a Surface Book 2, we'd recommend it. So many of its attributes are simply fantastic, including its graphics performance and stellar battery life. If Microsoft had avoided all of the complications associated with its decision to incorporate USB-C (omitting Thunderbolt, upgrading the Dock), as well as the power issues, we'd be hard-pressed to find anything wrong with the Surface Book 2 at all. Microsoft has made its "ultimate laptop" even better, in many ways. Just not all of them.
Best Prices Today: Surface Book 2