At a Glance
Expert's Rating
Pros
Very thin and light for a gaming laptop
Sleek, gorgeous design
Superb gaming performance
Cons
Dismal battery life
Terrible, awkwardly placed touchpad
GTX 1080 Max-Q performs more like a GTX 1070
Our Verdict
The Acer Predator Triton 700 is one of the most impressive gaming laptops ever, which makes its severe flaws even more disappointing.
Laptops like the Acer Predator Titan 700 flat-out didn't exist mere months ago. They couldn't.
Powerful gaming notebooks always demanded sacrifice, in the form of the back strain you'd suffer lugging the behemoths around. But Nvidia's energy-saving Max-Q technology allowed Acer to imbue the Predator Triton 700 ($3,000 on Amazon) with powerful GTX 1080-class graphics in a slim, trim 5.27-pound package that measures just 0.74-inch thick. The beast is downright svelte for a gaming rig with that sort of firepower.
Clad in an aluminum chassis with glittering RGB keys, the Triton 700 makes one hell of a first impression—and it only gets better once you actually start gaming. This is one of the most impressive gaming laptops ever.
But the touchpad. Why the hell did Acer do this with the touchpad?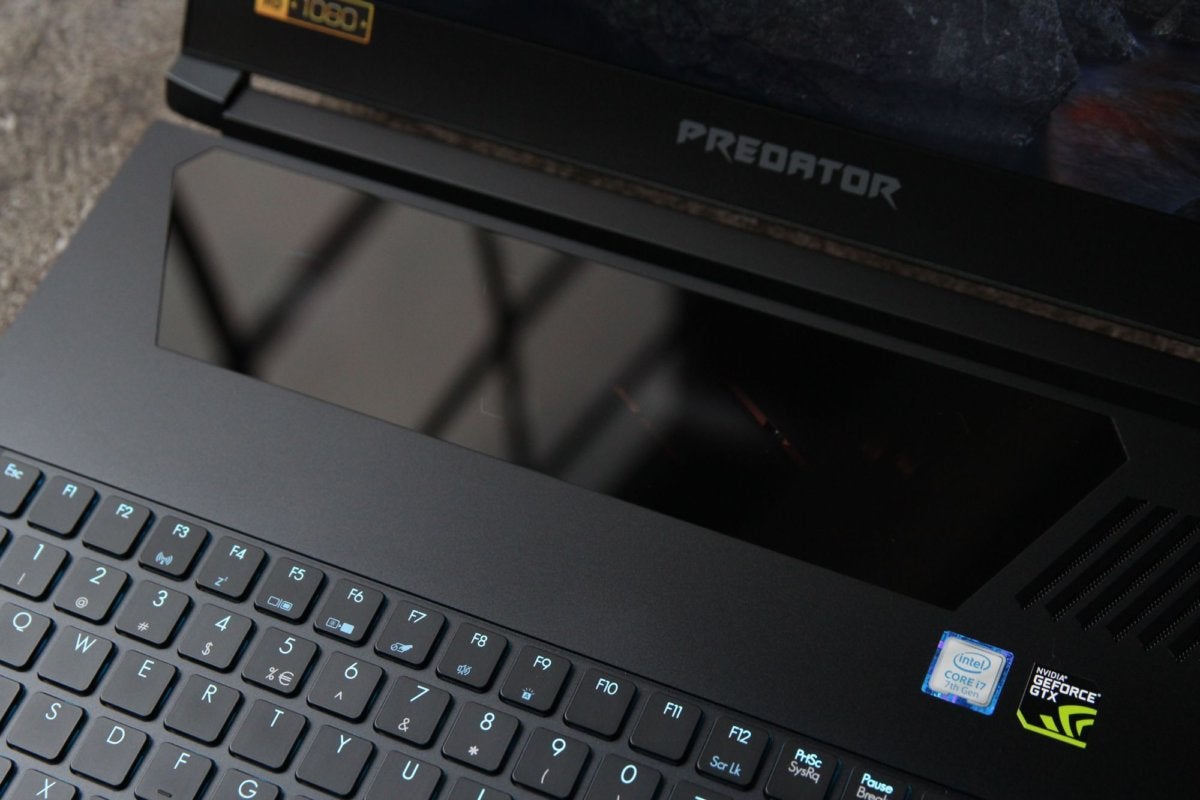 Predator Triton 700 prices, specs, and features
To be fair, the transparent trackpad set over the keyboard looks stunning, providing a faintly illuminated glimpse of the potent hardware lurking within. Let's talk about that hardware first.
CPU: Core i7-7700HQ
GPU: Nvidia GeForce GTX 1080 Max-Q
RAM: 32GB DDR4/2400
Display: 15.6-inch, 120Hz 1920×1080 IPS with G-Sync
Storage: 2x 256GB LiteOn NVMe SSDs in RAID 0; 512GB total storage
Weight: 5.27 pounds., 2.04-pound power supply
Dimensions: 15.5 x 10.5 x 0.7 inches
Ports: HDMI, DisplayPort, USB 2.0, 3x USB 3.0, Thunderbolt, mic jack, headphone jack
Webcam: 720p
Price: $3,000 on Amazon
The Triton 700's main rival
Asus ROG Zephyrus GX501
Price When Reviewed:
$2699.00
The Acer Predator Triton 700 joins the Asus ROG Zephyrus ($2,699 on Amazon) in the GTX 1080 Max-Q's vanguard. We've covered Nvidia's technology in-depth in both a standalone Max-Q article as well as the ROG Zephyrus review, and won't retread the same ground here.
In a nutshell, Max-Q uses careful hardware and software tuning to reduce the GTX 1080's TDP from 150 watts all the way down to roughly 100W, which allows it to fit into far slimmer laptops than before, like the Triton 700. The process requires the Max-Q GPUs to run at much lower clocks than a standard GeForce GTX 1080, which does result in slightly lower frame rates. You won't notice it with the way the laptop's configured, though.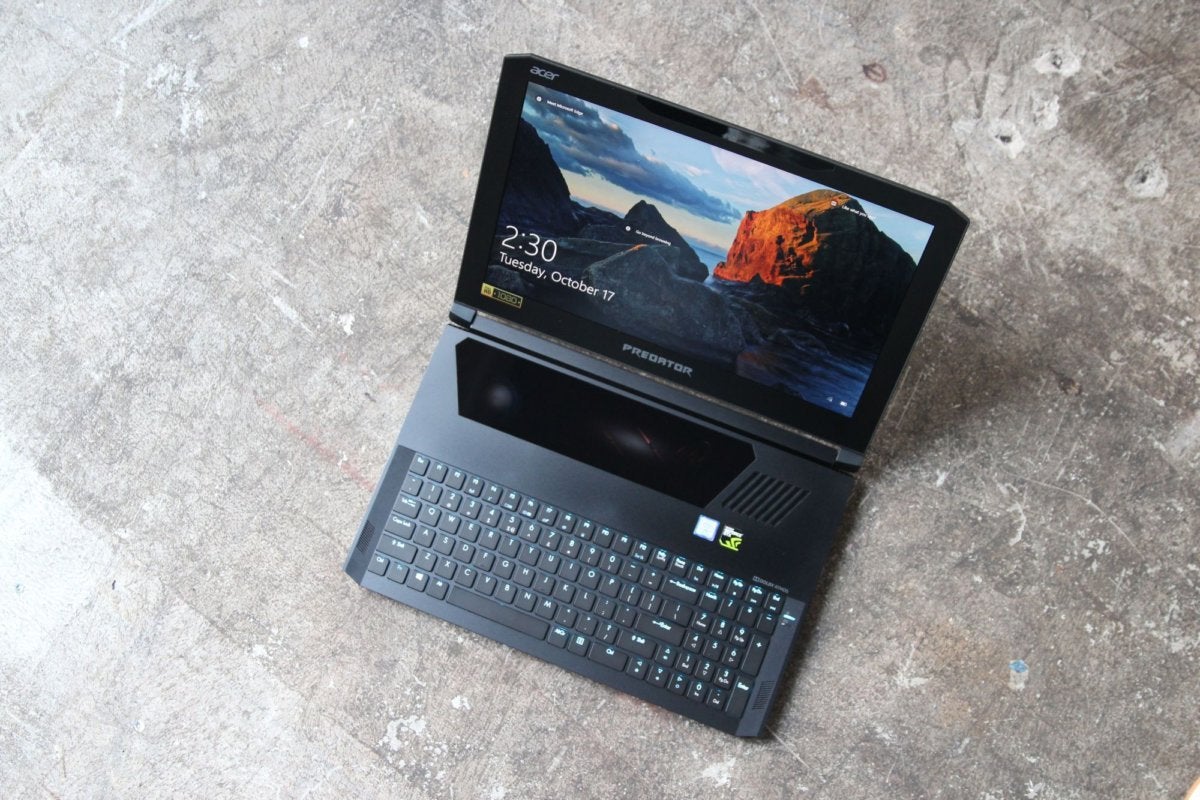 Acer equipped the Predator Triton 700 with a crisp, clear 1920×1080 IPS display running at a blazing-fast 120Hz to take advantage of the GTX 1080's fearsome firepower. The screen looks great, with wide viewing angles and a solid 311 nits' brightness, but most importantly it includes Nvidia's G-Sync technology. G-Sync synchronizes the refresh rate of your system's GPU and display, which results in buttery-smooth gameplay free of ugly tearing or stuttering. Between the GTX 1080 Max-Q and the G-Sync display, gaming is an utter joy on the Acer Predator Triton 700. Gunning through Destiny 2 at extremely high frame rates never got old—at least with a mouse.
An option for a 4K or 1440p display would be nice, but both G-Sync and Max-Q require careful technical tuning, so I can't begrudge Acer for sticking to this single superb setup.
The rest of the Triton 700's loadout matches the graphics hardware's quality. Inside, you'll find a potent quad-core Intel Core i7-7700HQ, paired with 32GB of DDR4/2400 memory and a nice surprise: Not one, but two 256GB NVMe SSDs configured in RAID 0 for lightning-fast data transfer speeds. The RAM capacity and RAIDed SSDs are a bit overkill for a gaming laptop, but damn the Triton 700 handles well—and the extra oomph gives Acer's Predator a leg up over the similar ROG Zephyrus in those regards. With such powerful innards, and the HDMI and DisplayPort connections on the rear, this rig could function as a portable VR system, too.

All in all, the Acer Predator Triton 700 and Nvidia's Max-Q tech prove truly impressive. This beast is packing some serious firepower, and it's wild that this much high-class hardware fits inside a package this slim. Again: A laptop like this wouldn't—couldn't—have existed mere months ago.
Keyboard, audio, and the terrible touchpad
But Acer dropped the ball with the Predator Triton 700's touchpad. It's awful.
Not in every aspect. The Gorilla Glass touchpad, situated just underneath the display, shows off one of the system's Aeroblade fans and glimpses of the copper heatpipes that keep the GTX 1080 cool, gently illuminated by a blue LED light. It sure is pretty! And the touchpad itself is smooth and responsive.
I can't get over its placement though. This isn't the first time we've seen a gaming laptop slap its touchpad above the keyboard, but it's still a terrible idea. You could argue that a great gaming mouse is all but obligatory for a notebook like this but I don't buy it. Even simple acts like slinging emails and juggling Office documents prove frustrating with the weird trackpad position; it's hard to reach comfortably, and years of muscle memory scream in frustration with every use.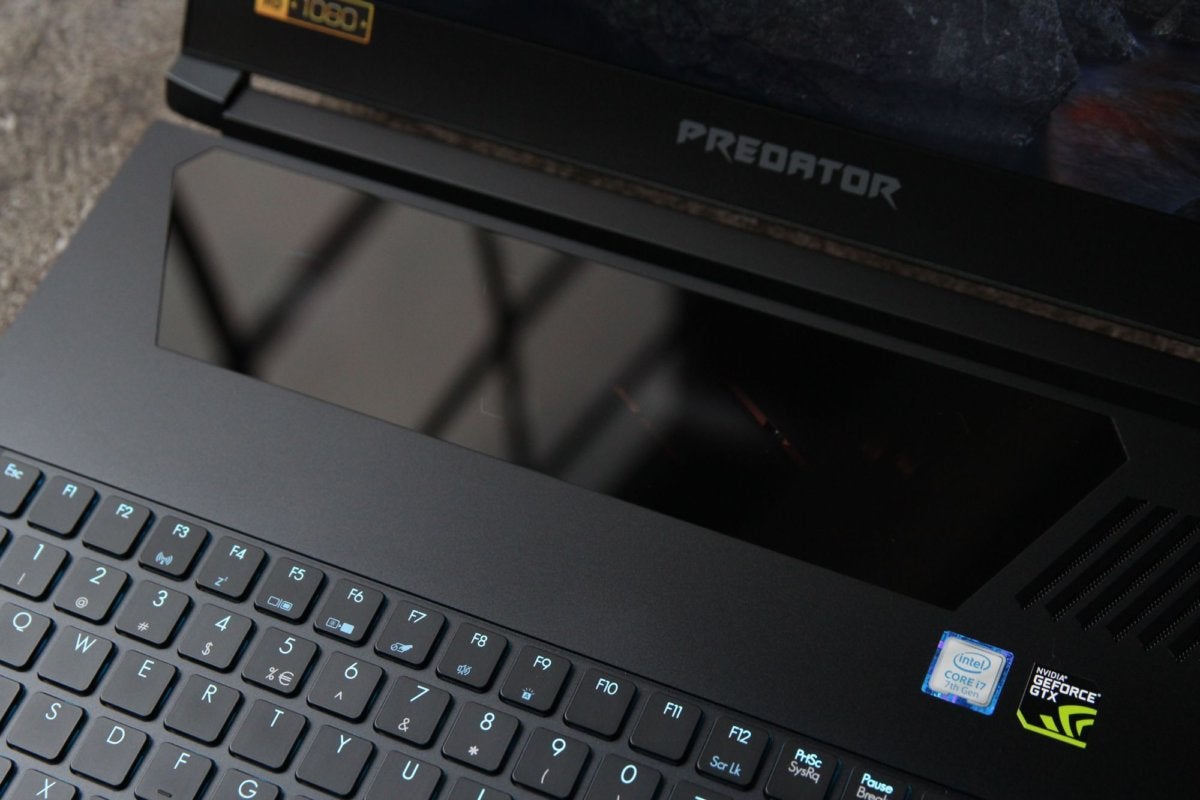 But it gets worse. Sure, seeing the glowing fan underneath looks badass, but in practice placing the touchpad over critical components results in hot temperatures during gaming sessions—uncomfortably so. You'll want to let the touchpad cool down before using it again, and don't even think about playing a game that could theoretically work well enough with a touchpad (a CRPG like Wasteland 2, say) on this. You won't get far.
Placement isn't the touchpad's only problem either. Only a small section of the glass actually functions as a touchpad. Markers etched in the glass ostensibly show the boundaries, but they're so faint you can only see them while standing over the laptop. You can't see them while sitting at a desk with the laptop in front of you. All too often my cursor froze as my fingers crossed the practically invisible line. It makes using this awful touchpad even more awful. The touchpad lacks physical buttons as well (obviously). I've used enough MacBooks and Chromebooks that pressing down two fingers to summon a right click wasn't a mental hurdle, but it's impossible to click and drag—I literally couldn't select text or manually move items on the desktop.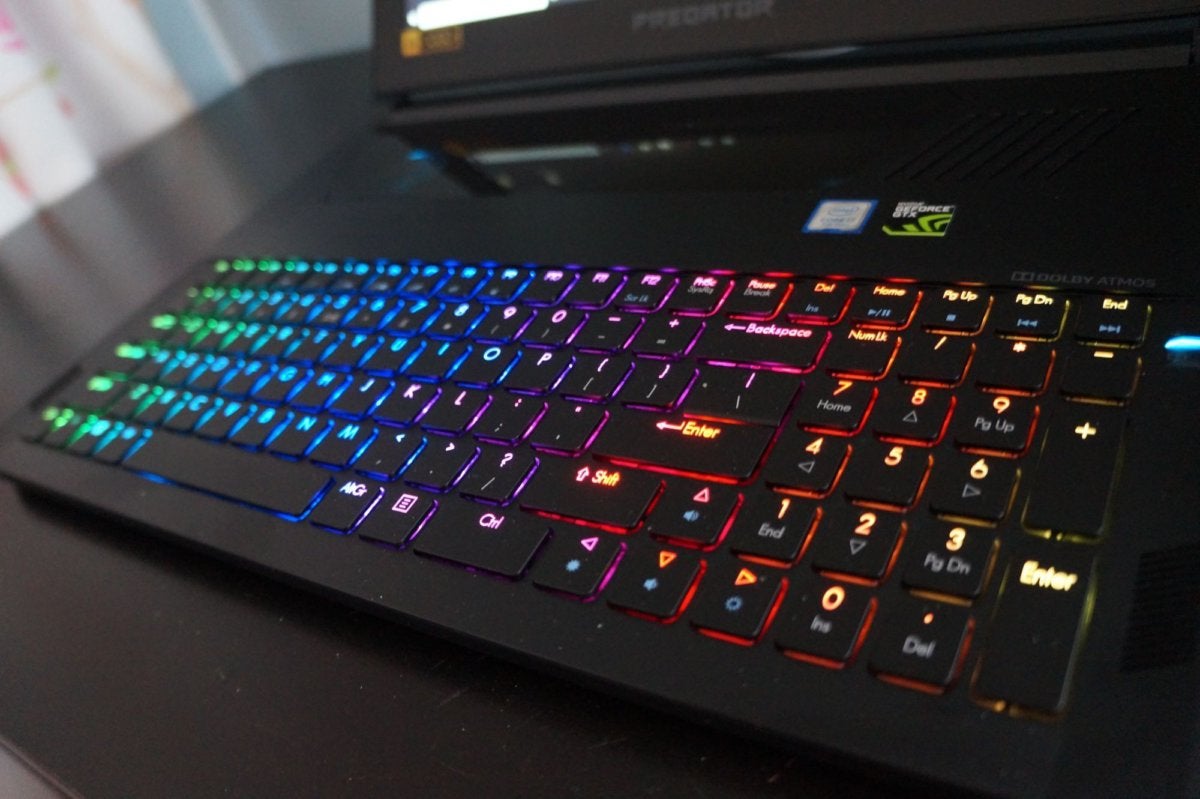 It's a shame because the Predator Triton 700's other input rocks. Acer squeezed a full mechanical keyboard into the laptop and it's an absolute joy to use, with strong tactile feedback, deeply satisfying clicks, and per-key RGB backlighting that you can customize in Acer's preloaded PredatorSense app. (More on that later.) The Triton 700 even packs a dedicated number pad section—a downright luxury in laptops. I would've preferred Acer to use the space for its touchpad, but it's nevertheless a nice inclusion.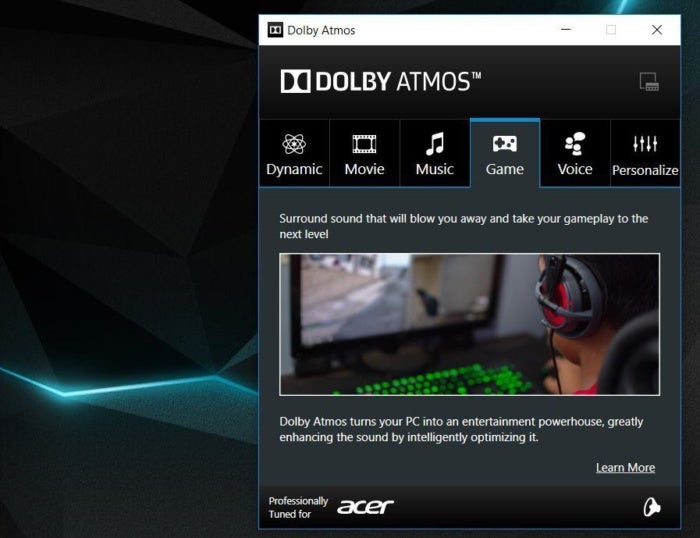 The audio's augmented by preloaded Dolby Atmos software. The volume gets loud, and while the sound is wee bit unbalanced and brassy compared to dedicated headphones due to the lack of a deep bass punch, the speakers hold up well overall for a laptop. All that said, I universally recommend a good pair of gaming headphones when you're playing on a notebook. Built-in speakers just can't compare.
Next page: Benchmarks, software, and bottom line
Predator Triton 700 performance
Now we get to the crux of the review. How does the Predator Triton 700 feel? Very similar to the Asus ROG Zephyrus, as it turns out.
First up: Maxon's Cinebench R15, which measures pure CPU performance. The more threads, the better. The Predator Triton 700 falls in line with other high-end gaming laptops equipped with Intel's quad-core Core i7-7700HQ. The Alienware 17 R4 stands out from the crowd thanks to its more potent Core i7-7820HK processor.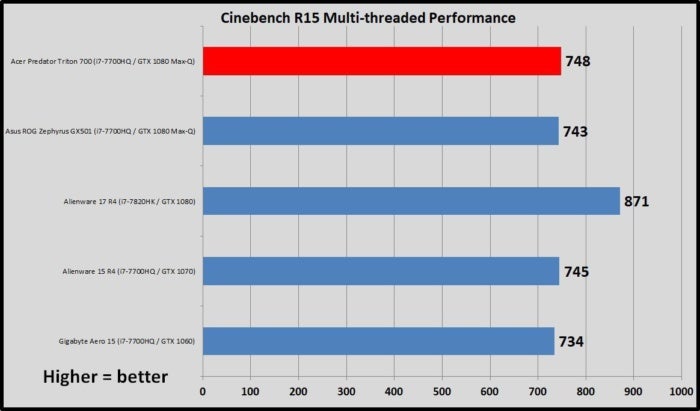 Our second test uses an older version of the free HandBrake encoder and mostly focuses on CPU performance as well. Unlike Cinebench's short run time, the file we encode for testing takes around 45 minutes on a quad-core processor, which lets you see how a laptop's temperature throttling affects performance over time. Once again, the Predator is neck-and-neck with the Zephyrus, and the Alienware 17's more powerful processor gives it a performance lead.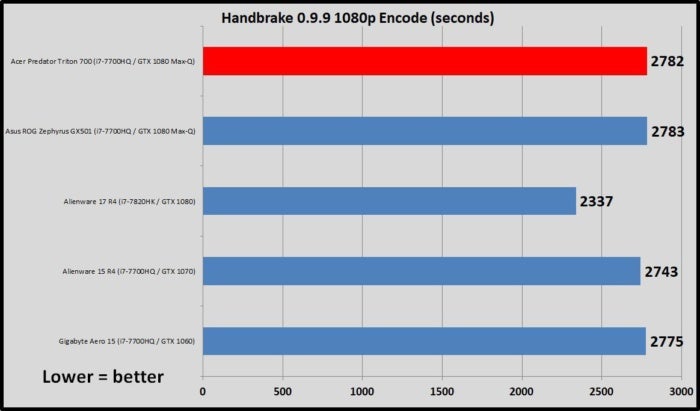 Enough with the CPU tests. Graphics are the real star in gaming laptops. We test the graphics chops of gaming laptops using 3DMark's Fire Strike Extreme benchmark. Specifically, we rely on the Graphics sub-score, which focuses on pure GPU performance.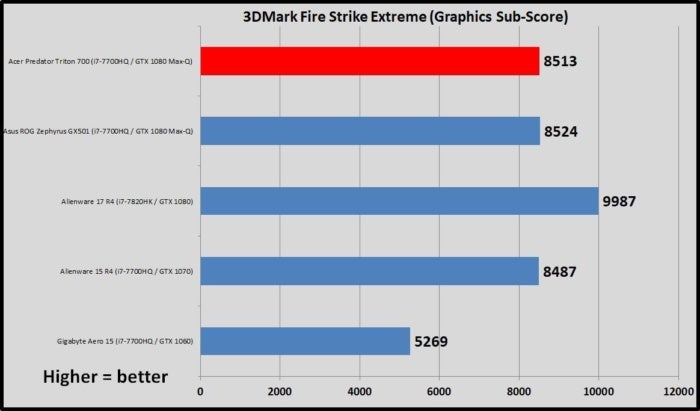 Here, Max-Q's necessary compromises are laid bare. Both GTX 1080 Max-Q laptops perform more like a stock GTX 1070 than a GTX 1080. The Alienware 17 R4 comes with the full-fat GTX 1080 and achieves a graphics score significantly higher than the Acer Predator Triton 700 and Asus ROG Zephyrus.
A 17-inch laptop with a full GTX 1080
Alienware 17 R4
Price When Reviewed:
$2575
That difference continues to show in actual games, with the Max-Q laptops falling slightly ahead of GTX 1070-packing Alienware 15, but solidly behind the GTX 1080-equipped Alienware 17. Don't take that the wrong way, though: The Acer Predator Triton 700 still delivers blistering fast frame rates for its 1080p display, and G-Sync helps keep everything smooth.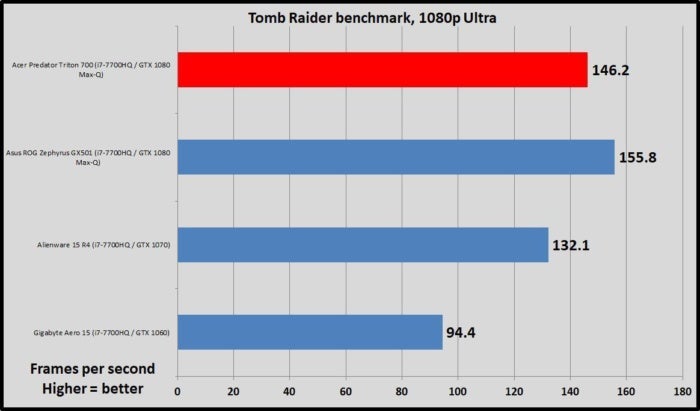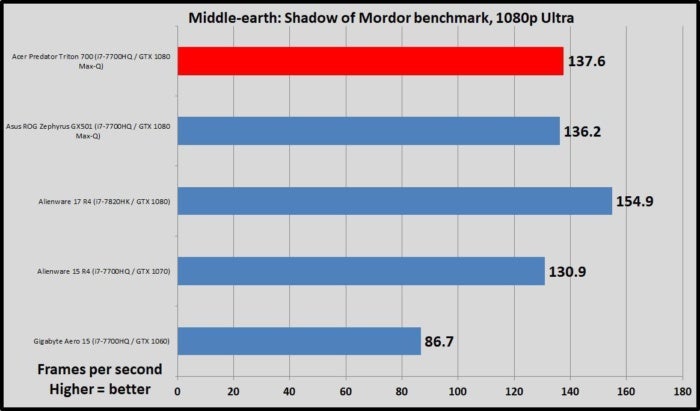 A recent Nvidia driver update significantly altered performance in Rise of the Tomb Raider, so we're limiting our results to the Max-Q duo, both of which were tested with the new software. As we've seen in every benchmark so far, these identically equipped laptops deliver virtually identical performance results.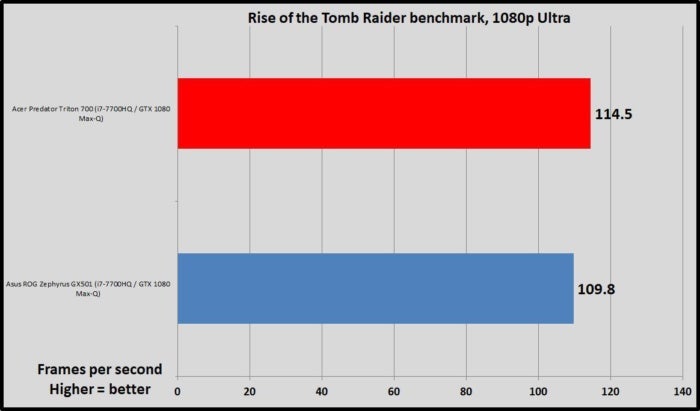 The fans ramp up the longer you game, striving to keep the GPU and CPU around 80 degrees Fahrenheit, though temperatures occasionally spike slightly higher. The noise is far from silent, but I was still surprised at how quietly the fans ran overall. Many hulking gaming laptops sound like airplanes taking off; the Predator Triton 700 doesn't, though the fan's noise is somewhat high-pitched. Overall, the cooling system and large exhaust manage to keep performance stable. I repeatedly re-ran the Rise of the Tomb Raider benchmark for 45 minutes and only saw a 2-fps drop from the initial runs.
Abysmal battery life is the biggest bummer for the Max-Q systems we've tested so far. It makes sense: Something has to give when you jam so much gaming and cooling hardware into systems this tiny. While many gaming laptops pack batteries with 80 to 100 watt-hour capacities, the Acer Predator Triton 700, like the ROG Zephyrus before it, is rated for around 50 watt-hours.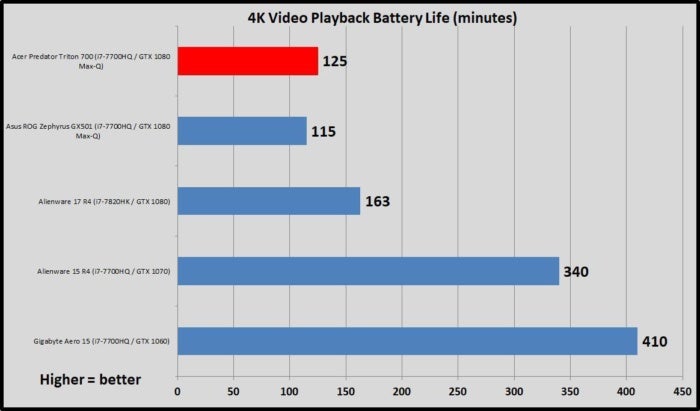 In practice, these laptops pooped out in about two hours in PCWorld's battery rundown test, which loops a 4K video endlessly—by far the worst we've seen in a notebook. Even the no-holds-barred Alienware 17 lasts a solid 40 minutes more, and that machine is put to shame by laptops like the Gigabyte Aero 15. Don't leave home without a mouse and your charger.
Acer PredatorSense
Like all laptops from major manufacturers, the Predator Triton 700 includes some preinstalled software—not too much, though. A couple of apps prove especially handy: The aforementioned Dolby Atmos if you're using headphones, and Acer's own PredatorSense.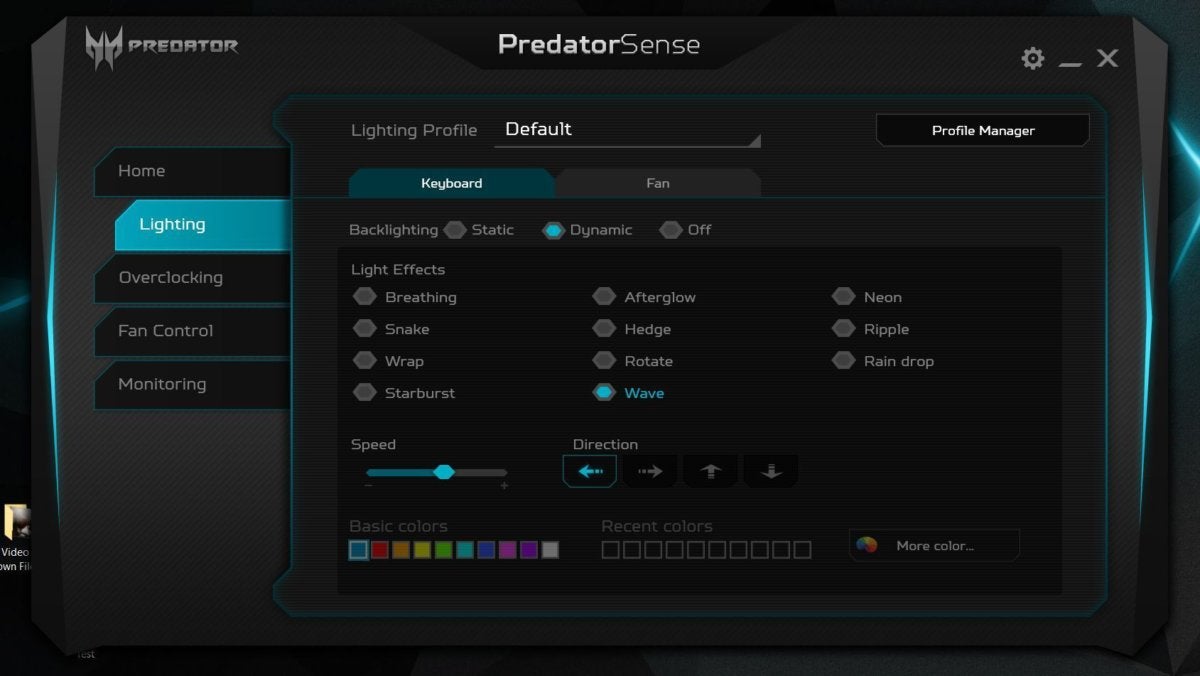 PredatorSense includes several sections devoted to the Triton 700's key features. The Lighting section includes a wealth of customization options for the backlit RGB keyboard, including a profile manager if you want to swap between setups. You can tinker with the lighting on the fan beneath the glass touchpad. You'll also find sections dedicated to fan control (yes, there are manual options) and system temperature monitoring.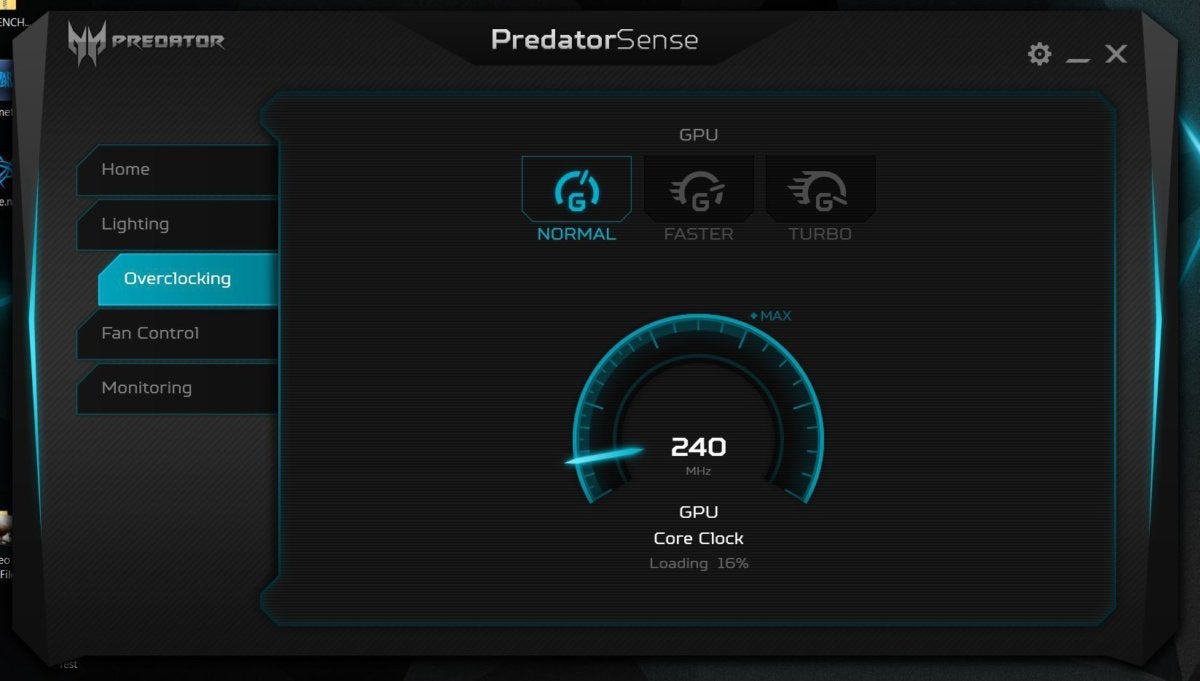 Gamers will probably be intrigued most by PredatorSense's overclocking tab, which includes two different one-button options ("Faster" and "Turbo") for easy-peasy overclocking. Don't bother with them, though. Even the Turbo setting barely makes an impact on performance, only adding about 2 fps in Rise of the Tomb Raider. Activating an overclock makes the fan work much harder, though. The tradeoff isn't worthwhile. The Predator Triton 700's default configuration is tuned just right.
Bottom line
Let's end where we began.
The Acer Predator Triton 700 ($3,000 on Amazon) is one of the most impressive gaming laptops ever created, full stop. Every inch of this rig oozes quality, from the sleek, slim aluminum chassis to the fantastic mechanical keyboard to the no-compromises gaming experience provided by the GTX 1080 Max-Q and its accompanying 120Hz G-Sync display. And that doesn't even take into account that it was literally impossible to cram this much power into a laptop this thin until very recently. There's a lot to drool over here.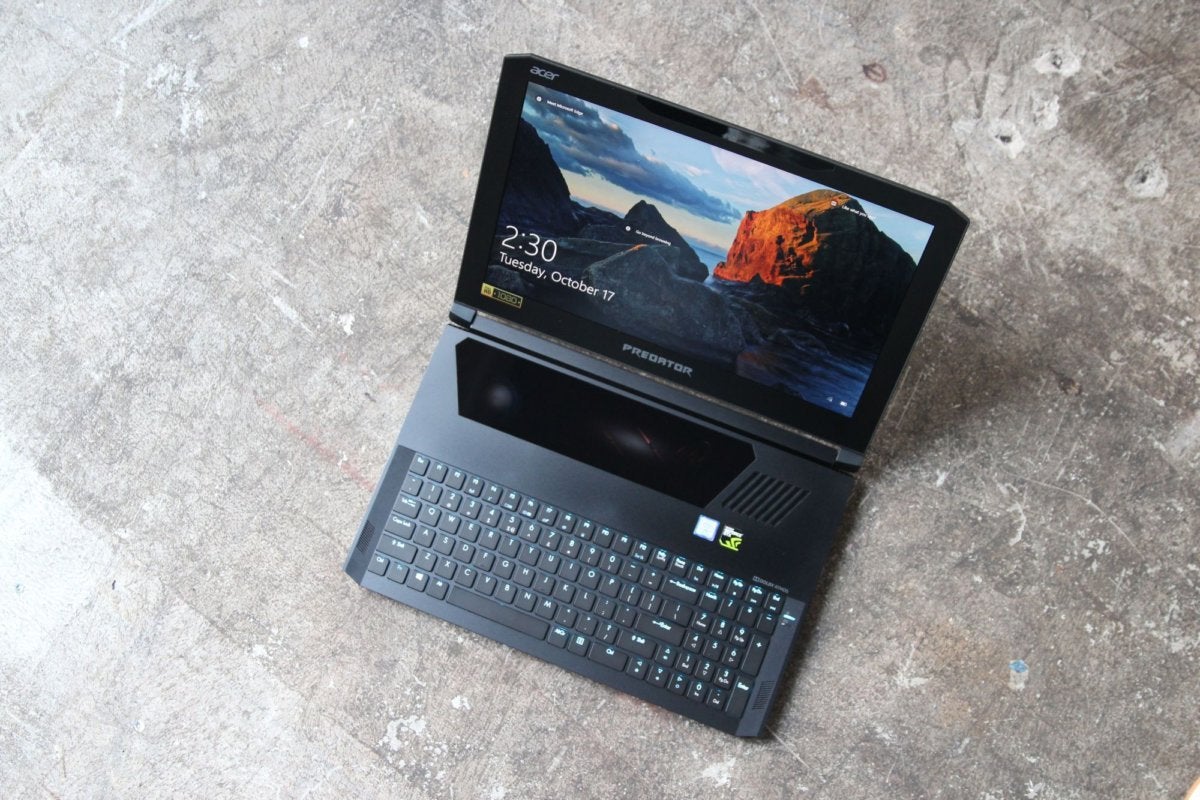 The overwhelming excellence makes some serious compromises all the more painful. The horrible, poorly placed, disappointingly hot touchpad is a major negative. It can be mitigated by using a discrete mouse, but you'll always need to keep it handy because the Acer Predator Triton 700's touchpad is almost unusable, especially if you plan on actually gaming with it. And like the Asus ROG Zephyrus ($2,699 on Amazon), this GTX 1080 Max-Q laptop makes severe battery life sacrifices to achieve its sleekness.
If you've yearned for a very powerful yet portable gaming laptop—one you can actually carry around, but one that doubles as a desktop when you reach your destination—the Acer Predator Triton 700 finally lets you get top-notch performance without excess weight and bulk, and it looks good doing so. Just keep the massive power brick (which adds nearly 2.5 pounds of additional heft) and a gaming mouse handy. If you do, neither of the Triton 700's major flaws will be an issue for you, and it's a realistic use case for a gaming laptop.
Mentioned in this article
Predator Triton 700
Price When Reviewed:
$2999.99
In the battle of the Max-Q vanguards, the Acer Predator Triton 700 and Asus ROG Zephyrus share many of the same overall pros and cons. They also deliver borderline identical gaming and CPU performance. The ROG Zephyrus is $300 cheaper, but Acer's laptop offers twice the RAM and presumably faster file transfers thanks to its dual NVME SSDs in RAID 0. Those advantages won't affect gaming performance but could make a big difference if you plan to use the Triton 700 for content creation work as well as off-hours play.
You pay big-time for the Triton 700's mobility, though. If you don't mind massive desktop replacements, the 17-inch Alienware 17 R4 packs a more potent, full-fat GTX 1080 with a higher-resolution 2560×1440 G-Sync display for about $2,550 on Dell.com. The Alienware's processor also outpunches the Triton 700's. Yet it's almost twice as heavy at a staggering 9 pounds, 12 ounces. Pick your poison. But for the first time ever, gamers on the go have some choices.