Compelling free programs are a dime a dozen on PCs these days. But for years, Stardock has offered software worth paying for by following a simple formula: Identify a problem with Windows, then fix it for a reasonable price. Start10 restores the ho-hum modern Start Menu to the glories of its heyday. Fences helps manage disheveled desktops. And Stardock's newest superb offering, Groupy, turns your myriad open windows into the equivalent of browser tabs.
All too often I find myself drowning in open windows, especially since you can't have multiple File Explorer locations open simultaneously in the same window. Groupy cures that headache by allowing you to group entirely separate programs, or multiple instances of the same program, into a single desktop window. You could have a a window dedicated to a gaming session—with the Task Manager, Spotify, and Battle.net populating individual tabs, for example—or a window with tabs devoted to multiple open instances of Excel spreadsheets or Firefox browsers.
Groupy is amazing, and amazingly easy to use.
Editor's note: This article originally published on November 16, 2017 but was updated to include information about buying Groupy standalone, and Microsoft's Sets.
Once you've installed Groupy, simply drag one open window over another to group them together. The two windows become one, with a new file bar at the top that lists each program in its own browser-like tab. Easy-peasy. It even works with Windows Store apps! Here's a Stardock video showing it in action.
Tabs behave like you'd expect them to. Dragging an app's tab out from the Groupy file bar pops it back into a standalone window, and hovering your mouse over a tab shows a preview of its contents. When a group gets down to a single tab, the open app reverts to a standard window. You can still Alt + Tab to switch between programs like normal, or use Groupy's Win + S shortcut to switch between the tabs in a specific group. Minimizing an app in a group drops the entire collection down into your Windows taskbar.
You can also have Groupy automatically group similar windows together as long as they aren't already in another group, or group new windows together automatically if you're holding down the Ctrl key when you launch the program. Those features are disabled by default, but can be enabled in the app's "Grouping" options. After using Groupy 1.0 for a couple of weeks, I've found the "automatically group similar windows" option especially handy when I'm juggling File Explorer windows or multiple Microsoft Office files.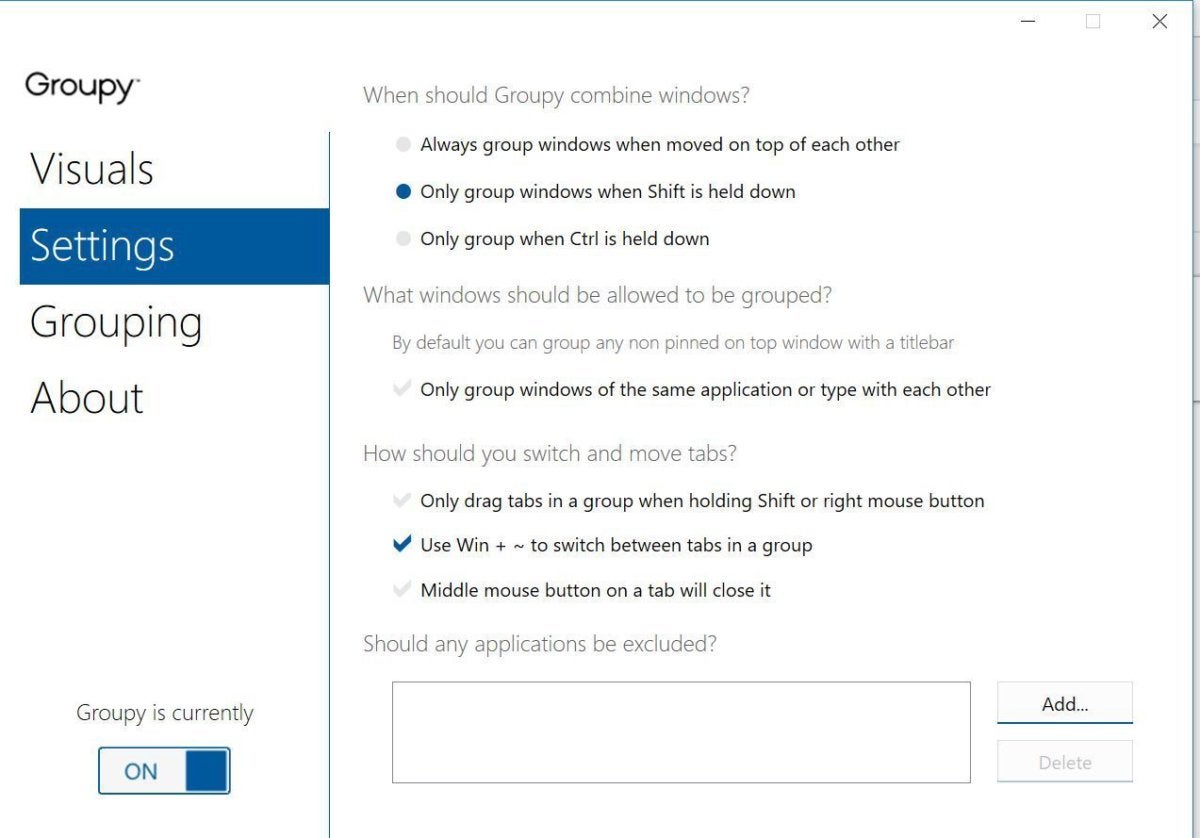 The Groupy app itself is clean and straightforward. You can tweak the way grouped tabs look, fine-tune how you'd like to tell Groupy to bundle windows together, add exceptions for applications you never want to group, and more.
Groupy hiccups with programs that use a custom skin on their title bar, including game launchers like Origin, Battle.net, and Steam. I couldn't convince Steam or Origin to merge with any programs whatsoever, dashing my dreams of a single gaming window to rule them all. Merging apps into the custom-skinned Battle.net launcher proved impossible, though I could drag it into other apps to create groups. But once I coaxed Battle.net into a group I couldn't add new windows to the group until I switched to another tab that wasn't so finicky.
Despite those minor inconveniences, Groupy has streamlined the way I work (and game) while dramatically decluttering my monitors over the month I've been using it. This app is great. The benefits are similar to running multiple virtual desktops devoted to separate dedicated tasks without, you know, having to juggle multiple virtual desktops, while the Windows keyboard shortcuts burned into your brain still work like a charm. The software's performance impact is minimal—just a couple megabytes of memory, and the barest of CPU percentages when you're shifting windows around.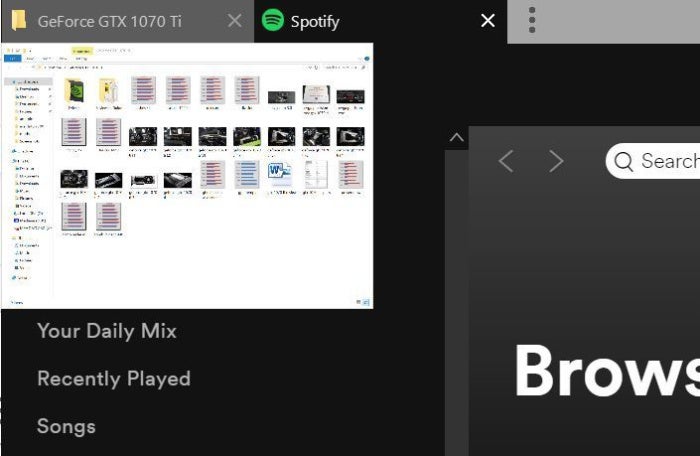 Want proof that this cures a core Windows headache? After Groupy's beta launch in November, Microsoft announced plans for a similar functionality in Windows, dubbed Windows 10 Sets. Sets will also tie into the operating system's Timeline functionality to let you pick up where you left off in-app when using it, which Groupy can't match. But Sets will only work with universal Windows apps at launch. Support for traditional desktop software is planned in the future, but Microsoft's solution, like Stardock's, won't support programs with modified title bars. And crucially, we don't know when Sets will launch, though it's already available to Windows Insiders.
Groupy is available today either for $10 in standalone form or as part of Stardock's $30 Object Desktop suite. Object Desktop "is a powerful suite of desktop enhancements that transforms your Windows experience," Stardock says. It packs 12 different apps, including Groupy as well as the aforementioned (and excellent) Fences and Start10.
As with most of Stardock's software, Groupy is software worth paying for. Highly recommended.