At a Glance
Expert's Rating
Pros
Great battery life.
GeForce GTX 1070 Max-Q is a cut above a GeForce GTX 1060.
Relatively quiet for its performance.
Cons
210 watt brick ups entire package weight to just over six pounds.
Elan trackpad can be fincky at times.
Perhaps too much GPU for 1920×1080 gaming at 60Hz.
Our Verdict
Great battery life combined with a compact frame and outstanding gaming performance makes this the gaming laptop to look at for someone who will actually use it for purposes other than gaming.
Gigabyte's new Aero 15X says conventional wisdom is wrong. That conventional wisdom says gaming laptops can't be good "laptops" because they're too big and eat too much battery. The Aero 15X proves otherwise, with great gaming performance and great battery life.
If the Aero 15X looks familiar, that's because it's mostly just an upgraded copy of the Aero 15. We absolutely loved the Aero 15, which set the standard for performance and battery life, and the 15X adds to that success.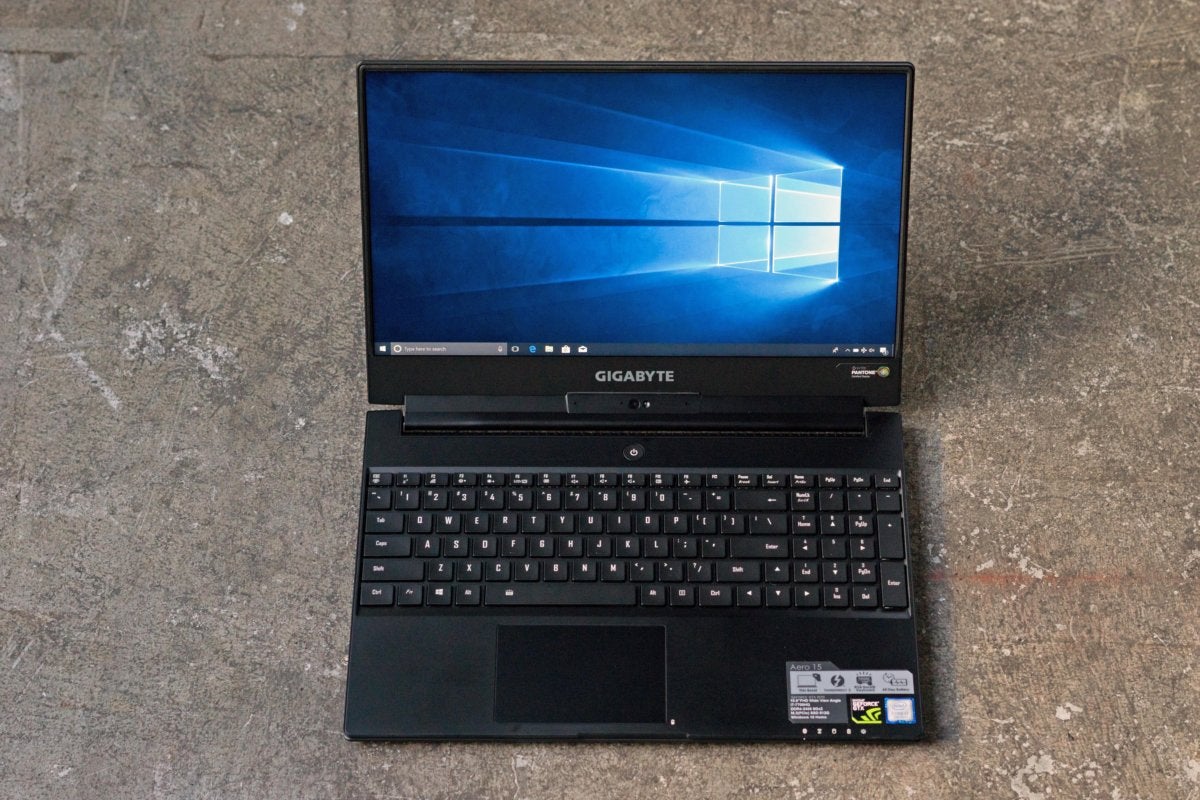 Price, specs and features
The Aero 15X model we reviewed prices out at about $2,200 on the street with 32GB and a 512GB SSD, which is the only configuration we're seeing available today. Gigabyte's site says an 8GB version is available as well, but pricing of that model wasn't available.
CPU: A quad-core Intel Core i7-7700HQ with HyperThreading
RAM: 16GB DDR4/2400 in two SO-DIMM sockets
GPU: While the original Aero 15 packed a GeForce GTX 1060, the 15X steps up to a GeForce GTX 1070 with Max-Q, which we first saw at Computex 2017 in Taipei. As you might guess, given Max-Q's mission to manage GPU performance and thermals more equitably, the GeForce GTX 1070 Max-Q is faster than a GTX 1060 but slower than a full GeForce GTX 1070.
Display: 15.6-inch, 1920×1080 VA panel that is factory-calibrated using Pantone Xrite. For a non-IPS panel, we'll say, the WVA panel in the Aero 15X is quite good. We also dig the screen's light anti-glare coating.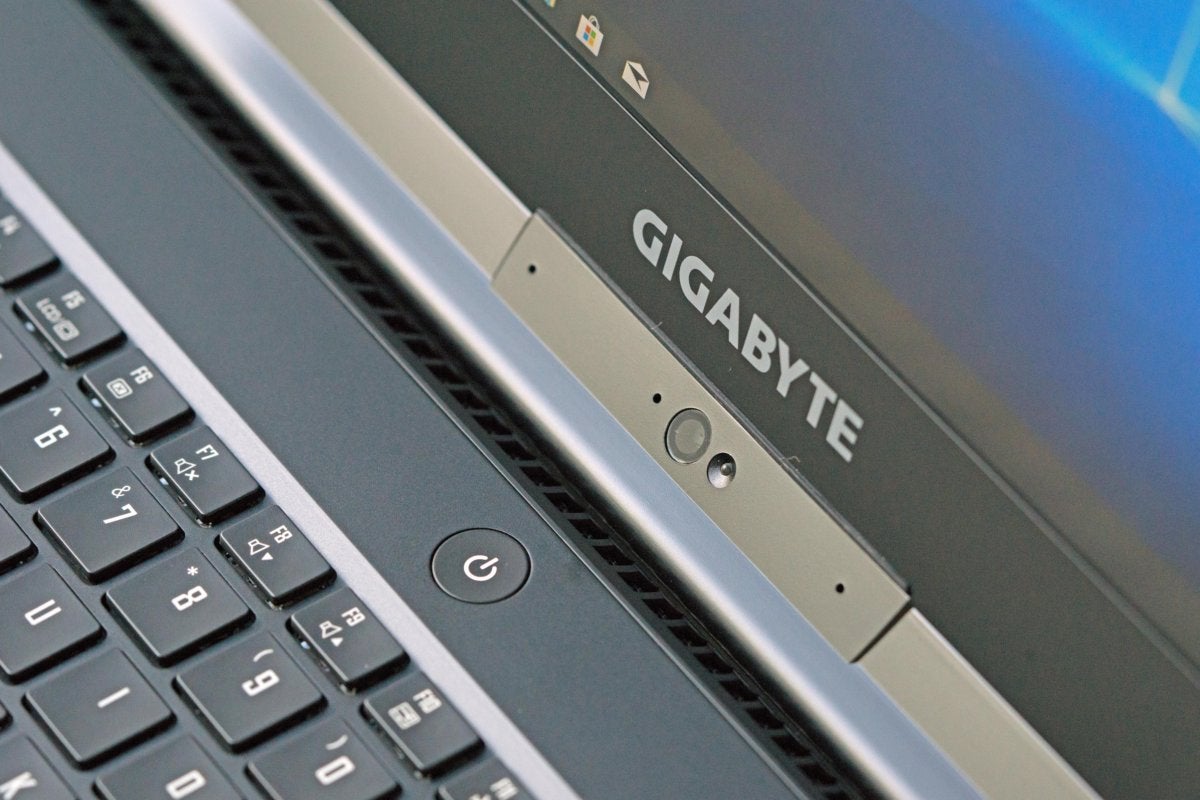 Storage: A single 512GB NVMe Toshiba CX3 drive is included, but there's space for a second M.2 drive.
Battery: Gigabyte puts in a 94Whr battery, which is just shy of the maximum 100Whr allowed on a commercial airline. Many thinner gaming laptops sacrifice battery capacity, but this bigger power pack gives the Aero 15X a surprising amount of battery life.
Ports: Full-size HDMI 2.0, miniDisplayPort 1.3, three USB 3.1 Type A ports, one Thunderbolt 3, analog audio, Kensington Lock and Gigabit ethernet.
Weight: 4 pounds, 12 ounces is a decent amount of weight to sling for this level of performance. The only problem is once you add the power brick, the total weight goes up to 6 pounds, 4 ounces.
Dimensions: 14 x 9.8 x 0.78 inches. We have no quibbles with the Aero 15X's size and shape. It's basically slightly larger than most mainstream quad-core laptops.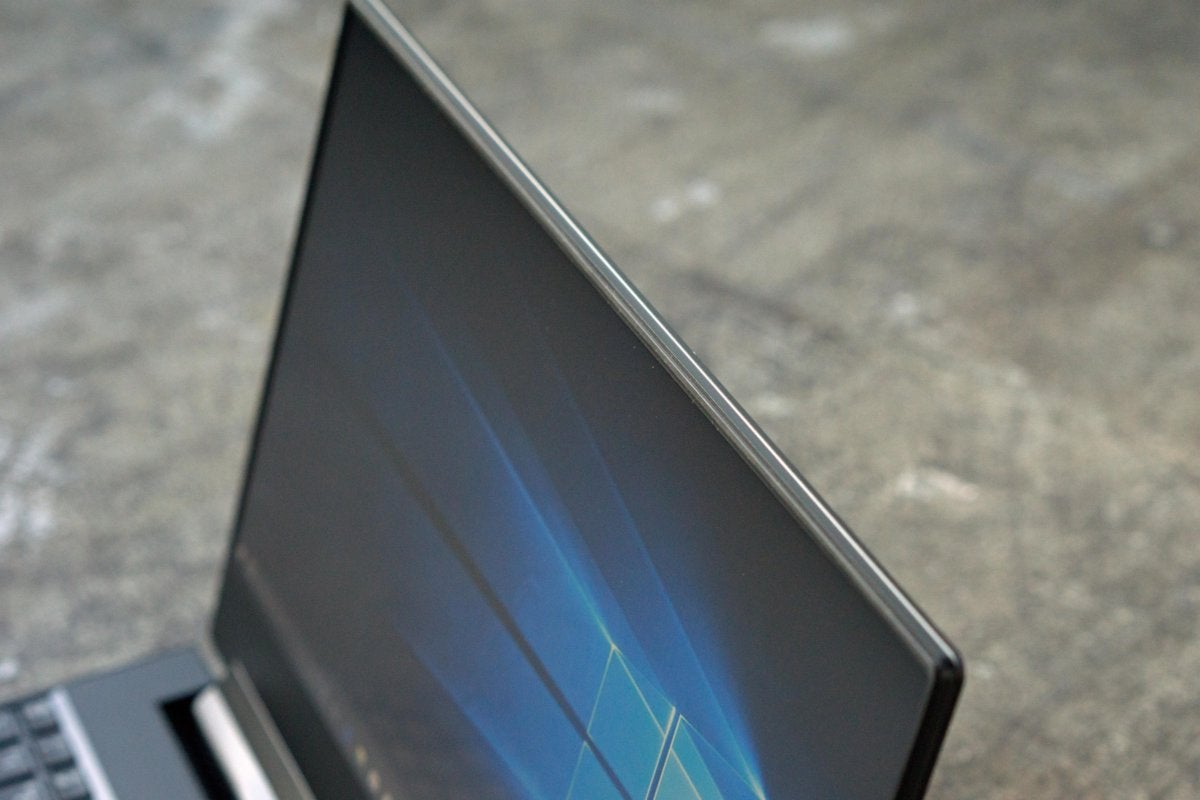 Keyboard and trackpad: The original Aero 15 was vexed by errant or unregistered keys presses. Gigabyte issued firmware fix after firmware fix, which some say helped, and others say did nothing. On the Aero 15X, we tried known problematic key press combinations without issue, so it appears the company has solved the problem.
We still have some doubts about the Elan trackpad, which would occasionally become non-responsive for a millisecond. (We also noticed this on the original Aero 15, long after our review ran.) We don't think it's a deal-breaker, but it's something to be aware of.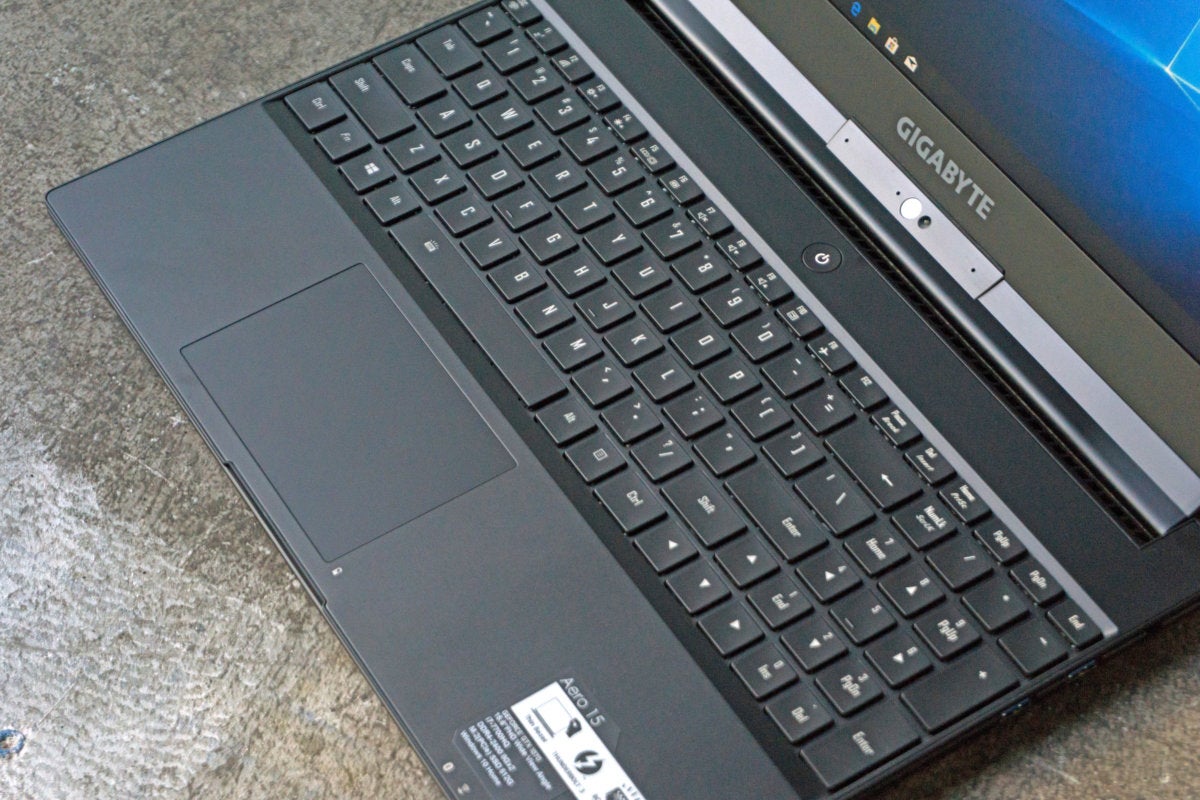 Performance
The category that matters the most to most people, though, is performance. We were impressed by the Aero 15, and the Aero 15X doesn't disappoint either.
HandBrake Performance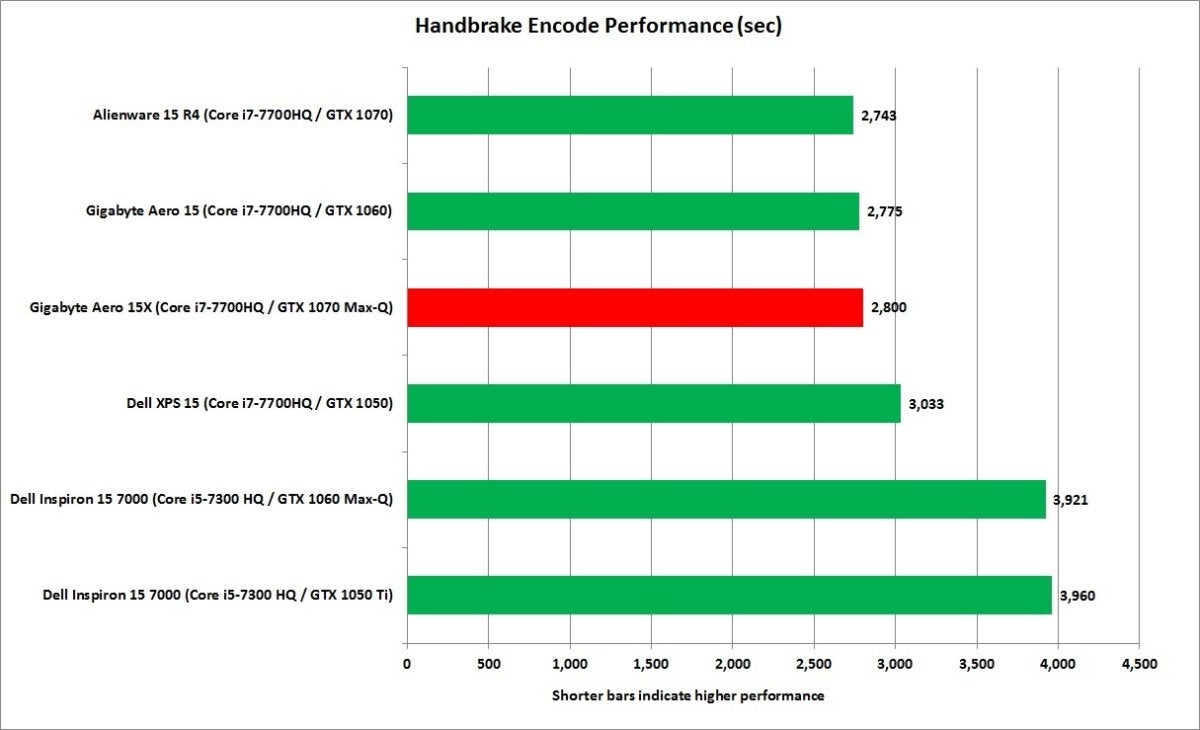 Our first test was the CPU-intensive HandBrake test, where we take a 30GB MKV file and encode it with HandBrake 0.9.9 using the Android Tablet preset. This is a test where quad-core-plus CPUs just shine. The result for the Aero 15X is pretty much a dead tie with its predecessor. And if you've wondered just what you give up going from a Core i5 quad-core without Hyper-Threading to a Core i7 with Hyper-Threading, you can see the results above, with the two Dell Inspiron 15 7000s.
We'll skip any more CPU tests because they'd be a waste or your time and our time—there's nothing to see here, folks.
3DMark Performance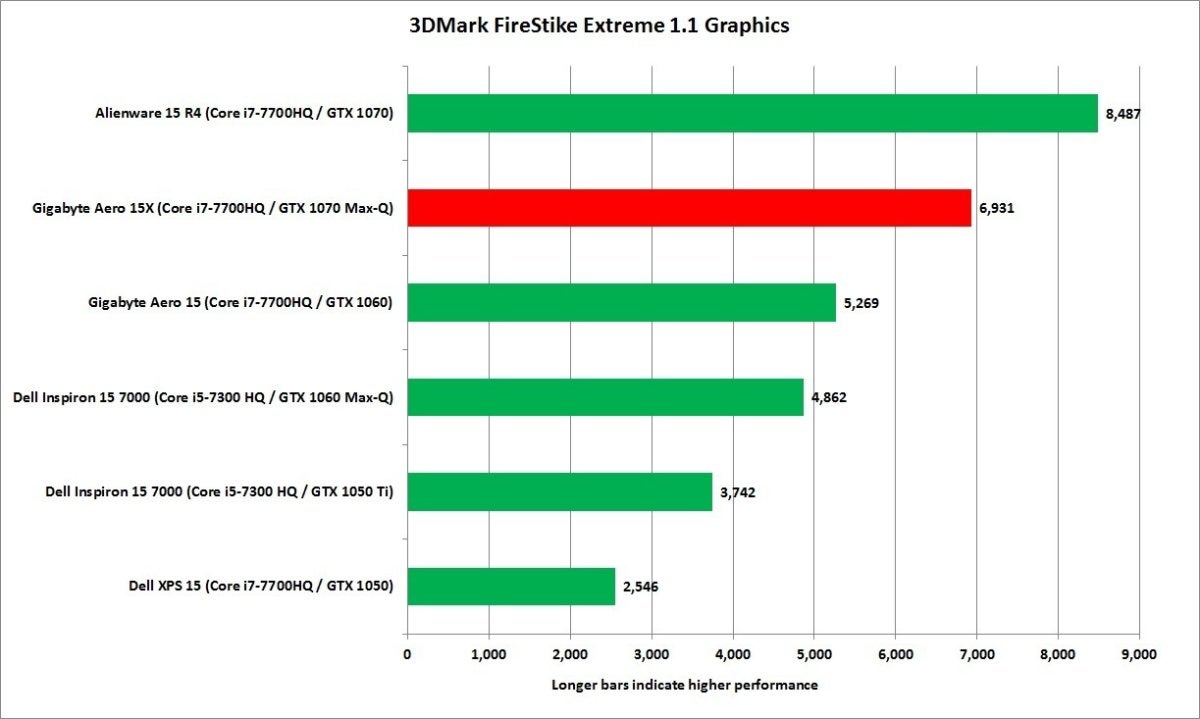 The next test is 3DMark FireStrike Extreme Graphics performance. It's a synthetic test that ignores CPU performance, so you can measure the theoretical performance of a GPU. The results tell us the GeForce GTX 1070 with Max-Q technology is a potent chip, landing almost squarely between the Aero 15 with its GTX 1060, and the Alienware 15 R4 with its GTX 1070.
Cynics may call it a GeForce GTX 1065, but what they ignore is getting that performance in a laptop that previously stopped at the less powerful GeForce GTX 1060. Comparing the Aero 15 to the Aero 15X, the latter's Max-Q part gives it a distinct advantage.
Rise of the Tomb Raider Performance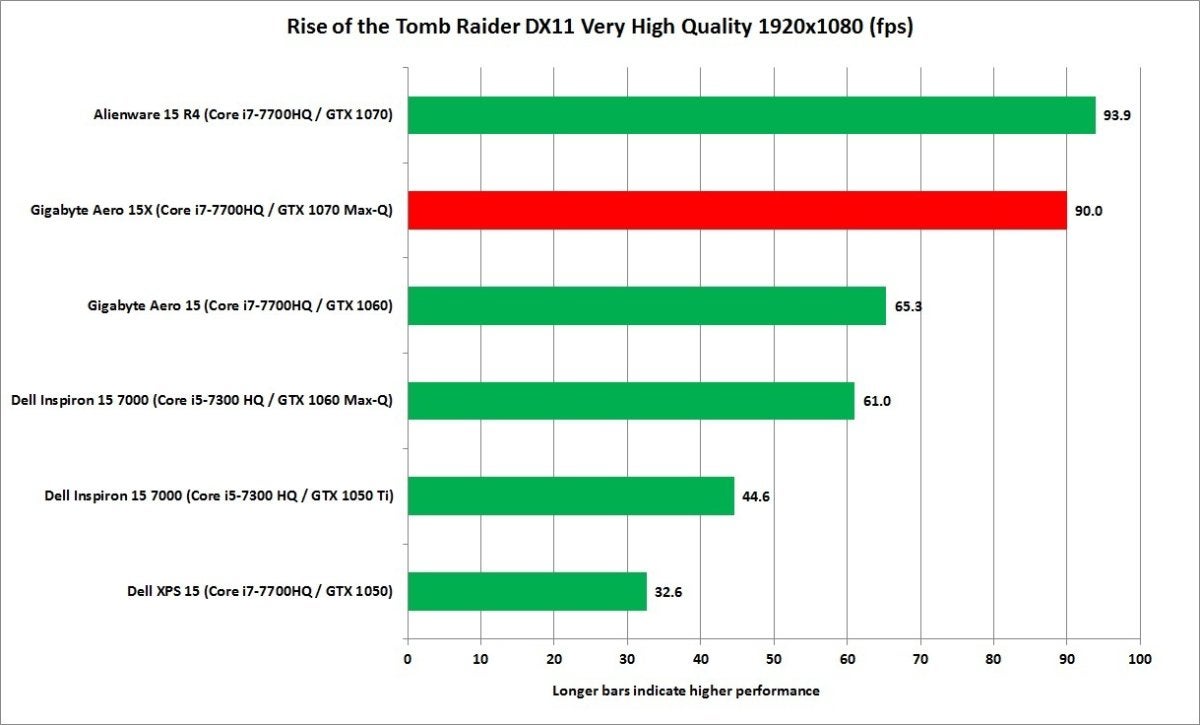 We also ran several real games by the Aero 15X and were even more impressed. In Rise of the Tomb Raider, for example, it's not that far behind the seriously fast Alienware 15 R4. Cynics, you might call that a GeForce GTX 1068.
Middle-earth and Tomb Raider Performance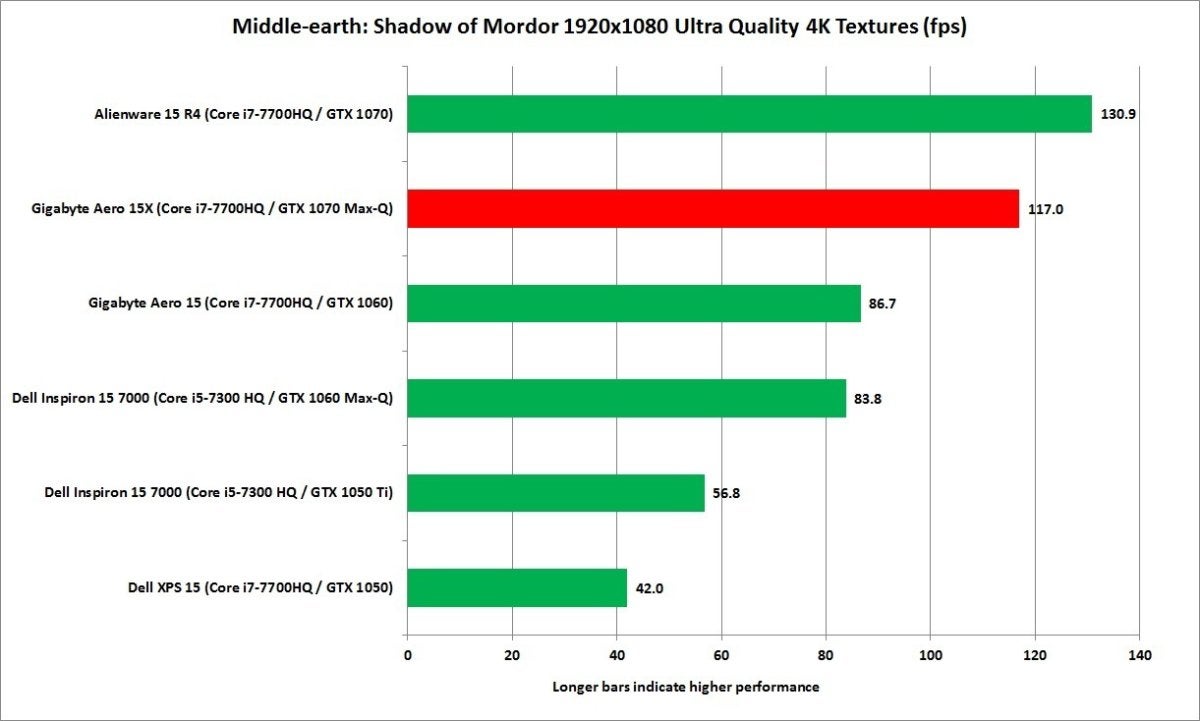 We also ran Middle-earth: Shadows of Mordor at 1920×1080 set to Ultra, with the 4K texture pack installed. The results, as well as the numbers we saw from the 2013-era Tomb Raider, back up the others. Let's just agree the Aero 15X with its GeForce GTX 1070 Max-Q is fast.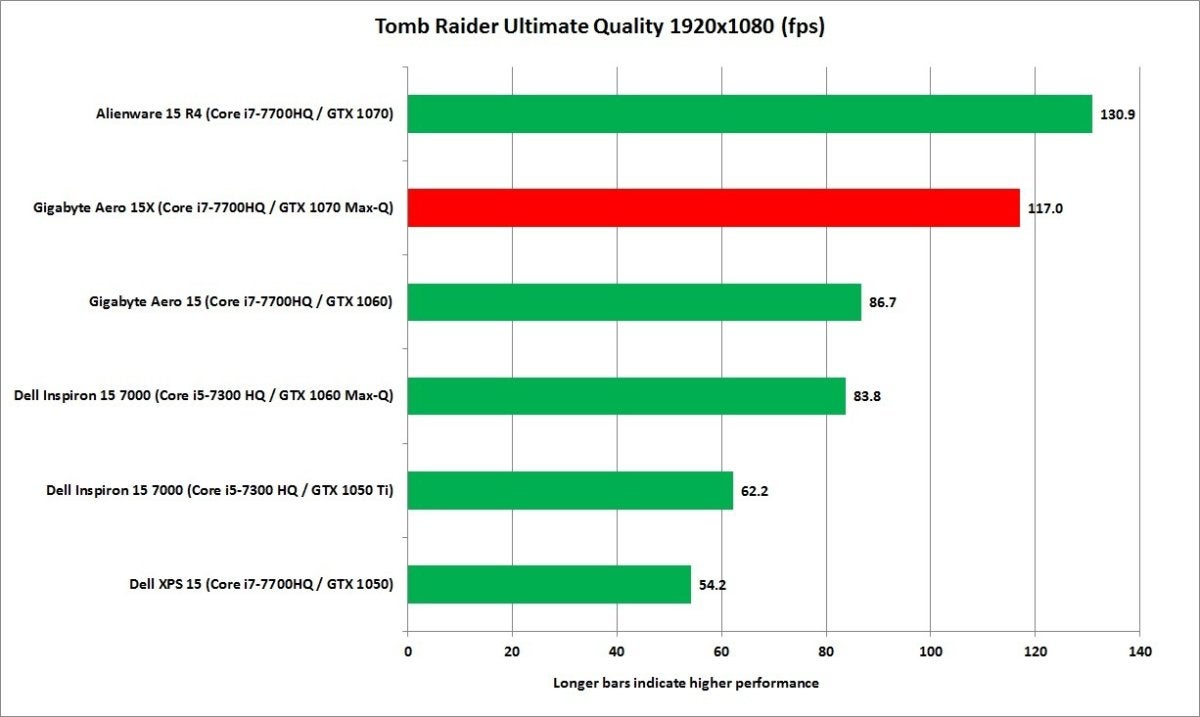 Acoustics
The overall fan noise of the Aero 15X is acceptable and quieter than we've heard, in say, the Alienware R15 R4, which swings for the fences during gaming. Even better, the fan on the Aero 15X appear to have fixed the annoying fan sound we heard on the Aero 15 as it revved up.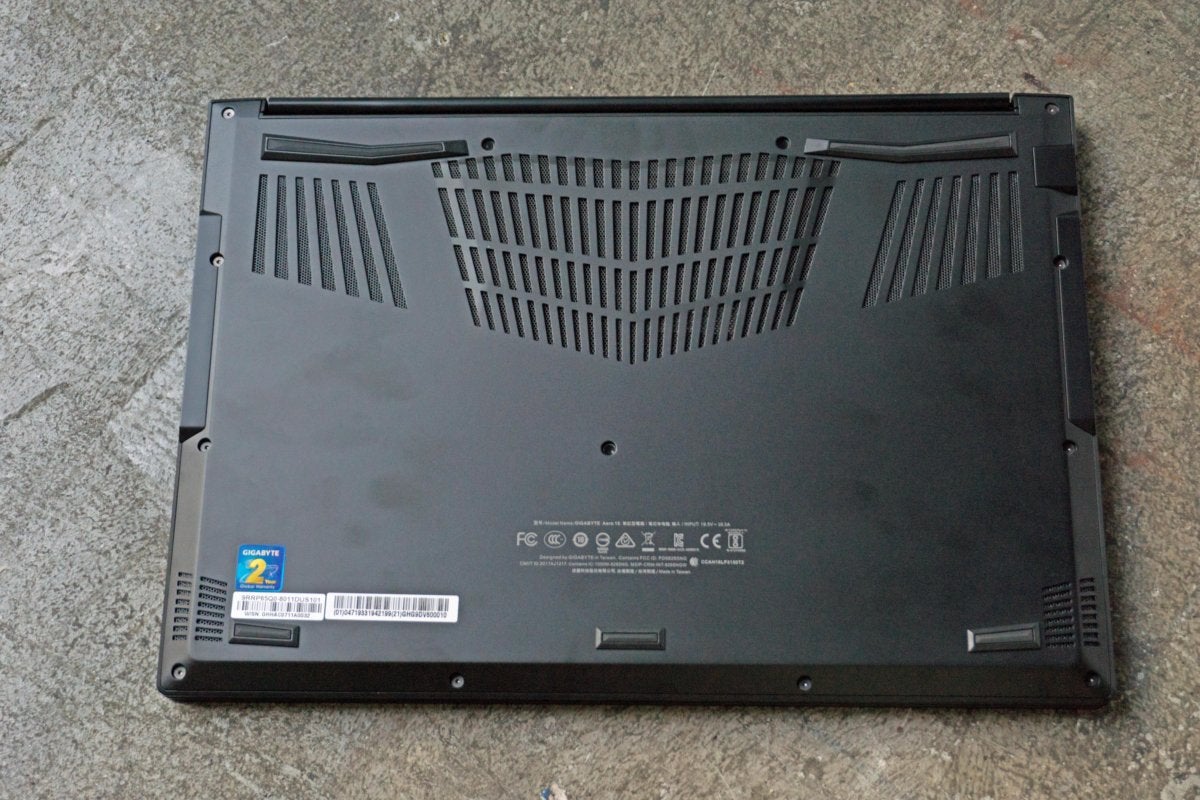 The Bonus: Battery Life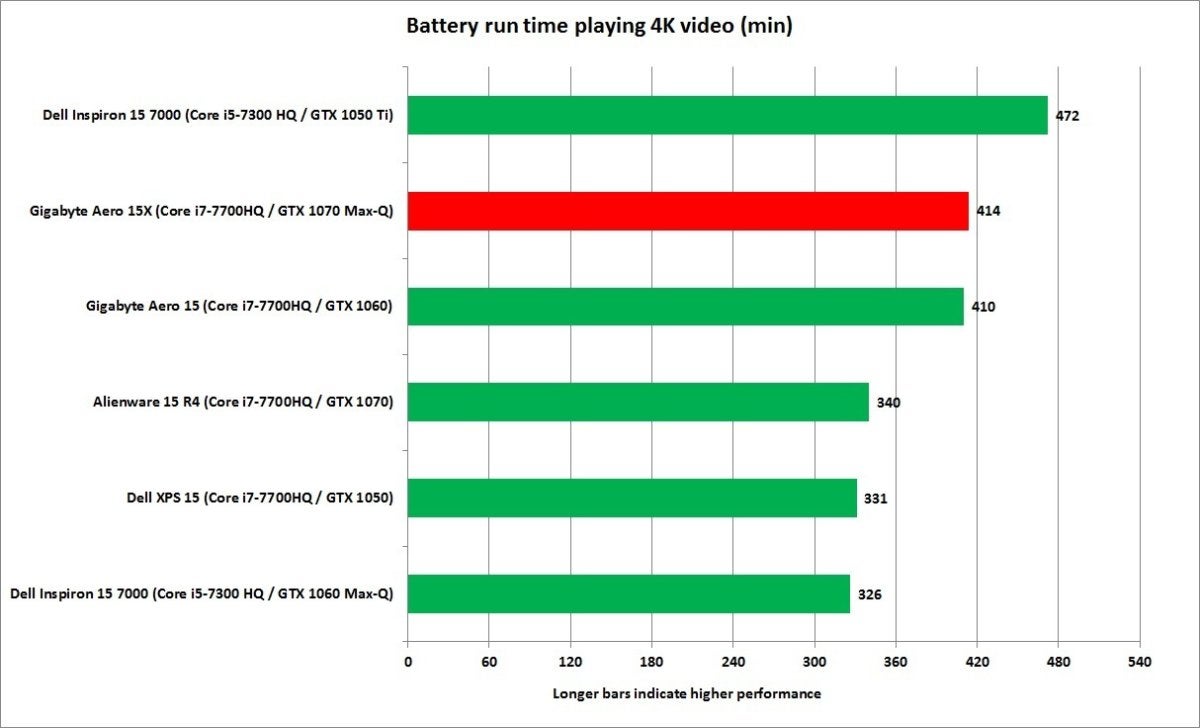 The real bonus with the Aero 15X is its battery life. To measure it, we play a 4K video at 250 to 260 nits (bright enough to watch in an office environement) using Windows 10's built-in Movies & TV video player. The Aero 15X gave us almost 7 hours of run time. That's basically a tie with the older, less powerful Aero 15.
The reason the Aero 15X (and the Aero 15) do so well in video rundown is because the workload is offloaded to the integrated Intel graphics, while the power-hungry GeForce cards slumber. The Aero 15X can do this because it doesn't feature G-Sync or a high-refresh monitor.
The big 94Whr battery also gives the Aero 15X a lot to work with. Similar gaming laptops this size often throw battery capacity overboard to save weight. For example, the recently reviewed Acer Triton 700 uses a 54Whr battery and is lucky to run for two hours during video playback with its power-hungry 120Hz G-Sync panel.
To be fair, this doesn't mean you can play games on the Aero 15X and get 7 hours of run time. Once you fire up the GPU or CPU on intensive tasks, you really shouldn't expect more than an hour or so on any gaming laptop.
Still, if you intend to edit a Microsoft Word file or watch a movie in flight, the Aero 15X will give you decent battery life, while many competitors will not.
Conclusion
In the end, color us impressed. Yes, a GeForce GTX 1070-class GPU is a little overkill for gaming at 1920×1080 at 60Hz, and probably justified only if you're looking for future-proofing or to play using an external monitor. A few nagging problems like the laggy trackpad seem to repeat the history of the faulty keyboard.
Still, the whole package is there. Want excellent performance, a reasonably compact frame, and great battery life? You'd be hard pressed to beat the Gigabyte Aero 15X.