At a Glance
Expert's Rating
Pros
Great performance
Thin and fairly light
Gorgeous 120Hz IPS display
Sleek and solid overall design
Cons
Poor battery life
Unsatisfying speakers
No G-Sync
Our Verdict
The Origin PC EVO15-S is a portable, powerful gaming notebook that looks good, feels great, and can actually be used as a laptop.
Best Prices Today: 1
Say hello to one of the most intriguing high-end incarnations of Nvidia's new Max-Q technology.
The Origin EVO15-S is powerful and portable, delivering GeForce GTX 1070 graphics in a sleek sub-five-pound frame. That's amazing—but it's also true of every Max-Q gaming laptop. Origin stands out from the crowd with a superb out-of-the-box customer experience and the ability to configure the EVO15-S hardware any way you see fit, unlike the overwhelming majority of the Max-Q masses.
More importantly, you can use this gaming laptop as a laptop. The first two GTX 1080 Max-Q laptops we've tested, the Asus ROG Zephyrus and the Acer Predator Triton 700, suffered from dismal battery life and atrociously positioned touchpads. The more conservative GTX 1070 Max-Q in the Origin EVO15-S still won't survive the day away from a charger, but it lasts much longer than those others, and it has a straightforward touchpad, right under the keyboard where you'd expect it.
The Origin EVO15-S isn't trying to be an exotic showpiece. It's just a damned good gaming laptop you can actually carry around.
Origin EVO15-S specs, features, and price
Most Max-Q laptops stick to one or two preset configurations, which is unsurprising given that Nvidia claims the technology requires tight hardware and software integration. But Origin's website lets you pick from a wealth of hardware options for the EVO15-S. Here are the specs, features, and price of the Origin EVO15-S that we reviewed. It's ferocious for a laptop.
CPU: Core i7-7700HQ
GPU: Nvidia GeForce GTX 1070 Max-Q
RAM: 16GB DDR4/2400
Display: 15.6-inch, 120Hz 1920×1080 IPS, matte finish
Storage: 512GB Samsung 960 Pro, 2TB Seagate FireCuda hybrid drive
Weight: 4 pounds, 13 ounces, or 6 pounds, 9 ounces with power brick
Dimensions: 14.09 x 9.9 x 0.7 inches
Ports: HDMI, 2x Mini-DisplayPort, 2x USB 3.1, 3x USB 3.1 Type-C, SD reader, headphone, microphone, ethernet, lock slot
Webcam: 1080p
You can also customize the EVO15-S casing in all sorts of colors, textures, and themes for a price upgrade, or even a completely original airbrushed design for a quoted price. The version we tested stuck to the default grey aluminum but included several internal upgrades. The $1,626 baseline configuration of the Origin PC EVO15-S sports the same basic shell, but drops the hardware down to a GeForce GTX 1060, 8GB of memory, a 500GB hybrid hard drive, and a 60Hz display. Tinkering with your loadout understandably adds to shipping time. Origin PC's online EVO15-S configuration page cites 9 to 11 business days for the baseline model, compared to 14 to 16 for the custom-tuned system we reviewed.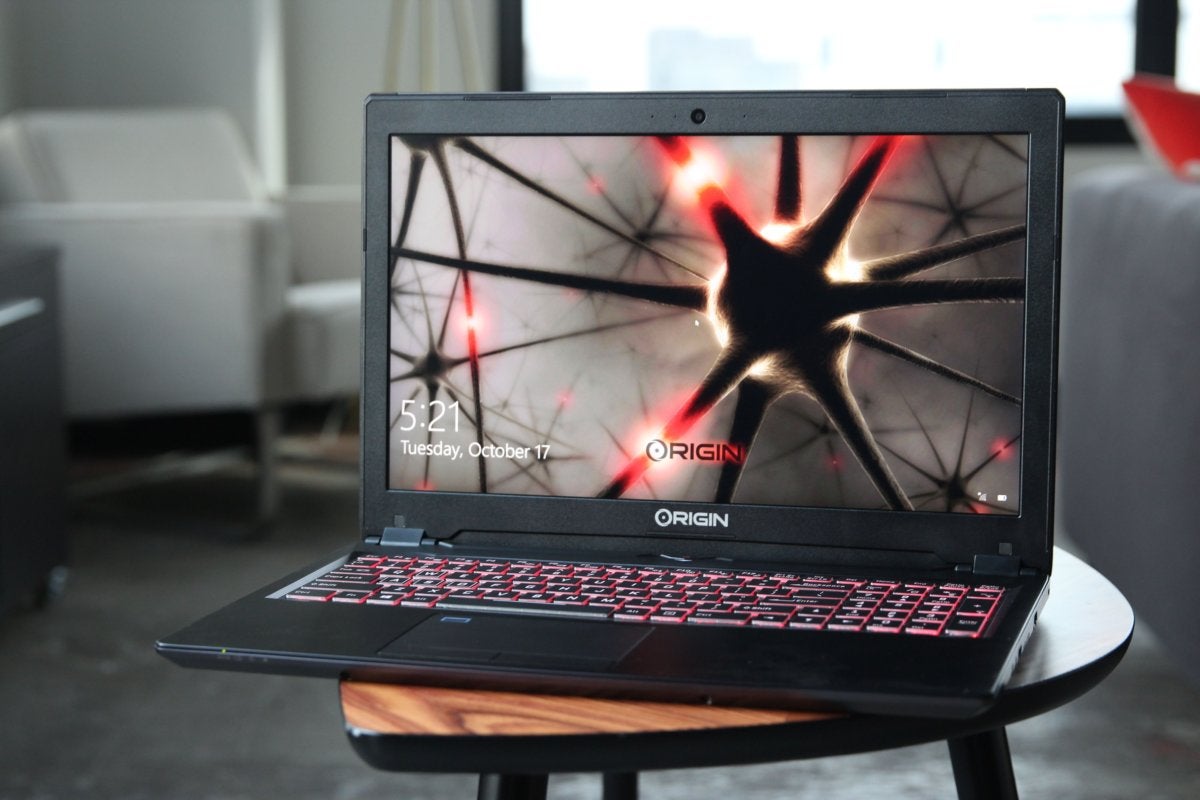 The 15.6-inch, 120Hz IPS display on the EVO15-S looks great and runs at a bright 343 nits max, but it also shows one of the compromises Origin had to make to offer such a customizable laptop. Many available Max-Q laptops augment their screens with G-Sync, the Nvidia display technology that eliminates tearing and stuttering in games. But those rival laptops—and Origin's own EON15-X—stick to a single display configuration to include G-Sync. In the case of the EVO15S, however, Origin offers the aforementioned 60Hz and 120Hz 1080p screens plus a 4K IPS option. The 120Hz and 4K displays require the GTX 1070 Max-Q, though; you can't configure them with the GTX 1060.
Mentioned in this article
Destiny 2
The GeForce GTX 1070 Max-Q powers the 120Hz screen like a champ. Aside from the benchmarks we'll cover later, I spent many, many hours blasting through Destiny 2 ($60 on Amazon) on this rig and saw buttery-smooth 80-plus frames per second throughout with nary a hitch or tear on the highest graphics settings. Nvidia's Max-Q variants are severely downclocked compared to their non-Max-Q brethren to fit into such slender laptops. You could think of the GTX 1070 Max-Q in the EVO15-S as almost more of a "GTX 1060 Ti," but that's still plenty of power for a laptop like this.

The other hardware proves just as capable. Intel's Core i7-7700HQ is one of the fastest mobile CPUs you can buy, the tandem of a Samsung 512GB 960 Pro NVME SSD and a 2TB Seagate FireCuda hybrid drive creates both blisteringly fast performance and plenty of capacity, and the 16GB of DDR4 memory is plenty for all but the most strenuous content creation tasks. Heck, gamers could even get by with 8GB of RAM.
In use: Looks good, feels good
We've tested a few Max-Q notebooks now, but it's still amazing that such powerful hardware fits into a laptop this portable. The EVO15-S stands a mere 0.7-inch tall and weighs 4 pounds, 13 ounces. It's no MacBook Air, but this level of firepower used to be found only in laptops exceeding 8 pounds with incredibly thick bodies—true desktop replacements.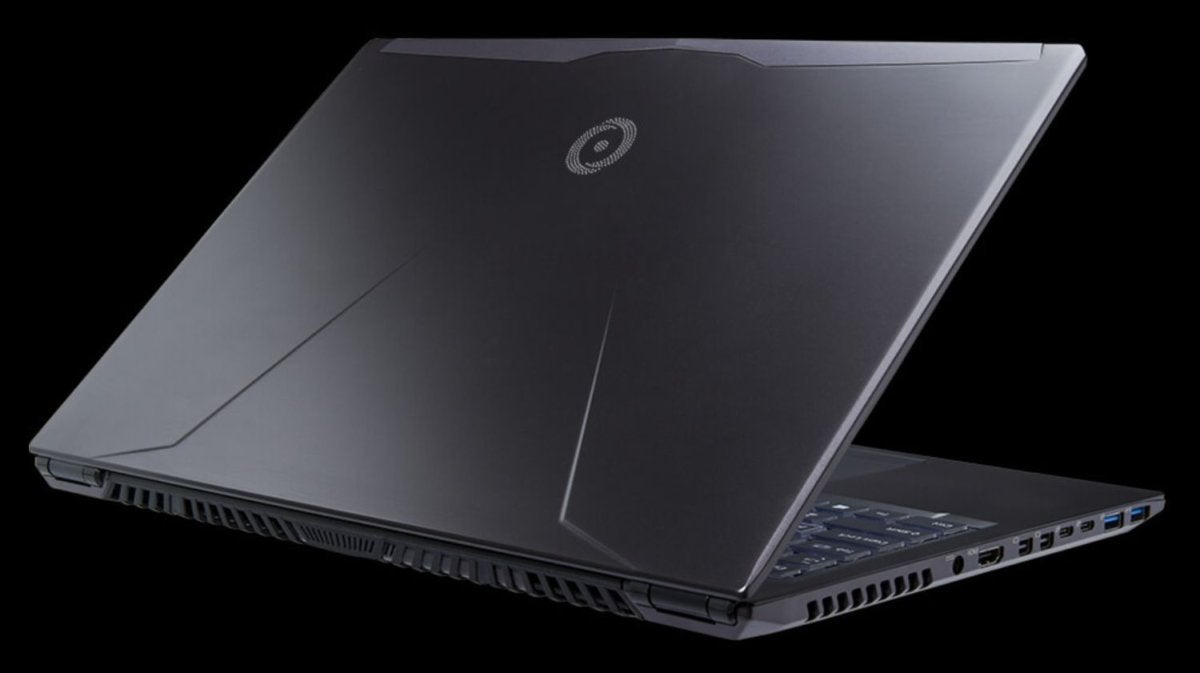 Origin PC says the EVO15-S design features "stealth jet-inspired style," but it's minimal—some slight edges carved into the aluminum lid, and large vents in the rear that resemble exhausts in both form in function. Overall, Origin skips the aggressively over-the-top "gamer" bling associated with many high-end gaming laptops. The result is a sleek aluminum chassis that looks awfully attractive by my eye. The only nod toward flashiness is a small glowing Origin PC "hurricane" logo at the top of the lid, and even that's perforated so it doesn't flare brightly. I dig it.
That lid is pretty thin, and while the EVO15-S hinges do an admirable job overall, there's a very tiny bit of bounce in the lid when you jostle the laptop. That, in turn, creates a small area of screen rippling in the lower left-hand corner of the display over Windows 10's Start button and Cortana input field. It's minor but noticeable outside of gaming applications.
The input design is solid and good, yet unexceptional—a huge relief after suffering through the Acer Predator Triton 700's dismal above-the-keys touchpad. The keyboard isn't as divine the glorious mechanical keyboard with per-key RGB lighting found in Acer's Max-Q laptop, but it's still comfortable and competent, with plenty of key travel, anti-ghosting for those complicated gaming commands, and customizable RGB backlighting separated into three zones. It even has an all-too-rare number pad!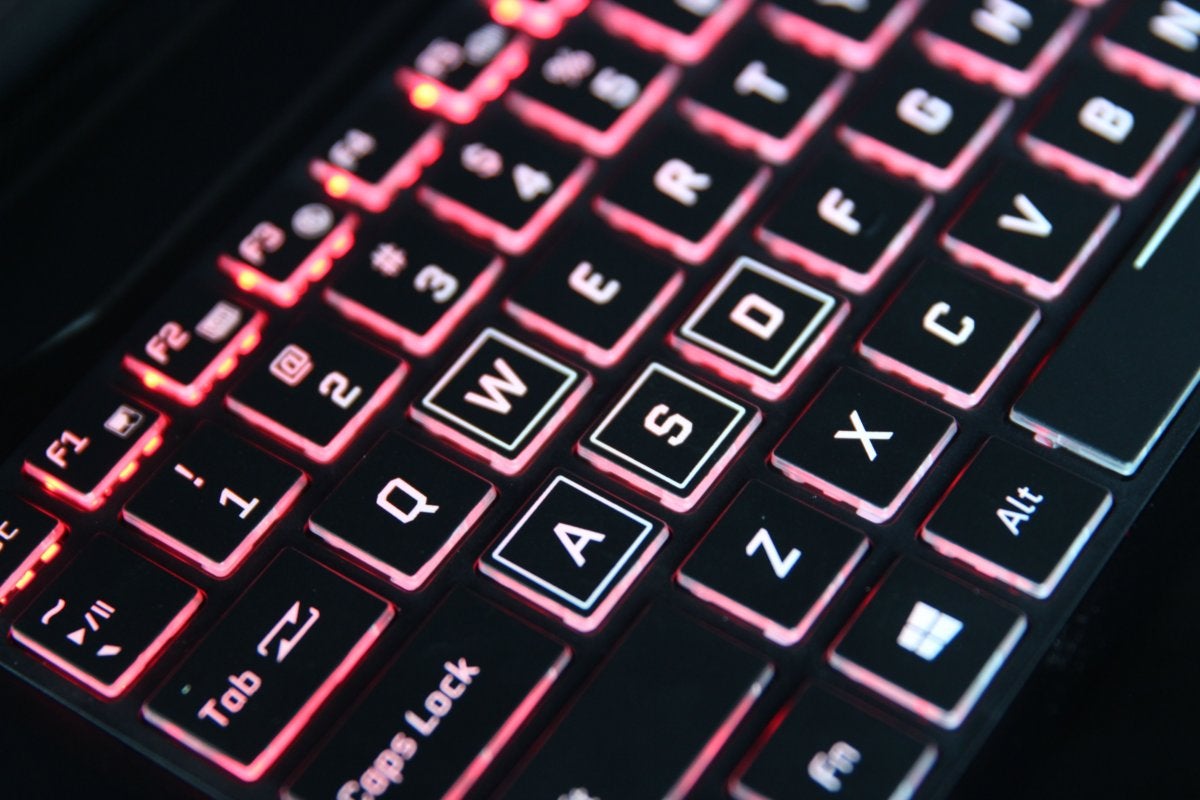 The touchpad lacks backlighting but includes a fingerprint reader for biometric authentication. Again, it's a solid, unpretentious touchpad that handles well, includes discrete left- and right-click buttons, and is positioned in the right place. The keyboard and touchpad excel at staying out of your way.
The EVO15-S speakers aren't anything to write home about. They get loud, but crunchy at high volumes, and the audio sounds hollow. They're laptop speakers, in other words. As always, our advice is to snag a solid gaming headset and gaming mouse if you're investing in a laptop like this.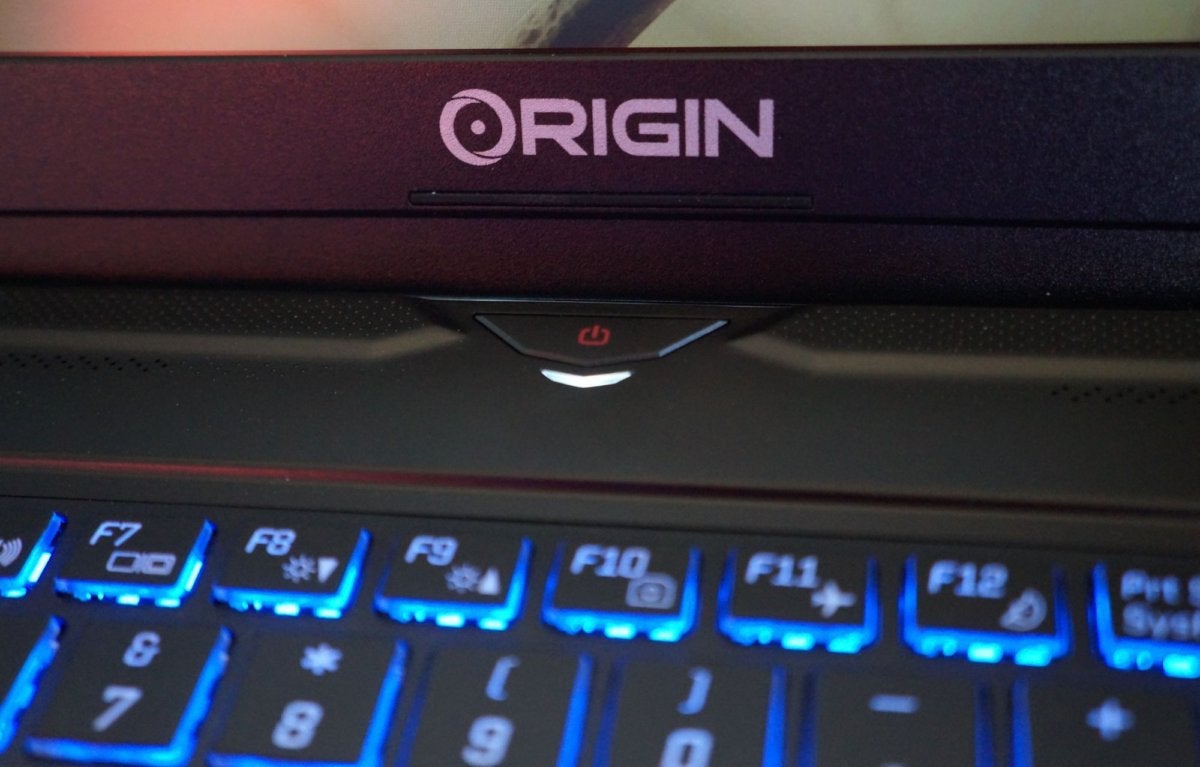 Thankfully, Origin listened to complaints about the positioning of the power button in last year's EVO15-S. That older model put its power button on the right-front edge of the laptop, and reviewers complained about accidentally shutting off the system when picking up the notebook. Now, the EVO15-S power button is centered above the keyboard, just beneath the display.
Unlike most slim laptops, Origin's PC is positively swimming with ports: Three USB 3.1 connections, a pair of USB 3.1 Type-C ports, an SD card reader, headphone and microphone jacks, Ethernet, and a lock slot. You'll also find a full-sized HDMI port and dual Mini-Displayports—everything you need to use the EVO15-S as a portable VR station.
The boutique PC builder difference
Boutique PC builders like Origin and Falcon Northwest tend to charge more than the big PC companies, but they offer more than just the ability to configure your computer to your heart's content. Origin PC delivers a superb out-of-box experience.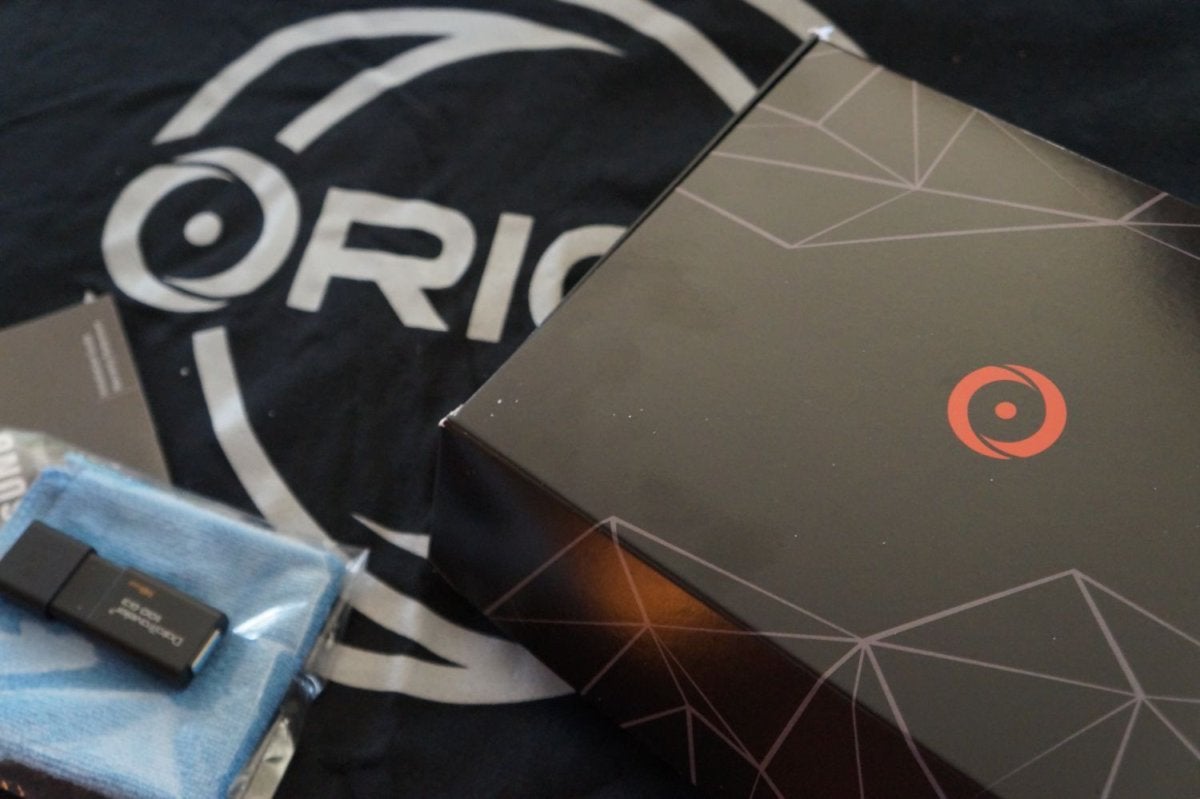 The laptop ships in a large black box emblazoned with Origin's hurricane-like logo. Open it up and you'll find a veritable bounty inside before you even get to the EVO15-S. Origin includes a well-made oversized gaming mousepad along with a protective cloth laptop sleeve for your gear—both bearing logos, of course. We also found an Origin PC poster and a black Origin PC t-shirt in men's XL size. More functionally, there's a box containing driver discs, an instruction manual, a microfiber cloth for cleaning your screen, and a 16GB USB recovery drive so you can flash your Windows installation back to the factory default if needed.
Origin's care carries over to the software, too. While most big-box PCs come with bundles of bloatware pre-installed, the EVO15-S is blissfully devoid of crap. Beyond icons for Windows 10's own This PC and Recycle Bin, the only extra clutter you'll find on the desktop is an "Origin PC ReadMe" PDF that explains how to contact support. If you misplace the ReadMe, you can find Origin's contact details embedded in Windows 10's system information page as well. Origin tunes Windows 10's system theme and the keyboard's backlighting to match the laptop's red and black colors out of the box, with an Origin PC wallpaper set on the desktop.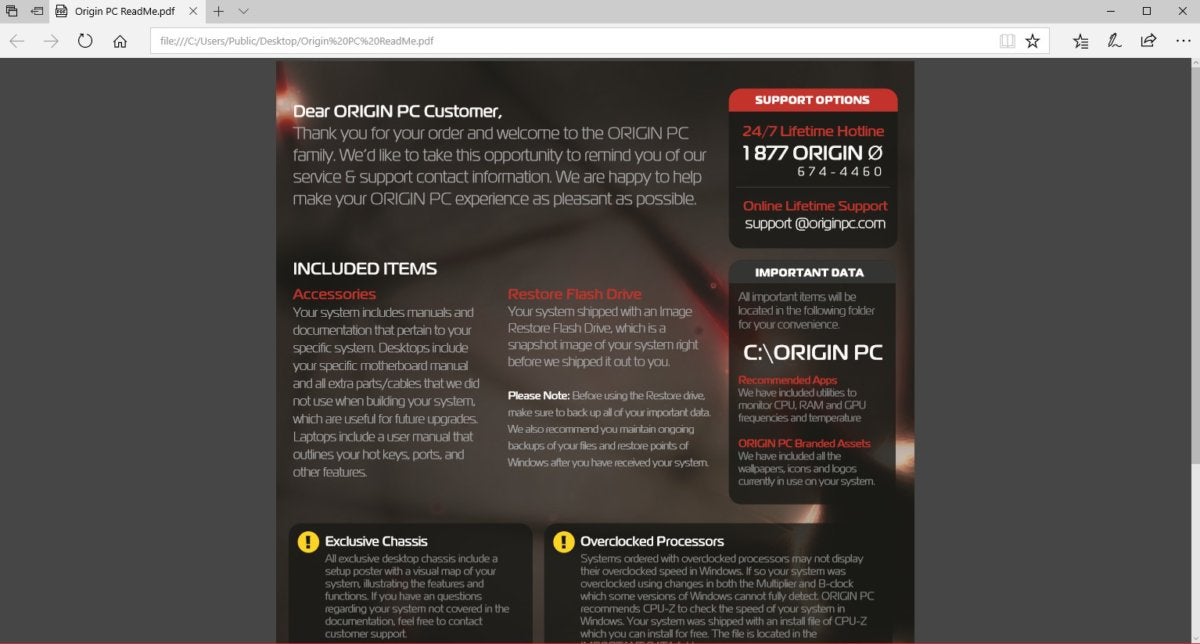 The ReadMe also directs you to an OriginPC folder in your C: drive. There, you'll find installers for CPUz and Hardware Monitor, two particularly useful PC applications for gamers, along with an Origin PC Teamviewer link for remote assistance. Handy! Less handy: A link to Webroot security software, which you can thoroughly ignore. Props to Origin for not dropping it on your desktop, though.
You get free lifetime email and 24/7 phone assistance for the EVO15-S, as well as free lifetime labor if you want to swap out any components, though you'll need to pay for shipping to Origin's offices if your warranty is lapsed. Origin's default warranty offers one year of part replacement protection with free shipping on repairs for 45 days after purchase. You can also buy extended support plans.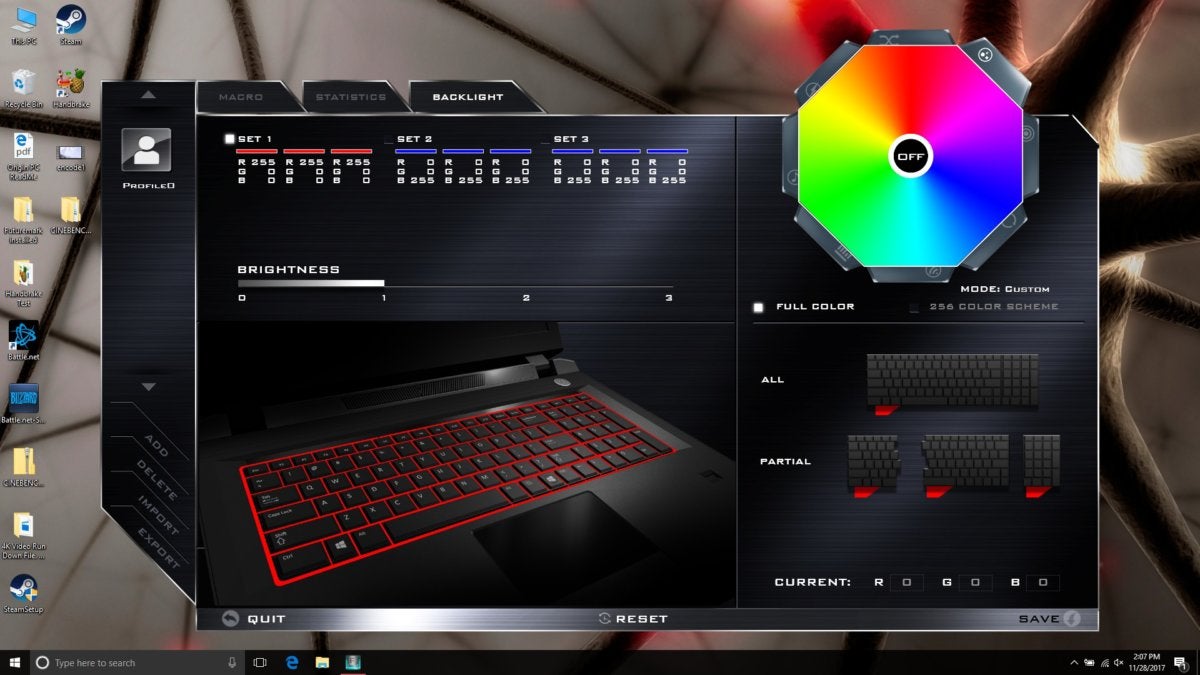 All in all, opening the EVO15-S feels like a well thought-out, fully cohesive package—an experience designed to get out of your way and get genuinely useful tools and information in your hand (along with a fair share of Origin branding). I love it.
Next page: Origin EVO15-S performance, bottom line
Origin EVO15-S performance
With such a potent hardware arsenal, it shouldn't come as a surprise that the Origin EVO15-S delivers top-notch performance, and not just in games.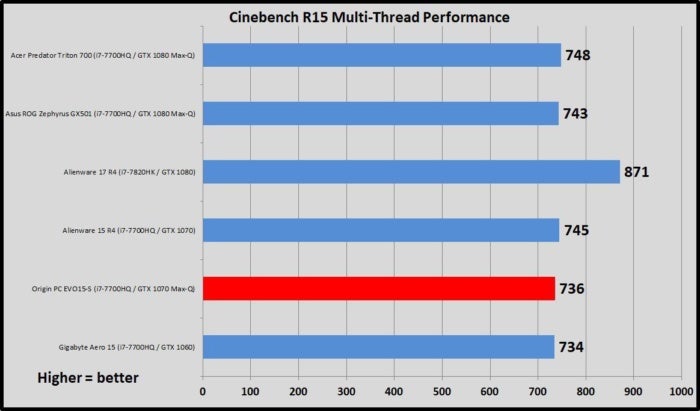 Maxon's Cinebench R15 measures raw CPU performance, and it loves more threads. Unsurprisingly, the EVO15-S delivers performance similar to other high-end gaming laptops equipped with Intel's quad-core Core i7-7700HQ. The Alienware 17 edges ahead of the crowd thanks to its more powerful Core i7-7820HK processor, but these are all great results.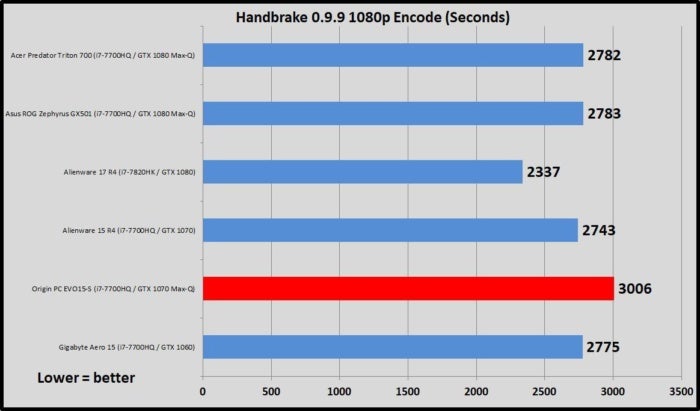 Our second test uses an older version of the free Handbrake encoder and mostly focuses on CPU performance as well. The Cinebench test has a short run time, but the file we encode in our Handbrake test takes around 45 minutes on a quad-core processor, which lets you see how a laptop's temperature throttling affects performance over time. The Origin EVO15-S lags a bit behind its rivals but still delivers a respectable score.
But gaming laptops are all about the graphics. We test the visual chops of gaming laptops using 3DMark's Fire Strike Extreme benchmark. Specifically, we rely on the Graphics sub-score, which focuses on pure GPU performance.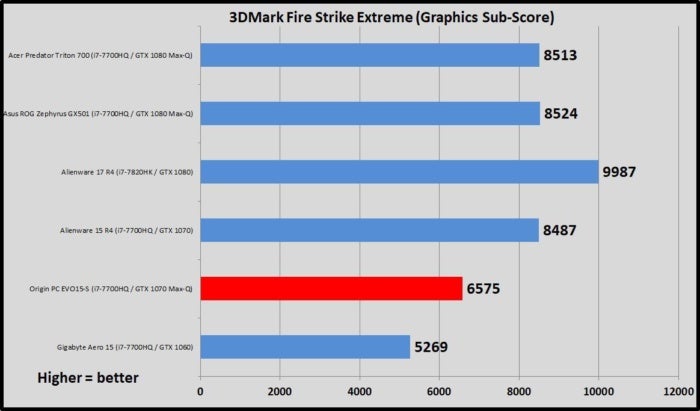 Here's where the compromises required to sneak powerful Max-Q GPUs inside slim laptops start to show. The Origin EVO15-S's GTX 1070 Max-Q laptop turns in a score a good chunk slower than the full-blown GTX 1070 inside the thicker, heavier Alienware 14, but a good chunk faster than the GTX 1060 found in the Gigabyte Aero 15. Think of it like a GTX 1060 Ti and you'll be on the right track.
That difference continues to show in actual games, though here the EVO15-S leans closer to GTX 1070 performance than GTX 1060. It's a perfect fit for the gorgeous 120Hz display on this system. (Note that the Alienware 17 was not able to be retested with a recent Nvidia driver update that gave Rise of the Tomb Raider a sizeable performance increase; we'd expect it to out-perform the GTX 1080 Max-Q laptops if up-to-date. Stability is why we still use Shadow of Mordor and Tomb Raider.)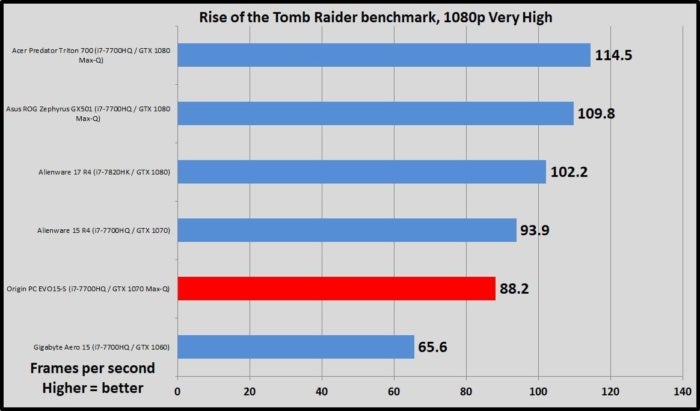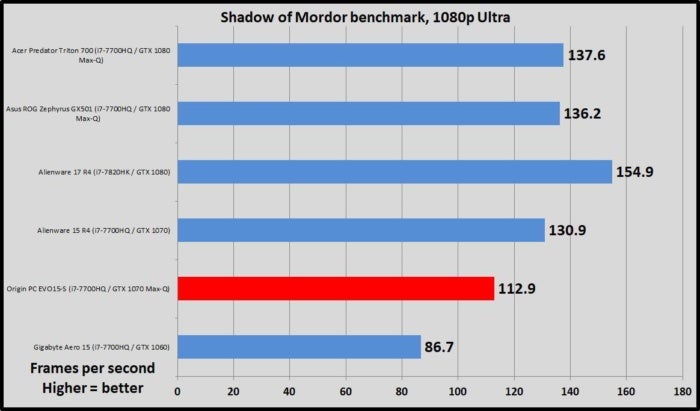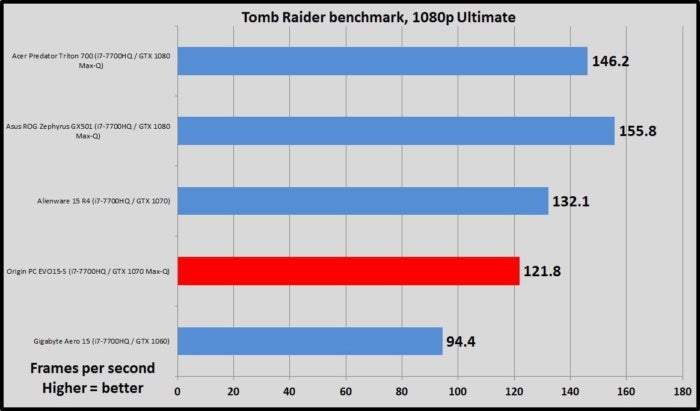 When you're gaming on the Origin EVO15-S the fans can get pretty loud—louder than the Acer Predator Triton 700's, and that laptop packs a more powerful GTX 1080 Max-Q. On the bright side, those fans are effective. I saw no performance drop when I re-ran the Rise of the Tomb Raider benchmark continuously for an hour straight.
Something has to give when you cram this much hardware and cooling into such a small laptop. In all the high-end Max-Q notebooks we've tested, that's been battery life. The two GTX 1080 Max-Q laptops we've reviewed, the Asus ROG Zephyrus and the Acer Predator Triton 700, both contained woefully small 50-ish watt-hour batteries, compared to the 85Whr to 95Whr packs seen in many non-Max-Q laptops. Surprise! They turned in the worst battery lives we've ever seen in PCWorld's battery rundown test, which loops a 4K video endlessly. Each lasted a mere two hours.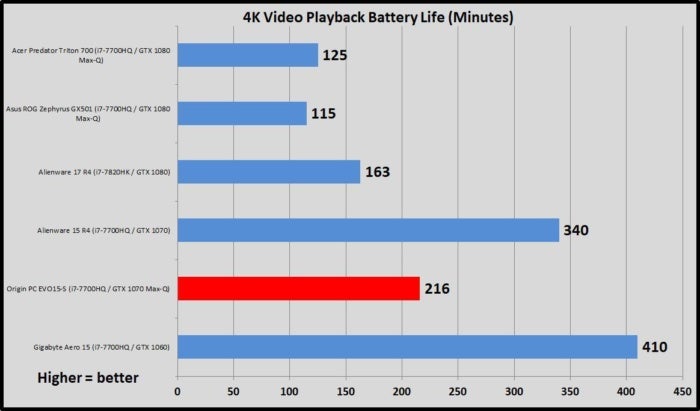 The EVO15-S contains a similar 53Whr battery, but it's able to last longer—possibly due to its more modest GTX 1070 Max-Q GPU, or possibly because of its lack of G-Sync. Origin's notebook lasted three hours and 36 minutes with our video loop before bowing out. Laptops with standard Nvidia GPUs last far longer on the bench, though they don't offer both performance and portability like these Max-Q rigs. If you're planning on a long trip—or doing any gaming whatsoever—make sure you keep your EVO15-S charger handy. You'd do that for any gaming laptop, to be fair, but the impact is more pronounced with such scant battery capacity.
Should you buy the Origin EVO15-S?
The basic value proposition of the Origin EVO15-S is the same as the other Max-Q laptops we've reviewed. If you want a very powerful, very portable laptop that delivers performance on a par with notebooks that usually measure twice as thick and thrice as heavy, these are the only options around.
Mentioned in this article
Asus ROG Zephyrus GX501
The Origin EVO15-S isn't as powerful as the GTX 1080 Max-Q-equipped the Asus ROG Zephyrus or Acer Predator Triton 700, and it also lacks a G-Sync display. But the GTX 1070 Max-Q inside delivers a stellar gameplay experience with very high frame rates on the gorgeous 120Hz screen—making the lack of G-Sync less noticeable.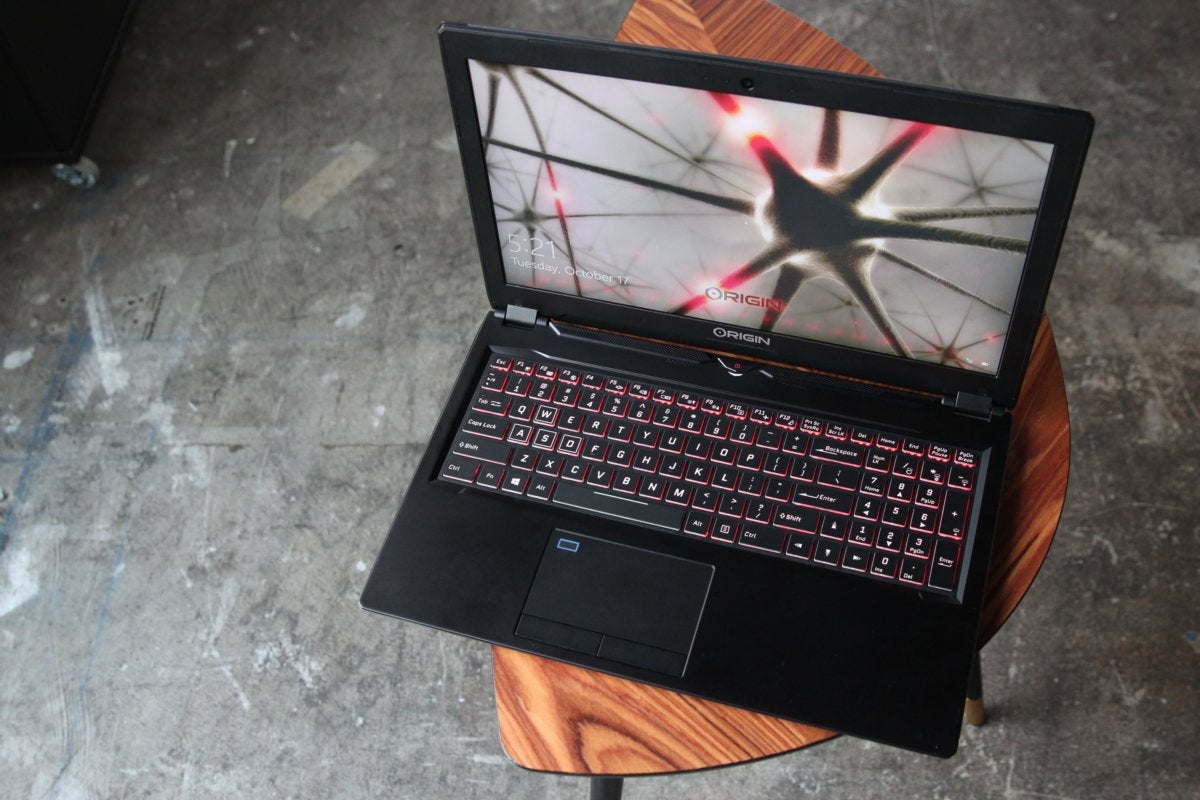 Origin's laptop still falls prey to Max-Q's common compromises. At $2,375, this laptop isn't cheap, and it suffers from subpar battery life. But the EVO15-S costs hundreds less than the GTX 1080 Max-Q laptops we've reviewed, and it lasts nearly 1.5 hours longer in our longevity test. More importantly it sticks to solid, standard keyboard and touchpad designs. You'll still want to keep your charger and gaming headset ready if you plan to game on the run, but you can leave all the accessories at home and use the EVO15-S as, you know, an actual laptop for a few-hour stretch. You can't say that about the ROG Zephyrus or Triton 700.
If you don't mind severely sacrificing portability, standard GTX 1070 laptops like the Alienware 15 ($1,700 on Dell) offer somewhat higher performance for less money. Or if you want a light laptop and don't mind a gaming performance hit, the GTX 1060-equipped Gigabyte Aero 15 ($1,800 on Amazon) is another option. But if you're looking for a blazingly fast gaming laptop that you can actually carry around, the Origin EVO15-S stands out because it's a good laptop—not just a good gaming laptop. The sleek design and Origin PC's outstanding out-of-box experience are just icing on the cake.
Best Prices Today: EVO15-S