At a Glance
Expert's Rating
Pros
Dashboard provides real-time data on linked accounts
Can project account balances based on scheduled income and bill payments
Generates a dizzying variety of detailed financial reports
Our Verdict
Quicken Deluxe's rich array of features and reports offers a great way to move beyond basic budgeting.
Price When Reviewed
$51.99 per year
Best Prices Today: Quicken Deluxe
For years, Quicken was the leading personal finance program by far. And though its supremacy has been challenged by a growing list of competitors, it remains one of the most full-featured. It currently comes in four versions for Windows that allow you to do everything from build a household budget to manage and maximize investments, depending on which one you get. For basic budgeting, we tried Quicken Deluxe, which is currently being offered for $29.99 a year—50 percent off the retail price.
Note: This review is part of our roundup of the best budgeting software. Go there for details about competing products and how we tested them.

Quicken is desktop software, so whichever version you purchase, you'll have to download and install it. Once you log in, Deluxe opens to the Home tab—essentially a real-time dashboard—where it walks you through a three-step set up.
First you'll link to your financial accounts and all your recent transactions for each will be downloaded to their own register. All this data is aggregated in the top third of the home tab in a section labeled See Where You're Money Goes. By default, this section breaks out in a colorful graph your last 30 days of spending by category across all your accounts, though you can change these parameters in the settings.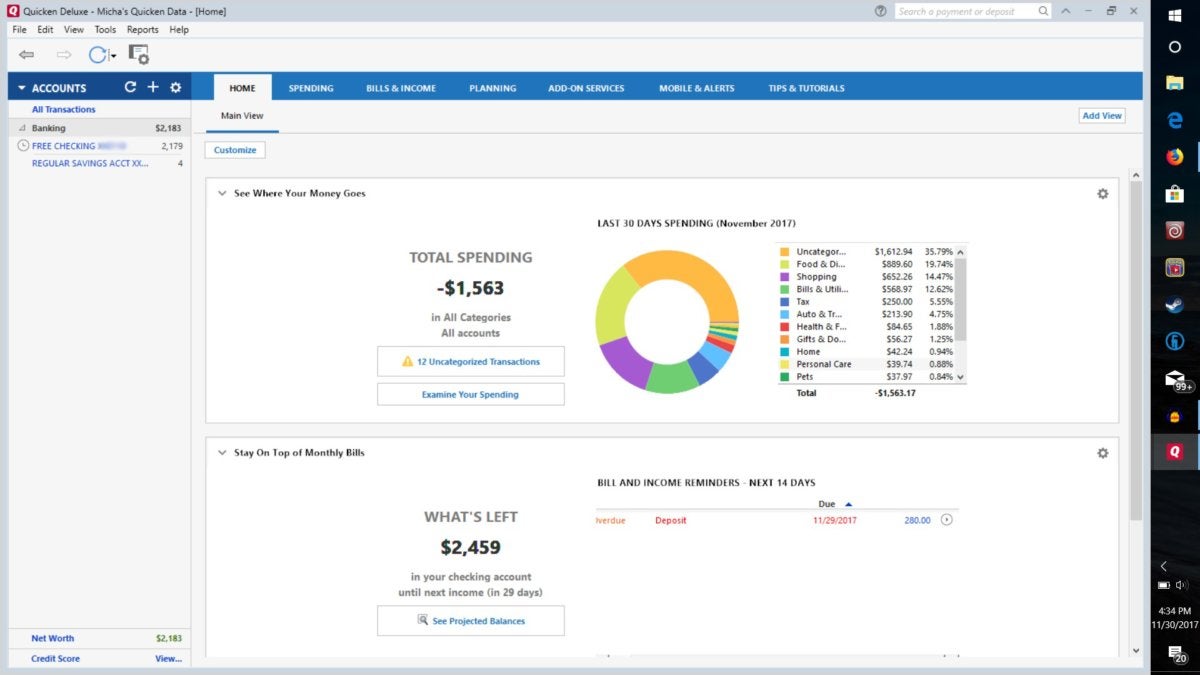 Next, you add your bills, either manually or by linking to online accounts, and your scheduled income. All this information is added to the Stay On Top of Monthly Bills section in the middle third of the Home tab, which displays your projected checking account balance over the next two weeks based on that activity. You can also set up bill and income reminders, which will be listed here by date and amount.
Finally, you're prompted to create a budget. Quicken scans all your transactions based on your regularly occurring spending categories and produces a budget displayed as a series of bar graphs, each colored green or red to indicate if you're under or over budget. Once it's complete, you can add or delete budget categories to your liking and change the suggested budget amounts. Your total budget is then shown is a single bar graph in the bottom third of the home tab indicating what you're spend and how much you have left. If any categories are over budget, a warning icon appears alongside the overspent amount.
While these home tab sections provide a running at-a-glance look at your finances, you can dive deeper into any one by clicking in it or by selecting it from the clearly labeled tabs at the top of screen.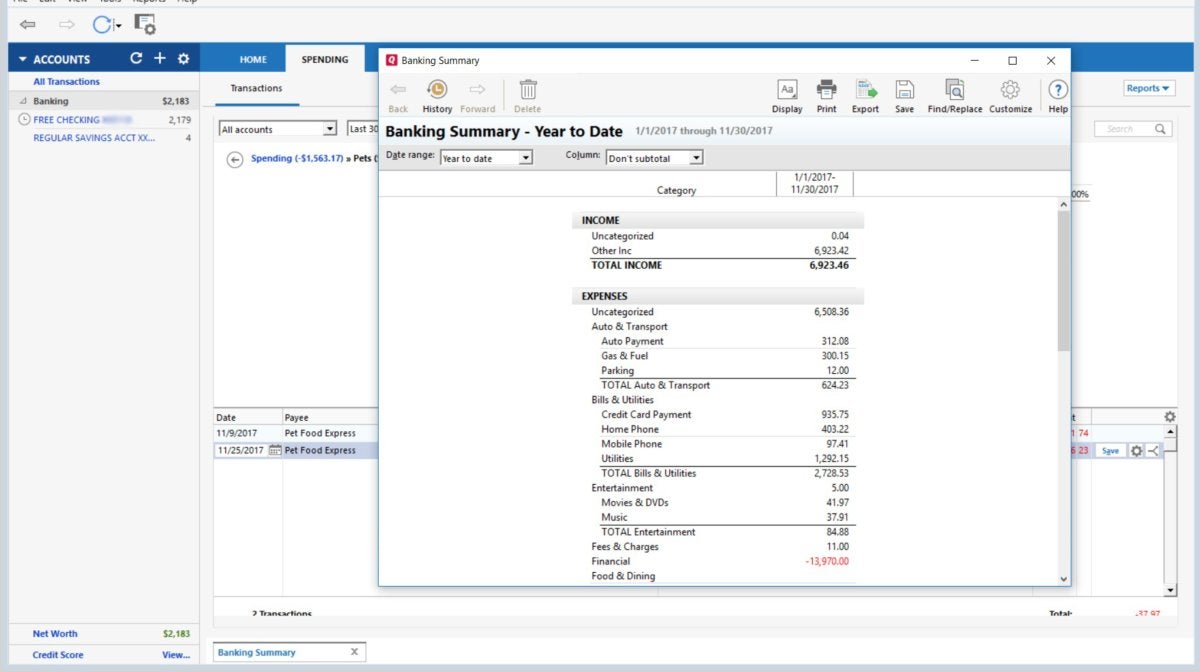 To support your budgeting efforts, Quicken also generates a dizzying array of reports and graphs detailing your banking activity, net worth, account balances, spending patterns, and even transactions with tax implications, all of which can be exported to Excel. No matter how you want to chop up your financial data, seemingly Quicken offers a way.
Though Quicken Deluxe is primarily focused on the daily in- and outflows of your cash, it also offers several tools for managing your longer-term finances. These can assist you with getting out of debt, planning for retirement, analyzing your tax situation, and socking away money for college or vacation.
Bottom line
Quicken Deluxe is a capable tool for managing your household finances, but most of Quicken's features have been mirrored or improved upon by other budgeting tools like Mint and Personal Capital, both of which can be used for free. Quicken's real differentiator at this point is that it's desktop software that stores your data on your computer, so if you're still skeptical about managing your finances in the cloud, it may be the right choice for you.
Best Prices Today: Quicken Deluxe