At a Glance
Expert's Rating
Pros
Allows you to view all your financial accounts in real time from one hub
Lots of reporting options
No subscription required
Cons
Budgeting feature requires predictable income, so it's not a great option for freelancers, temp workers, etc.
Our Verdict
Mint is a fantastic automated budgeting tool that will work for many users. It's not flexible enough for those with irregular income, though.
Price When Reviewed
Free
Best Prices Today: Mint
Updated August 6, 2018: Mint has undergone a couple of changes since we last reviewed it, though it retains the same overall score. Most critically, its bill-pay feature was discontinued as of June 30. You're no longer able to to pay your bills through Mint, but you can still track them, set reminders, and mark them as paid. Also, a new credit utilization ratio feature has been added to the Mint mobile app. Located on the Overview tab under the Upcoming Bills section, your usage ration—total amount you've use on your credit card divided by your credit limit. It's recommended that you keep usage 30 percent below the card limit to protect your credit score.
When it comes to personal budgeting, we often get too wrapped up in the in- and outflows of our spending account and forget about all the other parts of our financial lives. Mint, a free app from Intuit, shifts the focus back to the big picture.

The popular free personal finance service tracks your bank and credit card accounts, loans and mortgages, investments, and property (home and cars) to give you a better idea of your net worth. You don't have to link to all your accounts, particularly if you just want to get a handle on your day-to-day spending, but the more information you provide, you more accurate a financial profile you'll have to work with.
Note: This review is part of our budgeting apps roundup. Go there for details about competing products and how we tested them.
When you connect your various accounts, Mint pulls several months of data so you get an immediate brief on your income trends and spending habits. Mint automatically assigns each transaction to a category—accurately for the most part, but you can manually correct any errors. Armed with this data, you can start creating a budget.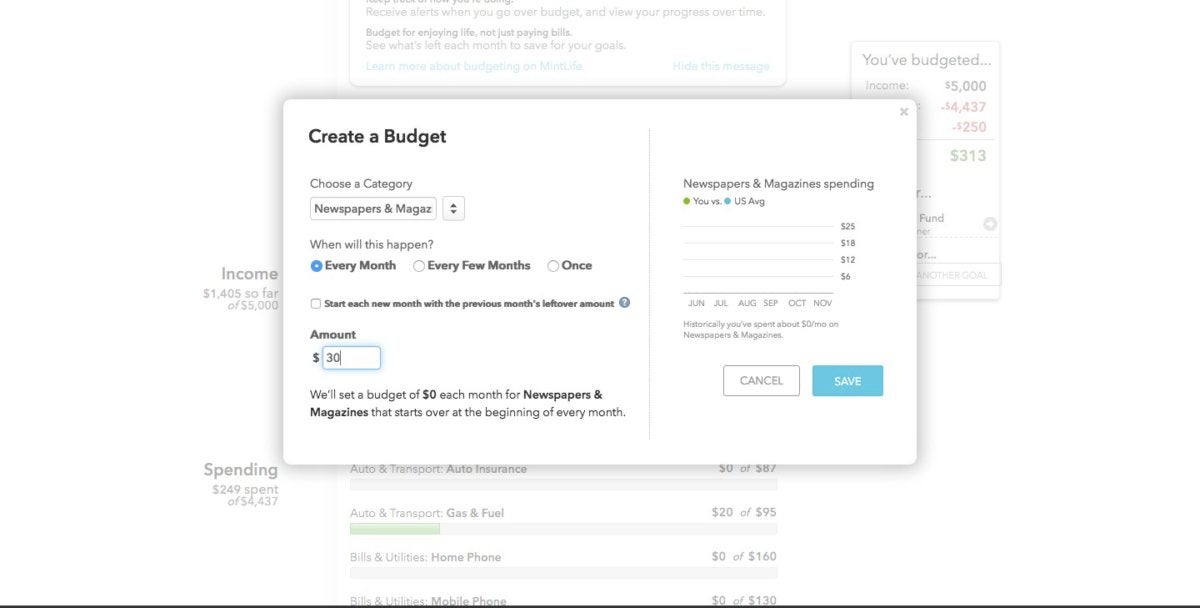 Budgeting in Mint is a bit different from the envelope method used by YNAB and Every Dollar. Rather than one all-encompassing budget, each category in Mint is a budget in itself. To create a budget, first you have to project your monthly income. Then you create expense budgets by selecting a preset top-level category such as Entertainment, then a subcategory like Newspapers & Magazines. Next you enter a dollar amount to budget one time, monthly, or every few months. Each budget is displayed as a bar graph on your Budget and Overview tabs. The bar remains green when your within budget but turns yellow as you approach the limit and red when you're over budget.
There were a few things I didn't like about this method. For one, it requires you to budget based on projected monthly income rather than the money you have in hand. That may work for people with a steady paycheck, but it requires guesswork from the self-employed and anyone else with an irregular income.
Second, though Mint makes it easy to see how much you've spent of the total budgeted for each category, it doesn't visually tie any of that spending to your total income save for a small box on the Budget tab that lets you know how much of your projected income you have "left over."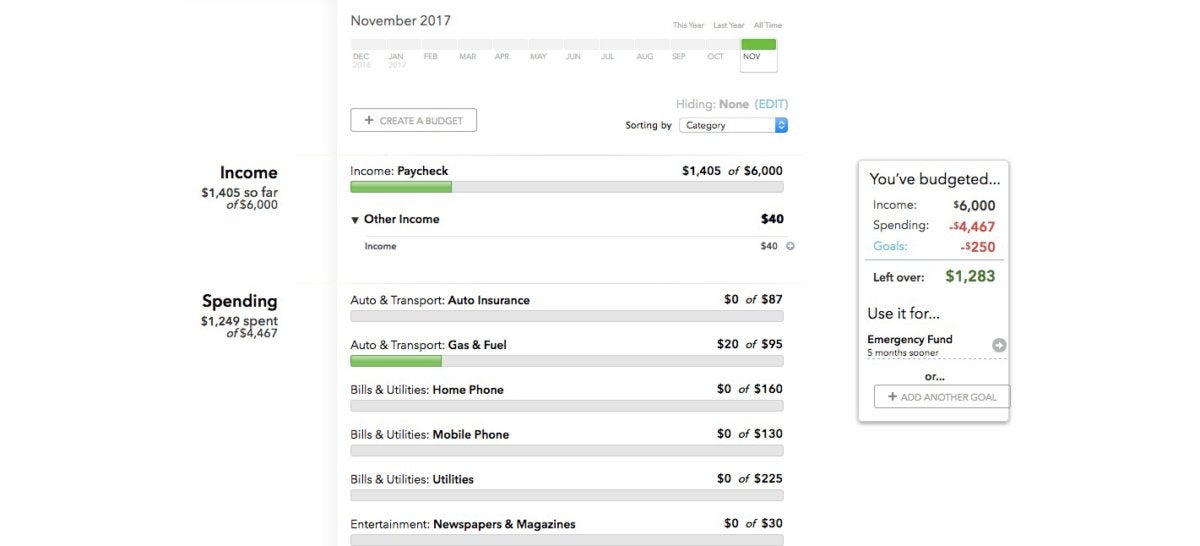 Mint also includes a feature for setting and tracking short- and long-term goals like building an emergency fund or paying off debt. These, too, are displayed as bar graphs and are linked to specific financial accounts. However, you can only assign one goal per account.
Beyond budgeting, Mint includes a several other useful features for managing your money including bill notification and payment, email and SMS alerts, credit score monitoring, and the ability to view a variety of personal finance reports. It does not, however, support accounting features like the ability to reconcile against bank statements.
Bottom line
Mint excels as a personal finance tracker. Viewing all the pieces of your financial life in one place can be a sobering, but ultimately inspiring exercise, and Mint does it best of all the tools we reviewed.
As a budgeting tool, though, Mint has some drawbacks. Because its requires you to predict your monthly income, it's not flexible enough for those who receive money in unpredictable amounts and intervals. Its emphasis on automation could also be seen as a perk or a pitfall. More seasoned budgeters will love it, but if you're just starting out the more hands-on approach of You Need a Budget or Every Dollar will better help you build the budget habit.