The most important news this week is either the Civilization VI expansion or the fact that EA's stock lost $3 billion in value thanks to Battlefront II. But hey, there's also lots of Destiny 2 ne—wait, come back!
Okay, there's also new footage of Okami HD, Star Citizen's started selling off fictitious land titles to fund development, Square says Deus Ex might not be quite dead yet, Jazz Jackrabbit hit GOG.com, and Battlezone II is being remade for 2018. This is gaming news for November 27 to December 1.
Weekly freebies
Get this: I accidentally paid $120 to play XCOM: The Bureau Declassified, that mediocre third-person shooter 2K forced out a couple years ago. I rented it from GameFly and then…forgot to send it back. For like, almost a year. Now, courtesy of Humble, you can avoid my mistake and grab a copy for free.
Mentioned in this article
The Elder Scrolls Online: Morrowind [Online Game Code]
Price When Reviewed:
$59.99
You can also check out Elder Scrolls Online for free this weekend—actually, until December 6. This is the core game, not the more nostalgic Morrowind remake from earlier this year, but that's on sale for half off, too. A warning, though: The ESO client is an 80GB download. Better get started.
Land rush
Star Citizen's raised approximately eleventy-billion dollars in crowdfunding so far, but it's not enough. (Will it ever be enough?) This week the narrative got even more bizarre though, as Cloud Imperium announced it will start selling plots of land for $50 and $100—land that doesn't even exist yet. $50 will nab you a 16 square kilometer "lot" while $100 gets you 64 square kilometers, labeled an "estate."
The odd part is you're not really getting much else—no calling dibs on a plot, for instance. You just get a ticket that says "One day, assuming Star Citizen isn't a pipe dream and ends up being an actually decent game, I can exchange this for land." So uh…well, have fun everyone.
Strange indeed
Mentioned in this article
Life is Strange: Before the Storm Deluxe Edition [Online Game Code]
Price When Reviewed:
$24.99
Life is Strange: Before the Storm is almost wrapped up—the third and final episode is supposed to arrive before the end of the year I think. Turns out there'll be a bit more Life is Strange after the third episode though, with a Max-centric bonus episode titled "Farewell" supposed to arrive early next year.
Mankind Reunited
Mentioned in this article
Deus Ex: Mankind Divided [Online Game Code]
Price When Reviewed:
$59.99
Last year's Deus Ex: Mankind Divided was great…up until it wasn't. Which is to say: Square basically released half a game. Just when the plot started rolling, so did credits. Then, to make matters worse, Square put Deus Ex on hiatus and assigned Eidos to work on Marvel games, as if to imply that because nobody liked their half-game, we wouldn't be getting another.
Never say never though. Square CEO Yosuke Matsuda told GamesIndustry.biz this week that "We have never said anything about discontinuing that title [meaning Deus Ex]…What I can say is Eidos Montreal has always developed Deus Ex and the issue is we do not have limitless resources."
So uh…maybe someday.
Smooth jazz
Seems like GOG.com can get any old game restored these days. Case in point: This week GOG.com added 1994's Jazz Jackrabbit and its 1998 sequel plus Epic Pinball to the store. For those who weren't around back then: This was what Epic did before Unreal Tournament, Gears of War, Fortnite, and before Unreal Engine became a household name.
People don't mention Jazz Jackrabbit as often as Sonic or Mario but those who love it, love it a lot. Glad to see it back on sale and easily available. It's an important part of PC gaming history.
Okami
The great thing about choosing an art style other than "photorealistic" is that when you come back to the game and remaster it a decade later, the results can still be stunning. Case in point: Okami HD, which is due to arrive December 12. Capcom dropped some new trailer footage this week and you know what? It looks like it could've released this year from some indie studio. Gorgeous.
Bad end
Rest in peace, Marvel Heroes. Recent news had intimated that Marvel Heroes would be shut down at the end of 2017, but apparently someone higher-up said "Why wait?" and pulled the plug immediately. Everyone at developer Gazillion was laid off the day before Thanksgiving (gross) and the game was then shuttered on Tuesday with little warning. A sad ending to what used to be one of the PC's best free-to-play games.
[ Further reading: The 16 best free PC games ]
When in Rome
Mentioned in this article
Total War : Rome II – Emperor Edition [Online Game Code]
Price When Reviewed:
$59.95
Total War: Rome 2 launched waaaaay back in 2013 and Creative Assembly's made three separate Total War games since then—Attila, Warhammer, and Warhammer II. But uh…apparently Creative Assembly can't accept that nobody enjoyed Rome 2, and has decided to put out another expansion for the game. That's right, not an Attila expansion. A Rome 2 expansion, titled Empire Divided and focused on the final years of the Crisis of the Third Century in 270 AD.
There's a trailer, or you can find it on Steam. Safe to say if you liked Rome 2 and want more (who?) you'll enjoy this. If you didn't, well.
Another battle
Last year Rebellion published a remaster of 1998 RTS Battlezone, then this year redesigned the original Battlezone arcade game for VR. If you guessed that 1999's Pandemic-helmed sequel Battlezone II would get the re-release treatment next, congrats—Battlezone: Combat Commander is scheduled for 2018.
Deeeeeestiny
Okay, I'm putting all the Destiny 2 news at the bottom for a reason: Because there's a lot of it, and if you don't care about Destiny 2 you can close the window now.
[ Further reading: Destiny 2 review: Gaming junk food we can't put down ]
Mentioned in this article
Destiny 2
Price When Reviewed:
$59.99
Quite a bit happened this week, starting with the discovery over the weekend of a hidden XP-scaler Bungie implemented and never discussed. Basically, Reddit users figured out that the amount of XP the game was reporting was not consistent with how much the XP bar was increasing—Bungie was throttling levels. And, since levels in Destiny 2 are tied to getting free "Bright Engrams" that serve as the game's premium loot boxes, the furor grew quite a bit larger than it might've otherwise. Bungie ditched the system, but in the process raised the amount of XP needed for leveling.
For many people this discovery was apparently the straw that broke the Reddit's back, with the community devolving into pandemonium. Bungie then canceled its last Curse of Osiris livestream to instead put out a lengthy blog post detailing quality-of-life changes coming to the game soon—more end-game content, better loot variety, and so on.
And they still have an expansion releasing next week.
But best of all—best of all—is Thursday's news of a partnership between Amazon's Alexa wiretap home assistant and Destiny 2, the "first-ever Alexa voice integration in a live game experience" to quote the press release. Here's a taste:
"The Destiny 2 Ghost Skill serves as a premier companion for Destiny 2 players, creating brand-new ways to interact with the game, players can say, 'Alexa, ask Ghost to…' with a variety of utterances—from '…tell me which friends are online,' to asking '…what should I do next?' giving recommendations for what to play next based on players' real-time current progress, to '…call for back up,' which offers an easy way to interact with friends in their clan to enhance the social experience of Destiny 2, to '… equip my Raid loadout,' equipping players' favorite weapons and armor for a number of different gameplay activities, to learning more about the world and characters of Destiny 2 with a request like, '…tell me who are the Red Legion?'"
And if Alexa's not enough, you can also order this $90 Ghost speaker to complete the experience: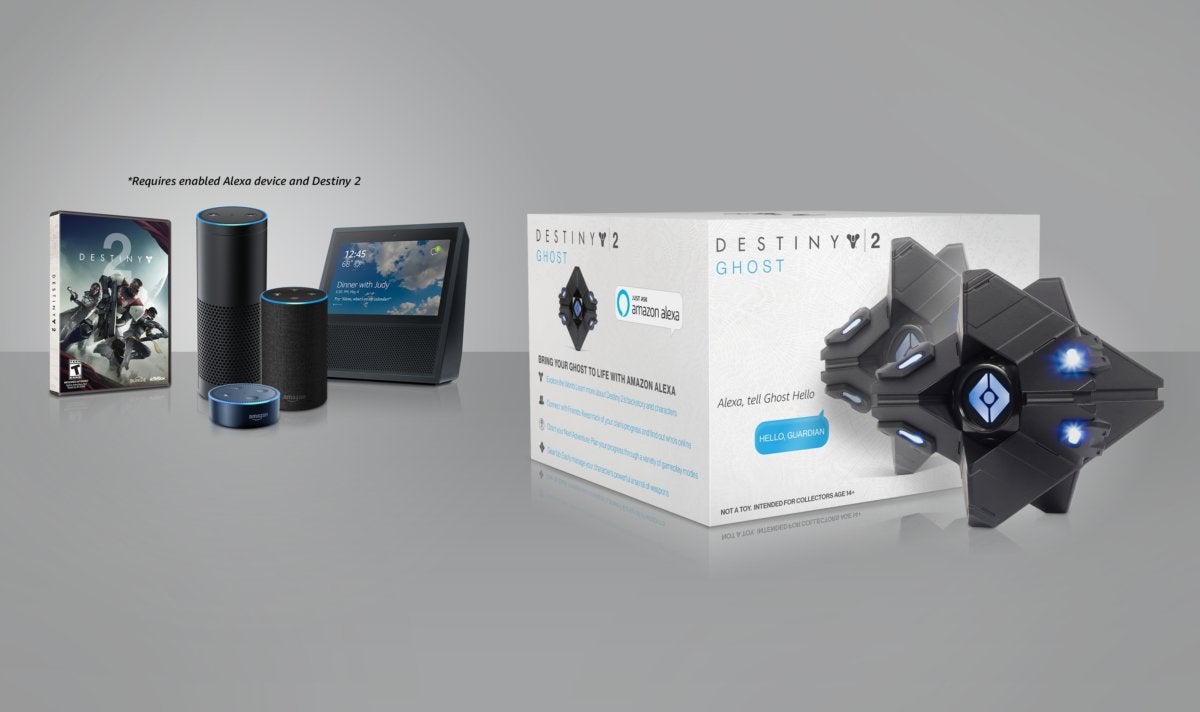 That's it—it's just a speaker. No Alexa inside. You'll need to buy one of those separately. Just an…expensive, probably bad WiFi speaker.
Video games, eh?