Updated at 5:32 PM PT on Dec. 7 with additional details of the processor emulation.
Qualcomm is invading Intel's turf, announcing Windows PCs that use the same Snapdragon chips as your phone, with battery life that can last well into a second day of use.
On Tuesday at its Snapdragon Technology Forum, Qualcomm showed off its Snapdragon 835 Mobile PC Platform on a HP Envy x2 tablet and an Asus NovaGo ultrabook. (A third PC, from Lenovo, will be announced at CES in Las Vegas.) Both run on the company's Snapdragon 835—yes, the same processor (and cellular modem) inside popular phones like the Samsung Galaxy Note 8.
Qualcomm uses its success with smartphones to justify its foray into PCs. You demand all-day performance from your phone, while it's constantly connected to the Internet. Why shouldn't your PC deliver the same?
Let's clear up one concern right away: Qualcomm's Windows PCs are running Windows 10, not the abandoned Windows RT variant that only ran Microsoft's UWP apps. However, these PCs emulate non-UWP apps, slowing performance. Qualcomm hopes you'll be willing to trade some speed for the promise that the Snapdragon Mobile PC platform will deliver 14 to 24 hours of constant use, interspersed with idle periods of "connected standby" time.
What this will mean for you: At some point, the performance of your phone, tablet or PC exceeds your demands—what we call "good-enough" computing. Qualcomm's betting we're already there, at least for a chunk of potential users, and it's focusing on basic productivity, always-on (cellular) connectivity, and battery life.
Many questions hang in the air: Is "good-enough" computing good enough for you? How well does a Snapdragon PC perform on everyday apps that are emulated, such as Google Chrome? How close to reality are these battery life claims? Will customers want to pay for an additional cellular plan? If Qualcomm can deliver on its claims and offer (affordable) always-on WWAN connectivity, a little competition for Intel is always good news for consumers.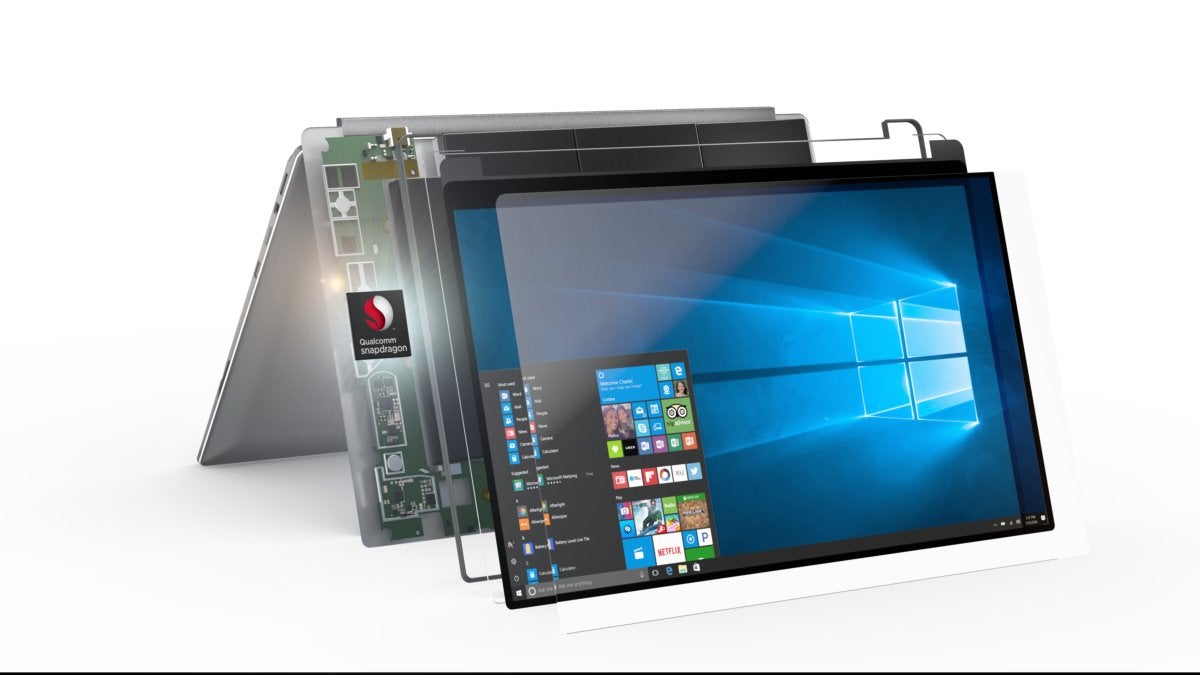 Qualcomm Snapdragon PCs: power, not performance
Keep in mind that chip makers like Intel—and, to a lesser, extent, AMD—are interested in selling you chips that offer the highest performance possible for the lowest price. That's not Qualcomm's priority.
"Most people working in these form factors are interested in the connectivity piece, and things like music, email, some productivity, shopping—it's mostly an extension to a phone," said Miguel Nunes, senior director of product management for Qualcomm. "We don't see people using heavy workloads, like graphic design. If they do, they shy away from these form factors."
"I've been using one of these [Snapdragon-powered] devices for several months," Nunes added. "It's replaced my Surface Pro device, and I go multiple days without charging."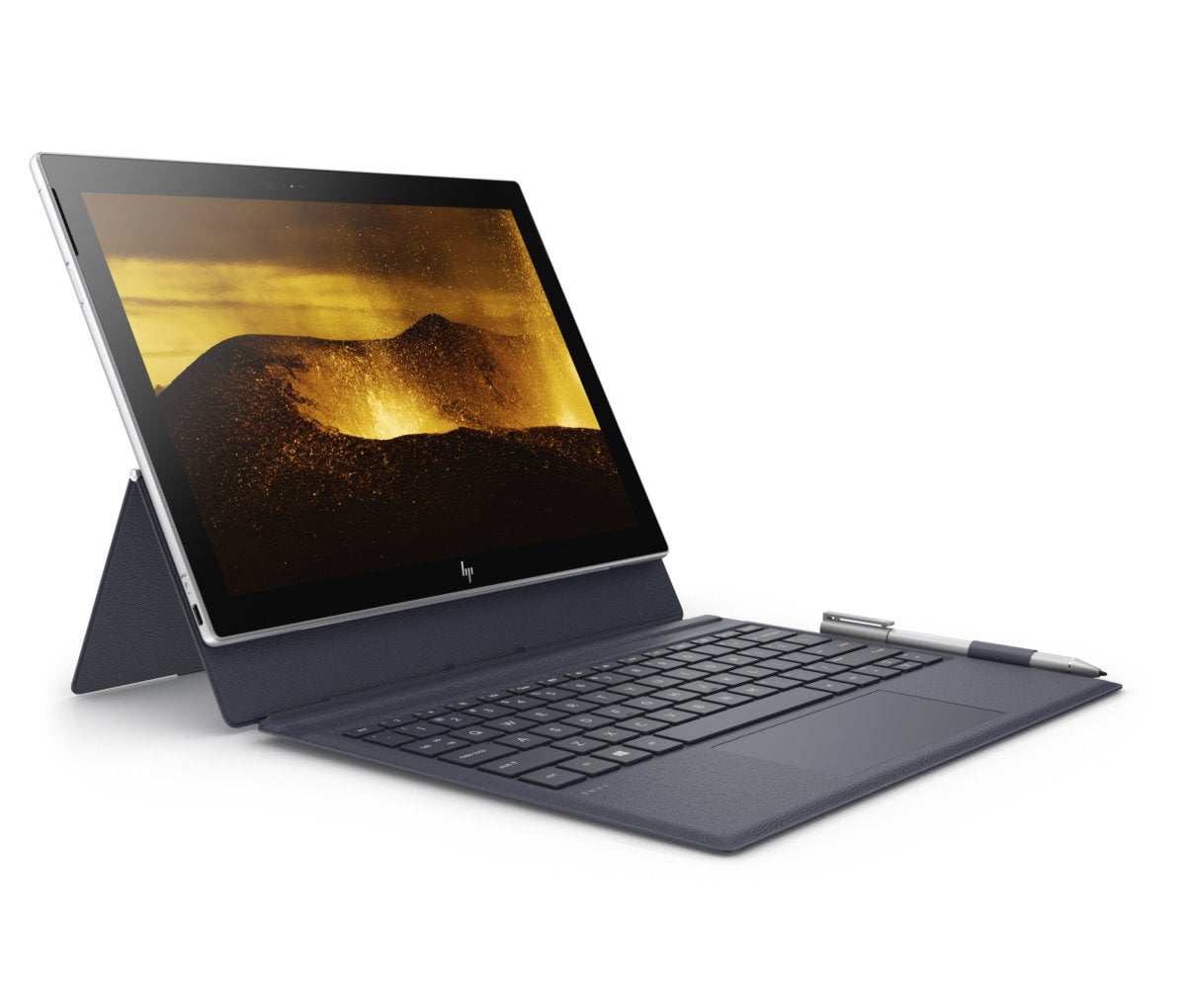 Nunes was referring to a Snapdragon-powered version of one of the devices, the HP Envy x2. PCWorld reviewed a similar tablet, the HP Elite x2, which includes an Intel Core m chip inside. The Elite x2 delivered over seven hours of battery life under our tests, which included constant video rundown. Qualcomm claims that same tablet will deliver 20 hours of battery life with a Snapdragon inside of it.
Put another way, Qualcomm believes that a device with a 48 watt-hour battery—basically the battery within the latest Microsoft Surface Pro—will last 21.2 hours when looping 1080p video. (For reference, the Surface Pro lasted about 8.5 hours before running out of battery in our tests.)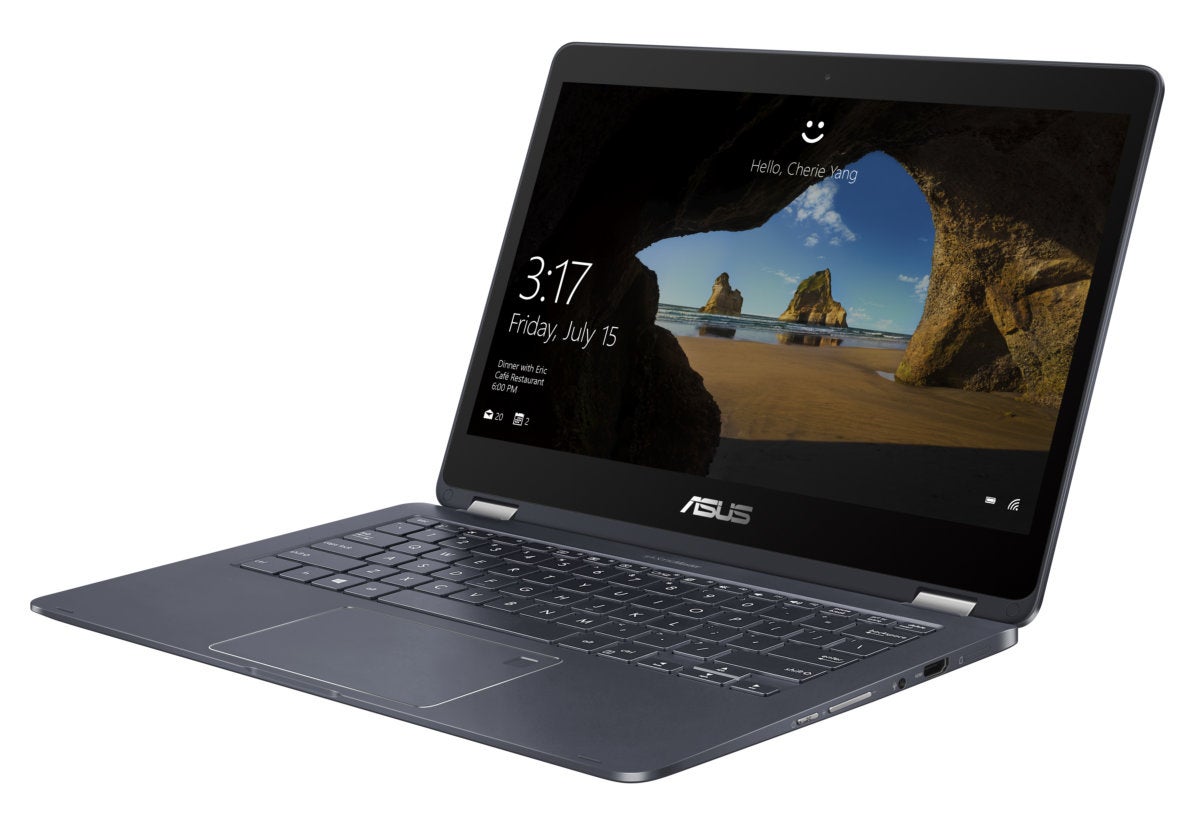 Qualcomm also released a partial list of the specs of each machine, in part to reassure potential customers that they were getting a "true" PC, with support for the various peripherals and other components that make up a PC.
Asus NovaGo:
Display: 13.3-inch, 1920×1080 LED-lit panel
CPU: Qualcomm Snapdragon 835 Mobile PC Platform
Memory: Up to 8GB
Storage: Up to 256GB UFS 2.0
Connectivity: Qualcomm X16 modem (4×4 MIMO); 802.11ac (2×2 MIMO)
Input: Stylus, two USB 3.1 Type-A ports
OS: Windows 10 S
Dimensions: 12.4 x 8.7 x 0.59 inches, 3.06 pounds
Price: $599 for 4GB RAM/64GB storage; $799 for 8GB RAM/256GB of storage
Ship date: Undisclosed
HP Envy x2:
Display: 12.3-inch WUXGA+ (1920×1200) panel
CPU: Qualcomm Snapdragon 835 Mobile PC Platform
Memory: 8GB LPDDR4
Storage: Up to 256GB
Connectivity: Snapdragon X16 LTE modem
OS: Windows 10 S
Price: Undisclosed
Ship date: Undisclosed
Qualcomm executives declined to reveal details of the Lenovo Snapdragon device, which will be announced at CES in Las Vegas.
Interestingly, both the HP Envy x2 and the Asus NovaGo use Windows 10 S. That's important because in our tests, using Windows 10 Pro significantly reduced the battery life. Testing the Microsoft Surface Book running Windows 10 S yielded a whopping 765 minutes of battery life. "Upgrading" to Windows 10 Pro cut the battery life to 654 minutes, a decrease of 14.5 percent.
Qualcomm's coming out strong, with a long list of PC partners. Terry Myerson, the corporate vice president in charge of Microsoft's operating systems division, revealed that hundreds of Qualcomm-powered devices had been in use on the Microsoft campus for months, a fact confirmed by other Microsoft attendees.
Myerson also said on stage that he didn't plug in his device in a week of use, although it was unknown how he used it.
Snapdragon PCs will be slower, but does it matter?
To its credit, Qualcomm admits that the performance of a Snapdragon PC will be slower than what you get from its Intel- or AMD-based competition. In part, that's because the Snapdragon chips aren't designed to process the code natively. Instead, the Snapdragon 835 passes the code through some intermediary steps, including an abstraction layer and emulator. This was a step that Windows RT devices, and the ARM chips they ran on, left out. Fortunately, that emulated code is then cached, so if it's re-run the performance will be at or near native.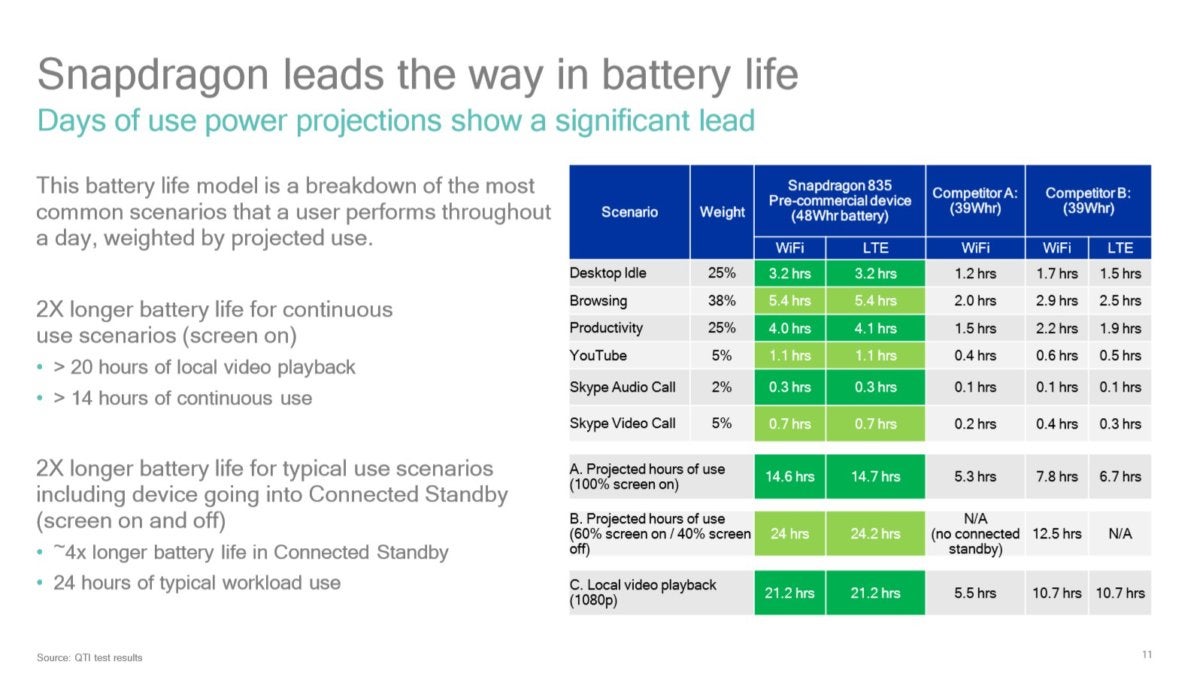 As a result, Windows UWP apps (Mail, Calendar, Edge, plus native Skype apps like Twitter, Spotify, and the like) will always run at the chip's maximum performance. A whole host of traditional .EXE apps, including most games, browsers like Chrome and Firefox, and synthetic benchmarks, simply won't run as fast.
There are also a few additional wrinkles that emerged after the Windows-on-Snapdragon announcement. For one thing, 64-bit apps aren't supported at all, at least not yet. "We are working on an ARM64 SDK that will enable developers to author applications for ARM64 and we'll have more news to share in the future," a Microsoft spokeswoman said an email.
Second, the emulation technology doesn't support applications that require kernel-mode drivers, such as some antivirus applications. That will leave Snapdragon PC users largely dependent on the Windows Defender antivirus software built into Windows 10.
Finally, Microsoft executives at the Snapdragon Summit acknowledged that apps with high CPU usage would suffer a greater performance penalty, so that gaming really won't be a focus of these devices.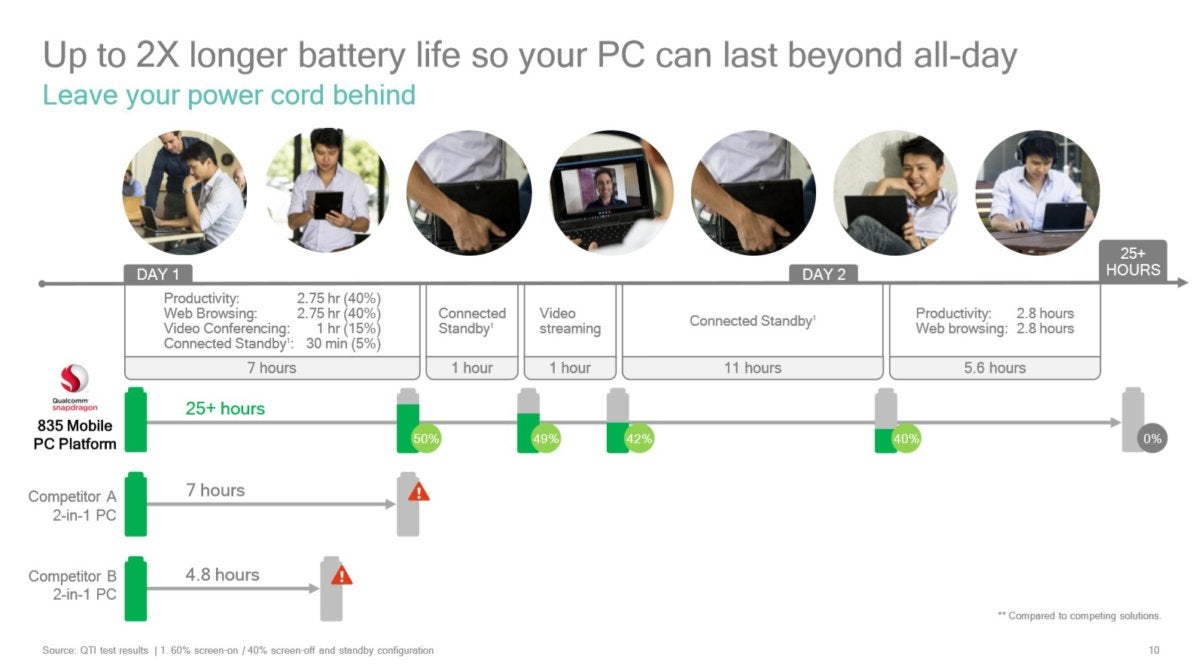 Naturally, Qualcomm is downplaying any impact. Any application is dependent upon a combination of CPU, GPU, memory, and storage, Nunes said. "You will see a few differences here and there… but it's nothing that's going to impact the user experience."
"You may see something launch in 1 second, on the other platform it launches on 1.4 seconds," Nunes explained. "That's 40 percent slower, but really, that doesn't matter."
Nunes instead emphasized the power efficiency of the Snapdragon 835 Mobile PC Platform. "It's better to address the battery life, as that's what most people care about."
When asked to define the performance penalty that emulation would cost, Nunes again demurred. "Really, it depends on the app," he said.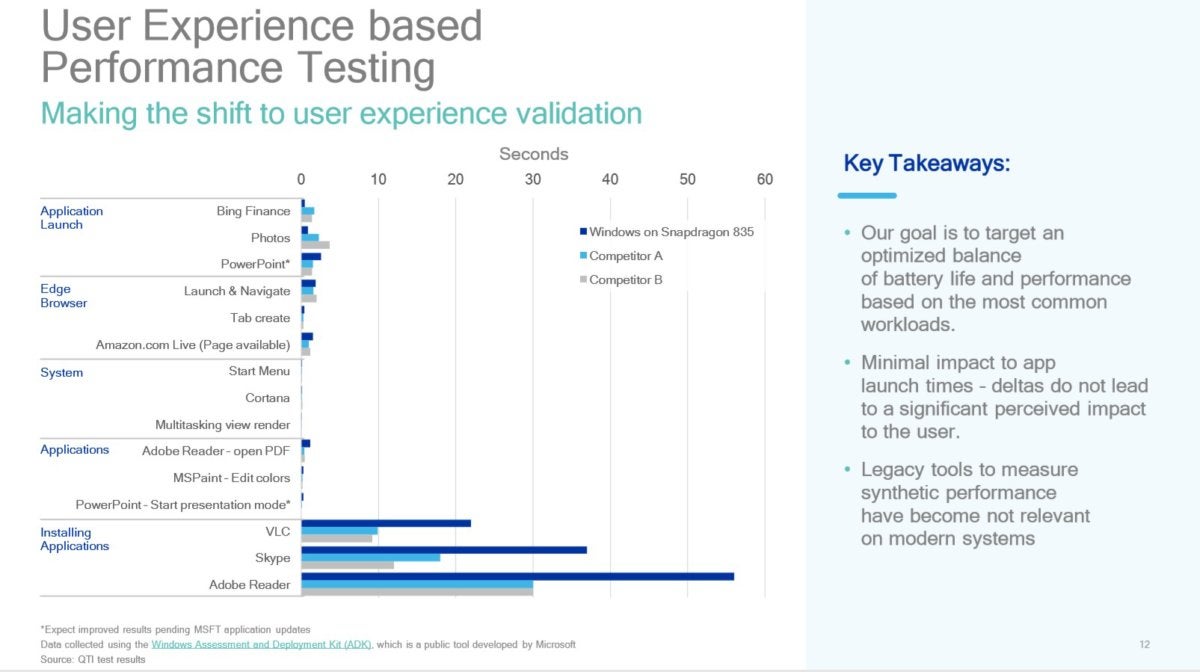 Fortunately, it seems like some of these concerns may be overblown. Pat Moorhead, a former AMD employee and now an independent analyst, told PCWorld that he had used a Qualcomm-powered product for several days and that Chrome performed acceptably—"better than I expected," he said.
Qualcomm feels it can make up some of that gap as more powerful CPUs throttle themselves, reducing the clock speed under load to control heat output. But executives admit you'll notice differences between native and emulated apps. In part, that's due to a design quirk in the ARM architecture that underlies the Snapdragon chip: ARM uses a combination of "big," powerful cores together with more power-efficient "little" cores. It's these little cores that help provide the long battery life, but can't quite keep up when under load.
Snapdragon PCs will test our taste for "good-enough"
For the average user, the Snapdragon 835 Mobile PC Platform's strengths and weaknesses play into how the PCs will be marketed. When Asus and HP ship the new Qualcomm-powered devices, the companies will emphasize "user experience" metrics like how fast apps will open, rather than synthetic benchmarks like Cinebench or PCMark.
Also, the apps you use will matter. "You can run Chrome on it. Edge is significantly more optimized, but Chrome will work," Nunes said.
If Qualcomm's Snapdragon 835 Platform Mobile PCs are to take off, consumers are going to have to accept PCs "good-enough" performance in exchange for two days or so of battery life and pervasive WWAN connectivity. So far, we've had two architectures try that argument on for size: Intel's Core m and Atom chips. Intel's Core m arguably succeeded. The Atom did not, offering a sluggish computing experience often compounded by anemic storage and memory.
For years, however, consumers have pleaded with smartphone makers to increase the battery life. Now Qualcomm has the opportunity to help PC makers do the same. Will they succeed? As soon as we can get devices in our hands, we'll tell you.
This story was updated at 5:30 PM on Dec. 7, with more details about how emulation will work on PCs powered by the Qualcomm Snapdragon 835.