The Asus NovaGo is a Windows laptop with something completely new: the Snapdragon 835 Mobile PC Platform, Qualcomm's bid to use its smartphone chip to grab some Windows PC share in a category long dominated by Intel.
Spending a little time with the machine on Tuesday was an exercise in testing—and managing—expectations. Qualcomm executives have admitted that the Snapdragon platform will be a bit slower to launch apps, a bit slower to boot, a bit slower here and there. Our early impressions show the kind of performance that Qualcomm hopes will be "good enough" for mainstream users with modest demands.
On the outside, the Asus NovaGo looks like any other ultrabook. It measures 12.4 x 8.7 x 0.59 inches and weighs just over 3 pounds. The NovaGo feels sturdy in the hand, perhaps a bit heavier than some other ultrabooks we've tried. The 13-inch screen has a midrange, 1920×1080 resolution that's conducive to Qualcomm's promise of long battery life from Snapdragon-based PCs. Memory amounted to 6GB.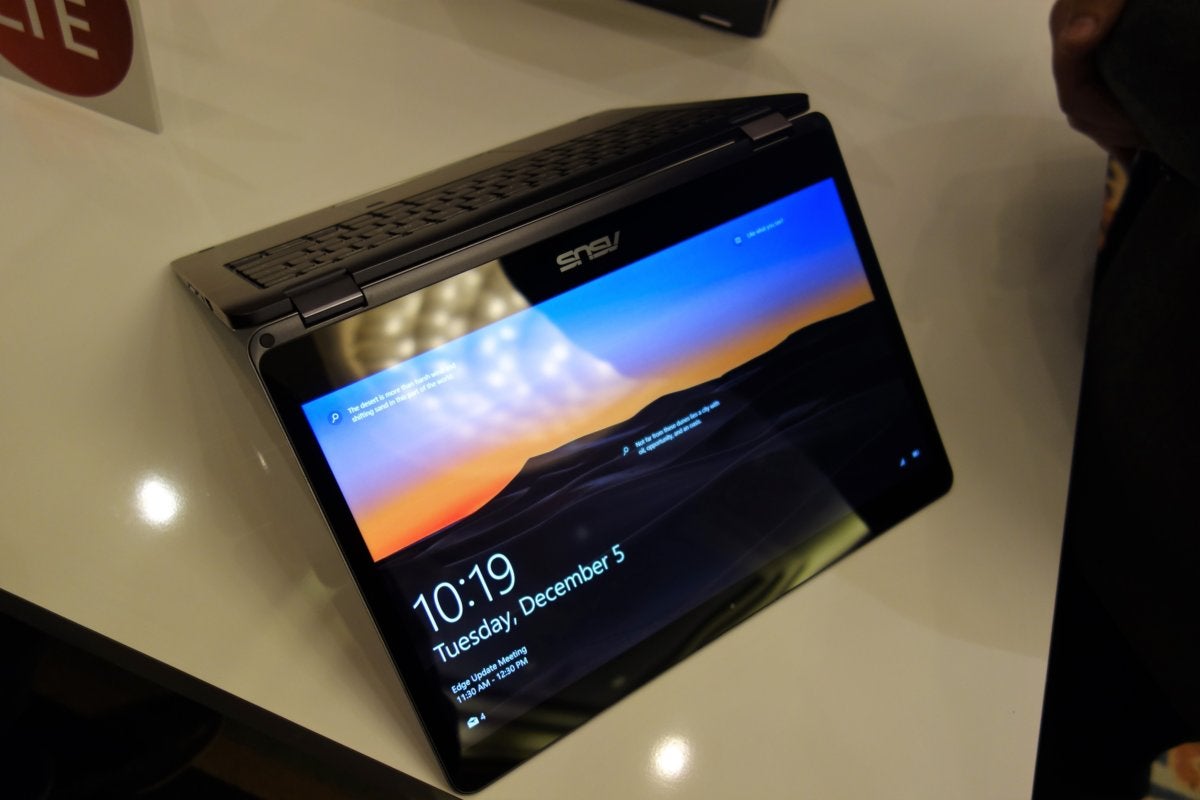 Quick specs:
Display: 13.3-inch, 1920×1080 LED-lit panel
CPU: Qualcomm Snapdragon 835 Mobile PC Platform
Memory: Up to 8GB
Storage: Up to 256GB UFS 2.0
Connectivity: Qualcomm X16 modem (4×4 MIMO); 802.11ac (2×2 MIMO)
Input: Stylus, two USB 3.1 Type-A ports
OS: Windows 10 S
Dimensions: 12.4 x 8.7 x 0.59 inches, 3.06 pounds
Price: $599 for 4GB RAM/64GB storage; $799 for 8GB RAM/256GB of storage
Ship date: Undisclosed
Some external features hint that this isn't just an ordinary PC, however. For one thing, the demo units weren't plugged in. Qualcomm and the device makers believe the Snapdragon PC platform can deliver 22 hours or so of active use on battery, or about two days when standby time is mixed in. The idea is that you'll leave your charger at home, and those chargers—standard barrel types, not USB-C—never made an appearance at our event.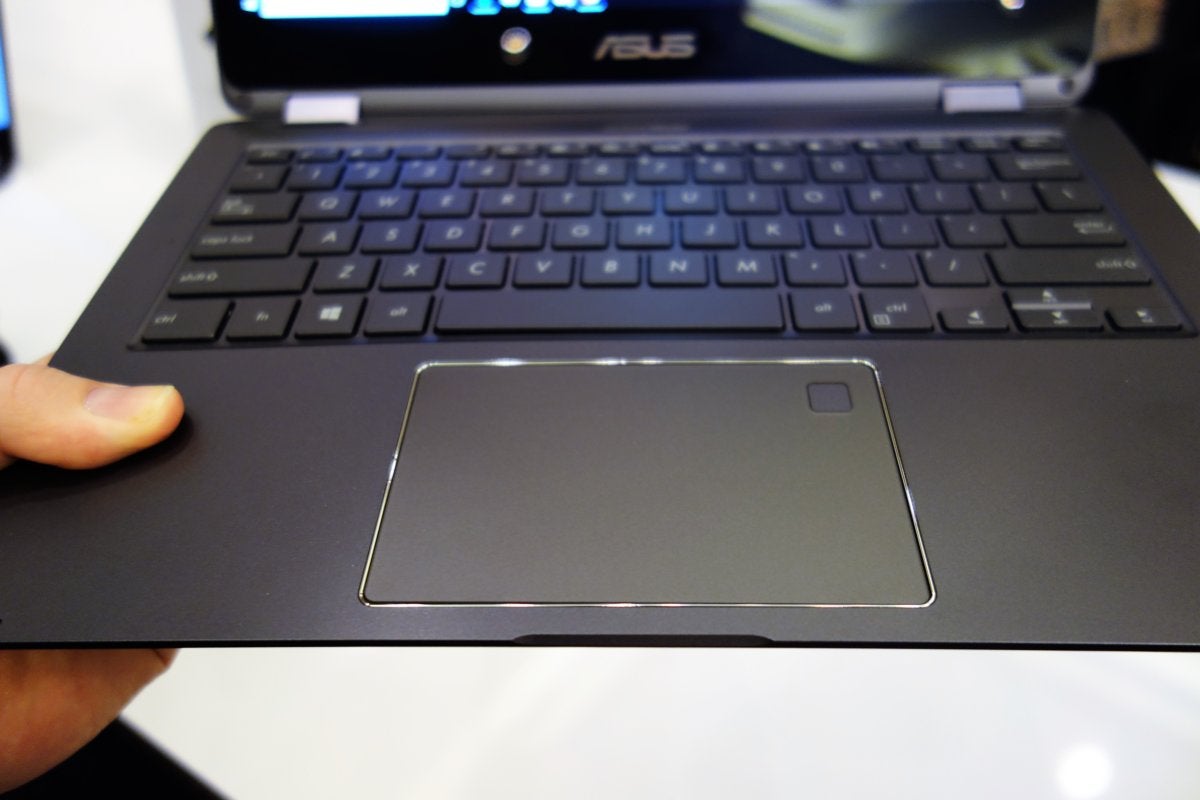 Speaking of USB-C, it's nowhere to be seen on the NovaGo. There's a pair of USB-A ports on the left-hand side. On the right, there's the power button, headphone jack, an HDMI port, and the other hint that this is something special: a SIM slot. SIM slots are more commonly found on business-class devices. Its presence on the NovaGo suggests this feature will be trickling down to consumer devices.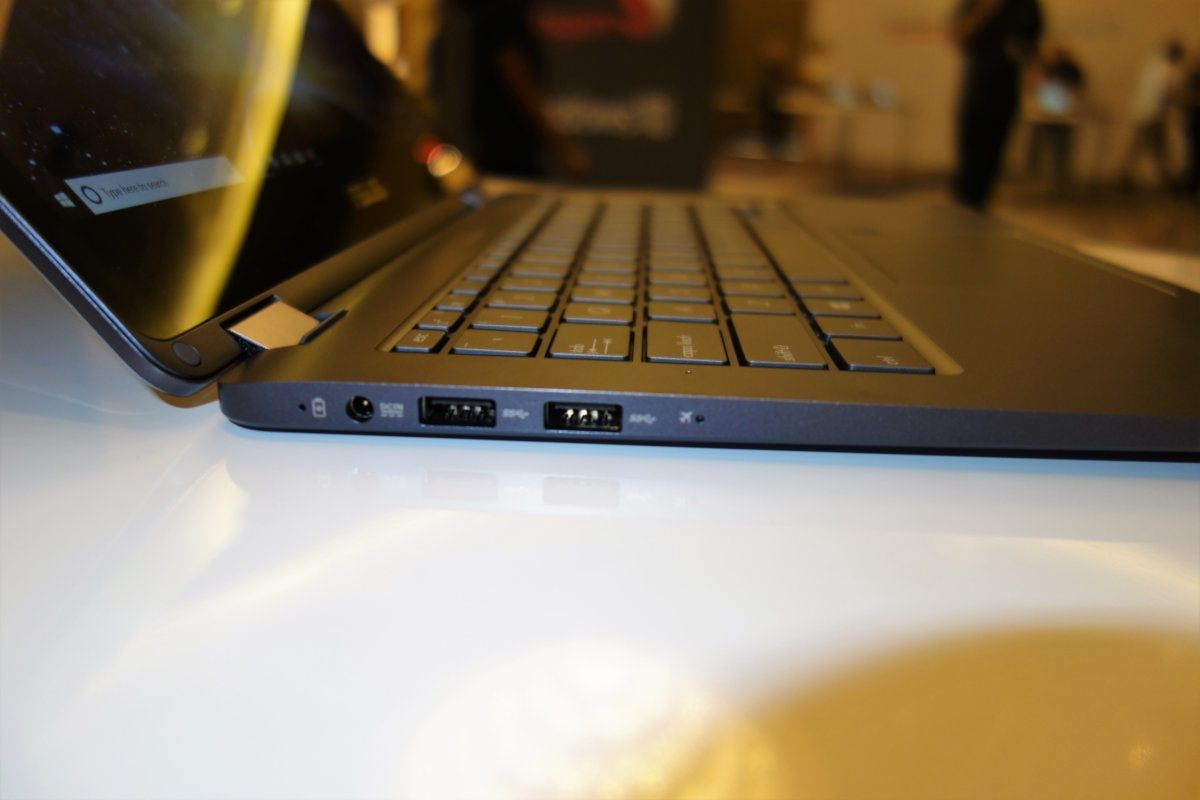 Interestingly, the NovaGo and the other Snapdragon-based device we saw, the HP Envy x2, both run the Insider (beta) version of Windows 10. We're told this makes them quickly patchable. As it happens, the existing Windows 10 Fall Creators Update supports the new Snapdragon processors.
Performance: Your mileage may vary
With a Snapdragon smartphone chip controlling a full-fledged PC, it's natural to wonder about performance. In our experience, some of the basic tasks you'd ask a PC to do worked great, while others didn't. Web browsing flew, at least on Edge. When we tried the PowerPoint desktop app, the NovaGo slowed down and then actually crashed. It took more than a minute to restart, but the six slides in a short presentation loaded over a quick few seconds.
Windows took just a few seconds to resume after the notebook was closed. A cold boot, though, took an even 30 seconds to reach the login screen. That's not horrendous—we've all sat through boot cycles that lasted long enough to fetch a cup of coffee—and, as Qualcomm execs pointed out, an always-on PC doesn't need to reboot often.
Other software tests continued to vary. I tried upgrading one of the NovaGos at the Qualcomm demo table to Windows 10 Pro, which worked fine. I installed Google Chrome, and tried loading the same site on both Chrome and Edge. PCWorld.com loaded markedly faster on Edge. I tried again on CNET.com, timing the load times. Edge required 8.5 seconds before I could interact (scroll) with the page; Chrome required 14.7 seconds.
I tried loading two common benchmarks, Maxon's Cinebench and Geekbench 4.0. Cinebench failed to install for some reason. Geekbench reported a single-core score of 857, and a multi-core score of 3,117. Microsoft executives said that once a binary is interpreted and cached, it's stored to help improve future performance. Unfortunately, I was stopped from repeating the benchmarks and could not confirm that.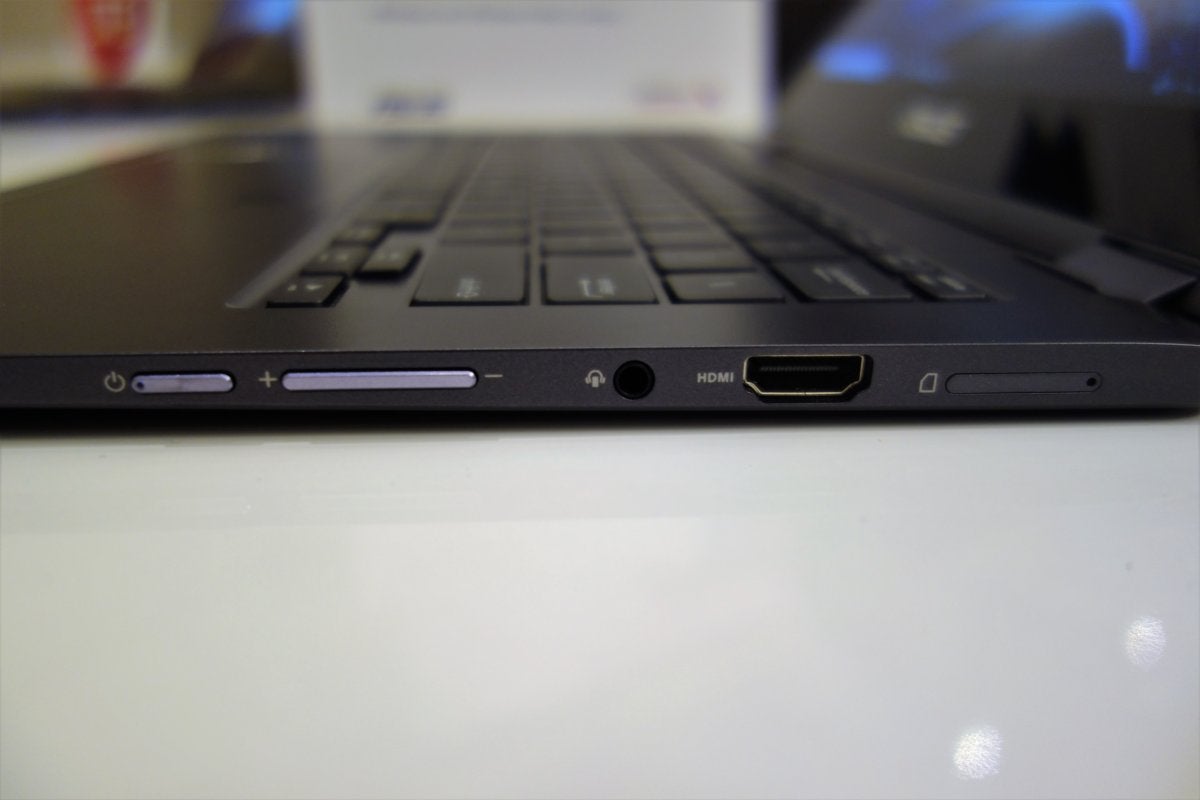 The real benefits of the Asus NovaGo and its Snapdragon platform remain to be seen. Delays loading an app are far different from delays in actually using it. While I solidly endorse the fundamental principles behind Qualcomm's strategy—more battery life, please!—we'll need to reserve further judgment until we can test a system completely.