Nvidia's cutting-edge Volta GPU architecture has finally come to desktops. Late Thursday night, Nvidia launched the monstrous, golden Titan V, a $3,000 graphics card with 12GB of HBM2 memory and over a thousand more CUDA cores than the game-slaying Titan Xp. But this beast isn't made for gaming—though it'd no doubt be very good at it.
Instead, Nvidia says this card "transforms the PC into an AI supercomputer." While the still-available Titan Xp was theoretically a compute card, but better suited as a best-in-class gaming card, the Titan V doubles down on data crunching. Nvidia is giving Titan V owners free access to AI, deep-learning, and high-performance computing software via the Nvidia GPU cloud. To boost the hardware's machine learning capabilities, the card is equipped with the same "tensor cores" found in the Volta-packing Tesla V100 that launched in May.
In fact, the Titan V's core specs are very similar to the Tesla V100's configuration, but the desktop card's HBM2 runs slightly slower—and there's 4GB less of it. Nvidia says the Titan V delivers up to 110 teraflops of power in AI calculations, "9X that of its predecessor," thanks to the introduction of the tensor cores.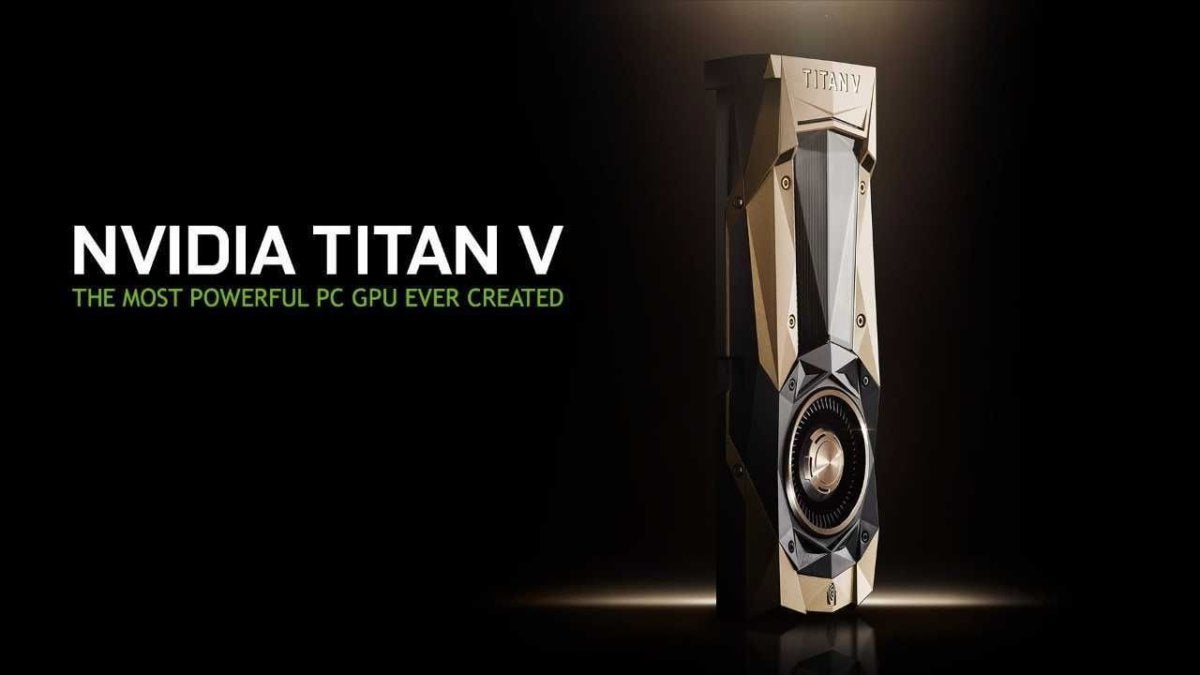 Nvidia Titan V specs, features, and price
Transistors: 21.1 billion
CUDA cores: 5,120
Tensor cores: 640
GPU clock speed: 1200MHz base, 1455MHz boost
Memory capacity: 12GB HBM2
Memory clock: 850MHz
Memory interface: 3,072-bit
Total memory bandwidth: 652.8GBps
Texture units: 320
Power: 250W TDP via 1x 6-pin and 1x 8-pin power connectors
Ports: 3x DisplayPort, 1x HDMI
Price: $3,000 on Nvidia.com
Gamers with a big budget should buy this instead
Gigabyte Aorus GeForce GTX 1080 Ti
Price When Reviewed:
$719.99
Considering how massive the Tesla V100's GPU/HBM combo wound up being, it's very impressive indeed that Nvidia managed to cram this much power into a dual-slot desktop graphics card. To see how the new Volta GPU architecture compares to the Pascal architecture used by current Nvidia consumer cards like the GeForce GTX 1080 Ti, head over to our explainer on what PC gamers need to know about Volta.
But the most important thing gamers need to know about Volta is that we're still waiting for it in consumer graphics cards, seven long months after the architecture's original reveal. While the Titan V would likely crush modern games, this monster is squarely focused on machine learning. Don't spend $3,000 on a highly specialized compute GPU just to play Witcher 3. Read PCWorld's best graphics card guide to find the perfect fit for your budget instead, or sit tight and wait for Volta to come to the GeForce lineup. Who knows, maybe it'll appear at CES in January. Volta has to come to consumer graphics cards sometime, right?
Right?